"SYTYCD" Season 9: The Premiere Recap!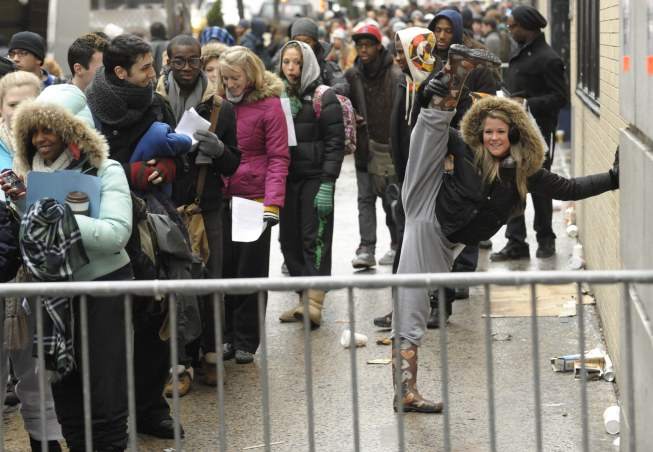 Ah, that old "So You Think You Can Dance" theme song. Whenever I hear it I'm reminded that summer is here, and with that comes everyone's favorite dance competition: Welcome, to "So You Think You Can Dance!" [Insert adorable Cat Deeley British accent here.]
Last night's two-hour Season 9 premiere kicked off with auditions in NYC (with guest judge Tyce "Keith" Diorio joining Nigel and Mary on the panel) and Dallas (well hello there, Lil' C, you crazy non-English speaking krump king).
So how did our first round of dancers fare?
Um. I'll say it was a mediocre season kickoff. I wasn't overly impressed with the talent, but there were a few highlights. Let's break it down...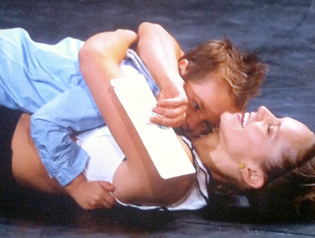 The Top 5 Moments From The "SYTYCD" Season 9 Premiere:
1. The most awwww-worthy audition came from 29-year-old Bree Hafen, the darling mother of Luke and Stella. Luke (sporting a killer mohawk) told Nigel he doesn't krump, "he shuffles." When Nigel let the two kids sit in his seat at the judges' table, I smiled. When Luke screamed, "I love you, Mommy!" as Bree began to dance, I was beaming. And then, when Nigel snuck Luke a ticket to Vegas and let him walk onstage to hand it to his mom, I totally melted. Oh, and then Stella performed. She nailed it. Brava, young Stella. Brava.
2. Cat Deeley's braids. Expect to see The Great Ms. Deeley making DS headlines weekly. We love her, and while she wasn't decked out in sequins for auditions, her behind-the-scenes braids (two different styles, one in NYC and another in Dallas) were way cute.
3. Daniel Baker, you handsome Australian devil. He tells us that he dances with San Francisco Ballet like it's no big deal. NBD. So Daniel moved to America to become a ballet dancer, and I guess he's the Alex Wong of this season: leaving a renowned ballet company to be on "SYTYCD." Daniel was the first dancer I truly enjoyed watching last night. That had nothing to do with the fact that he "lost his shirt backstage." It was just because he's talented and technical. I swear.
4. Tear-jerker Jarell Rochelle had to go and wrap the episode up with a sob story, didn't he? Normally these make me cringe, but Jarell was so genuine and so sweet, and he performed for his mom, who is semi-blind. Nigel let Mrs. Rochelle sit in his seat close to the stage so she could see her son perform, and the performance was indeed lovely.
5. Can we talk about Hampton Williams now? So he "invented a style" and it's called "Exorcist Style." Apparently while he dances, he can remove the bad from our bodies. Hampton was actually a pretty good dancer, and his feet were smooth, but what happened above the waist was downright scary. And yet, it brought Mary Murphy to tears. Did he exorcise her demons? I don't think Hampton will make it to the Top 20, because while he's good at what he does (whatever, exactly, that is), I'm not sure how "Exorcist Style" is going to translate into a Viennese Waltz, Paso Doble or jazz-hand-packed disco routine.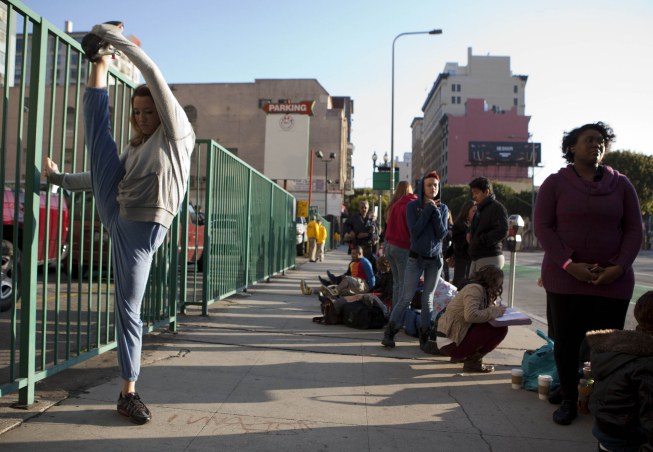 The "So You Think You Can What?!" Moment of the Night:
There were two: First, there was "The New York Legend," Austin Freeman, doing "The Wiggle." I get that on shows like "American Idol," seeing the untalented people is amusing. People try to sing, we laugh with [at] them and everyone has a good time with it. But on "SYTYCD?" The bad dancing isn't funny, it's tragic. Show me the stars!

Then there was Vaughan "Legend" Kipper, with his bad attitude and his declaration that he's "actually against auditioning for the show." Oh. OK, then. Cat Deeley saying, "I can pretty much guarantee you will be cut. Take your gerbil outfit and get out of here," was amazing.
Next week: We go to L.A. for "the most stunning auditions of the season." More importantly, Mitchell from "Modern Family" is the guest judge. It will be amazing.
Chime in: What did you think of last night's premiere? Loves? Loathes? Dancers you're dying to see in the Top 20?
Erin Carpenter as a Knicks City Dancer (David Safran, courtesy of Erin Carpenter)
The groundwork for Erin Carpenter's company, Nude Barre, began when she was a teenager. At 16, she earned a spot in the residency program at The Kennedy Center in partnership with Dance Theatre of Harlem. "We were required to wear nude—as in, our actual skin tone—tights and shoes," she remembers. Carpenter brought her "sun tan" tights and a pair of pink ballet shoes with her, because that was all she could find. But she wasn't allowed in class because her dancewear didn't match her skin. "I was so embarrassed," she says. "I looked unprepared. I just didn't have the right nudes." Her teacher explained that the dancers dyed their tights and pancaked their shoes.
Keep reading...
Show less
Via @whitneybugs on Instagram
There are dancers and then there are DANCERS! Whitney Jensen, soloist at Norwegian National Ballet, is the latter. The former Boston Ballet principal can do it all. From contemporary to the classics this prima has the technical talent most bunheads dream about. Need proof? Look no further.
Keep reading...
Show less
Jul. 19, 2017 04:53PM EST
Via YouTube
Luis Fonsi and Daddy Yankee's dance inducing hit, "Despacito," is so catchy it should probably come with a disclaimer that warns people of an uncontrollable itch to tap your feet or bob your head. Some might even feel inclined to go all out and break it down. Niana Guerrero is a prime example of "Despacito's" uncanny ability to unleash the red dressed emoji dancer within. 💃🏽 💃🏽
Keep reading...
Show less
Jul. 19, 2017 04:25PM EST
(courtesy NBC)
Guys, we all knew this was coming—"World of Dance" was eventually going to eliminate someone. But man, is it brutal to watch these talented dancers give their all, only to be sent home. It's the name of the game, though, and after last night's episode, only two dancers per division remain. (At least Misty Copeland guest-judging was a silver lining!) Here's what went down last night:
Keep reading...
Show less


Get Dance Spirit in your inbox