"SYTYCD" Season 9: The Top 4 Perform
This is it! It's the performance finale and it's time for Eliana, Cyrus, Tiffany and Chehon to show America why they each deserve to be named America's Favorite Dancer (plus the top guy and girl land a spot on the December cover of Dance Spirit!).
With such awesomely talented dancers—and heavy hitter Rob Marshall sitting on the judges' panel—it's hard to nail down just five moments that made us flash our jazz hands at the TV screen. So is it OK if we do something a little different? How about a quick rundown of all the evening's routines, described in Twitter-style 140 characters or fewer? Cool, glad you're on board.
Cyrus and Eliana, Paso Doble: Eliana is technical & gorgeous. Cyrus dragged her around the floor & it looked so fun. Cyrus wore a dress. Mary said "You delivered." Yes!
Tiffany & Will Wingfield, Jazz: Dislike: Tiffany's garter. Like: Tiffany's commitment. Love: Will. Not super exciting, but well executed. Cat said "That was joyful." Agree!
Eliana & Chehon, Ballet: OMG a legit classical ballet routine!!! Pointe shoes! A tiara! Pink tights! Love love love. Fantastic. Standing O from the jidges!
Tiffany & Cyrus, Lyrical Hip Hop: Now THAT'S full-out! T&C killed that Tessandra Chavez choreo! Mary called Tiffany a "little beast" & Rob complimented their "abandon."
Top 4, Group Routine: Each in his/her own style, which is cool. A bit disconnected as a group, but lots of lovely little solo moments. Not outstanding, but cute.
Eliana Solo: This girl is a star. You know that by now, right? Great partner, exceptional soloist, fantastic technique & genuine personality.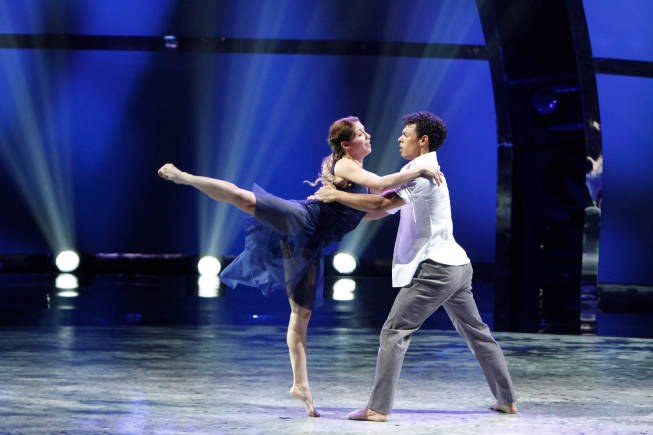 Chehon & Allison Holker, Contemporary: It's so hard not to watch Allison, but man oh man, Chehon is worth your attention. And that kiss at the end! tWitch, don't be mad!
Interruption: Mary just said Stacey Tookey was "Nemmy Ominated." She means Emmy Nominated, right? Right. (And well-deserved. Tookster, if we can call you that, you're the best. One-handed lifts? Seriously? Well played, S-Tooks, well played. Now just let me know which nickname you'd like to go ahead with. K good choreography, love you, bye.)
Eliana & Tiffany, Burlesque to Broadway Or Something: Love the girl power. Adore both these ladies. Not sure we needed the pole dancing. Nigel loved it. Naturally. Oh goodness.
Cyrus Solo: Is he the BEST male dancer still on the show? Nope. But does America love this guy? Clearly. And in his element, he's unstoppable.
Tiffany Solo: This girl is a fighter. She's strong, full-out & so invested in every routine. Also, she's stinkin' adorable. Want to put her in my pocket!
Cyrus & Chehon, Jazz?: Love dude duets! So much strength. Nigel said Cyrus is his "favorite person on the show" & Chehon is his "favorite dancer on the show."
Jean Sok, Guest Performance: He only has one full leg. Crazy impressive. Crazy awesome. Crazy inspiring. Jean, I bow down to you.
Chehon Solo: Danny Tidwell 2.0. But a little more charismatic & with the highest jumps EVER. Stellar performer, great technician, truly stunning.
Eliana & Alex Wong, Contemporary: Dream Team reunited! This was AWESOME. Just...awesome. These two together are un-stinkin-stoppable. Wow. Nigel's fave of the night!
OK, Nigel just said Eliana is his favorite of all-time on this series. That's a compliment if I've ever heard one!
Sorry sorry sorry, back to 140 characters.
Tiffany & Chehon, Rumba: Sexy time! The curtains! The white dress! It was so sweet & innocent. These two nailed it.
Cyrus & tWitch, Animation: Madd Chadd cameo!!! Didn't love this one as much as I'd expected to. Oh well. Still love them both!
So basically, last night's episode just made us love every member of the Top 4 even more. What a strong, deserving group. We hope you voted, America—and we'll proudly feature your top guy and top girl on our December cover.
Fess up: Who'd you pick up the phone for last night? Chehon? Cyrus? Eliana? Tiffany? 
Win It
Sep. 05, 2017 12:10PM EST
Photos by Erin Baiano
It's time to get your pirouette on! From September 5th to September 30th, we're hosting a contest to find out who's the best turner of them all.

Put together your most impressive turning combo. Post a video online. Share your turns with us and thousands of other dancers around the world. And if our editors think you're the top turner, you'll win a fabulous prize.
Keep reading...
Show less
All of 18-year-old Kaylin Maggard's dreams—from scoring the title of National Senior Outstanding Dancer at New York City Dance Alliance Nationals to winning the 2017 Dance Spirit Cover Model Search—are coming true. And to anyone who knows the gorgeous contemporary dancer, that's no surprise.
From the moment the Dance Spirit staff met Kaylin, it was obvious her humility and talent would take her far. Not only did she go full-out during the photo shoot and class at Broadway Dance Center, but she was always cheering on, laughing with, and supporting her fellow CMS contestants Haley Hartsfield and Michelle Quiner. During the voting period, the social media world was abuzz with praise for her work ethic, positive attitude, and generosity.
Since her CMS trip to NYC, Kaylin's moved from her hometown of Columbia, MO, to the Big Apple for her freshman year at Juilliard, and is busy getting acquainted with the city. As for the future? She's taking it one opportunity at a time, but something tells us we'll be seeing this contemporary queen reach new heights every year.
Keep reading...
Show less
New York City principal Lauren Lovette has become an icon thanks to her emotional maturity and exceptional musicality. The 26-year-old quickly rose through the ranks after joining the company as an apprentice in 2009, reaching principal status in 2015. A Thousand Oaks, CA, native, Lovette started studying ballet seriously at age 11, at the Cary Ballet Conservatory in Cary, NC. After attending two summer courses at the School of American Ballet, she enrolled as a full-time student in 2006. Last year, she made her choreographic debut with For Clara, her first piece for NYCB. Catch her latest work this month during the company's fall season. —Courtney Bowers
Keep reading...
Show less
In our "Dear Katie" series, former NYCB soloist Kathryn Morgan answers your pressing dance questions. Have something you want to ask Katie? Email dearkatie@dancespirit.com for a chance to be featured!
Dear Katie,
I know I'm not getting good enough dance training from any of my local studios. But I'm not sure I'm ready to move away to study at a big-name school, either. How do you know when you're ready to leave home to pursue your passion?
Marisa
Keep reading...
Show less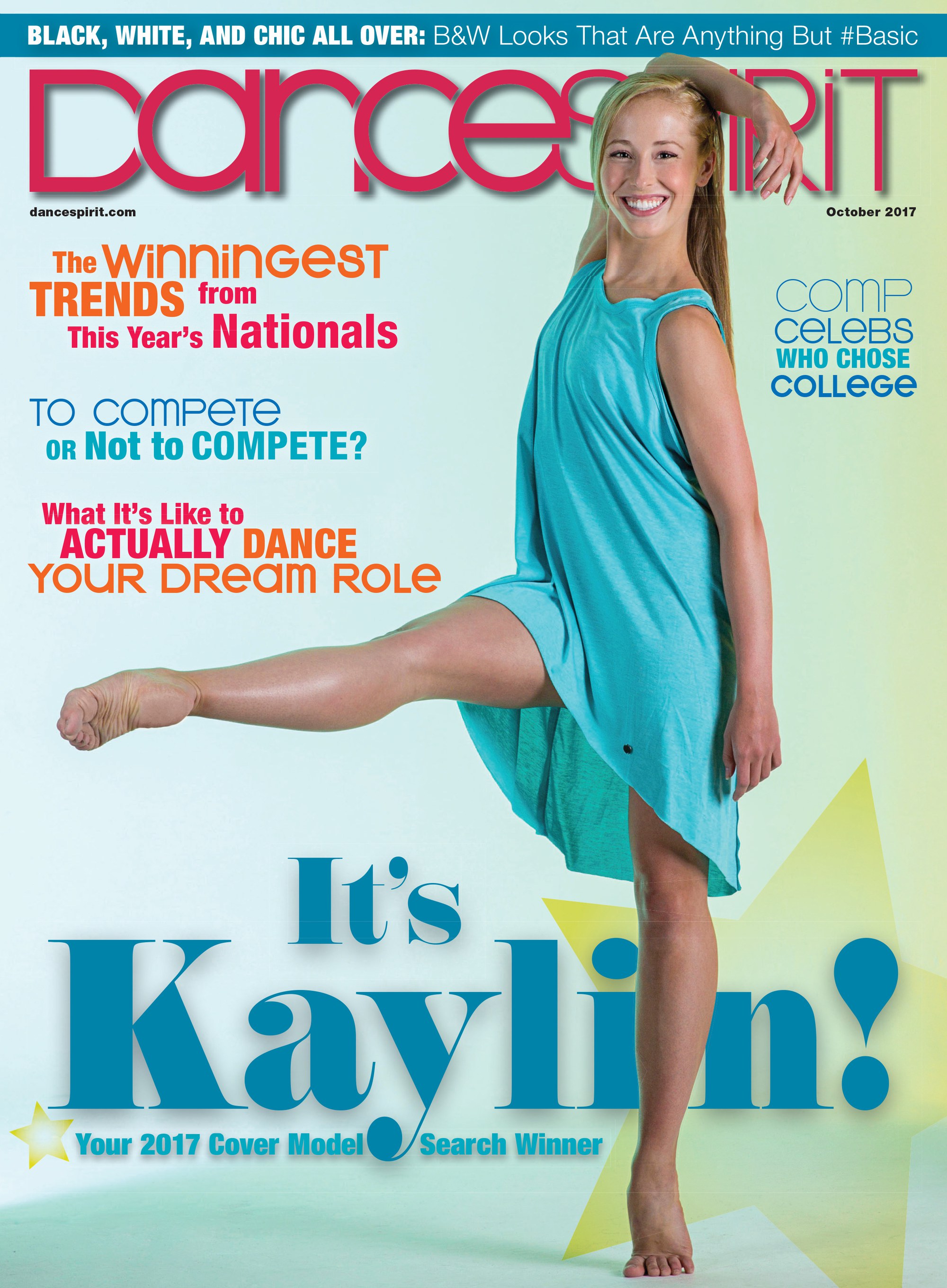 Get Dance Spirit in your inbox