"SYTYCD" Season 9: The Top 20 Perform
Last night the Season 9 Top 20 took the stage in the first real competition of the season. And boy, did things get hot! Over at the judges' table, High School Musical director Kenny Ortega joined Nigel and Mary and—phew!—was I glad to have an articulate and knowledgeable judge with real dance experience weighing in on the performances.
Here are our Top 6 (sorry, I couldn't choose only 5!) Moments from last night's show: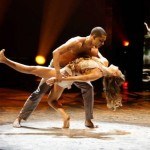 6. Tiffany and George's contemporary routine. I professed my love for Sonya last week and I'm pretty sure that after this week's routine it's turned into an obsession. Sonya's choreo is always super athletic, but I loved the emotion Tiffany and George infused into the movement. This partnership is going to do big things, people. I see them sticking around for a long time.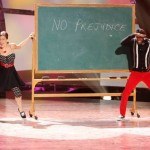 5. Eliana and Cyrus's Broadway routine. The performance was 100 percent cheese ball and I totally ate it up. For never having done choreography, Cyrus was shockingly awesome and a seriously great partner. Props to Tyce was giving them choreo that made them both look great.
4. Amber and Nick's Viennese waltz. I must admit I was a bit skeptical of this pairing at first, but they actually had some pretty great chemistry. The choreography was flowing and technical and downright dreamy. Bravo, Jason Gilkison, on a great routine. And I just have to mention Amber's hair—it was rockin'. She looked gorgeous.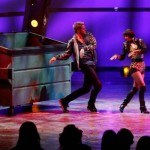 3. Amelia and Will's (character pop) hip-hop routine. This number was Nappytabs at their finest! Amelia and Will were completely committed to their characters and I couldn't get enough of them. They were slinky and funky and totally lovable. I can't wait to see more.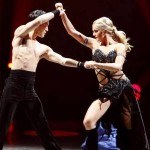 2. Lindsay and Cole's Paso Doble routine. What a power couple! And I absolutely loved Jason Gilkison's choreography. It was so strong, technical and dynamic. Are we sure Cole's not a ballroom dancer?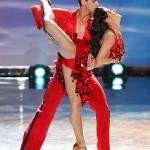 1. Audrey and Matthew's contemporary routine. Oh Travis Wall, just when I thought you'd leveled off, you give us this! I mean, Rose, Jack, the Titanic, "Unchained Melody"—it could have been a recipe for disaster, but it was brilliant! And very Mia Michaels-esque. Audrey has the feet and legs every dancer dreams of, and Matthew's performance was unmatched by any other guy.
And now, I just have to mention Tabitha's adorable baby bump! Oh my goodness, I can't even tell you how excited I am for baby Nappytabs. That child is going to be one funky little dude.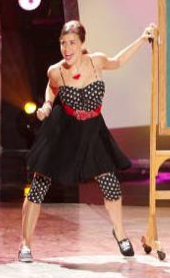 "So You Think You Can Whaaat?" moment of the night: Eliana's polka dot knee pads. Why? Why? Why? I'm still just so confused.
Now spill: Which routine was your favorite? Who did you vote for? Be sure to tune in next week to see which two boys and two girls are going home!
Jun. 15, 2017 02:00PM EST
From left: Haley Hartsfield, Kaylin Maggard, and Michelle Quiner (photos by Erin Baiano)
Congratulations to Dance Spirit's 2017 Cover Model Search finalists: Haley Hartsfield, Kaylin Maggard and Michelle Quiner! One of them will win a spot on Dance Spirit's October 2016 cover. Learn more about the dancers on their profile pages, and then vote for your favorite below.
We also want you to get social! We'll be factoring social media likes and shares into our final tallies. Be sure to show your favorite finalist some love on Facebook, Instagram, and Twitter, sharing their profile pages and using the hashtag #DanceSpiritCMS.
Keep reading...
Show less
An outfit that makes you feel confident on the convention floor is always a "do" (via Break the Floor Productions)
Attention, ladies and gentlemen: We've officially hit Nationals season! And that means it's time to dig through those closets to find the perfect clothes to get you noticed during convention classes. The task can feel totally overwhelming—but we're here to help. Follow our guidelines, and you'll be rocking the dance floor with Travis Wall and making Stacey Tookey yell "GORGEOUS!" in no time.
Keep reading...
Show less
Royal Flux performing on "World of Dance" (NBC)
Oh man. This is getting ROUGH.
Last night marked the second round of head-to-head duels on "World of Dance." Once again, we were feeling real pity for the judges—and it takes a lot for us to pity J. Lo—because we've reached a point in the competition where there aren't any clear winners. Everyone's insanely good. And yesterday's showdowns paired acts that were so unalike, comparing them felt a little unfair.
So, who emerged from these cruel duels victorious?
Keep reading...
Show less


Get Dance Spirit in your inbox