Jun. 21, 2012 08:00AM EST
"SYTYCD" Season 9: Vegas Week Recap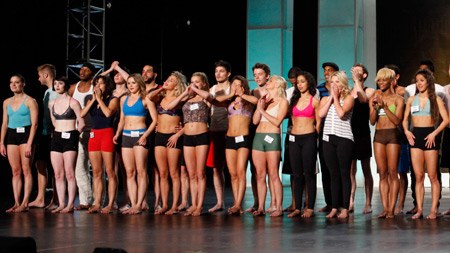 Vegas! Vegas! VEGAS! After what seemed like endless weeks of ho-hum auditions episodes, I, for one, was ready for some real dancing, and some real drama, on "So You Think You Can Dance." As usual, Vegas week more than delivered on both counts. During their time in Sin City, this season's contestants showed off a lot of talent—and shed a lot of tears.
This being Vegas week, there weren't so much top moments as there were top...journeys. Epic journeys, complete with dramatic music and slow-mo reaction shots and, naturally, plenty of crying. Here are the top 5:
1. The Danielle Saga, aka Nice Girls Finish Last. Poor, poor Danielle. During Sonya Tayeh's jazz routine, Danielle was paired with Debbie Downer Shafeek, who completely gave up on her. Never mind; she made it through, and trooper that she is, came back onstage later to partner a contemporary dancer in need—who, of course, kicked her in the head. She was taken out on a stretcher. When she returned later, after spending eight hours in the hospital, she was sort of blamed for messing up the routine of the group she belatedly joined (which, really? She had a head injury). And then, of course, she was sent home. Someone give this girl a hug.
2. The Cyrus Saga, aka We'll Cut the Adorable Hip Hop Guy Some Slack. Cyrus is the only one of the talented Dragon House Crew trio who made it past Vegas' first round. He had a LOT of close calls as the rounds rolled by—frankly, I wasn't sure he was going to make it after that disastrous cha cha. But his dance-for-your-life solo reminded everyone just how amazing he is in his own style (shades of Madd Chadd, am I right?), and he seemed so genuinely happy to be there. I'm not sure he's going to nab a Top 20 spot, but if he doesn't—is that a Dragon House Crew guest performance I smell later in the season? Why yes, yes it is.
3. The Amelia Saga, aka Don't Count Your Top 20 Spot Before it Hatches. Remember silent-movie lover Amelia (who is, come to think of it, a bit of a Krysten Ritter lookalike)? Amelia cruised through the first few rounds, getting just a tad overconfident. She looked completely shocked when she was asked to dance for her life after Sonya's jazz routine. Luckily her solo was a great showcase for her particular brand of quirky appeal (not to mention her legit technique). "I am so ready to make you love me!" she cried tearfully afterward. And the judges did love her, or at least like her enough to shepherd her safely through Vegas week. Her whole flapper shtick grates on my nerves a little, but let's be honest: We all want to see this one stick around to do some really weird Sonya choreography, right?
4. The Alexa Saga, aka Alexaga, aka Don't Count Your Top 20 Spot Before it Hatches Part 2 (But Really, You're Going to Get a Top 20 Spot). Alexa probably looks familiar—and not just because she made it to the bitter end of last season's Vegas shenanigans: She was our 2010 Cover Model Search winner!* All of us at DS know from experience that Alexa is crazy talented—but man, a lot of the judges' criticisms of Alexa's "lights are on and nobody's home" performances (as Tyce "Keith" DiOrio put it) were justified. She seemed vacant and terrified through much of the episode. Luckily she pulled it together in time for the cha cha round—in which she looked SMOKIN'—and survived Vegas. Debbie Allen's verdict? "This child could win." Go Alexa! (Just ease up a tad on the bronzer, OK?)
5. The Sore Losers Saga, aka Here Are a Few Examples of How Not to Behave on National Television. Jeez louise, there were a lot of unhappy campers on last night's show. From Teddy "Why come back and waste my time? I just looove to be reprimanded in public" Tedholm to  Shafeek "I will smoke Lil' C. Matter of fact Lil' C's cool, I will smoke Nigel" Westbrook, a surprising number of booted contestants chose not to exit gracefully. Yes, getting cut is very, very painful, but a word of advice: You will always end up regretting acting like a total brat on camera. Next time, maybe save the venting for the hotel room, OK?
The "So You Think You Can What?!" Moment of the Night:...was actually not part of the episode. There were several ads for "The Choice" during the commercial breaks—you know, that rip-off of "The Voice" where people like Mike "The Situation" Sorrentino try to pick dates based on the sound of the girls' voices? Oh, you haven't heard of it? Congratulations—you're a respectable member of society. So why is the lovely, amazing, wayyyy-too-talented-for-this Cat Deeley hosting this abomination? Cat! It's not worth it! And if "The Choice" is the reason you've barely shown your pretty face on "SYTYCD" so far this season...no, I'm not even going to make a "wrong Choice" pun here. DON'T LEAVE US, CAT!
What did you think of last night's episode? Too much drama? (Is there such a thing?) And don't forget to check back next week for our recap of the episode we've all been waiting for: The Top 20 reveal!
*(For the record: Last year's CMS winner, the awesome Kaitlynn Edgar, was also all over this episode. She and Alexa were actually in the same "Wolf Pack" group number. Not ringing a bell? They wore matching stonewashed denim vests. There you go.)
Win It
Sep. 05, 2017 12:10PM EST
Photos by Erin Baiano
It's time to get your pirouette on! From September 5th to September 30th, we're hosting a contest to find out who's the best turner of them all.

Put together your most impressive turning combo. Post a video online. Share your turns with us and thousands of other dancers around the world. And if our editors think you're the top turner, you'll win a fabulous prize.
Keep reading...
Show less
All of 18-year-old Kaylin Maggard's dreams—from scoring the title of National Senior Outstanding Dancer at New York City Dance Alliance Nationals to winning the 2017 Dance Spirit Cover Model Search—are coming true. And to anyone who knows the gorgeous contemporary dancer, that's no surprise.
From the moment the Dance Spirit staff met Kaylin, it was obvious her humility and talent would take her far. Not only did she go full-out during the photo shoot and class at Broadway Dance Center, but she was always cheering on, laughing with, and supporting her fellow CMS contestants Haley Hartsfield and Michelle Quiner. During the voting period, the social media world was abuzz with praise for her work ethic, positive attitude, and generosity.
Since her CMS trip to NYC, Kaylin's moved from her hometown of Columbia, MO, to the Big Apple for her freshman year at Juilliard, and is busy getting acquainted with the city. As for the future? She's taking it one opportunity at a time, but something tells us we'll be seeing this contemporary queen reach new heights every year.
Keep reading...
Show less
New York City principal Lauren Lovette has become an icon thanks to her emotional maturity and exceptional musicality. The 26-year-old quickly rose through the ranks after joining the company as an apprentice in 2009, reaching principal status in 2015. A Thousand Oaks, CA, native, Lovette started studying ballet seriously at age 11, at the Cary Ballet Conservatory in Cary, NC. After attending two summer courses at the School of American Ballet, she enrolled as a full-time student in 2006. Last year, she made her choreographic debut with For Clara, her first piece for NYCB. Catch her latest work this month during the company's fall season. —Courtney Bowers
Keep reading...
Show less
In our "Dear Katie" series, former NYCB soloist Kathryn Morgan answers your pressing dance questions. Have something you want to ask Katie? Email dearkatie@dancespirit.com for a chance to be featured!
Dear Katie,
I know I'm not getting good enough dance training from any of my local studios. But I'm not sure I'm ready to move away to study at a big-name school, either. How do you know when you're ready to leave home to pursue your passion?
Marisa
Keep reading...
Show less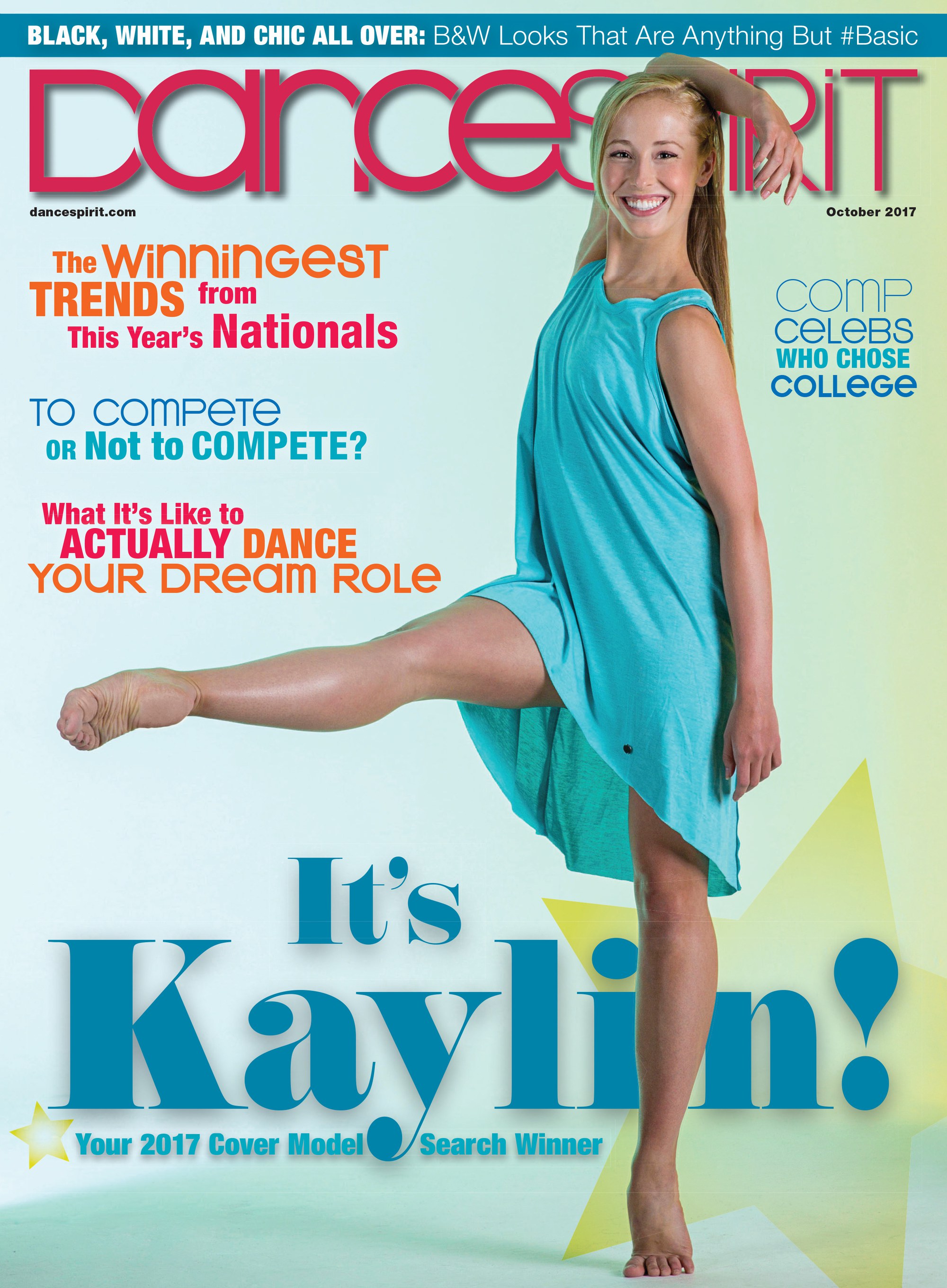 Get Dance Spirit in your inbox