Mar. 23, 2017 05:35PM EST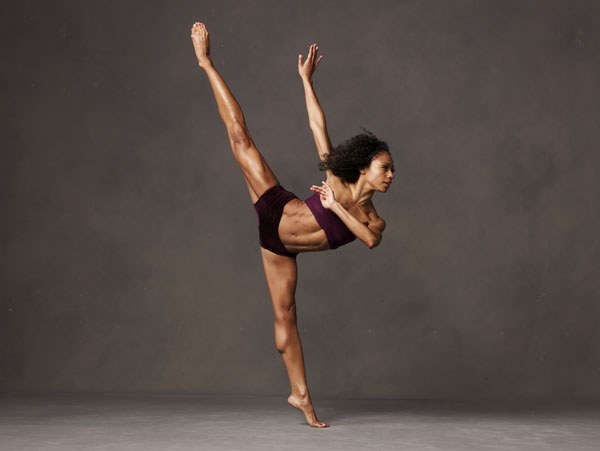 (Photo by Andrew Eccles, courtesy AAADT)
Linda Celeste Sims' nearly 20-year career with Alvin Ailey American Dance Theater has been characterized by grace, power and awe-inspiring stage presence. The NYC native graduated from the Fiorello H. LaGuardia High School of Music & Art and Performing Arts, and earned a contract with Ballet Hispanico right after graduation. Two years later she joined AAADT. Since then, she's performed at the White House, on "So You Think You Can Dance" and at galas and festivals around the globe. In 2014, Sims received a New York Dance and Performance "Bessie" Award for her work with AAADT. This month, catch her in featured roles in Alvin Ailey's Blues Suite and Paul Taylor's Piazzolla Caldera during the company's New York City Center season.
—Jenny Ouellette
My Beloved Linda,
To be a dancer, you must be courageous! I'm going to be honest with you: Dance is one of the most difficult, challenging—and rewarding—professions out there. You'll struggle with not being the best, and you'll face impatience, doubt, insecurity, frustration and jealousy, as well as a constant need for perfection and attention. But you can overcome all this.
Use your emotions for good. Try to become stronger each day. Think positively and make the studio a retreat where you can escape and focus on yourself. Negativity is not a place of happiness. Positive competition is good, but don't ever look in the mirror and think, Why don't I look like her? God made us all different, so each of us has something special and unique to say with our gifts.
Through dance, you will discover who you really are, and you'll learn to cope gracefully with your obstacles. Dance will teach you self-control, self-discipline, patience and dedication. You'll eventually find freedom and joy in dance. But you must believe in yourself.
Most important, don't ever stop learning, even if you think you've arrived at the top. Take care of your body and spend extra time maintaining it, even when you're tired. On those tired days, remember that you won't achieve anything with laziness. Quitting is never an option.
Be inspired by all things around you, and always dance from your heart. Be genuine, and don't be afraid to be vulnerable onstage. The stage is your canvas. Paint your story. Use your imagination and create your own voice.
You're beautiful, even with all your imperfections. Always be grateful for your blessings.
Lovingly,
Linda
Jun. 16, 2016 10:35PM EST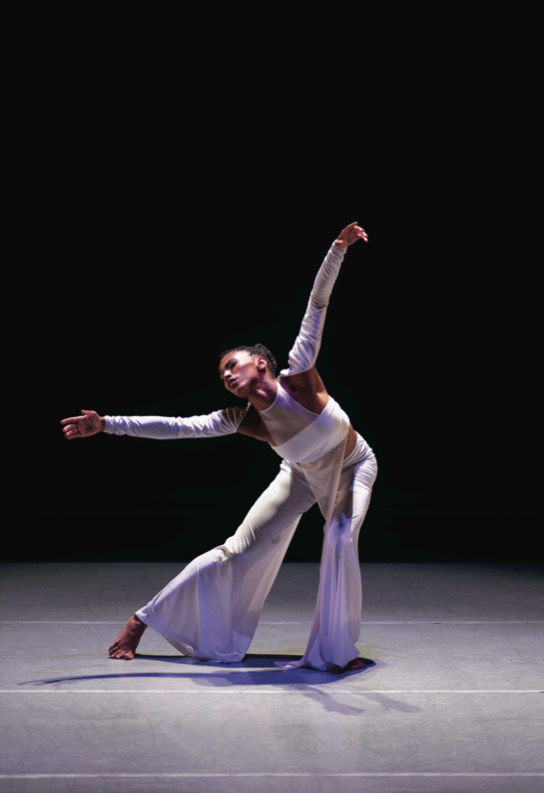 Jacqueline Green in Ronald K. Brown's Grace (photo by Pierre Wachholder, courtesy AAADT)
Alvin Ailey American Dance Theater's Jacqueline Green is a classically elegant dancer who moves with a deep soulfulness—and her quick rise through the ranks has cemented her place in the spotlight. An Ailey/Fordham BFA Program graduate, and a former Ailey II dancer, she's been an Ailey company member since 2011. In 2014, she received a dance fellowship from the Princess Grace Foundation-USA and last year she was a Clive Barnes Award nominee. Catch her this spring in Ailey's 20-city North American tour before she heads back to NYC, where she'll perform lead roles in the company's Lincoln Center season, June 8–19. And read on for The Dirt! —Courtney Bowers
Who's your dance role model?
ALL of my coworkers! I admire them for many different reasons. I've seen how hard they work and what they deliver on stage. I'm proud to say I dance with them.
Is there anything that makes you nervous?
I can perform in front of thousands comfortably, but a flight to Europe can make me anxious.
What's your favorite dance movie?
I love the classics so... 1987's Dirty Dancing. I've actually been 'Baby' practicing salsa on the subway platform.
Who can always make you laugh?
My family! No matter what. My grandmother is the funniest of them all.
Do you have any nicknames?
Jackie, Jax, K, Jackie Green Day, Three :)
What's your advice for other young performers?
Always remember why you started and why you continue. It can get tough sometimes, but if you stay inspired, the tough part becomes smaller.
What's your biggest guilty pleasure?
A signature slice from Make My Cake!!!
Who's your dance crush?
Mr. Matthew Rushing! My company knows this for sure. He is simply amazing!
Do you have any pre-performance habits or superstitions?
I love to have a quiet moment and touch my hands to the marley before the curtain goes up.
What are your pet peeves?
Spatially unaware people…it's the New York in me.
What one thing can't you live without?
Coconut oil! It has so many uses: moisturizer, makeup remover, chapstick, cooking oil, lotion, etc.
What's the most-played song on your playlist?
Right now it has to be Kendrick Lamar's "Alright!"
What's something no one knows about you?
I have recently become a huge fan of Korean TV dramas.
If you could work with any performer, past or present, who would it be?
Michael Jackson or Alvin Ailey
What do you love most about being an Ailey dancer?
Everything! But recently, I love how people react when you tell them you're an Ailey dancer.
What's your most-watched TV show?
I love love LOVE "Martin," "Sex and the City," "The Nanny" and all things Shonda Rhimes!
What did you want to be when you were a kid?
According to my middle school yearbook, a famous dancer, pediatrician or veterinarian.
Who would play you in a movie?
If I had a choice, Dorothy Dandridge or Angela Bassett
What's something you're most proud of?
I'm most proud of my relationships with my family and closest friends. I feel so fortunate and blessed to have them in my life.
Jun. 07, 2016 08:14PM EST
It's time Alvin Ailey American Dance Theater's annual Lincoln Center season, and we couldn't be more excited. The company always delivers, thanks in large part to its roster of incredible dancers—including Jacquelin Harris, who is cast in Mauro Bigonzetti's Deep, set to premiere on June 10. (If you live in the NYC area, enter our giveaway for your chance to win a pair of tickets!) Harris spoke with DS about the new work, its music, the rehearsals and what she's learned along the way.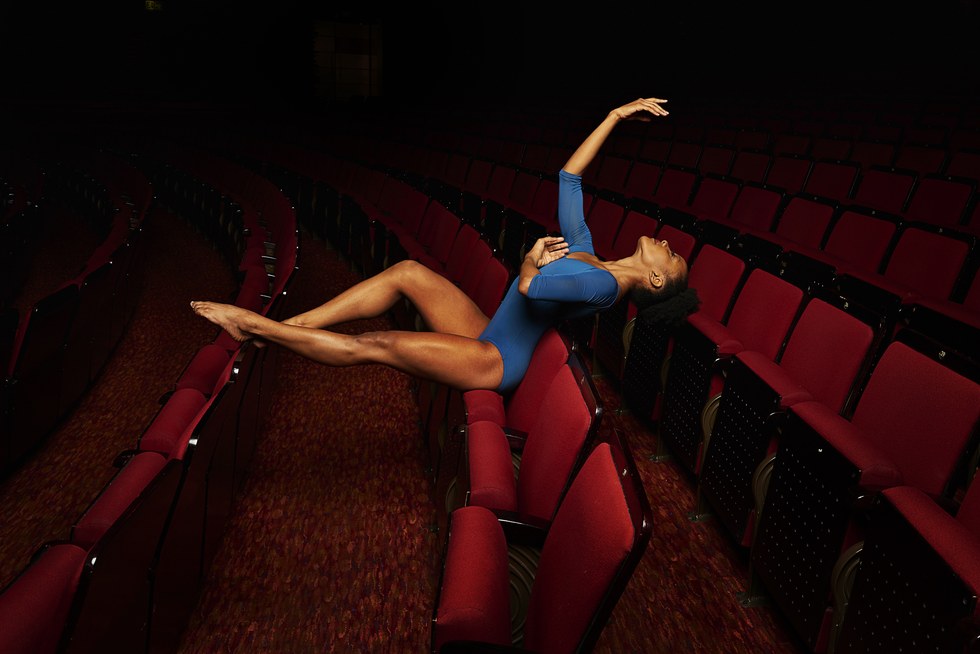 Alvin Ailey American Dance Theater's Jacquelin Harris (photo by Andrew Eccles, courtesy AAADT)
Dance Spirit: What has the process been like while rehearsing Deep? Have you worked with Mauro Bigonzetti before?
Jacquelin Harris: This was my first time working with Mauro since I've been in the company, but he has a long rapport with AAADT. Choreographers often will come into the studio with a work already created, to help speed up the process. But Mauro is very interested in the relationship between the dancer and choreographer—no movement was created prior to meeting the dancers. He wanted to see what he could bring out in us, and how we interacted with each other. It's really detailed and personalized, and if the dancers had their own visions, he was very open to listening.
DS: Did the way you rehearse change at all while working with him?
JH: Definitely. Working with Mauro has shown me that what I bring to the rehearsal is just as important is what the choreographer brings—it's okay for me to bring my creative intuition.
DS: What's your role in Deep?
JH: My character is balancing on the precipice. She's trying not to fall over the edge, into the "deep." She's trying to hang on to what everyone around her is hanging onto. There are a number of times where I almost go over the edge of the stage, then get pulled back by the other dancers.
DS: Can you talk a little bit about the music?
JH: It's beautiful. It's so soulful, sung by the duo Ibeyi. You can hear their emotions through the way they say their words, which really helps us with our movements.
DS: What have been some of the most enlightening moments of the whole experience?
JH: When we first ran the whole piece, there was something groundbreaking about the way it all fit together. With Mauro, you learn a piece or a section and practice it over and over, trying to make it seamless and figure out what needs to be done in order to make it work as a collective. There's a lot of partnering, and the piece is all about relationships with your partner and everyone else on the stage. And once you run it from top to bottom [after rehearsing all these sections], you understand how it all fits together. Everyone was clapping and cheering, and it was a great feeling.
Catch Alvin Ailey American Dance Theater at the David H. Koch Theater at Lincoln Center, June 8–19!
Nov. 27, 2015 12:00PM EST
In a company of formidable soloists, who also work together as a flawless group, Jacquelin Harris manages to pull focus. Even though she's a younger and newer member of Alvin Ailey American Dance Theater, Harris blends in when she needs to, and stands out when it's called for, like a seasoned pro.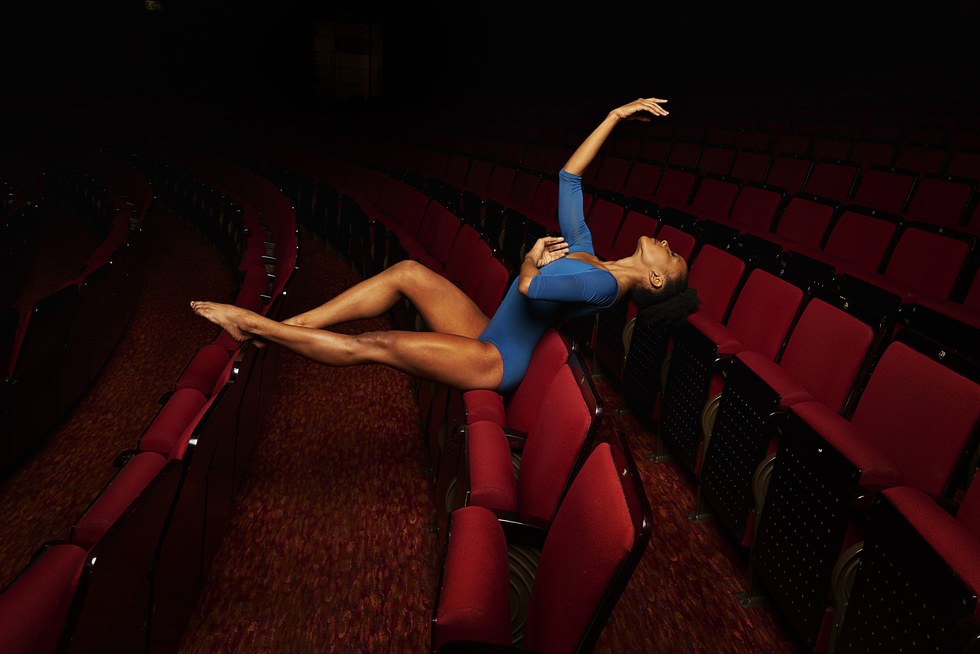 Alvin Ailey American Dance Theater's Jacquelin Harris (photo by Andrew Eccles)
She took a moment from her busy schedule to talk to Dance Spirit about artistic director Robert Battle's upcoming premiere for the company—his first since he's been in charge.
Dance Spirit: So, you're in the first cast of Mr. Battle's Awakening! What has that process been like?
Jacquelin Harris: It's been amazing. Mr. Battle is a genius with the counts. It'll be a six, then a four, then a ten, but with his direction it all comes together in the music (composed by John Mackey).
DS: What has been your favorite moment?
JH: Hearing the music for the first time. It sounds like an orchestra, and Mr. Battle was at the front of the room saying "You, here! You, there!" He was painting beautiful pictures with our bodies while his rehearsal director was frantically writing everything down!
DS: What's it like to have something created on you?
JH: Since we're a rep company, we do a lot of different things and need to be able to switch gears in our head. But it's so nice to have the work made on you because then you can receive personal feedback. Mr. Battle tends to get really excited and jump right into creating. He wants specific things but he still tells us to look like ourselves.
DS: What is your role in Awakening?
JH: There's a lot of group work in the dance that invokes community, finding a leader without being disruptive and being unique while also being cohesive. My character tends to be alone a lot. I'm not the soloist, but Mr. Battle will ask me to fall or crawl—for just one second I have to branch out and do my own thing. But people pick me back up again. I haven't decided yet if I'm the weakest link or the strongest link!
I think the role makes sense for me. I'm a newer member of the company, so I'm inexperienced in the dance world we live in and I look for a lot of guidance. But at the same time I don't consider myself to be someone who tries to stand alone outside of the pack. I'm into my community.
Want a chance to see Jacqueline perform Awakening? Enter here for a chance to win two tickets to opening night!
Jan. 21, 2015 09:47PM EST
Oct. 01, 2014 05:15PM EST
Alvin Ailey American Dance Theater's most recognizable work is Ailey's Revelations—a masterpiece that's been performed continuously since its premiere in 1960. Sylvia Waters, former artistic director of Ailey II, coached AAADT dancer Fana Tesfagiorgis through the opening steps of the haunting first section, "I Been 'Buked."
Keep reading...
Show less


Get Dance Spirit in your inbox