Jan. 02, 2013 10:59PM EST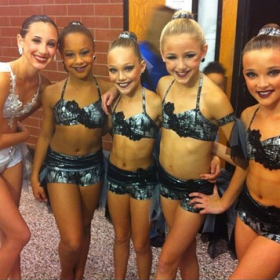 Say what you will about "Dance Moms" (After blogging about it for several years now, I'm pretty sure I've heard it all), but I'm still as hooked as I was during the first episode of Season 1. The girls, the moms, Abby's incredibly uncensored mouth…How could I resist tuning in for Season 3? Plus, last season's finale left us with so many unanswered questions. Mainly, will Brooke and Paige come back?
Read on for my three most awesome—and three most awkward—moments of this week's episode.
AWKWARD Brooke and Paige do not come back. We still watch them eat breakfast and stuff though, so something tells me they'll try to make a comeback at some point. Auditions to replace them went great—besides the fact that all the girls were twice as old and twice as good as the girls already on the team. Oh and remember when Abby used her catchphrase from "Abby's Ultimate Dance Competition" to cut a girl? "Today is not your day." Caught that, Abby. I know you're super famous now, but let's try to remember which show we're on.
AWESOME 13-year-old Ally (the Paige-and-Brooke replacement) is great. She seems mature, technically amazing and has a positive, respectful attitude. But brace yourselves for her mom Shelly, because she's…also really great. Wait, what's going on here? Is this still "Dance Moms"? I guess we'll just have to leave it to the other moms to crush Shelly and Ally's souls until they snap. I'm sure it won't take long.
AWKWARD Kendall is the first to find out she has a solo, so Mom Jill runs to the dressing room to rub it in the other moms' faces. Good move. Turns out, everyone but Nia and Ally get a solo in the end. Way to count your chickens, Jill. Kendall may have been showing up for rehearsals all summer, but it looks like she may have skipped those technique classes. She cries about how mean Abby was, Abby yells at her for crying, and things fall apart. At least she's not on probation this season…
AWESOME I love this group number. "Angel and Demons" deserved that first place win. OK, we've seen themes like this before, but I still have to hand it to Abby—everything from the cool choreo to the costumes to the casting (sorry Chloe) was flawless.
AWKWARD Justice is gone! What will ALDC's rival studio Candy Apples do? Studio owner Cathy's daughter Vivi seems devastated about the loss of her dance partner. Just kidding, Vivi doesn't show any emotion. Then Vivi gets kicked off the team by her own mother. She seems devastated. Got you again; she didn't care at all. Now Cathy's creating an all-boys team. If nothing else, this will certainly be interesting.
AWESOME Chloe's solo "Nobody's Perfect." Chloe is a champ. Ally may have stolen her part in the group dance, but she handled it like a grown up and then kicked butt when she took the stage alone. Oh right, that's why she's the national title winner. This girl's got it. Mark my words: This season, Chloe's the new Maddie.
Oh yeah, and because I can't NOT mention this, the most AWKWARD, most uncomfortable moment of the episode:
Abby leaves the competition to go on a date! I think I'm in shock.
And finally, the QUOTE OF THE WEEK:
"You were just a dumb little kid, doing your thing, with a sister who was amazing." —Abby to Mackenzie
Agree to disagree on that one, Abby. Mac has always been amazing. And now she's old enough to have braces? I've got to say, she totally pulls them off.
I think little Mac says it best: "Haha Abby, I won anyways."
Fess up, did you watch? And what did you think? Let me know in the comments below, and I'll be back with another recap next week.
Jul. 25, 2012 02:30PM EST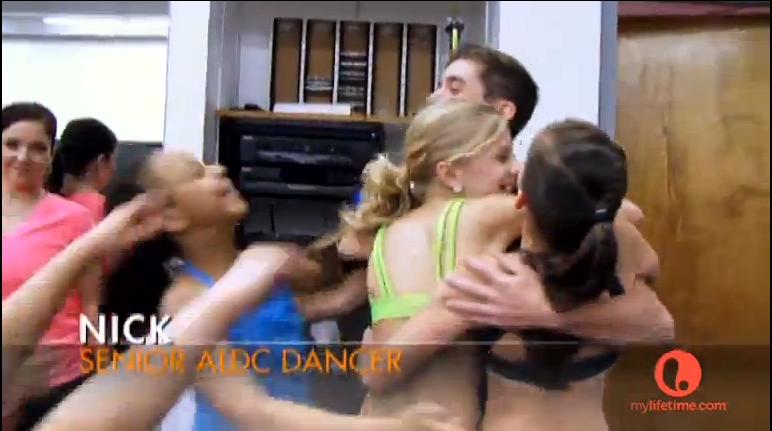 This week on "Dance Moms": Jill and Kendall came back, and Abby dealt with it surprisingly well—until Jill started being her old awful self and Abby went nutso. Later, they all fought over a hair bow. But let's skip to the good moments. Here are my top 5:
5. The "Drop Dead Diva" verdict is in—and Maddie got the part! As expected, the moms handled the news terribly. No one was this upset when Chloe snagged a role in a music video or a scholarship to Joffrey, but this was apparently unacceptable! It's so sad that Maddie can't be excited about her accomplishments too, but she was oh-so-humble and oh-so-cute. She obviously deserved this opportunity. Moms, get over it.
4. Paige got a solo, but no more mommy-ography allowed. Her choreography was sassy, and it looked really hard! A well-deserved 6th place win. But then she had to go and do a standing back tuck on a cement floor. Shocker of shockers, she hurt herself. Buzz killed.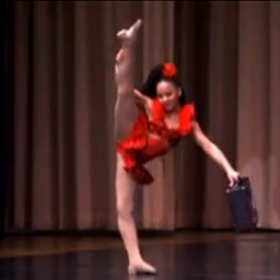 3. Laquifa's back! The original Laquifa solo was one of my favorite Nia moments, so I was pumped when Abby decided to choreograph a sequel. And this "Working Girl" number blew her last attempt out of the water! Her character was perfect, and her death drop at the end was pure awesome. Even sweet little Maddie was inspired to show off a little swagger in the audience. Nia got a standing ovation (!), plus ninth place and the "Fiercest Attitude" award.
2. The Twilight dance! Where should I begin? Abby brought in Nick, a senior dancer, to play the evil vampire that seduces all the little girls. What a hunk. Everybody was happy, except for Mackenzie (see #1). Then Abby killed the mood by deciding to cut a bunch of girls on the day of the competition. Paige eliminated herself with her genius attempt at gymnastics. Then Kendall (duh) and Nia got chopped as well. The end result? The piece looked really cool, and got first place! Everybody's happy again.
1. Mackenzie climbed to the top of my recap pyramid with this little gem in reaction to Nick joining the team: "I think boys are icky. Icky. Icky. Icky. Icky!" Gotta love her.
We have to wait two whole weeks until the next installment, but it looks like it's going to be a good one! See you back here for another recap. In the meantime, let me know what you thought of this week's episode.
Jul. 11, 2012 02:00PM EST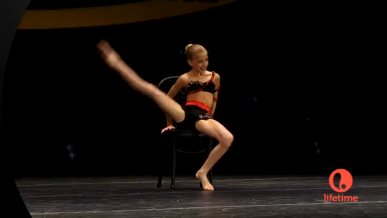 Let me be the first to say that going two weeks without any new Abby Lee Dance Company footage was rough! I missed these little girls; Their moms, not so much. And this episode brought us back to all the things we love—the moms enjoyed some cocktails, the Candy Apples returned and Maddie got to the top of the pyramid (twice!). Here are my top 5 moments from last night's show:
5. Kendall is so precious, and such a hard worker. And I loved seeing her smiling face after a less-than-excellent award ceremony. But that girl was just taking abuse from all sides last night: Abby Lee's one goal was to beat her, her teacher Cathy had pretty much given up on her, her music was skipping all over the place, and then even her mom seemed angry with her performance!  Keep your head up, Kendall—I'm rooting for you!
4. Paige's solo smack down. Ok, while I really can't stand her mom, I love Paige and was so happy to see that she finally got the chance to shine with a solo (as long as she perfected it on her own time with no help from any teachers). Let the mayhem ensue. Her mom went ahead and re-choreographed the whole thing to make it more challenging, and, surprisingly, it worked! Paige placed 7th (only one spot below Chloe), blowing competition Kendall out of the water, and she proved to Abby Lee that she's outgrown her safe, boring choreography. Time to step it up, Abby Lee.
3. Vivi as human prop. Even professional choreographers don't know what to do with this child; the dancers awkwardly carrying her (the "Asian Princess") around the stage was hard to watch. We get that you're using her to bring the age of your piece down, Cathy. Problem is, when she's 15, and still hasn't learned to pick up choreography, poor girl is going to run into some serious problems.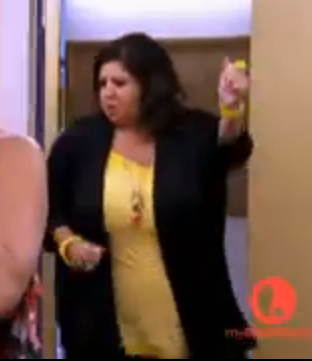 2. Abby Lee brings in some ringers. There's nothing that usually distracts me more than when 18-year-olds dance with 6-year-olds (see number 3), but Abby Lee really pulled it off with class. The choreography was beautiful, and all of the girls really held their own in this week's group number. And, since she hasn't been mentioned yet, let me take a moment to praise little Mackenzie for killing that tricky choreography alongside senior dancers! Take that, Vivi.
1. I was definitely expecting some serious yelling (and perhaps some chair-throwing) when Abby Lee came back to the dressing room after awards. Instead, she gave us the most awesome victory dance ever!  Though it was only about 4 seconds long, I may have re-watched it a couple of times.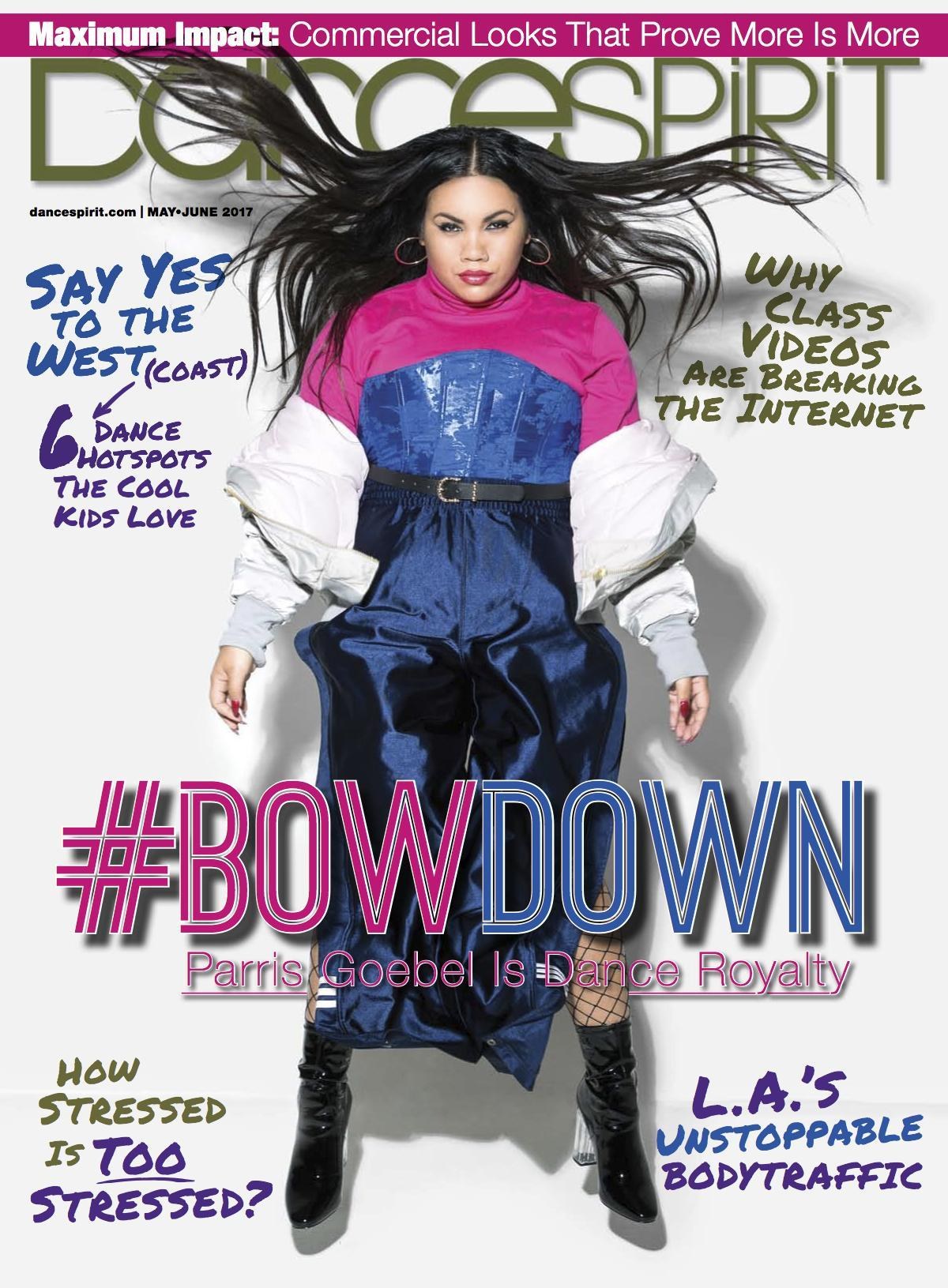 Get
Dance Spirit
in your inbox
Featured College Dance Program