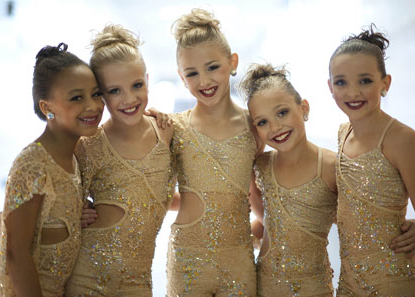 These could be your new BFFs!
Calling all comp kids! Are you dreaming of making your small-screen debut? If you think your leaps are as strong as Maddie Ziegler's, your shimmies are as fierce as Asia Monet Ray's and your pirouettes are as sharp as Chloe Lukasiak's, now may be your time to shine! Here's the catch: Your mom (or dad!) has to be on board as well.
Why? The infamous Abby Lee Miller is looking for new kids and their parents to add to the cast of "Dance Moms"—and possibly "Abby's Ultimate Dance Competition."
Auditions for dancers 13 and under will be held in Orlando, FL (Oct. 25), Atlanta, GA (Nov. 8), and NYC (Nov. 23). Find out more and register at dancemomscasting.com.
See you on TV!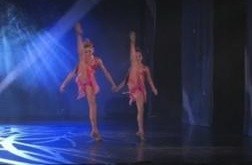 Bam!
"Dance Moms," I've missed you this last month. In fact, I've missed you so much that the fact that this episode was full of Cathy and her fame-hungry dance dads, way too much crying and almost no Mackenzie moments only mildly upset me. (But don't do it again!) At least it was also chock full of dancerly romance! Here are my top three AWESOME and AWKWARD moments.
AWKWARD: Maddie and Gino sitting in a tree… While this little crush is the cutest thing in the whole wide world, the way the adults handle it is pretty disgusting. Apparently, Gino gave Maddie a kiss on the cheek at the last competition. While this was no make out (Mom Melissa makes that very clear), it was definitely the most scandalous kiss in "Dance Moms" history. At least Abby and Cathy can finally agree on one thing: no kissing the enemy!
AWESOME: The "group" dance—although you can hardly call this the group without Paige, Brooke or Mackenzie. Still, Maddie, Chloe, Nia and Kendall make an excellent foursome of "bad girls." They couldn't have been more in sync if they were clones of each other, and the choreography was so cute! Even if Candy Apples' bicycle/unicycle dance hadn't been kind of all over the place, I still think the girls would have nailed the top score.
AWKWARD: Gino and Zack do an emotional dance about Anthony's late father. While I generally love when choreographers use their own emotional experiences to inspire movement, this was probably not the best venue to honor your dad who died only one week earlier, Anthony. Plus, this routine, while sweet, was pretty darn boring. Only Candy Apples would bring in fabulous dancers from all across the country and then give them choreography that's mostly just hugging and caressing each other. Where's the dancing?! Abby, as usual, was honest about not liking the dance, and the Apples freaked out. It all ended in a ridiculous fight where Cathy cried because no one had her back. The dads get all awkward and uncomfortable, except for Jalen's dad, who has clearly decided that his life goal is to live up Cathy's butt. Then Gino's dad asks to join the ALDC. Sigh… In case you haven't noticed, I'm not the biggest fan of the adults associated with Candy Apples.
AWESOME: Chloe and Maddie dancing together. Thank goodness we get to take a break from this little battle (although it looks like it's coming back in full force on the next episode…). Again, their synchronization was insane. That first place win was no surprise. Now the question is: How is Abby going to decide who goes on the top of the pyramid next week?
AWKWARD: Mom Kelly, for this entire episode. I don't even know where to start. First, Abby told her that both Brooke and Paige would be featured at competition, which upset her for a reason I must have missed. Then Mom Jill stirred up trouble and Mom Christi yelled in Paige's face. So now Kelly has an actual reason to be upset, but says she's not upset. Then both her daughters do really well, so she cries and says she's leaving the ALDC. I'm confused…
AWESOME Brooke gets to dance with the seniors! Oh, was Brooke too old for this group of munchkins? Of course she was! She's not quite at the seniors' level yet, but at least she's finally being challenged. And holy beautiful dancers, Abby. It's eye opening to see how well-trained and professional Abby's kids grow up to be (yup, she knows what she's doing!). To make this little twist even better, cute 17-year-old Kevin is a part of this dance, and he takes Brooke on a date (because Abby makes him). Turns out, Kevin can eat a lot of dessert. I think these two are just precious together. Can I be invited to their wedding, please?
Time for the QUOTE OF THE WEEK:
"Miss Abby always says, no boys, no boys. But this is the second date she's set me up on!" – Brooke
And, just for kicks, here's a fun fact that will blow your mind: ALDC dancer Kevin (Brooke's date) and Candy Apples dancer Gino (Maddie's crush) are BROTHERS! Both beautiful dancers, they study at Dance Attack in Miami, FL. (Apparently, Kevin's been competing this piece with ALDC as a guest all season.) Oh Lifetime, as if this show wasn't scripted enough…
That's all for this week. Tune in next week for more "Dance Moms" fun and, of course, another recap.
I have a confession: I miss "Dance Moms." And these last two weeks of reunion shows with the moms (where are the kids?!) just aren't cutting it. Luckily, I have a fun video of Chloe and Maddie's visit with Dance Spirit to carry me through. Check it out: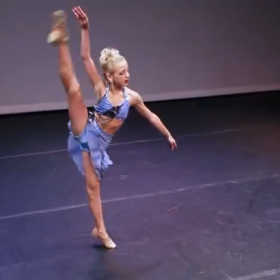 Abby Lee Dance Company goes to Nationals! Considering how awesome everyone dances, there's an awful lot of crying in this episode that I could live without. I've also chosen to ignore the Candy Apples in this recap, because they were just too annoying. (Although I did think the thirty seconds of Cathy's creepy cackle perfectly illustrated her personality.) With that said, on with my top five moments:
5. Not that Abby generally holds back when insulting her students, but Abby calling Paige stupid was below the belt. Kelly storms out. Silver lining? This means she's outside and free when she gets a call offering Paige a photo shoot. Yay Paige! We're not really sure what this photo shoot was for, but it was a nice moment in the spotlight. She really is a beautiful kid.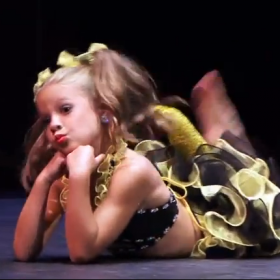 4. So there's this new trend on "Dance Moms" where Abby waits until the last minute to cast a routine. It's not fun for the girls, it's not fun for the moms and it's really not fun for me. This week, the routine in question is a solo, and the three contenders for the spot are Chloe, Kendall and Nia. In an unexpected twist, Abby makes the moms be the judges. Shocker of shockers, all the moms choose their own kids to win the part. Who will break this three-way tie? Mom Melissa, of course. (Do we think producers were upset about the lack of mom drama last week?) Melissa picks Nia! Yay Nia! I'm so proud of… wait, Abby doesn't want Nia. You mean this whole letting-the-moms-choose idea was just a ruse?! Abby convinces Melissa to choose Chloe, which makes Kendall cry. "We already knew who was going to get it," says sad-face Kendall. Excellent point. Chloe's happy to get the part, but she's feeling the pressure. And now Chloe's crying, too. I told you there was a lot of crying in this episode. Well done, Abby. Well done.
3. Maybe I'm still coming down from the excitement of meeting Maddie and Chloe last week, but I love that these two are constantly cheering each other on instead of pulling each other's hair out. They both competed solos this week, danced beautiful, and (most importantly) beat Justice! As Abby so eloquently says, "Justice has been served!" Maybe the judges were as turned off by all the fake blood in his routine as I was. Anyway, back to the girls. Chloe's beaming smile backstage while Maddie performed was just priceless. Time for crowning: Maddie got second place, and Chloe got first! Maddie was so happy for her. Mom Christi was a mess. So was I. Go Chloe! Cue the victory music.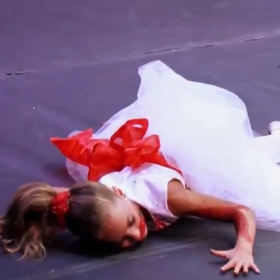 2. Remember how nothing makes me happier than seeing Mackenzie dressed up like an animal? So obviously I was thrilled when Abby announced that this week, little Mac would be a killer bee. Wait, is that the same solo music that Vivi once used? Uh oh, I sense impending drama… Luckily, Mackenzie was so darn cute that nobody stayed angry for long. Basically, she put Vivi's sad shimmying to shame. A well-deserved first place. "She's not Maddie. She's Mackenzie, and she's an amazing little dancer," said mom Melissa. Truth.
1. A moment of silence at a dance competition is a very rare thing, but Abby manages to inspire one with this week's group routine. "My Last Text," about a group of kids who die because they're on their phones in the car (creepy!) was well danced, mature and super poignant. The audience was in tears and even Cathy called it "absolutely brilliant." Not surprisingly, this number wrapped up the Abby Lee Dance Company's clean sweep. All in all, an excellent way to end the season.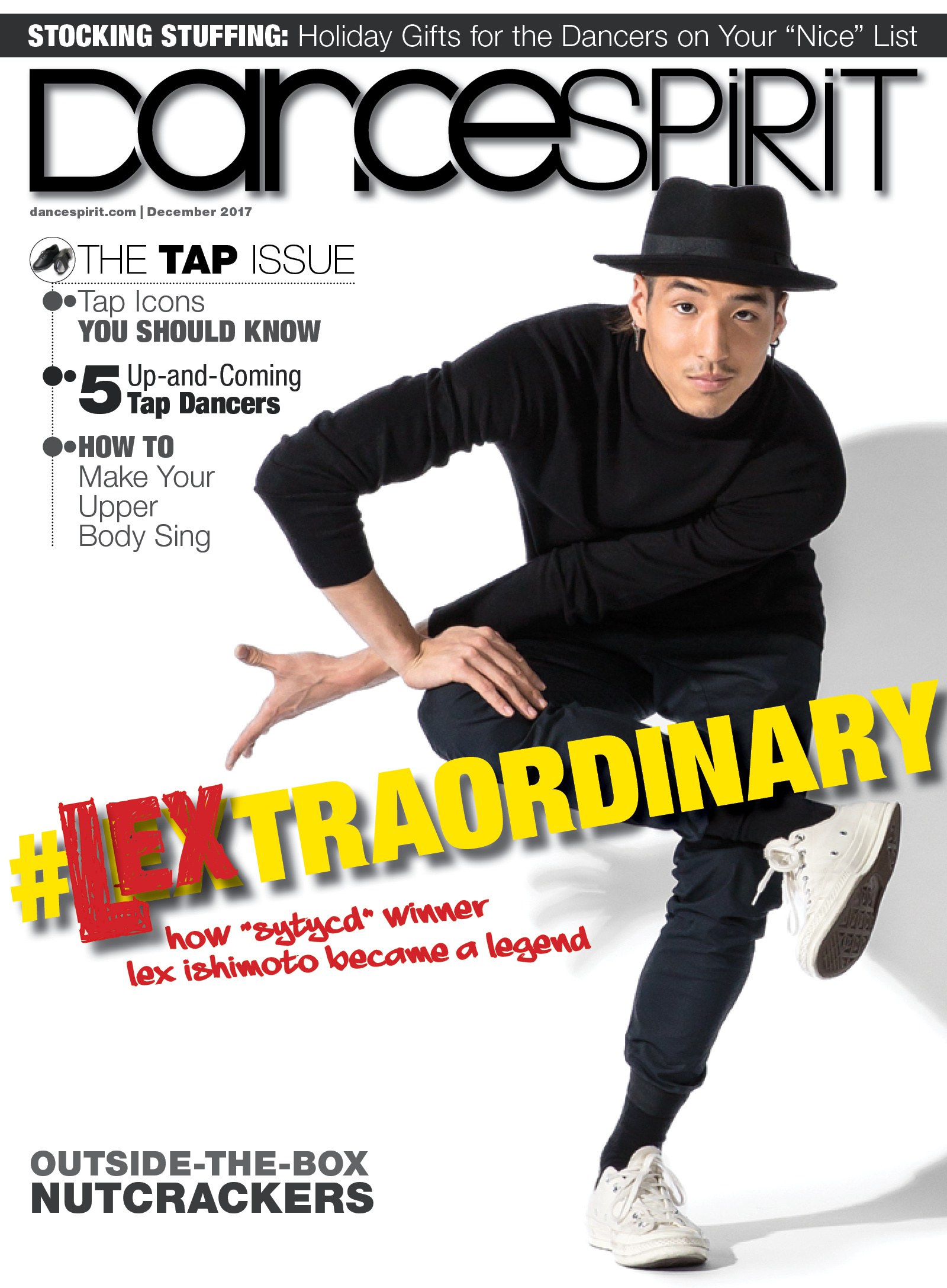 Get Dance Spirit in your inbox