Auditions are like vegetables: Are they the most delicious food? Probably not. Are they essential for your growth as a dancer? Definitely.
We love asking the pros for their advice, because we know the important role auditions play in every dancer's career. Whether we're breaking down the basics for first-time auditionees, giving you real talk on mistakes you don't know you're making or keeping it light with stories of pros' worst audition mistakes, we're always looking for tips to help you make it to the final round.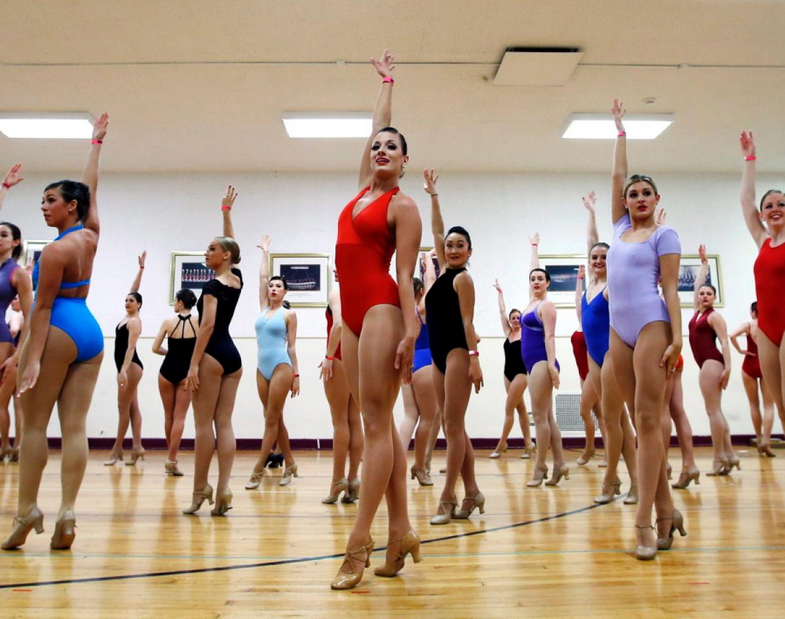 A Rockette audition (photo via New York Daily News)
With audition season almost upon us, who better to share advice than our favorite leggy ladies, the Radio City Rockettes? We love that they hold auditions every year and are always on the lookout for new performers. Here are some of their top tips for a solid audition experience:
Review all of the audition requirements and guidelines...more than once. (You do NOT want to be that girl who brought black shoes when tan ones were required.)

Use a folder or envelope to hold all your paperwork, like application forms, audition fees, headshots and resumes (and extra headshots and resumes).

If you're asked a question or interviewed, listen carefully, take a breath and then speak. (It's not a great feeling to blurt out an answer, accidentally interrupt someone and then have literally no idea what you just said.)
Mar. 23, 2017 01:37PM EST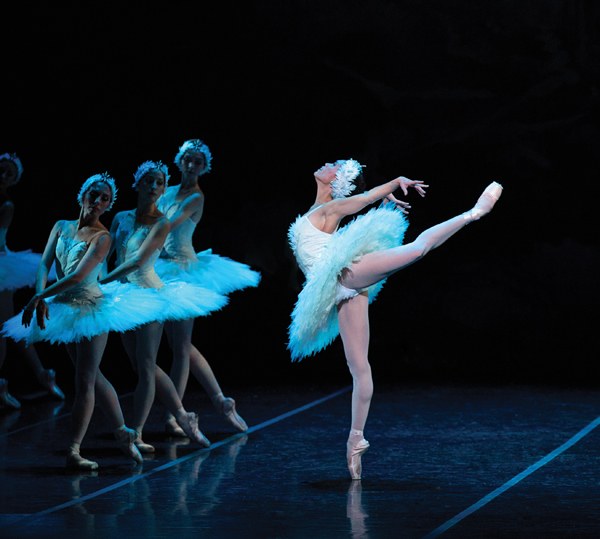 In Mikko Nissinen's Swan Lake (photo by Rosalie O'Connor, courtesy Boston Ballet)
Commanding, versatile, fearless, sinewy, grounded—it's impossible to describe multifaceted Boston Ballet principal Lia Cirio in just one word. That's partly because she's had a perfectly pointed foot in two distinct corners of the dance world. She joined Boston Ballet II in 2004 and quickly rose through the ranks, becoming a soloist in the main company three years later. Then, Cirio took a yearlong hiatus to tour with the more contemporary Trey McIntyre Project. She returned to Boston Ballet in 2009, was promoted to principal in 2010 and currently performs both contemporary and classical roles. She also dances with the Cirio Collective, created by her brother, American Ballet Theatre soloist Jeffrey Cirio. Catch Lia with BB this fall in John Neumeier's Third Symphony of Gustav Mahler at the Boston Opera House. —Jenny Ouellette
Dear Lia,
There are so many things I want to share with you! You'll go through a lot in your career—physically, mentally, emotionally and personally. But know that through it all, you'll maintain your passion for ballet and a joy for life.
I know you worry about having friends. You may feel like something of an outcast now, but friends will come—and they'll be the ones who count. True friends are those who value you as much as you value them. And watch out for that little brother of yours, Jeffrey! He'll not only become one of your best friends, but also a big inspiration in your career.
There will be days when you'll wonder if sacrificing a normal teenage life is worth it—or if it's just a big waste. But take my word: It's worth it! You'll discover so much joy onstage, and you'll treasure those incredible, indescribable moments forever.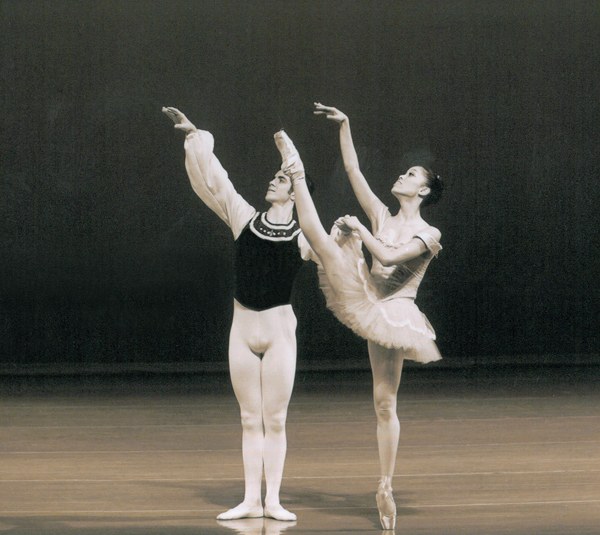 At age 16, performing with Ian Hussey (now a principal at Pennsylvania Ballet) at Central Pennsylvania Youth Ballet (photo courtesy Lia Cirio)
Know that there will be times you're not cast because of the way you look or because someone doesn't like your dancing. Don't waste any energy thinking about how you could change. Be yourself. God made you special. Continue working on your technique, and never compare yourself to others. Hold on to your confidence—it's so easy to let it slip away. Trust your technique and passion, but remember to watch, learn and never be satisfied. We can't be perfect, but we can always strive for perfection.
Lia, live your life to the fullest. Ballet is your dream, and it's such a privilege to be able to dance. Embrace every moment!
With love,
Lia
P.S.: Listen to Mom! Take it to heart when she says you can do whatever you set your mind to. You're stronger and smarter than you think!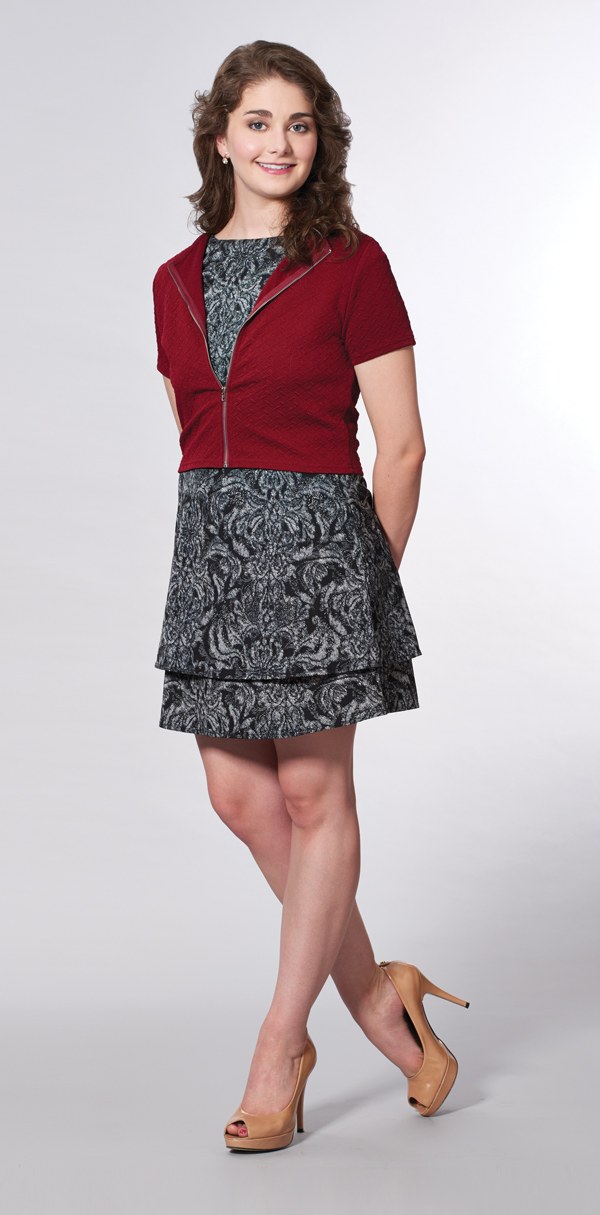 (Photo by Nathan Sayers)
Dear Katie,
My teacher always casts me in flashy pieces with lots of turning and jumping, but I'd really like to try something more lyrical. How can I keep from getting typecast? —Danielle
Dear Danielle,
If you keep getting cast in flashy pieces, you probably have really strong technique—congratulations! But I understand your dilemma. Nobody wants to be typecast. To break out of your box, start by focusing on the more lyrical parts of class. Casting begins in the studio, so if your teacher sees improvement there, she'll be more likely to cast you in lyrical pieces. During adagio, for example, pay close attention to the
music; let it flow through you. Or, if there's a waltz combination, try to use up all the space in the studio and really dance.
The other thing I'd recommend is simply talking to your teacher. Don't accuse her of not casting you in those roles—negativity will only hurt you. Instead, tell her you're interested in broadening your horizons. Say that you'd appreciate the challenge of a lyrical role, and assure her you'll work as hard as you can on it. Even if she says no, ask if you can understudy a lyrical part. That way, you'll be able to show her what you can do without the pressures and risks that come with performance.
Dear Katie,
I feel like I'm really bad at networking. How can I get my name out in the dance world in a way that will help me earn jobs? —Avery
Dear Avery,
The first key to networking is to be friendly in general, and especially when you're at an audition or in class. If you make a connection with a teacher or another dancer, don't be afraid to talk about yourself. You obviously don't want to be a braggart, but unless you tell people about your accomplishments, they won't know! That said, don't be overly aggressive. It can be obvious when someone's trying too hard to network. Frequently, it doesn't take much—a single conversation can sometimes lead to a job. So just be your lovely self.
I'd also recommend keeping your resumé on hand, in case a teacher mentions she's looking for dancers for a particular project, for example. Class can sometimes turn into an impromptu audition! Make sure your resumé is updated, well-organized and has a clean layout.
And social media can be a powerful tool. To build your following, try posting dance pictures or short video clips of yourself, and make smart use of hashtags. Again, it's all about getting yourself out there. You can't expect people to find you on their own—you have to give them a little help.
Dear Katie,
I'm pretty flexible, but while my extension is good to the front and side, I have trouble getting past 90 degrees in arabesque. Do you have any tips? —Kelsey
Dear Kelsey,
Extensions to the front and side are all about the hamstrings, but arabesque primarily has to do with your back. So to get that arabesque higher, start by working out your back muscles. I'd recommend taking Pilates classes, which are excellent for strengthening your back. But these exercises are also helpful:
1. Lie on your stomach with your hands under your forehead. Lift your upper body off the floor, lengthening outward as if trying to reach the opposite wall. Lower slowly. Repeat 12 to 15 times. You should feel the burn in the upper part of your back; if you start to feel it in your lower back, you're lifting too high.
2. Beginning in the same position, lift and lower each of your legs 12 to 15 times, keeping them turned out. Again, try to think of lengthening them toward the wall behind you.
You can do many combinations of these exercises—lifting up one leg and the opposite arm simultaneously, for example, or, once you're a little stronger, both legs and both arms.
The other thing that helps is to remember that an arabesque should lift from the inner thigh, not the hip. So as you raise your leg, feel the inner thigh rotating to pull it up. That will make your legs so much lighter and freer.
Videos
Mar. 23, 2017 12:25PM EST


Get Dance Spirit in your inbox