Mar. 23, 2017 09:17AM EST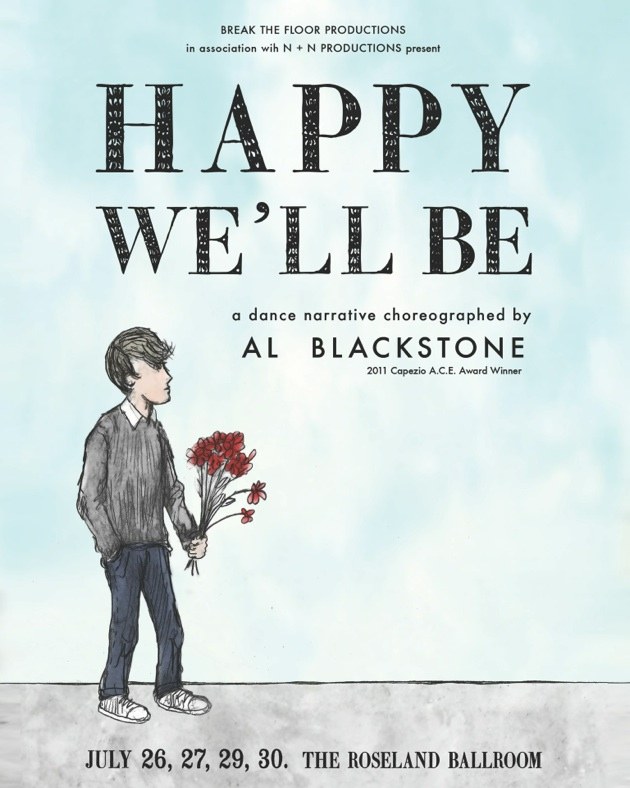 In a sea of angsty lyrical pieces, it's so nice to see choreography that makes you feel warm and fuzzy once in a while. At the A.C.E. Awards last year, choreographer Al Blackstone's submission, Brown Eyed Girl, was exactly what we needed: a big-hearted, witty, kind of hilarious depiction of a couple's online—and then in-person—meeting. It was such a standout, in fact, that Blackstone won the grand prize, $15,000 to put on his own show in NYC.
Fast-forward to this year: Blackstone's show, Happy We'll Be, opens tonight at The Roseland Ballroom. Based on what we've seen of his work—and the show's title!—we're guessing it'll be delightful, upbeat fun. The "dance narrative," as Blackstone is calling it, will have four performances through July 30. Get your tickets now—and get happy!
Feb. 27, 2017 10:24PM EST
Keep reading...
Show less
Jul. 25, 2016 04:35PM EST
The annual Fire Island Dance Festival took place in New York last week and raised a record-breaking amount for its worthy cause: Dancers Responding to AIDS. This year also featured five new world-premiere works and more than 30 professional dancers.
Highlights included ballerina Wendy Whelan in choreographer Brian Brooks' piece First Fall, a MADBOOTS Dance piece in response to the Orlando tragedy titled For Us and the first U.S. performance of Cuba's Ballet Contemporáneo de Camagüey. Dance Theatre of Harlem also debuted Equilibrium (BROTHERHOOD) by Darrell Grand Moultrie and Dorrance Dance performed a jaw-dropping tap piece.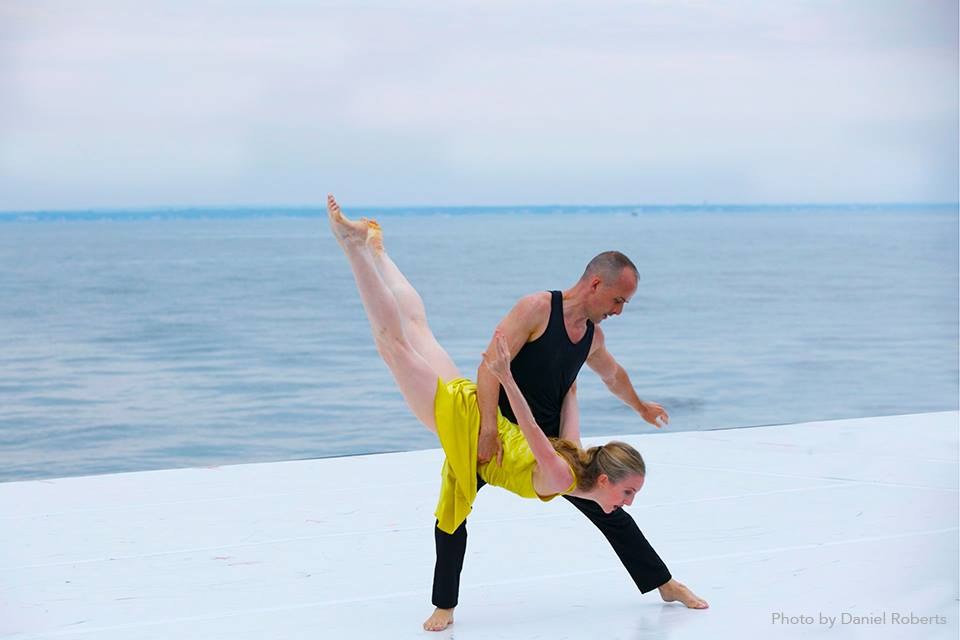 Wendy Whelan and Brian Brooks perform First Fall. (Photo by Daniel Roberts via Facebook, Dancers Responding to AIDS)
The fest's iconic stage, overlooking the water, makes for a pretty stunning venue. And thankfully, for those that missed out, some of the dances have made their way to YouTube. Check out the highlights video first, then scroll down for a full-length performance of Al Blackstone's upbeat "Gay Paree" (a re-imagined piece from his recent hit Freddie Falls in Love) and appearances by Dance Theatre of Harlem, MADBOOTS Dance and Gallim Dance.
May. 09, 2016 02:40PM EST
Al Blackstone is the king of so-happy-your-cheeks-hurt-from-smiling musical theater choreography. So it's fitting that the latest news from Blackstone is like a happiness piñata that just keeps raining candy: He has another NYC show coming up, yay! It stars some of our all-time favorite dancers, YAY! It's benefiting the fantastic Dancers Responding to AIDS, YAY!
That's right: Blackstone's Freddie Falls in Love, presented by Break the Floor, will run June 6 and June 13 at the Pershing Square Signature Center on 42nd St in NYC. In true Blackstone fashion, it's a charming, old-school dance narrative following the down-and-out Freddie on his quest for—of course—happiness. The fabulous cast of dance-actors bringing Freddie's journey to life includes Melanie Moore, Ricky Ubeda, Gaby Diaz, Jacob Guzman, Jess Le Protto and Chelsea Thedinga, to name just a few. And all ticket sales will benefit Dancers Responding to AIDS, which does such invaluable work in the dance community.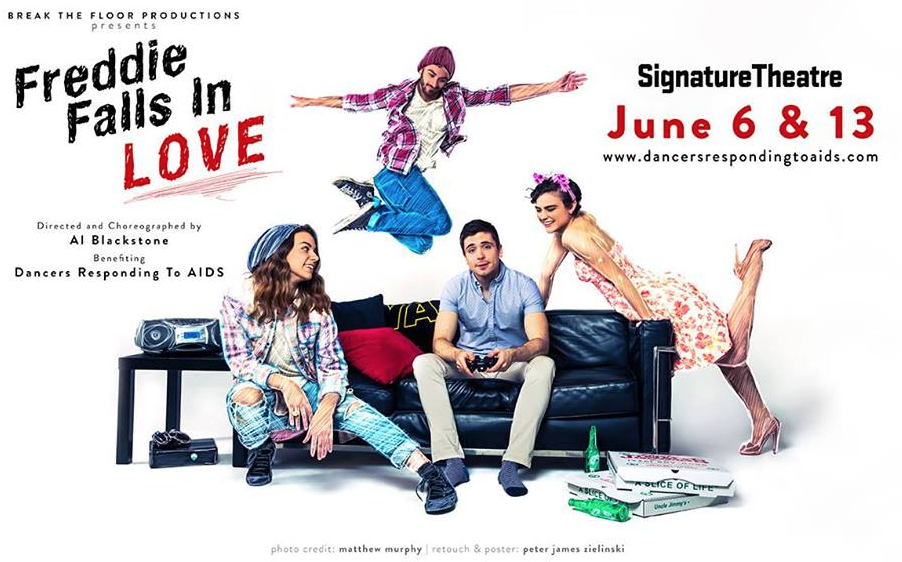 Even the show's poster is too cute for words. (via alblackstone.net)
"It's rare that a group of artists of this caliber can be in the same place at the same time to collaborate, and so when the opportunity came to bring Freddie to life, I seized it," Blackstone told Broadway World. "Not a word is spoken by the performers, but communication is what makes the show so magical."
The one piece of sad news? There are only two performances of Freddie Falls in Love. Which means you should probably get your tickets, oh, RIGHT NOW.
Mar. 08, 2016 07:32PM EST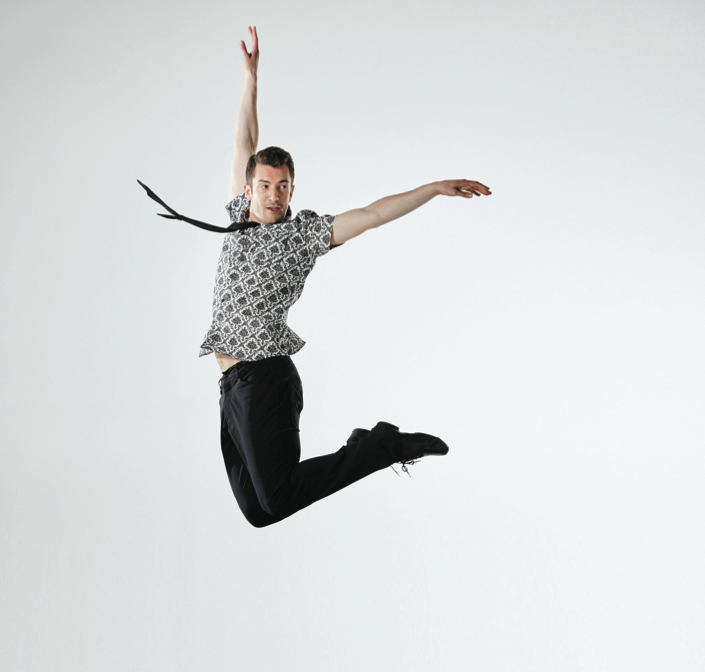 (Photo by Lee Cherry, courtesy Break the Floor Productions)
Al Blackstone is one of the fastest-rising choreographers in the industry, creating one successful piece after another. After making his Broadway debut as a dancer in Wicked, Blackstone won the 2011 Capezio A.C.E. Award for Choreographic Excellence, which gave him the opportunity to direct and choreograph a full-length production, Happy We'll Be. For the last three years, he's worked as Sonya Tayeh's associate choreographer, and his work, which often has a musical-theater slant, has also been featured on "So You Think You Can Dance." DS caught up with Blackstone to see what inspires his thoughtful and dynamic choreography.
"Jason Parsons made me want to become a dancer. I left high school in New Jersey early on Tuesdays and Thursdays to go to NYC and take his class at Broadway Dance Center."
"Matthew Bourne's Swan Lake changed my life. I saw it three times. It made me want to be a choreographer, and showed me what was possible in storytelling without dialogue."
"Just before the A.C.E. Awards, I was performing in Wicked on Broadway. The girls in the dressing room were always talking about online dating—it was starting to get really big around then. My work is usually derived from things happening in my personal life. So when I was creating my A.C.E. Awards piece, I was inspired by the dressing room conversations—and by the fact that I'd just fallen in love."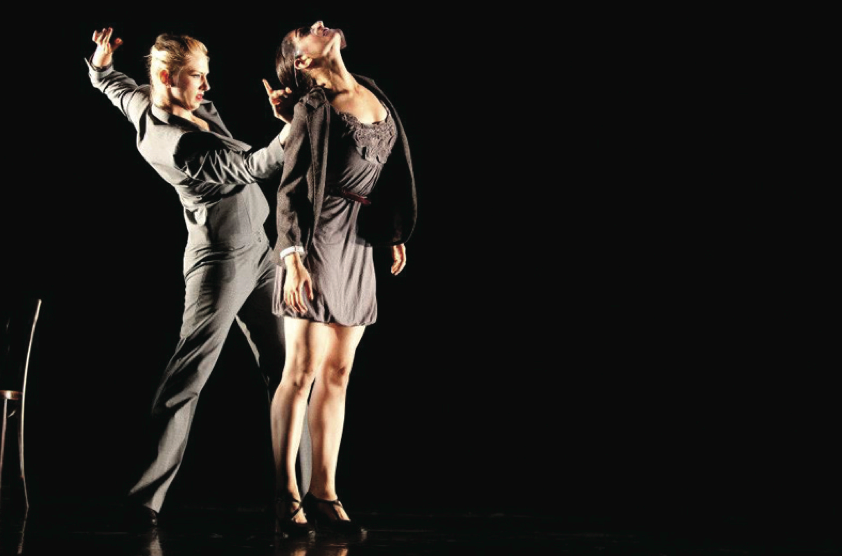 (Photo by Matthew Murphy, courtesy Al Blackstone)
"My full-length piece, Happy We'll Be, explores the highs and lows of our universal search for happiness. I used music and dance from lots of different genres, and the stories that unfolded reflected the joy of connection to the world and to each other."
"I knew early on that I wanted the venue for Happy We'll Be to be the Roseland Ballroom in NYC, and was ecstatic when it was presented to me as an option. It has a certain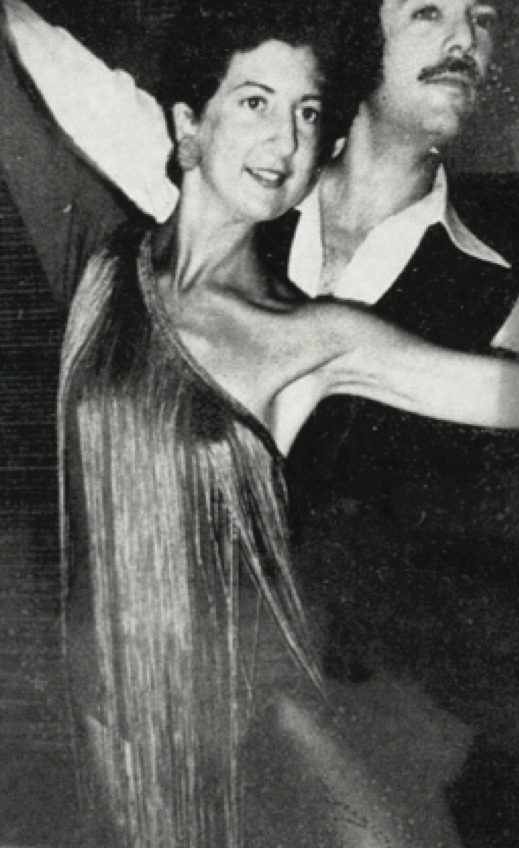 Al's parents at the Roseland Ballroom (courtesy Al Blackstone)
rawness and history—there are ghosts within that space. My parents used to go there all the time. My dad was a ballroom dancer, and I grew up listening to stories about his times at Roseland."
"When creating Happy We'll Be, I had a giant queue of songs I wanted to use during the production. 'Hyperballad' by Björk was one of them. To me, it represented a return to my contemporary roots. And I was set on ending with Louis Armstrong's rendition of 'La Vie en Rose.' I'd also wanted to use 'Chicago' by Sufjan Stevens, but had to cut it because it just didn't fit."
"'SYTYCD' was a crash course in trusting my instincts. The routines I created for Season 12 were exercises in making quick decisions. Nine times out of 10, your gut is right. For Jaja and Ricky's routine to 'Let's Face the Music and Dance' by Nat King Cole, I knew I wanted Jaja's character to be bold and feminine. She's an amazing actress, so she played the feisty wife of a smooth-talking mobster perfectly."
"I'm really inspired by filmmakers Woody Allen and Wes Anderson, especially Anderson's Rushmore and The Royal Tenenbaums. Allen's Everyone Says I Love You and Mighty Aphrodite feature choreography by Graciela Daniele—she uses humor in a way that's really stayed with me."
Jan. 22, 2016 03:40PM EST
Hello all you lovely, creative people! Are you possibly the world's next choreographic genius? Do you want $15,000 to produce your very own show? Of course you are—we've seen how much talent y'all have!—and of course you do. Which makes us especially happy to announce that the 2016 Capezio A.C.E. Awards competition is now accepting submissions.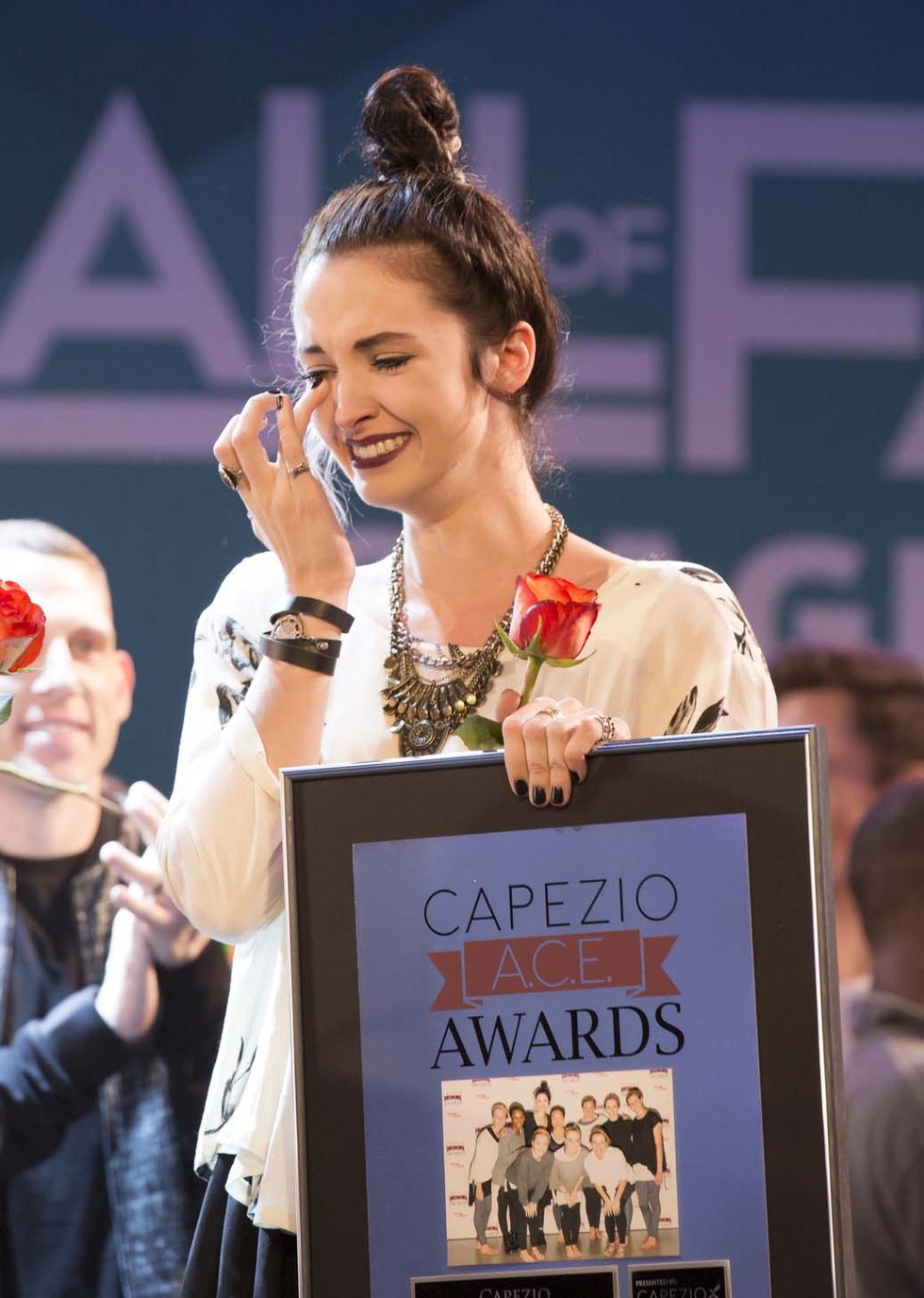 Here's last year's winner, Kirsten Russell, receiving her prize. YOU WANT TO BE THIS HAPPY! (photo by Joe Toreno)
A little background: Each year, the A.C.E. (Award for Choreographic Excellence) Awards invites 15 gifted dancemakers to present their best work at the Dance Teacher Summit. Three winners from that group, chosen by reps from Capezio and Dance Teacher magazine, receive funds to produce a full-length show, with $15,000 being the top prize. And in case you're wondering just how legit the A.C.E. Awards are, please note that past winners include Travis Wall, Peter Chu, Al Blackstone, Melinda Sullivan and Talia Favia. BOOM.
Anyway, entering the contest is easy: Just upload your best choreography video to dancemedia.com anytime between now and May 2. 15 semifinalists will get to present their choreo at the NYC Dance Teacher Summit, which will be held July 29–31; winners will be announced there. Questions? You can find all the rules and regulations (plus more delicious details about the prizes) here.
Get uploading, everybody. And if you need a little inspiration, take a look at last year's winning entry, Kirsten Russell's brilliant "Islands":


Get Dance Spirit in your inbox