Keep reading...
Show less
The New York Dance and Performance Awards—known fondly as the Bessies—are back! They're the dance world's Academy Awards, if you will. Named after dance pioneer Bessie Schonberg, the Bessies are more and more impressive each year. 2015's nominees are no exception.
The list is huge and sparkling. There's all the ballet that made headlines this year, from Alexei Ratmansky's production of The Sleeping Beauty (nominated for Outstanding Revival), to New York City Ballet principals Robert Fairchild and Amar Ramasar (both nominated for Outstanding Performer), to NYCB Resident Choreographer Justin Peck's Rōdē,ō: Four Dance Episodes (nominated for Outstanding Production).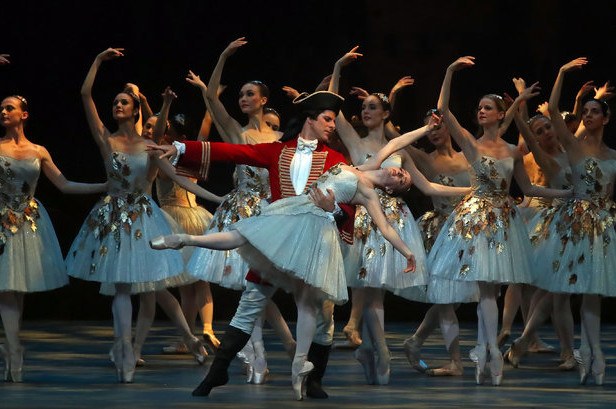 Gillian Murphy and Marcelo Gomes in Alexei Ratmansky's The Sleeping Beauty (Photo by Andrea Mohin)
There's also a ton of fascinating work that really highlights what the Bessies are about—truly performing and pushing boundaries. Talya Epstein's performance in Star Crap Method is one to note, as is Xavier Le Roy's Outstanding Production nomination for Retrospective, which took place at MoMA PS1 last winter.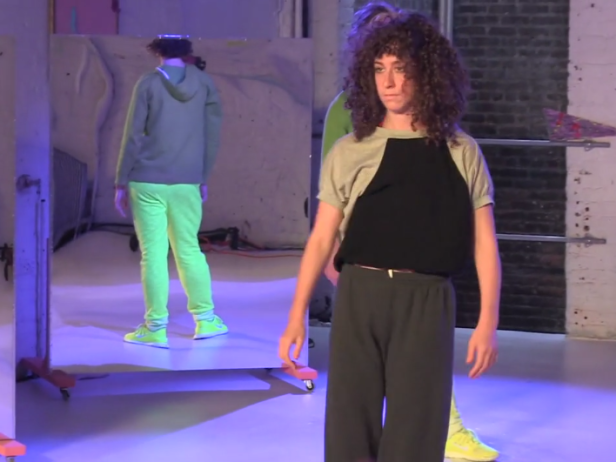 Outstanding Performer nominee Talya Epstein in Larissa Velez-Jackson's Star Crap Method (Screenshot via Vimeo)
The Bessies take place on October 19th and it's going to be a magical night for all of these deserving artists.
American Ballet Theatre's latest production of The Sleeping Beauty premiered last night at the Segerstrom Center in California. And you know what that means: The company's dancers are currently flooding Instagram and Twitter with tantalizing behind-the-scenes photos and videos. Which is the best.
World Premiere Day! All very best to dear colleagues/friends @ABTBallet. t my prince @marcelogomes47 #Sleepingbeauty pic.twitter.com/0KmOSiTRvr

— Diana Vishneva (@dianavishneva) March 3, 2015
This new Beauty is especially interesting because it's actually...old. Choreographer Alexei Ratmansky reconstructed it from dance notation recorded more than 100 years ago, making it about as close to the original Petipa choreography as you can get. And though ballet companies around the world have been performing Beauties "after Petipa" for generations, this super-authentic production looks remarkably different from the SB ballet nerds know and love. Legs and lifts are lower; the overall feel is more genteel.
For example—to get reeeeal nerdy for a minute—look at 1:47–2:07 in this video of  Marianela Nuñez and Thiago Soares dancing the Act III pas de deux with The Royal Ballet. Legs galore! But in the ABT production, as this clip from principal Isabella Boylston's Insta shows us, that moment has a totally different feel:
So elegant and refined, right? It's almost disorienting for those of us accustomed to the "higher is better" school of thought.
The new Beauty's costumes also have a vintage-y feel. They're inspired by the designs of Leon Bakst, the artist who famously costumed many productions for Sergei Diaghilev's Ballets Russes in the early 20th century. Tutus are longer, headpieces are more extreme, colors are brighter and bolder:
One down & costumes ready! Excited to dance Sapphire tonight, come see us #SleepingBeauty @ABTBallet @SegerstromArts pic.twitter.com/eF4wegAjxv

— Paulina Waski (@PaulinaWaski) March 4, 2015
thank u for waking me up after 100 years...photo: Gillian Murphy #sleepingbeauty #marcelogomes #dianavishneva pic.twitter.com/eGF9JKGIDD — Diana Vishneva (@dianavishneva) March 2, 2015
If you're lucky enough to be in the L.A. area, you can catch ABT's Beauty now through March 8; East Coast peeps, you'll have to wait until the company performs it at Lincoln Center in a few months. In the meantime, let's all of us bask in the glory of this SB Insta post by principal Gillian Murphy, which wins everything:
Mar. 23, 2017 04:32AM EST
The year 2011 was filled with show-stopping onstage moments and exciting offstage drama. Whether you were captivated by New York City Ballet star Sara Mearns' 32 fouettés in Swan Lake or danced along in your seat as Sutton Foster led the Broadway cast of Anything Goes through a series of time steps, there's no doubt you were entertained. Here are the people who kept us on the edge of our seats in 2011.
—Alison Feller
In Ballet
Sarah Lane. Photo by Gene Schiavone.

When Natalie Portman won the Best Actress Academy Award for her role as a twisted-but-talented ballerina in Black Swan, she neglected to thank her dance double, American Ballet Theatre's Sarah Lane, in her acceptance speech. Later, Lane stood up to the movie industry by demanding credit for her work.
New York City Ballet principal Jenifer Ringer danced the Sugar Plum Fairy role in the company's Nutcracker, last year, and while most gave her a standing ovation, New York Times dance critic Alastair Macaulay remarked in his review that it looked as though she'd "eaten one sugar plum too many." Ringer quickly became a role model for women everywhere when she went on "Oprah" this February to discuss the critique and proclaim that she thinks her body is just fine. So do we, Jenifer. Rock on!
As if Alexei Ratmansky wasn't already the busiest man in ballet, he just extended his contract as American Ballet Theatre's resident choreographer through 2023.
Company tours are a lot of work. This year Ballet Nacional de Cuba embarked on its first U.S. tour in five years, hitting four cities along the way.
American Ballet Theatre principal (and star!) David Hallberg became the first American dancer to enlist permanently with Moscow's Bolshoi Ballet.
The Broadway production of Wonderland. Photo by Paul Kolnik.

Everyone wanted to go down the rabbit hole: Productions of Alice in Wonderland popped up everywhere, from ballet stages (The Royal Ballet, The National Ballet of Canada and Royal Winnipeg Ballet all showed versions) to Broadway (Wonderland was short-lived, but the choreography by Marguerite Derricks was quirky and fun).
On Broadway
Apparently Harry Potter can sing and dance—or at least his real-life alter-ego can. Daniel Radcliffe drew massive crowds and rave reviews when he starred in How to Succeed in Business Without Really Trying. No magic wand needed.
The Book of Mormon. Photo by Joan Marcus.

The Book of Mormon was easily the most controversial debut on Broadway this year. The show, penned by "South Park" creators Trey Parker and Matt Stone with Avenue Q co-writer Robert Lopez and choreographed by Casey Nicholaw, may have offended some audiences, but it impressed the Tony Award voters and took home nine honors, including Best Musical.
On the Comp Scene
Joe Lanteri, executive director of New York City Dance Alliance, changed 44 young dancers' lives this summer when he presented $2.8 million in college scholarships. Go get those diplomas!
Selecting the DS Cover Model Search finalists is never easy, but this year there were three dancers who stood out: Kaitlynn Edgar, Maddie Swenson and Zoey Anderson. All three hail from the competition circuit, and all three were wildly impressive.
On TV
Melanie Moore won the title of America's Favorite Dancer on "So You Think You Can Dance" Season 8 and landed on the cover of DS!
When Beyoncé revealed her baby bump at the MTV Video Music Awards, she proved she runs the world—and so do her choreographers, Frank Gatson, Sheryl Murakami and Jeffrey Page. The trio won the VMA for Best Choreography for Beyoncé's "Run the World" video.
When Laurieann Gibson wasn't throwing together award-winning choreography for Lady Gaga, she was starring on her own TV shows on E! and BET. We're not necessarily on board with her screaming fits and harsh treatment of her dancers, but we do respect her moves.
Amanda and D'Angelo on "Live to Dance." Photo by Monty Brinton.

Paula Abdul's "Live to Dance" wasn't a hit, but it introduced us to D'Angelo Castro and Amanda Carbajales, who became the show's champions. These tiny dancers won us over with their personalities and technique.
Lil' Buck may have been the coolest guy to get us talking this year. He starred in Janelle Monae's "Tightrope" video and helped make jookin' mainstream. His "Swan" performance alongside Yo Yo Ma? Breathtaking.
On the Big Screen
Natalie Portman accepts her Oscar for Best Actress. Photo by A.M.P.A.S.

She may not have done all the dancing as Nina, but Natalie Portman's Black Swan performance was definitely Oscar-worthy. Plus, she met Benjamin Millepied, her boyfriend-turned-fiancé and father to her child, Aleph, on set.
While no one can truly replace Kevin Bacon, Kenny Wormald proved that he's a stud with smooth moves in this year's remake of Footloose. Plus, his onscreen chemistry with costar Julianne Hough made us want to drag our own boyfriends to dance class.
In First Position, audiences get a glimpse at the behind-the-scenes action at the Youth America Grand Prix finals in NYC. The documentary and its stars—Michaela DePrince, Joan Sebastian Zamora, Miko and Jules Fogarty, Aran Bell and Rebecca Houseknecht—received rave reviews at the Toronto International Film Festival.
In Modern Dance
Bill T. Jones + Dance Theater Workshop = New York Live Arts. We love a good collaboration.
When Judith Jamison retired as artistic director of Alvin Ailey American Dance Theater, Robert Battle was handed the reins to the prestigious modern company. We can't wait to see what he does with the group in 2012.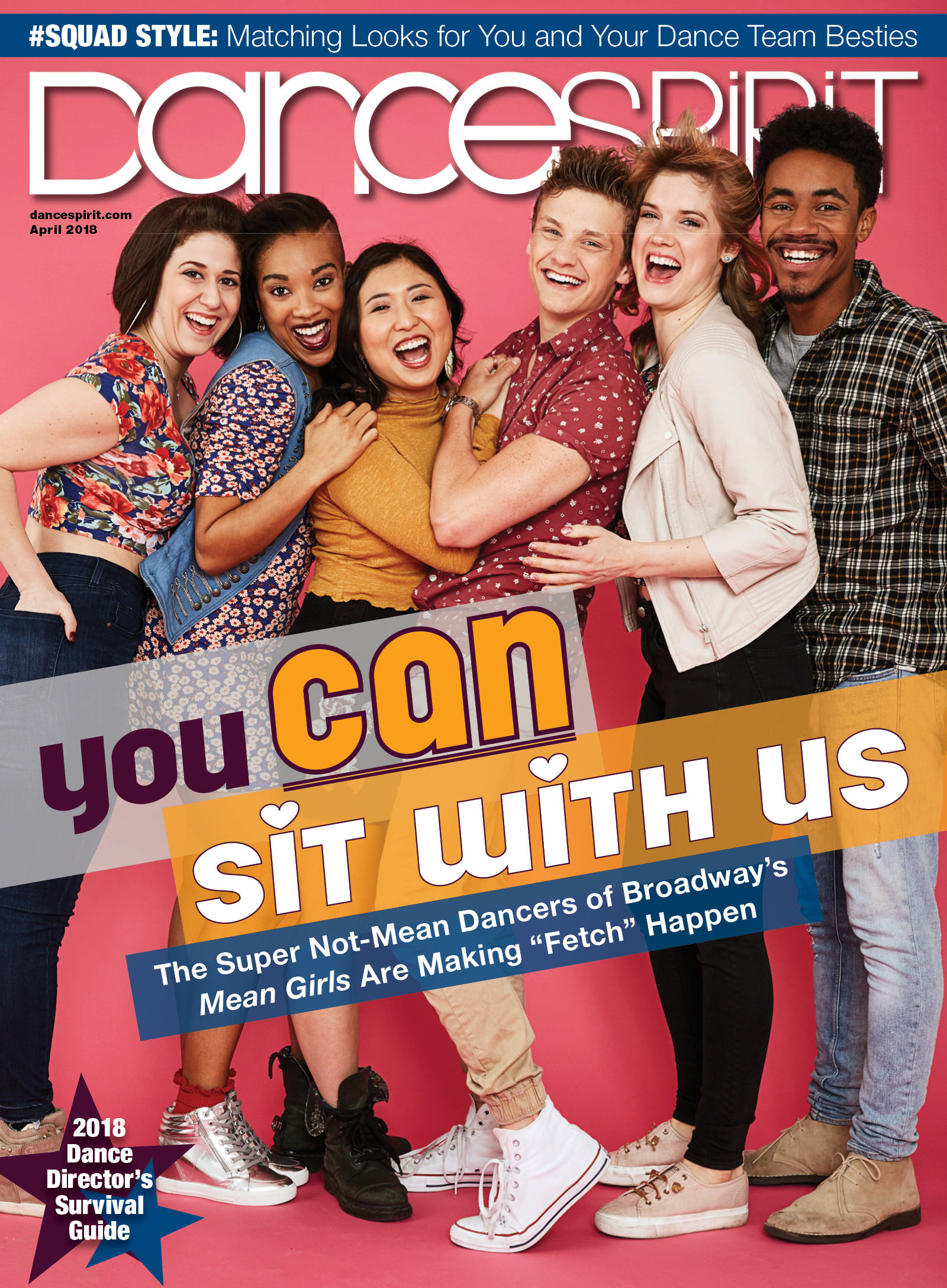 Get Dance Spirit in your inbox