A still from "Rue Montorgueil" (via NOWNESS)
We may not all speak the same language, but we can all "speak" dance—an idea that's celebrated in a totally joyful new short film, "Rue Montorgueil." Featuring Alvin Ailey American Dance Theater members grooving alongside people of all different backgrounds and nationalities in one of Paris' most famous streets, the vid is a beautiful illustration of dance's universal appeal.
Keep reading...
Show less
Chalvar Monteiro in Alvin Ailey's Revelations (photo by Paul Kolnik)

Alvin Ailey American Dance Theater's Chalvar Monteiro has known he wanted to be an Ailey dancer since he was a young student. And the New Jersey native fought hard for that childhood dream: He auditioned for the company seven times before being offered a contract, making him living proof that persistence pays off. As he prepares to perform with AAADT in his home state this weekend, I asked Monteiro to reflect on how he never let rejection slow him down.
Keep reading...
Show less
The brilliant, critically acclaimed Moonlight is a piece of virtuosic filmmaking (hence its eight Oscar nominations)—and now it's inspired a work of dance virtuosity.
Moonlight x Ailey, a collaboration between Alvin Ailey American Dance Theater artistic director Robert Battle and composer Nicholas Britell, who created the score for the feature film, is two minutes of pure, powerful dance drama. It distills the movie's plot into a trio for Ailey's Jamar Roberts and Ailey School students Christopher Taylor and Jeremy T. Villas, who perform Battle's fluid choreography while bathed in blue light.
It's raw and beautiful and absolutely compelling. Watch:
Looking for some dance inspiration? Alvin Ailey American Dance Theater is beaming no fewer than FOUR works, including the beloved classic Revelations, to a movie theater near you this Thursday, October 22!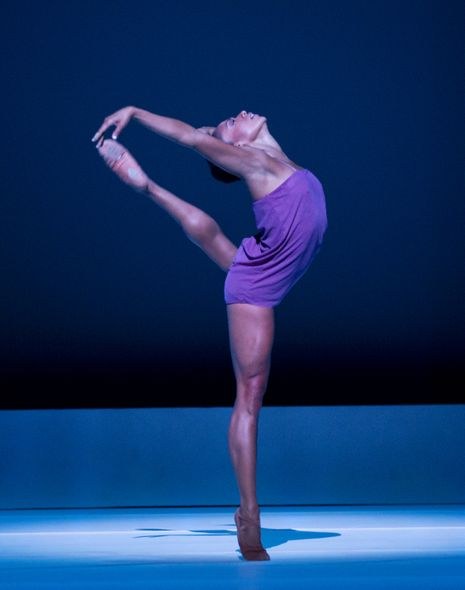 Alvin Ailey American Dance Theater's Linda Celeste Sims in Wayne McGregor's Chroma. Photo by Paul Kolnik
In addition to Revelations, theatergoers and dance lovers alike will also get the chance to view Chroma by Wayne McGregor, Grace by Ronald K. Brown and Takeademe by Robert Battle, AAADT's artistic director.
This screening is part of the Lincoln Center for the Performing Arts' exciting new cinema series, Lincoln Center at the Movies: Great American Dance, which also includes performances from San Francisco Ballet, Ballet Hispanico and New York City Ballet. Check out the news section of our November issue for more info.
To purchase tickets, visit fathomevents.com or participating theater box offices.
Late night goofball Conan O'Brien has brought his "Conan" hijinks to NYC this week, to the delight of all New Yawk peeps. Though he's in town a tad too early to enjoy Alvin Ailey American Dance Theater's fall season (it kicks off November 30 at New York City Center), O'Brien decided to get his Ailey on anyway. And we mean that rather literally: He donned a dance belt (props for that, Coco) and took class with a bunch of advanced students at The Ailey School.
We're not going to say O'Brien has ZERO dance skills—we'll admit to being fans of his weirdly mesmerizing "string dance"—but it's close. Which makes his attempts to execute a lateral T alongside Ailey's best and brightest pretty, pretty, pretty funny. Ailey School co-director Tracy Inman serves as Coco's ever-patient guide to the world of modern dance, and the perpetually good-natured AAADT artistic director Robert Battle even stops by to, um, evaluate O'Brien's skills.
It's all very cute and endearing—and it shows a mainstream audience just how fiercely talented Ailey dancers are. Also, can we talk about the fact that O'Brien seems to have a bit of a Fosse fetish? You go, Coco!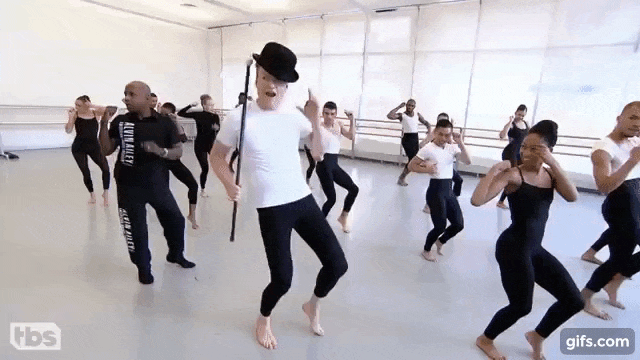 After all that silliness, O'Brien invited AAADT dancers Solomon Dumas, Sean Aaron Carmon and Kanji Segawa to show the world how Ailey is really done: The trio performed the showstopping "Sinner Man" from Revelations onstage at the Apollo Theater. Take a look at Conan's class capers, and the Ailey dancers' performance, below.


Get Dance Spirit in your inbox