Mar. 23, 2017 01:35PM EST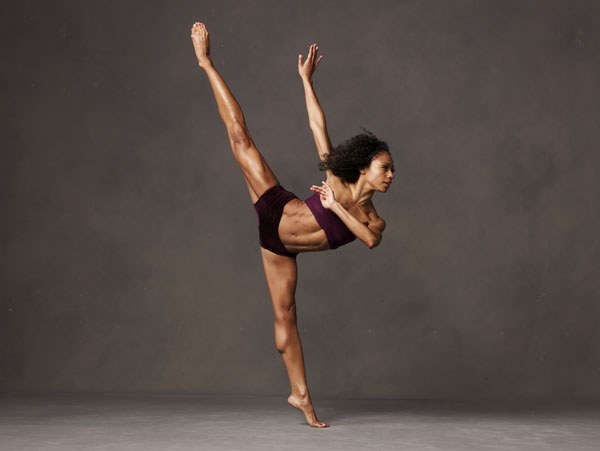 (Photo by Andrew Eccles, courtesy AAADT)
Linda Celeste Sims' nearly 20-year career with Alvin Ailey American Dance Theater has been characterized by grace, power and awe-inspiring stage presence. The NYC native graduated from the Fiorello H. LaGuardia High School of Music & Art and Performing Arts, and earned a contract with Ballet Hispanico right after graduation. Two years later she joined AAADT. Since then, she's performed at the White House, on "So You Think You Can Dance" and at galas and festivals around the globe. In 2014, Sims received a New York Dance and Performance "Bessie" Award for her work with AAADT. This month, catch her in featured roles in Alvin Ailey's Blues Suite and Paul Taylor's Piazzolla Caldera during the company's New York City Center season.
—Jenny Ouellette
My Beloved Linda,
To be a dancer, you must be courageous! I'm going to be honest with you: Dance is one of the most difficult, challenging—and rewarding—professions out there. You'll struggle with not being the best, and you'll face impatience, doubt, insecurity, frustration and jealousy, as well as a constant need for perfection and attention. But you can overcome all this.
Use your emotions for good. Try to become stronger each day. Think positively and make the studio a retreat where you can escape and focus on yourself. Negativity is not a place of happiness. Positive competition is good, but don't ever look in the mirror and think, Why don't I look like her? God made us all different, so each of us has something special and unique to say with our gifts.
Through dance, you will discover who you really are, and you'll learn to cope gracefully with your obstacles. Dance will teach you self-control, self-discipline, patience and dedication. You'll eventually find freedom and joy in dance. But you must believe in yourself.
Most important, don't ever stop learning, even if you think you've arrived at the top. Take care of your body and spend extra time maintaining it, even when you're tired. On those tired days, remember that you won't achieve anything with laziness. Quitting is never an option.
Be inspired by all things around you, and always dance from your heart. Be genuine, and don't be afraid to be vulnerable onstage. The stage is your canvas. Paint your story. Use your imagination and create your own voice.
You're beautiful, even with all your imperfections. Always be grateful for your blessings.
Lovingly,
Linda
Looking for some dance inspiration? Alvin Ailey American Dance Theater is beaming no fewer than FOUR works, including the beloved classic Revelations, to a movie theater near you this Thursday, October 22!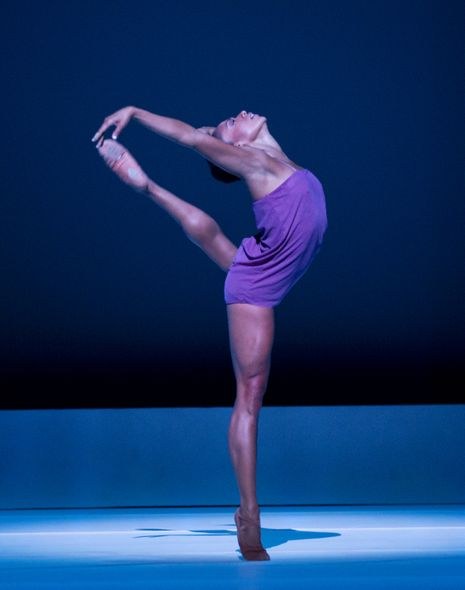 Alvin Ailey American Dance Theater's Linda Celeste Sims in Wayne McGregor's Chroma. Photo by Paul Kolnik
In addition to Revelations, theatergoers and dance lovers alike will also get the chance to view Chroma by Wayne McGregor, Grace by Ronald K. Brown and Takeademe by Robert Battle, AAADT's artistic director.
This screening is part of the Lincoln Center for the Performing Arts' exciting new cinema series, Lincoln Center at the Movies: Great American Dance, which also includes performances from San Francisco Ballet, Ballet Hispanico and New York City Ballet. Check out the news section of our November issue for more info.
To purchase tickets, visit fathomevents.com or participating theater box offices.
Mar. 23, 2017 09:37AM EST
Headed to The Big Apple? The endless number of studios, shops, shows and restaurants can seem overwhelming. Let Dance Spirit and a few NYC dance insiders be your guides.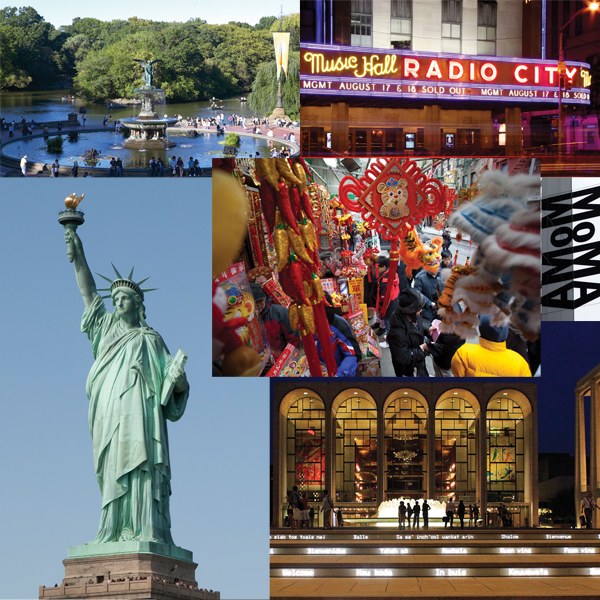 Clockwise from top left: Alex Lopez/NYC & Company, Clayton Cotterell/NYC & Company, Alex Lopez/NYC & Company, Joe Buglewicz/NYC & Company, Marley White/NYC & Company, Joe Buglewicz/NYC & Company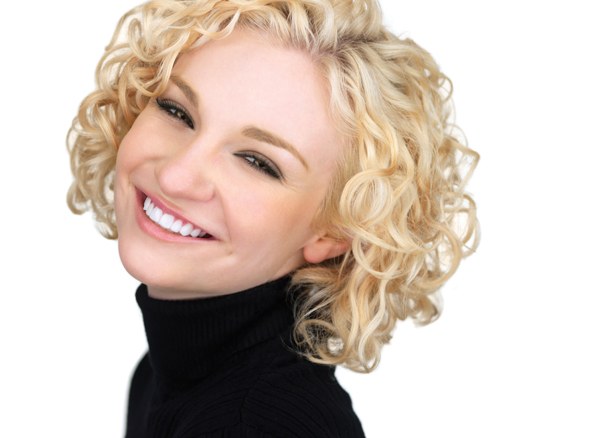 (Photo by Peter Hurley, courtesy Paloma Garcia-Lee)
Paloma Garcia-Lee: Broadway dancer Garcia-Lee has performed in Phantom of the Opera and Nice Work If You Can Get It. She says: "Follow your workouts with sweaty Yin yoga classes at Modo Yoga NYC. Some of the instructors are also dancers, so you might end up taking with someone you'll see onstage."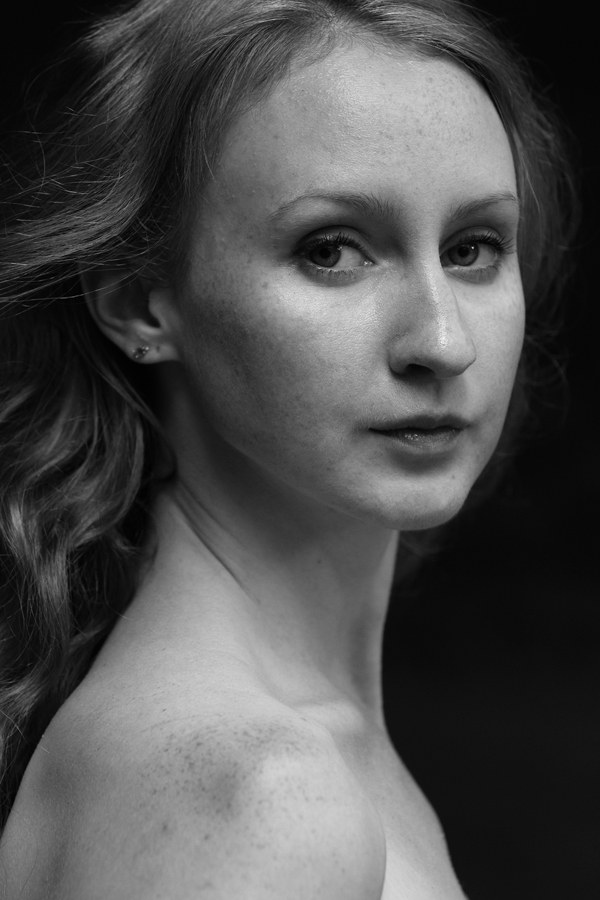 (Photo by Paul B Goode, courtesy Kaitlyn Gilliland)
Kaitlyn Gilliland: A former New York City Ballet corps member, Gilliland dances with Ballet Next. Her food picks: "Kefi is a great Greek restaurant on the Upper West Side, and Good Enough to Eat is a brunch favorite."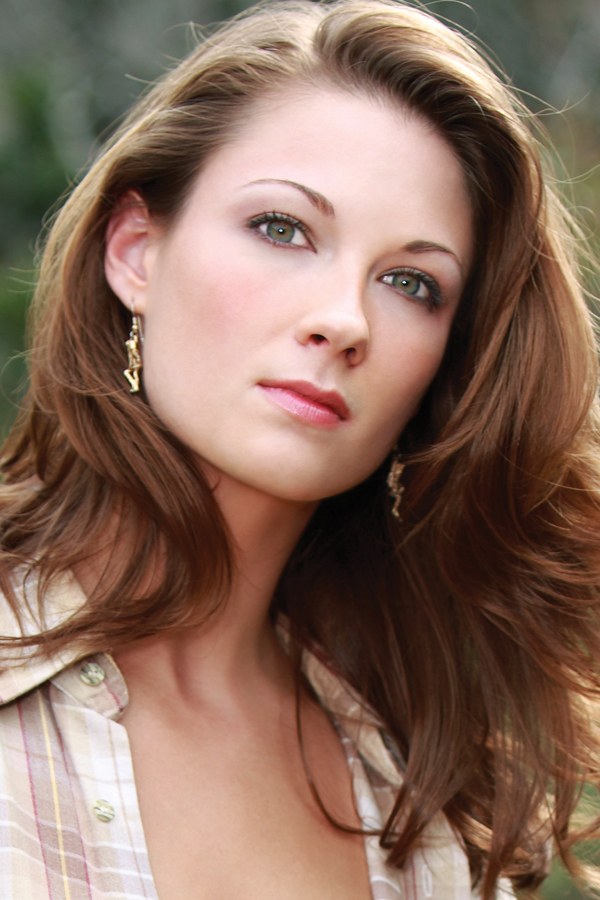 (Photo courtesy Paul Taylor Dance Company)
Laura Halzack: Halzack is a member of Paul Taylor DanceCompany. Her cure for a sweet tooth: "You have to go to Doughnut Plant near the Taylor Studios at least once. I could eat one of their doughnuts every day—they have unique flavors."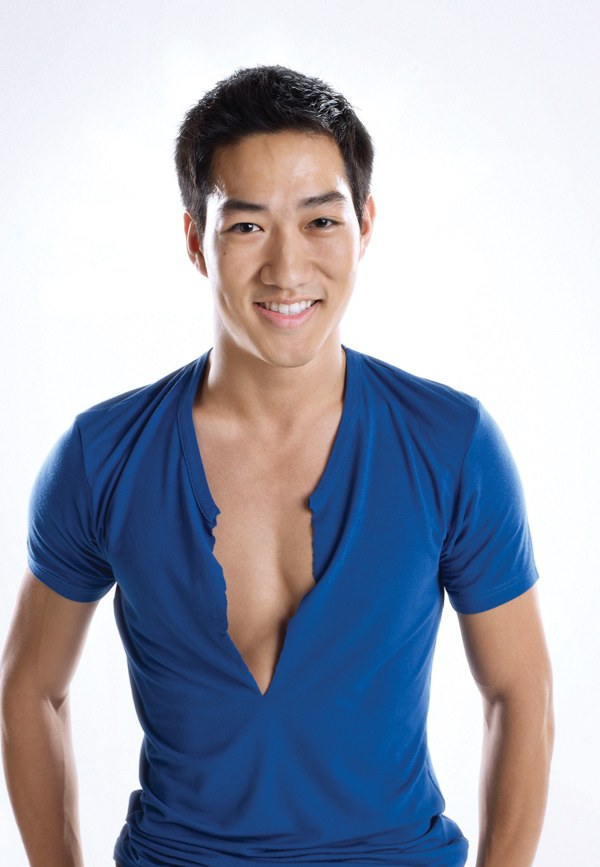 (Photo by Mathieu Young/FOX, courtesy Alex Wong)
Alex Wong: A "So You Think You Can Dance" All-Star, Wong is a former Newsies dancer. His training tip: "Broadway Dance Center has an ever-changing list of guest teachers. It's a great way to take class from working choreographers who aren't always in town.
Are you a ballet dancer? Start your uptown adventure here.
You wake up in the morning craving…
…something hearty. Head to one of NYC's top bagel joints, ABSOLUTE BAGELS (Broadway, btwn W 107th and W 108th Sts)…something light and nutritious. Grab a cold-pressed juice and a yogurt parfait from JUICE PRESS (W 82nd St, btwn Columbus Ave and Central Park West).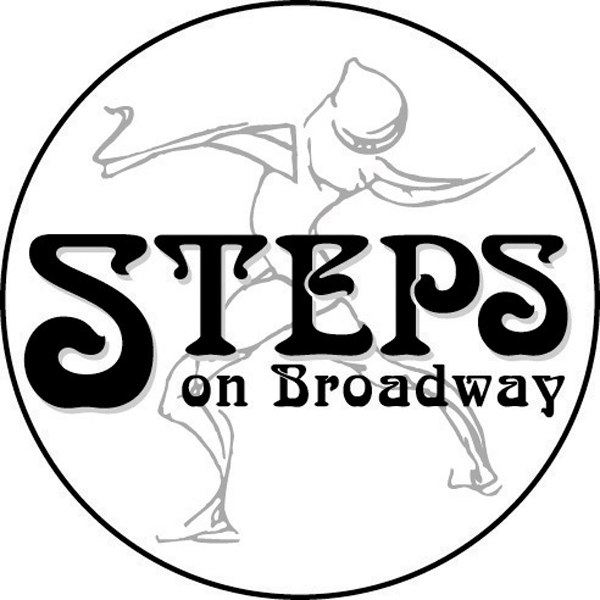 (Logo courtesy Steps on Broadway)
You're ready for your first class of the day. You head…
…right to the barre. "Take advanced ballet with Wilhelm Burmann or Nancy Bielski at STEPS ON BROADWAY," Gilliland says (W 74th St and Broadway)…to Pilates first. Take a mat class at UPTOWN PILATES (W 72nd St, btwn Amsterdam and Columbus Aves). Now I'm ready for ballet...Take Kathryn Sullivan's class at STEPS ON BROADWAY. She stresses proper placement and quick footwork.
How's the weather today?
The sun is shining. Catch some rays in RIVERSIDE PARK on Manhattan's West Side (Along Riverside Dr, from W 72nd to W 158th Sts). It's raining. Head to PINKY'S SALON, Gilliland's favorite spot for a manicure (Columbus Ave, btwn W 74th and W 75th Sts). Hot! But it's perfect in the shade. Walk to CENTRAL PARK. Stroll through John Lennon's memorial, Strawberry Fields, for a break from NYC's hustle and bustle (Near W 72nd St and Central Park West).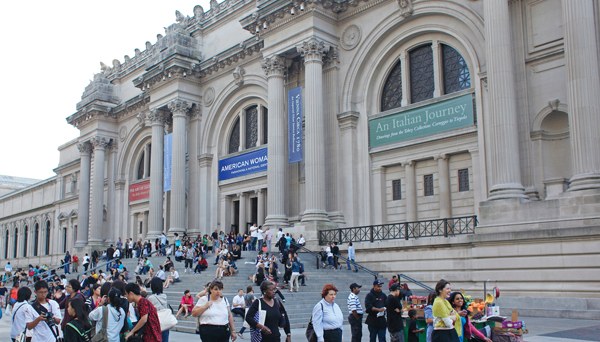 Metropolitan Museum of Art (photo by Joe Buglewicz/NYC & Company)
Is that your stomach grumbling?
Let's stay in the neighborhood. " 'WICHCRAFT, across from the David H. Koch Theater, serves indulgent sandwiches and tasty cookies," Gilliland says (W 62nd St and Broadway). I want to explore the East Side. Grab a falafel from a street vendor and have lunch on the stairs of THE METROPOLITAN MUSEUM OF ART—then head inside to see some of the exhibits (5th Ave and E 82nd St).
When it comes to afternoon adventures, you prefer to…
…stay outdoors. Walk to the BOAT BASIN CAFE and enjoy a lemonade while looking
out over the Hudson River (W 79th St, in Riverside Park)…find the nearest museum. Visit the Hayden Planetarium at the AMERICAN MUSEUM OF NATURAL HISTORY (Central Park West and W 79th St)…get sweaty! Sign up for a "Figure 4 Barre" conditioning class at PURE YOGA, where many of the instructors are former dancers (E 86th St, btwn 2nd and 3rd Aves).
Let's stop for an afternoon pick-me-up.
Indulge my sweet tooth! Stop by TREAT HOUSE and grab some gourmet crispy treats (Amsterdam Ave, btwn W 81st and W 82nd Sts). I'm thirsty. Sip an iced tea at CAFE LALO (W 83rd St, btwn Broadway and Amsterdam Aves).
Ready for an early dinner before a show?
I want lots of options. Head to ZABAR'S CAFE for some tasty deli specialties (Broadway and W 81st St). I'm on a tight budget. Grab a $1 hot dog (or two!) at GRAY'S PAPAYA (Broadway and W 72 St).
On clear summer nights, enjoy a free LINCOLN CENTER OUT OF DOORS show with music and dance from around the globe (Columbus Ave at W 63rd St).
Do you dream of Broadway? Start your midtown tour here.
What's your preferred morning meal?
I'm a full-breakfast kind of girl. Try a savory breakfast pie from PIE FACE (Broadway and W 53rd St). Something small and to-go. Order a croissant from GREGORYS COFFEE—one of Garcia-Lee's favorite spots for a morning fix (W 44th St and 6th Ave).
Whether I'll be tapping, strutting or popping…
…I need a soothing warm-up. Wake up your senses in a Gyrotonic session at CIRCULAR POWER INC (7th Ave, btwn W 54th and W 55th Sts)…my day starts with an intense workout. Sweat, tone and feel the burn in a dance-inspired PHYSIQUE 57 class (W 57th St, btwn 5th and 6th Aves)…nothing gets me centered like a ballet class. Take Deborah Wingert's class at MANHATTAN MOVEMENT & ARTS CENTER. "I always take ballet at MMAC," Wong says. "The studios are beautiful" (W 60th St, btwn Amsterdam and 11th Aves).
Now I'm warm!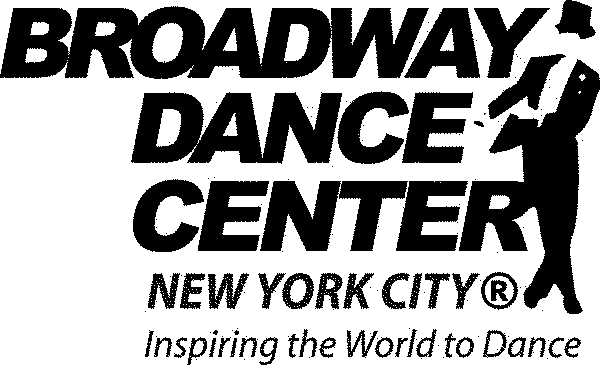 (Logo courtesy Broadway Dance Center)
I want to really let go. Learn a detailed contemporary jazz combo in Slam's mid-morning class at BROADWAY DANCE CENTER (W 45th St, btwn 8th and 9th Aves). I want a technical challenge. Take Sue Samuels' Broadway jazz class at BROADWAY DANCE CENTER.
Famished?
Yes! Let's get lunch. "GREEN SYMPHONY is my favorite quick stop," says Garcia-Lee. Try a veggie wrap or a kale salad (W 43rd St, btwn 7th and 8th Aves). I could go for a small snack. Head to the signature NYC grocery store DEAN & DELUCA (W 56th St, btwn 6th and 7th Aves).
Time for some sightseeing. 
Let's stay outside. Tour the CENTRAL PARK ZOO and visit the two super-cute snow leopard cubs (E 64th St and 5th Ave). Let's go to a museum. Soak in the bizarre and the beautiful at THE MUSEUM OF MODERN ART (W 53rd St, btwn 5th and 6th Aves).
What's on your afternoon agenda? 
I can't leave NYC without doing a little window shopping. Stroll down 5TH AVE for the best displays in town (5th Ave, btwn E 59th and E 42nd Sts). I'm ready for some fun cardio. While THE AILEY SCHOOL is known as a mecca for modern dance, its ZUMBA FITNESS classes are some of the most popular in NYC (W 55th St and 9th Ave). I want to get cheap Broadway tickets. Head to the TKTS BOOTH in Times Square. Garcia-Lee's advice: "Get in line early!" (Broadway and 47th St).
I'm starving! Before a night on the town, I want…
…a trendy dinner. "Get the Adobe Salad from EATERY," says Garcia-Lee. "It's my favorite salad in Hell's Kitchen" (W 53rd and 9th Ave)…a classic pastrami sandwich. Go to CARNEGIE DELI for sandwiches big enough to split with a friend (W 55th St and 7th Ave).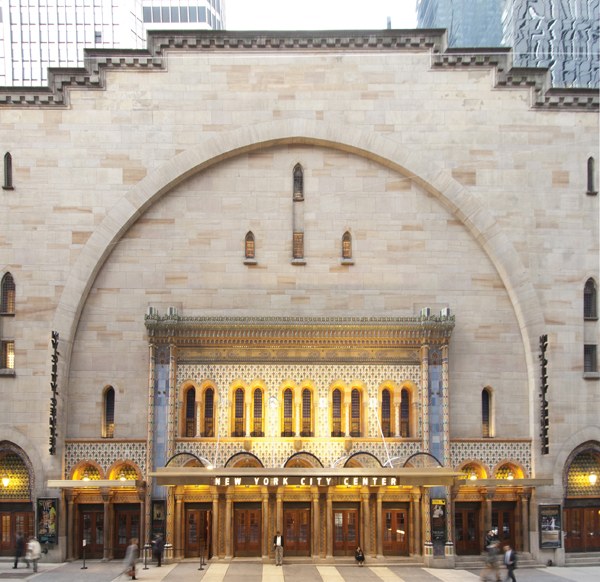 New York City Center (photo by Aislinn Weidele/Ennead Architects)
Head to THE GREAT WHITE WAY. Check out our "Broadway Show Guide" to see what's playing. See what musicals may be Broadway-bound at "Encores! Off-Center" at NEW YORK CITY CENTER (W 55th St, btwn 6th and 7th Aves).
Are you a downtown diva? Modern or contemporary dancers, start here.
I always start the day with…
…fruits and veggies. Try a PB Açai Bowl and a green juice from JUICE GENERATION (Prince and Crosby Sts, in the Equinox Gym)…a protein-filled punch. Head to DAVID'S BAGELS for one of the city's best egg-and-cheese sandwiches (1st Ave, btwn E 15th and E 16th Sts).
Let's get moving!
A modern class starts my day on a positive note. Take class from Paul Taylor Dance Company members at THE TAYLOR SCHOOL (Grand St, btwn Jackson and Lewis Sts). I'm craving a full-body workout. Hop into a conditioning session with Rachel Piskin at CHAISEFITNESS (E 23rd St, btwn Madison and Park Aves). I want to sweat before dance class. Try a spin class at SOULCYCLE (SoHo location: Crosby St, btwn Spring and Broome Sts).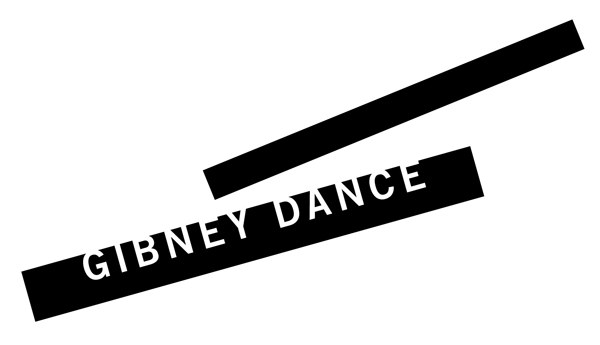 (Logo courtesy Gibney Dance)
Now I'm ready for class. 
I want to explore a postmodern style. See who's leading a contemporary workshop at the new downtown GIBNEY DANCE CENTER (Broadway and Chambers St).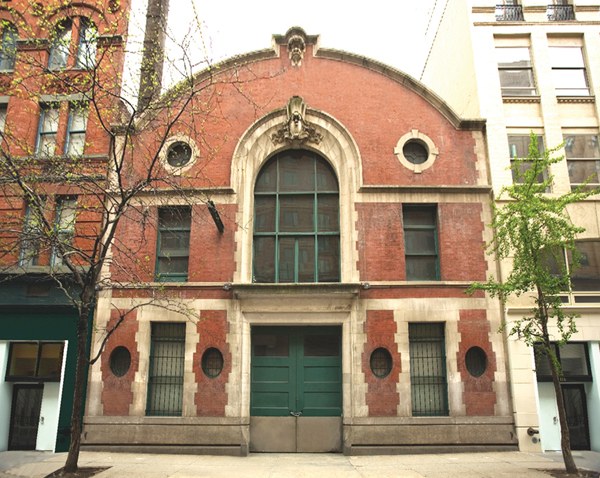 (Photo courtesy Peridance Capezio Center)
I want something classic. Get a lesson in Limón Technique at THE PERIDANCE CAPEZIO CENTER (E 13th St, btwn 3rd and 4th Aves).
Time for lunch!
Let's get a burger. Head to SHAKE SHACK—and try a custard, too. "My favorite is the Urban Lumber-Shack," says Wong. "It's vanilla custard with Belgian waffles, bananas, bacon and peanut brittle" (Madison Square Park, E 23rd St and Madison Ave). I love PB & Js. Try a crazy concoction from PEANUT BUTTER & CO., like The Heat Is On Sandwich: spicy peanut butter with grilled chicken and pineapple jam (Sullivan St, btwn Bleecker and W 3rd Sts).
Let's get lunch outside.
I want to head downtown. Take the subway to the newly renovated SOUTH STREET SEAPORT (Pier 17, at Fulton and Front Sts). I want something fresh. Taste locally sourced produce and baked goods as you stroll through the UNION SQUARE GREENMARKET (E 14th St and Broadway). OK, but let's go for a ride first. Pedal a CitiBike across the BROOKLYN BRIDGE and get a pizza from GRIMALDI'S (Front
and Old Fulton Sts).
Next, I'd like to...
…take a moment to reflect. Visit the new WORLD TRADE CENTER and The National September 11 Memorial & Museum (Albany and Greenwich Sts)… see the sights. You can take the free ferry to Staten Island and enjoy incredible views of THE STATUE OF LIBERTY (Hop the 1 train to South Ferry station).
For an afternoon break, I want to…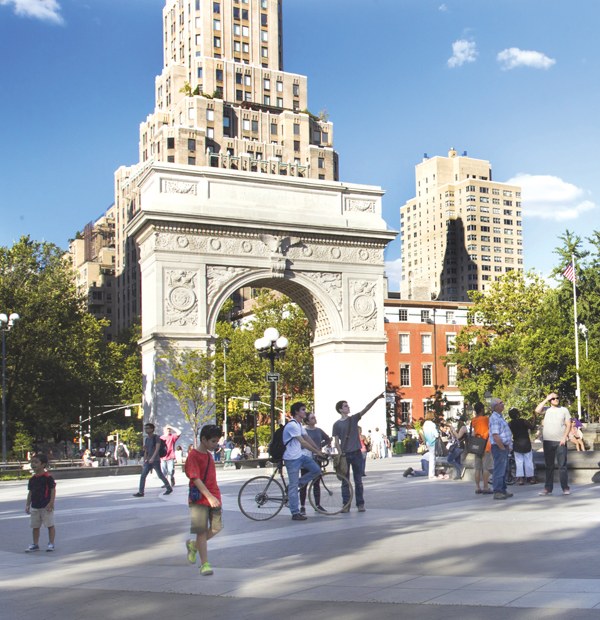 Washington Square Park (photo by LittleNY/Thinkstock)
…hang out with friends. Listen to street musicians in WASHINGTON SQUARE PARK (5th Ave, btwn W 4th St and Waverly Pl)…get something sweet. Visit the home of the original cronut—a croissant and doughnut hybrid—DOMINIQUE ANSEL BAKERY (Spring St, btwn Sullivan and Thompson Sts).
Before a show, I want…
…something hearty. "THE MEATBALL SHOP is fun, and not crazy-expensive," says Halzack. "I love the traditional Bolognese Ball" (Greenwich Ave, btwn W 11th and Perry Sts)…dessert for dinner! "CHIKALICIOUS DESSERT BAR in the East Village has the best desserts in the world," says Wong. "And the owners are big dance supporters" (E 10th St, btwn 1st and 2nd Aves).
See companies including Pilobolus and RIOULT Dance NY this summer at THE JOYCE THEATER (8th Ave, btwn W 18th and W 19th Sts). For the latest postmodern and contemporary work, head to DANSPACE PROJECT (E 10th St and 2nd Ave).
The Dirt
Jun. 16, 2016 06:35PM EST
Jacqueline Green in Ronald K. Brown's Grace (Pierre Wachholder, courtesy Alvin Ailey American Dance Theater)
Alvin Ailey American Dance Theater's Jacqueline Green is a classically elegant dancer who moves with a deep soulfulness—and her quick rise through the ranks has cemented her place in the spotlight. An Ailey/Fordham BFA Program graduate, and a former Ailey II dancer, she's been an Ailey company member since 2011. In 2014, she received a dance fellowship from the Princess Grace Foundation-USA and last year she was a Clive Barnes Award nominee. Catch her this spring in Ailey's 20-city North American tour before she heads back to NYC, where she'll perform lead roles in the company's Lincoln Center season, June 8–19. And read on for The Dirt!
Keep reading...
Show less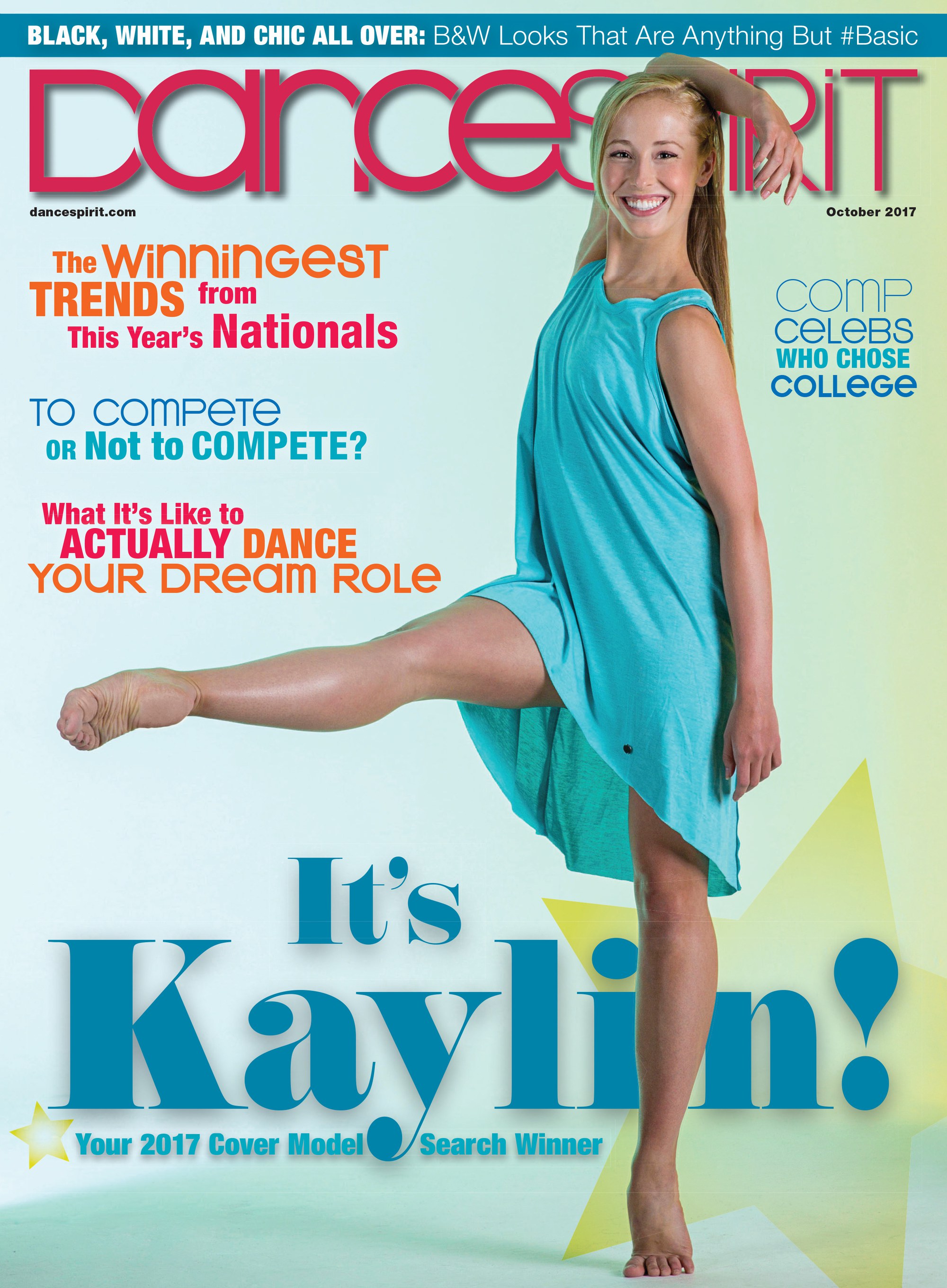 Get Dance Spirit in your inbox