Photographer Aaron Pegg is already Insta-famous as @underground_nyc, where he snaps artsy photos of people throughout the NYC subway system. Over the weekend, he revealed that ballerinas are his favorite photography subjects.
The New York Post interviewed Pegg and rounded up some of his best ballet pics—and we are drooling over the gorgeous poses and stunning lines. And it doesn't hurt that his #flawless subjects frequently include Dance Theatre of Harlem's Alison Stroming, Ingrid Silva and Nayara Lopes, American Ballet Theatre's Elina Miettinen and Boston Ballet soloist Rachele Buriassi.
Of his dance subway shots Pegg says to the New York Post, "It's such a great contrast between two art forms—the gritty subway with the elegance of ballet. I love working with ballerinas because they're perfectionists. They make you want to be a perfectionist as well."
Scroll through our favorites below for some serious #MondayMotivation and check out the original Post piece here.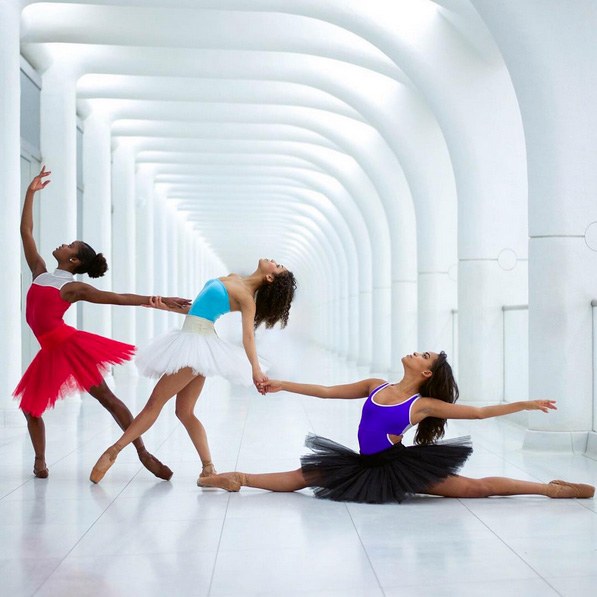 Dance Theatre of Harlem's Nayara Lopes, Alison Stroming and Ingrid Silva. (screenshot via @underground_nyc)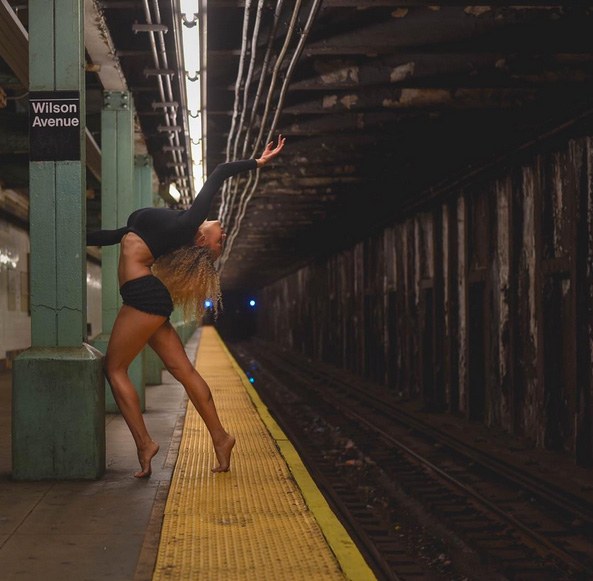 Dancer Olivia L. Burgess (screenshot via underground_nyc)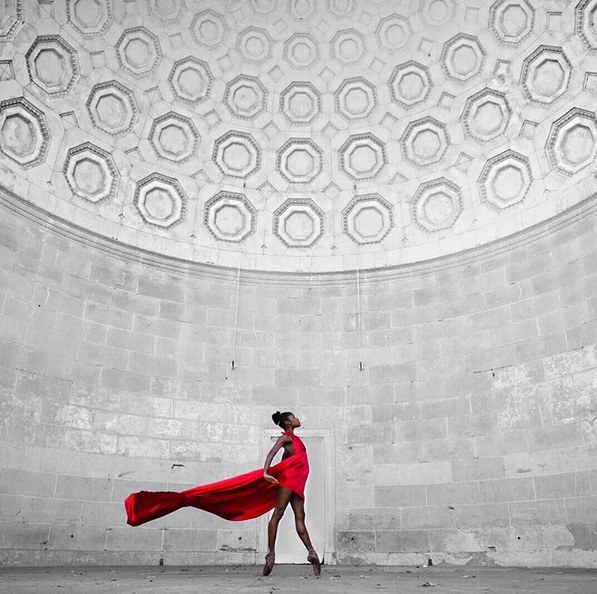 Dancer Ingrid Silva at Central Park (screenshot via @underground_nyc)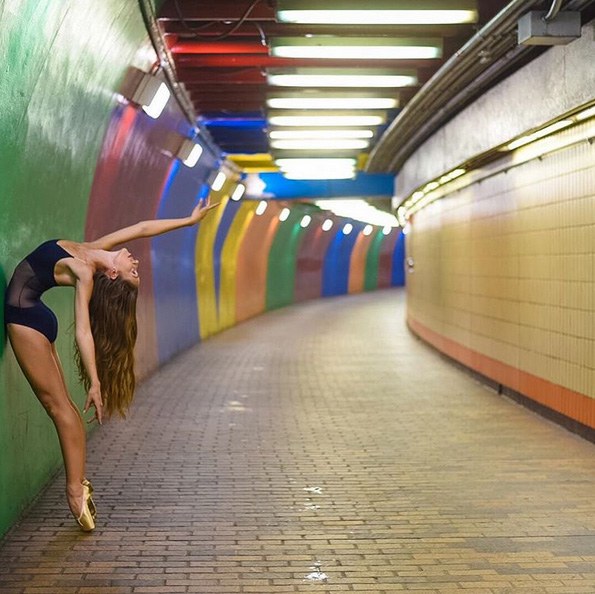 Boston Ballet soloist Rachele Buriassi (screenshot via @underground_nyc)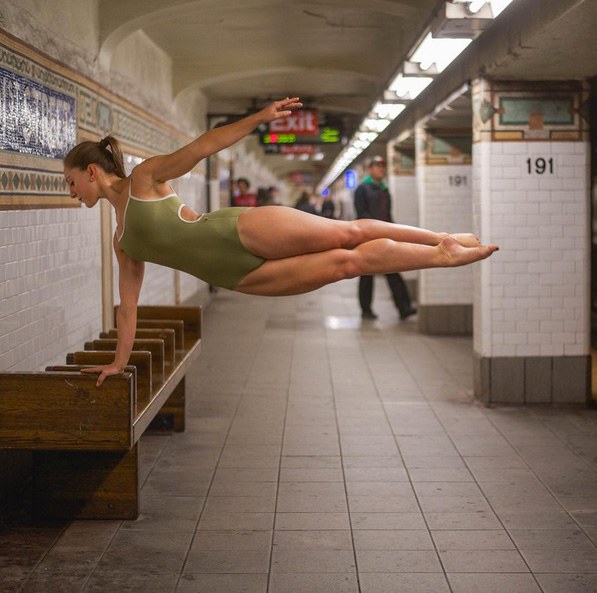 Dancer Kelly Kakaley (screenshot via @underground_nyc)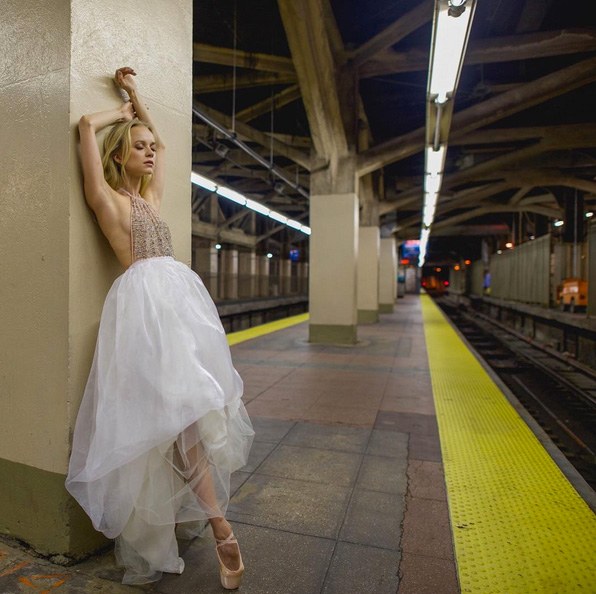 American Ballet Theatre dancer Elina Miettinen (screenshot via @underground_nyc)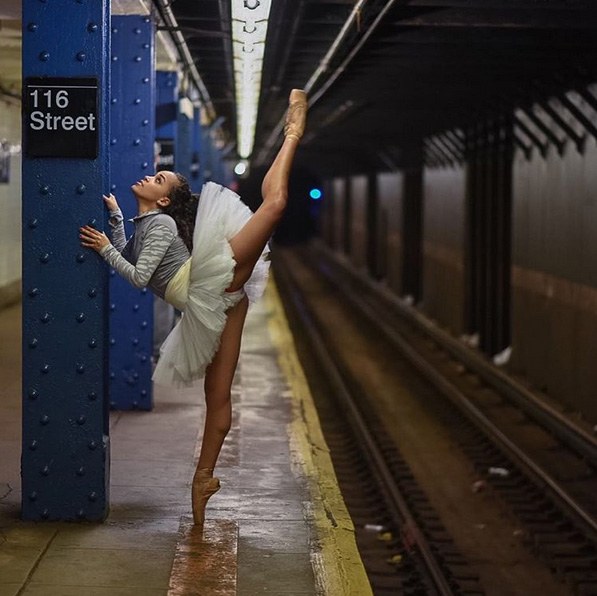 Dancer Alison Stroming (screenshot via @underground_nyc)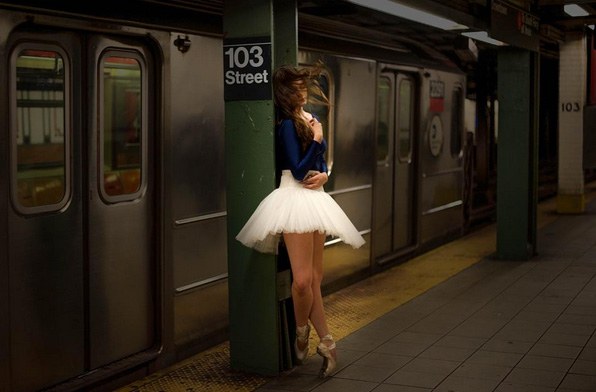 Dancer Brittany Cavaco (screenshot via @underground_nyc)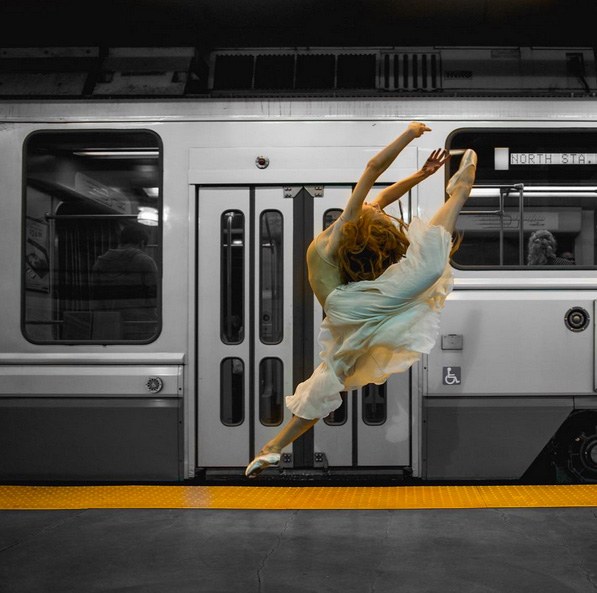 Dancer Rachele Buriassi (screenshot via @underground_nyc)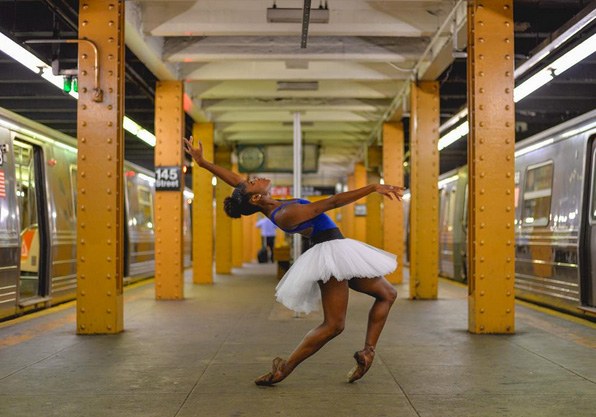 Dancer Ingrid Silva (screenshot via @underground_nyc)
It's been a huge year for Misty Copeland–now a principal with American Ballet Theatre. And she doesn't seem to be slowing down any time soon: Yesterday, Copeland announced that she'll join the cast of the Broadway musical On the Town starting August 25! She'll be taking over for fellow ballerina Megan Fairchild (a principal with New York City Ballet).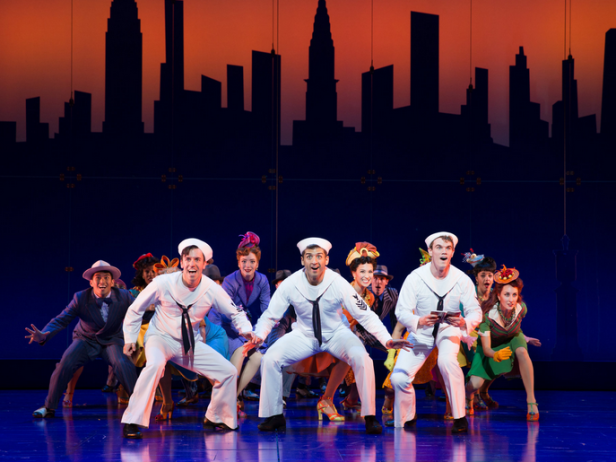 (From left) Clyde Alves, Tony Yazbeck and Jay Armstrong Johnson in On the Town (photo by Sara Krulwich for the New York Times)
In a New York Times interview, Copeland said how excited she was to be a part of this ballet-filled moment on Broadway. Because all bunheads know, On the Town isn't the only show currently featuring professional ballet dancers: former NYCB dancer and choreographer extraordinaire Christopher Wheeldon's adaptation of "An American in Paris," starring Royal Ballet first artist Leanne Cope and NYCB principal (and Megan's brother) Robert Fairchild, is currently igniting the Great White Way, too.
Not only will the On the Town run show off Copeland's gorgeous dancing, but we'll get to witness her acting and singing skills, too. And if her performances as Odette/Odille in Swan Lake, the title role in Alexei Ratmansky's Firebird or Juliet in Romeo and Juliet are any indication of her theatrical skills, her Broadway debut is sure to be outstanding.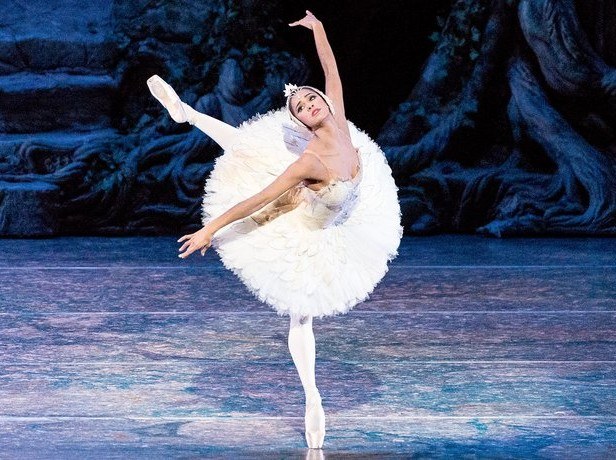 Copeland owning the role of Odette in Swan Lake (photo Darren Thomas/QPAC)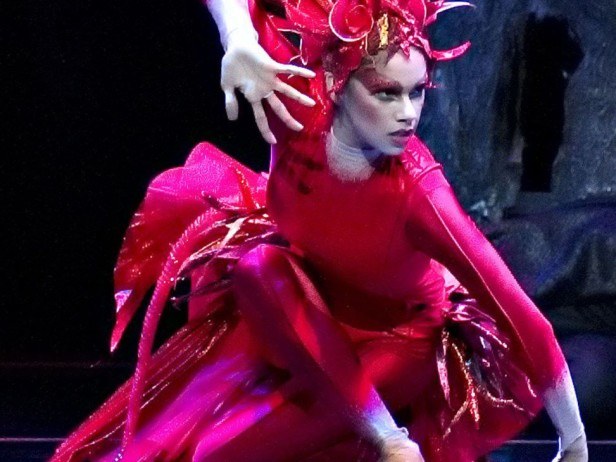 Copeland in character as the title role in Firebird (photo Gene Schiavone)
I'm going to take a wild guess that CBS News' "60 Minutes" isn't on your must-watch Sunday night TV lineup. While the investigative show highlights current events, politics and sports, there's not a whole lot of dance coverage. Unless, of course, She's involved. And you know who She is. Everyone—from Cookie Monster to Time Magazine to President Barack Obama—knows who She is.
Obviously, She is American Ballet Theatre soloist Misty Copeland (duh). And "60 Minutes" did a pretty darn great job with her profile for national TV. The 13-minute segment featured tons of classic Misty footage, interviews and photos (including a quick shout-out to Dance Spirit's sister publication Pointe!). Plus there was even a tiny peek at ABT's new version of The Sleeping Beauty—and a glimpse of Copeland's U.S. debut as Odette in The Washington Ballet's Swan Lake this past April.
Watch the segment below—and definitely don't leave out the "60 Minutes Overtime" clip underneath.
Dying to see Misty Copeland in person? ABT's NYC season begins this week! Visit abt.org for more info and tickets.
Oh my gosh, ladies. Wedding dresses. Pointe shoes. WEDDING DRESSES AND POINTE SHOES. I think I just lost my mind.
This summer was huge for NYC dancer brides. You already know about Tiler Peck's wedding to fellow New York City Ballet principal Robbie Fairchild. But they weren't the only happy couple. NYCB soloist Ashley Laracey tied the knot with dancer and choreographer Troy Schumacher, and Brittany Pollack, also a City Ballet soloist, said "I do" to former NYCB principal Jonathan Stafford.
Across Lincoln Center Plaza, six—count 'em, 6!—American Ballet Theatre gals were engaged as of this spring, and five have since gotten married. To celebrate the marriage mania, Brides magazine dressed them up in one-of-a-kind wedding dresses for its October/November issue.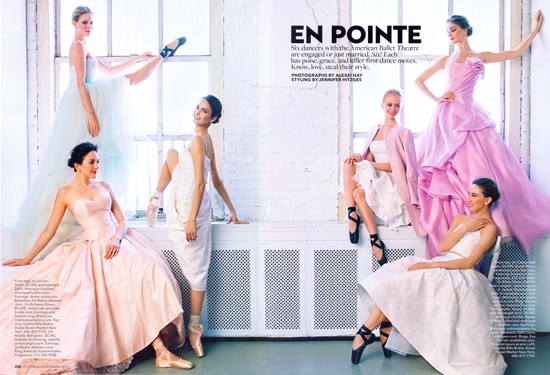 The opening spread in Brides
Print photo by Alexei Hay
In Brides, ABT principal Isabella Boylston modeled a dress by Elizabeth Stuart. It's strikingly similar to the first gorgeous gown, designed by Cushie et Ochs, she wore at her wedding this July. (She wore a different dress later, because, of course.)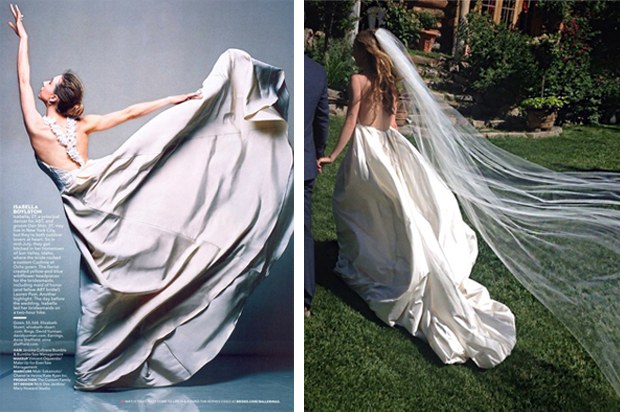 (Left) Boylston in Brides, photo by Alexei Hay; (right) photo via Instagram
Former corps member Nicola Curry (she plans to join Australian Ballet) got to play in an ethereal gown designed by Mira Zwillinger. It's not exactly similar to the dress she wore in real life—but one look at her Instagram feed makes it clear her wedding day was totally dreamlike.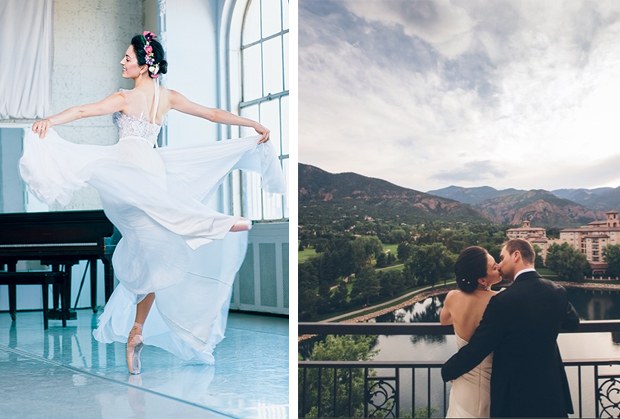 (left) Curry in Brides, photo by Alexei Hay; (right) photo via Instagram
And here's Brittany DeGrofft's get-up by David Fieldon Sposa in Brides. DeGrofft is a super-new newlywed—she and fellow corps member Patrick Ogle got hitched on Tuesday! Congrats, lovebirds!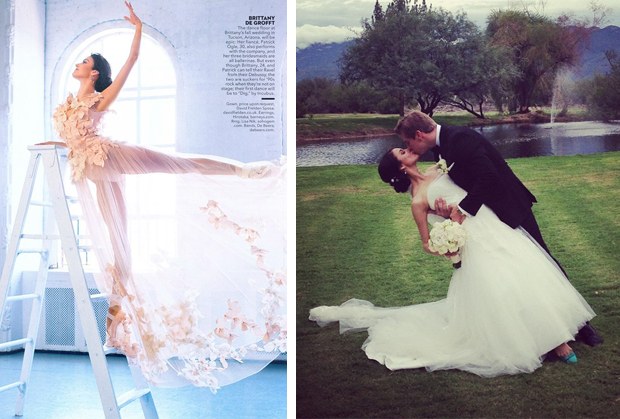 (left) DeGrofft in Brides, photo by Alexei Hay; (right) via Instagram
Before you start adding these photos to your wedding-inspiration Pinterest board (it's never too early to start!), take a look at the ultra-gorgeous behind-the-scenes video of the Brides photo shoot:
People just can't stop talking about American Ballet Theater soloist Misty Copeland. It's hard not to talk about her: At just 32 years old (happy belated birthday, Misty!), she's transformed herself into a living legend—and a role model for aspiring ballerinas everywhere. Pretty much any dancer (or even young girl, for that matter) who has ever felt that she's just not good enough can find hope and inspiration in Misty's career. She faced rejection head on—for her body type, for the color of her skin, for being a late-starter—and she didn't take "No" for an answer. The slogan in her recent Under Amour commercial sums her up perfectly: "I will what I want."
So it makes complete sense that Misty's next project should be a book for children. (She is a New York Times bestselling author, after all.) Last week marked the release of Firebird—a picture book co-authored by Misty Copeland and writer/illustrator/Caldecott Medalist Christopher Myers.
When Misty danced the title role in Alexei Ratmansky's Firebird in 2012, it was her first big principal part with ABT. So it was a natural choice for the theme of her children's book. To Misty—and to any other dancer who has ever felt boxed out of a world that emphasizes uniformity—the firebird is not unlike a phoenix, rising from the ashes of rejection to show the world its brilliance.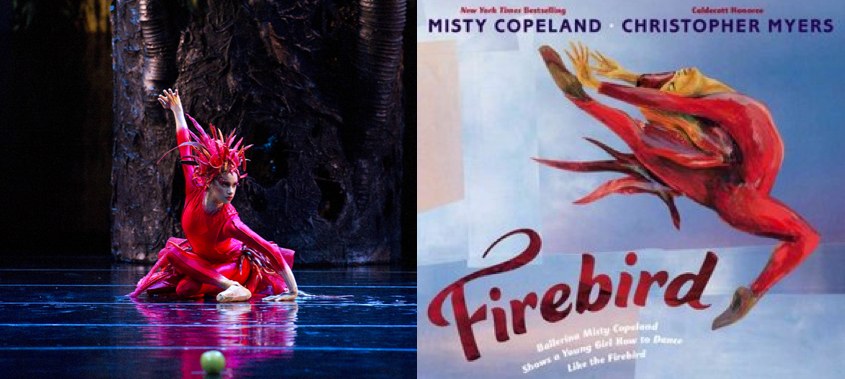 (left) Copeland in Alexei Ratmansky's Firebird (by Gene Schiavone, courtesy American Ballet Theater); (right) The cover of Firebird, illustrated by Christopher Myers (courtesy Penguin Young Readers Group)
Firebird celebrates optimism—the mentality that you will succeed if you set your mind to it. And we think that's a pretty darn awesome message. (Want to see more? Click here to purchase the book on Amazon, or here to locate your local indie bookstore.)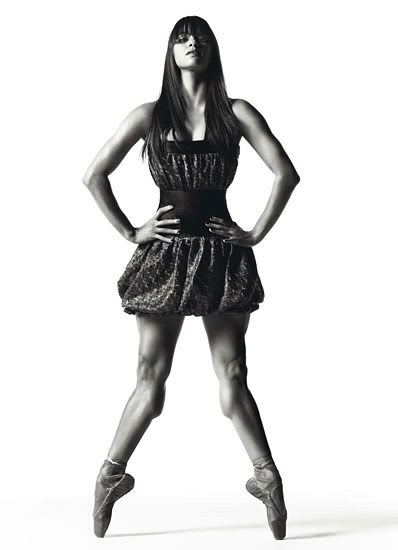 I love American Ballet Theatre soloist Misty Copeland. In fact, I'm a little bit obsessed. Not only is she a stunning technician and performer (and holy cow look at her bod!), but she just seems so real. Like the best friend (right, Misty?) that you can stay up talking with for hours.
Now, as part of a new Diet Dr. Pepper campaign, a series of videos featuring the real, one-of-a-kind Misty have been released—and she's every bit as down to earth as I've always imagined her. Check 'em out:
Are you as smitten by Misty as we are? Who's your favorite ballet dancer? Why? Tell us in the comments below!
Even in a sweaty practice studio, ABT II's Meaghan Grace Hinkis exudes a quality of performance-level flawlessness. As she rehearses the Sugar Plum Fairy pas de deux, not a hair is out of place in her classic French twist, and there are no holes in her pink tights—even her pointe shoes are scuff-free. Meaghan moves with extreme delicacy, her precise footwork contrasting with horizon-reaching extensions. She whips out triple fouettés consistently, arms extended in allongé. It's clear she loves what she does; her energy radiates through the space and her smile is infectious.
Just 18 years old, Meaghan is in her second year dancing with ABT's second company. She's also a competition star: Meaghan won the bronze medal at the Helsinki International Ballet Competition in 2009, and in 2003 she received the Hope Award at a regional Youth America Grand Prix. Her early training in jazz at the New England Dance and Gymnastics Center in Westfield, MA, "definitely plays a part in her versatility," says ABT II director Wes Chapman. "She can do anything."
Meaghan began taking ballet when she was 11 years old to help her jazz technique. "I loved it," she says. "I'm a perfectionist, and ballet is either done right or it's wrong." Meaghan continued her ballet journey at The Hartt School of Dance in Connecticut, and when she was 13 years old, her family moved to NYC so she could perform the role of Clara in the Radio City Christmas Spectacular. During 8th grade, Meaghan started training at the Jacqueline Kennedy Onassis School at American Ballet Theatre before landing a spot in ABT II in 2007, just two years later. "Meaghan is refined for her age—more so than most," Chapman says. "She is naturally talented and has so much drive."
The most challenging part of Meaghan's day? Finding the motivation to do homework after a full day of rehearsal! She's finishing the courses (through correspondence) necessary for high school graduation and plans to continue her education with online college courses, or through the college classes ABT offers in conjunction with Long Island University. "Education helps your dancing—it keeps your brain sharp and helps you learn quickly," Meaghan says. (Want to follow in Meaghan's college-bound footsteps? Check out DanceU101.com to find your perfect program.)
Ultimately, Meaghan aspires to join ABT's main company, eventually becoming a principal dancer. "She's got everything it takes," Chapman says. "She's extraordinary."
Fun Facts
Birthday: May 27, 1991
Favorite dancer: Alina Cojocaru of The Royal Ballet. They share the same birthday!Her inspiration? "My sister is an elite-level gymnast. She's my hero."
Fave NYC spot: Rockefeller Center at Christmas timeFave TV show: "Criminal Minds"
Top three flicks: The Proposal, Miss Congeniality and Legally Blonde
Fave ice cream: Mixed chocolate and vanilla from Tasti D-Lite
Boyfriend?: "No boyfriend," she says, "but I'm always looking!"
Jenny Dalzell is a dancer in NYC and assistant editor at Dance Teacher and Dance Retailer News.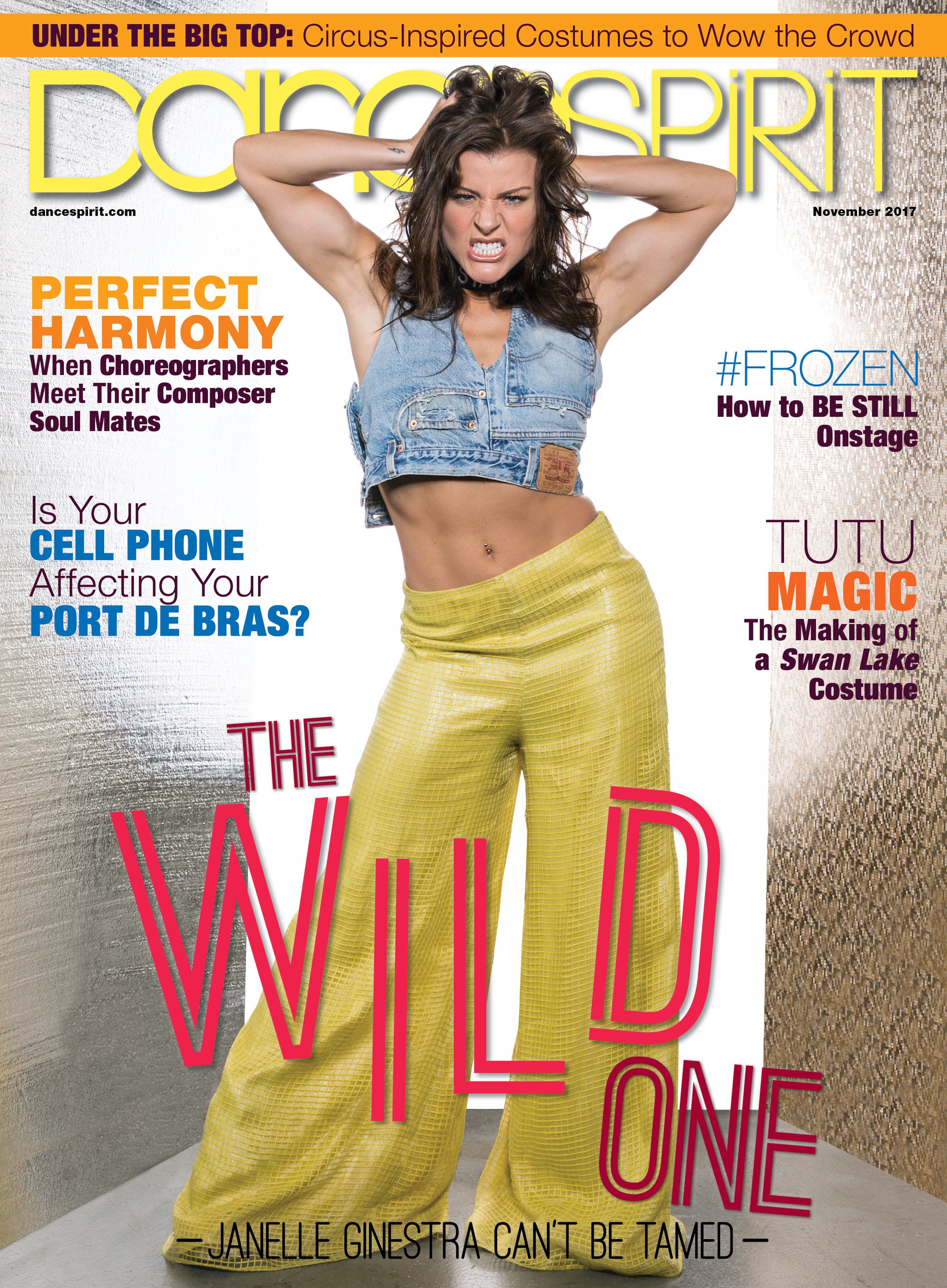 Get Dance Spirit in your inbox