Ingrid Silva and her dog, Frida Kahlo (Photo by Nathan Sayers, courtesy Pointe)

You're probably already following your favorite dancers on Instagram, but did you know that you can follow many of their dogs, too? We rounded up some of our favorite dog-centered accounts and hashtags to keep you pawsitively entertained (sorry, we can't help ourselves).
Photographer Aaron Pegg is already Insta-famous as @underground_nyc, where he snaps artsy photos of people throughout the NYC subway system. Over the weekend, he revealed that ballerinas are his favorite photography subjects.
The New York Post interviewed Pegg and rounded up some of his best ballet pics—and we are drooling over the gorgeous poses and stunning lines. And it doesn't hurt that his #flawless subjects frequently include Dance Theatre of Harlem's Alison Stroming, Ingrid Silva and Nayara Lopes, American Ballet Theatre's Elina Miettinen and Boston Ballet soloist Rachele Buriassi.
Of his dance subway shots Pegg says to the New York Post, "It's such a great contrast between two art forms—the gritty subway with the elegance of ballet. I love working with ballerinas because they're perfectionists. They make you want to be a perfectionist as well."
Scroll through our favorites below for some serious #MondayMotivation and check out the original Post piece here.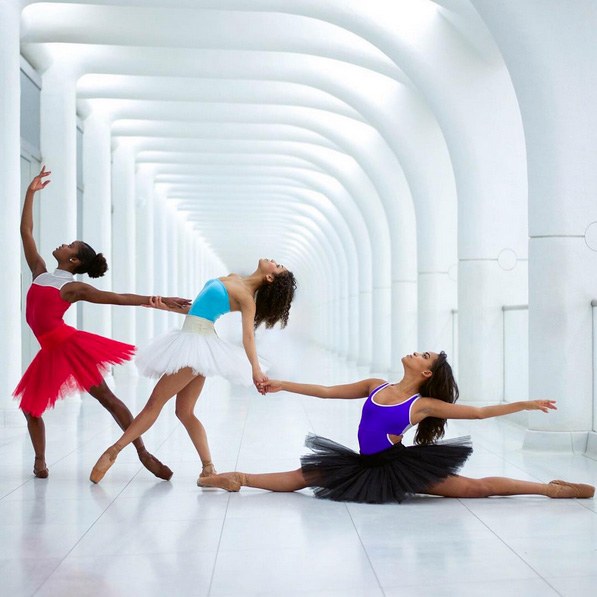 Dance Theatre of Harlem's Nayara Lopes, Alison Stroming and Ingrid Silva. (screenshot via @underground_nyc)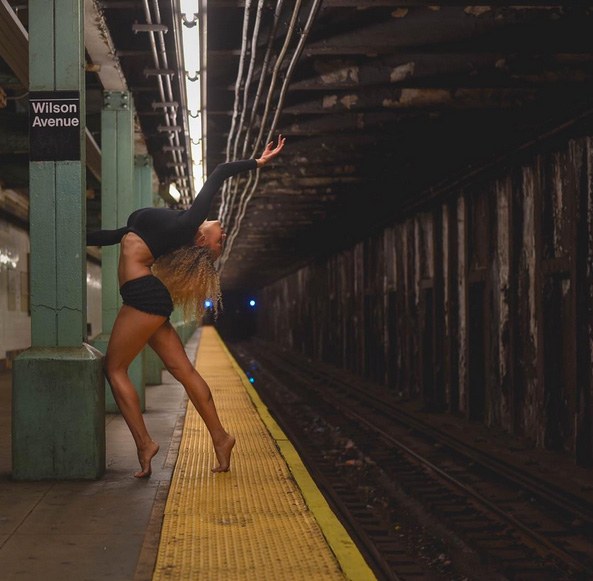 Dancer Olivia L. Burgess (screenshot via underground_nyc)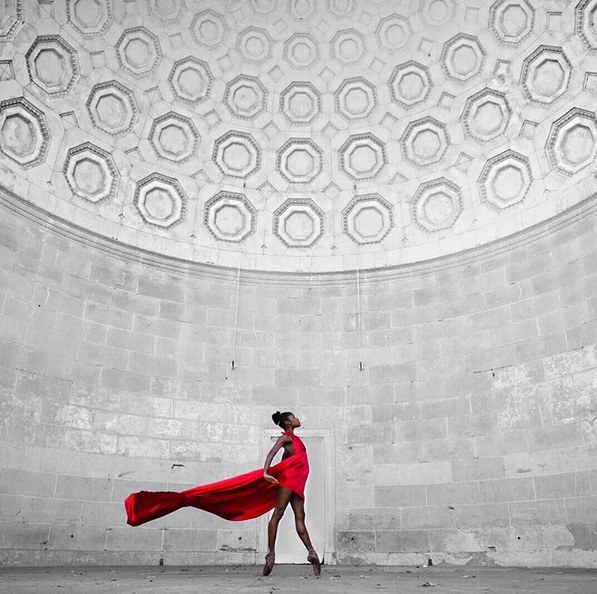 Dancer Ingrid Silva at Central Park (screenshot via @underground_nyc)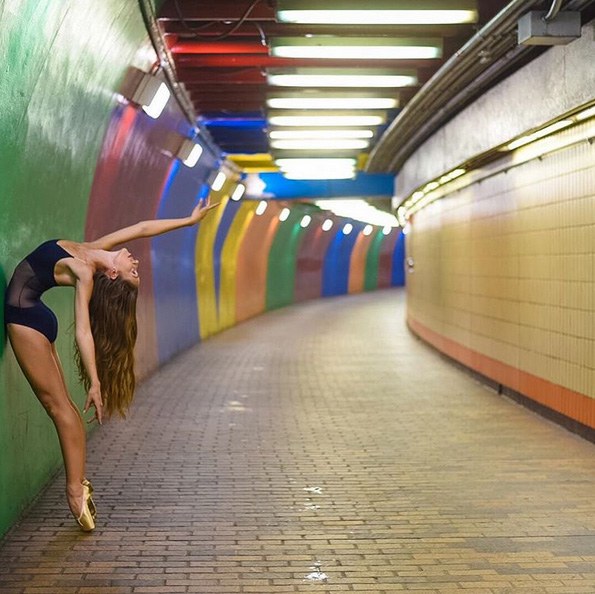 Boston Ballet soloist Rachele Buriassi (screenshot via @underground_nyc)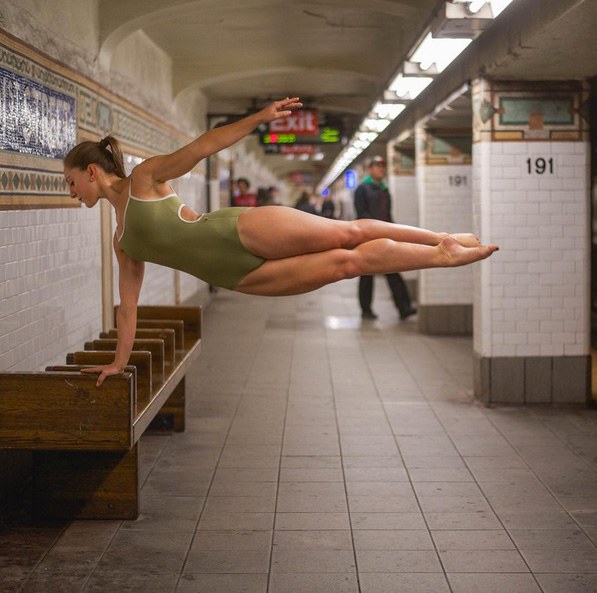 Dancer Kelly Kakaley (screenshot via @underground_nyc)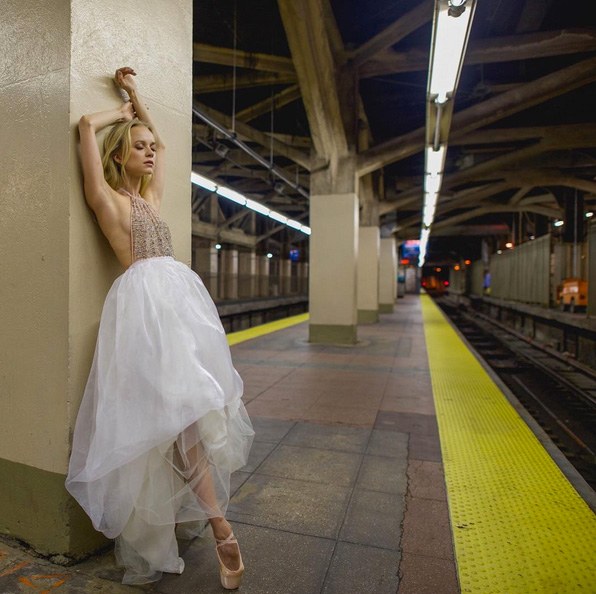 American Ballet Theatre dancer Elina Miettinen (screenshot via @underground_nyc)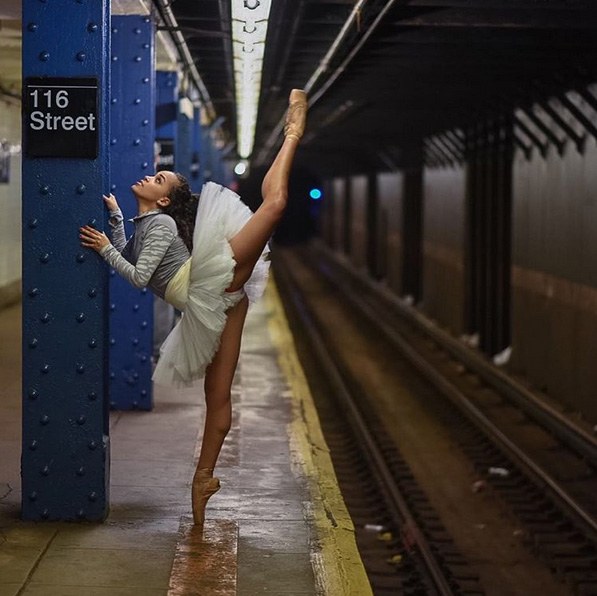 Dancer Alison Stroming (screenshot via @underground_nyc)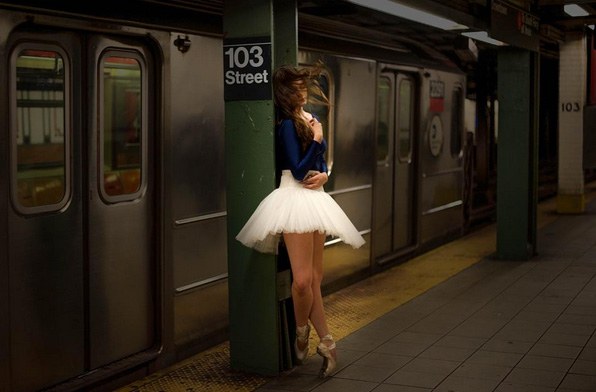 Dancer Brittany Cavaco (screenshot via @underground_nyc)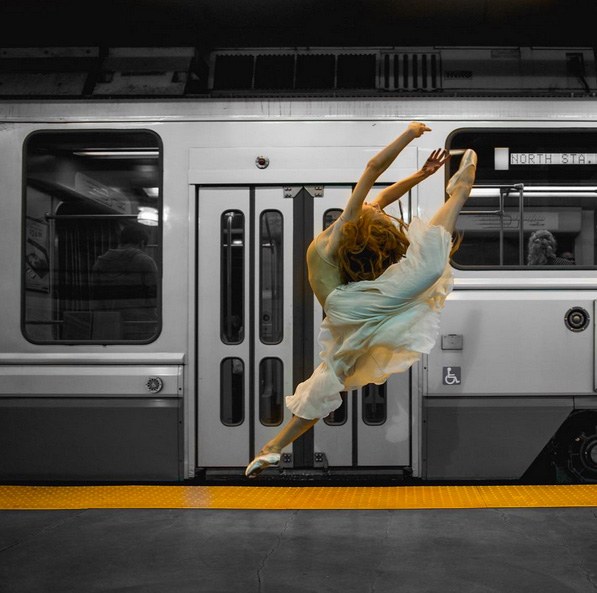 Dancer Rachele Buriassi (screenshot via @underground_nyc)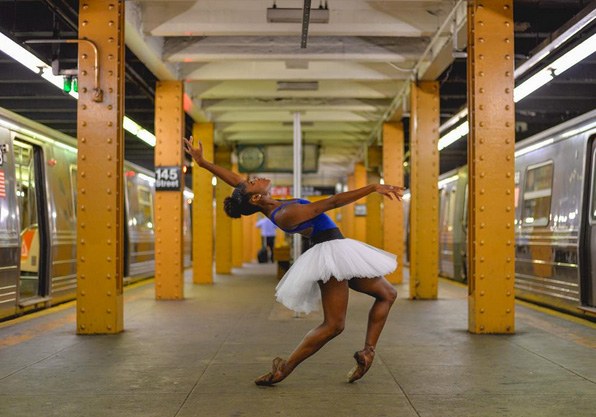 Dancer Ingrid Silva (screenshot via @underground_nyc)
It's been a huge year for Misty Copeland–now a principal with American Ballet Theatre. And she doesn't seem to be slowing down any time soon: Yesterday, Copeland announced that she'll join the cast of the Broadway musical On the Town starting August 25! She'll be taking over for fellow ballerina Megan Fairchild (a principal with New York City Ballet).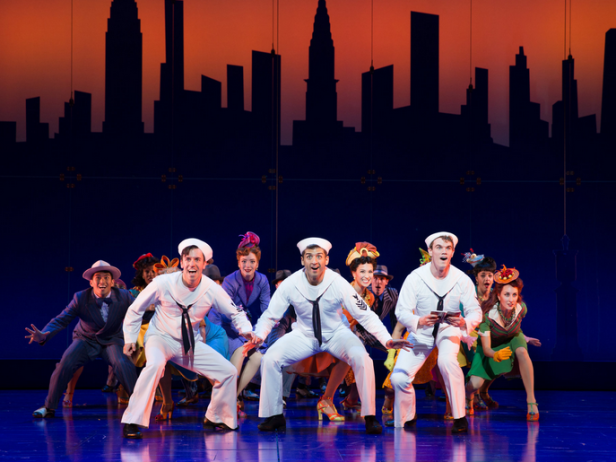 (From left) Clyde Alves, Tony Yazbeck and Jay Armstrong Johnson in On the Town (photo by Sara Krulwich for the New York Times)
In a New York Times interview, Copeland said how excited she was to be a part of this ballet-filled moment on Broadway. Because all bunheads know, On the Town isn't the only show currently featuring professional ballet dancers: former NYCB dancer and choreographer extraordinaire Christopher Wheeldon's adaptation of "An American in Paris," starring Royal Ballet first artist Leanne Cope and NYCB principal (and Megan's brother) Robert Fairchild, is currently igniting the Great White Way, too.
Not only will the On the Town run show off Copeland's gorgeous dancing, but we'll get to witness her acting and singing skills, too. And if her performances as Odette/Odille in Swan Lake, the title role in Alexei Ratmansky's Firebird or Juliet in Romeo and Juliet are any indication of her theatrical skills, her Broadway debut is sure to be outstanding.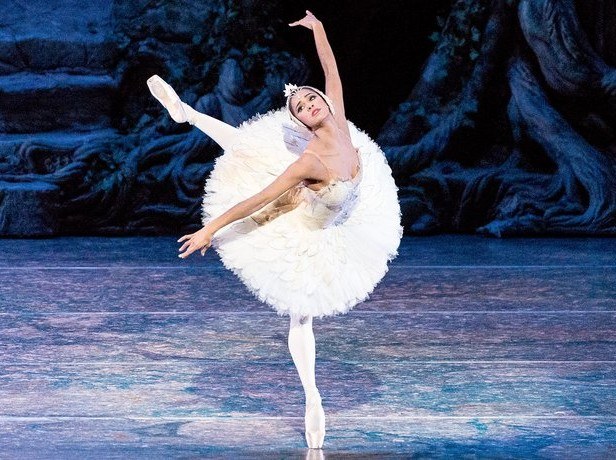 Copeland owning the role of Odette in Swan Lake (photo Darren Thomas/QPAC)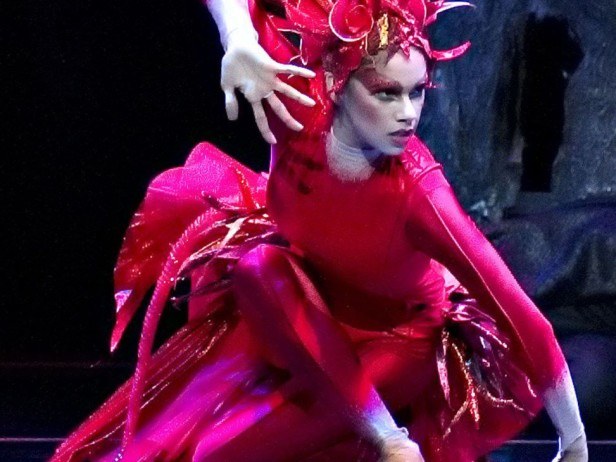 Copeland in character as the title role in Firebird (photo Gene Schiavone)
I'm going to take a wild guess that CBS News' "60 Minutes" isn't on your must-watch Sunday night TV lineup. While the investigative show highlights current events, politics and sports, there's not a whole lot of dance coverage. Unless, of course, She's involved. And you know who She is. Everyone—from Cookie Monster to Time Magazine to President Barack Obama—knows who She is.
Obviously, She is American Ballet Theatre soloist Misty Copeland (duh). And "60 Minutes" did a pretty darn great job with her profile for national TV. The 13-minute segment featured tons of classic Misty footage, interviews and photos (including a quick shout-out to Dance Spirit's sister publication Pointe!). Plus there was even a tiny peek at ABT's new version of The Sleeping Beauty—and a glimpse of Copeland's U.S. debut as Odette in The Washington Ballet's Swan Lake this past April.
Watch the segment below—and definitely don't leave out the "60 Minutes Overtime" clip underneath.
Dying to see Misty Copeland in person? ABT's NYC season begins this week! Visit abt.org for more info and tickets.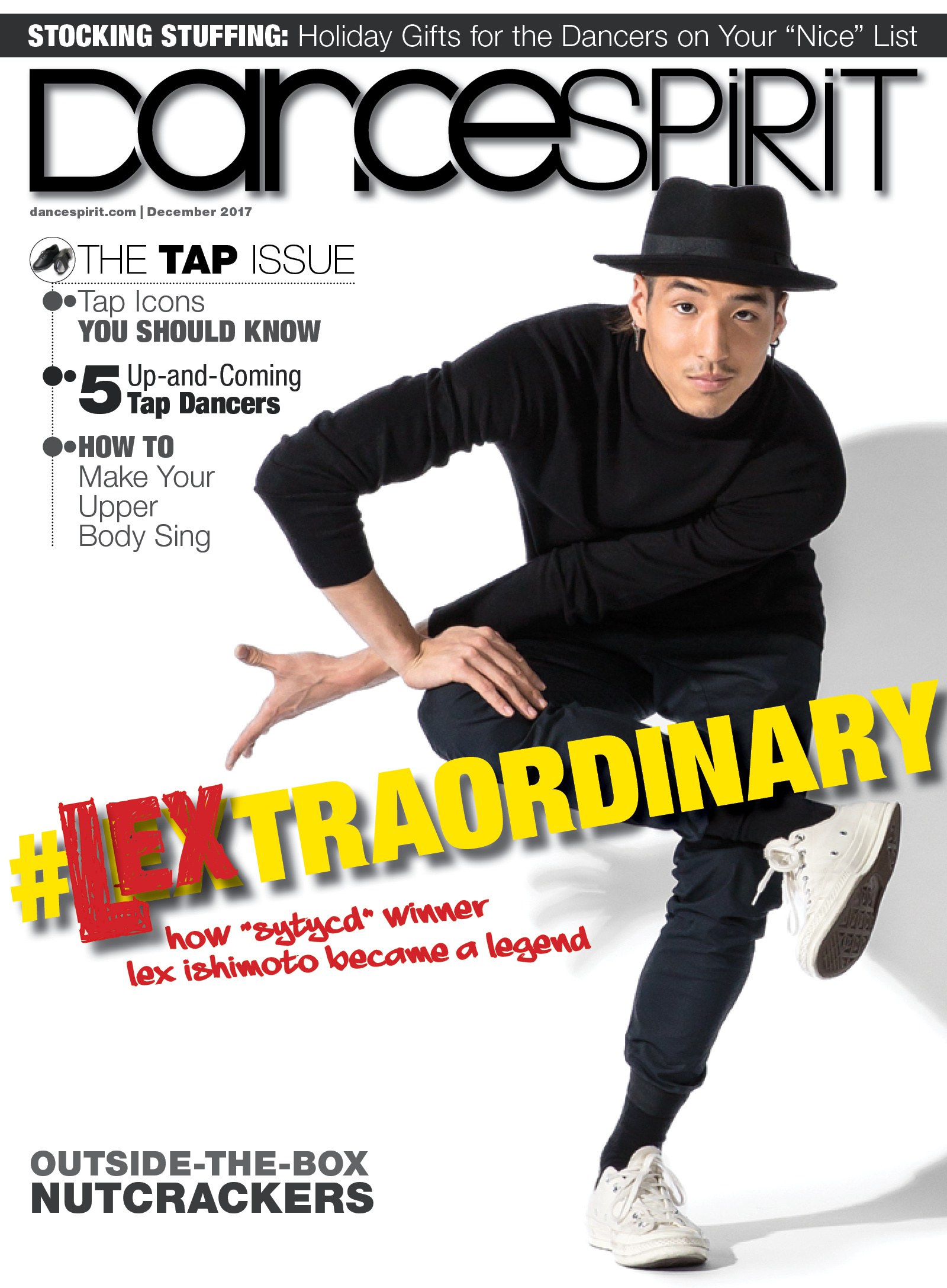 Get Dance Spirit in your inbox