Mar. 23, 2017 06:45PM EST
Here at DS, we're big believers in our Sunday #MomentofZen. It's important to take a day to recharge and prep for the week ahead, especially when it comes to setting goals. Which is why we thought it was the perfect time to introduce our Sunday Spotlight Roundup. Maybe you've been wanting to master a new leap in jazz class, or prep your pointe shoes differently—no matter the goal, we've got you covered with these in-depth, how-to articles, covering everything from convention tips to Balanchine technique.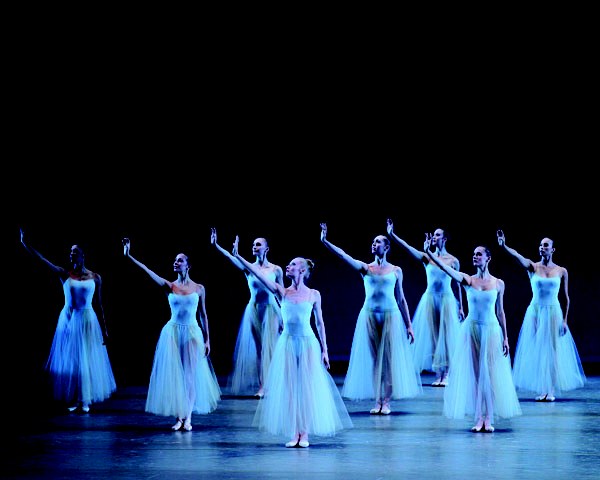 New York City Ballet in George Balanchine's Serenade (by Paul Kolnik)
For the bunheads:
Did you start at a new studio that teaches Balanchine technique? Our "Dancing Balanchine" spotlight focuses on all the beautiful intricacies of his style and choreography.
Have your pointe shoes been dying faster than usual? "Shank Strategies" offers tons of super helpful advice on how to customize your shoes.
Are you constantly wondering when you'll be getting that first pair of pointe shoes? "Am I Ready for Pointe?" helps you determine if your strength and technique are solid enough.
For the competition and convention regulars:
Not feeling too hot about your competition routine? We broke down all the problems you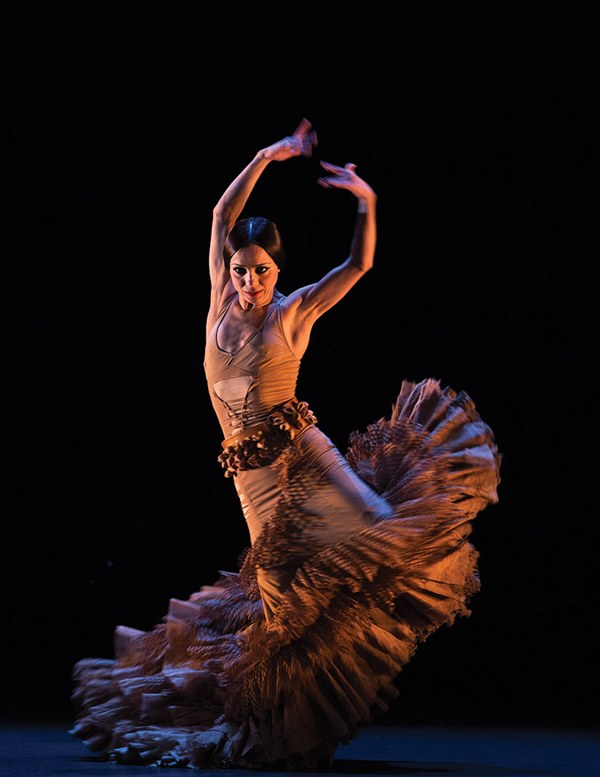 Olga Pericet in Pisadas (photo by Javier Fergo, courtesy Jerez Festival)
might have with your new piece  (and the solutions).
Only dance on marley at home? Sometimes the floors at conventions can prove to be the biggest challenge. We rounded up the best tips on how to deal.
For dancers wanting to try a new style: 
We explain how to execute a perfect Switch Firebird jazz leap.
Curious about finger-tutting in the hip hop scene? We asked the pros to walk us through a sequence.
Looking to spice up your dancing? Learn all about the passionate, musical world of Flamenco.
Aug. 11, 2016 08:18PM EST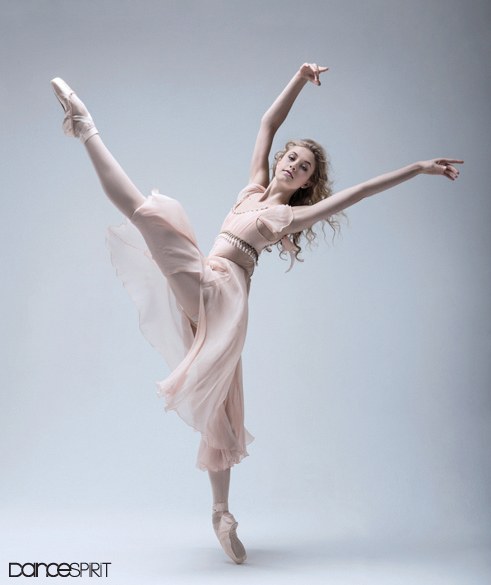 Miller in costume for the role of Titania in Balanchine's A Midsummer Night's Dream (photo by Lucas ChilczuGlamorous Titania in George Balanchine's A Midsummer Night's Dream.
Glamorous Titania in George Balanchine's A Midsummer Night's Dream. The imperious principal woman in Balanchine's Agon. These are the types of juicy, career-making roles veteran dancers aspire to—but a 19-year-old in New York City Ballet's corps has already put her distinctive stamp on both of them.
Meet Miriam Miller. Though the luxuriously leggy, quietly magnetic dancer only became a full NYCB company member this past January, she's already set the ballet world buzzing with her authoritative portrayals of those two principal parts. One night, she's earning ovations at center stage; the next, she's hanging out in the corps' back row. It's a fairy-tale story, the kind that, if her life were a movie, would end with Miller as the company's Next Big Thing. But this is the real world, and while Miller may be on the path to stardom, she isn't racing down it. Instead, she's steadily and thoughtfully exploring the many facets of her artistry—trying, like most teenagers, to figure out exactly who she is.
From Iowa City to the Big City
Miller grew up in Iowa City, IA, which isn't exactly a dance hotspot. "As a kid, I definitely didn't know what NYCB was," she says. "I didn't know much about the dance world at all." But when Miller turned 3, her mother put her in dance classes at the University of Iowa Dance Forum (now called The University of Iowa Youth Ballet and School of Dance). Though Miller also tried out "pretty much every sport, from soccer to softball to basketball to tennis," it was ballet that stuck.
When Miller was 11, then–Dance Forum co-director Sarah Barragán—who is both an alum of the School of American Ballet, NYCB's official school, and a certified teacher of American Ballet Theatre's National Training Curriculum—founded her own studio. Miller followed Barragán there, and began taking her ballet training more seriously, learning NYCB's Balanchine technique and ABT's more generalist style simultaneously. "I felt a real connection to Balanchine," Miller remembers. "It seemed to have fewer limitations. It gives you plenty of space for expansion and play."
As a young teen, Miller spent two summers at SAB's NYC home, falling even more deeply in love with the Balanchine style. At 15, she enrolled at SAB full-time, and immediately caught the attention of Kay Mazzo, the school's co-chairman of faculty. "Right off the bat you notice Miriam, because she's so beautiful—her line just goes on and on," Mazzo says. "But you need more than that to make people keep watching you, and she has that capacity. It's a kind of authoritative calmness. The statement she makes is not 'Look at me!' but, rather, 'Here I am.' " Miller improved rapidly at SAB, and took advantage of every opportunity to see NYCB in performance. "During that period, watching the company in its element, I realized NYCB was where I wanted to be," she says. "I loved that every one of its dancers was an individual." At 18, she got her wish, earning an apprentice contract with the company.
A Dream Come True
Just a few months into her apprenticeship, Miller had a major surprise: Her name popped up on the Midsummer Night's Dream cast list as Titania, Queen of the Fairies. "I'd never even seen Midsummer, so I actually wasn't sure what the part was!" she remembers. "I was looking up YouTube videos of [NYCB principal] Maria Kowroski dancing Titania, like 'For real? This is going to be me?' " NYCB artistic director Peter Martins, however, had zero doubts about Miller's readiness. "One important aspect of my job is to identify extraordinary talent," he says. "With Miriam, it was a no-brainer." And Titania is a role well suited to Miller's personality. "I'm very waltz-y and dance-y, and naturally more flirty and sweet, which is all part of being Titania," she says.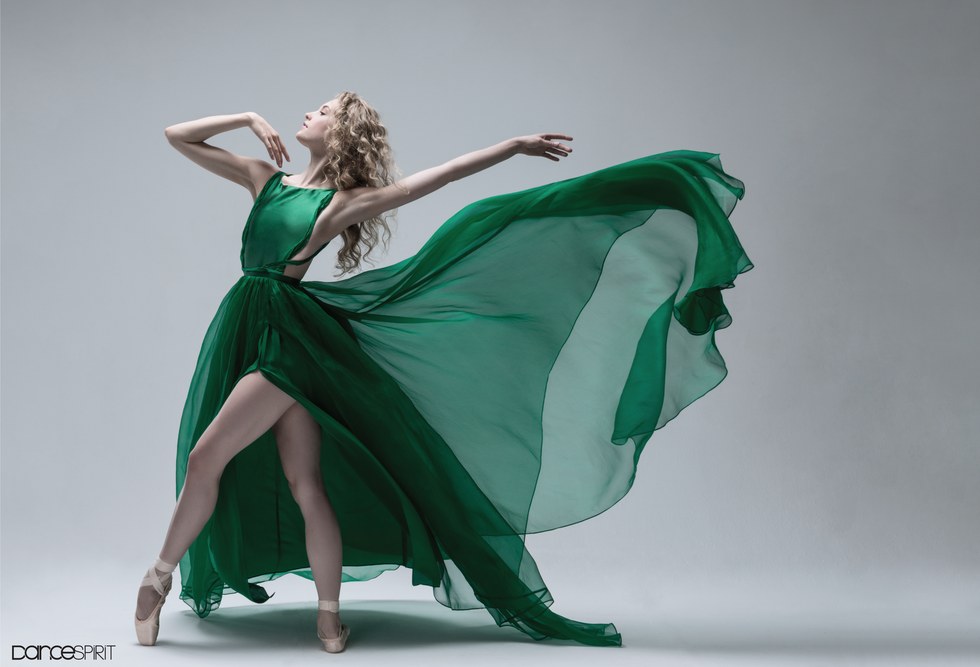 (Photo by Lucas Chilczuk)
Still, Miller's poised, natural, remarkably grown-up take on the Fairy Queen surprised critics and coaches alike. "The whole artistic staff was blown away by the maturity of her interpretation," says former NYCB principal Jonathan Stafford, who helped prepare Miller for the role. "We saw her let go onstage, allowing her instincts to take over instead of copying some other ballerina's way of dancing. She was never 'acting' acting. It was completely unforced, completely un-campy." Legendary NYCB star Darci Kistler—who was known for her elegant Titania and is one of Miller's role models—even brought Miller congratulatory flowers from her own garden. Less than a year into company life, Miller was living the dream.
Analyzing Agon
After the rush of Midsummer, Miller went back to apprentice business as usual during the company's fall 2015 season, dancing a wide variety of corps parts. "I did feel a little added pressure after Titania," she says. "But because I was just an apprentice, I think people gave me more leeway. I was still only 18, and still so new to the company. I was happy to be in the background again, absorbing everything."
She finally earned her corps contract in January 2016. Around the same time, she got her second major break: two performances as the principal woman in Balanchine's high-wire act of a leotard ballet, Agon, which is set to a complex score by Igor Stravinsky. "Agon had been one of my dream ballets ever since I first saw it as a student. Its energy is electric," Miller says. "But I never thought I'd dance it so soon, because it's incredibly difficult and completely exposed, with a spikiness that's honestly uncomfortable for me. My way of dancing is to sort of 'sing' to the music, which you can't do with Stravinsky."
Miller looked for a way to bring her natural lyricism into the part—and found her answer in footage of Diana Adams, who danced the principal woman when the ballet premiered in 1957. "Today, Agon is very acrobatic and confrontational," Miller says. "But when Diana Adams danced it, she was a little—not softer, but less aggressive. That was my way into the role."
Miller's Agon debut wasn't as confident as her Titania triumph; the intricacies of the ballet's partnering occasionally eluded her. But she loved every second of the experiment. "I'd come offstage completely buzzed!" she says, laughing. "It was a totally different thrill than the one I got doing Titania—pure adrenaline. I knew it wasn't perfect, but that's exciting, too. Hopefully, I can mature into the part down the road."
Corps Star
Despite her heady Midsummer and Agon experiences—she got a second crack at Titania in May—these days Miller still spends most of her time in the corps' traditional tall-girl spot: the back row. And she's more than OK with that. "Someday I'd love to be a principal dancer, but as long as I'm healthy and dancing, I'm happy," she says. She also finds endless inspiration in her fellow corps dancers. "Of course I admire the principals, but my role model is the entire corps," she says. "They work so, so hard; they look amazing in class every day. Watching them grow, and seeing how that work translates onstage, constantly pushes me to be better."
Beyond NYCB, Miller has done a video campaign for fashion brand Max Mara, and recently signed with the Wilhelmina modeling agency. But while modeling sounds like a super-glamorous side job, she's not interested in anything that'll keep her away from the studio too long. "I haven't really done a lot of modeling, because they always want me on set from 10 am to 6 pm, and that's not happening," she says. "It's not my passion."
Plus, she insists, she'd rather spend her downtime doing normal-girl stuff. "After a crazy day of dancing, my favorite thing to do is zone out in front of Netflix," she says. She also has to budget in some homework time: She's taking courses at Fordham University on Monday nights. "I really enjoyed a social science class I took on adult and adolescent behavior," she says. "I think eventually I'd like to do something in the psychology field."
In the meantime, it's a safe bet that there are more big dance opportunities coming Miller's way—and a safe bet that she'll handle them gracefully. "The impressive thing about Miriam is how well she's dealt with everything that's been thrown at her," Stafford says. "That sort of instant success, where you're given a lot right at the beginning, can be hard to navigate. But she's wonderfully calm under pressure. Nothing intimidates her."
Fast Facts!
Birthday: November 13, 1996
Favorite music: "I get obsessed with different genres periodically. For a while it was rap—I used to be in love with Kid Cudi and Kanye West and Drake. But now I'm more into the indie scene, Ellie Goulding and Hozier and The Weeknd."
Must-see TV shows: "I like the freaky, creepy shows: 'Criminal Minds,' 'Dexter,' 'Bates Motel.' "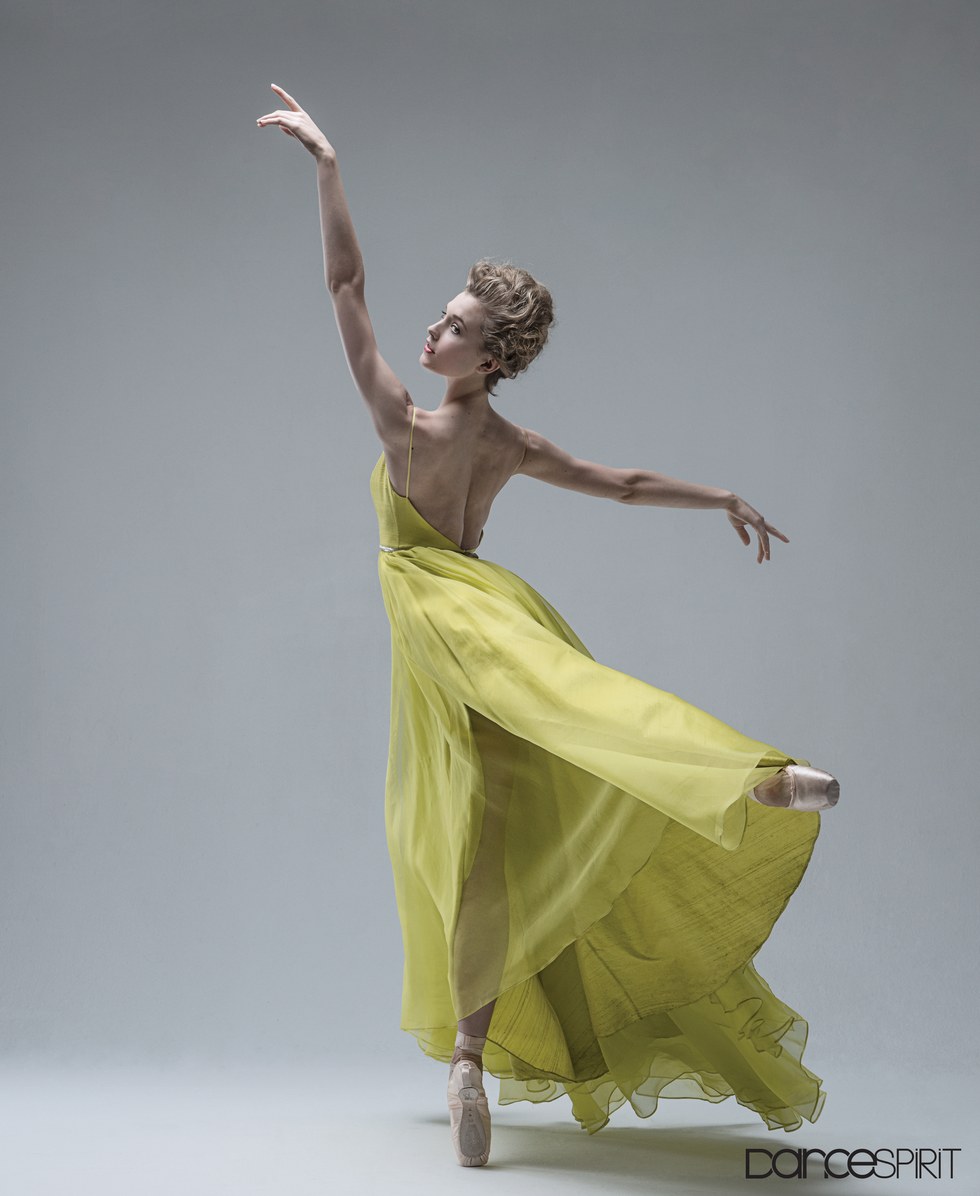 (Photo by Lucas Chilczuk)
Best friend: "Kaitlyn Casey, who was at SAB with me. I've never been closer to anyone,
so it was hard when she moved to Germany to join the Dresden Semperoper Ballett last year. But even though she's living on the other side of the world, she's still my bestie."
Weirdest thing in her dance bag: "I went to Turkey with my family a little while ago and brought home two 'evil eye' charms that are supposed to be good luck. They seem to be working—everything's gone pretty well since that trip!"
Celebrity doppelganger: "Maybe Karlie Kloss, the model. People say I look like her, and she did ballet, which is cool."
Dance crush: "Is it weird if I say someone in the company? I think probably Alec [Knight], who's a corps dancer. He's this beautiful, tall, blond Australian boy."
Favorite costume: "My Symphony in C tutu. It's brilliant white and covered in Swarovski crystals—the most ballerina-y tutu of all time."
Dream role: Odette/Odile in Swan Lake
Hidden talent: "I don't think I have one! I can't sing. I can't draw. I guess cooking? I definitely enjoy cooking, at least. I'm getting good at making dinner out of the random things that end up in my cabinet."
Three words that describe her as a dancer: "Flowy, soft, elongated"
Three words that describe her as a person: "Calm, collected, genuine"
Miriam's Tall-Girl Advice
At 5'9", Miller's one long-limbed lady—and she's never seen that as a disadvantage. "If you're tall, own it!" she says. "Don't be shy, because a tall dancer who moves small is the worst. Yes, you'll have to work a little harder to get your legs up and move quickly. But do Pilates, do cross-training—find the tools you need to dance as big as you can. Then you'll find that your height is an asset, not a liability."
Apr. 13, 2016 09:36PM EST
In today's ballet world, dancers need to be adaptable. Long gone are the days when a few big companies would dance the classics, while others specialized in contemporary rep; now, everyone does a bit of everything. "You have to be able to put on different styles like you're putting on jackets," says Parrish Maynard, a faculty member at San Francisco Ballet School. "As a professional, one minute you'll be doing a piece by George Balanchine, the next a contemporary William Forsythe work and then a week later Swan Lake."
But studying a ton of different styles isn't always the best way to develop versatility. While some dancers thrive on the multiple-technique approach, for others, it can be confusing to tackle several different methods before developing a solid base in a single style. So what's the right path for you? Here's advice from top teachers and pros in the industry.
When Less Leads to More

Ellison Ballet students showing off their Vaganova training. (Photo by Rachel Neville, courtesy Ellison Ballet)
If you already have your heart set on a company that specializes in a particular style—the Bournonville-based Royal Danish Ballet, for example, or one of the several American companies that prioritize Balanchine—immersing yourself in that style has obvious benefits. And sometimes, a narrow, single-technique focus can actually open doors to larger worlds. Now a principal with San Francisco Ballet, Sarah Van Patten studied for several years with master teacher Jacqueline Cronsberg, who specialized in Balanchine technique. "It was a small school, and very intense," she remembers. "I just worked with my one teacher all the time, so I never felt like I got lost in multiple styles and views on things." And she didn't find Cronsberg's Balanchine focus limiting, either. When, right out of school, Van Patten joined RDB—a company specializing in August Bournonville's fleet, story-centric ballets—she felt adequately prepared. "The quickness of my Balanchine training actually translated into Bournonville very easily, especially in petit allégro," she says.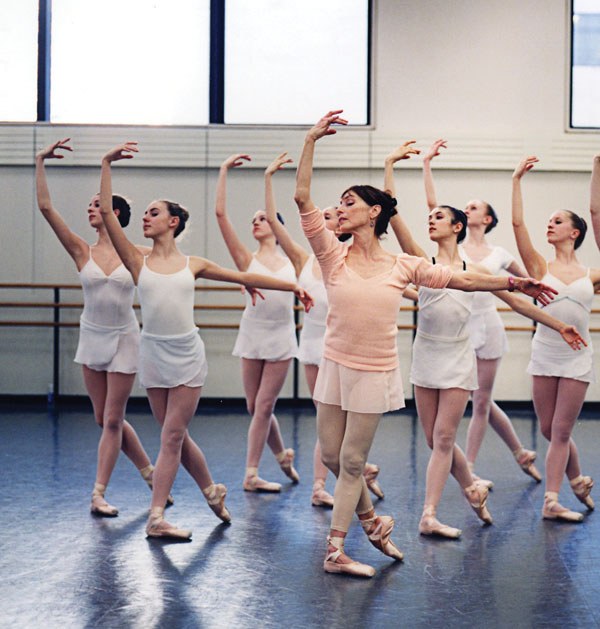 Susan Pilarre leading a class at SAB. (Photo by Ellen Crane, courtesy SAB)
Teachers at some of NYC's best ballet schools echo that diversity-through-specificity argument. "We teach a very strict Vaganova technique," says Edward Ellison, director of Ellison Ballet, "but it's not limiting. It develops an acute awareness of one's instrument—how it logically functions—and it enables a freedom to adapt to any choreographic style." Susan Pilarre, a longtime faculty member at the Balanchine-focused School of American Ballet, says that Mr. B's style is like "a good little black dress. It can go anywhere." Her proof? SAB students frequently go on to have professional careers with non-Balanchine companies.
The Benefits of a "Tasting Menu"
On the flip side, early exposure to the many styles you'll be expected to take on as a pro also comes with great perks. "To make a dancer employable, we feel it's important that she has a full rep in her body," Maynard says. "A lot of companies don't want people who look like they can only do one thing." At San Francisco Ballet School, the technique is a hybrid "American" style that includes bits and pieces of several methods, and the curriculum also introduces students to works by choreographers like Balanchine, Forsythe, Nacho Duato and Jiˇrí Kylián. "It develops a very clean look, with no affectations," Maynard says.
Noelani Pantastico, now a principal at Pacific Northwest Ballet, admits that when she joined the company at age 17, she didn't have much of a range. "I was primarily Balanchine-based at that time," she says. "I had a good technical foundation, but when I started working with choreographers, I realized there was another world out there." Pantastico ended up getting her diversifying "training" as a pro: She left PNB to work with Jean-Christophe Maillot at Les Ballets de Monte Carlo, where she danced a wide-ranging rep for seven years before returning to PNB with a new sense of perspective. "At a certain point, it's important to expand your focus," she says. "I wish I'd done it sooner. I would've been a stronger dancer."
Keeping an Open Mind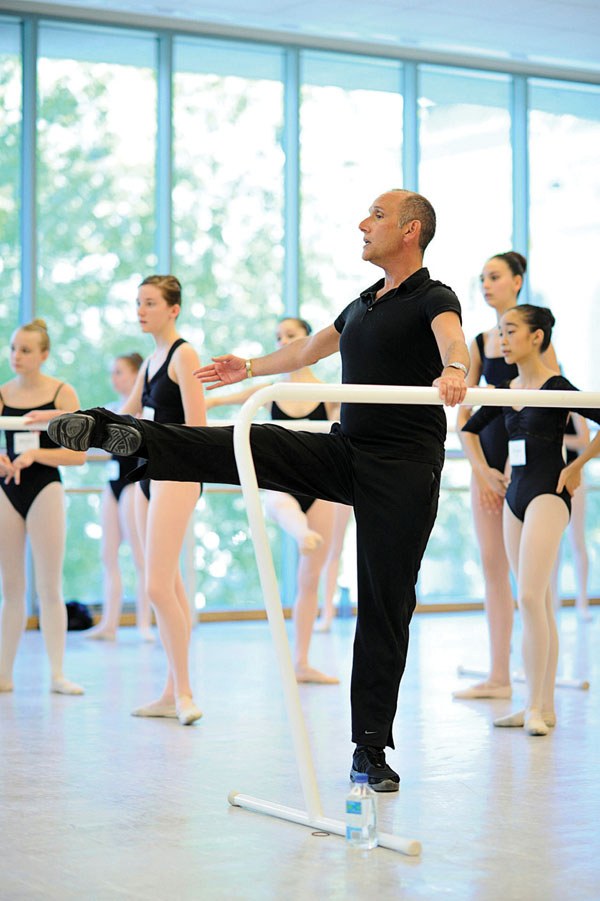 Parrish Maynard leading class during San Francisco Ballet School's Summer Session (Photo by Erik Tomasson, courtesy San Francisco Ballet School)
In the end, the real key to adaptability is openness—and courage. "As a student, I was fearless, and that let me take a new style and go with it," Van Patten says. "I really watched everyone around me and took in their strengths." And while figuring out your own approach to the technique question is important, Van Patten stresses the importance of finding a mentor who speaks to you, whatever her style. "A good teacher is a good teacher," she says. "If my teacher had been Vaganova-based, I would've stayed with her! Ultimately, with the right mind-set and the right mentor, you can do anything."
A Rundown of the Major Ballet Techniques
Vaganova
History: The legendary Russian ballerina and teacher Agrippina Vaganova combined elements of French, Italian and early Russian techniques to create this method. The syllabus is broken down into eight years of training—a slow, steady and deliberate progression.
Emphases: Use of the upper body and placement of the head. "Arms are not just for decoration," says Yuliya Rakova, a teacher at the Vaganova-based Kirov Academy of Ballet in Washington, DC. "They support the jumps and turns, and have to be very expressive."
Affiliated company: Mariinsky Ballet in St. Petersburg, Russia
Balanchine
History: George Balanchine, who trained at the Imperial Ballet School (before
it was renamed the Vaganova Ballet Academy), developed a unique style that was based on his Russian roots but influenced by his adopted American home. "He didn't change the technique, but he stretched it and made it more modern-looking," says Susan Pilarre, faculty member at the School of American Ballet in New York City.
Emphases: Deep plié, the use of épaulement and keen musicality. "Beautiful arms and hands and the shaping and placing of the feet are important," says Pilarre. "Balanchine dancers can move quickly because they dance on the balls of their feet."
Affiliated companies: New York City Ballet, Miami City Ballet
Bournonville
History: Developed by August Bournonville, a Danish dancer who also performed with the Paris Opéra Ballet, this technique has both Danish and French influences. It's the foundation of Bournonville's many famous ballets, such as La Sylphide and Napoli.
Emphases: Light, fast footwork and a quiet upper body. The head and shoulders follow the working leg, and jumps are strong and buoyant.
Affiliated company: Royal Danish Ballet in Copenhagen, Denmark
Cecchetti
History: Established by Italian master teacher Enrico Cecchetti, this technique
is maintained in the U.S. by the Cecchetti Council of America, through which students and teachers can complete several grades of exams. There are planned exercises for each day, with a focus on anatomy.
Emphases: Coordination of the head and arms, with smooth transitions between steps. Students are encouraged to work both sides of their bodies equally.
Royal Academy of Dance (RAD)
History: RAD was developed in 1920 by a group of leading dance professionals, who created a series of exams to help raise the level of dance education among students and teachers. The syllabus is influenced by the Cecchetti and Vaganova techniques.
Emphases: Attention to detail, particularly in port de bras and épaulement. Arms tend to be held low and rounded.
Mar. 04, 2016 08:47PM EST
Those of us in NYC were lucky enough to catch Pacific Northwest Ballet in performance last week. I'm totally jealous of Seattle audiences right now, because this company is amazing!
I'm still recovering from the brilliant dancing in on the contemporary program, which included David Dawson's A Million Kisses to My Skin, William Forsythe's The Vertiginous Thrill of Exactitude and Crystal Pite's Emergence. Unfortunately, I wasn't able to see the company's all Balanchine program, which included Prodigal Son, Square Dance and Stravinsky Violin Concerto.
As usual, technology has the answer to my sorrows. This video of Leta Biasucci and Benjamin Griffiths makes you feel like you're standing in the wings during their performance of Square Dance. And what's even more mesmerizing than their stellar technique? The fact that they're obviously having an amazing time dancing together.
Jan. 01, 2014 11:50PM EST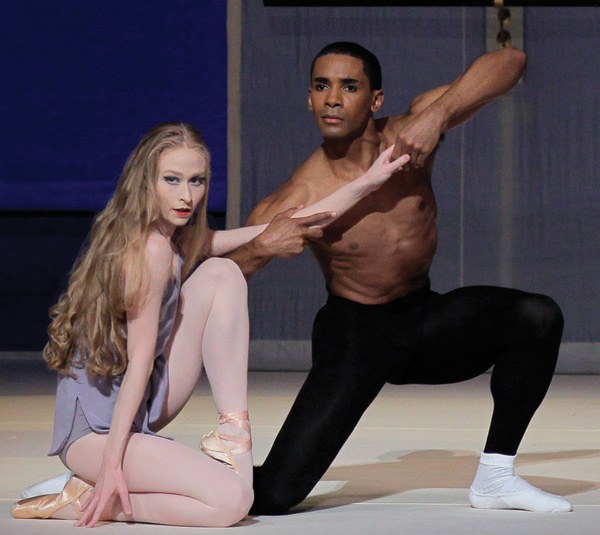 New York City Ballet's Janie Taylor and Craig Hall in Robbins' Afternoon of a Faun (photo by Paul Kolnik)
I've just made my entrance in Jerome Robbins' Afternoon of a Faun, stepping onstage into a set designed to look like a ballet studio—with the audience where the mirror would be. I don't acknowledge my hundreds of viewers. Instead, my partner and I gaze into the darkness and pretend we're studying our own reflections. In true Robbins fashion, we dance as if no one's watching.
Performing Robbins' ballets can be tricky, especially if you're used to engaging actively with an audience. They aren't about how big you can grin—or how high you can get your leg, for that matter. To stay true to his style, you need an honest, thoughtful approach. "If what you're doing doesn't feel like a genuine human reaction," says Pacific Northwest Ballet artistic director and former New York City Ballet principal Peter Boal, "it's wrong." Humor, emotion and atmosphere are already built into the choreography. The challenge for performers is to trust the steps to speak for themselves.
The Man Behind the Moves
Robbins created more than 60 ballets, mostly for NYCB and Ballets USA (his own company, formed in 1958 but disbanded a few years later). He also directed and choreographed for theater, music and television, earning six Tony Awards for Jerome Robbins' Broadway and two Academy Awards for West Side Story. "West Side was one of the first things I saw that made me want to dance," says Georgina Pazcoguin, a NYCB soloist known for her interpretation of Anita in Robbins' West Side Story Suite (a shortened concert version of the dances from West Side Story). "I watched the film when I was in eighth grade and was stuck to the screen."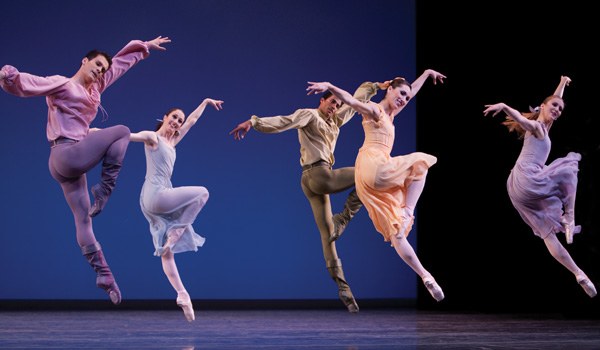 Pacific Northwest Ballet in Robbins' Dances at a Gathering (photo by Angela Sterling)
Throughout his career, Robbins surrounded himself with inspiring artists. He collaborated with famed composer Leonard Bernstein (Fancy Free, West Side Story), and worked side by side with George Balanchine, first as associate artistic director of NYCB and then as ballet master (a title he and Balanchine shared). But Robbins didn't only rub elbows with the elite. He found inspiration in young students at the School of American Ballet (2 & 3 Part Inventions) and was known to pluck dancers from the corps and put them in starring roles. Robbins was most interested in individuality and talent, regardless of age or prestige.
Robbins' Style
From Broadway to ballet, Robbins' style is diverse—and timeless. "There's something about it that seems of its time, current and ahead of its time all at once," says Damian Smith, principal at San Francisco Ballet. The content of his work often reflects real life. In the Night and Dances at a Gathering are about regular people's relationships and interactions; Fancy Free and The Concert have a mix of everyday and eccentric characters. His dancers relate to each other onstage in unmannered, natural ways.
Robbins was very particular and notoriously tough to work for. (He expected his dancers to remember many versions of the same phrase, and to be able to repeat, reverse or rearrange them whenever he asked.) "He pushed us to our maximum and made us better than we thought we were," Boal says. "It wasn't so much about pointing your foot or turning out, but about the character you were playing."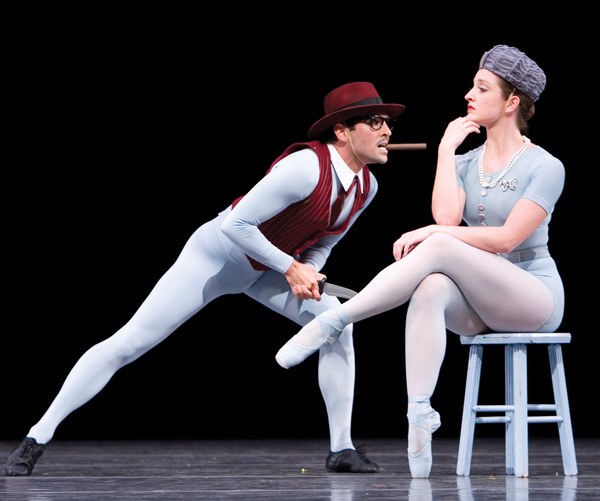 (L to R) PNB's Carrie Imler and Jonathan Porretta in Robbins' The Concert (photo by Angela Sterling)
How to Do It
Robbins' ballets don't need a hard sell. He wanted his dancers to be people onstage, not performers playing for laughs or sighs. "It's as if the people watching are looking through a window at what's going on," says Christine Redpath, a Robbins repetiteur and ballet master at NYCB. "He'd always scream, 'Easy baby!' It's not about playing to the public."
To get the right feel, Pazcoguin has to rein herself in. "I tend to be 125 percent onstage," she says. "Robbins' work is extremely athletic, but you're not supposed to make that apparent to the audience. It's about finding the subtleties." Every time she revisits a role like Anita, she likes to bring something different to it. The choreography, though specific in terms of counts, steps and spacing, allows for that kind of individuality.
When Redpath stages Robbins' ballets, she finds that most dancers worry too much about technique and being in a perfect fifth position. They don't relax and move without inhibition. "When you're a kid, and you hear music that brings a smile to your face, you dance and you're not aware of what other people think," Redpath explains. "I encourage people to take that approach within the framework of the choreography."
Apr. 20, 2012 01:45PM EST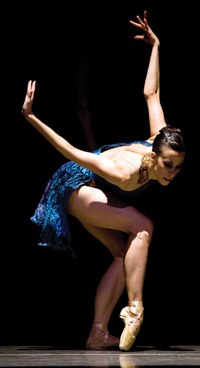 Lindsi Dec in Kyon Gaines' M-Pulse (by Angela Sterling)
You're at the ballet, and a dancer catches your eye. She's got strength, charisma and a beautiful movement quality—but there's something about her that bothers you. Then you place it: Her hands! Her wrists are floppy and her fingers stick out all over the place. Small as they may be, those bad hand habits change the whole feel of her dancing.
The way you use your hands in ballet can make or break your line. The cardinal rule—hands should enhance your dancing, not distract from it—is simple enough. But getting just the right look can be tricky. Read on to learn about how different techniques use the hands, and how you can overcome the most common bad habits.
Style Matters
George Balanchine trained his dancers to have rounded and delicate hands. "He would have people hold a little ball so that the palm of the hand would round rather than stay flat," says Kay Mazzo, co-chairman of faculty at the School of American Ballet. "When the fingers opened from the ball, he wanted them to open like a flower." In the Balanchine style, all five fingers should be seen, not stuck together, and never held straight or stiff. There should be energy coming from the fingertips and life throughout the hands. In arabesque, stretch your fingers to the limit and elongate your line.
In the Vaganova style, the hands are placed so they follow the natural line of the arm. "The thumbs should be curved and softly touching the second joint, not the first joint, of the middle finger," says Martin Fredmann, artistic director of the Kirov Academy in Washington, D.C. "The fingers should be separated but not all spread out. It's a beautification of what's natural, not an exaggeration." Royal Academy of Dance (RAD) follows a similar model, but prefers a long line from the shoulder to the fingers, with no broken wrist. Cecchetti teachers prefer curved fingers in demi-seconde, as if you're holding the edge of your tutu.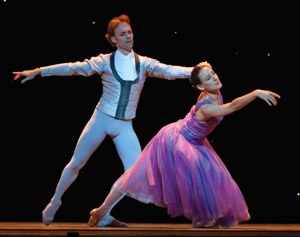 Albertson and Bramaz in In the Night (by Linda Hervieux)
All of the styles agree on one point: The hands should be expressive. "Most students forget there's something beyond the wrist," Mazzo says. "Always think of your hands as alive."
Bad Habits
Most ballet dancers have had to overcome some kind of bad hand habit. Getting your hands right can take just as much time and effort as getting your pirouettes right. Lindsi Dec, a soloist with Pacific Northwest Ballet, says her hands are a constant struggle for her. "I have one hand that's more tense than the other, so it looks like a pancake," she admits. "It's hard for me to think about relaxing it and being strong in my legs simultaneously." She focuses on initiating her arm movements from her back, not her fingers, to ease the tension in her hands.
Sometimes a little thing like nail polish can help make you more aware of your hands. When Dec first joined PNB, she even borrowed then-principal dancer Patricia Barker's rings to wear for class. "They helped me think about my hands a bit more in center," she says. If you don't want to wear jewelry or paint your nails, imagine a tingling sensation in your fingertips, which will help you remain conscious of them.
Tricia Albertson, a principal with Miami City Ballet, struggles with another common problem: floppy wrists. "I have to work hard to think of my hand as an extension of my arm," she says, "so that every line finishes with the fingertips." She'll often go through a variation marking the legs but doing the arms full-out, concentrating on maintaining the line of her arm through her wrists and fingers. To avoid flapping her hands during fast steps, like petit allégro, she'll try moving her arms and legs at different tempos. "I half-time my arms so my wrists don't respond to the jolt of each jump," she says.
The best way to develop good hands is to be aware of how you're using them right from the beginning. "Even when you're starting your preparation at the barre, think about how you're holding your fingers," Mazzo says. "It doesn't come automatically"—but it will, with practice.


Get Dance Spirit in your inbox