May. 05, 2017 03:25PM EST
Apr. 24, 2017 08:29PM EST
Even if you've never been to L.A., you probably have a solid idea of what class at Millennium Dance Complex in North Hollywood is like. You can picture the vibrant red walls; you can feel the waves of dancers feeding off one another's explosive energy. Why? Because you—and millions of other dance fans—have watched countless class videos filmed at the center.

Class videos are a VIP pass, taking dancers and non-dancers alike inside the commercial world's hottest studios. And people are watching them obsessively, sharing them on platforms across the web, helping them rack up tens of millions of views. We turned to some of the industry's key players to find out more about what makes the class video format uniquely appealing.
Keep reading...
Show less
Apr. 18, 2017 01:01PM EST
How crazy has the rise of the class video been? Within the past year or so, we've basically come to expect that L.A.'s top commercial choreographers will put out a new internet-breaking vid every week. Here are five of our all-time favorites. (And be sure to read a whole lot more about the class video trend in the May/June issue of Dance Spirit.)
Keep reading...
Show less
Mar. 23, 2017 06:11PM EST
Oh, you knew it was coming.
As soon as Beyoncé dropped the internet-breaking "Formation" video—complete with epic choreo by Dana Foglia, JaQuel Knight and Chris Grant—you could practically hear choreographers around the world dropping everything to work on "Formation" routines of their own.
But you probably weren't expecting those routines to be QUITE as good as WilldaBeast's "Formation" creation.
Then again, do we expect anything less than perfection from WilldaBeast these days? Because that's exactly what his spin on the instant Bey classic delivers: take-no-prisoners, make-no-excuses perfection.
The video (filmed by Tim Milgram, naturally) even features one of Beyoncé's own Super Bowl ladies, the fabulous China Taylor. (Her lip-syncing skills actually give me chills.) And as always, we get to see the stylings of a whole crowd of WilldaBeast devotees, including Jade Chynoweth, Sean Lew, Will Simmons and (does she sleep??) Kaycee Rice.
Watch them slay. (They slay.) All day. (ALL DAY.)
Mar. 23, 2017 03:38PM EST
On a scale of one to Beyoncé, 13-year-old Charlize Glass is pretty darn Beyoncé. Watching Charlize dance is like flipping through a series of perfect snapshots—each isolation of her body is that precise and finessed. And in 2014, a video of the young hip-hopper performing a Jose Hollywood routine to "Yoncé" got an Instagram shout-out from Queen Bey herself. That's just the cherry on top of Charlize's already impressive list of accomplishments, which includes performing on "The Ellen DeGeneres Show," winning first runner-up on "America's Best Dance Crew" with 8 Flavahz Crew and dancing in music videos for Willow Smith, Ciara and Justin Bieber. Most recently, Charlize has been traveling the country with The PULSE on Tour as a 2014–2015 Elite Protégé.
"It would be a dream come true to dance with Beyoncé. She's had such an impact on my career so far."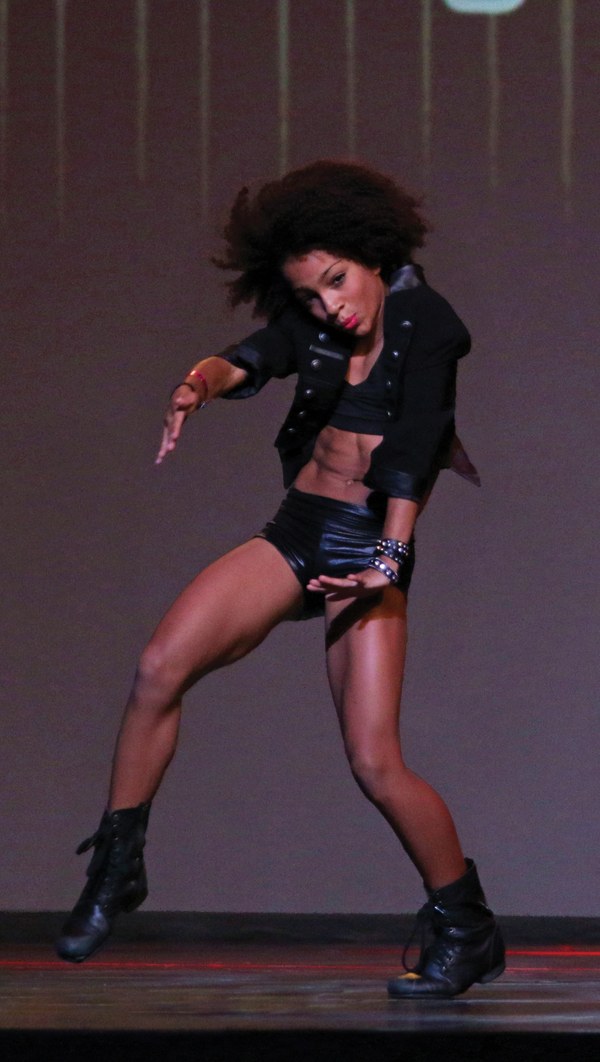 (Photo by Rick Clark Photography, courtesy the Glasses)
Fast Facts
Birthday: November 27, 2001
Hometown: L.A.
Dance studios: The Rage Complex, Academy of Dance Westlake Village, Soul Motion and Movement Lifestyle
Secret talent: "I like to speak in cat language to my four cats."
If she weren't a dancer, she'd be… a track and field sprinter.
Dance mentor: Marcelo Pacleb, the creator of 8 Flavahz Crew
Favorite meal: chicken, broccoli and rice with apple pie and cookie dough
Dream job: "I want to choreograph for major artists—or at conventions like The PULSE!"
Mar. 23, 2017 11:57AM EST
It's #BeyDay (Beyoncé, y'all!) and we're celebrating here at Dance Spirit.
First, this.
Then, this:
You know Chloé Arnold, Her Holiness of tap, has worked with Beyoncé before, right? Maybe it's because they both have the "é" in their names. (BRB, renaming myself Alisoné, and perhaps I can get the hookup, too.)
The video—which has everyone here at the DS office dying to put on our tap shoes right this very second—also features former Dance Spirit cover girls Melinda Sullivan and Maud Arnold as part of the Syncopated Ladies. This isn't the first time this girl group has taken on a pop hit and made it sound even better.
I think we can officially state this for whatever record someone is keeping: Tap has never been hotter.
P.S. Who run the world? Girls. But, duh.
Mar. 13, 2017 02:17PM EST
Feb. 13, 2017 08:01PM EST
Let's just get down to business, shall we? The best dance moment of last night's Grammy Awards came courtesy of—surprise!—Beyoncé.
BECAUSE BEYONCÉ IS A STRAIGHT-UP GODDESS.
Yes, you obvi already knew that. But last night a very pregnant B cemented her divine status when she donned a stunning gilded headdress for an insanely captivating performance, complete with fluid, entrancing choreo by Sidi Larbi Cherkaoui and lots of our favorite Bey backup dancers (Ashley Everett! Ebony Williams! Denee Baptiste!). It was the stuff of award-show legend.
Watch the magic yourself (or re-watch it for the thousandth time—we won't tell!):
Beyonce's full performance at the #GRAMMYs 2017. You're welcome. pic.twitter.com/VRGRt3esEQ

— Wolé II (@Kingwole) February 13, 2017


Get Dance Spirit in your inbox