Mar. 23, 2017 04:32AM EST
The year 2011 was filled with show-stopping onstage moments and exciting offstage drama. Whether you were captivated by New York City Ballet star Sara Mearns' 32 fouettés in Swan Lake or danced along in your seat as Sutton Foster led the Broadway cast of Anything Goes through a series of time steps, there's no doubt you were entertained. Here are the people who kept us on the edge of our seats in 2011.
—Alison Feller
In Ballet
Sarah Lane. Photo by Gene Schiavone.

When Natalie Portman won the Best Actress Academy Award for her role as a twisted-but-talented ballerina in Black Swan, she neglected to thank her dance double, American Ballet Theatre's Sarah Lane, in her acceptance speech. Later, Lane stood up to the movie industry by demanding credit for her work.
New York City Ballet principal Jenifer Ringer danced the Sugar Plum Fairy role in the company's Nutcracker, last year, and while most gave her a standing ovation, New York Times dance critic Alastair Macaulay remarked in his review that it looked as though she'd "eaten one sugar plum too many." Ringer quickly became a role model for women everywhere when she went on "Oprah" this February to discuss the critique and proclaim that she thinks her body is just fine. So do we, Jenifer. Rock on!
As if Alexei Ratmansky wasn't already the busiest man in ballet, he just extended his contract as American Ballet Theatre's resident choreographer through 2023.
Company tours are a lot of work. This year Ballet Nacional de Cuba embarked on its first U.S. tour in five years, hitting four cities along the way.
American Ballet Theatre principal (and star!) David Hallberg became the first American dancer to enlist permanently with Moscow's Bolshoi Ballet.
The Broadway production of Wonderland. Photo by Paul Kolnik.

Everyone wanted to go down the rabbit hole: Productions of Alice in Wonderland popped up everywhere, from ballet stages (The Royal Ballet, The National Ballet of Canada and Royal Winnipeg Ballet all showed versions) to Broadway (Wonderland was short-lived, but the choreography by Marguerite Derricks was quirky and fun).
On Broadway
Apparently Harry Potter can sing and dance—or at least his real-life alter-ego can. Daniel Radcliffe drew massive crowds and rave reviews when he starred in How to Succeed in Business Without Really Trying. No magic wand needed.
The Book of Mormon. Photo by Joan Marcus.

The Book of Mormon was easily the most controversial debut on Broadway this year. The show, penned by "South Park" creators Trey Parker and Matt Stone with Avenue Q co-writer Robert Lopez and choreographed by Casey Nicholaw, may have offended some audiences, but it impressed the Tony Award voters and took home nine honors, including Best Musical.
On the Comp Scene
Joe Lanteri, executive director of New York City Dance Alliance, changed 44 young dancers' lives this summer when he presented $2.8 million in college scholarships. Go get those diplomas!
Selecting the DS Cover Model Search finalists is never easy, but this year there were three dancers who stood out: Kaitlynn Edgar, Maddie Swenson and Zoey Anderson. All three hail from the competition circuit, and all three were wildly impressive.
On TV
Melanie Moore won the title of America's Favorite Dancer on "So You Think You Can Dance" Season 8 and landed on the cover of DS!
When Beyoncé revealed her baby bump at the MTV Video Music Awards, she proved she runs the world—and so do her choreographers, Frank Gatson, Sheryl Murakami and Jeffrey Page. The trio won the VMA for Best Choreography for Beyoncé's "Run the World" video.
When Laurieann Gibson wasn't throwing together award-winning choreography for Lady Gaga, she was starring on her own TV shows on E! and BET. We're not necessarily on board with her screaming fits and harsh treatment of her dancers, but we do respect her moves.
Amanda and D'Angelo on "Live to Dance." Photo by Monty Brinton.

Paula Abdul's "Live to Dance" wasn't a hit, but it introduced us to D'Angelo Castro and Amanda Carbajales, who became the show's champions. These tiny dancers won us over with their personalities and technique.
Lil' Buck may have been the coolest guy to get us talking this year. He starred in Janelle Monae's "Tightrope" video and helped make jookin' mainstream. His "Swan" performance alongside Yo Yo Ma? Breathtaking.
On the Big Screen
Natalie Portman accepts her Oscar for Best Actress. Photo by A.M.P.A.S.

She may not have done all the dancing as Nina, but Natalie Portman's Black Swan performance was definitely Oscar-worthy. Plus, she met Benjamin Millepied, her boyfriend-turned-fiancé and father to her child, Aleph, on set.
While no one can truly replace Kevin Bacon, Kenny Wormald proved that he's a stud with smooth moves in this year's remake of Footloose. Plus, his onscreen chemistry with costar Julianne Hough made us want to drag our own boyfriends to dance class.
In First Position, audiences get a glimpse at the behind-the-scenes action at the Youth America Grand Prix finals in NYC. The documentary and its stars—Michaela DePrince, Joan Sebastian Zamora, Miko and Jules Fogarty, Aran Bell and Rebecca Houseknecht—received rave reviews at the Toronto International Film Festival.
In Modern Dance
Bill T. Jones + Dance Theater Workshop = New York Live Arts. We love a good collaboration.
When Judith Jamison retired as artistic director of Alvin Ailey American Dance Theater, Robert Battle was handed the reins to the prestigious modern company. We can't wait to see what he does with the group in 2012.
In November, we introduced you to some of the seriously impressive cast members of Starz's upcoming ballet drama "Flesh and Bone"—former ABT principal Irina Dvorovenko, current ABT soloist Sascha Radetsky and Ballet Arizona dancer Raychel Diane Weiner. And in case the cast weren't stacked enough, they've got former ABT principal and current Royal New Zealand Ballet Director (and former Center Stage bad-boy) Ethan Stiefel as a consultant and choreographer for the show.
But the question remained: Who would land the leading role of Claire, a Pittsburgh-raised ballerina who moves to NYC to join a prestigious ballet company while confronting her troubled past?
Whelp, we've finally got our answer, folks. And Starz's newest star will be...drum-roll, please...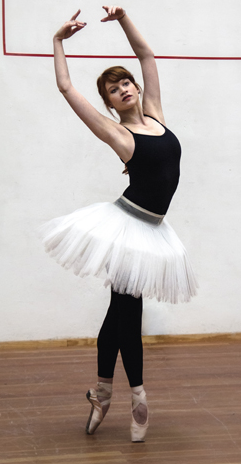 Sarah Hay (photo by Ian Whalen)
This American ballerina (who dances with Semperoper Ballet in Dresden, Germany) is no stranger to the dark, dysfunctional (and maybe a little over-the-top) world of the onscreen ballet drama—she played a member of the corps in Black Swan. We're still crossing our fingers that "Flesh and Bone" will not go the way of Black Swan, and that it'll offer a more realistic portrayal of the ballet world. (We don't need anyone else thinking we sometimes grow wings. Right?) But we're guessing the show is gonna be pretty dark. (The series' writer, Moira Walley-Beckett, wrote and produced for "Breaking Bad," after all.)
The show begins filming in NYC this spring and is set for a 2015 premiere.
Jan. 30, 2013 10:34AM EST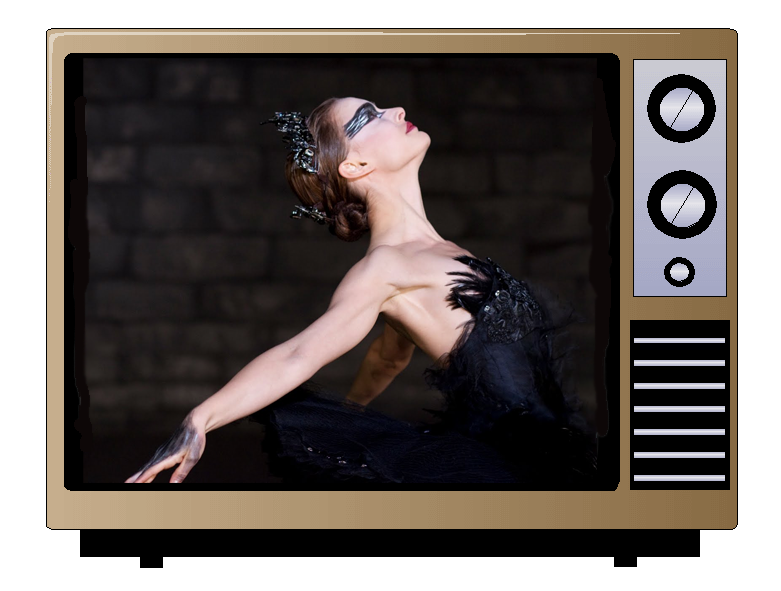 Well, this is big news: Cable network Starz is developing a new show that it describes as a "gritty" ballet drama. Apparently it will follow a troubled NYC dancer, and expose the "darker side" of the ballet world.
Sounds familiar, doesn't it? I have to admit I was hoping we'd all left Black Swan in our rearview mirrors at this point(e); great as it was for everyone to suddenly be talking about ballet, the film perpetuated such terrible stereotypes that I think it ultimately did more harm than good. Now it sounds like that kind of ballet drama is returning to the mainstream. And while I'm curious—and, yes, OK, a little excited—to see what the heck this show is actually going to be, I'm also anxious about re-opening that whole "ballet is a horrible dysfunctional universe!" Pandora's box.
That said, the show's writer and its two producers are all connected to the ballet world. (One of the producers is the brother of American Ballet Theatre stars Ethan Brown and Leslie Browne.) Since they know ballet firsthand, maybe we can hope for a little more reality—a thoughtful exploration of eating disorders? a frank look at company politics?—and a little less melodrama. And hopefully it'll involve all kinds of real-world ballet stars, which will definitely be fun for us supernerds.
Anyway, whatever you do, Starz, please, please credit your body doubles. Let's avoid another Sarah Lane controversy, OK?
What do you all think? Does this show sound like an exciting opportunity for the dance world, or a ballet PR disaster waiting to happen?
Jan. 24, 2013 11:14AM EST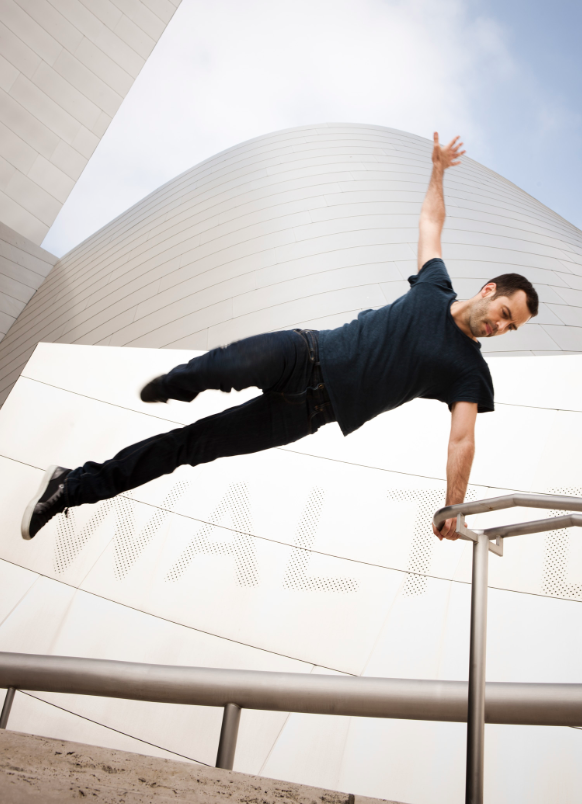 As you probably guessed immediately after hearing his amazing last name, Benjamin Millepied (seriously—could there be a better name for a dancer?) is a Frenchman, born in Bordeaux. But since he's spent most of his career in the States, dancing at New York City Ballet and choreographing all over, it was a shock to the ballet world when he was named the next director of dance at Paris Opéra Ballet this morning.
Millepied, who most people know as the choreographer of Black Swan, will take over POB  in September 2014. That means he'll be leaving his experimental L.A. Dance Project, founded just last year, and moving to Paris—with, yes, his wife Natalie Portman and their son Aleph.
Here's the other interesting thing about this unexpected transition: While Millepied has focused on choreography in recent years, he's apparently not planning to do so at POB. Instead, he told the New York Times, he wants to beef up the company's contemporary repertoire, particularly works with commissioned scores. He also wants to promote in-house choreographers.
What will a traditional classical company run by a rule-breaking contemporary choreographer look like? And what will Natalie Portman look like in berets? We'll find out next fall!
May. 31, 2012 12:56PM EST
It's the moment we've all been waiting for: "Breaking Pointe," the new CW series following Salt Lake City's Ballet West, premieres tonight!
I was lucky enough to get my hands on a screener copy of the first episode, so believe me when I say: You will be obsessed with this show. There's tons of behind-the-scenes drama—some of it dance-related (the first episode documents contract renewal day, and let's just say not everyone ends up happy), some of it not so dance-related (half the cast members are dating each other, so...). It's seriously entertaining.
And interesting. The show's mission, according to artistic director Adam Sklute, is to be "the antidote to Black Swan," disproving the movie's negative stereotypes. While a few small aspects of the show do seem a bit "Black Swan"-y (the opening includes dancers in dramatic spotlights, with a voice-over intoning "We do it to be perfect" ominously), for the most part "Breaking Pointe" seems to present ballet's joys and heartaches pretty realistically. It's nice to see Sklute talking about the instability of a dancer's life in a way that's sympathetic as well as candid: "I often have to make decisions that my dancers don't like," he says in this episode. "It's hard on them. But the best recipe for creating a hardworking and well-functioning dancer and artist is if all the dancers know that they are special, but also that they're expendable." (That's about as mean as he gets, by the way. No evil directors here.)
Can't wait for the premiere? Read our interview with cast member Beckanne Sisk about filming the series, and check out the preview below!
Dec. 08, 2011 02:30PM EST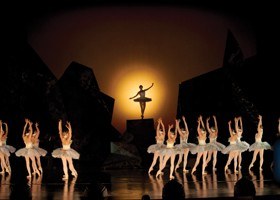 A scene with the corps de ballet in Black Swan. Courtesy Summit Entertainment.
With technology, pretty much anything is possible onscreen these days—but no visual effects can compare to the feeling of watching a dancer take the floor for real. That's where a dance double comes in. Dance doubles step in for actors when scenes call for highly technical dance moves. Thanks to clever camera work, audiences often don't notice the swap.
That was the problem for Black Swan dance double Sarah Lane, an American Ballet Theatre ballerina who subbed for Oscar darling Natalie Portman in the flick. Lane made headlines by speaking out about the fact that she'd done the majority of the dancing that Portman received credit for in the media. Yet other dancers rave about their experiences on similar jobs, like Las Vegas–based Jackie Dowsett, who has played double to both Cameron Diaz and Cher. "As a dancer, you're happy to land a job where you're on set, working with such incredible actresses," Dowsett says.
So what's it really like to be a dance double? We chatted with several dancers who've been there and done that to find out! Meet Jackie Dowsett, Jessica Cropper (one of Cate Blanchett's dance doubles in The Curious Case of Benjamin Button), Marcy McCusker (who doubles for "a top-secret A-list pop star") and choreographer Marguerite Derricks.
Looking the Part
Dance ability is key to landing a dance double job, but being a physical match for the talent is even more crucial. "When you hire a double, you're looking for the star's twin," says Derricks, who has choreographed dozens of movies and recently cast Emma Stone's double in Crazy Stupid Love. "You have to match them up, especially the body type, height and skin tone—you even need similar facial features for side shots."
McCusker agrees. "You're ultimately getting the job because you fit the exact specifications they need," she says. "So if your resumé says you're 5' 4" and 115 pounds, it had better be true—you can't lie about your height and weight if you want to be considered for these jobs."
Of course, some things can be altered, as Dowsett found out when she auditioned to be Cameron Diaz's double in What to Expect When You're Expecting. "Choreographer Tyce Diorio asked if I'd be willing to dye my hair blonde," says Dowsett, a brunette, who also wore blue contact lenses for the role. "The reason I got the job was mostly about my measurements, the fact that I was tall and that I could partner."
Those weren't the only physical changes Dowsett made to "become" Cameron Diaz. "I'd had knee surgery and gained 10 pounds in the six months I was out, so when I found out I'd have to wear a skimpy outfit, I was mortified," she says. "I didn't want Cameron to be disappointed in her body double, so I decided to lose the weight. There are definitely certain sacrifices you might have to make in order to take a role."
Being a double also means imitating the talent in other ways, as well. On the set of Benjamin Button, Cropper studied Cate Blanchett's personality and "regal, queenlike presence" in order to re-create it onscreen. Same with McCusker, who had a blast playing a pop star in a music video and performing her choreography full-out onscreen: "Dancing 'as her' felt like just as much of an acting job as it was a dance job," she says. "Every artist or actor has a certain way they move or carry themselves, and you have to be able to emulate it."
On the Job
So what does a dance double do, exactly? The requirements vary widely depending on the type of job. In Cher's Las Vegas show, Dowsett wore a Zoot suit and danced "as Cher" onstage to allow the star time for a wardrobe change. On the What to Expect  set, she stepped in to do lifts and partnering in a cha-cha scene featuring Diaz and "Glee" star Matthew Morrison.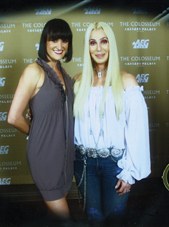 Dancer Jackie Dowsett was a double for Cher during her Las Vegas show and in the film Burlesque. Courtesy Jackie Dowsett.
"As a double, you're there in case they need an extra trick or style that requires a professional dancer," says Dowsett, whose work on Cher's stage show also led to a gig as a
double in the film Burlesque. "Sometimes the choreographer will also ask you to go over the counts with the actors or help them remember a step."
In some cases, dance doubling may lead to other responsibilities on set. On Crazy Stupid Love, the dance double Derricks cast for Emma Stone was such a dead-on physical match that she did other scenes as a stunt double, and Cropper ended up doing underwater and love scenes for Cate Blanchett on Benjamin Button. This can sometimes lead to a pay bump, as can being the double for one of the movie's leads.
Dance doubles might also be used to cut down on the amount of time an actor has
to spend on set. "Let's say Brad Pitt and Angelina Jolie are supposed to be dancing on the floor," says Derricks, who choreographed Mr. & Mrs. Smith. "You shoot the front of Brad and the back of the dancer doubling for Angelina—if you have a dancer dancing with the actor, they look better. It's a great way to use the dance double."
Another way Derricks utilizes doubles is in what she calls her "skeleton crew." She'll assemble a group of dancers and stage the choreography for the director's approval. "Ninety percent of the time I workshop it on dancers first, present it to the director and then teach it to the actors," she says. "That way any necessary creative changes can happen before the actors learn it."
All Guts, No Glory?
In the wake of the Sarah Lane controversy, dance doubling has been a topic of debate. Some think Lane was right to claim credit for Portman's dancing, whereas others think being a behind-the-scenes double is what Lane signed up for. So do dancers deserve more credit for these kinds of jobs?
"From my perspective, you're not doing it to be famous—you're doing it to create
a really cool end product for this actor or performer," McCusker says. "The ballet world
is different because they're not necessarily used to the smoke and mirrors of TV and film—it's not Lane's everyday job, so that's likely why she was resentful in the end."
Both Dowsett and Cropper say that their double jobs were among their favorite so far in the industry. For Cropper, it was her first professional job after graduating from the EDGE Performing Arts Center's scholarship program, and she says she would "do it all over again if I could. Hands down, it was one of the best job experiences I've had."
Twice the Fun
Take a look back at some of the most famous dance flicks that used doubles:
Flashdance: It took a whole village to pull off the fast-paced, flashy moves featured in Flashdance. Among the dancers subbing in for Jennifer Beals were French dancer Marine Jahan, break-dancer Crazy Legs and gymnast Sharon Shapiro.
Footloose: Remember Ren's romp through the Roller Mill? With the release of the recent remake, Kevin Bacon explained that he had a stunt double, a dance double and two gymnastic doubles for the scene.
Center Stage: Though many of the actors in this flick did their own dancing (like Amanda Schull and Ethan Stiefel), Béjart Ballet dancer Aesha Ash stepped in for Zoë Saldana, who played Eva.
Ballerina Holly Lynn Fusco has a long history with Swan Lake. As a young dancer training in West Bloomfield, MI, she played a court page in American Ballet Theatre's production when the company made a tour stop in Detroit. Later, she danced the Swan Lake pas de trois when she was a student apprentice with Miami City Ballet. Today, Holly's in the corps at Pennsylvania Ballet, where she will be in Christopher Wheeldon's take on the classic ballet this spring. So it seems only fitting that she would be one of 19 dancers to land a role in Black Swan, a movie that uses Swan Lake as its backdrop.
In the movie, Natalie Portman and Mila Kunis play two NYC ballerinas vying for the lead role in their company's Swan Lake production. In the ballet, the White Swan, Odette, is a princess who's been transformed into a swan by an evil sorcerer, a spell she can break only by receiving a pledge of eternal love; the Black Swan, Odile, is the sorcerer's daughter, whom Odette's suitor mistakes for his true love. Portman's character, Nina, has Odette's innocence and earnestness while Kunis' character, Lily, is cunning and fiery like Odile. The ballet unfolds throughout the movie, alongside the battle between Nina and Lily.
Holly kept a diary of her time on set. Read on to get a behind-the-scenes look at Black Swan. —Katie Rolnick
December 9, 2009
Today the news arrived: I've been cast with 13 other Pennsylvania Ballet dancers in Black Swan! I'll be a background extra and performance dancer. I'm not quite sure what that means, so I'll have to wait and see.
December 22, 2009
Two nights ago, the PAB dancers set out for SUNY Purchase, where parts of the movie are being filmed. We got to the set early yesterday morning for our first day of work. There was a whirlwind of activity: crew members bustling, people shouting instructions and large film equipment being carted around.
We were told to bring our own dance attire within a palette of blacks, grays and whites; Natalie Portman and Mila Kunis, the lead actresses, would be wearing brighter colors. After the wardrobe department approved my outfit, I did my own hair and makeup and headed up to "holding," which is a large room filled with tables (including the craft services food table) where the crew and actors wait until they're needed.
In the film, I'm a member of the corps de ballet, and the scene for the day was the first company class after summer vacation. Before the camera started rolling, we learned and rehearsed a few combinations at the barre. Then filming started. They first shot us doing barre exercises, and then we progressed into the center. I thought to myself, "This is easy! I do this every day." Boy, was I wrong. The director said, "Cut," and we returned to the barre—and then performed the same fondu exercise for nearly eight hours! Because of the studio mirrors, the scene had to be shot from many angles, and we had to keep our clothes, hair and movements exactly the same for each take. We worked through the night and finished filming the scene at about 4 am.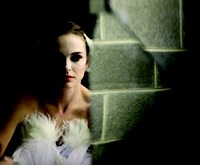 Natalie Portman in "Black Swan." Photo by Niko Tavernise.
January 17, 2010
As filming has progressed, we've had the opportunity to work more closely with the lead actresses and the professionals playing their dance doubles. American Ballet Theatre soloists Sarah Lane and Maria Riccetto are dancing for Portman and Kunis, respectively. This means that every scene with the lead actresses is filmed twice: once with the actors and once with their dancer doubles. Portman amazes me. She has beautiful port de bras and a passion for ballet that could rival any professional dancer's.
January 20, 2010
The last 10 days have been devoted to filming the movie's performance scenes. Just like real ballet performances, we're in full costume, hair and makeup. The costumes are on loan from ABT and they're gorgeous! And unlike before, professionals have been doing our hair and makeup. After transforming into the corps of white swans, we often sit in holding for up to seven hours before they're ready for us on set. On days with a lot of waiting, we pass the time playing games, reading books and stretching because we always have to be warm and ready to go.
These have been some of the hardest scenes to shoot. Prior to any filming, we rehearse in a basement studio at SUNY Purchase with New York City Ballet principal and Black Swan choreographer Benjamin Millepied, former NYCB corps member and associate choreographer Kurt Froman and on-set ballet consultant Olga Kostritzky, a former School of American Ballet teacher. Olga epitomizes "tough love" and whips us into shape. But once we're on set, everything changes. Because of the cameramen and equipment, the choreography often has to be altered to prevent collisions. Such is Hollywood!
January 24, 2010
Today was my final day on set. The last scene we shot was simple: The corps de ballet walked up the stairs while Portman, dressed as the Black Swan, came down the stairs. Her tutu, created by Kate and Laura Mulleavy (the sisters behind the high fashion line Rodarte), gleamed under the lights. Her makeup and hair were immaculate, her poise incomparable.
It was bittersweet when I heard "That's a wrap" echoing in the stairwell. I've come to realize that the film world is not that different from the ballet world. We have crews, directors, actors and actresses, if you will, all working toward the same goal: the performance. And in both forms, the process leading up to the performance is crucial. In ballet, that process is the countless hours in the studio, the obstacles you had to overcome to nail a tough moment in your variation. Actors put a lot of energy into their roles, too. Portman and Kunis spent months training with Olga, Manhattan Youth Ballet faculty member Marina Stavitskaya, former NYCB dancer Mary Helen Bowers and former ABT ballet mistress and coach Georgina Parkinson (who, sadly, passed away shortly after filming began) to finesse their technique. Being a part of Black Swan has taught me to appreciate that process in my own career, and to live in the moment—you can never get it back!
Look for Holly in Black Swan when it opens on December 1, 2010.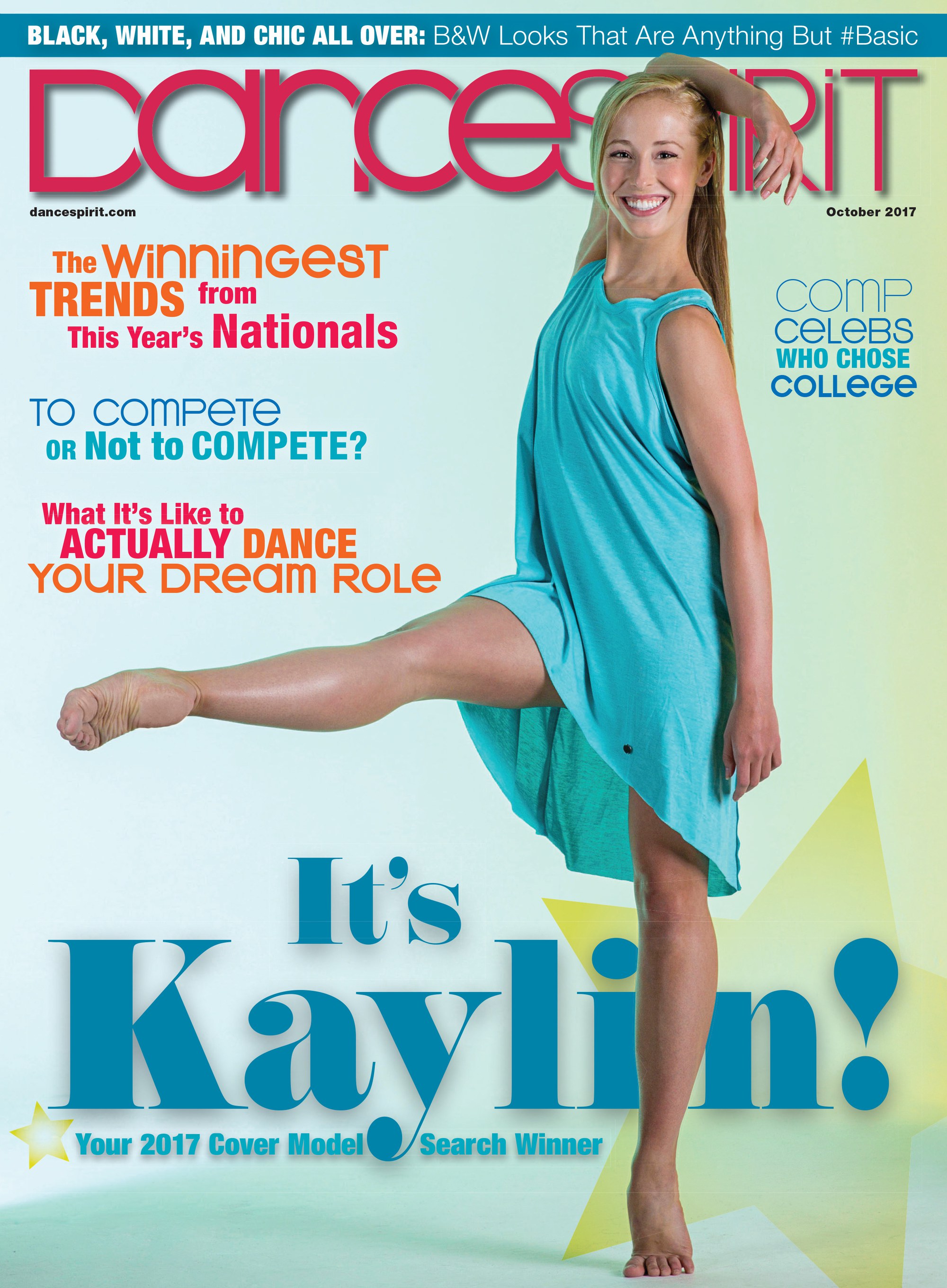 Get Dance Spirit in your inbox