Thinkstock
Let's face it, no matter how many precautions you take in the dance studio each day, your feet are inevitably going to get trashed. Between pointe shoes, petit/grand allegro, and stretching beyond what is natural, those puppies take a genuine beating. All that impact may tempt you to ask, "Is there any hope for performers to avoid injuries at all?" As it turns out, yes! According to Dr. Bryan Hersh, DPM, of the Center for Pediatric Medicine in Chicago, IL, dancers can seriously reduce the likelihood of injury by taking care of their feet outside of the studio. Read on for his tips on how to keep your feet safe and strong.
Keep reading...
Show less
Thinkstock
With summer comes sun-kissed skin—except when you're in the studio all day! When you find yourself months into peak sun season with no tan lines to show, reaching for a bottle of self-tanning lotion or spray seems like the perfect quick fix. It's easy, cheap, safer than broiling in the sun all day and convenient—you just lather it on and go, right? Not exactly. From streaks to splotches, self-tanner can go very wrong. If you're worried about overdosing on the orange, don't sweat (that'll only make it worse!): DS rounded up the best tips to tame your faux tan.
Keep reading...
Show less
Thanksgiving leftovers are easily the best part about the holiday. But digesting rich foods can sap your energy. We spoke with Emily Cook Harrison, a registered dietitian at the Centre for Dance Nutrition in Atlanta, for the scoop on the best Turkey Day leftover recipes for performance power. She suggested a number of delicious combinations, all of which are easy to prepare and transport.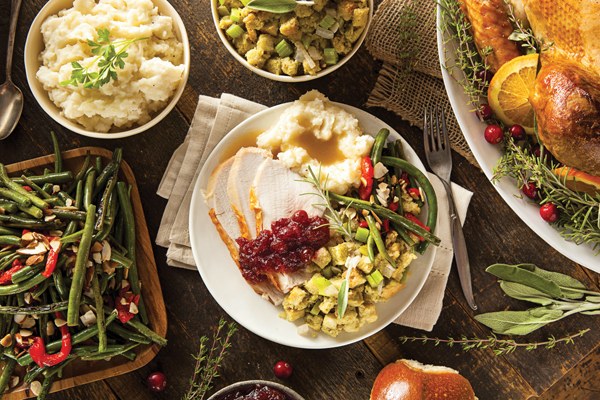 (Photo via Thinkstock)
1. Cranberry-apple relish on multigrain toast
The giant bowl of cranberry sauce sitting in the fridge keeps for up to a week and can be transformed into an energy-rich breakfast treat. Harrison suggests chopping some tangy Granny Smith apples and mixing them in with the sauce. For an extra kick, shave a bit of ginger and sprinkle it in. Cranberries outrank almost every fruit when it comes to antioxidants, and with the toast's carbohydrates, you're sure to feel energized.
2. Wild rice and turkey salad
It's a given that there's always too much turkey at Thanksgiving—this dish is a great way to use up what's left. Simmer 1 cup of wild rice in about 2 cups of water for 35–40 minutes (if you have some vegetable stock, use it instead of water for added flavor). Chop up any leftover vegetables (celery, spinach and kale work especially well) and sauté them with olive oil. Shred or slice some lean, white turkey meat and add it in. Once the rice has cooked, mix all the ingredients together. The vegetables paired with the turkey offer both antioxidants and protein, and the rice's high magnesium content promotes sharper memory.
3. Day-after dip
Sweet potatoes are one of the most delicious Thanksgiving foods—and they're also one of the best carbohydrates for you. Heat up any leftover potatoes, and chop up a mix of almonds, pecans and pumpkin seeds. Once the potatoes are warm and easily mashable, put all the ingredients into a food processor and blend for a delectable dip. Serve it with everything from crackers to fruit.
Bye-Bye Bad Habits
Everyone has bad dance habits, and getting rid of them can feel next to impossible. According to Art Markman, a psychologist at the University of Texas at Austin, trying to break your bad habits isn't enough—you have to replace them with better ones, instead.
Why? For starters, if you know you've got a habit to break, like constantly looking in the mirror during class, it only seems natural to say, "I need to stop doing that." The problem with this is that it's a negative goal—something you inherently don't want to do. And since it's a habit, it's nearly impossible to unlearn, because your body and mind are so used to it.
Markman says it's much easier to learn something new than unlearn something old, so try developing a better habit to replace the bad one. If you catch yourself looking in the mirror too frequently, practice using your head to complete your épaulement—and make sure to follow the line with your eyes. A little modification can go a long way.
Did You Know?
Reaching for your laptop or scrolling through an endless feed of Instagram pics is tempting, especially during a holiday break, when you have more downtime than usual. But it's important to limit your screen time. A number of studies have shown that our short-term memory has limited storage, and according to Erik Fransén of KTH Royal Institute of Technology in Sweden, even a single session on the internet can affect our ability to retain information. That means if you OD on @real_world_ballerina's Instagram feed, the choreo that was fresh in your mind before break may be harder to remember once you're back in class. Browse wisely!
Do you feel overtired, have a hard time catching your breath during grand allégro or seem unable to remember the choreography you learned an hour ago? If you're experiencing these symptoms, don't assume that you just can't keep up. There might be a good reason for your sluggishness: iron deficiency.
Iron deficiency occurs when the body doesn't absorb enough of the essential mineral, causing a wide range of issues. It's a common problem for female athletes, but one that's relatively easy to fix. Here's how dancers can identify, overcome and prevent iron deficiency.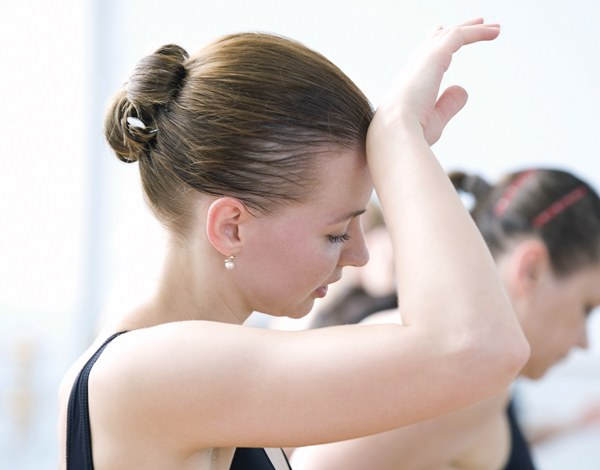 (via Thinkstock)
Why You Need Iron
"Iron is important because it helps carry oxygen in our blood to the tissues in our body," says Dr. Eleni Lantzouni, who specializes in adolescent medicine at the Children's Hospital of Philadelphia. "An athlete's need for iron is higher than that of any other person," Lantzouni adds. "And teenagers need more than any other age group, since they're still growing." Female dancers in particular require adequate iron in their diets to make up for the amount lost during their monthly periods.
If you're iron deficient, you tend to cramp more often because your muscles aren't getting enough oxygen. You can also experience "brain fog"—your thinking may not be as quick and sharp as it could be, making you less likely to pick up combinations or remember and apply corrections.
Iron deficiency may also mean a greater chance of injury. "When you don't get as much oxygen to your tissues and organs, you faint easily," Lantzouni says. "You can get out of breath and your heart rate might accelerate, causing palpitations or other symptoms." If you push through severe fatigue, your muscles might not respond as quickly as they would otherwise, making injuries more likely.
Symptoms of Iron Deficiency
Fatigue is the number one sign that you're low on iron. "You feel more tired, and you aren't capable of getting to the end of a variation with the same oomph," says Emily Cook Harrison, registered dietitian at The Centre for Dance Nutrition in Atlanta. Your aerobic capacity is diminished due to iron's role in transporting oxygen throughout our bodies.
Other symptoms of iron deficiency include a weakened immune system. "You may get sick more often, and can be more susceptible to cold and flu viruses," Harrison says. Your complexion, your gums and the beds of your fingernails could look paler than usual. You might also have circles under your eyes. "With a decrease in immune function, you just feel kind of bad and rundown," she says.
If you're experiencing any of these symptoms, go to your doctor. A simple blood test can determine if you're iron deficient.
How to Increase Your Iron Intake
There are plenty of ways to get more iron from your diet. Red meat and chicken are good sources of easily absorbable iron. Broccoli, beans, nuts, grains and leafy green vegetables provide iron as well, although you might need to eat a variety of these foods to get the iron you need. "If you're vegetarian, have orange juice with your meals," says Lantzouni. "Vitamin C seems to increase iron absorption." Heating iron-rich vegetables can help, too. "If you cook them down a tiny bit, you're actually going to make the iron more absorbable," says Harrison. "Sauté kale in some broth or olive oil, or bake it to concentrate the nutrients."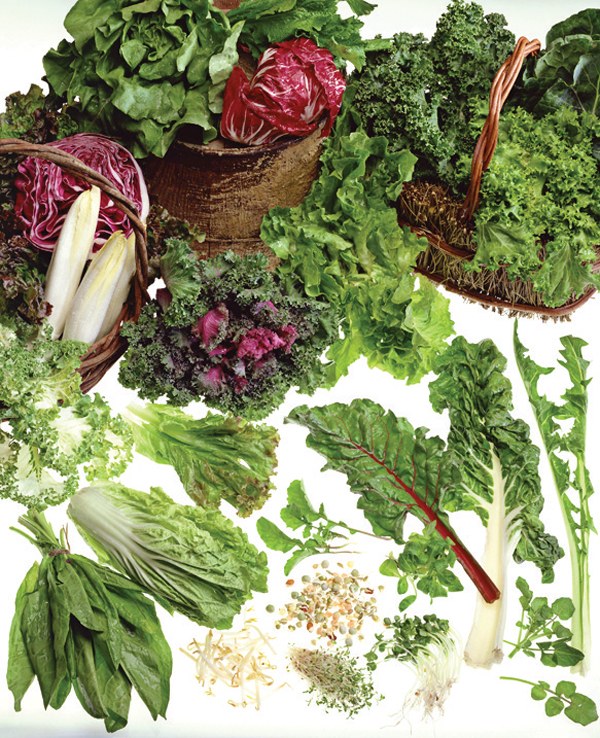 Dark, leafy greens are a great source of iron (Photo Jumpiter Images/Thinkstock)
Multivitamins can be useful, but getting iron from food is preferable. And if you're also taking calcium, avoid taking the two supplements at the same time. "Iron and calcium compete for absorption," Harrison says.
Emily Cook Harrison, registered dietitian at The Centre for Nutrition in Atlanta, recommends this iron-rich kale salad:
Mix a little bit of lemon juice and olive oil with a quarter teaspoon of maple syrup.
Massage the dressing into a handful of kale and add dried fruit (cranberries, raisins or apricots) to taste.
"This kale salad takes just five minutes to make! It's a really popular recipe with my dancers," Harrison says. "The vitamin C and acid from the lemon juice help with the absorption of the iron in the kale, plus the dried fruit is another good source of iron."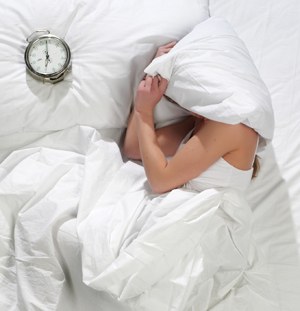 School, dance classes, rehearsals, homework, family activities—a million things can push your daily wake-up time earlier and your bedtime later. You might feel like getting a good night's sleep is an impossible dream. But you shouldn't just accept sleep deprivation as a fact of life. Sleep is one of the things that keeps your body at its best.
"Over time, poor sleep can limit your ability to learn and concentrate," says Lauri Leadley, a sleep technologist and president of Valley Sleep Center in Arizona. "You can forget important information, like homework or choreography. Lack of sleep can lead to aggressive or inappropriate behavior, like yelling at friends or family. It can also cause you to eat too much, contribute to acne problems and even lead to illness."
It takes conscious effort to improve your sleep habits, but if you decide to sleep smart, you'll find yourself not only feeling better, but also performing better.
Sleep Time
Most sleep experts agree that teens need eight to nine hours of sleep a night. The busier your schedule, the harder it can be to get those hours. But that's not the only factor conspiring against you getting the sleep you need. According to Dr. Alon Avidan, director of the UCLA Sleep Disorders Center, your circadian clock—the timekeeper in your brain that determines when you want to naturally wake up and fall asleep—shifts forward by about two hours during your teen years. That means you might not feel tired until after midnight, and you definitely won't want to get up for school at 6 am.
Unfortunately, you can't "make up" lost sleep—an eight-hour night is not the same as a six-hour night plus a two-hour nap later in the day. "For every hour of lost sleep per night, you need a full 24-hour period that includes good sleep to recover," Avidan says. So how are you supposed to fit sleep into your busy life?
Set a schedule. Do your best to go to bed and wake up around the same time every day—even on the weekends. Sleeping until noon on Saturday will only confuse your body and make it harder to get up on Monday morning.
Strengthen your routine. Do the same activities, such as taking a shower or reading, before bed every night. "A nightly routine signals to your body and your brain that it's time to sleep," Leadley says.
Stop snoozing. "The more you press the snooze button, the more your brain falls back asleep," Leadley says. "To feel more awake in the mornings, get moving right away."
Stick to power naps. If you feel sleepy by mid-afternoon, it's OK to take a nap—but keep it short. "With power naps, you get a burst of energy and alleviate sleepiness," Avidan says. "If you go beyond 15 or 20 minutes, you're more likely to fall into deep sleep and wake up groggy."
Sleep Position
Does the position you sleep in affect the quality of your sleep? It can—especially if you tend to snore when you sleep on your back. But for dancers, the proper sleep position can also set your body up to perform at its best, pain-free. "Sleeping in the right position can aid in recovery from injury and fatigue," says Dr. Jamie Blau of Upper Westside Chiropractic in NYC.
"Dancers should try to sleep either on their sides or on their backs, with one pillow under their necks," Blau says. "This encourages proper spinal and muscular alignment, which means less stress on the body overall." Blau strongly discourages stomach sleeping. "When you sleep on your stomach, your neck is very rotated," she says. "You can develop neck and shoulder pain that can eventually radiate down the arm. If you sleep half on your stomach with one leg up, you might also see lower back problems."
If you're a lifelong stomach sleeper, fear not: Bad sleep habits can be broken. "Use
pillows to prop yourself in the right position," Blau advises. "For side sleep, put a pillow between your knees to keep yourself from rolling over. If you wake up on your stomach, shift onto your side or back again." Your body will thank you in the morning.
Sleep Environment 
Good sleep isn't just about timing and position. Leadley recommends making your bedroom a "sleep haven"—cool, dark and quiet during sleep hours. "Avoid too much light and noise at bedtime, because those things stimulate the brain," she says. "Even your computer or cell phone can make your brain think it's time to wake up." (So save the iPad and Kindle reading for daytime, and opt for easy-on-the-eyes books and magazines at bedtime.) Meanwhile, maximizing light exposure in the morning can make it easier to get out of bed.
"In general, don't watch TV, talk on the phone, play video games or do homework in bed," Avidan adds. "Use the bed only for sleep." It's crucial to teach your brain that your bed—and the bedroom environment as a whole—is a calm, restful place.
Despite all of these guidelines, sleep needs can vary from person to person. If you're not sure what sleep strategies work best for you, try keeping a sleep diary. Jot down what time you go to bed, when you wake up and how (by alarm clock or naturally), your sleep position and how rested you feel. When you find a set of variables that work well together, stick with them. Better nights mean better days.


Get Dance Spirit in your inbox