Aug. 11, 2016 07:43PM EST
With a growing emphasis on specialized training, many colleges are offering concentrated degrees within the overall dance major, focused on preparing dancers for very specific aspects of the industry—from ballet to ballroom to commercial. DS rounded up some of the hottest programs with hyper-focused degree tracks.
For Broadway Hopefuls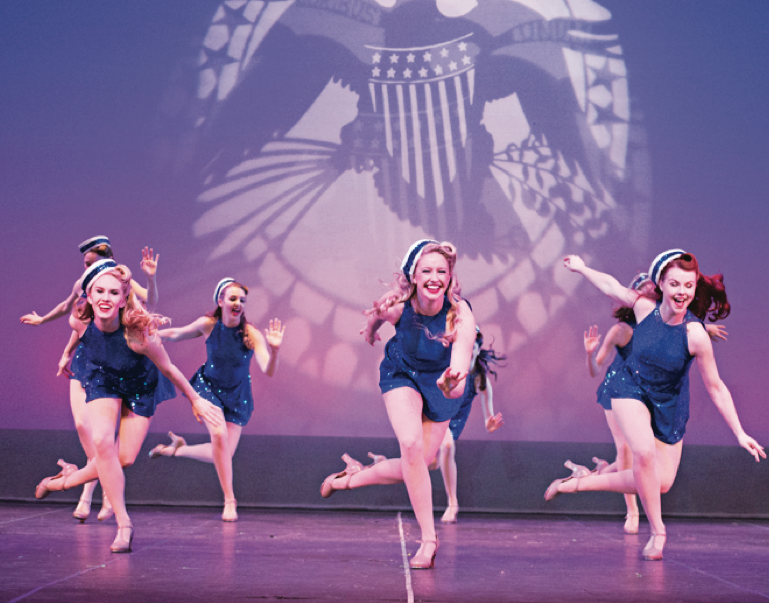 Jessica Fay's Ladies of the USO at Oklahoma City University (photo by Katy Rush, courtesy Oklahoma City University)
Oklahoma City University
Oklahoma City, OK
OCU is one of the premier college dance programs for musical theater enthusiasts. After two years of triple-threat classes, students can select a performance-focused track. Senior Tanner Pflueger, who starred in London's Billy Elliot from 2008–2009, chose OCU because "as a young performer, I didn't understand everything that goes into being on Broadway," Pflueger explains. "I now have hands-on experience in both production and performance."
Notable alumni: Sasha Hutchings (Hamilton), Gabrielle Ruiz (In the Heights, A Chorus Line national tour, "Crazy Ex-Girlfriend" on The CW), 45+ Radio City Rockettes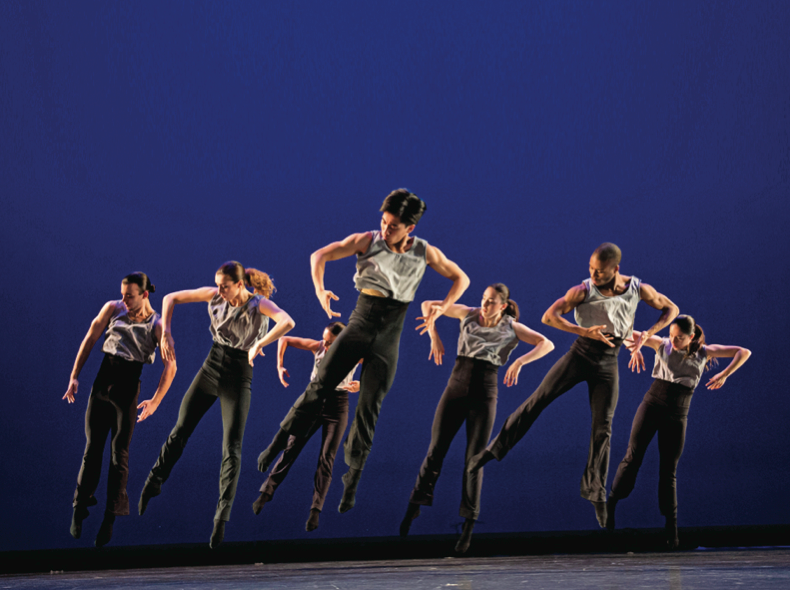 Point Park University students in Sonya Tayeh's It Passes (photo by Jeff Swenson, courtesy PPU)
Point Park University
Pittsburgh, PA
"At Point Park, students learn fundamental jazz styles, like the techniques of Bob Fosse and Luigi, and study current Broadway choreographers like Susan Stroman, Rob Marshall and Mia Michaels, before exploring their own artistic voices," says Point Park alumna and jazz coordinator Kiesha Lalama. Guest teachers and visiting professors, such as Broadway Dance Center's Jim Cooney, give students the full spectrum of concert-based, commercial and musical theater jazz styles.
Notable alumni: Rob Ashford (2002 Tony winner for choreography in Thoroughly Modern Millie), Broadway performers in Young Frankenstein: The Musical, Peter Pan (national tour) and Mary Poppins (national tour)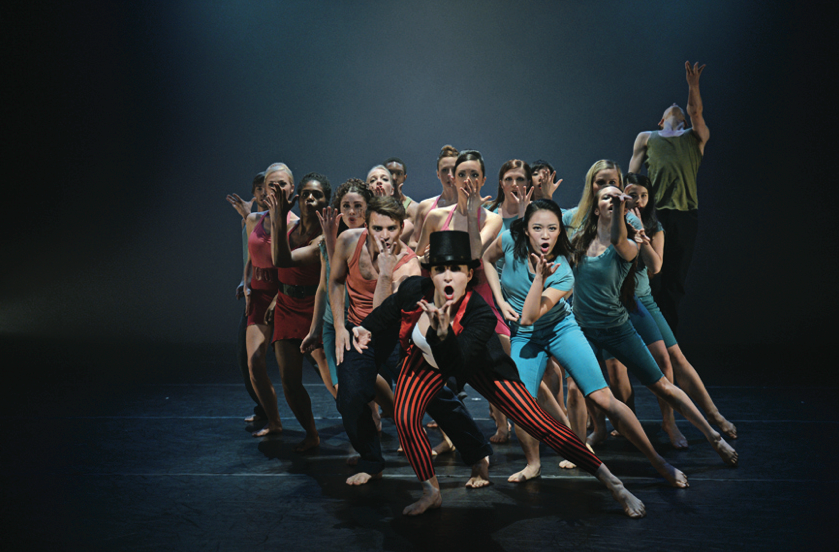 Cherice Barton's '59 at Marymount Manhattan College (photo by Eduardo Patino, courtesy MMC)
Marymount Manhattan College
New York, NY
Marymount allows jazz and tap fanatics alike to obtain a college degree right in NYC. "I want my students to understand how to work both the camera and the stage, how to dance to pop music or to Broadway tunes," says Marymount jazz teacher Sheila Barker. Recent alumna Cindy Reid loved having access to the city's extensive dance network during her college career. "We have Marymount MIX [Movement in Exchange], which allows choreographers like Broadway Dance Center's contemporary/jazz teacher Mike Esperanza to use Marymount dancers in a lab," Reid says.
Notable alumni: George Jones (backup dancer for Jennifer Lopez); Broadway performers in 42nd Street (national tour), A Chorus Line, CATS (national tour), Hairspray (national tour) and Legally Blonde; performers on Celebrity, Norwegian and Oceania cruises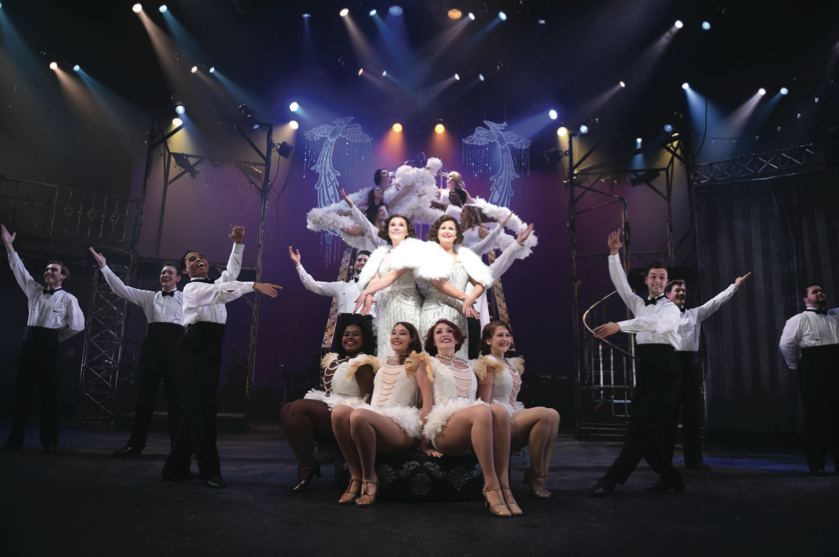 Kent State's production of Slide Show (photo by Matt Unger, courtesy KSU)
Kent State University
Kent, OH
Kent State's BFA in musical theater nurtures students who want to be triple threats. "All of our students are required to audition for the main-stage shows—two musicals and two plays per year—and we offer three dance concerts they can audition for as well," says Terri Kent, the musical theater coordinator.
Notable alumni: Broadway performers in Chicago, Hair, Next to Normal, Grease (national tour) and Annie (national tour)
For Aspiring Commercial Queens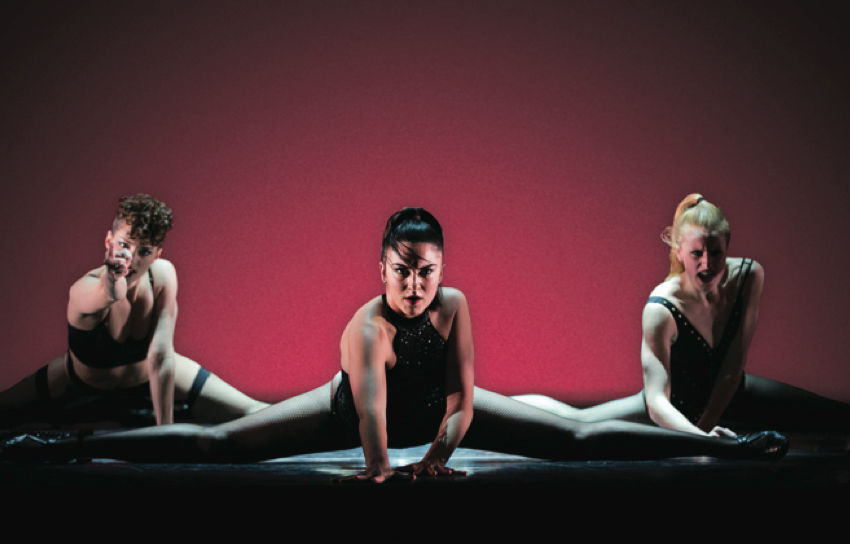 Pace School of Performing Arts students (courtesy Pace)
Pace School of Performing Arts
New York, NY
Pace University's commercial dance program includes unique classes like Aerial Arts (silks and trapeze) and Vocal Music for Dancers. "I did a choreography project for a dryer-sheet commercial," says recent graduate Lindsey Weissinger. "The program really prepares you for anything." Agents from NYC and L.A. frequent Pace's performances, which include two main-stage faculty dance shows and several full-length musicals a year, as well as numerous student productions. And starting in 2018, students will spend the spring semester of their junior year in L.A. studying dance and choreography for the camera with Mandy Moore and other L.A. artists.
Notable alumni: Broadway performers in 42nd Street (national tour) and performers on Royal Caribbean International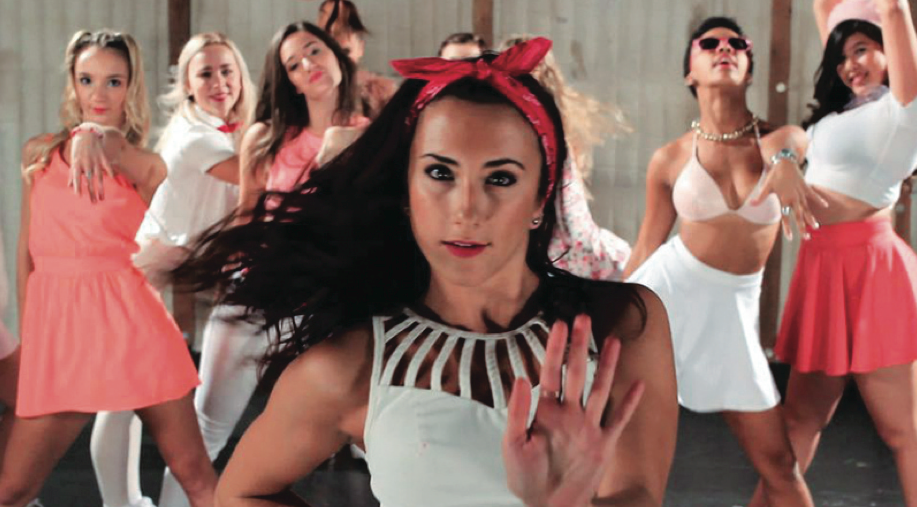 Giana Forgione (center) and other Relativity School students on camera (photo by John Manning, courtesy Relativity School)
Relativity School
Los Angeles, CA
This campus is located in the Los Angeles Center Studios, where shows and movies such as "Mad Men," "Castle" and The Jungle Book were filmed. "We sometimes get used as extras on TV shows or in music videos," says junior Giana Forgione. Although the BFA in commercial dance program is only entering its third year, it allows students
to explore contemporary and classical dance styles along with acting and business management. The Inside the Dancer's Studio series brings in guest artists, such as Tyce Diorio, to teach master classes every other week.
Notable alumni: Stay tuned—the first class will graduate in 2018!
For Diehard Ballerinas
Indiana University, Bloomington
Bloomington, IN
The IU ballet program allows students to focus on classical ballet. "The viewpoint is American ballet, so we do lots of Balanchine pieces and have many instructors connected with New York City Ballet," says department chair Michael Vernon. Vernon runs his department like a ballet company, focusing on technique, and the program often allows students to graduate in only three years so they can join professional companies.
Notable alumni: Amanda Schull (Center Stage), Lauren Fadeley (Miami City Ballet) and performers with Joffrey Ballet, Ballet West and American Repertory Ballet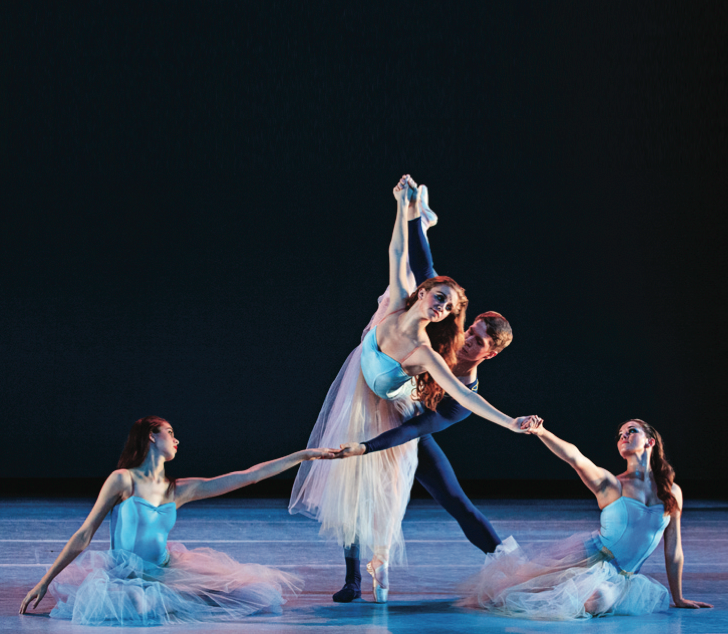 University of Utah's student company, Utah Ballet, performing George Balanchine's Serenade (photo by Luke Isley, courtesy University of Utah)
University of Utah
Salt Lake City, UT
The University of Utah is home to Utah Ballet, the resident ballet company composed of advanced students. With a large department of about 150 ballet majors, the company often performs full-length ballets as well as smaller one-acts. The department shares a close affiliation with Ballet West, which offers trainee programs and classes open to Utah students.
Notable alumni: Performers with Ballet West, BodyVox, Utah Regional Ballet and Ballet Fantastique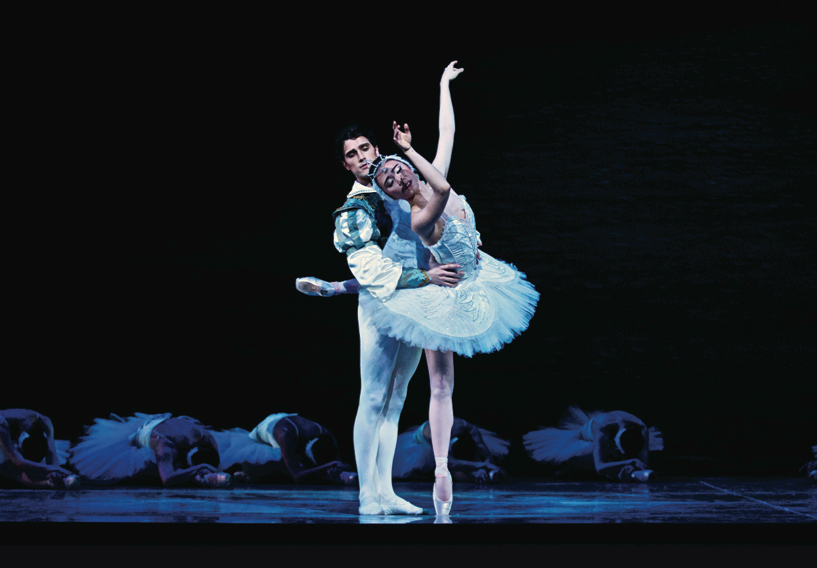 University of Cincinnati, CCM's Swan Lake (photo by Will Brenner, courtesy University of Cincinnati)
University of Cincinnati, College-Conservatory of Music
Cincinnati, OH
Surrounded by many regional ballet troupes—including the Cincinnati Ballet, Dayton Ballet and Kentucky Ballet Theater—UC, CCM, allows students to perform full-length ballets like Giselle and Swan Lake while also experiencing workshops and classes with local professional companies. Plus, the program offers online courses, allowing for flexibility of coursework to gain professional experience. Senior Madelyn Nelson has already received a traineeship with Louisville Ballet and will finish her degree online. "We have guest teachers who come in to stage Balanchine or Twyla Tharp, and we recently had visitors from Denmark who staged a Bournonville ballet," says department chair Qi Jiang.
Notable alumni: Performers with Ballet Austin, Ballet West, Columbus Dance Theatre, Cincinnati Ballet, Dayton Ballet and Nashville Ballet
For Belles of the Ballroom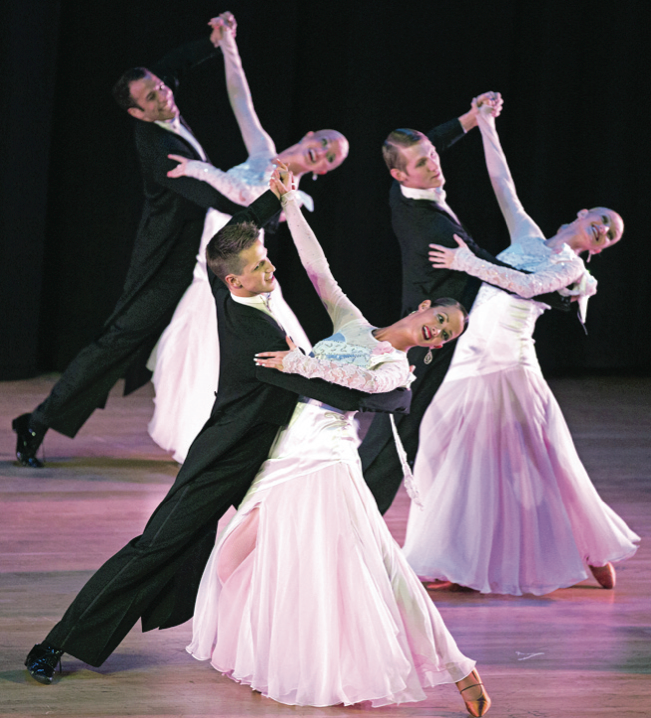 BYU's Ballroom Dance Company (photo by Mark A. Philbrick, courtesy BYU)
Brigham Young University
Provo, UT
At BYU, students can study advanced-level International Standard and International Latin ballroom dance, with about 60 ballroom classes offered in total. The program also offers five different ballroom performing teams, each with 16 couples. The BYU Ballroom Dance Company, the highest-level team, tours every summer to competitions, including the Blackpool Dance Festival competition in England.
Notable alumni: Travis and Jaimee Tuft (U.S. Professional Rising Star Smooth Champions) and Shane and Shannon Jensen (World Professional Cabaret Champions)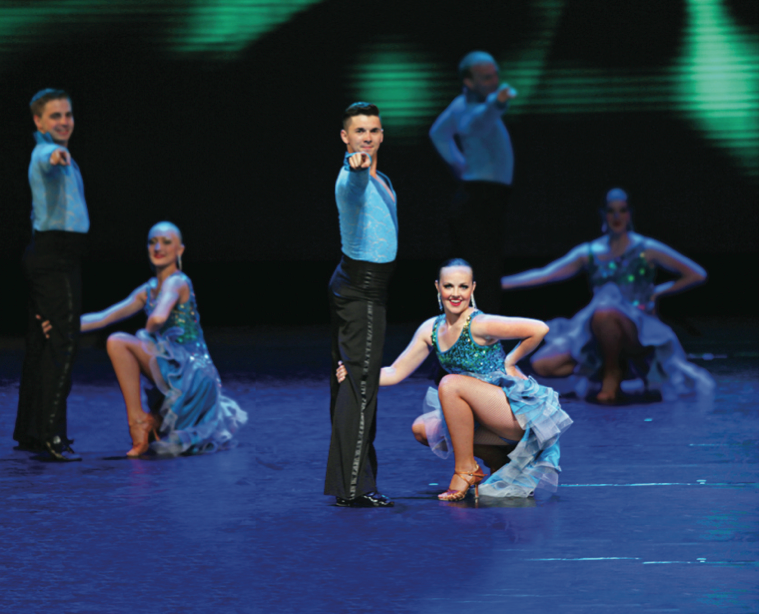 Utah Valley University dancers (courtesy UVU)
Utah Valley University
Orem, UT
UVU allows students to major in dance with a ballroom emphasis, and includes advanced technique classes in International Standard, International Latin, American Smooth and American Rhythm. Students can perform with the Ballroom Dance Company, which has four different teams, two of which compete. "Last summer, we won the Formation Team Title at the Blackpool Dance Festival," says UVU professor Chris Witt.
Notable alumni: Giovanna Velazquez (professor at BYU and BYU DanceSport Amateur Latin Champion), Nick Bloxsom-Carter ("So You Think You Can Dance," Season 9)
Sep. 10, 2012 07:55PM EST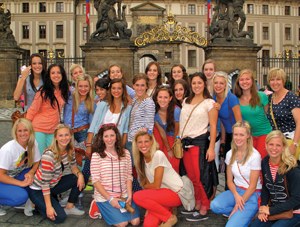 The Cougarettes at Prague Castle
While most college dance teams spent the summer taking a much-needed break, the 20 members of the Brigham Young University Cougarettes did just the opposite. The 2012 National Dance Alliance National Champions received an anonymous—and very generous—donation that allowed the team to travel to the Czech Republic and compete at this year's New Prague Dance Festival. Kaitlyn Swenson, a four-year member of the Cougarettes and a BYU senior, documented the team's experience for DS. —Alison Feller
Friday, June 29
We arrived at Salt Lake City International Airport to see "Welcome BYU Cougarettes" displayed on a large screen over the check-in counter. Despite it being 6 am, each of my 19 teammates walked into the airport with a smile. We flew to NYC and then on to Prague, Czech Republic.
Saturday, June 30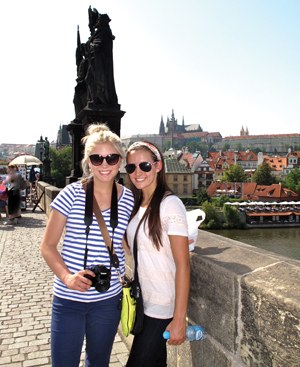 Kaitlyn (right) with teammate Megan Gee Phillips on the Charles Bridge in Prague
Our first day in Prague! We took a tour of the city's Old Town, and I fell in love with the historic center of the city and the quaint buildings. As we explored the winding cobblestone streets I felt like pinching myself: After dreaming of Prague for almost a year, we're finally here.
Sunday, July 1
This morning we woke up tired, but excited to see where we'd be competing. Nová Scéna, the concert hall, held a stage larger than any I'd ever been on. We had a brief rehearsal to space our numbers: a contemporary piece, a jazz routine, a lyrical number, our team dance from NDA College Nationals and our first-place hip-hop routine from NDA.
Monday, July 2
Today we started early with classes led by teachers from the Czech Republic. There were dancers from all over the world in each class.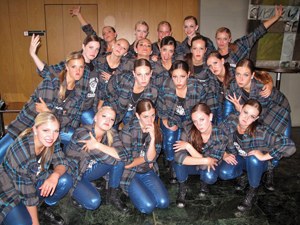 In character before the hip-hop routine
Jiri Horak from the National Theatre Ballet taught an incredible ballet class. Each time we did a lunge he would say "like Swan Lake" and the pianist would break into music from Swan Lake. Next we took hip hop with Tomas Protivinsky, which was challenging but fun. Finally, in the theater makeup class, we learned ways to create different characters onstage.
After a break for lunch we returned to the theater to prepare for the evening competition. The festival officially opened with a pas de deux performed by dancers from the National Theatre Ballet. The NPDF director, David Pospísˇil, welcomed us, and then we went backstage to get ready for our first number.
As we took the stage, the hot lights flashed on and the energy was tangible. In one section, we do fouetté turns in silence, which made the crowd erupt in cheers. As soon as we finished, we ran up six flights of stairs to our changing area to prepare for our next number. Again when we executed our turns, the crowd went wild, and even other dancers backstage applauded. It felt good to be recognized by our fellow competitors.
While we rehearsed our third routine backstage, we were approached by dancers from Turkey who said they were excited to see us. Their youngest dancer kept clapping her hands, screaming, "I love USA!"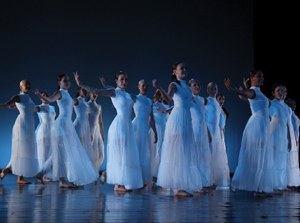 The Cougarettes performing Come Thou Fount
As we began our final number of the night, the audience fell silent when we appeared dressed all in white. This routine, "Come Thou Fount," is special to us because it represents our religious beliefs.
Tuesday, July 3
Today, we took classes all morning and then competed in the evening. It was exhausting, but rewarding.
Wednesday, July 4
We had today off, so we explored. We visited Karlsˇtejn Castle and the historic Prague Castle. At night, NPDF hosted a dinner cruise along the Vltava River.
Thursday, July 5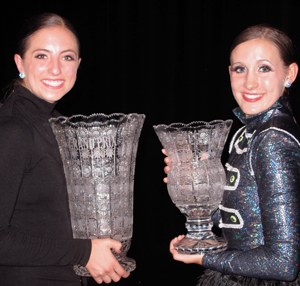 Kaitlyn (right) and Victoria Heaton holding the Grand Prix and Most Friendly trophies
We're all exhausted, but as we took the stage for our final performance, it was like we were breathing and moving as one. We closed the evening with our hip-hop routine. We had so much fun dancing that number, knowing it was our last time this year being together as a team.
Afterward, we joined the other dancers in the auditorium for the awards ceremony. We felt honored when we received the "Most Friendly" award, which is voted on by all dancers.
Finally, it was time for the most prestigious award: the "Grand Prix." We were ecstatic to hear BYU announced. We hugged and cried while the entire audience cheered for us. We felt overwhelming support from the other dancers as we held up our hands in hearts and "I Love You" symbols to show our appreciation. After celebrating onstage, we attended the dinner gala and celebration party where we ate delicious food and danced the night away with our new international friends.
Journeying to Prague was a wonderful adventure that showed how dance truly functions as a universal language. We were able to communicate by sharing the one thing we have in common: a love for dance in all its forms.


Get Dance Spirit in your inbox