Apr. 21, 2017 03:59PM EST
As far as musical theater news is concerned, this week has been liiiiiiiiit. On Tuesday, we reported that Carousel is coming back to Broadway next year in a production featuring several New York City Ballet favorites. Now there's word that two more of our ballet/Broadway baes are at the helm of a new City Center Encores! production of the classic Brigadoon.
Christopher Wheeldon will direct and choreograph this concert staging of Lerner & Loewe's romantic fantasy, opening November 15 and running just 5 days in total. So snag those tickets now!
Still not convinced? The swoon-worthy Robert Fairchild will play Harry Beaton, a handsome rebel living in the magical Scottish town called Brigadoon. We can't wait to have our very own modern-day Gene Kelly doing his triple-threat thing again.
To tide you over until November, here's Gene Kelly and Cyd Charisse in the 1954 movie version of Brigadoon. Because Cyd Charisse.
Keep reading...
Show less
Mar. 28, 2017 07:27PM EST
Roald Dahl's classic book, Charlie and the Chocolate Factory, is getting reimagined with Broadway flair this spring! Opening April 23, the deliciously sweet new show stars Tony Award winner Christian Borle as Willy Wonka and Broadway newbies Jake Ryan Flynn, Ryan Foust and Ryan Sell as its trio of Charlie Buckets. With choreography by Joshua Bergasse, it also promises to be a whimsical dance whirlwind. We chatted with Emma Pfaeffle—who plays the spoiled, ballet-obsessed Veruca Salt—to get the behind-the-curtain scoop.
Dance Spirit: What was the show's audition process like?
Emma Pfaeffle: I was initially sent to an ensemble dance call. Joshua gave us one of his infamously difficult combinations, with triple turns and high kicks—but the one thing he stressed was giving plenty of personality and character. The casting director asked if I could hang in the waiting room and look over sides for Veruca Salt. Later that week, I got a call asking if I could read again. I was out of the room in 10 minutes, frazzled and filled with adrenaline. A week later, I got the call from my agent saying that I booked the role, which made me scream in jubilation on the corner of Second Avenue and Houston Street.

Tell us a little bit about your training. Are you a dancer who sings and acts?
I was always enamored of musicals growing up, but dance took precedence in terms of training. I went to a performing
arts high school in L.A. where my concentration was dance, but they offered a musical theater program as an elective. It was there that I really started to familiarize myself with singing and acting. My passion was and will always be dance, so I continued studying at the Conservatory of Dance at SUNY Purchase. It wasn't until my Broadway debut three years later that I really started to train my voice, because singing is hard. I'm still, to this day, very much a student of vocalization and acting.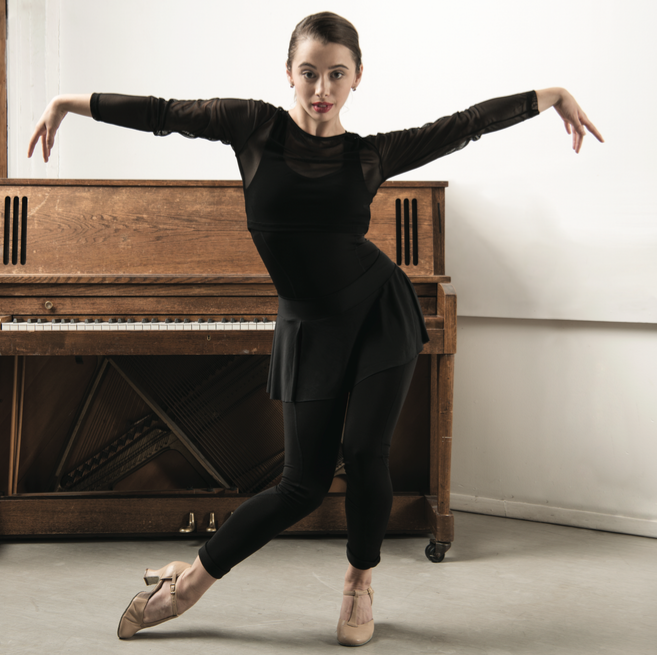 Did you catch Pfaeffle in our February 2017 fashion feature?Photo by Lucas Chilczuk
What are you most excited about for the show?
I'm beyond excited to be playing a principal role, especially such a devious little brat of a child. I get to be a comedic, dynamic character who's also a dancer! I feel like the luckiest girl on the planet.
Is there anything you're nervous about?
While Joshua was creating Veruca's primarily balletic movement, I brought my pointe shoes in the spirit of trial and error—and it stuck. My last show was Finding Neverland, with Mia Michaels' contemporary choreography, light-years away from classical pointe. Getting back into the swing of ballet training and switching gears has been difficult. But I'm taking that nervous energy and using it to motivate me to work harder, train harder and ultimately fulfill my childhood ballerina fantasies.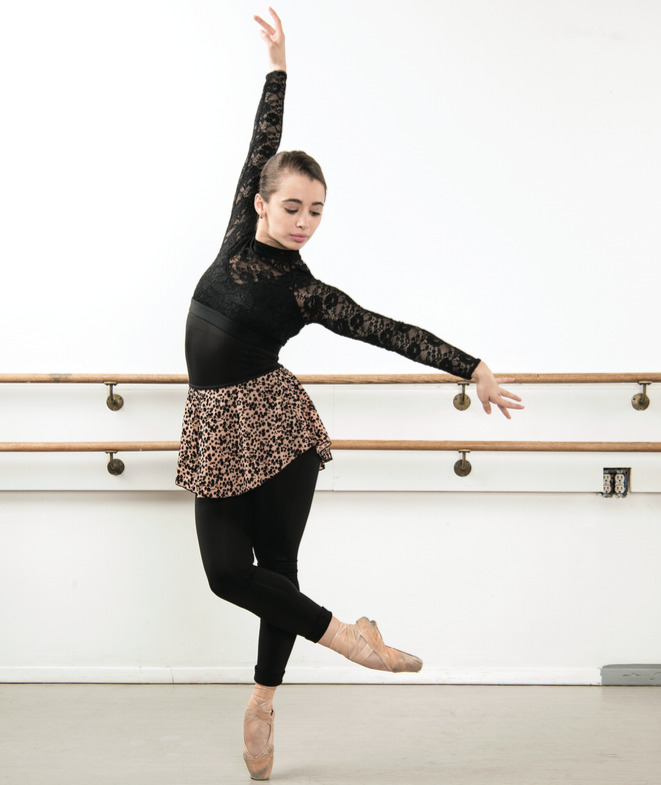 Showing off those pointe skillsPhoto by Lucas Chilczuk
What's your favorite thing about Veruca?
The best part of Veruca is her insane confidence. She has no concept of the word "no." She's obsessed with ballet and being the best. Her maniacal need for more is what makes her such a great ballerina. She's never satisfied, and I think just about every dancer can relate to the notion of constantly needing to train harder and be better.
Why do you think audiences will love the show?
I have yet to meet a person who hasn't seen the original Gene Wilder movie or read the book. This story is embedded in our pop culture. We're lucky to already have a devoted audience who loves the story, so now it's our job as a cast to do justice to such a classic. The creative team of the show is Broadway royalty, so I anticipate that audiences will love it just as much as, if not more than, they loved the book or movie.
Charlie and the Chocolate Factory opens April 23 at the Lunt-Fontanne Theatre in NYC. Go to charlieonbroadway.com for ticket info.

A version of this post appeared in the April 2017 issue of Dance Spirit.

Keep reading...
Show less
Mar. 23, 2017 07:36PM EST
Hot new musical alert! Producers announced last week that Bandstand, a super dance-y new show and one of Andy Blankenbuehler's latest projects, will open on the Great White Way in April 2017. Hamilton heavyweight Blankenbuehler, who led Bandstand's original creative team during its initial run at the Paper Mill Playhouse in 2015, is serving as both director and choreographer.
The jazzy show is set in a 1945 nightclub and centers on a radio contest searching for the next big swing band. So far, the only cast members announced are the leads: Tony nominee Laura Osnes (known for Cinderella), who plays a singer and WWII widow named Julia, and Corey Cott (of Gigi), who plays Donny, a singer/songwriter and WWII veteran hoping to win the contest.
"As a director, I'm so lucky to be involved with a show that is so rich in emotion and heart," Blankenbuehler said to BroadwayWorld.com. "As a choreographer, I'm over the moon to be dancing to a score that sizzles like nothing else on Broadway."
And he's not kidding. Check out the promo video from the show's Paper Mill run and get excited, because the choreo is seriously FIERCE. ?
"As a teenager, I auditioned for Spring Awakening, only to realize it was a lot of blonde girls," says Skyler Volpe, a performer with brown, curly hair. This experience taught Volpe to research characters that would best fit not only her voice but also her look—such as her current role as Mimi in the Rent National Tour.
Not fitting certain character types, especially those based on looks or physicality, might feel limiting. But understanding your type makes you a smarter auditionee and helps you pinpoint which natural skills you should continue to home in on.
Ask the Right Questions
Understanding your type requires self-reflection about your look, personality and dance strengths. "The components of an actor's type are age, physicality and skill set," says casting director Benton Whitley. "What age can you read for? Are you serious or comical? Do you look sweet or quirky? Are you a tenor or pop-belting soprano?" Ask your teacher, choreographer or friend to help you identify your type. "My senior year of college, my professor helped me pick out audition outfits, talked about the dance styles that fit my body and gave examples of roles I would fit," says Mallory Nolting, who then landed a gig on the 42nd Street National Tour.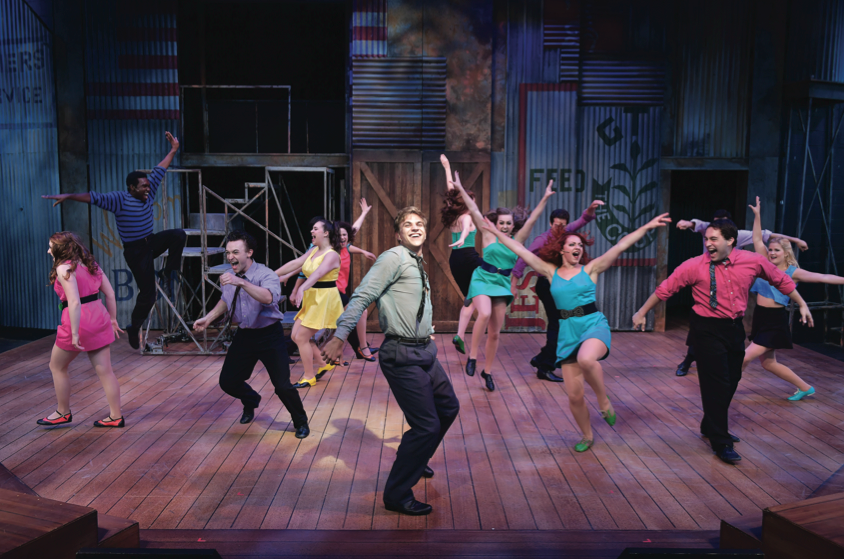 Kent State University students performing "Footloose" (photo by Bob Christy, courtesy Kent State)
Do Your Research

Nolting researches choreographers before auditioning to see what type of dancer they usually cast. "I took Randy Skinner's class before the 42nd Street audition to get a feel for his style," Nolting says. "I could picture myself fitting into the show. At the audition, Skinner recognized me from class!" Jo Rowan, dance chair at Oklahoma City University, advises taking as many different Broadway choreographers' classes as possible to figure out whose styles best fit your body and skill set.
Your overall look at an audition will be your first impression, so be sure your appearance
matches your vocal, dance and acting type. For example, Nolting, who sees herself as more of a showgirl, found a 1930s-style outfit for her 42nd Street audition. Terri Kent, the musical theater coordinator at Kent State University, encourages her girls to get makeovers to reflect their type: shorter, edgier hair and dramatic makeup for the powerhouse dancer, or soft curls and brighter makeup for the ingénue. Look at headshots from other Broadway performers to see how they let their personalities and types shine through.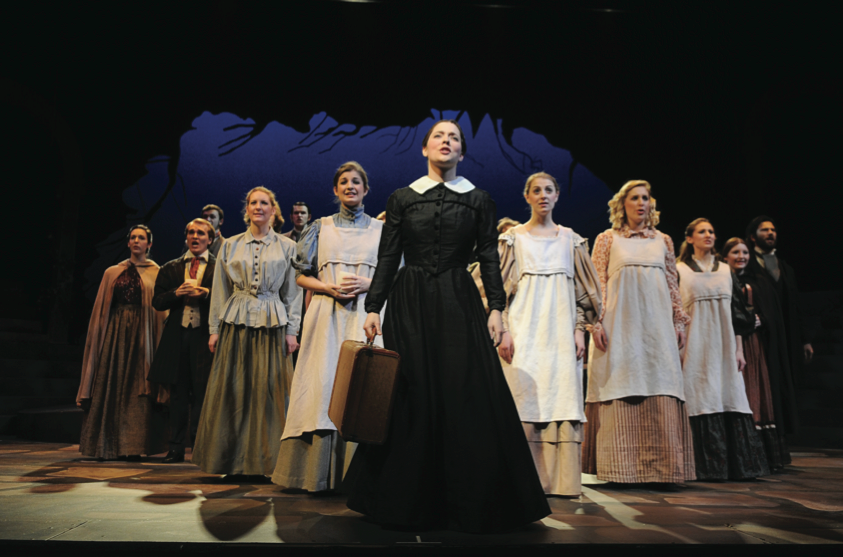 Kent State's "Jane Eyre," directed by Terri Kent (photo by Bob Christy, courtesy Kent State)
Use Professional Help

Acquiring an agent will open up more audition opportunities, and can also help you figure out your specific type. "My agency and I discussed my strengths, then they started broadening my horizons by putting me up for gigs I wouldn't have felt confident enough to try myself," Volpe says. She trusts her agent to find her jobs where she fits in both her looks and her talents. "They know I look right for West Side Story, but I just don't have the voice for it," she says.
A casting director can also be a great tool for helping your audition success. Reach out to casting directors after an audition for feedback. But remember, "we hire people, not performers," Whitley says. "Don't apologize for what type you are, because if you're
honest and authentic, we can figure out where to place you. So do your research about what shows and characters are your type—but also make sure you're sharing you."
A version of this story appeared in the January 2017 issue of Dance Spirit.

Keep reading...
Show less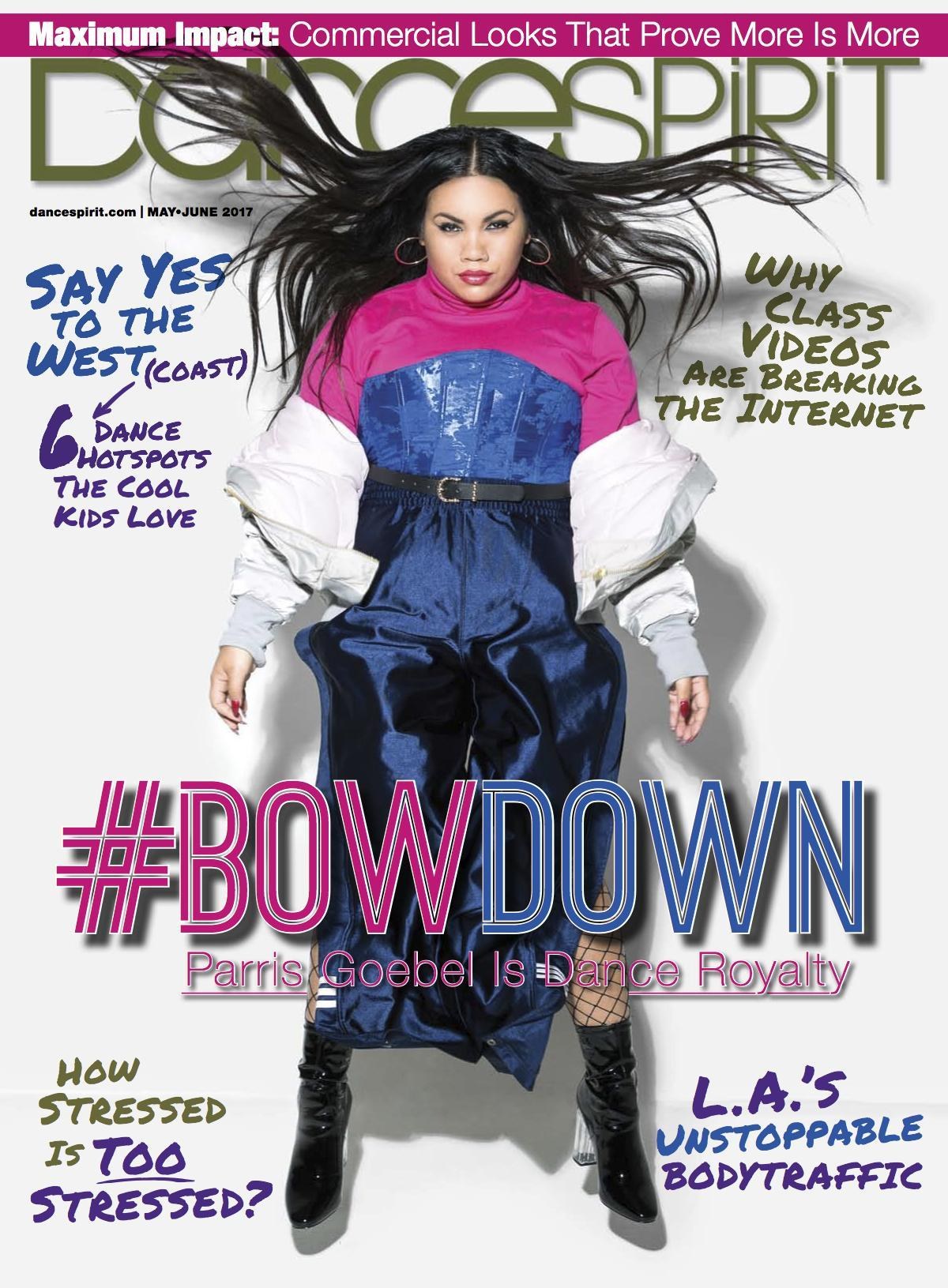 Featured College Dance Program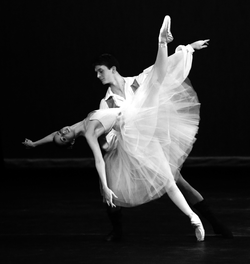 Get Dance Spirit in your inbox