"I'm dancing for my mother; performing for a cure." Those were the words that began Dance Against Cancer's 5th annual benefit on Monday night, before New York City Ballet principal Maria Kowroski took center stage. While brief, her performance of George Balanchine's Mozartiana (an excerpt) left barely a dry eye in the theater—including a grieving Kowroski herself.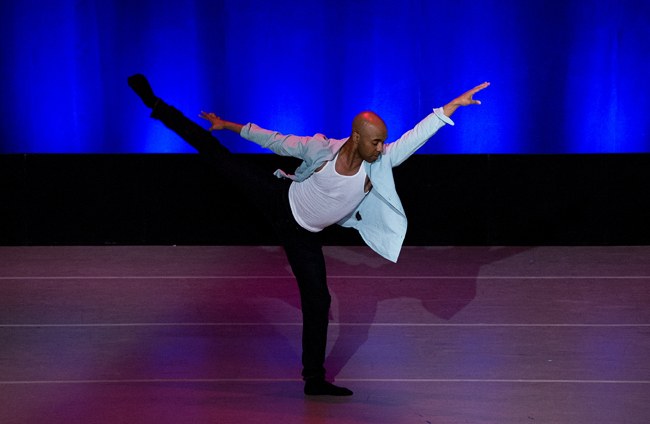 Alvin Ailey American Dance Theater's rehearsal director Matthew Rushing paid tribute to the late Denise Jefferson (Photo by Cherylynn Tsushima, courtesy Michelle Tabnick Communications)
Kowroski, however, wasn't the only artist onstage whose family had been affected by cancer. Almost all the dancers—more than 50 in total—named a loved one who'd left the world too soon, and to whom they'd dedicate their performance. Dance Against Cancer producers Daniel Ulbricht and Erin Fogarty also have personal ties to the cause. Fogarty's father passed away in 2011 from colon cancer; Ulbricht's mother is living with uterine cancer. And while all the dancers who performed were some of the most incredible in the world, their performances were further heightened by the intention and dedication behind them.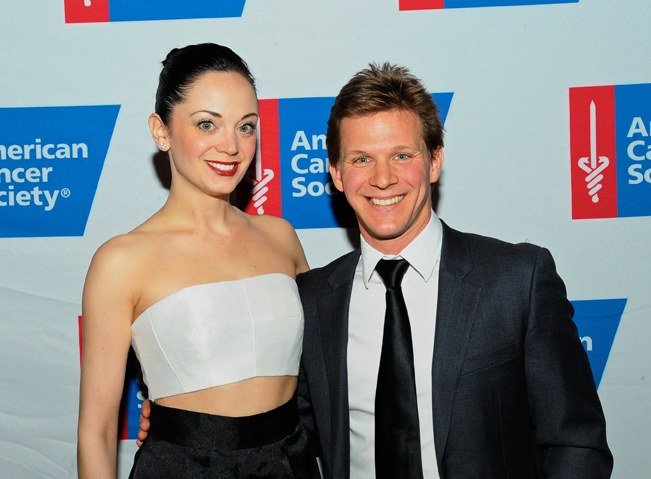 Erin Fogarty and Daniel Ulbricht at Dance Against Cancer (Photo by Kyra Neeley, courtesy Michelle Tabnick Communications)
Not all of the evening was solemn in tone—many of the performances, like NYCB principal Robert Fairchild's rendition of Gene Kelly's Ballin' in the Jack, were a celebration of life and its joys. Futhermore, the benefit was a phenomenal success: Over the last five years, Dance Against Cancer has raised more than $550,000 for the American Cancer Society, and this year alone raised more than $243,000. The money aids in funding Hope Lodges across the country, which provide housing for families receiving outpatient treatment away from home.
Take a look at some more photographs from the event below, and visit Dance Against Cancer's 2015 event page to learn more or make a donation.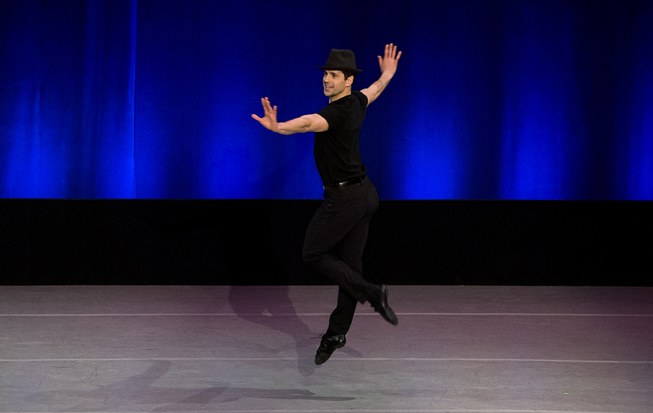 NYCB principal Robert Fairchild in Gene Kelly's Ballin in the Jack (Photo by Cherylynn Tsushima, courtesy Michelle Tabnick Communications)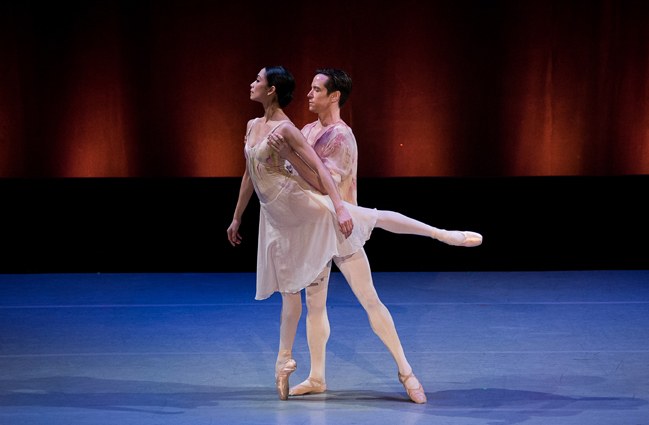 American Ballet Theatre soloist Stella Abrera with former ABT soloist Sascha Radetsky in Antony Tudor's Leaves Are Fading (Photo by Cherylynn Tsushima, courtesy Michelle Tabnick Communications)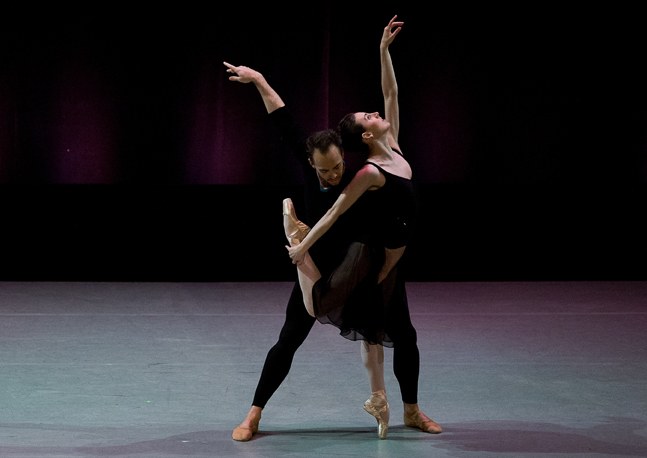 NYCB principals Tyler Angle and Tiler Peck in Christopher Wheeldon's This Bitter Earth (Photo by Cherylynn Tsushima, courtesy Michelle Tabnick Communications)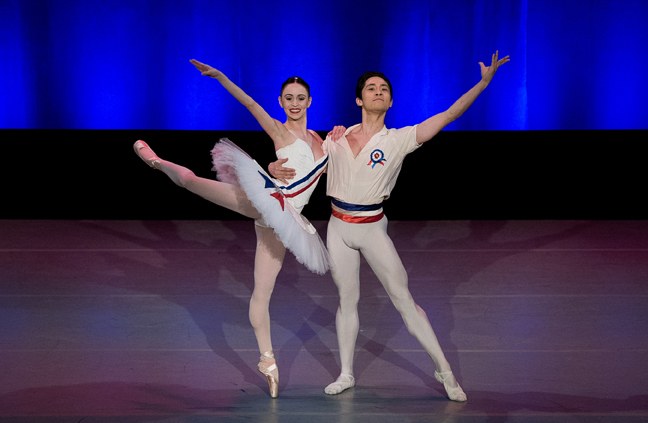 ABT corps member Skylar Brandt with Boston Ballet principal Jeffrey Cirio in Vasily Vainonen's Flames of Paris (Photo by Cherylynn Tsushima, courtesy Michelle Tabnick Communications)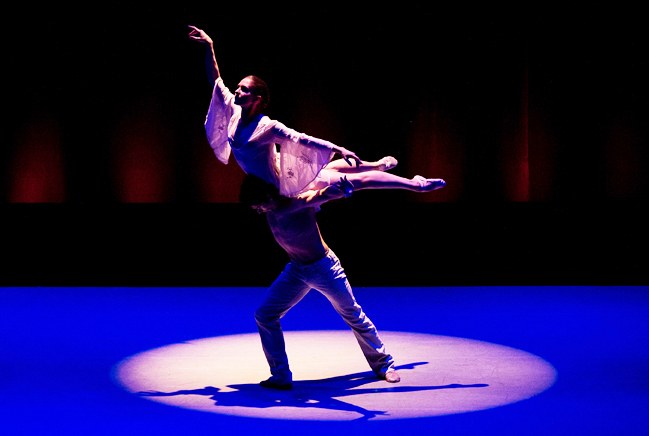 ABT principal Herman Cornejo with Carrie Walsh in Cornejo's Two Sunsets (Photo by Cherylynn Tsushima, courtesy Michelle Tabnick Communications)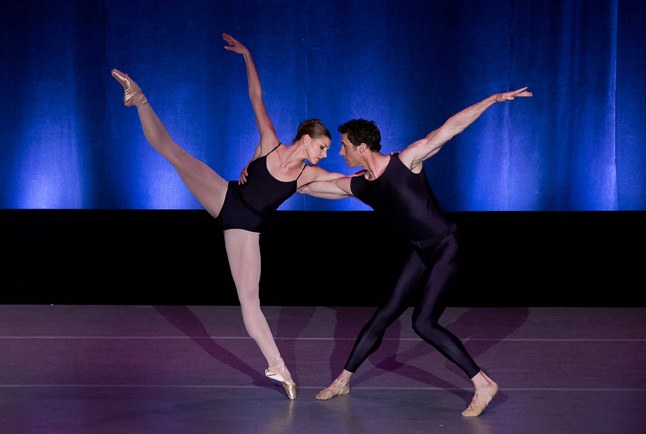 Pennsylvania Ballet principal Lauren Fadeley and soloist James Ihde in Wheeldon's Polyphonia (Photo by Cherylynn Tsushima, courtesy Michelle Tabnick Communications)
Photo by Luis Pons Photography, courtesy Maggie Kudirka
At the beginning of 2014, Maggie Kudirka was living her dream. The lifelong dancer had just made it into NYC's Joffrey Ballet Concert Group, a student company that she hoped would pave the way to a professional ballet career. But by summer, everything had changed: Maggie, just 23, discovered a lump in her left breast and was diagnosed with breast cancer. After recovering from the shock, she dubbed herself the "Bald Ballerina" and took to social media to share her story with family and friends—and to raise money for her ever-growing medical bills. Here, she shares her story in her own words as told to Rachel Zar.
Keep reading...
Show less
In 2013, choreographer Kyle Hanagami started his Letters of Love campaign to help raise money for cancer research. For every 10 letters that Hanagami receives, he donates $1 to research. So far, over 30,000 people have sent in letters.
This year, Hanagami had a very important announcement to make when he launched Letters of Love for 2015: In late 2014, he was diagnosed with leukemia—and the mission of Letters of Love became terrifyingly personal.
On his Instagram account, Hanagami wrote that his fingers shook as he published his latest video, Give Me Strength—that telling the world about his diagnosis made it real. Even as the dance community will rush to support him (as we try to support other community members who are going through illness or times of crisis), Hanagami has already shown that thanks to his beautiful group of dancing friends, he has strength to spare.
Check out the video below.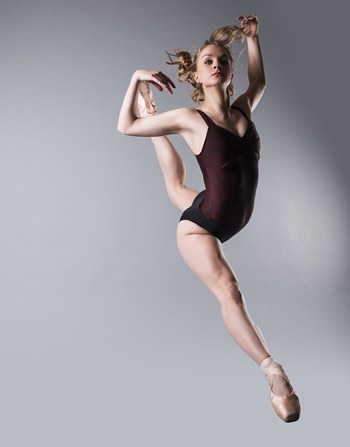 Maggie Kudirka
(photo © Lucas Chilczuk)
Every so often, a dancer comes along who not only impresses us with her power on the dance floor, but also with her endurance and strength when she's off it. Maggie Kudirka is one of those dancers. In June, after graduating with a BFA in dance from Towson University and joining The Joffrey Concert Group in NYC, Maggie, age 23, was diagnosed with breast cancer. On top of that, her family didn't have the money to pay for her treatments. Instead of letting that get her down, Maggie dubbed herself the "Bald Ballerina" and took to social media to share her story. In the process, she hoped to both raise money for her medical bills and raise awareness that young, healthy people are still at risk.
Dance Spirit spoke to Maggie about how things are going so far.
Dance Spirit: When and how did you find out you had breast cancer?
Maggie Kudirka: In late February, I noticed a lump. I was getting ready to go on tour with the Joffrey Concert Group, and we were doing a lot of partner work and upper body strengthening, so I assumed I'd just pulled a pec or something. I didn't think anything of it. Then in March, I felt a pop in my sternum while dancing, and I thought I'd re-pulled the same muscle. I went to our physical therapist, who agreed, and said I should rest it. But weeks later, with plenty of rest, it wasn't getting better. When I finished out the season in May, I went to a sports doctor, who told me it was a sprained sternum. But I've pulled my sternum before, and it went away on its own. This pain wasn't going anywhere. In the back of my mind, I knew something bigger was wrong.
I didn't have a regular doctor to call, because I'd just moved to NYC. And most doctors I talked to had a three-month waiting list.  Finally, I found someone who could get me in. She got me a biopsy, a mammogram, a sonogram…everything. On June 16, I was diagnosed with breast cancer.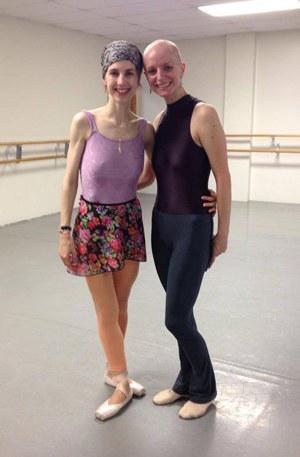 Maggie (right) with Suzanne Farrell Ballet soloist Violeta Angelova
(photo via Bald Ballerina)
DS: What's your treatment plan?
MK: We're taking it step by step. Right now, I have six treatments of chemotherapy scheduled every three weeks, and I just finished my second one. After that, we'll see how my body reacts. Then the next step would be surgery.
DS: So far, how has chemo affected your dancing?
MK: I'm not as strong as I was before. But I'm trying to stay in shape and do as much as I can. Instead of dancing 9 to 5, I try to take one class per day. I do have days where I'm too exhausted to dance. I'm happy I'm still able to get to class, even if it's not as much as I'd like to.
DS: What's the financial burden of all these treatments?
MK: One of my chemo drugs is $9,000 for each treatment. And I need at least six treatments. Since Joffrey Concert Group is a student company, I've had no income this past year. And my parents own an auto repair shop, which is not the biggest moneymaker in the world. We've never been the type of family to ask for handouts, so reaching out to others for help was a big decision. When we created the youcaring.com page, we thought, if we don't get anything, we don't get anything. But luckily, family, friends and complete strangers have reached out to help us. It's helping me stay positive, and now I want to fight this even more, so I can thank these people for helping me.
DS: What kind of reactions have you had to your Bald Ballerina social media pages?
MK: I originally decided to create the Bald Ballerina Facebook page to keep my friends and family informed, since I didn't really want to send out a hundred emails or have everyone call me to ask how I was doing. I liked the nickname Bald Ballerina, since it gave my ballerina image a tough edge.
I've had a couple other dancers who have had cancer reach out. And the mom of a little girl in Chicago who has cancer contacted me, because her daughter also does ballet. Now we're sending each other packages and letters. It's amazing that something like this can bring complete strangers together.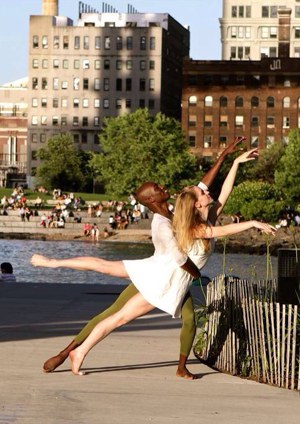 With Ballet West II's Sanford Placide in Brooklyn
(photo by Jacob Hiss)
DS: Besides raising money, what do you hope the Bald Ballerina pages will accomplish?
MK: Sometimes I think this was supposed to happen, so that I can make people aware that you can get breast cancer at any age, no matter how fit or healthy you are. I'm hoping I can eventually turn Bald Ballerina into a non-profit organization that helps provide grants to dancers with cancer. Dancers don't make that much money to begin with, and then we can't work while we're getting treatment. So it's especially important.
DS: How have you managed to keep up such a positive attitude?
MK: I don't think I would be as positive without everyone's loving comments. Before I started the page, I was moping all the time, and I was depressed. But this has given me something to do, and a way to stay connected. It helps me remember that I'm not the only one out there with this. Other people have overcome it, and I can, too. I will get past this chapter in my life.
Follow Maggie on Facebook, and you can check out her YouCaring donation page here.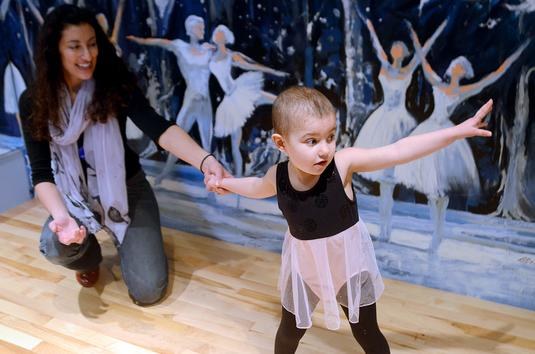 Cute Mia and her mom in her new studio. (Wicked Local/Mark Thomson)
It's easy to get caught up in the small things—"Did I grab the right leotard? Are my tap shoes in my dance bag? Did the rehearsal location change?" They can leave you feeling overwhelmed and stressed by the time you get to the studio.
But then you read about someone like brave little 3-year-old Mia Marchand, and suddenly everything snaps into perspective.
Mia, one of the cutest ballerinas you've ever seen, was diagnosed with retinoblastoma (a childhood eye cancer) six months ago and immediately started chemotherapy. But the Make-a-Wish Foundation stepped in to help one of her greatest dreams come to life: A dance studio decorated like the snow scene (her favorite) from The Nutcracker in her very own home.
Watch Mia's face light up as she sees her studio for the first time:
And there's good news! Mia's wrapped up her chemo treatments and she's doing great.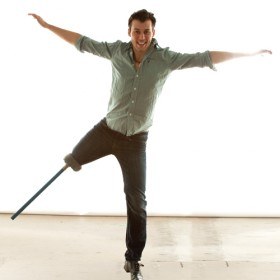 Evan's YouTube video had more than 12,500 hits at press time, but Evan didn't have any photos of himself dancing with his new leg! His pal Kyla Heinz took these exclusively for DS.
At 21 years old, Evan Ruggiero has the talent, drive and training to make it big on Broadway. The catch? He only has one leg. Seven months after Evan was diagnosed with osteosarcoma (bone cancer) at age 19, his right leg was amputated. Despite the loss, the Montclair State University student eventually returned to the studio to teach himself how to dance again—this time using a peg leg. (Evan also has a second prosthetic limb that he uses for walking.) Here Evan tells DS how he has kept his dreams alive, even after his amputation.
Dancing Kid
I started dancing in my hometown of Old Bridge, NJ, when I was 6 years old. It was just like that song from A Chorus Line—I saw my sister in dance class and said, "I can do that!"
Once I started lessons, I never wanted to stop. My teachers noticed that I had a particular talent for tap and encouraged me to audition for the New Jersey Tap Dance Ensemble's youth company when I was 11. (I joined the main company when I turned 18.) The youth ensemble put together shows for school kids and elderly people, in which we'd re-create some of the classic tap dance numbers from the 1920s and '30s. Once, we even got to perform at Lincoln Center in NYC, which was one of my favorite dance experiences as a kid. I also participated in every school musical I could and soon found myself hooked on musical theater.
Growing Aspirations
In high school, I started to think of possible careers and college majors. I couldn't see myself majoring in business or accounting. It occurred to me that all I wanted to do was perform. As graduation drew nearer, a professional career became more of a possibility.
After high school, I headed to the musical theater program at Montclair State University to get the training and education I'd need to go pro.
Diagnosis and Decisions
It wasn't long after my first college production, Crazy for You, that I received some life-changing news. I had been experiencing pain in my right leg, so I went to the doctor.
He took an X-ray and found a tumor, so he sent me to the hospital for a biopsy. The biopsy revealed that I had osteosarcoma, an aggressive bone cancer, in my leg. At first, I didn't know how to process the diagnosis. It was scary. I had just turned 19, and I thought I had this wonderful career in front of me. One of my greatest assets as a performer was my dancing, and to be told I had bone cancer was like hearing that all of my dreams might be over.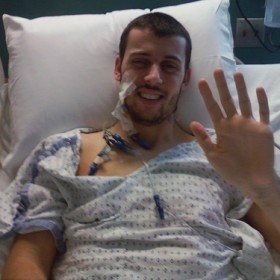 Evan in the hospital
Over the next seven months, I had 10 surgeries performed on my leg. It was a tough road that meant putting my education on hold temporarily while I focused on recovering. After the last surgery, my doctor broke some news I hoped I'd never hear: He needed to amputate my leg. I was angry and confused. I asked him, "Why?" Why would he put me through seven months of surgery if he was just going to amputate in the end? I'd based my life on tap dancing and now I thought I'd never be able to do it again.
Over the course of a four-hour conversation, the doctor helped me focus on the positive aspects of an amputation. He told me about the amputees that had participated in Paralympics and performed other major athletic feats. We talked about all the new technology that could enable me to use a prosthetic leg to dance. I watched videos of Clayton "Peg Leg" Bates, an amputee tapper in the 1930s and '40s, dancing on his prosthetic leg, which gave me hope that dancing could still be an option.
After my leg was removed, the pathology report revealed I would still need chemotherapy. That was a whole new war. Even though I knew it was for the best, those nine months of chemo felt like they were killing me. While going through chemotherapy, I made the decision to return to school. I just couldn't stay home another year.
Moving Forward
A few months after my chemo treatments ended, I started making progress with my mobility. I also started thinking more about the possibility of becoming a "peg leg" dancer. I worked with my prostheticist to design a second prosthetic peg-leg especially for dancing. In the summer of 2011, I finally felt strong enough to wear it and start trying to relearn how to tap dance.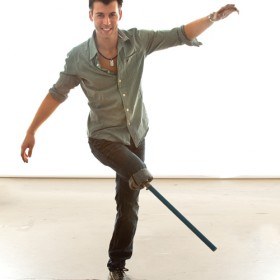 (Kyla Heinz)
First, I worked on getting a sense of the weight of the leg and how my body sits on it. (While my regular walking leg weighs nine pounds, my "dancing leg" weighs just half a pound.) Then, I started experimenting with ways to make different kinds of sounds with the leg and figuring out how quickly I could move it. Before long, I added heels with my left foot, then flaps and shuffles. I came up with a time step I could do with my peg leg that has become sort of my signature step. It's weird—all of the steps and rhythms came right back to me thanks to muscle memory, even though I was missing a leg. Eventually I was even able to do a double pullback!
A couple of weeks after I began working by myself in the studio, I started recording videos of my dancing so I could track my progress. My roommate persuaded me to put one of them online and within two weeks it had drawn almost 10,000 views. I'm still working on making my tap skills more advanced, mostly by focusing on sounds and syncopation. I know that some steps, like Maxie Fords, probably won't be possible with my peg leg, but that doesn't stop me from pushing to improve.
Future Ambitions
At the moment, I have my sights set on graduating college. Cancer treatments kept me out of school for quite a while, but I'm back full-time now, with plans to graduate as soon as possible. I never changed my major and I still have the same long-term goal as before the amputation: to work on Broadway or in another part of the performance industry. Whatever I end up doing, I'll do it to the best of my abilities.
The most important thing I learned while battling osteosarcoma was not to live life casually or take anything for granted. Thanks to the overwhelming support and strength of my family and friends, I'm prepared to live each day to the fullest, no matter what the future holds.
In the fall of 2009, dancer Emily Amador was entering her senior year of high school and her final year as a member of the competition team at First Position School of Dance in Milltown, NJ. Life was going according to plan—and then everything changed. After discovering lumps on her neck and near her collarbone, Emily was diagnosed with Hodgkin's lymphoma, a type of cancer. Many dancers would've taken time off while undergoing treatment, but not Emily. Between chemotherapy sessions, the then 18-year-old continued to take classes, rehearse and compete with her team. Here, Emily shares her story with DS.  —Katie Rolnick
I started off my senior year with confidence, ready to push myself to have my most successful dance year yet. Before I knew it, it was February and time for our competition routine dress rehearsal. While I was changing costumes, something caught my attention: a small, hard bump about the size of a marble on the right side of my neck. I ignored it, thinking it would gradually go away.
I was wrong. The bump only grew larger with time. And a few weeks later, I noticed another lump in the dip of my collarbone. This one scared me. It was the size of my fist and felt like five balls clumped together. I showed my mom and she made an appointment with my pediatrician.
I arrived at the doctor's office expecting her to write me a prescription and send me on my way. But when I showed her the lumps on my neck and told her about my recent bout of nausea, she looked worried. All of a sudden, there were three more doctors in the room and a nurse taking blood samples. I was confused and nervous, but tried to stay calm as we headed to the hospital for more tests.
When I arrived, a doctor told me I would be staying in the hospital for a couple of days. That's when I really started to panic. His name tag said he was in the oncology group: cancer. My hands started to sweat. I couldn't swallow because I knew what he was about to say. He explained that he was almost certain I had Hodgkin's lymphoma, a type of cancer that prevents the lymphatic system from working correctly, which basically means that it's harder for the body to fight infections and diseases. Thoughts and questions were flying through my mind—but my biggest concern was that my first dance competition was just four days away.
I had to get a ton of tests to see if the doctor's prediction was correct. I had a biopsy surgery during which doctors removed a portion of my enlarged lymph node to see if there was any cancer in it. I couldn't move my neck for days. Who knew a three-inch cut would hurt so badly? They also drilled two holes in my lower spine to drain out bone marrow fluids to see if the disease had infected my bones. Luckily, it hadn't. But the other tests came back positive. On March 18, I was diagnosed with Hodgkin's lymphoma type 2 stage A, which meant we had caught the disease early. It had only spread through two sections of my body—my neck and chest—and I wasn't yet showing all the symptoms, such as swollen lymph nodes, fever, night sweats and weight loss.
After the biopsies, I was in too much pain to dance at my competition that weekend, but the doctors released me from the hospital so I could go watch. My dance company friends did everything they could to make me feel included. They wore violet ribbons (the color that represents Hodgkin's lymphoma) on their warm-up jackets. And at the end of the production number, I joined them onstage for their bow.
The following week I started my first round of chemotherapy, and two weeks later I started to lose my hair. It fell out everywhere—in the shower, on my pillow, in my hairbrush and even at school. Within a few days, I had only about half my hair left. I couldn't stand it, so I decided to just cut it all off.
But I hated being bald. I was used to taming my curly hair every morning. My aunt's friend, who was also a Hodgkin's lymphoma patient, recommended a wig store in NYC. The owner handmade a beautiful wig for me that looked like my real hair. It had a natural wave, side bangs, a part and layers. (It was made with human hair—it takes hair donations from five or six people to make just one wig.)
The doctors let me decide when I was ready to dance again. About two weeks after my first round of chemotherapy, I had no pain and felt strong enough to compete at Showstopper in Edison, NJ. I was nervous that my wig wouldn't stay on while I danced and tumbled, but the double-sided wig tape I used kept it in place. I was able to perform in all of my numbers, but I had to leave out some of my more challenging acro moves. (Throughout treatment, I had to be careful to avoid injury and illness because my immune system was weakened.) Being able to dance again felt amazing. It made me forget about everything that was happening.
I danced throughout the spring, taking time off for my chemotherapy sessions. (I had a second treatment in mid-April and a third in May.) Sometimes I felt weak and tired. And there were times when my blood levels were low—doctors measured my red and white blood cells and platelets—and I wasn't able to leave the house, even to go to school. But my friends brought me my homework, and doing it helped the time pass more quickly.
In the middle of my treatment, I participated in a dance-a-thon at Rutgers University with my competition team to raise money for kids with cancer. My dance company is involved with this charitable event each year, but this year it was extra special because of my diagnosis.
My last chemotherapy session was a week before prom. The dance was wonderful, and my boyfriend and I were Prom King and Queen!
Throughout this experience, everyone at my studio was very supportive. About a week after my diagnosis, the studio ordered special bracelets that said "Emily's Entourage," and sold more than 1,500 of them to raise funds for my treatment. They also held a BBQ for me after I completed chemotherapy. The event had been planned for June 6—which ended up being a few days after I found out that the cancer was no longer active.
This experience changed the way I see the world. I feel like a different person, a new Emily. Physically, I am feeling better than ever—and my hair has already started to grow back! I'm proud of my bravery and dedication to everything I do. I don't let anything get in my way.
A survivor is someone who lives. I am a survivor.
Emily's studio dedicated its 2010 recital to her. It was called "Glory," in reference to a quote by Confucius: "Our greatest glory is not in never falling, but in rising every time we fall." 
Editor's Note: This fall, Emily began her freshman year at Rutgers University, where she is a member of the Rutgers Performing Dance Company.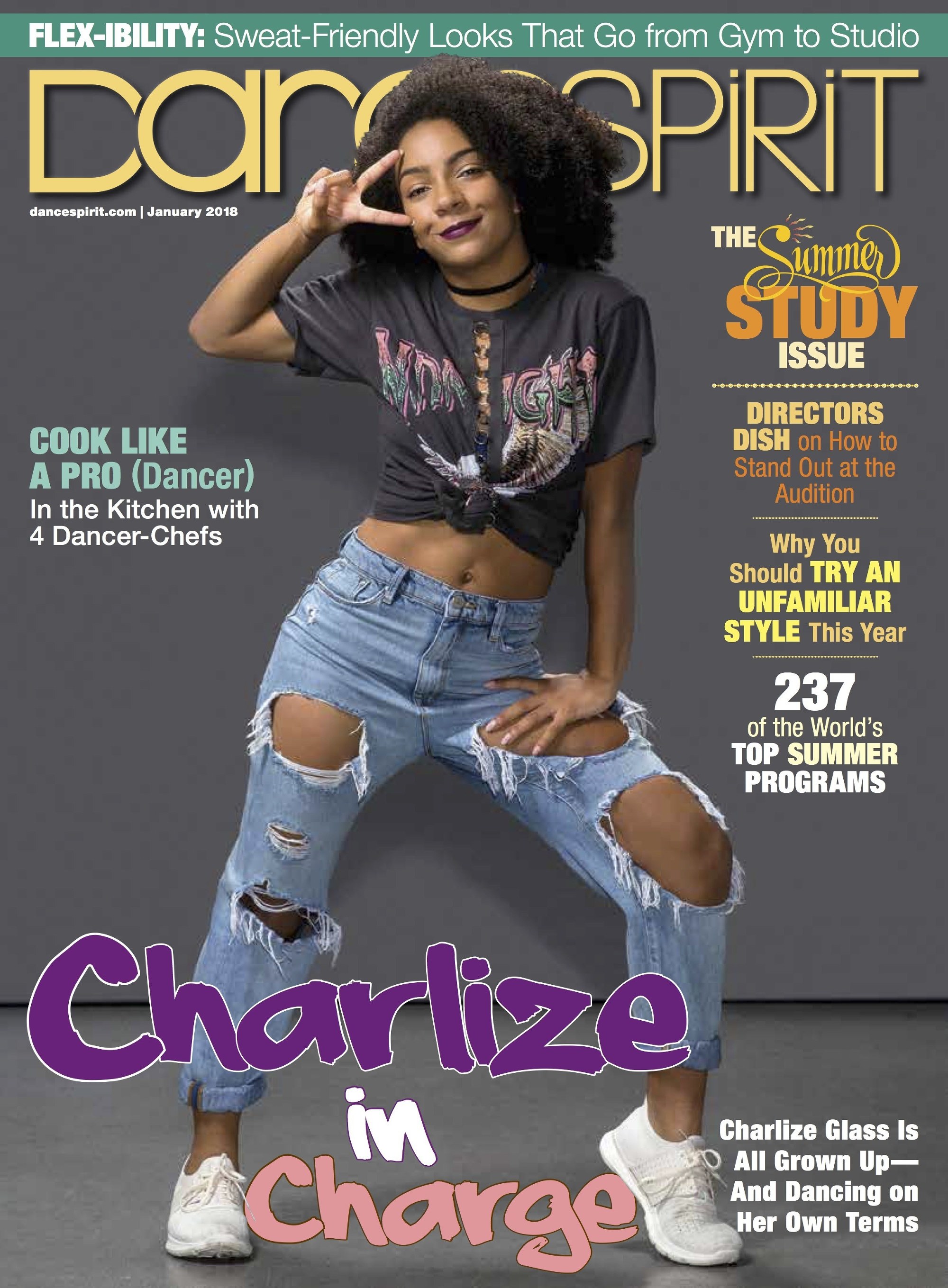 Get Dance Spirit in your inbox