Mar. 23, 2017 04:11PM EST
Every once in a while, you stumble across a choreographer or dancer on YouTube, and you're like, Wait, how on EARTH am I just now discovering this person?! Where have they been all my life? Did I just reach dance nirvana? And then you proceed to watch every single video you can find, scouring the interwebz for one more glimpse of your new-found idol.
Don't judge: I know you've all done the same thing
This week, Japanese hip-hop choreographer Koharu Sugawara is the artist responsible for blowing the DS editors' minds. While she's based in Japan, Sugawara frequents Urban Dance Camp, the annual international hip-hop workshop in Germany that floods YouTube with brilliant excerpts from choreographers like DS faves Keone and Mari Madrid. We have UDC to thank for facilitating our recent Sugawara binge. And we would be remiss not to share the experience with you.
Simply scroll down, and prepare to experience sheer hip-hop-nerd bliss.
The video that first caught our attention was of Sugawara's combo to Sia's "Elastic Heart." (You know we already have a soft, Maddie-Ziegler-shaped spot in our hearts for this song...) The choreography shows off Sugawara's molten, dare we say elastic style. This girl knows how to work a pair of harem pants, and her use of tension is the perfect example of how to bring the subtle sexy.
But then we learned she can hit hard and bring the stank when we watched her combo to Mary J. Blige's "The One."
Oh, and apparently she also has Michael-Jackson swag—and a rare ability to make the running man look cool (at 1:15)—as made evident by her clip to Ed Sheeran's "Sing."
While watching her video to Clean Bandit's "Rather Be," we saw her overwhelming love and joy for dance.
And then she did a combo to Destiny's Child, and we pretty much lost it.
#winning
Mar. 23, 2017 09:39AM EST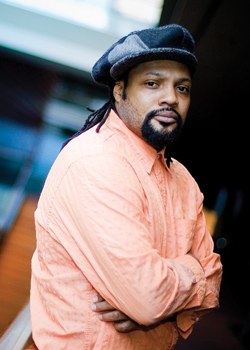 courtesy the Kimmel Center
Rennie Harris is one of the most sought-after hip-hop choreographers today. Growing up in Philadelphia, PA, he danced with several crews, including The Step Masters and The Scanner Boys. He started teaching at 15, and continues to teach hip-hop technique and history around the world. This year marks the 15th anniversary of Harris' Illadelph Legends Festival, the longest-running festival of its kind, as well as the 20th anniversary of his company, Rennie Harris Puremovement (RHPM), which is known for critically acclaimed works like Rome & Jewels and Facing Mekka. In 2007, Harris founded a second company, Rennie Harris Awe-Inspiring-Works (RHAW), to educate and mentor young dancers. Harris has also set works on ballet, modern and jazz companies, including Pennsylvania Ballet and Alvin Ailey American Dance Theater. —Komal Thakkar
Dear Rennie,
I'm writing from 2012 to share some advice with you.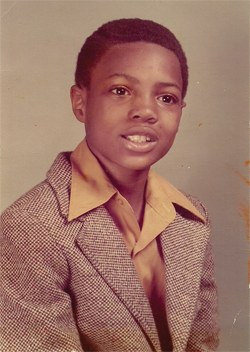 Rennie Harris in Sixth Grade
Think about the harmful situations you've allowed yourself to be in. It's OK to say no! You don't have to do what others do to be considered "cool."  
When introducing yourself, begin with "I am." Be sure to look people in the eyes when speaking to them. Be honest, even if it's uncomfortable. 
Seek the input of those who have experience in your field. You can't do everything by yourself. And don't be afraid of structure. It's a "guide-line," not a "God-line." You can go off the path as long as you get back on it eventually.  
As a choreographer, make sure to create when you're inspired—and find a choreographic mentor. Both will keep you from wasting time in the studio.
Most importantly, always remember: Movement is the manifestation of your reality. It's not what you say but what you do that confirms you. Reality is defined as what is tangible, what we can see and feel. For example: The shirt you have on right now was once someone's idea, but it required a physical action—sewing—to make that idea into reality. All your dreams can manifest if you take action. Don't get lost in talking about it. Do it!
Rennie Harris 
Mar. 10, 2017 04:47PM EST
If you're in the L.A. area tomorrow, don't miss your chance to see WilldaBeast make his TEDx debut. Wait, say what?
According to an Instagram from the other day, our favorite choreographer/dancer/entrepreneur/all-around dance revolutionary WilldaBeast has been invited to speak at TEDx Watts, an independently organized all-day conference showcasing "ideas worth spreading."
Keep reading...
Show less
Oct. 12, 2016 08:04PM EST
A choreographer's notebook can be a very private thing. After all, it's where she crafts concepts, scribbles formations and documents her dancers' rehearsal processes before anything is ready to be seen by an audience. And while many artists use video cameras to record phrases and set movement on dancers, others choose to stick with good, old-fashioned pen and paper. Here, three choreographers give us a peek into their notebooks and explain just what their notes mean.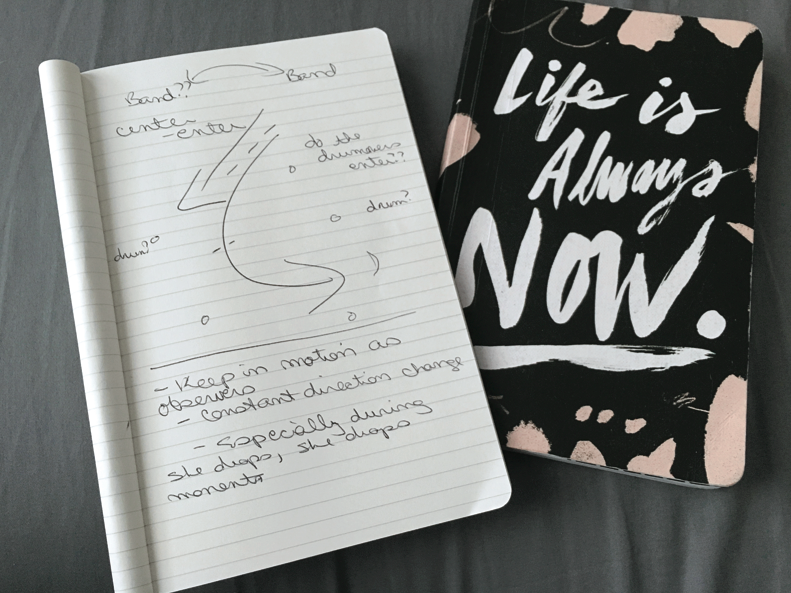 (courtesy Sonya Tayeh)
Sonya Tayeh
Company: Sonya Tayeh's freelance dancers & The Bengsons
Work: you'll still call me by name
Premiere: December 2016
Number of Performers: 10 dancers; 6 musicians
There's something about putting pen to paper that makes me feel present. For this particular piece, I used three notebooks, and I throw all of them in my backpack and carry them with me everywhere. By the end of the day, I tend to be a little disorganized. One journal, which was more like a diary, became homework for the musicians—some of the text was recorded and used as lyrics in the music.
I used a recorder, too—along with a GoPro, iPhone and iPad. I'd create a phrase on my dancers, and, while they were dancing, ask them to describe what they were doing physically—for instance, "I move my arms to the right, I stand, I wait," or "She drops, she drops." Sometimes, I'll write those phrases down in my notes so I remember which phrase goes with which musical cue.
The page with the stage directions is depicting a section I'm seeing as a heated conversation between two people. The broken lines represent one dancer's trajectory downstage; the arrow is the second person. The circles are other dancers, who are trying to step into the conversation to maybe diffuse the situation. It's pretty messy—I don't typically draw out stage directions. But I made this while I was watching the dancers in action, so I could show them their movements—I didn't want them to forget it. There's not usually much structure to the pages. I find that my journals often start neatly with great handwriting and devolve from there.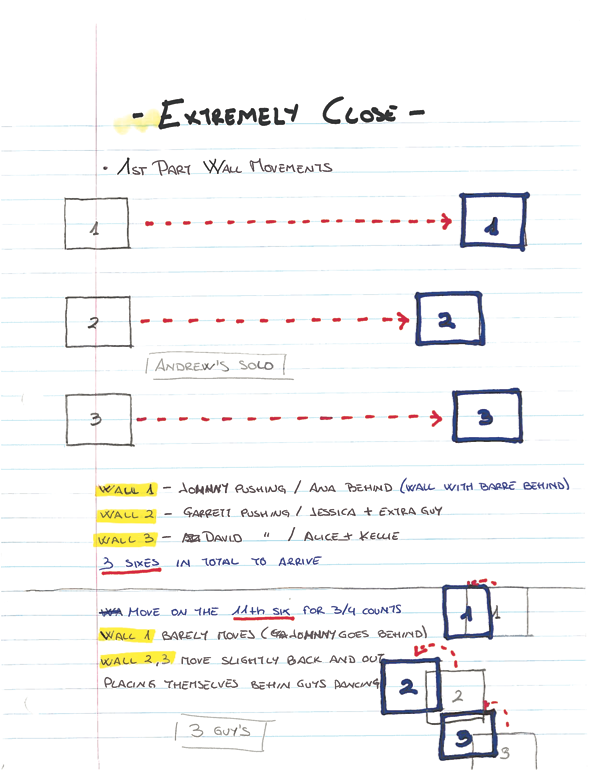 (Courtesy Ana Lopez)
Ana Lopez
Assistant to Alejandro Cerrudo
Company: Hubbard Street Dance Chicago
Work: Extremely Close
Premiere: 2007
Number of Dancers: 8
These notes were for my first official assistantship. I was setting the piece on a company in Madrid, and I was traveling with Alejandro. I'd performed the piece already, so I knew the movement phrases, but there are also three walls that are crucial to the work. Various dancers move the walls throughout each section, and keeping track of which dancer is behind which wall can get pretty complex. So I had multiple notebook sections: one for the walls, and another for each dancer's choreography—those I wrote in Spanish. Typically it's just key words, like "arabesque, left leg," rather than each individual step in a phrase.
We show dancers learning the piece videos of the work, but it's impossible to see the behind-the-wall goings on. That's where the notes come in. I drew squares in pencil to represent the three walls. The red dots are the walls' trajectory, and the blue squares are their final position at the end of each section. Each square is numbered, which corresponds to the number on the back of the actual wall—some have bars at various heights on the back sides for specific choreography, so they have to be numbered.
I also made sure to write what's going on in terms of the choreography. For instance, "Andrew and Jessica's duet," or "Alice's Solo." Alice's Solo happens in front of wall #2, but since all the walls move during that specific section, it's helpful to have everything recorded to avoid collisions.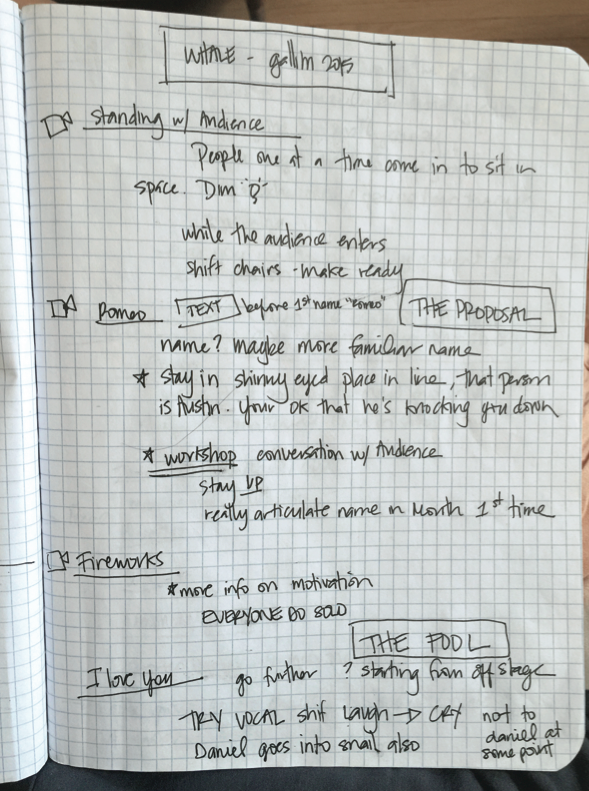 (Courtesy Andrea Miller)
Andrea Miller
Company: Gallim Dance
Work: W H A L E
Premiere: December 2015
Number of Dancers: 8
I have two different note-taking methods. The first is more concept- and idea-driven—the notes come from conversations about the piece I have with dancers and collaborators, or even just conversations in my own head. The second happens during runs of the work, where I jot down what's working or what's not. Sometimes I'll use smiley or frowning faces—but I have to tell dancers that if they see a frown next to their name, it's not that I don't like what they're doing. It's that the section needs more work.
The page that begins "W H A L E—Gallim 2015" is from early on in the process, when I was still plotting out the concept of the piece. I saw it as multiple film scenes, or vignettes, so each camera icon is my way of notating a scene. I often use little icons: the circle with squiggles, for example, is a lighting cue, in that case to dim the lights. For musical cues I draw little music notes.
Each word or phrase in a box, like "The Proposal," is a key to the narrative. In "Text," one of the dancers approaches an audience member in a flirtatious way to get his or her name, as if they were at a party. I don't do a lot of text in my work, so we needed to develop those skills. "Workshop conversation with audience" is a note to myself to invest time in the rehearsal process to work on that text and explore not only how the dancers could do it more comfortably, but also how it fit in with the larger piece.
I keep my notes organized so that during rehearsals, I can work loosely, stay present and be open to new ideas or changes. I don't normally notate any of the steps; my dancers are responsible for learning and remembering the movement. If they need to record it themselves, they can. Instead, I take notes about the meaning of the piece, and if the movement I've created is driving the emotional needs of a particular moment.


Get Dance Spirit in your inbox