As far as musical theater news is concerned, this week has been liiiiiiiiit. On Tuesday, we reported that Carousel is coming back to Broadway next year in a production featuring several New York City Ballet favorites. Now there's word that two more of our ballet/Broadway baes are at the helm of a new City Center Encores! production of the classic Brigadoon.
Keep reading...
Show less
Mar. 23, 2017 06:45AM EST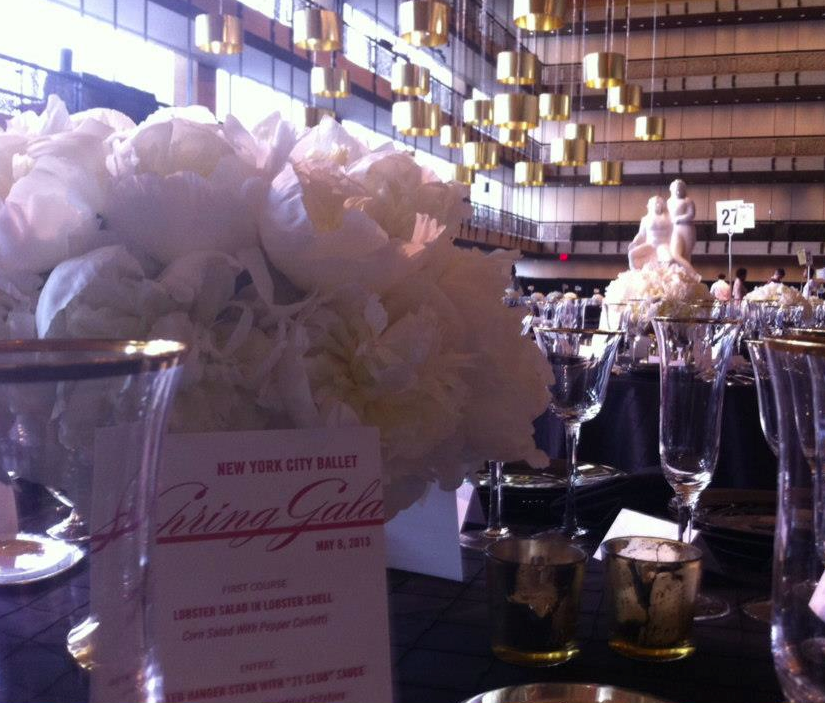 Plus, the gala dinner setup was gorgeous! (photo via NYCB)
For ballet nerds like me, there are few things more exciting than watching young dancers develop into beautiful, authoritative artists. Last night, New York City Ballet's spring gala opened with a work that let some of my favorite rising stars prove just how much they've grown up.
That'd be Christopher Wheeldon's Soirée Musicale, an alternately elegant and playful little ballet that gives nearly every cast member a moment in the spotlight. And what a cast it was!
We got Brittany Pollack, Lauren Lovette, Taylor Stanley and Chase Finlay, recently-promoted dancers I've followed since their apprenticeships. And then there were the newbies I've just begun to pick out of the corps: Sara Adams, Harrison Ball, Indiana Woodward and Peter Walker.  Nearly all of them are under the age of 25—many have only been in the company for a year or two—but they danced with the confidence of seasoned pros. A special highlight came toward the end: a poignant, romantic pas de deux for Lauren and Chase that signaled what might be the beginning of a beautiful partnership.
The gala was packed with many other fun treats too, of course. There was a second premiere by Wheeldon, a pas de deux in homage to Jerome Robbins' West Side Story danced by the sublime Tiler Peck and Robert Fairchild. There was the exhilarating nonstop acceleration of the final section of Robbins' Glass Pieces, featuring what seemed like the entire company. Queen Latifah stopped by to serenade Sterling Hyltin and Amar Ramasar as they glided through Balanchine's "The Man I Love" pas de deux from Who Cares?. And Ashley Bouder and Andrew Veyette had a jaw-dropping "anything you can do, I can do better" competition in the cheeky Stars and Stripes pas de deux.
But it was those young, newly-minted stars that stuck with me as I left Lincoln Center last night. In a gala that was all about high-wattage brilliance, they shone brightest.
We've been talking a lot about Christopher Wheeldon's An American in Paris, and for good reason—the show's 14 Tony nominations might have something to do with it, as well as Wheeldon's genius choreography.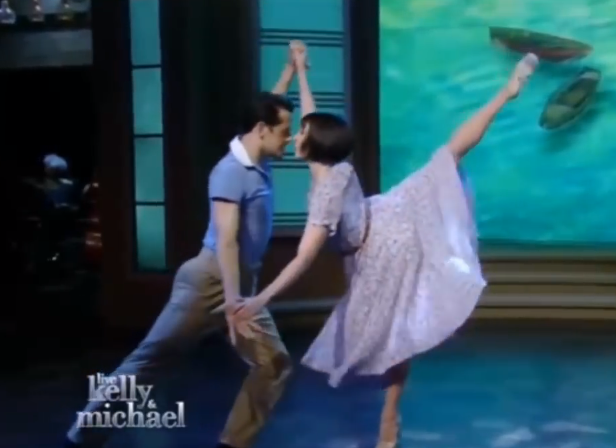 Robert Fairchild and Leanne Cope of An American in Paris performing on "Live! With Kelly and Michael." (Screenshot via YouTube)
Obviously with all the buzz around An American in Paris, we want to relive the magic again and again, but only short clips are available online. Luckily though, the stars of the show, New York City Ballet's Robert Fairchild and the Royal Ballet's Leanne Cope, were guests on "Live! With Kelly and Michael" this past Friday. The duo performed a lovely bit of choreography, and it was amazing to see how both dancers' ballet backgrounds translated into the world of musical theater. They performed a very Wheeldon pas de deux: Cope's legs-for-days extended in high développés as Fairchild whisked her around the stage. We were even treated to Fairchild's singing voice, and it didn't disappoint. While the clip isn't front row on Broadway, it'll certainly do! Watch the entire segment below:
Pop quiz! Who's getting really excited for this Sunday's Tony Awards?
a) The Broadway community.
b) Your grandma.
c) Anybody who loves dance.
d) ME ME OMG ME.
e) All of the above.
The correct answer, of course, is E. But let's put special emphasis on C here for a minute, shall we? Because the official lineup of Tony Award performers was recently announced, and holy LaDucas is it ever jam-packed with dance.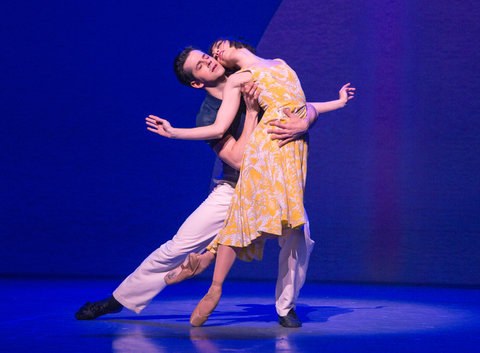 Oh yeah. There's gonna be a LOT of this. (Robert Fairchild and Leanne Cope in An American in Paris; photo Sara Krulwich/New York Times)
First of all, there'll just be more performers on stage, period, than at any previous Tony Awards. And since this was a particularly glorious year for dance on Broadway, a lot of them are going to be world-class dancers.
Top highlights include:
-the American in Paris mashup of "An American in Paris (pas de deux)," "'S Wonderful" and "I Got Rhythm," featuring Tony nominees Leanne Cope and Robert Fairchild doing fellow nominee Christopher Wheeldon's choreo;
-On the Town's medley of "Lucky to Be Me," "New York, New York" and "Times Square Ballet," with choreography by Josh Bergasse performed by Tony nom Tony Yazbeck and the stellar ensemble (hi Ricky Ubeda!);
-"Stronger" from Finding Neverland, featuring Mr. Schue Matthew Morrison and Kelsey Grammer doing Mia Michaels' oh-so-Mia choreography.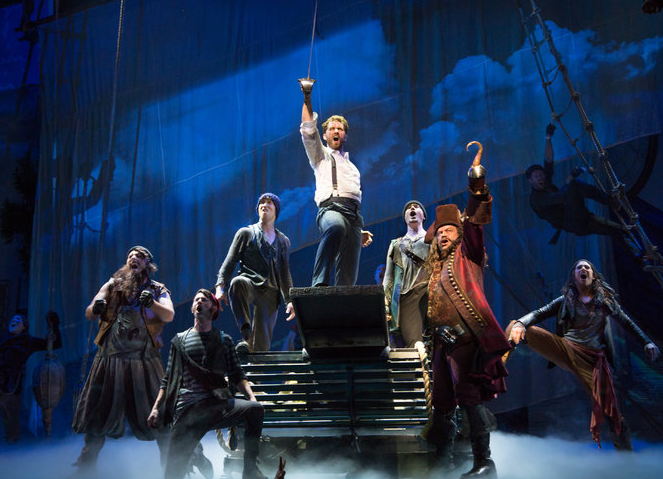 In case you're wondering what Mia choreo on Broadway looks like, here's a sneak preview. (The cast of Finding Neverland; photo Sara Krulwich/New York Times)
Also, Kirstin Chenoweth and Alan Cumming—whom I'd like to present with a pre-Tonys award for Broadway People I'd Like to Be Best Friends With (prize is a selfie with yours truly; COME FIND ME TO CLAIM IT!)—will be hosting. So, that'll be great, obviously.
Click here for the full list of performances, and be sure to catch all the musical theater action this Sunday at 8 pm ET on CBS.


Get Dance Spirit in your inbox