Mar. 23, 2017 01:14PM EST
Amanda Garcia started dancing at Prodigy Dance and Performing Arts Centre in Plano, TX, as an intermediate-level 12-year-old. But Prodigy's owner and director, Camille Billelo, quickly recognized Garcia's potential and placed her in classes with older students. For Garcia, being the youngest among advanced dancers was exciting—and a bit intimidating. She was determined to catch up. "I had to prove myself," she recalls, "and that helped define me as a dancer."
All dance students aspire to join a higher level. But once promoted, the tougher demands (both technically and physically) can be daunting. How can you convince your teachers, classmates and yourself that your new level is where you belong? The answer lies in your
attitude and work ethic both in and out of the studio.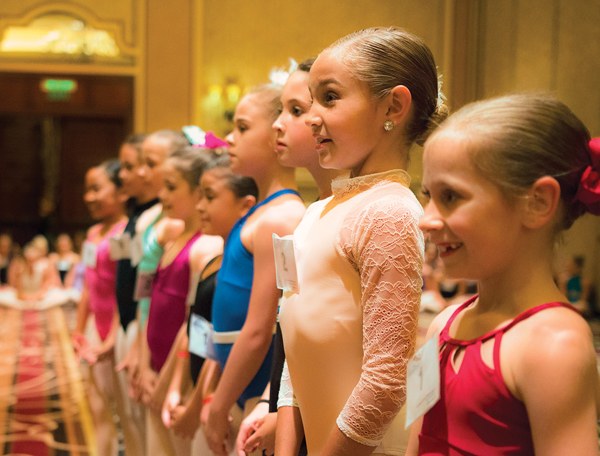 Dancers at Adrenaline Nationals (photo by Spencer Dennis, courtesy Adrenaline)
Start Slowly
You were probably at the top of your former class, and the change from being the strongest to the greenest—or youngest—in your new one can be startling. Sometimes, it's helpful to approach a new level one step at a time. Billelo transitions students by having them take only one or two higher-level classes per week (on top of their current classes) so they become familiar with their new teachers and classmates, as well as what's expected of them, before moving up full-time.
One-on-one training can also speed up your progress. Billelo recommends that recently promoted students take a few private lessons with new teachers until they feel more comfortable. If it works with your schedule, ask if you can add a few lower-level classes, too, so you can work on the basics at a slower pace.
Show Your Commitment
As Garcia advanced through the ranks at Prodigy, she focused on building self-confidence, but found it crucial to stay open to criticism, advice and direction from her teachers. It showed she was committed to her training, and eager to stay in the higher level. "I look for passion and drive in a dancer—the students who, after class, ask 'Do I have any more corrections?' or 'What can I do to improve?' " Billelo says. "I see which dancers come in early or stay after class to keep working. That's how I know who really deserves to be in advanced classes."
In class, show that you're mature enough to handle the new and often more intense workload by immediately applying a correction, even if it wasn't given to you directly. Pacific Northwest Ballet School principal Abbie Siegel cautions young dancers against going to class on autopilot. "A dancer may be taking class every day, but occasionally, it starts to become more of a habit for her just to be there," she says. It's not enough to just show up and go through the motions. Make the most out of each class, and write down your corrections each day.
And while it may be tempting to mingle with your new classmates and make new friends, do so after class. "It's normal for students to become a close-knit group, because they spend so much time together," says Miami City Ballet School faculty member Maribel Modrono. "But dancers need to let go of those attachments once they're in the studio and redirect themselves to the teacher or choreographer." It's OK to turn to your fellow dancers every now and then for support, but don't let your social network take away from your teacher's corrections.
Stay Confident
Regaining confidence in a new level—and not giving anyone the chance to doubt your worthiness—takes bravery, commitment and self-assurance. When she first moved up to the senior level, Garcia struggled with self-doubt, but zeroed in on her own goals to tame her insecurity. "I went through a phase where I didn't believe in myself," she says. "I had to learn to put everyone else's opinions aside. Once I stopped being intimidated by the other dancers, I really started to grow." Now 19 and a dance major at Chapman University, Garcia mentors younger students at Prodigy, and encourages them to be ambitious and focused as they climb the dance ladder.
As the newbie, be a sponge for information from both the teacher and the older students—and don't be afraid to reach out for help with anything unfamiliar. Try "shadowing" an accomplished student by doing the combination behind her (or in her group across the floor), attempting to match her lines or timing. Decorum and respect for seniority is important, but remember that this is now your class, too—you deserve to be there.
Feeling like you're at the bottom is no reason to have low expectations. "If you're in a competition level with a wide age range, don't make excuses for yourself by thinking, 'I'm not going to win anything this year because I'm the youngest,' " Billelo says. "Instead, set a goal, like making the top 10, and try to reach it." But keep in mind that not reaching a goal doesn't necessarily mean failure. "As long as you've worked hard," Billelo continues, "you should feel good about yourself. Ultimately, it's not about competitions and winning. It's about your growth as an individual and as a dancer."
Some days, you may feel more out of place than others. But Siegel stresses the importance of trust—in yourself and in your teachers. "We wouldn't put you somewhere we didn't think you belonged," she says. "As teachers, our main goal is students' success, and making them the best dancers they can be. Trust that we know what's best for you."
Telltale Signs You're the Youngest—or Least Mature—in Your Level
Are you the new dancer in class? Avoid these five actions that betray your true newbie identity.
1. Hiding in the back, the corner or behind other dancers. Having respect and an awareness of other dancers in class is important, but take some space for yourself, too. Getting up to speed will be a lot harder if the teacher can't see you. Plus, excessive shyness telegraphs insecurity. Challenge yourself to go in front at least once per class until you feel brave enough to do it more often.
2. Blowing off the combinations because you're having trouble picking them up. They may be longer or more complex than you're used to, but if you stop trying halfway through, you'll never learn the steps. Block everything else out and concentrate. And remember: It's OK to ask the teacher to repeat something.
3. Never speaking up. While no teacher likes their class needlessly disrupted, if you have a question about a specific step or phrase, ask! Just make sure it hasn't already been addressed (a sign you weren't paying attention), and save questions that pertain to only you for after class. Your teachers want to know you're working to improve.
4. Forgetting the dress code. Let's face it: Mistakes happen. But if you're consistently forgetting your pointe shoes, jazz shoes, leotard or enough bobby pins to secure your hair, it's a sign you're careless. Take the responsibility of being in a higher level seriously.
5. Trying to be exactly like another dancer. While you should certainly watch and learn from your more advanced classmates, don't let your own self disappear. There's a fine line between shadowing and copying. Take it from Chapman University dance major Amanda Garcia: "Dare to be different! You'll stand out and grow as an artist."
Competition
Mar. 23, 2017 10:19AM EST
There are tons of amazing things about conventions—the celebrity teachers, the variety of styles taught, the chance to bond with friends from across the country. The floors, on the other hand, generally aren't so amazing. Dancing on carpet or a slippery parquet floor can seriously hinder your movement. More important, it can lead to injury (and we're not just talking rug burn). How can you get the most out of convention classes despite the floor you're dancing on? Dance Spirit investigates.
Carpet Cons
When you enter most convention classes, you have a choice: Find a spot on the central ballroom floor or spread out on the carpet. Sixteen-year-old convention regular Morgan Geraghty, who dances at Millennium Dance Complex, Movement Lifestyle and EDGE in L.A., usually heads straight for the carpet. "I tend to find the ballroom floors too slick," she says.
But while that carpet may look soft and forgiving, looks can be deceiving. It's likely just a thin plush layer atop hard concrete. Katie Lemmon, an athletic trainer with Athletico Physical Therapy in Chicago, warns that for those used to dancing on sprung studio floors, surprisingly hard surfaces can cause a jolt to their bodies—especially when jumping. "Since there's not as much give, it's important that dancers really use their plié before and after a jump to absorb some of the shock," says Lemmon, who works with dancers at The Joffrey Ballet. "Keep strong through the core to avoid strain on the lower legs, feet, back and hips."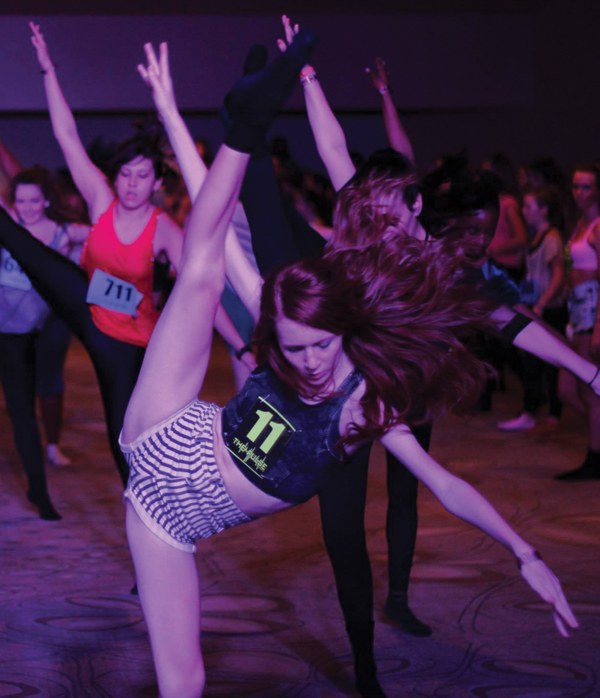 Morgan Geraghty prefers the extra friction provided by carpet to slick ballroom floors (photo by Mario Sinclair, courtesy Morgan Geraghty)
Turns and quick direction changes can also be problematic on carpeted floors. "Because of friction, carpeting doesn't let your feet move as much," Lemmon warns. "So you might need to limit what you're doing." And, trust us, your favorite teacher will understand why you opted for a slow double pirouette instead of a quadruple. "You have to be careful," says NUVO Dance Convention faculty member Ray Leeper. "I hate seeing twisted knees or rolled ankles because dancers threw themselves into a turn on a carpet."
Parquet Problems
At conventions, Erin Smith, 17, who dances with CC & Co. Dance Complex in Raleigh, NC, prefers parquet floors—the laminate wood-like surfaces that are generally in the middle of the ballroom. "It's easier to turn and it's more stable than the carpet, where I sometimes have trouble finding my center," she says.
But that parquet floor comes with a list of problems as well. First of all, like the carpet, it's not going to have as much give as a sprung studio floor, so the same rules about using your core and your deepest pliés still apply. And parquet presents
another potential hazard: cracks and crevices. Erin remembers cutting herself several times on the cracks between the panels,
especially during floor work.
"The worst part to dance on is that little strip of metal on the floor's perimeter
between the wood and the carpet," says New York City Dance Alliance and Monsters of Hip Hop teacher Tony Testa. "If you're near it, be careful of rolling your ankles." Testa warns that even when the metal is covered by tape, the tape will usually peel back as the weekend goes on. After tap classes, especially, the metal might stick up at odd angles. "It's possible to catch your foot on one of those metal edges," he says. "And that will quickly ruin your day."
Lemmon also recommends being aware of the slip factor: "Your foot sticks differently than it does on a marley surface," she says. "You might have to modify your movement based on how slippery it is." But, she warns, that doesn't mean clenching your toes to the floor, which may be your body's first instinct. "Focus on using the core to hold your balance, and try to actually be more relaxed through your standing feet and toes," she says. "Gripping the floor may lead to shin splints or tendonitis of the foot and ankle."
Shoe Solutions
What you put on your feet can make all the difference when dancing on a strange floor—and that might mean going against popular trends. "Socks are all the rage right now," says Ray Leeper of NUVO Dance Convention. "But we advise dancers at NUVO not to wear them, because we've seen too many kids in socks go down on a parquet floor. Going barefoot or wearing the right shoes is better."
L.A. dancer Morgan Geraghty likes to be barefoot, no matter which surface she's dancing on, but she'll opt for thick-soled boots or sneakers in hip-hop class. Erin Smith, a dancer with CC & Co. Dance Complex in North Carolina, uses a more broken-in pair of jazz shoes (since new shoes can be slick) for jazz class on the ballroom floor.
Tap can be tricky. Of course, you'll be in tap shoes, but those soles can be a slide-y mess on a parquet floor. On the other hand, you won't be able to hear your taps on a carpeted floor. "The hard floor is always really crowded because everyone wants to hear their sounds, but if you think about it, with all those people crammed onto a small space, you're not going to be able to hear yourself anyway," says Erin. "If you're on the carpet to avoid slipping, you can still know if you're making the right sounds based on what they're doing onstage." And if you're slipping uncontrollably on the parquet floor, remember that tapping quietly with bare feet is better than face-planting in tap shoes.
Ultimately, the shoes you choose for each class will depend on where you're standing and what the choreography is like—so your footwear decisions will need to be made at the last second. "Always bring all the shoes you could possibly want for each class, then feel it out once you get there," advises Morgan. "It's all about testing the waters and seeing what works."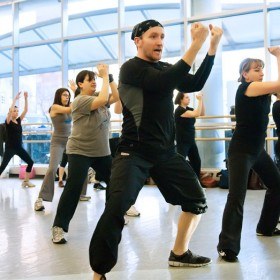 While I've trained in many dance styles (including ballet, jazz, modern, hip hop and Indian dance), my new love is Zumba! This Latin and international dance-inspired fitness program incorporates easy-to-follow choreography to get your heart rate up with intense exercises to keep your muscles working. This weekend I was licensed to teach Zumba, which will be a nice added activity to my awesome summer internship at Dance Spirit. Here are ten reasons that I'm obsessed—and why you should be too!
1. It feels like a party. After a long day of classes, work or my DS internship, the last thing I want to do is spend an hour on the treadmill. Zumba is all about "partying yourself into shape." Now, who doesn't like a good dance party?
2. It's the perfect class to take with friends. While I love group fitness classes like step aerobics, I'm often so focused on trying to avoid falling off the step that I don't pay attention to anyone around me. Zumba is another story. My friends and I claim our territory in the back of the classroom, salsa with each other and sing along to the music. Zumba is social (although my friends and I might go a little overboard).
3. It uses international music. Where else can you dance to salsa, merengue, reggaeton, cumbia, bollywood, bhangra, belly dancing, African and hip-hop music in one class? At my Zumba instructor training session, I learned that at least 70% of the music used in class should be international.
4. It's for everyone. There's no ideal body type for Zumba. You can be male or female, tall or short, young or old, a professional dancer or someone with two left feet. I've even seen a girl dance alongside her mother and grandmother in class, each of them kickin' it to the best of their ability.
5. It's my favorite form of cardio. No amount of Britney Spears (and I absolutely live for anything Britney) can seem to get me through an hour on the treadmill, elliptical or bike. But I actually look forward to getting my heart rate up for 60 minutes of Zumba class.
6. I don't even realize all the calories I'm burning. I don't think I've ever left a Zumba class where I haven't been dripping with sweat. And I love sweating! It shows that I've had a productive workout.
7. It works out my core. I get more than just a cardio workout—I'm strengthening my muscles as well!
8. My brain gets a workout too. I often find my mind wandering while running or bicycling, but in Zumba, I'm 100% focused on the choreography. While it's simple enough to follow along (even for absolute beginners), I still have to pay attention to timing, my form and my alignment, especially during the strengthening exercises. It's one of the only fitness classes where I can completely tune everything else out and focus on having fun.
9. It's perfect for dancers. While other exercise classes, like kickboxing or step aerobics, incorporate basic combinations and choreography, Zumba is one of the few classes that builds up to an entire routine. It's based on repetition, so it's easy to follow, but I still feel like I'm in a dance class as opposed to just a fitness class.
10. It makes me smile. Don't get me wrong, I love feeling like Superwoman in a good kickboxing class, but Zumba involves a more feel-good approach that I can definitely appreciate.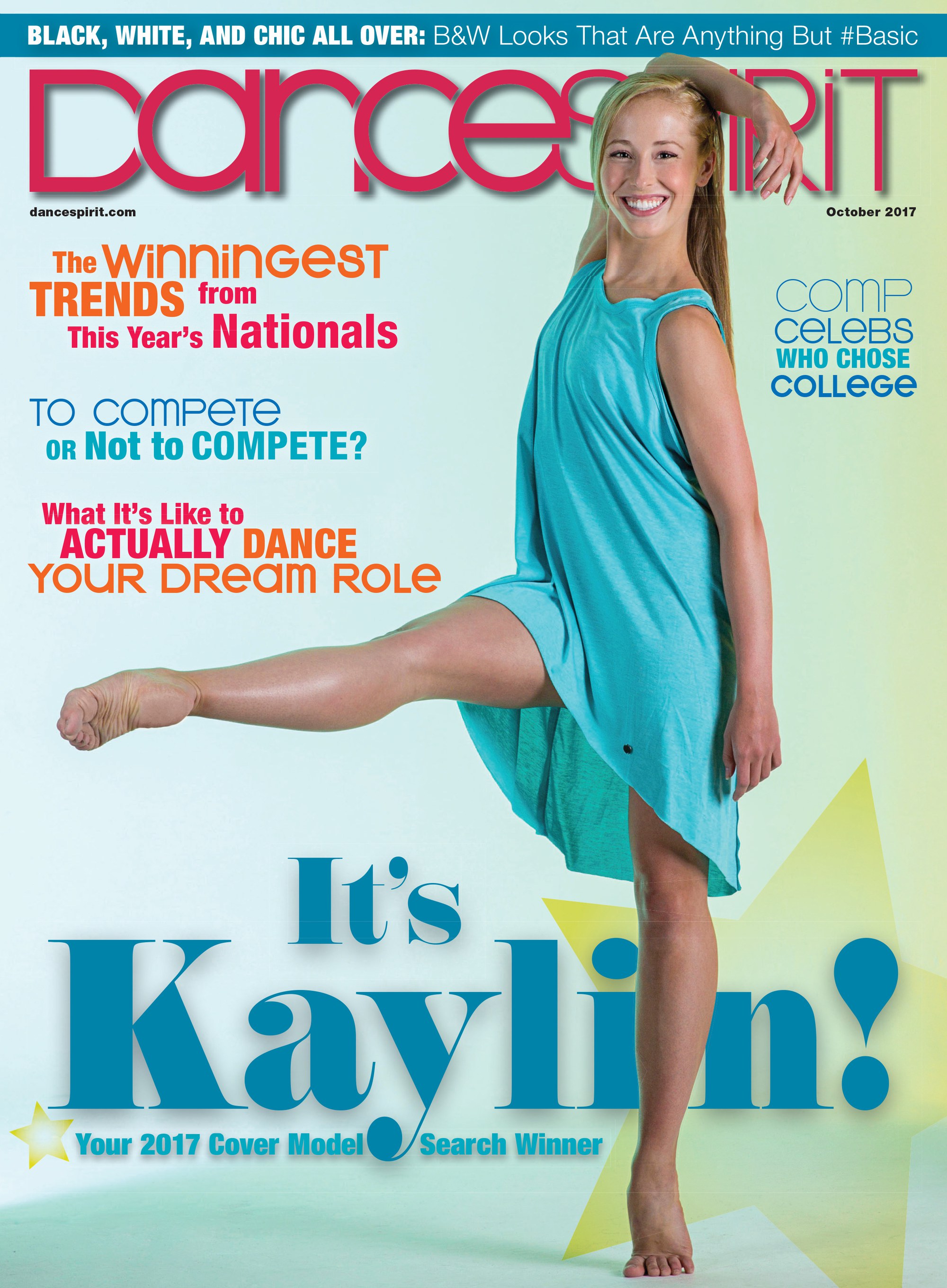 Get Dance Spirit in your inbox