University of Minnesota Dance Team (courtesy University of Minnesota)
They say there's no "I" in "team"—and nowhere is that truer than the world of college dance teams, where precision reigns, uniformity is key, and a single misstep from any given "I" can cost a group a championship trophy. So it's unsurprising that securing a spot on one of the best dance teams in the country is no easy feat.
Members of these highly athletic teams rehearse for hours every week—on top of academic classes and commitments—and perform at football and basketball games, annual concerts, and nationally televised competitions (hi, ESPN). And "no I" rule notwithstanding, each of these top teams is made up of highly trained, highly technical, highly hard-core individuals, who come together to create a ready-for-victory pack.
These six teams aren't one-off success stories—they're consistently strong, and earn the top spots at major competitions like UDA and NDA nearly every year. Up for the challenge? Here's what to know before you go to auditions.
Keep reading...
Show less
Guides and Resources
Apr. 06, 2017 12:58PM EST
Stressed about the application process? The Dance Magazine College Guide is here to help! As the one and only higher ed resource exclusively for dancers, the College Guide effortlessly guides you through every option available, whether you're looking to get a dance degree or simply want to keep dancing in your college life. Find the program that's right for you.
Keep reading...
Show less
How To
Jun. 27, 2016 11:55AM EST
University of Massachusetts, Amherst, dancers performing at a choreography show (Jim Coleman, courtesy Five College Dance Department)
College is all about investing in your education, but it's also the perfect time to meet a ton of people. The intense nature of a college dance program means you might have the chance to collaborate with anyone from visiting choreographers to MFA candidates to alumni—and those people can help lay the groundwork for your professional career. Dance Spirit asked two pros how they built lasting professional relationships that started in college.
Keep reading...
Show less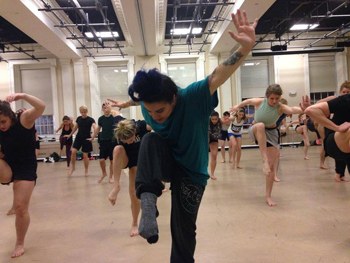 Sonya Tayeh led a master class for Pace students in May.
(photo courtesy Pace)
Calling all high schoolers: Pace University's Commercial Dance BFA program will host a weekend intensive for prospective students on its campus October 17–19. (And yes, you read that correctly: You can get a degree in commercial dance.)
Unlike a typical college tour, Pace's weekend experience will get you moving. You'll take class with members of the university's dance faculty, including Jess Hendricks and Ginger Cox. If you're a high school senior, you'll have an opportunity to audition for the university's dance department that Friday. There will be two Q&A sessions with the program's administration and students, and you'll get to see Pace dancers perform work by guest faculty members Andy Blankenbuehler and Mandy Moore. Registration begins September 17.
Busy that weekend? Many college dance programs host summer or winter intensives for prospective students. Our September issue includes essential information for more than 150 college and university dance programs, including the degrees offered and contact information. You can also get the latest college dance news delivered right to your inbox by signing up for the free DanceU101 newsletter.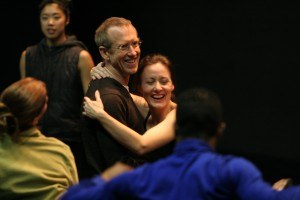 William Forsythe with Jodie Gates, the director of USC's Glorya Kaufman School of Dance.
(photo by Ian Carney)
You may have read that legendary choreographer William Forsythe is leaving his company to join the faculty of the new BFA program at University of Southern California's Glorya Kaufman School of Dance. (The school will enroll its first class for the fall 2015 semester.) Forsythe will be leading composition and improvisation courses and mentoring the USC International Artist Fellows—a program for emerging artists. He'll also serve as the the artistic advisor to the school's Choreographic Institute.
The university has also announced that dancers will have the opportunity to work with professors and students at USC's School of Cinematic Arts—particularly with the animation department. This is super cool, especially since we already know what amazing things happen when dance and animation meet (ahem, Duet). The collaboration, however, has already started: Take a look at the School of Dance's website, which was created by cinematic arts associate professor Mike Patterson.
Is college on your mind? Check out the Dance Magazine College Guide. It's got tons of helpful info on college admissions, auditions, finances and programs nationwide. And if you want to stay up-to-date on the latest college and university dance news, you might consider signing up for the monthly DanceU101.com newsletter. Get tons of info about college dance delivered right to your inbox. Click here to sign up.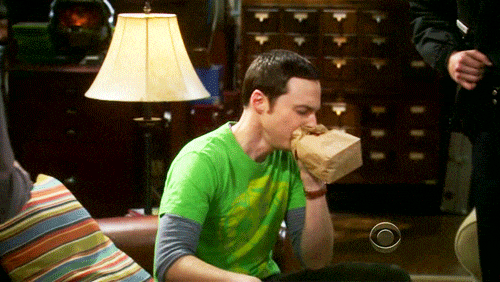 It's natural to feel a little anxious about the future. You never know where life will take you; and for you graduating—or even rising—seniors, those feelings can get pretty overwhelming right around now.
But you're not alone. Even the pros have been in your place.
This spring, George Mason University hosted the American College Dance Festival Association's Mid-Atlantic regional conference. In addition to the many master classes, rehearsals, and performances of the weekend, the highlight was the "Life in Dance" panel, where students heard from a number of dance luminaries—including Alvin Ailey American Dance Theater's artistic director Robert Battle, choreographer Kyle Abraham, and renowned dance critic Deborah Jowitt.
"As a student trying to make it in a highly competitive field, I'm worried about my future," said sophomore dance major Meredith Hermann. "But it was so inspiring to hear them say that when they were in our positions, they didn't know what was ahead of them either. They couldn't imagine it."
To help you get through these nerve-wracking times, Dance Spirit got the pros' five most inspiring quotes: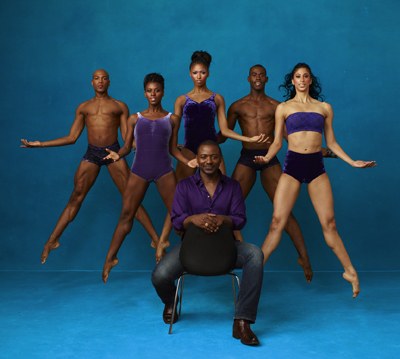 Robert Battle with members of AAADT.
Photo by Andrew Eccles
"One of the most important virtues you'll need is courage. And no matter where your journey takes you, bring that courage with you. Be open to adventure and don't be afraid of the dark." —Robert Battle
"You have to find your sense of humor. You have to find your tenacity. And remember that even on the worst days, it will get better." —Ashley Wheater, artistic director of the Joffrey Ballet
"Life takes you on its journey, and as long you have an idea of what interests you and what you love, you will be OK. You will make the right choices. Luck is a big part of it—but self determination is an even bigger part."
—Elisa Monte, director of Elisa Monte Dance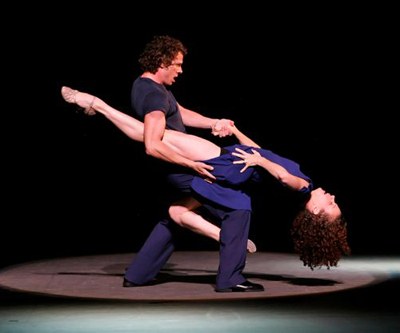 Elizabeth Parkinson and Keith Roberts in Twyla Tharp's Movin' Out. Photo by Richard Termine/CTFD
"Always have the spirit of, 'Let me see what this is.' Or, 'Could I be a part of it?' The key is staying open to new things."
—Elizabeth Parkinson, co-director of FineLine Theatre Arts
"I made my way from a girl to the dancer I am now through a series of accidents, coincidences, and surprises. You can't count on anything. I had a life I never could have anticipated, but it worked out alright—and I hope yours will too." —Deborah Jowitt
Interested in attending ACDFA's National College Dance Festival? It's June 4–7, 2014 at the Kennedy Center in Washington, DC. Click here for more info and a schedule of events.
(Quotes compiled by GMU junior dance major Nicole Montano.)
I remember my audition for Juilliard like it was yesterday. I can tell you which leotard I wore, where I stood at the barre—and that I didn't make it past the first cut.
I bring this up for two reasons:
1. It's college admissions season, when high school seniors anxiously await envelopes containing options and decisions surrounding their future. It's a terrifying time of year, and one that can be extremely exciting and heart-wrenching at the same time.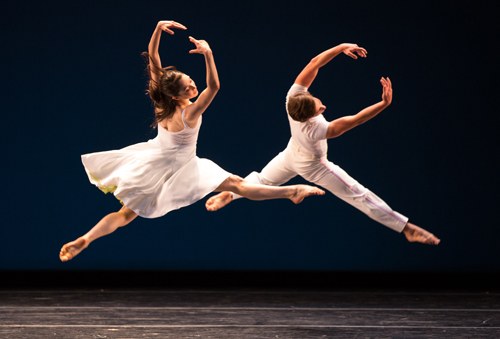 Juilliard students Daphne Fernberger and Lorrin Brubaker in Lar Lubovitch's Concerto Six Twenty-Two. Photo by Rosalie O'Connor
2. Juilliard's dance department celebrated another successful spring performance run this past weekend. Their sophomore, junior and senior dancers excelled in a repertory smorgasbord: Twyla Tharp's Baker's Dozen, Lar Lubovitch's Concerto Six Twenty-Two and Eliot Feld's The Jig Is Up. It was easy to forget the dancers were students and not professionals the way they tackled Tharp's wiggly phrasing and Lubovitch's flowing, expansive movement.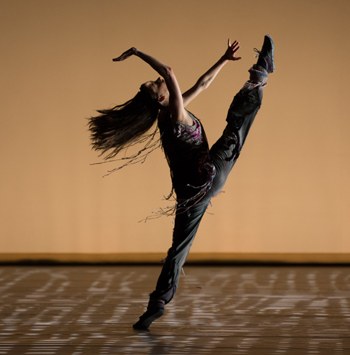 Juilliard's Kristina Bentz in Eliot Feld's The Jig Is Up.
Photo by Rosalie O'Connor
On Friday night, Dance Spirit's very own September 2013 cover guy (and Juilliard junior) Corey John Snide shimmied his way through Feld's quirky mix of Irish-jig-meets-Soul Train-meets-flower-child choreography.
While watching The Jig Is Up, I remembered one of Corey's quotes from the feature: "College has given me options for how I can make a living and feel fulfilled artistically. I'm not just trying to kick my leg up to my face anymore." He captures exactly what college dance has to offer. It's the time to explore everything we love—and don't love—about dance. It's awesome.
Choosing a school, however, is not always as awesome, or easy. When I was rejected from Juilliard, I was definitely disappointed in myself. But as they say, hindsight is 20-20, and I know now my reasons for choosing to audition there in the first place weren't exactly grounded. I didn't know Juilliard's rich history; I'd never seen a performance there; and I had no idea of which company I dreamed of joining after graduation. I hadn't considered what I truly wanted out of a dance education, compared to what the school—or any school for that matter—actually offered.
All classic mistakes.
But Dance Spirit is here to help. Check out "University of NYC" to find out what school in The Big Apple is really like. "Streamline Your College Search" offers countless tips to help you target your dream dance program. And look in your April issue for "I Have No Idea What I Want to Do After High School!" where you'll hear from five professional dancers about how they chose their paths—some heading to college and others directly to a career.
Want more? Sign up for the DanceU101 monthly newsletter to get program news and the "Real Deal" from college dance students delivered right to your inbox.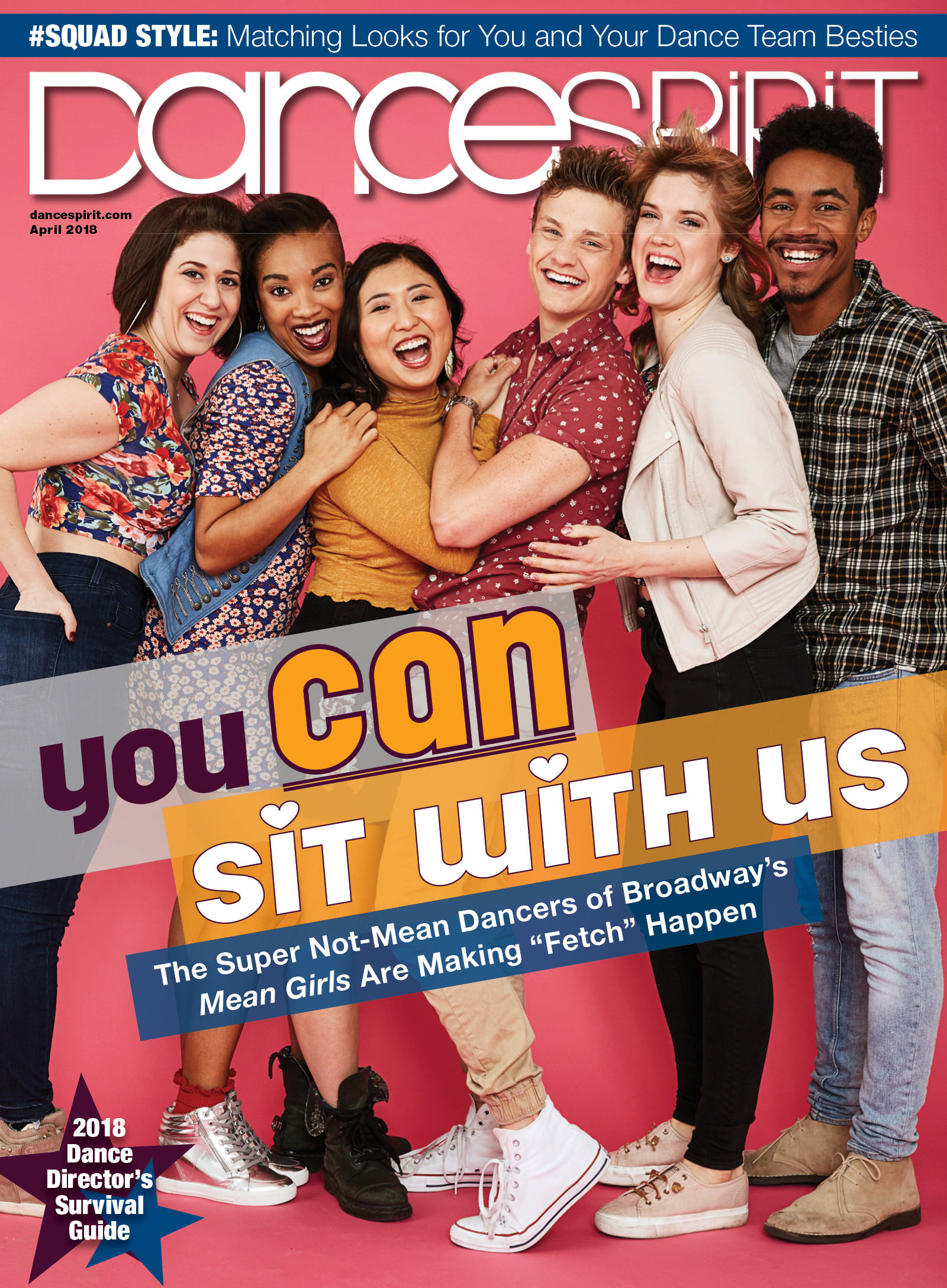 Get Dance Spirit in your inbox