May. 16, 2017 09:17AM EST
Joe Toreno

Everything former DS cover girl Kaycee Rice touches turns to viral. From doing Nike campaigns (she has her own collection and self-designed shoe with the brand!) to performing at the Super Bowl to crushing class videos with WilldaBeast and Tricia Miranda, Kaycee's always on the move—and she's always fierce, fun, and full-out.
Keep reading...
Show less
Jan. 30, 2017 01:15PM EST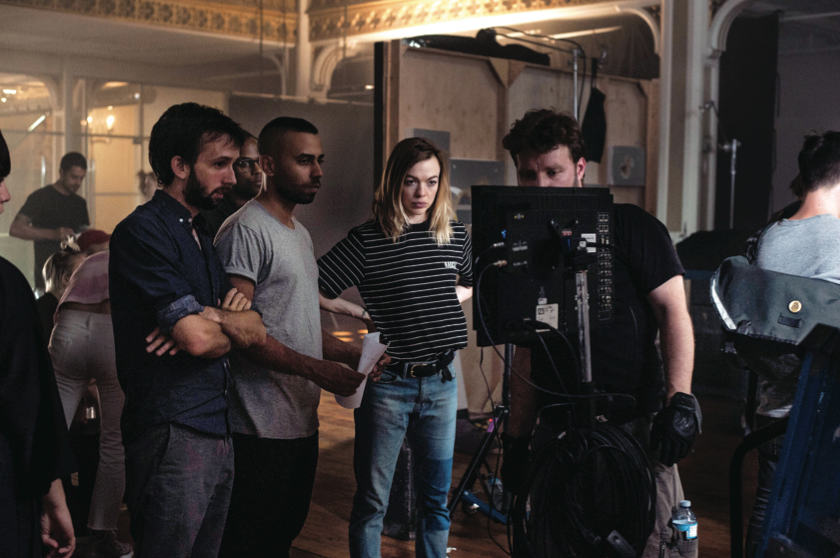 Choreographer Wynn Holmes (center) on set with Canadian band FOXTROTT, shooting the music video for "Shields" (photo by Gaelle Leroyer, courtesy Holmes)
Adagio. Marley. Rosin. Switch leap. You're more than familiar with a lot of theatrical-dance terminology. But do you know what an industrial is? A session fee? If you're looking to break into the world of commercial dance—think music videos, TV spots, promotional events—you'll need to learn, and fast. We asked some industry heavy-hitters to clue us in on what you'll need to know to book jobs and communicate like a pro on set.
Before the Job
You probably already know some of the terms you'll hear when trying to book a commercial job (auditions, callbacks and headshots, for example). But some types of commercial jobs, such as trade shows, might be new to you. Also, most commercial work is booked through an agent, which involves a language of its own. We had Lakey Wolff, a former agent with CESD Talent Agency in NYC, break it down.
Agent: Submits you for jobs and negotiates the terms and conditions of a booking in return for a percentage of your fee.
Book/release: "Booking" means you got the gig. If you've "been released," you didn't.
Breakdown: The description of what a project is looking for. Includes the specifications
(also called "specs") for things like age, gender, ethnicity, height and type of dancer needed.
Casting director: In charge of running casting sessions.
Industrial: Video for nonbroadcast use. Examples include corporate sales materials, instructional clips and product demonstrations.
Trade show: Corporate event where dancers are involved in presentations or demonstrations.
On Set
Being on set for the first time can be exciting, but it can also be overwhelming. Wynn Holmes, a choreographer and dancer whose choreography credits include MTV, Nike and "So You Think You Can Dance" (Canada), filled us in on a few key terms you might hear.
Blocking: Running through a scene before filming to decide where the dance will happen, who will enter when, and where lighting and cameras will be placed.
Pro tip!
Blocking on set takes a lot longer than blocking in rehearsal, Holmes warns, so be patient!
Call sheet: The list of who will be required on set for each shot, as well as when and where scenes are scheduled.
Pro tip!
Holmes suggests always checking out the whole call sheet (not just looking for your name) to get a good idea of how the day on set will run.
Camera left/right: Similar to stage left/right: If you're facing the camera, camera left is your right.
Cheat: To turn slightly toward the camera. Cheat-away means to turn slightly away from the camera.
Crew: The production staff on set behind the scenes, including the gaffer (in charge of lighting) and director of photography.
Frame: The area in the shot. If you're "in the frame," you're being seen on camera.
Pickup shots: Extra shots that happen after the main shoot is finished. These might include detail or cutaway shots (to get a different view or angle).
Striking: Removing an object or prop from the set.
Talent: Dancers, actors, models—anyone who is appearing on camera.
Time Sheet: Officially known as the Performer's Work Report, it lists the names of all of the talent who worked on set that day, and notes when they arrived, went to wardrobe/hair and makeup, started and ended their meal breaks, and wrapped their day. The sheet is used to calculate payments at the end of production.
After the Job
Contracts for commercial jobs can be complicated, but understanding them will ensure you're treated fairly. Wolff always encourages dancers to read everything and consult with their agent before they sign. "It's OK to ask questions!"
Conflict: Work for the same type of client. For example, if you shoot an ad for one department store, booking work with another department store would be a conflict. "Exclusivity" means the client won't book you with a conflict
in a certain category.
Holding fee: Compensation for not appearing in work for a competitive product. Once the company stops paying a holding fee, you're released from the conflict.
Release: A contract term which means you release your rights to the company hiring you. These can be specific to different "uses" (i.e., images, social media).
Pro tip!
Make sure to check what is included in the release and how long the company holds those rights.
Reshoot: An additional shoot (of an entire scene) after the original shoot wraps.
Residuals: What you're paid on top of the session fee if the show or commercial runs.
Session fee: What you're paid for the day of filming.
Stills: Photos taken during a shoot. These can be helpful in building your portfolio if you get permission from the producer to use them.
Aug. 04, 2016 05:25AM EST
Remember just a few days ago when we reminisced about all our favorite dance-based commercials, and got hyped about the new Shoe Carnival commercial featuring Fik-Shun and Simrin Player?
Well watch out, Shoe Carnival, because there's a new back-to-school block party rolling through the halls, thanks to Macy's and Chloé Arnold. The locker-clad setting evokes memories of Britney Spears singing "...Baby One More Time," but the dancing is straight-up old-school 90s hip hop and funk.
Choreographed by Syncopated Ladies frontwoman and tap sensation Chloé Arnold, the campaign showcases young (and so cute) dancers (like DS favorite Devin Neal) busting a move in the school hallways—much to the initial chagrin of the onlooking teacher (who, of course, ends up joining in on the fancy-footworked fun). The video was shot by Nigel Dick, an iconic 90s director, and is set to "Me Myself & I" by De la Soul.
We may not be ready to go back to school, but we are definitely ready to do some back-to-school shopping—and dancing! Check it out...
Jul. 21, 2016 07:00AM EST
Forget Choreographer's Carnival—let's give it up for Shoe Carnival!
The shoe mega-retailer is the latest brand to jump head-first into the very smart and hugely entertaining "let's feature dancers in our commercials" venture. (See also Microsoft, Target, Under Armour, Microsoft again and Virgin America.)
The national television commercial, choreographed by Jamal Sims and directed by Tim Milgram, features just a few of our favorite hip-hoppers, including former DS cover girl Simrin Player, "So You Think You Can Dance" champion and All-Star Fik-Shun, Kaelynn Harris, Taylor Edgin, Josh Killacky, Richard "Lil Swagg" Curtis, Austin Spacy, BJ Das, Kaity Martinez and Marvin Ryan.
Fancy feet grooving in fresh footwear? Going back to school never looked so fun! Check it out.


Get Dance Spirit in your inbox