Competition
Mar. 23, 2017 04:43AM EST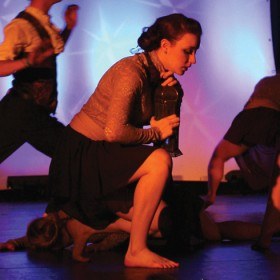 Hilary Harrison (Ricard Harrison)
Hilary Harrison always looked up to her best friend, Kayla, the star of the Michelle Latimer Dance Academy in Colorado. She wanted to be just like her, which made it hard for Hilary to grow as a dancer. "I wanted to be her instead of wanting to be myself," Hilary admits. It wasn't until she went to a convention—by herself—that Hilary stepped out of Kayla's shadow and saw the light:  She had to stop comparing herself to others if she ever wanted to reach her full potential.
It's easy for competition dancers to fall into the comparison trap. You watch and analyze each other in class, at competitions and at conventions. Somebody always has more turnout, higher extensions and stronger technique than you do. But all dancers are different, and no one else has the qualities that make you you. Read on to learn about the dangers of comparing yourself to others—and to see how you can keep it from getting the best of you.
The Trap Is Set
Competitions are all about comparisons: Who has the best solo? Who can do more pirouettes? Who's got the most charisma? Christina Morrison, a 16-year-old from Walker's Dance in Massachusetts, has been competing since she was 7. "Being backstage and watching a dance that's incredible makes me go, Wow!" she says. "But that's when I start comparing myself to that person onstage, and it kind of freaks me out."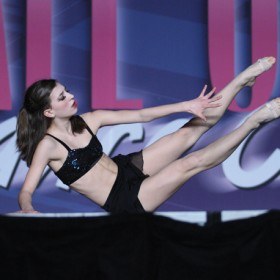 Christina Morrison (courtesy Christina Morrison)
You can get stuck comparing yourself to other dancers at your own studio, too. That's where you spend most of your time looking in the mirror and watching friends take class every day. "It's not realistic for dancers to not look at other dancers," says Dr. Jim Taylor, author of Psychology of Dance. "You're facing them at the barre or watching them onstage. Dancers compare their technique, body types and virtuosity, and those comparisons will either build or hurt their confidence."
Some teachers even pit students against each other by saying things like, "So-and-so can do this step. Why can't you?" Don't let it make you feel insecure. "There are differences in body type and development," says Dr. Linda Hamilton, wellness consultant for New York City Ballet. "Tall dancers may take longer to fully develop. Students shouldn't feel that they're losers if they're not ready for pointe work, for example. Often they just need to get stronger."
The Danger of Comparisons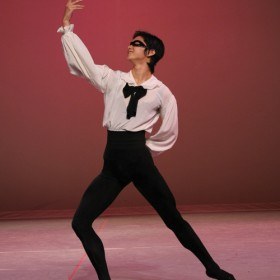 Jong Suk Park (courtesy Jong Suk Park)
Getting caught in the comparison trap can lead to low self-esteem and might affect the way you perform and train. Jong Suk Park, a corps dancer at Pennsylvania Ballet, remembers when he ran into two old classmates at a competition and they "messed with his head."
Both guys, who had just gotten jobs with European companies, went out and nailed their variations. Jong says, "They came up to me and said, 'Let's see what you can do.' I went onstage and couldn't get their words out of my mind." He didn't perform as well as he could have because he was thinking about his rivals and not focusing on himself.
These kinds of mind games and self-criticism can also be bad for your health. O'Lyvia Fuller, an 18-year-old competition dancer at the Lisa Pilato Dance Center in Massachusetts, let them affect her physical and mental well-being. "I thought I was terrible because I wasn't the skinniest girl onstage or in dance class," she says. She got depressed and started gaining weight. It wasn't until O'Lyvia felt comfortable in her own skin that she began to gain confidence. "I got happier," she says. "I realized that no matter what size I am, I can be the best one onstage. I don't have to be the smallest one."
How To Avoid the Comparison Trap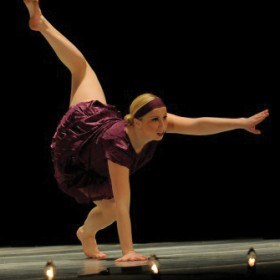 O'Lyvia Fuller (Donner Photography)
How do you keep all the comparisons from getting you down? If you're at a competition, find a quiet spot backstage. O'Lyvia likes to sit in a corner and stretch. "I try to breathe and focus," she says. "I listen to my solo music on my iPod and mark the dance through in my head so I'm super-confident with what I'm doing." Jong tries not to watch other dancers because it makes him nervous. "I've already taken class in the morning, so I get there 30 minutes before my turn to warm up," he says. "If I see someone do really well, then I feel like I have to do better than him. So it's better to watch after I get off the stage."
Christina imagines how she wants her dancing to look. "I focus on my song and my story and use the power of visualization," she says. "If I have positive images of myself dancing, then I tend to do better."
And it's not about winning or losing. "It would be nice to have a trophy,"  Hamilton says, "but your end goal is to have a career. Look at it as a learning experience." Use the opportunity to perform and get as much experience as you can.
Sometimes it takes getting out of your comfort zone to improve your self-image. "I had to step away from my studio to see that I'm an individual," Hilary says. "I was at a convention by myself in another state. I didn't know anyone, and they didn't know me. I could dance for myself."
Most dancers will get caught in the comparison trap at some point. "It's natural to look at your competition," says Taylor. "But if you're focused on other people, you're not focused on what you need to do to dance well."
What if you can't stop comparing yourself to others? Try looking at it as healthy competition. Watch other dancers to get inspired and learn from them. Set goals for yourself and remember that no one can dance exactly the way you do. Hamilton says, "Keep the focus on you."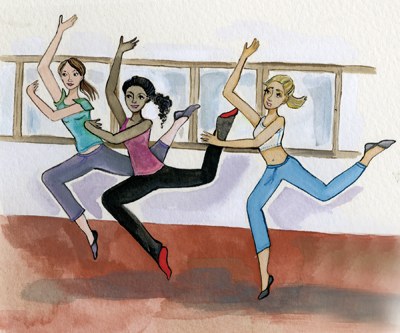 Illustrations by Lealand Eve
Deirdre Lewis loved studying ballet and jazz as a young teen, but unlike many of her peers at Dance Workshop of Hanover in Massachusetts, "dance was not my life," she says. "I was a cheerleader, and was also very involved in school." As her non-dance activities took up more and more of her time, she started falling behind in dance. "Girls in my class were asked to join the studio's preprofessional company, and I wasn't. Plus, as the other girls got more involved with dance, they started to form stronger bonds with each other, which made me feel more left out."
Dierdre struggled with these feelings for several years, and even considered quitting dance entirely. However, her dance teachers encouraged her to stay involved and keep her passion alive. Then at 16, she finally realized it wasn't talent that was holding her back—it was her commitment. "Although cheerleading was fun and something I was naturally good at, I really wanted to be an amazing dancer," she says. So, she quit cheerleading and enrolled in more dance classes. "I was very focused and eventually caught up to the level of the other dancers in class," she says. "That gave me the confidence to pursue dance in college." Now, Deirdre's a senior at Keene State College in New Hampshire, focusing on modern dance.
Many dancers struggle when they're progressing at a different rate than their peers. It can be tough to see your friends improving when you feel like you've hit a plateau. And it can be just as hard when you're the one pulling ahead—you might have to deal with jealousy, or feel guilty for getting parts your friends want. Stop constantly comparing yourself to your peers by realizing that everyone develops at a different pace. "To one degree or another, you're always better than somebody and worse than somebody else," says Dr. Kate Hays, a Toronto-based psychologist who specializes in sport and performance psychology. But that's just the first piece of the puzzle. Here, DS offers advice on handling your dance class growing pains.
Be an Individual
If you're falling behind, Hays recommends focusing on yourself rather than on your peers' performances. "You can't control how somebody else is doing," she says, "but you can control how you practice, what you practice and what your goals are."
If you're feeling discouraged, Linda Hamilton, a clinical psychologist who specializes in the performing arts, recommends taking a step back to examine your situation. Are you going through a growth spurt? Were you just promoted into a more advanced class? Or, like Deirdre, have you taken on too many extracurricular activities? Any of these scenarios can affect your dance performance as compared to your classmates.
Set training and technique goals that focus on your own development—not on your place in the class or company. For instance, if you're experiencing a growth spurt that has thrown off your balance, try cross-training to develop your core strength. If everyone in your class can do triple pirouettes but you're still struggling with doubles, keep working on those doubles until you master them. Ask your teacher to help you set goals that are specific to your needs. Hays suggests keeping a journal detailing your goals and the steps you're taking toward them to feel more in control of your progress.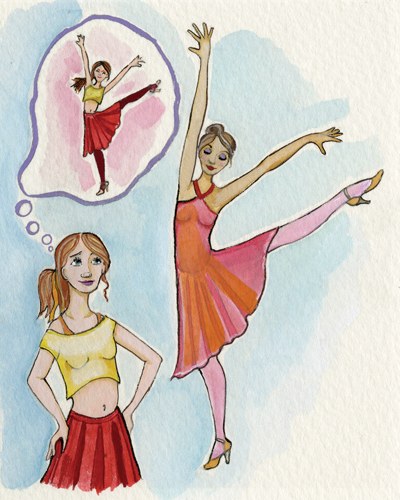 Compare With Purpose
Sometimes it helps to compare yourself to your classmates—that is, if you use these comparisons for motivation. It all depends on how you think about yourself in relation to your peers. For instance, Hays points out that thinking, "What is it that she's doing so well, and what can I learn from it?" is much healthier than, "She can do that, and I can't."
"If other dancers are advancing more quickly than you, consider it a gift to be able to watch and learn from them," says Deirdre, who felt pushed to work harder when she was in class with more advanced peers. "Each dancer in the room brings something different. You can pick out one thing you really enjoy from each classmate and put it in your pocket to make your own."
Own Your Talent
Even dancers who are more advanced can feel insecure about their place in class. "Girls sometimes feel guilty about being better, like they shouldn't be different or stand out," Hays says. This feeling of guilt can be compounded in the dance world, where you're competing for attention and roles: A friend's disappointment or jealousy can dampen your enthusiasm at succeeding. But being sensitive to your peers' emotions doesn't mean being ashamed of your developing talent. As you comfort—or confront—frustrated friends, remind yourself that you've also worked hard to get where you are.
Interestingly, Hays' and Hamilton's biggest piece of advice for dancers who are pulling ahead of their peers is the same thing they tell dancers who are falling behind: Focus on yourself and on what you can control. Make personal goals and note when you achieve them. Beyond that, look for common ground with your friends—it doesn't have to be dance-related—to ease the tension you feel in dance class.
Whether you're having a rough dance period or it's smooth sailing, you'll benefit from pursuing interests and friendships outside the studio. Then, when the going gets tough, "pay attention to some of the other qualities you like about yourself and about your friends," Hays says. "Even if dance is a tremendously important part of who you are, it's not all that you are."


Get Dance Spirit in your inbox