Mar. 23, 2017 07:52AM EST
DS traveled all over the country to see you shine at Nationals. check out the winners of the 2009 Dance Spirit Future Star Award. Congrats, winners!
Emily Deahl
Age: 17
The Southern Strutt, Irmo, SC
Starpower, Orlando, FL
Meghan DeGraff
Age: 18
The World of Dance, Albany, NY
StarQuest, Virginia Beach, VA
Madeleine Gardella
Age: 10
The Dance Academy, Holland, PA
Headliners, Asbury Park, NJ
Maddie Schroeder
Age: 15
Spotlight Productions, Eagan, MN
StarQuest, St. Paul, MN
Alexis Campbell
Age: 14
Robin Dawn Academy of Performing Arts, Cape Coral, FL
Starpower's Power Pak, Orlando, FL
Raegan Polson
Age: 18
Starz Studio of Performing Arts, Oak Grove, MO
Spotlight Dance Cup, Branson, MO
Taylor Grimm
Age: 15
Seton Hill University Dance Academy, Greensburg, PA
Starpower's Power Pak, Myrtle Beach, SC
Amanda Vercamen
Age: 17
Shooting Stars School of Performing Arts, Clermont, FL
Starpower, Orlando, FL
Rachel Childers
Age: 15
Encore Performance Company, Birmingham, AL
DANCEAMERICA, NYC
Gregory Fiorina
Age:15
Michelle's Dance X-Plosion, Castro Valley, CA
Starbound, Lake Tahoe, NV
Abby Lindevig
Age: 18
Helmer Dance Studio, Beldenville, WI
International Dance Challenge, Orlando, FL
Hannah McKaughan
Age: 13
Just Dancin', Rock Hill, SC
Dance Machine Productions, Wilkesboro, NC
Jessica Lester
Age: 18
Yoko's Dance and Performing Arts Academy, Fremont, CA
Starpower, Las Vegas, NV
Becca Housebrecht
Age: 17
Spotlight Studio of Dance, Millersville, MD
American Dance Awards, Hollywood Beach, FL
Brittany Duskin
Age: 18
Priscilla and Dana's School of Dance, Kansas City, MO
Starpower, Branson, MO
Taylor Lowe
Age: 17
The Dance Establishment, Ogden, UT
LA DanceMagic, Anaheim, CA
Cassandra Ventura
Age: 13
Talent Factory, Chino, CA
Starpower, Las Vegas, NV
Ashley Seidel
Age: 18
Not Your Ordinary Dancers, Middletown, NJ
Starbound, Atlantic City, NJ
Kristina Vensko
Age: 15
Dancensations Dance Center, Alexandria, VA
Starpower, Ocean City, MD
Katie Parks
Age: 15
Step Ahead
Dance Company, Jacksonville, NC
Marvonna, Myrtle Beach, SC
Nicole Miceli
Age: 18
Center for Dance, Westmont, IL
International Dance Challenge, Boston, MA
Kelly Brigham
Age: 26
Pat Snow's Dance Academy,East Bridgewater, MA
Step Up 2 Dance, Manchester, NH
Kasey O'Leary
Age: 14
Stagelite Centre of Performing Arts, Pequannock, NJ
Starbound, Orlando, FL
Amanda Densmore
Age: 17
Sheena's Dance Academy, Frisco, TX
Starbound, San Antonio, TX
Jamie Stack
Age: 16
Dance Express, Mesa, AZ
Encore, Lake Tahoe, NV
Chelsea Reichert
Age: 17
Dance Gallery, Lawrence, KS
StarQuest, Minneapolis, MN
All Photos courtesy of winners
Mar. 02, 2015 04:24AM EST
Miko Fogarty doesn't buckle under pressure. Competing at the Moscow International Ballet Competition, one of the most prestigious dance events in the world? No sweat. Dealing when, en route to that competition, the airline loses her luggage, leaving her stranded with little more than her pointe shoes? Not a problem. Coping after the live orchestra botches her music during the same competition's final round? All in a day's work. Through everything, Miko kept her cool with the self-assurance of a seasoned professional—and ended up winning the gold medal.
Of course, it wasn't just her level head that earned her the 2013 Moscow IBC'S top prize. Miko has pirouettes and extension to spare, though she avoids flash in favor of pristine classicism. Her turns are musical and perfectly placed, her développés beautifully controlled. Her confidence and artistic maturity make you forget she's still a teenager.
Miko's passionate commitment to ballet first turned heads in the 2011 Youth America Grand Prix documentary First Position, filmed when Miko was just 12. Since then, she's blossomed into an artist, winning medals—and fans—around the globe. She's handled it all with poise, allowing the world into her whirlwind life through her website, social media and various dancewear endorsements. As a result, she's achieved a level of fame most professional dancers only dream of. This spring, as 17-year-old Miko auditions for companies, all eyes will be watching to see where she ends up.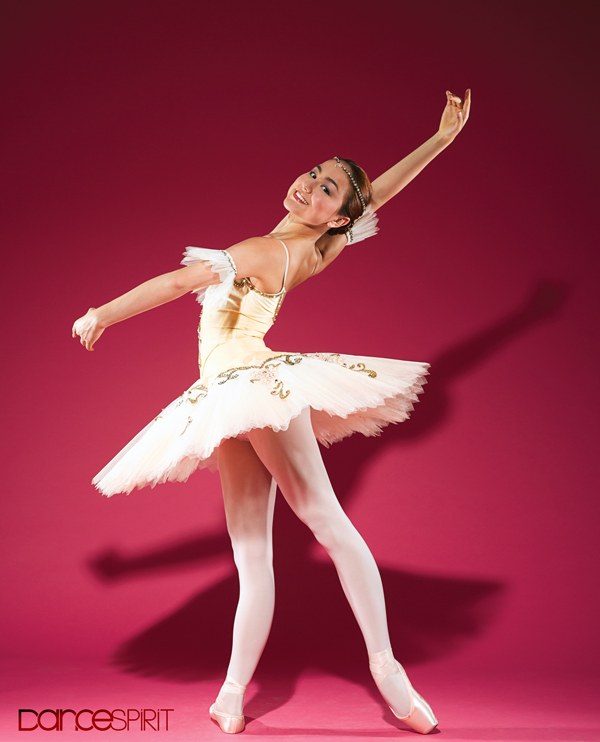 (Photo by Nathan Sayers)
The Determined Competitor
Born in London, Miko is part Swiss, part British and part Japanese. But she's really a California girl: Her family moved to Berkeley, CA, when she was 2. At 4 she started taking ballet—and instantly decided to become a dancer. "Even at my preschool graduation I was saying, 'When I grow up, I want to be a ballerina,' " she says.
By age 11, she was training every day with Viktor Kabaniaev at the Diablo Ballet Apprentice Program and attending summer programs at the Royal Ballet School in London. In seventh grade, she traded public school for homeschooling to accommodate her busy ballet schedule. That's also when she started competing more frequently. "Some people don't like competitions, but they've been really beneficial for me," Miko says. "You can meet people and network, and they're also good for stage experience and learning how to handle nerves."
During the 2009 YAGP finals in NYC, a filmmaker named Bess Kargman popped into the theater just as Miko took the stage. Miko's strong performance inspired Kargman to direct First Position, a documentary that follows seven contestants as they prepare for YAGP—and she asked Miko (and Miko's younger brother, Jules) to be in it.
It took two years for First Position to make it to theaters. But once the film dropped, Miko became something of a celebrity. "I'd be somewhere random—at an airport or on a bus—and someone would say, 'Are you from that dance film?' " she says. "It was kind of cool, because even some professional dancers knew about me!" And her success on the competition scene in the wake of the film earned her even more fans. Since turning 15, Miko has scooped up the gold in Moscow, won silver and bronze medals at two Varna International Ballet Competitions and earned the Best Swiss Candidate at the 2013 Prix de Lausanne.
The Dedicated Student
Shortly after the film came out, Miko and her mother moved to Indianapolis, IN, so Miko could study at the Indiana Ballet Conservatory, a Vaganova-based school she discovered during a YAGP regional competition. (Her dad and brother stayed behind in California.) "I was looking for a female coach and realized that there were some really good teachers in Indiana," she says, noting that faculty members Tatiana Pali, Alyona Yakovleva-Randall and Alexei Moskalenko have helped her polish her technique. Miko also spends one month each year training with Japanese teacher Jinushi Kaoru while visiting her grandmother in Osaka, Japan.
While Miko has been offered opportunities to attend large company schools, she's made a conscious choice to complete her training in Indiana. "I wouldn't have had as many performance opportunities if I'd gone to a larger school," she says. "Plus, I get a lot more individualized attention here, which has helped me improve faster."
These days, Miko's schedule is packed with schoolwork, technique classes and rehearsals for competitions or performances. "It's rare to find someone so passionate so young," says Pali, noting that Miko often comes in on her own time to practice. "Because of her pure desire to thrive, she'll work and work until she gets it right."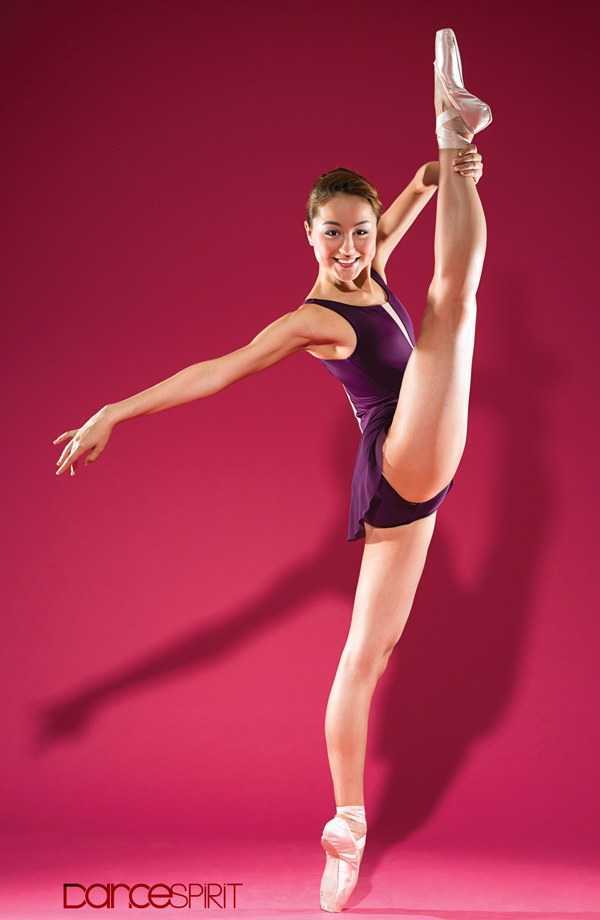 (Photo by Nathan Sayers)
The Social Media Maven
Like any 17-year-old, Miko is pretty much addicted to her smartphone. But her social media savvy has actually given her career a huge boost. "At first I used to just post pictures of my life," she says. "Then I started getting a lot of followers because of the movie and my YouTube channel. Now I use Instagram to connect with them—I message a lot of people back." Miko divvies up social media responsibilities with her mom, posting to Instagram, Twitter and Facebook while her mother manages her YouTube channel. "To have a voice in the world is really cool," she says. "I like being able to show ballet to other teenagers who may not have experienced it."
Recently, she's gone beyond social media to connect with fans, launching her own website, mikofogarty.com, and signing endorsement deals with Gaynor Minden, Discount Dance Supply and Cloud & Victory. "During photo shoots I always try to keep her from pushing too hard," says C&V owner Min Tan. "But she's a perfectionist! She comes in with a great attitude and wants to make sure she nails it. That speaks volumes about the type of person she is."
The Aspiring Professional
As for company auditions, Miko has her eyes on Europe—though she's still weighing her options. "I really like the choreographers over there," she says. "And it intrigues me how much art is part of the larger culture." She's planning to meet with company directors at the Prix de Lausanne this summer.
Chances are, those directors are well aware of her already. "She'd be an asset to any company," Pali says. "She's talented and hard-working enough to be a leading ballerina."
Where Does She Get Those Gorgeous Tutus?
Miko's tutus are handmade in Japan by Ishida Costume. "I absolutely love their designs," she says. "They're amazing at ombré styles."
Fast Facts
Birthday: May 23, 1997
Favorite food: mangoes, either frozen or dried. "I also really like natto, which is from Japan. It's fermented soybeans that you mix with soy sauce. A lot of Western people hate it—my dad can't stand it—but I can't get enough!"
Weirdest food she's ever eaten: "We ate roasted grasshoppers when we were on vacation in Mexico. They were pretty nasty."
Favorite way to unwind: "When I go back to California, my dad and I always go camping, which is really relaxing."
Dance idols: Her list includes Uliana Lopatkina, Alina Cojocaru, Sylvie Guillem and Marianela Nuñez. But she admires all kinds of dancers, not just stars. "If someone's just loving what they're doing or helping other people, that really inspires me."
Dream role: Aurora in The Sleeping Beauty. "That was the ballet that inspired me to dance when I was 4. I love the music so much. Plus, Aurora was my favorite Disney princess."
Three must-have items on a desert island: her phone (and access to WiFi, of course), sunscreen and a hat
Gala-vanting
Miko has been lucky enough to perform at galas in Japan, Peru, Taiwan, Moscow and Bulgaria, as well as all over the U.S. Dancing alongside some of the ballet world's biggest stars, she says, is a total thrill—and an invaluable learning experience. "It's fascinating to see how different professional dancers prepare and perform their pieces," she says. "I find it really inspiring and educational—and it makes me fall in love with ballet all over again."
Oct. 02, 2014 02:50AM EST
Comp kids, you never cease to amaze us. Summer after summer, you come to Nationals rocking fresh looks, innovative choreography and solid technique. And 2014 didn't disappoint: This year brought us new trends—from fashion to footwork—that we'd love to see stick around (and some we'd like to see disappear).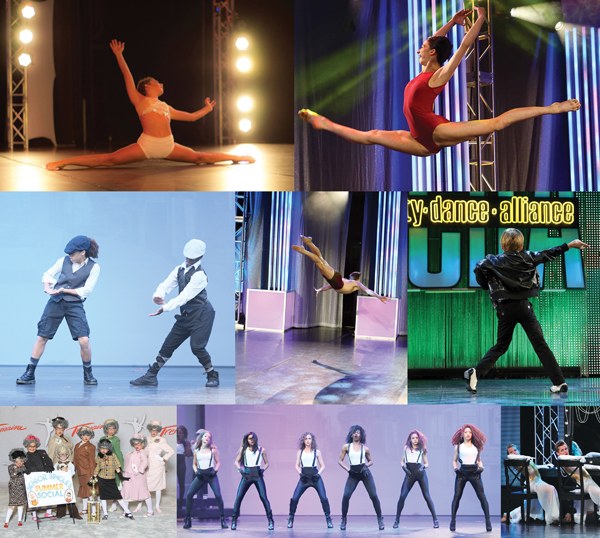 (Clockwise from left: DGS Photos, Courtesy Adrenaline; (2) Evolve Photography, Courtesy New York City Dance Alliance; Take2 Productions, Courtesy Showstopper; Platoon, Courtesy The Pulse On Tour; Courtesy Tremaine; Platoon, Courtesy The Pulse On Tour; Evolve Photography, Courtesy NYCDA)
Here are a few of our favorite things.
Werk: Group ballroom numbers. Who says you need an equal number of guys and girls to ride the Hot Tamale Train?
Womp: Excessive violence onstage. Please, no more mimed strangling, gunshots or screams.
True Grit
This year, we saw a departure from gank-tastic, sassy fem-hop. In its place? Female hip-hoppers who were unafraid to get down and hit hard. Ladies, you introduced us to a whole new kind of fierce.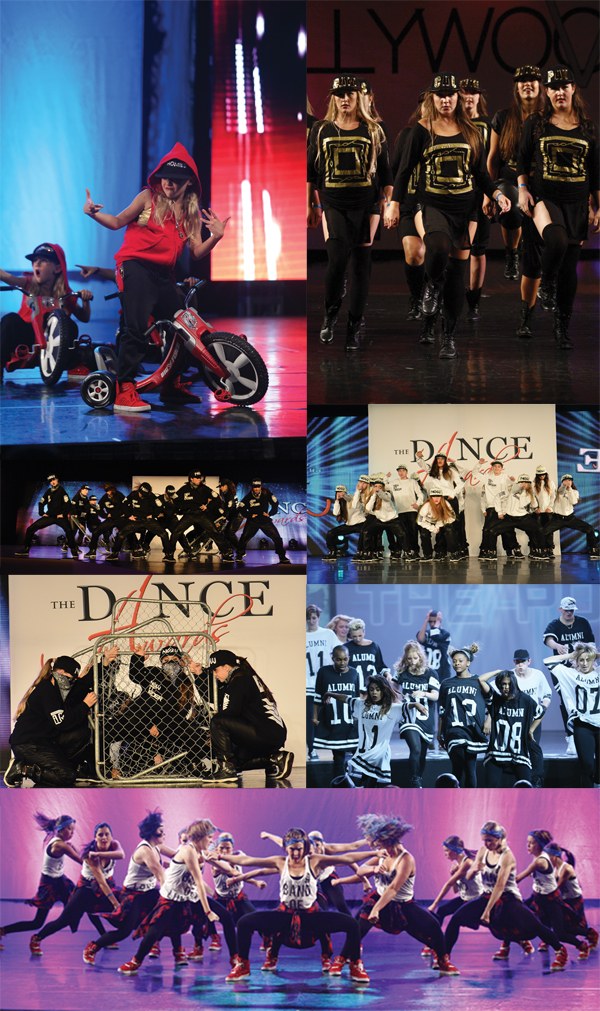 (Clockwise from left: (2) Propix, Courtesy Hollywood Vibe; Courtesy Break the Floor Productions; Platoon, Courtesy The Pulse On Tour; Propix, Courtesy Hollywood Vibe; (2) Courtesy Break the Floor Productions)
Pouf Perfect
The pouf bun was the hairstyle of the season, with bumped-up bangs adding a touch of sophistication to the classic ballet bun.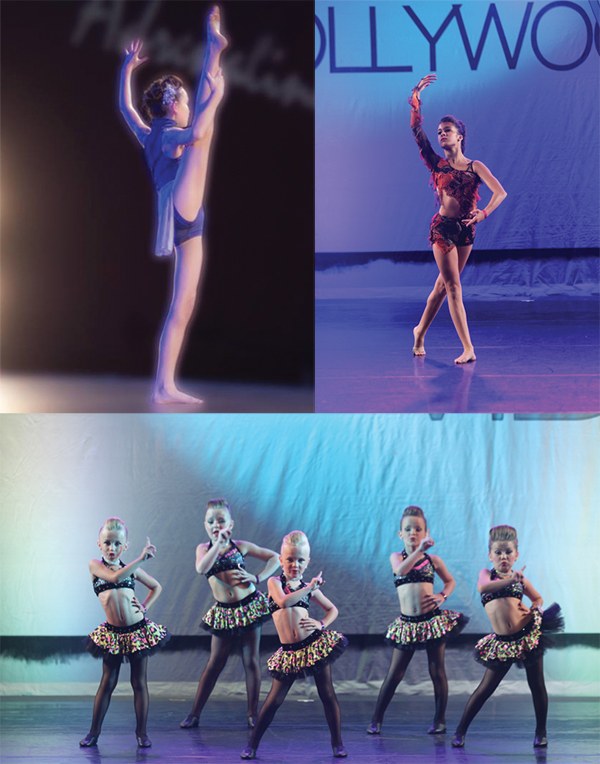 (Clockwise from left: DGS Photos, Courtesy Adrenaline; (2) Propix, Courtesy Hollywood Vibe)
Werk: '90s and early 2000s #Throwbacks—Michael Jackson is never out of style.
Womp: Overused songs. If you hear it Every time you turn on the radio, chances are the judges are already sick of it (and so is the audience!).
Gumbys Galore
Impossibly long hamstrings and seemingly spineless torsos are always a "do." You all contorted your bodies into some seriously impressive (even shocking!) shapes.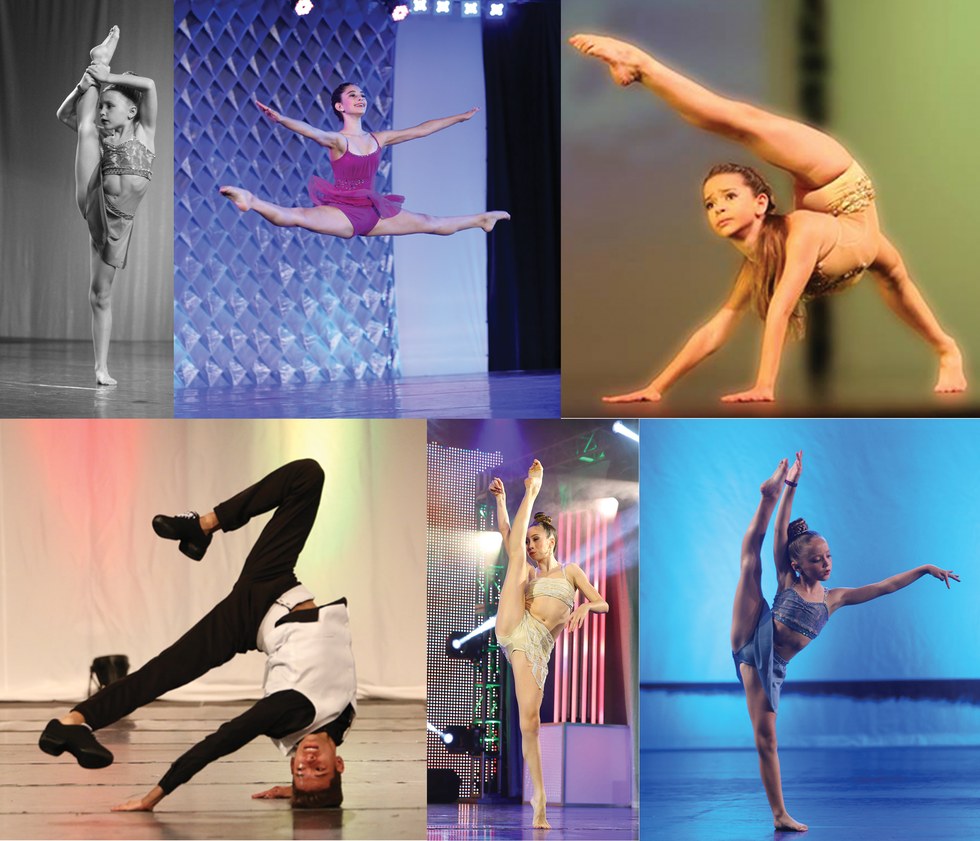 (Clockwise from left: Propix, Courtesy Hollywood Vibe; Evolve Photography, Courtesy West Coast Dance Explosion; DGS Photos, Courtesy Adrenaline; Propix, Courtesy Hollywood Vibe; Evolve Photography, Courtesy NYCDA; Dancesnaps (DRC Video Productions), Courtesy Dance Olympus/DanceAmerica)
Daring Dives
Playing it safe is overrated! You threw yourselves across the stage, unafraid to be upside down, sideways or completely off balance.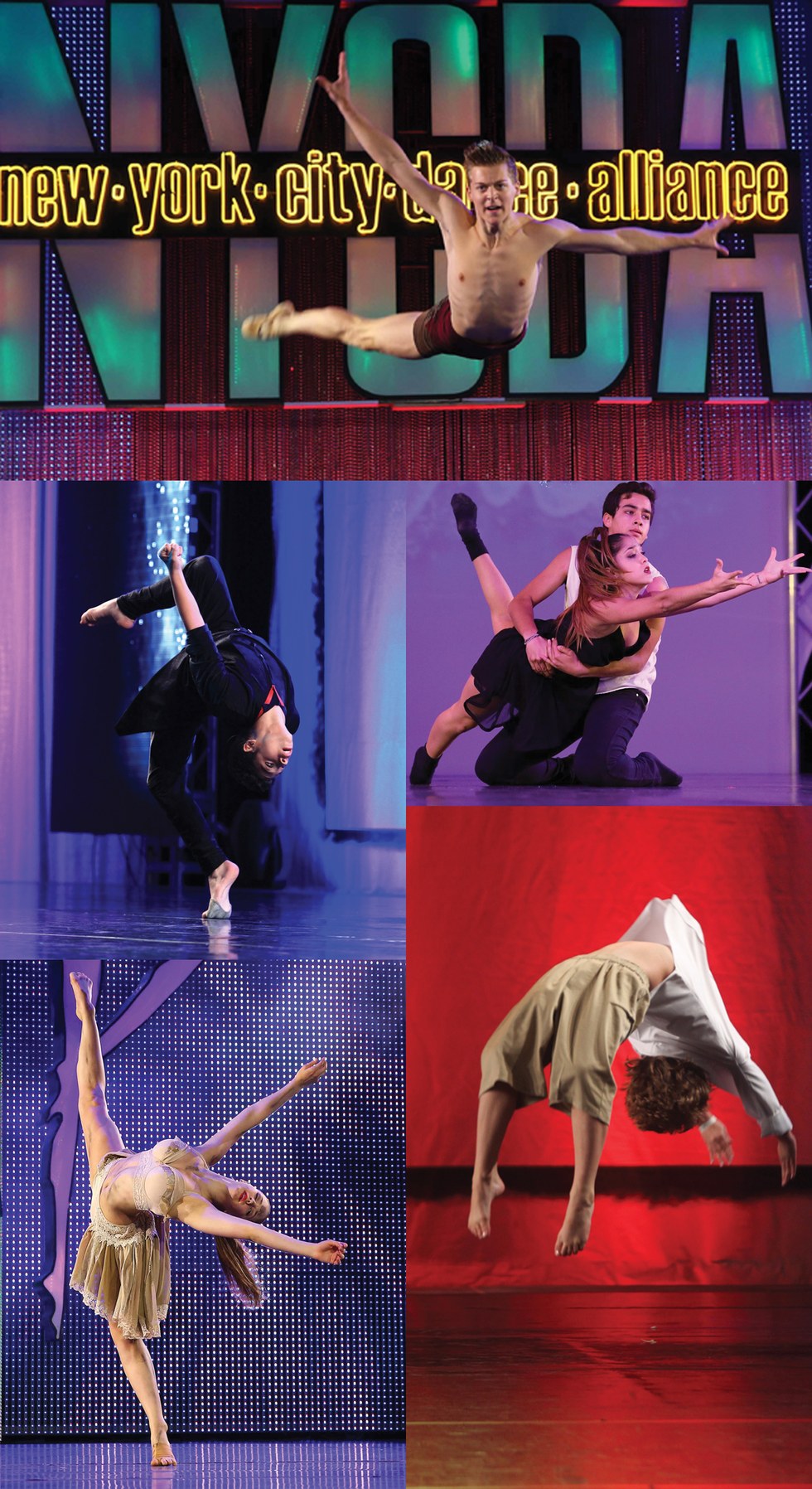 (Clockwise from top: Evolve Photography, Courtesy NYCDA; DGS Photos, Courtesy Adrenaline; Propix, Courtesy Hollywood Vibe; Evolve Photograhy, Courtesy NYCDA; Propix, Courtesy Hollywood Vibe)
Werk: Polished ballet technique. We love comp queens who can work it in a pair of pointe shoes.
Womp: Wearing only one shoe---on your turning foot. (Don't tell us you're one-sided!)
Tantalizing Tappers
We were blown away by this year's rhythm geniuses. Not only was your footwork on point—you also mastered the art of a polished yet relaxed upper body.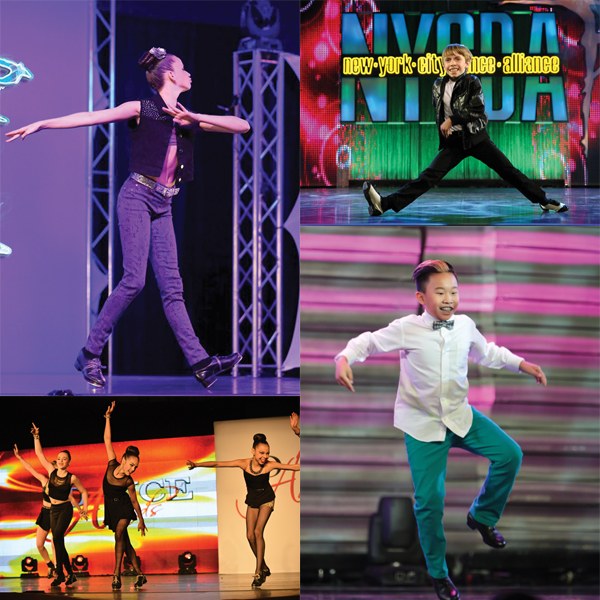 (Clockwise from left: DGS Photos, Courtesy Adrenaline; Evolve Photography, Courtesy NYCDA; Evolve Photography, Courtesy West Coast Dance Explosion; Courtesy Break the Floor Productions)
Delightfully Dapper
We loved the throwback to 1920s men's fashion—slim-cut suits, bow ties, vests and fedoras looked suave on the ladies as well as the gents.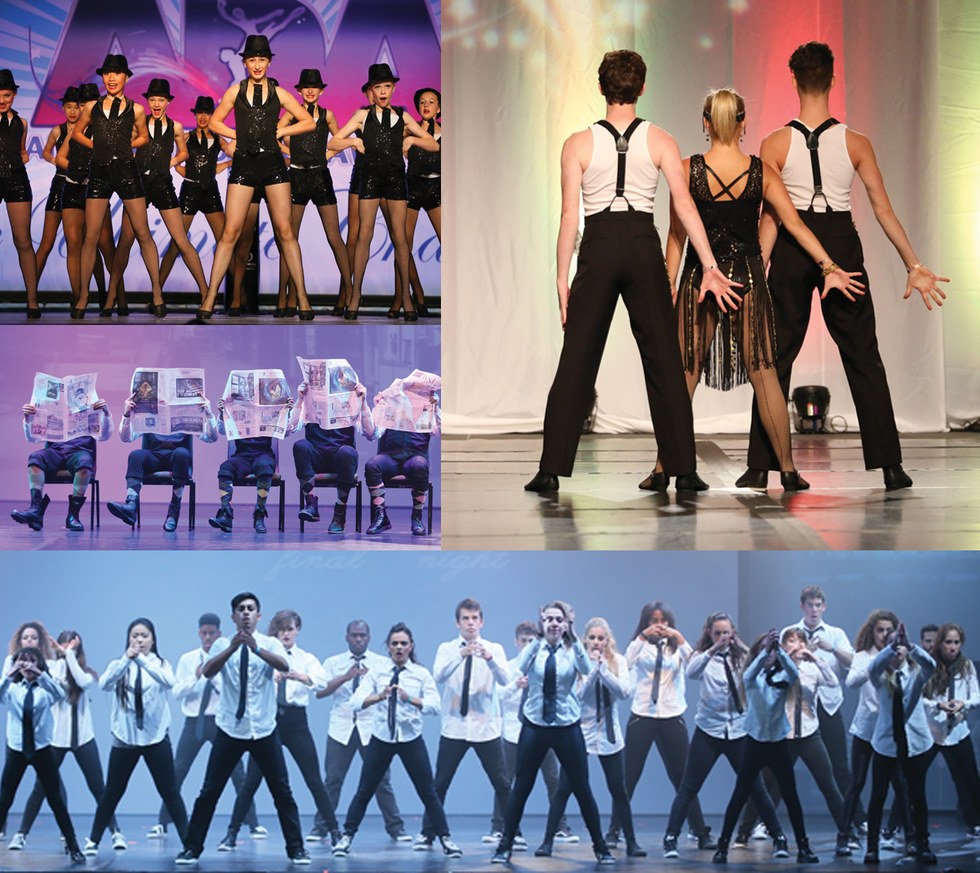 (Clockwise from left: John Pinette/Performance Photography, Courtesy American Dance Awards; Dancesnaps (DRC Video Productions), Courtesy Dance Olympus/DanceAmerica; (2) Platoon, Courtesy The Pulse On Tour)
Werk: Leotards with daring mesh cutouts---a tasteful update on the standard bra top and booty shorts.
Womp: Crotch Shots---If you're going to wear a high-cut leotard with no tights, be careful where you tilt.
The Center-Split Hold
This move—where you hold a center split inches off the floor—is the perfect blend of flexibility and strength. Plus, it's an innovative solution to that age-old conundrum: How do I get off the floor creatively?

(From top: Evolve Photography, Courtesy NYCDA; Propix, Courtesy Hollywood Vibe; Evolve Photography, Courtesy NYCDA)
Variations on a Theme
Sure, identical costumes help keep things clean and consistent, but there's something even more appealing about group costumes that aren't totally uniform.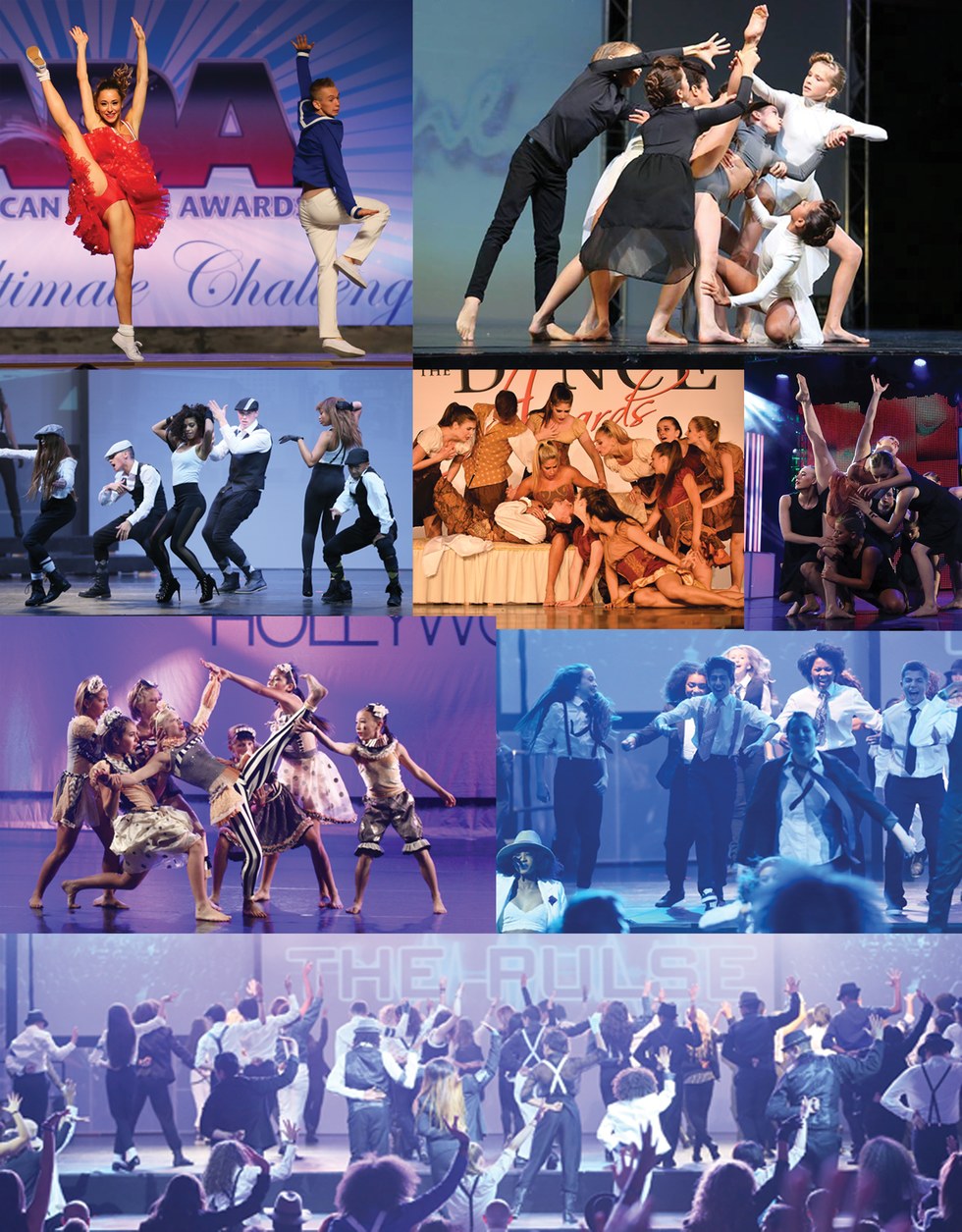 (Clockwise from left: John Pinette/Performance Photography, Courtesy American Dance Awards; DGS Photos, Courtesy Adrenaline; Evolve Photography, Courtesy NYCDA; (2) Platoon, Courtesy The Pulse On Tour; Propix, Courtesy Hollywood Vibe; Platoon, Courtesy The Pulse On Tour; Courtesy Break the Floor Productions)
Werk: Unique prop concepts that actually enhance the piece. (Snaps for no arbitrary props!)
Womp: Props that take more than 30 seconds to set up. Your dads are adorable, but the judges don't want to watch them assemble giant props---they want to see you dance.
May. 01, 2014 06:30PM EST
Houston Ballet II's Tyler Donatelli was one of only 10 dancers from the United States accepted to compete at the prestigious Prix de Lausanne this year. To get the inside scoop on the ballet competition, DS asked Tyler to keep a diary during her week in Switzerland. —Jenny Dalzell
January 26
I just arrived in Lausanne, and it's breathtaking. It's been a long trip to Switzerland: a plane from Houston to Washington, D.C., a seven-hour flight to Geneva, and then a 30-minute train to Lausanne. Luckily, I wasn't alone. My teacher Sabrina Lenzi came with me, along with Michael Ryan, another Houston Ballet II dancer who is competing.
I had to head to the theater for a warm-up class right after I checked in at the hotel. Once there, I got to practice in a studio with a raked floor, just like the stage where we'll be performing. I didn't feel too shaky—I just had to make a few adjustments, like really leaning forward when doing turns upstage. I kept my practice session pretty short; I didn't want to overdo it. Plus, I had to head over to registration to get my number (304!) and instructions for the week. OK—off to bed now. I need some serious sleep.
January 27
The first official day of the competition! It started with a judged ballet class, with about 30 other girls in my group. I wasn't too nervous—I've competed at Youth America Grand Prix, which also judges classes, so I know how to stay relaxed.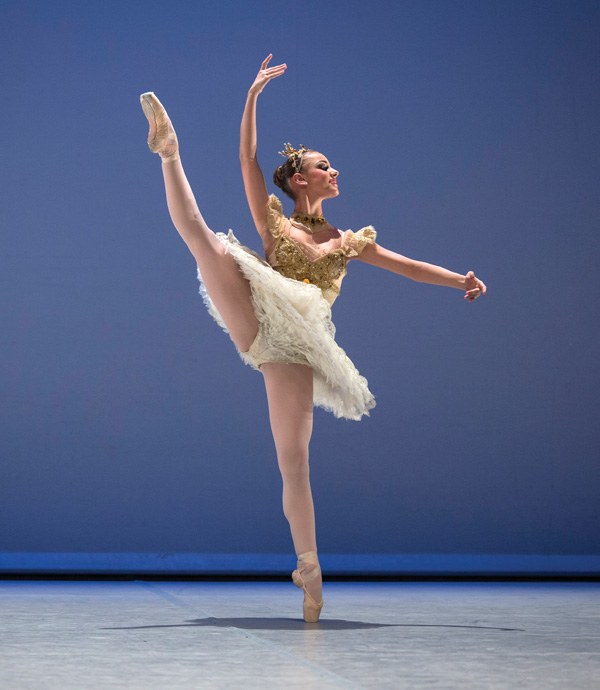 photo, Gregory Batardon/Prix de Lausanne
Next I had a stage run-through of my classical piece. I'm performing Gamzatti's variation from La Bayadère. Whenever I get onstage, I get this sensation—a burst of electricity through my body. I stop thinking, let my body do the work and live in the moment.
Next came contemporary class. I wasn't used to the teacher's style, so remembering the combinations was a challenge. But one of my goals this year has been to improve my contemporary movement quality, and I think these classes will help.
January 28
Jet lag has caught up to me, and waking up today wasn't easy. Nevertheless, I was ready for another day of dancing. First up was another judged ballet class. The teacher, Stefanie Arndt, gave corrections about placement that reminded me of my teacher at home, which was comforting.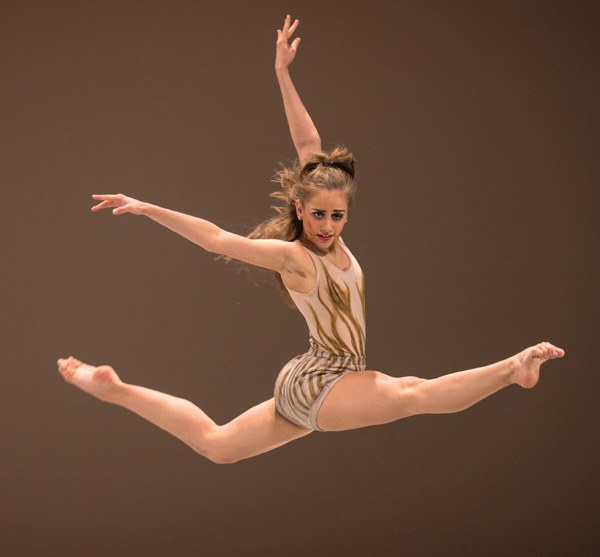 photo, Gregory Bartardon/Prix de Lausanne
I also had a coaching session for my contemporary solo, from Richard Wherlock's Le Sacre du Printemps. When I was selected to compete in Switzerland, I started learning the solo from online videos. Now, after the session, I'm relieved by how closely my teachers and I interpreted the movement. Working with Richard's assistant helped me put the finishing touches on the piece and really dig out the raw emotion behind the choreography.
January 29
Today began with a (thankfully!) non-judged class in the studio with the raked floor. It's so different taking barre on a slant—but I actually love it. The rake makes me lift up more, and it's easier to feel if my weight's too far back or forward.
After that, I had my third contemporary class of the week—this time judged. I was a little apprehensive going in: I was in the first group in the front line, and my focus had to be on point.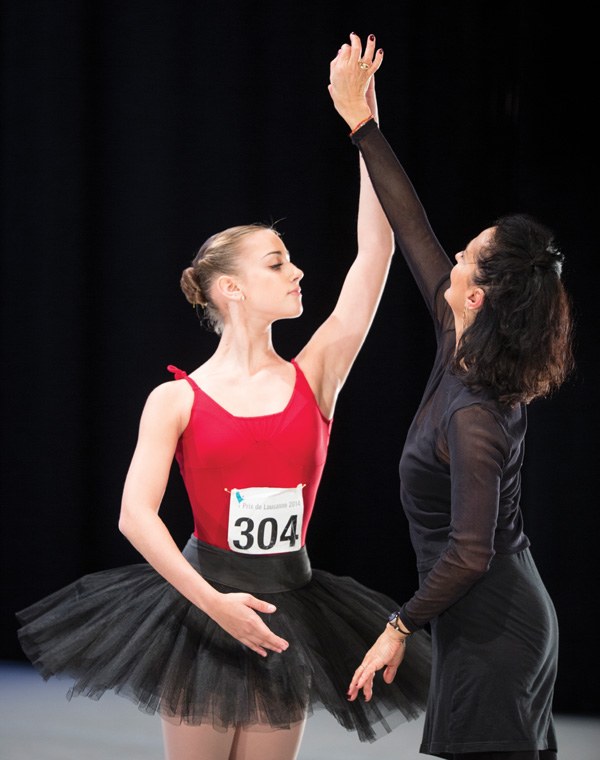 photo, Gregory Batardon/Prix de Lausanne
Next came a classical coaching session with Monique Loudières, a former Paris Opéra Ballet étoile. She stressed simplicity in positions, and gave a great tip about lifting up, which helped fix some of the difficult transitions in the variation.
January 31
After yesterday's intense contemporary and classical coaching sessions, I got a good night's sleep to prepare for today—Selection Day! When I arrived at the theater, the men and women in my group took a class on the stage. Then I put on my tutu and got pumped up—I love rocking out to Aerosmith before a performance. Before I knew it, my number was called. Leaping and turning was exhilarating—I didn't want to leave the stage!
After a quick change into my contemporary costume and a fast tease of my hair, I was back onstage. I tuned out the world behind the wings, and for the first time, I felt like I was really portraying the character and story of the dance.
Then I waited to find out which dancers would advance to the finals. To pass the time, Michael and I played endless amounts of Flappy Bird on our phones. Unfortunately, I didn't pass to the next round. I'm disappointed, but I put forth my best effort and I'm proud of myself for making it as far as I did. On a brighter side, Michael did make it through, and I'm excited to cheer him on tomorrow.
February 2
I haven't had much time to wallow—the past two days have been pretty nonstop. Yesterday, I participated in a networking class where we took ballet with school and company directors watching. Today, we got the results: I was offered two jobs—with Julio Bocca's company in Uruguay and with Queensland Ballet in Australia—and five scholarships to schools worldwide, including the English National Ballet's
summer program and the John Cranko Schule in Stuttgart. I decided to decline the offers—I'm really happy at Houston Ballet II. But I'm honored so many directors were
interested in me. And even though I wasn't a finalist, the exposure I've gotten at Prix de Lausanne has been an award in itself.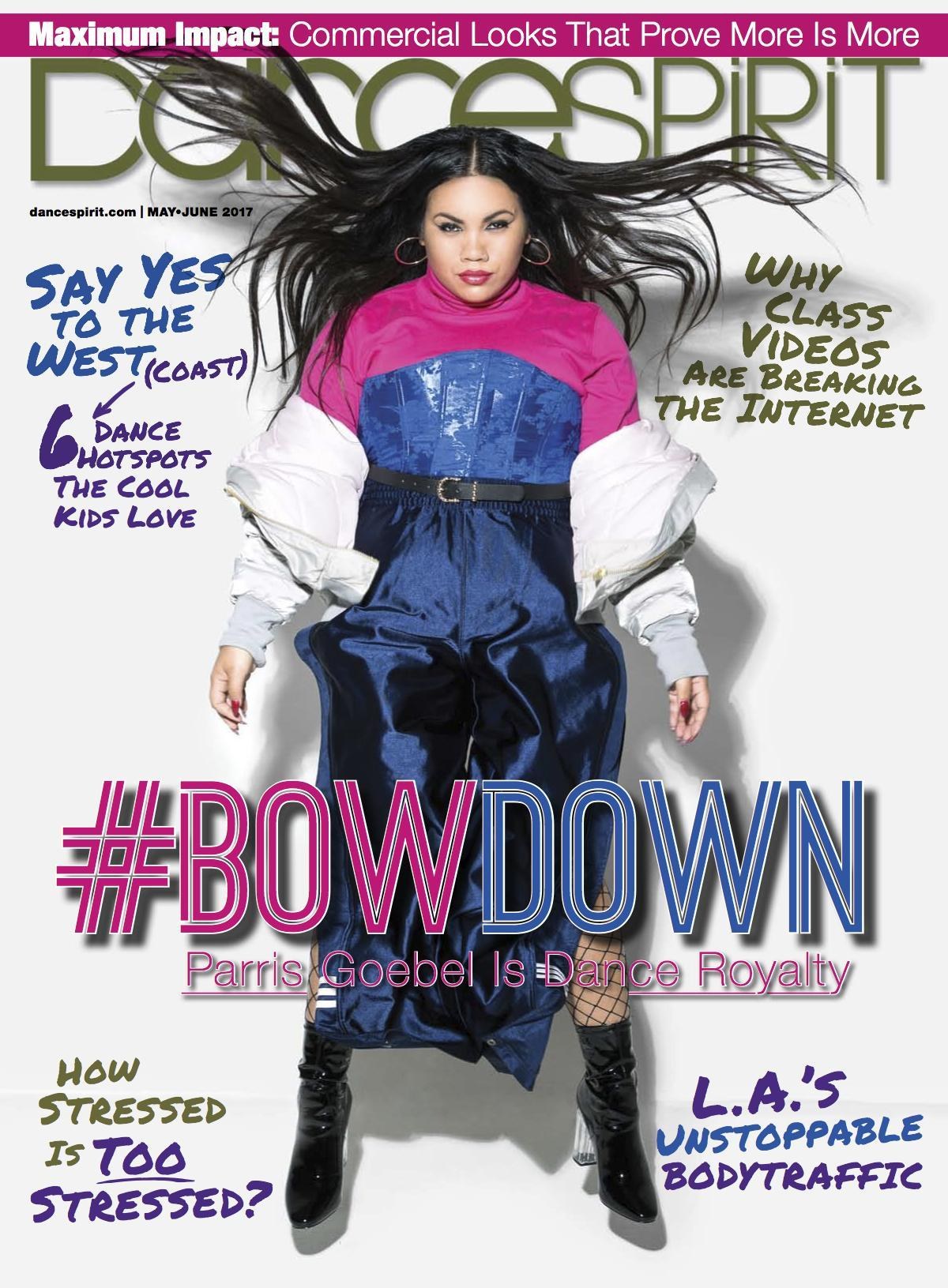 Featured College Dance Program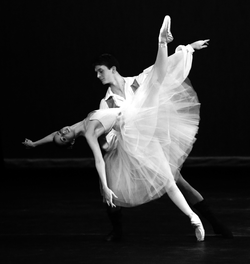 Get Dance Spirit in your inbox