Sure, we all know you can score some sweet deals on fashion or electronics on Cyber Monday. But did you know that dance companies offer discounts on tickets, too?! This little discovery made my post-vacay Monday MUCH happier. These reduced-price tickets to some of the season's best performances are perfect for holiday gifting (or for treating yourself, let's be real), so don't miss this one-day-only opportunity.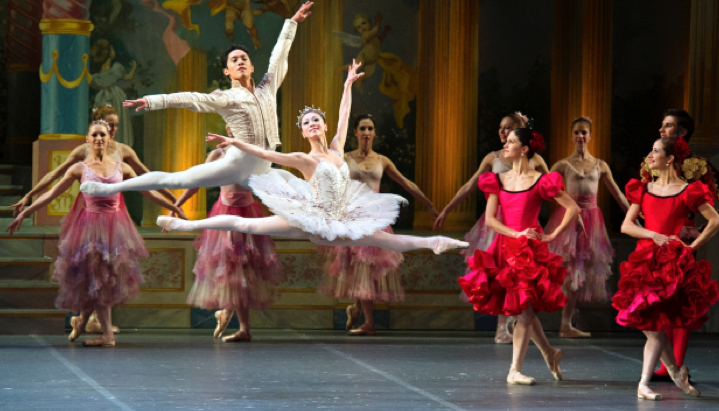 Boston Ballet's The Nutcracker, one of the shows offering Cyber Monday discounts (photo by Gene Schiavone)
Pop in the discount code Desire38 here for 38 percent off on Friday or Saturday performances of the Season 38 Winter Series.
Catch the company's production of George Balanchine's The Nutcracker for 30 percent off with the promo code GIFTS15 at this site, or get discounted tix to other season shows, like A Midsummer Night's Dream.
50 percent off select performances of Mikko Nissinen's The Nutcracker? Yes, pleaseeeee. Just head here and use the code CYBERMONDAY.
The Music Center L.A.
The storied venue is offering various discounts on MAJOR dance events right here, including Cloud Gate Theatre of Taiwan, Complexions Contemporary Ballet, Compagnie Käfig and American Ballet Theatre.
Use the discount code CYBER here and receive a whopping 25 percent off select seats at shows including The Nutcracker, Don Quixote, Beauty & the Beast and Uncorked.
This has already been a huge news week for the ballet world, and it just got even huger:
After 20 years in NYC, Complexions Contemporary Ballet—that extraordinary company pretty much every dancer we talk to dreams of joining—is making a big move. As of spring 2016, the troupe will call Atlanta home, according to a report in ARTSAtl.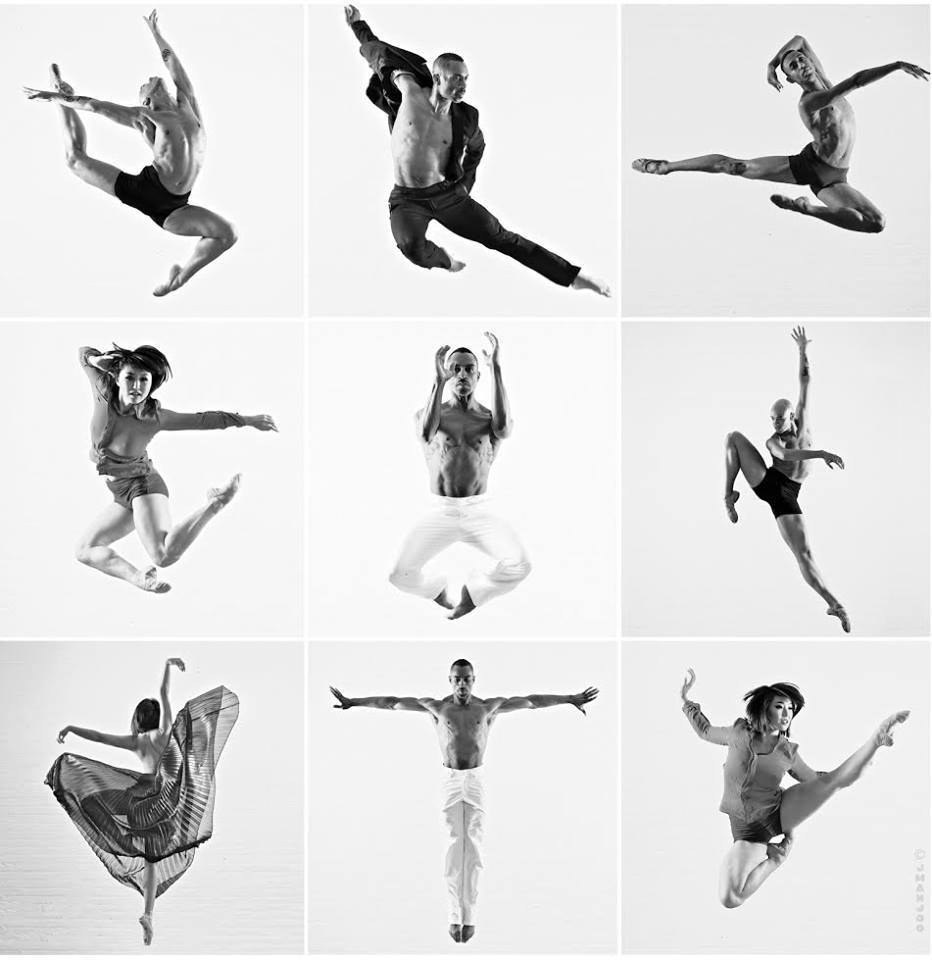 The stunning dancers of Complexions (photos by Jae Man Joo)
The decision took a lot of dance fans by surprise, but it also makes good sense. Yes, NYC is the dance capital of the country, but that means it's crawling with dance companies, who compete for audiences and funding. Dwight Rhoden told ARTSAtl that he and his Complexions co-director Desmond Richardson were looking for a "less saturated" dance community, and Atlanta fits that bill. Pretty much anywhere on the planet is less expensive than NYC, too; in Atlanta, the company will be able to afford its own studio space for classes and rehearsals, a major plus. And Rhoden and Richardson have made diversity a central part of Complexions' mission from the beginning, something Atlanta's multicultural (and increasingly artsy) population will definitely appreciate.
Complexions will perform in Atlanta this October before launching its first official ATL season in the spring. But never fear, NYC fans: The company will continue to mount its annual two-week season at the Big Apple's Joyce Theater. It'll still offer its popular NYC intensives, too, and there are plans to start up similar programs in Atlanta and Los Angeles.
It's an exciting time for the company—we're eager to see how it grows and changes in its new home!
A show of hands: Who would absolutely freak out if they were offered an apprenticeship with Complexions Contemporary Ballet? How about a full-time position with the Joffrey Ballet Concert Group? If you're anything like us, just the thought of performing with these coveted companies has your heart beating like crazy. So take a moment—breathe—and let us tell you about an exciting new opportunity.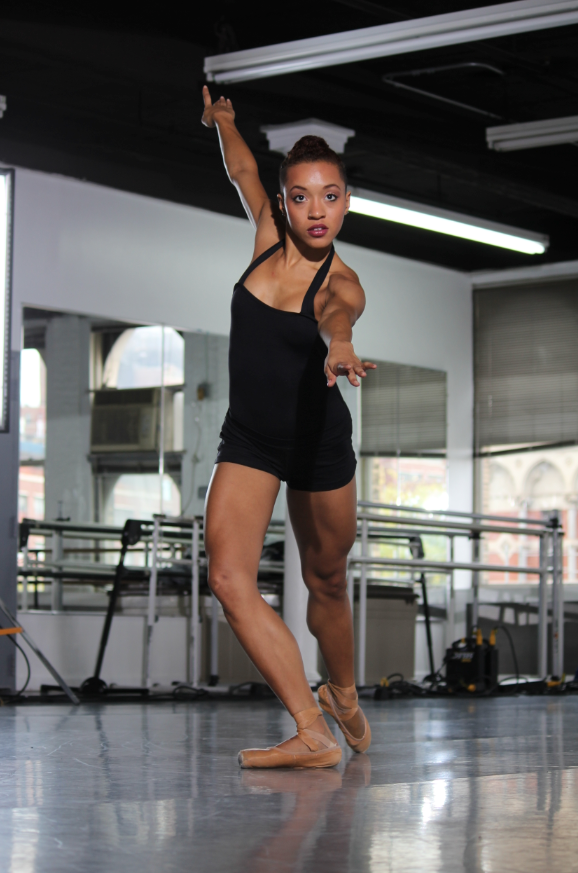 Are you up to the challenge? (Photo by Bround Creative, courtesy DanceOn)
DanceOn, the dance entertainment network that brought us the YouTube series "Dance School Diaries," launched a new contest today, along with the Joffrey Ballet School and Complexions, called Rise to the Challenge. The contest tests a dancer's ability to replicate a short phrase choreographed by Complexions' Desmond Richardson and JBS's Davis Robertson. Here's how it works:
YouTube videos of the eight challenge movements will be released in two chunks. The first four videos went live TODAY (November 12).

To enter, go the contest website and watch the four clips. (Bonus: This group of videos are demonstrated by gorgeous Complexions dancers. #Swoon)

Find one you think you can replicate? Film yourself doing the movement and post it to YouTube with #RiseToJBSChallenge before the first half of the contest closes on November 26.

DanceOn and JBS will choose one winner for each video.

Look out for DanceOn's announcement of the first four winners on December 1 on the contest website.
If your not feelin' any of the first four movement challenges, don't fret. Another four videos will launch on December 3 and run until December 17, with the final four winners announced on December 22.
CEO of DanceOn Amanda Taylor let DS in on pro tip for contestants: "Even though we're asking you to recreate a phrase, we want to see originality. Think about things like music choice, emotional connection, costume—make creative choices to stand out."
OK now for the part you've been waiting for: the prizes. Each of the eight winners will receive a two-week scholarship to the Joffrey Ballet School Summer Intensive!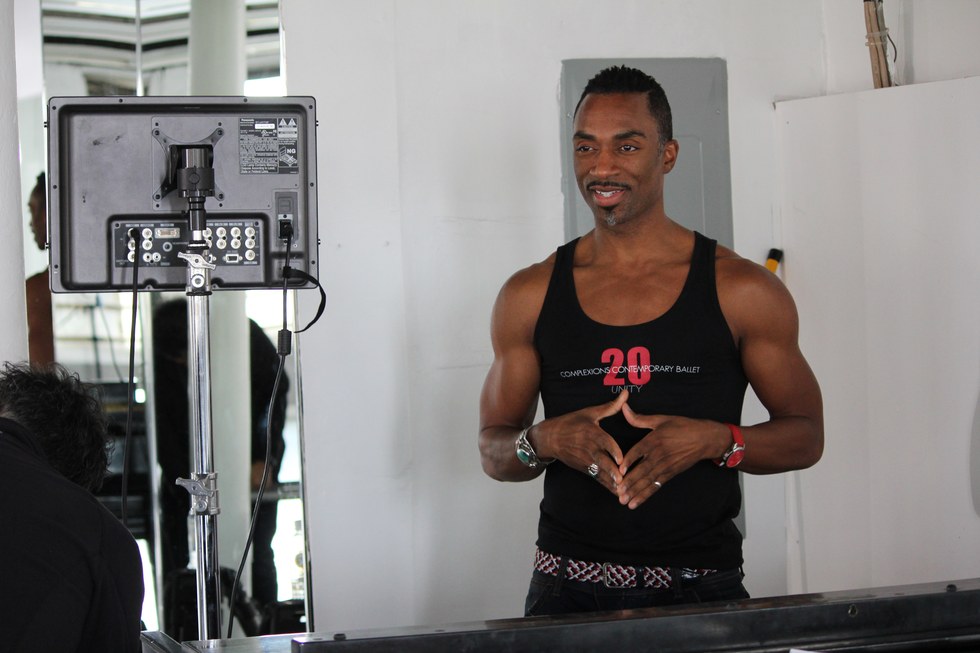 A chance to dance for Desmond Richardson? Yes, please. (Photo by Bround Creative, courtesy DanceOn)
But it doesn't end there folks. Remember how I was blabbing on about how exciting it would be to dance with Complexions or the Joffrey Concert Group? Well here's the kicker: Desmond Richardson will choose one grand prize winner (from the eight winners) to compete at the first ever Élite Dance Tournament in L.A., hosted by JBS and Complexions. The grand prize includes round trip airfare, four master classes and a chance to meet guest judge (you may have heard of him) Nigel Lythgoe.
One of the Élite Dance Tournament finalists will receive a Complexions apprenticeship, while another will receive a full-time paid position with the Joffrey Concert Group. But there are TONS of other prices to be earned, as well. According to artistic director of JBS Christopher D'Addario, there are over $100,000 worth of scholarships (including college scholarships) available! Check out the Élite Dance Tournament website for more info.
Phew. I think that pretty much sums it up! I'm exhausted just talking about all these incredible opportunities. So go ahead, pick your video, polish your moves, grab your camera (read: iPhone) and prepare to #RisetoJBSChallenge.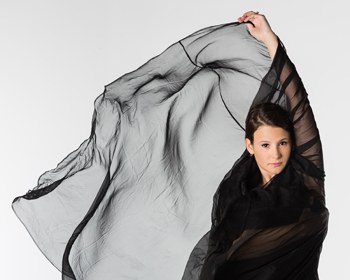 Lindsay Nelko
(photo by Kristen Sawatzky)
At last year's Capezio A.C.E. (Award for Choreographic Excellence) Awards in NYC, Lindsay Nelko tied for third place, winning $3,000 to produce her own show in conjunction with Capezio and Break the Floor Productions. Next week, we'll see the fruits of that partnership: Nelko will present the world premiere of her evening-length work, Awakening, at Ailey's Citigroup Theater on August 6 and 7.
Nelko, who has choreographed for "The X Factor" and "So You Think You Can Dance," has made some top-notch connections over the course of her career, so it's unsurprising that the cast of Awakening is pretty spectacular. Of the 24 dancers, eight are appearing courtesy of Complexions Contemporary Ballet, four are current or former members of Cedar Lake Contemporary Ballet, and others have performed with San Francisco Ballet, Miami City Ballet and the Bad Boys of Dance. It's a seriously out-of-this-world roster.
Dance Spirit caught up with Nelko to learn more about Awakening.
How would you describe the show?
Awakening is loosely based on my life, and on the moments of realization—or awakening—in certain feelings or events. There are 18 small narratives woven together that depict those feelings, including sadness, anxiety, joy, friendship and young love. There's also the theme of awakening in terms of sleep. The show moves between reality, the dream state and hypnagogia, which is the state between wakefulness and sleep.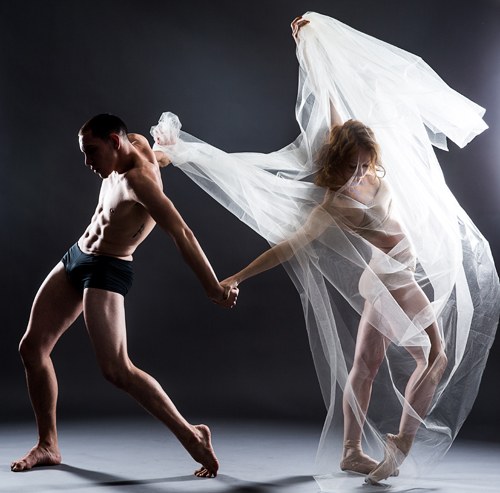 (L to R) Mark Caserta and Casey McIntyre appearing courtesy of Complexions Contemporary Ballet in Lindsay Nelko's Awakening
(photo by Matthew Murphy)
That seems pretty deep.
It is! I've been inspired by my life's journey. I feel like artistic work frequently stems from our selves. It's been like therapy to have my own show. I've been able to dive deeper, bring those experiences to life through incredible dancers and share it all with a wider audience.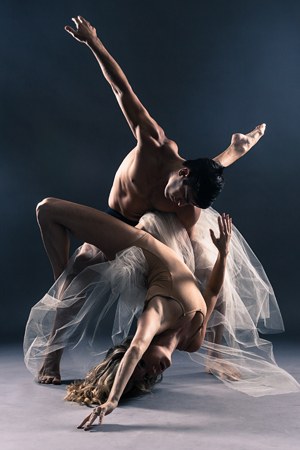 Um, wow.
Jeffrey Sousa and Ashley Fitzgerald in Awakening
(photo by Matthew Murphy)
How has Awakening evolved over time?
Well, the process really started in May 2013, when I created and workshopped Awakening for the Royal Winnipeg Ballet. (Then I presented an excerpt at the A.C.E. Awards.) At that time, however, not all of the pieces were finalized, and I've since added a few more to the work. And while my first cast was amazing, I've been blessed to have an incredibly diverse cast this time around. There will be 18 classical and contemporary ballet dancers, in addition to modern, jazz and musical theater dancers. It's going to be an interesting mix, but also a truer representation of my work.
Can't wait for August 6? Watch a clip of Awakening from last year's ACE Awards below, and click here for more information.


Get Dance Spirit in your inbox