The Dance Camera West Film Festival kicks off tonight in L.A., celebrating and promoting dance in film. The festival runs through June 13, though the majority of events take place this weekend. Super-cool highlights? Performances by L.A.'s BODYTRAFFIC and L.A. Contemporary Dance Company; a YouTube panel discussion with Tony Testa, Vincent Paterson, Jon Chu and Ian Eastwood; and screenings of films that feature artists like Storyboard P, Daniel Cloud Campos, Sergei Polunin, Daniel Ezralow and Pandit Chitresh Das and Jason Samuels Smith. To say the least, it's going to be awesome. (Get the full schedule here.)
This year's festival also marked the inaugural CalArts@Dance Camera West Emerging Artists Competition. Sponsored by Dance Camera West and the dance and film divisions of California Institute of the Arts, the competition welcomed films from high school and college dancers. Four winners were announced earlier this week: Ohio State University's Daniel Diller was named first runner-up for his film Up. Side. Down. exploring skateboarding movements; second runner-up Amber Schmiesing from Elon University presented Concert in D Minor, a film inspired by Mozart's life; and Palo Alto High School student Kristen Carey received special recognition for Inside My Mind, a work that dives deep into the world of Irish dancing. Juilliard dancer Nobel Lakaev took home first place and a cash prize for his film Behind Closed Doors.
The winners' work will be screened June 8 at REDCAT, in Downtown L.A. Can't make it? Watch a few excerpts from Nobel's Behind Closed Doors below. (FYI: The video goes dark for a little over a minute at 1:30...but it picks back up. Enjoy!)
Videos
Apr. 14, 2015 04:03PM EST
Congrats to our March 2015 Cover Model Search Video Winner, Taylor Sieve! Here she is performing "Broken." Enter the Cover Model Search at dancemedia.com.

Are you itching to come to NYC? If you've never been, or you live too far to visit on a whim, you may be in luck. NYC's tourism site, NewYork.com, is holding a Broadway sweepstakes that could bring you and a guest to The Great White Way for an exciting weekend. If you win the Ultimate Broadway Fan Showdown, you'll receive round-trip airfare, car service, a hotel room, a steak dinner and best of all: two tickets to the Tony Awards dress rehearsal.
You have to be at least 18 to enter, so you may need to talk to your parents for help. Once you've got that covered, entering is pretty simple. Post a photo to Instagram or Twitter that proves you're the ultimate fan. In the caption, finish the sentence "I'm Broadway's biggest fan because…" and include the hashtag: #BringMeToBroadway. Then, fill out this form.
The deadline to enter is April 30, and if you need photo inspiration, here's a link to other entries. (From what I've seen, Dance Spirit readers could have a win in the bag.) To choose a winner, the editors of NewYork.com will select 30 finalists, then the public will vote online for their favorite from Monday, May 5 to Friday, May 16. The image with the most votes will win.
While you're at it, don't forget about Dance Spirit's photo contests—our Photo of the Day, as well as our new Instagram contest, #readergram.
Good luck!
Here's a riddle for you: What do Elton John, Kanye West, Skrillex, Frank Ocean, Wiz Khalifa and you have in common?
Oh, you know...just the opportunity to perform in front of ONE HUNDRED THOUSAND people at this year's Bonnaroo Music and Arts Festival. But we'll get to that in a second.
First, a little background info: Bonnaroo, which roughly translates to "a really good time," is a four-day music festival extravaganza, featuring live performances by musicians of all genres. Each June since the festival's founding in 2002, music lovers have flocked to Manchester, TN, to get their jam fest on.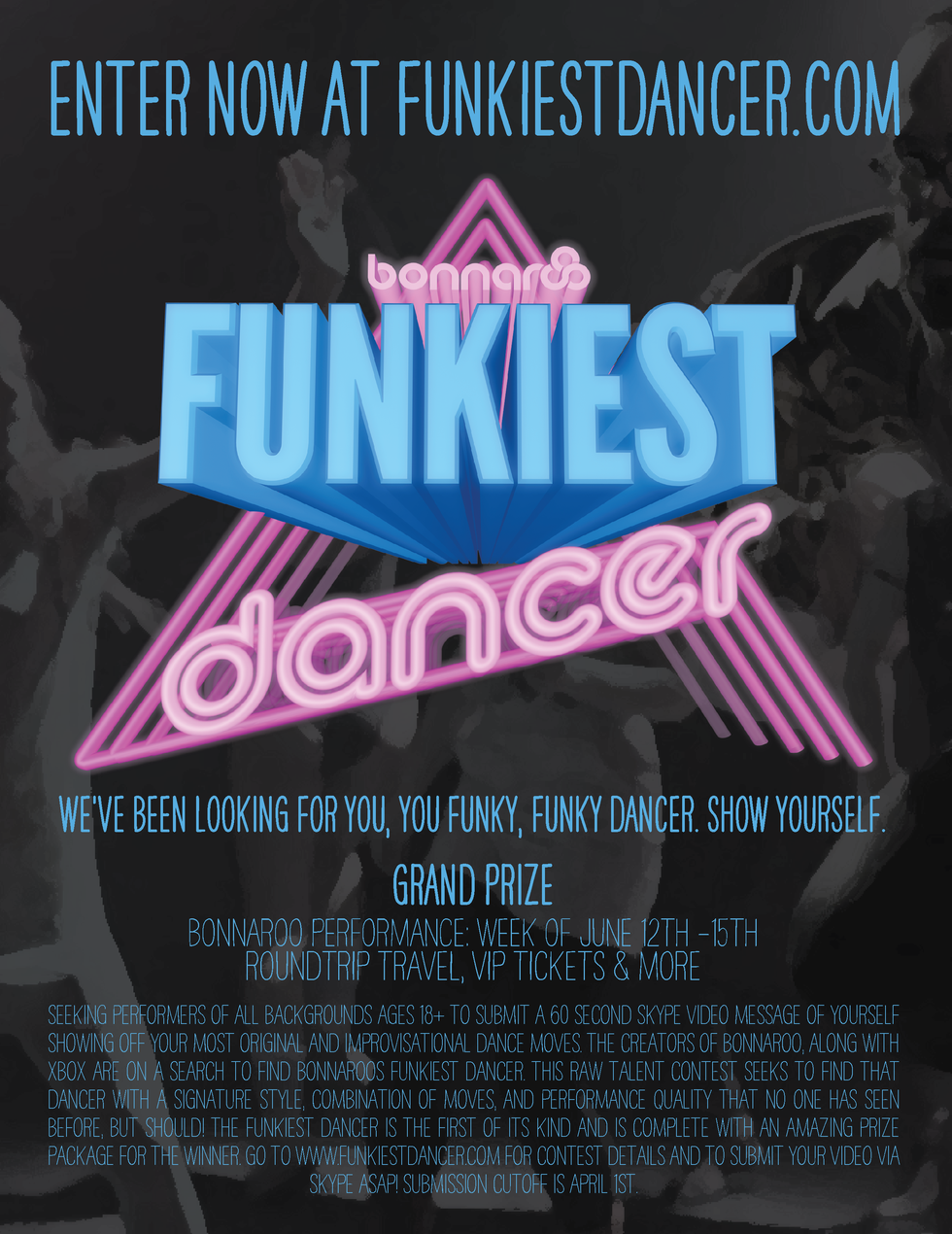 Being a music and arts festival, Bonnaroo also features artists of different mediums–comedy, visual arts, gourmet food (yum!) and cinema. And this year, they're finally including the best art of all: dance! (We're not biased or anything...)
This is where you come in. Bonnaroo is holding a contest to find the "funkiest dancer." They're looking for someone (age 18+) who's unique, original, raw and...well...funky.
The winner gets round-trip tickets to the festival (which runs June 12–15), hotel accommodations, VIP treatment, delicious free food, a $250 shopping spree and...drum roll, please...the opportunity to perform LIVE on Bonnaroo's main stage in front of ALL OF THE PEOPLE. Pretty sweet deal.
Think you have what it takes to be Bonnaroo's Funkiest Dancer? Here's how to enter:
Go to the contest's website.

Select a track from the "Official Funky Playlist."

Polish your funky moves.

Click "Get Started" to fill in your info.

Follow the Skype messaging instructions to submit your video.
The deadline for submissions is April 1. The Top 10 will be announced on April 15, and voting for the winner goes live on May 1.
Good luck!


Get Dance Spirit in your inbox