Mar. 23, 2017 11:55AM EST
This Thanksgiving, two celebrity families served up a LOT more than turkey and mashed potatoes. Former "Dancing with the Stars" partners Derek Hough and Maria Menounos ("Extra") battled it out over Instagram in a Thanksgiving dance war. And in the spirit of the holiday, their families got involved too.
It was a bold move for the Menounos family to challenge the Houghs to a dance-off, considering they've got two not-so-secret weapons: Derek and Julianne. But they brought their A-game with some Flo Rida, T-pain and shades:
In a surprise comeback, the Houghs relied on their family charm, rather than a flashy display of their professional skills:
Who do you think won the #Thanksgivingdancewars?
Oct. 12, 2014 11:00AM EST
You know those days when you're a little bit down on dance? Maybe you just don't feel like going to ballet class, or staying after school for dance team rehearsal, or spending your weekend at a competition. You've temporarily lost your dance love. But don't worry, I have a cure.
The city of Montreal hosts a huge swing dance festival every year, and this year some of the participants engaged in an invitational dance-off, showcasing Lindy-Hoppers versus street dancers. Um? Yes. Yes they did.
Think those dance styles don't have anything in common? Think again, and watch their footwork closely. The street dancers pay homage to old-school jazz and vaudeville, while the swing dancers funk-up their super-fast style with some isolations and freezes.
The video is long, so get comfy and prepare to smile for fifteen minutes straight—and if this doesn't remind you of why you love to dance, I don't know what will!
Jul. 12, 2014 11:00AM EST
Are you a Gryffindor or a Slytherin? #TeamJacob or #TeamEdward? It's been a while since we've asked ourselves these deep and self-defining questions...

It's really an age-old question, isn't it? (L to R: via Eclipse, via Dhesia)
But no matter which house/team you claim, or even if you're not so much of a fantasy fan, we promise you'll get a good laugh out of this: Recently, the band Scott & Brendo released a video entitled "Harry Potter vs. Twilight Dance Battle," and let's just say, it's even better than Harry Potter weekend on ABC Family.
Have you ever wondered what would happen if Harry, Ron and Hermione confronted Bella, Jacob and Edward in an enchanted forest? OK, you probably haven't. But regardless, this video answers that question. Obviously, they'd have a dance battle.
Here's a couple of things I love about this video: 1. Hagrid is the DJ, and he's completely absurd. 2. The dancing is actually pretty good! Turns out vampires, werewolves and wizards have got some swag. 3. A certain white wizard shows up. And no folks, it's not Dumbledore (because that would make too much sense).
This video pretty much speaks for itself, so I'll stop rambling and let you get to it:
Happy Saturday!
Apr. 25, 2014 11:00AM EST
Back in November, we met seven incredible b-girls—all under the age of 16—who are straight beasting the hip-hop scene. (And we put one of them—the beautiful Simrin Player aka "Simi"—on our cover!)

(L to R) L-Pop, Em, Simi, T.Knight and JJ pose for their "Little Girls in a B-Girl World" shoot (photos by Erin Baiano)
Then, in January, we caught up with the tiny B-Girl Terra (age 6 at the time). This tyke competed against dancers twice her age at the Chelles Battle Pro in Paris in 2013! #headspinsfordays
With all these young feminine freestylin' phenoms, we find ourselves asking: "Where them (b-)boys at?!"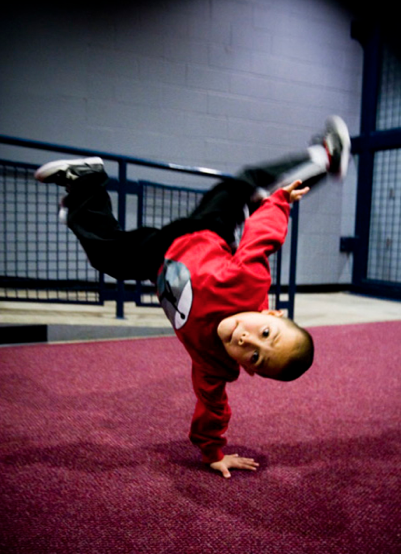 Jalen Testerman (Photo by Tony Kelly)
Cue 12-year-old Jalen Testerman. This prodigy began dancing at the ripe young age of 5, after watching Dave Scott's You've Got Served. Shortly after, he began an intensive training regiment with his devoted dad (and full-time coach). And man, has this kid been successful: He's appeared on TV shows like "Ellen," "Oprah," "Maury," "Dance Moms" and "Shake It Up" and in movies like Step Up 3D and Jack and Jill. He's competed in countless break-dancing competitions, and he's been featured in several commercials. Oh, and he danced alongside J-Biebs. That's an impressive resumé for an adult...never mind a preteen!
Last week, ABC's "Nightline News" devoted an entire segment to Jalen: "Born to Dance: The Breakdancing Kid." The news team shadowed him for three days as he prepared for the Sweet Sixteen battle in Seattle, WA. Check it out!
Spoiler alert: Jalen makes a mean PB&J, and his family is the most adorable.
Bonus: Want to learn more about battling? Check out this advice from the pros, including Dave Scott himself!
Apr. 05, 2014 11:00AM EST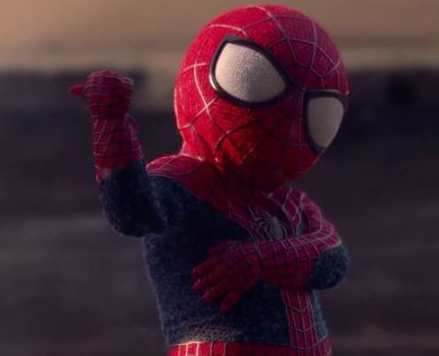 Remember Evian's gloriously adorable dancing babies commercial? Well imagine what would happen if that commercial were bitten by a radioactive spider...'cause that's pretty much what happened this week.
In celebration of The Amazing Spider-Man 2, which hits theaters on May 2, Evian released a new version of their viral Baby & Me campaign—one featuring none other than Spider-Man and his baby counterpart. (So strangely cute!)
The commercial is based on that same original premise—adult sees baby in reflection and begins dancing with it—but it's so much more intense. First of all, there's lots of swinging from buildings, which means Spider-Man catches his baby reflection in all kinds of surprising ways. Second of all, there are spidey webs, so that's pretty cool. But the biggest difference is that this is no dance party. This is a battle. And we think that Baby Spider-Man just may be the winner. (Watch out for his grand rond de jambe into a lunge at the end. This kid is not messing around.)
Who do you think won?
Nov. 25, 2013 03:32PM EST
I don't know what's gotten into sports fans these days, but they've been dancing up a storm.
Not that I'm complaining about it, of course.
Today's installment of Shakin' It in the Stands: A major dance battle broke out at a Detroit Pistons basketball game last week. The competitors? A very talented kid, who just might be in the running for my favorite person ever (although yes, between Baby Drum Major and Tiny Tapper, he has some stiff competition); and usher Shannon Sailes, whose dancing is apparently a whole thing already.
My vote goes to the kid, because oh fer cute. But really, everybody wins here. I dare you not to smile while watching this.
Happy Monday!


Get Dance Spirit in your inbox