Nov. 20, 2015 08:33PM EST
You know what I want for my birthday? A box full of supermodel Karlie Kloss and Les Twins. We could just hang out, have a dance-off, become bffs. It might sound weird at first, but really think about what hanging out with these tall and talented folks would be like: #squadgoals times one million, amirite? Also, I'm pretty small and I could definitely fit in a box with the three of them.
As it turns out, British Vogue understands that my birthday wishes must be met, so the magazine packed Karlie and Les Twins into a too-cute video that features some sweet moves and a lot of smizing...in a box.
Fashion and dance continue to feed off one another and the trend is nowhere near slowing down. And when it's especially irreverent, like this video, I can't wait to see more.
Oct. 12, 2014 11:00AM EST
You know those days when you're a little bit down on dance? Maybe you just don't feel like going to ballet class, or staying after school for dance team rehearsal, or spending your weekend at a competition. You've temporarily lost your dance love. But don't worry, I have a cure.
The city of Montreal hosts a huge swing dance festival every year, and this year some of the participants engaged in an invitational dance-off, showcasing Lindy-Hoppers versus street dancers. Um? Yes. Yes they did.
Think those dance styles don't have anything in common? Think again, and watch their footwork closely. The street dancers pay homage to old-school jazz and vaudeville, while the swing dancers funk-up their super-fast style with some isolations and freezes.
The video is long, so get comfy and prepare to smile for fifteen minutes straight—and if this doesn't remind you of why you love to dance, I don't know what will!
Oct. 06, 2014 04:29PM EST
You can never really have enough Romeo-and-Juliet-esque dance dramas, amiright? I mean, we'll continue to eat up every new Step Up movie until they stop bangin' them out (#teamstepup6). So naturally, we're pretty psyched for tomorrow's digital release of the new star-crossed saga, Dance-Off.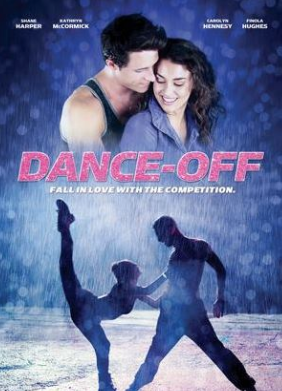 Dance-Off tells the story of Jasmine (played by the gorgeous "SYTYCD" All-Star extraordinaire Kathryn McCormick) and Brandon (played by Shane Harper). The two dancers were childhood duet partners, but life's circumstances pulled them apart—and Jasmine has been heart-broken ever since.
Several years later, the two meet again; however, this time, it's as competitors. Jasmine dances for the affluent Diamond Dance studio, whereas Brandon dances for the inner-city Shockwave Studios (rich in talent, but not so rich in funding). In a gloriously dramatic twist, Jasmine and Brandon are each chosen by their respective studios to compete head-to-head, mano-y-mano, to determine the top studio in the area. As if that isn't enough pressure, Brandon has to win in order to save his studio with the prize money—and it certainly doesn't help that Jasmine's over-the-top dance mom tends to intervene at the least desirable moments.
Throw in a good dose of romantic tension (and some stellar dancing—including tap!), and you've got a smash hit.
Dance-Off releases tomorrow, October 7, but you can pre-order it now on iTunes. To help you pass the time, we've rounded up a couple of Dance-Off clips. First, the trailer:
Next up, a Hulu exclusive clip:
And one more exclusive to round it out:
Jul. 12, 2014 11:00AM EST
Are you a Gryffindor or a Slytherin? #TeamJacob or #TeamEdward? It's been a while since we've asked ourselves these deep and self-defining questions...

It's really an age-old question, isn't it? (L to R: via Eclipse, via Dhesia)
But no matter which house/team you claim, or even if you're not so much of a fantasy fan, we promise you'll get a good laugh out of this: Recently, the band Scott & Brendo released a video entitled "Harry Potter vs. Twilight Dance Battle," and let's just say, it's even better than Harry Potter weekend on ABC Family.
Have you ever wondered what would happen if Harry, Ron and Hermione confronted Bella, Jacob and Edward in an enchanted forest? OK, you probably haven't. But regardless, this video answers that question. Obviously, they'd have a dance battle.
Here's a couple of things I love about this video: 1. Hagrid is the DJ, and he's completely absurd. 2. The dancing is actually pretty good! Turns out vampires, werewolves and wizards have got some swag. 3. A certain white wizard shows up. And no folks, it's not Dumbledore (because that would make too much sense).
This video pretty much speaks for itself, so I'll stop rambling and let you get to it:
Happy Saturday!


Get Dance Spirit in your inbox