Jul. 25, 2017 02:14PM EST
Every ballet dancer knows the time, sweat, and occasional tears the art form demands. But many non-dancers are clueless about just how much work a ballet dancer puts into perfecting his or her dancing. So when the mainstream crowd recognizes our crazy work ethic, we'll accept the round of applause any way it comes—even if it comes via four men in tutus. Yep, we're talking about "The Try Guys Try Ballet" video.
Keep reading...
Show less
Sep. 15, 2016 03:50PM EST
We may live all over the world and study different styles, but there are (at least) eight things that we can all relate to:
We're not Hermione with her time-turner, but we come close: "So you dance 15 hours a week and take 3 Advanced Placement classes and compete every weekend and assistant-teach at your studio and make honor roll?" Yep.

We can always get one. more. loop. out of our hair elastic.

IT'S NOT CALLED PRACTICE! Say it with us: Rehearsal.

An empty studio holds infinite possibility.

A moment not spent stretching or doing self-massage is a moment wasted.

We really wish we could make it to your birthday party/that concert/prom but we just can't. We have dance.

We will verbally take down anyone who suggests dance is easy.

Finally hitting the stage is the best feeling in the world.
(Dancers at the Houston Ballet Academy, including Cover Model Search finalist Tatiana Melendez!)
Want more Dance Spirit?
Feb. 02, 2016 03:23PM EST
Photo by Joe Toreno
The stars aligned back in 2013, when two young dancers walked into Tricia Miranda's class at International Dance Academy in Hollywood. Kaycee Rice, then 10, and Gabe De Guzman, then 12, plowed their way through an intricate hip-hop combo to Rihanna's "Right Now," showing dancers twice their age what it means to go full-out. Miranda, one of the industry's most sought-after choreographers, was captivated. "I remember thinking, 'Wow, these kids are aliens,' " Miranda says. "It's so rare to find a student who's mastered both performance and technique, and here I had two."
Keep reading...
Show less
Apr. 11, 2013 12:27PM EST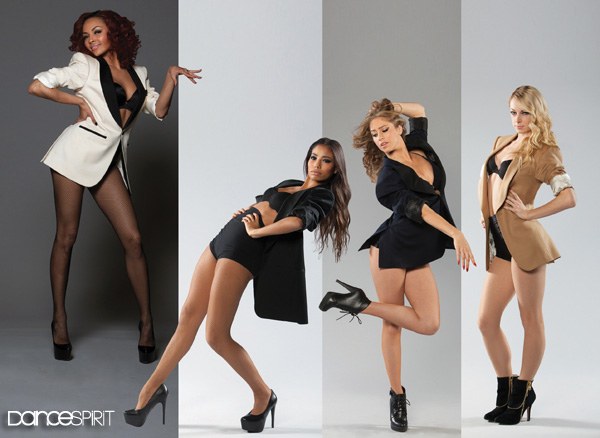 (L to R) Ashley Everett, Hajiba Fahmy, Sarah Burns and Hannah Douglass (photos by Erin Baiano)
A year from now, many people won't be able to tell you who played in that important football game on February 3, 2013. They won't remember the first downs, the second downs or the touchdowns. What will they remember? Beyoncé, who absolutely threw down for her much-anticipated Super Bowl halftime show performance.
For 13 minutes that Sunday night, the superstar celebrated her greatest hits, bringing the roaring crowd at the Mercedez-Benz Superdome in New Orleans—plus 108 million home viewers—into Beyoncé nation. The Baltimore Ravens and San Francisco 49ers may have come to play at the 2013 Super Bowl, but Beyoncé was the night's true victor.
That groundbreaking performance was all about girl power. Beyoncé and her team of more than 100 "single ladies" plowed their way into the stadium and showed the world that women can be sexy and classy at the same time—not to mention showstoppingly talented. And for eight of those lucky women, performing at the big game was the beginning of something even bigger: the sold-out, nearly 50-city The Mrs. Carter Show World Tour with Queen Bey herself.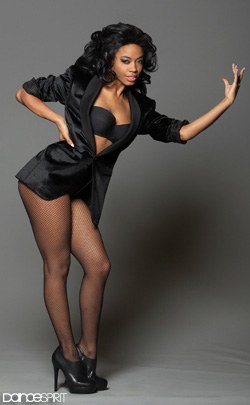 Kimmie Gipson (photo by Erin Baiano)
"Dance for You"
When hundreds of dancers showed up in NYC, L.A., Atlanta and Chicago to audition for a spot on the Super Bowl stage, they were actually trying out for a much longer gig as well. "This year's tour audition process was the Super Bowl," says longtime Beyoncé choreographer Frank Gatson Jr. "We saw 800 girls and once we got down to 100, we paid close attention to who was professional and magical. Beyoncé was very clear on who to pick for the tour—she means business. She's hands-on and she wants her dancers to shine like stars."
"Countdown"
In the weeks leading up to the tour's April 15 kickoff in Serbia, the dancers were in rehearsals daily, typically beginning at 9 am and lasting "until…" says Kimmie Gipson, who has been dancing with Beyoncé since her 2009 I Am…World Tour. Gatson and fellow choreographers JaQuel Knight and Chris Grant led the rehearsals; most days Beyoncé joined the dancers as well. "The whole rehearsal period was a lot," says Sarah Burns, who joined the Beyoncé team in 2012. "Emotionally, physically, mentally—it was very stressful." During rehearsals, the eight dancers were required to wear all black, and if Beyoncé was in the room, they also had to wear heels.
For Ashley Everett—one of the original "Single Ladies"—the rehearsal demands are no longer shocking, but that doesn't mean the process has gotten any easier. "Don't let the hair flips, heels and booty shaking confuse you," she says. "Beyoncé's choreography is very diverse—we do it all." Ashley has been Beyoncé's dance captain since 2009. "I have to know all the choreography, counts and timing," she says. "I pay attention to every detail."
Of course, attention to detail can be difficult when you're learning choreography alongside the queen of pop. "The first time I met Beyoncé was the day after I auditioned for her tour in 2009," says Kimmie. "She came in bright and early to rehearse 'Naughty Girl' with us. Everybody stood so far away from her, giving her so much space. She looked at us like, 'Guys, I don't bite!' That day I began to see her work ethic firsthand. She was right there with us trying to get the steps."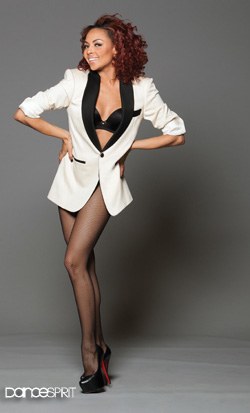 Ashley Everett (photo by Erin Baiano)
"Irreplaceable"
With so few female dancers accompanying Beyoncé onstage during this tour, it was crucial that the casting team pick eight girls perfectly suited for the job. Of course they had to be talented, and of course they had to be able to master that branded "Single Ladies" ring-finger point and Beyoncé stomp-walk-strut. But The Mrs. Carter Show women come from a wide variety of backgrounds. There's Ashley, the master of all styles who trained at The Juilliard School, Complexions Contemporary Ballet, the School of American Ballet, Dance Theatre of Harlem School and American Ballet Theatre and then went on to become a Radio City Rockette. There's Hajiba Fahmy from Paris, who boasts a contemporary dance background as a former member of Jean-Claude Gallotta's company. And there's Kimmie, who worked at McDonald's ("It taught me how to remain calm in stressful situations," she says) before going on to join the Philadelphia 76ers dance team. The Beyoncé "camp," as the dancers call the group, hails from California, Australia and everywhere in between.
What brings the multifaceted group together is the carefully crafted choreography. A total of seven choreographers worked on The Mrs. Carter Show tour, but Gatson, Knight and Grant handle the bulk of the work. "We show Beyoncé at least four versions of each song," Gatson says. "She wants options to choose from because she's done all kinds of dance, from ballet to tap." (When Gatson and Knight were choreographing "Single Ladies [Put A Ring On It]," they spent three weeks on the choreography and created 10 versions of the number.) In the end, Beyoncé makes the final decision about what she likes or dislikes. "She wants to have fun dancing onstage for two hours, so she has to love all of it. She wants to do everything the correct way—the best way. She doesn't want watered-down choreography," Gatson says. "She has such respect for dance. And she will do almost anything as long as she remains a lady. She has class with everything she does, even a booty shake. She knows technique will keep your movement classy. When you mix ballet with street movement, you get the Beyoncé brand. We call it country fried chicken with hot sauce."
 "Once in a Lifetime"
When rehearsals are done and it's time for the show to hit the road, the work really begins. It can be a tough adjustment for the dancers. "You're in and out of hotels and airports," says Kimmie, who takes her zebra-print Snuggie on tour with her so she has "something familiar" on the road. "The hardest thing about tour life for me is the lack of rest," Ashley says. "Aside from doing the show five times a week, I want to sightsee, teach, shop, go out, eat and experience the world. We do all that and then perform and jump on a tour bus to drive all night to the next city—and we keep doing it over and over again. It can be draining."
Despite the sore feet, muscle aches and exhaustion, each of the eight girls makes one thing clear: This is their dream job, and it's all worth it when they're onstage in front of thousands of screaming fans. "I love those moments onstage when we make eye contact and connect with each other—the band, the audience and Beyoncé," Kimmie says. Adds Ashley: "I'm doing what I love night after night. I'm living my biggest dream."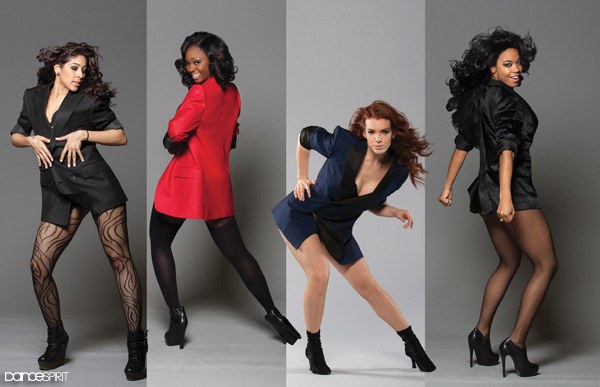 (L to R) Amandy Fernandez, Tanesha "KSYN" Cason, Kim Gingras and Kimmie Gipson (photos by Erin Baiano)
MEET THE LADIES
Ashley Everett (Dance Captain)
24; Chico, CA
First Beyoncé job: The Beyoncé Experience tour, 2007
On being one of the original "Single Ladies":
"I get recognized, and it's so weird when I do. I'm like, 'Really? You were paying attention to me?' "
Hajiba Fahmy
24; Paris, France
First Beyoncé job: A commercial filmed earlier this year
On the best part of working with Beyoncé: "She does everything well. Dancing, singing…she's like nobody else. You have to be a woman before you're a dancer in order to work with her. You have to know your essence."
Sarah Burns
26; Perth, Australia
First Beyoncé job: "Revel Presents: Beyoncé Live," 2012
On how she scored it: "I was living in L.A., went to an open audition and got the call from my agent that I had booked the job. Everything I've done with Beyoncé since then has been a direct booking."
Hannah Douglass
25; Austin, TX
First Beyoncé job: "Revel Presents: Beyoncé Live," 2012
On rehearsals: "You have to be ready for anything at any time. There are so many elements—the band, the dancers, the stage—and you don't always have every piece of the puzzle at once. Your job is to be on your game and master your field."
Amandy Fernandez
29; NYC
First Beyoncé job: "Run the World (Girls)" music video, 2011
On getting to know Beyoncé: "I helped workshop for the 'Revel' show [Beyoncé's first performance  after giving birth to baby Blue Ivy] with Beyoncé and two other dancers. It was just the four of us, so I got to do a lot of dancing with her. She's a sweetheart. She's down-to-earth and really nice."
Tanesha "KSYN" Cason
29; Bronx, NY
First Beyoncé job: The 2009 MTV Video Music Awards
On her favorite Beyoncé routine: " 'Diva.' It's the perfect blend of hood and sexy choreography with a bit of acting."
Kim Gingras
27; Montreal, Canada
First Beyoncé job: The 2013 Super Bowl halftime show
How she got the job: "When I saw Beyoncé's ad about the Super Bowl show, I said, 'This is it.' I'm a strong believer in positive thinking and visualization. I listened to her songs over and over and pictured myself with her onstage."
Kimmie Gipson
29; Plainfield, NJ
First Beyoncé job: I Am…World Tour, 2009
On taking the stage each night: "I anticipate the moment when the lights go out and everybody starts to yell. It sends chills all through my body and my nerves turn to excitement. We all hear it onstage, we all feel it, and then we're like, 'Let's do it.' It's so powerful."


Get Dance Spirit in your inbox