Jul. 14, 2017 09:41AM EST
JT Church and Robert Roldan in Travis Wall's "The Mirror" on "So You Think You Can Dance" (Michael Becker/FOX)
Congrats to this year's Outstanding Choreography Emmy nominees, announced yesterday morning in Hollywood! It's a pretty stellar list of names, with "So You Think You Can Dance" and "Dancing with the Stars" choreographers earning four of the category's five slots. (Rockstar Mandy Moore was actually nominated for her work on both shows. 🙌 )
Keep reading...
Show less
May. 09, 2017 10:30AM EST
The long, looooong countdown to the premiere of NBC's "World of Dance" is almost over, friends: Just 20 more sleeps until May 30, when we get to see its sure-to-be-fabulousness. And to get everybody EVEN MORE hyped about the show, exec producer Jennifer Lopez and fellow "WOD"-ers Jenna Dewan Tatum, Derek Hough and Ne-Yo have invited all dance lovers to take the #WorldOfDanceChallenge.
It's pretty simple, as these challenges go: Film yourself/your crew dancing the snippet of choreo in the vid below, set to J.Lo's "On the Floor." Upload it, using the #WorldOfDanceChallenge hashtag. Watch the show to see if your clip makes the master compilation video. Enjoy 15 minutes of social media fame/a lifetime of bragging rights if it does.
Keep reading...
Show less
Mar. 23, 2017 11:44AM EST
We all know Ellen DeGeneres is a major dance fan—she's definitely done her part to help bring dancers to national prominence by inviting them to perform on her show. I'm not arguing that an appearance by super-sibs Derek and Julianne Hough counts as dancer outreach (they certainly don't need any help with notoriety), but it's always good to see dance on "The Ellen DeGeneres Show"—no matter how low or high profile the performers are.
On Monday we told you that the Hough's MOVE Live Tour is back. Their appearance on "Ellen" was to drum up excitement for the tour—and we're definitely excited.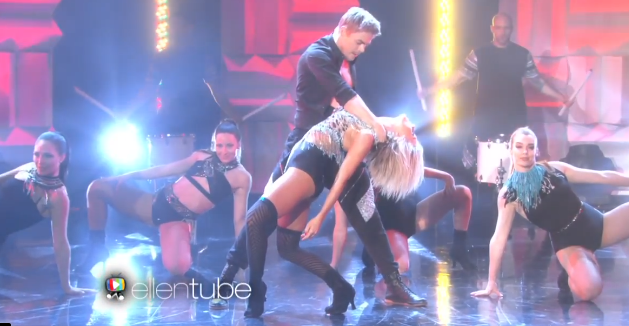 With their usual flair (and by flair I mean fringed crop tops and a drumline), the Hough siblings Latin-style-hip-hop-jazz-funk fusioned their way through a typically high-energy performance. Was it too much for daytime TV? Or was it just en-Hough?
Click here to watch the performance, and let us know what you think!
Mar. 23, 2017 07:55AM EST
This Thanksgiving, two celebrity families served up a LOT more than turkey and mashed potatoes. Former "Dancing with the Stars" partners Derek Hough and Maria Menounos ("Extra") battled it out over Instagram in a Thanksgiving dance war. And in the spirit of the holiday, their families got involved too.
It was a bold move for the Menounos family to challenge the Houghs to a dance-off, considering they've got two not-so-secret weapons: Derek and Julianne. But they brought their A-game with some Flo Rida, T-pain and shades:
In a surprise comeback, the Houghs relied on their family charm, rather than a flashy display of their professional skills:
Who do you think won the #Thanksgivingdancewars?


Get Dance Spirit in your inbox