Mar. 23, 2017 05:15PM EST
Shaping Sound Dance Company first debuted its full-length production That's Where I'll Be Waiting in 2013. Two years later, the contemporary show—with explosive energy from co-choreographers Travis Wall, Nick Lazzarini, Teddy Forance and Kyle Robinson, and dancers like Jaimie Goodwin, Chantel Aguirre and Amy Yakima—is still going strong, earning nightly standing ovations. What's it like touring with one of the most popular dance productions around? Dance Spirit asked longtime company member Kate Harpootlian (whom you'll recognize from "So You Think You Can Dance" Season 12 Team Stage!) to keep a diary for a week on Shaping Sound's 2014–15 tour. —Jenny Ouellette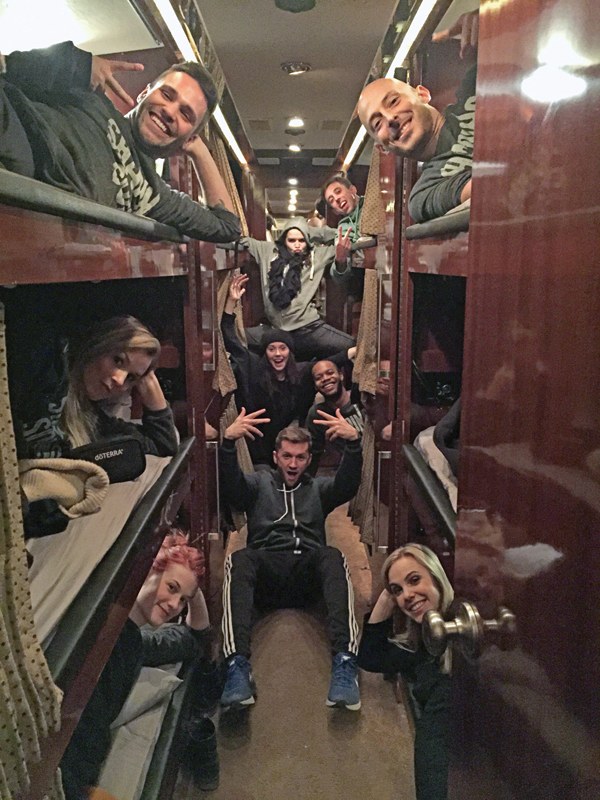 Kate Harpootlian (lower left) on the tour bus with Shaping Sound Dance Company (photo courtesy Harpootlian)
January 23: Last Rehearsal in L.A.
I was really excited to get back into rehearsals for the second half of Shaping Sound's second tour. Once in L.A., we had four days to regroup, which is usually pretty fun. I've known most of the dancers since I was teenager, so getting together is like a big family reunion.
This time, though, the week got serious after our company's morning ballet class. One of the show's dancers, Matthew Peacock, found out he'd been booked as the assistant choreographer for Madonna's Grammy performance. It's an amazing opportunity for Matthew, but it means one of our understudies, Rory Freeman, will now be taking over his part. Our limited four-day rehearsal period—which we've had to do without props, since they're in Texas already—has been pretty hectic. Rory is a rock star, though, and our last run-through went smoothly.
January 27: Tech in Fort Worth, TX
Today we flew from L.A. to Fort Worth—and we didn't waste much time before going to the theater for tech. Once we were onstage, with the lights, costumes and props (!), it really sank in that tour was starting. Our set features walls that we climb up and fall off. We move them around ourselves during the show, and remembering to lock or unlock the walls while we're performing isn't easy. So a thorough tech is absolutely necessary.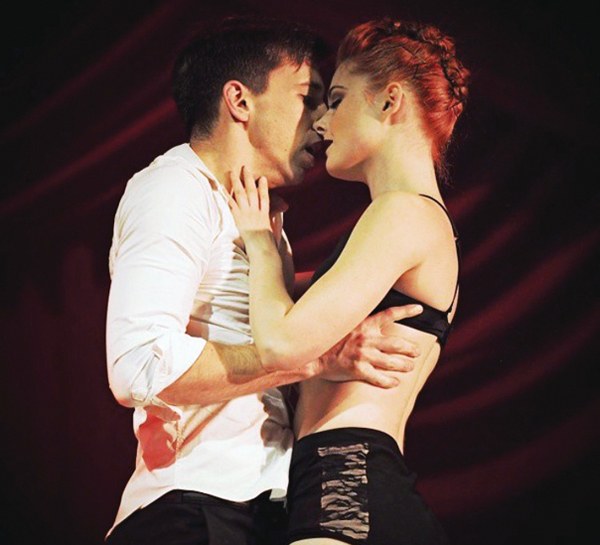 With fellow Shaping Sound dancer Ben Susak (courtesy Harpootlian)
January 28: Opening Night in Fort Worth
Tonight's performance was electric. My favorite part of the show is the duet I perform with Ben Susak in the "Wild Is the Wind" section. We have a great connection and we both really get into character. We also tend to change little things up each show, which keeps the piece fresh for us, even though we've danced it so many times. After each performance, we always do a meet-and-greet in the lobby. I love getting to speak with fans, but tonight was especially magical: My dad was there to give me a big hug!
January 29: Tulsa, OK
The grueling tour schedule has begun! We checked in to our Tulsa hotel around 4:30 am, disoriented and exhausted after our overnight drive. Believe it or not, though, it felt great to be back on the tour bus! Sometimes we're driving for up to 12 hours at a time, and, for that reason, the bus has become one of our favorite places to hang out. We usually eat dinner and watch our most recent performance while we wait for the crew to load out—and we also love playing Catch Phrase. Our competitive group gets pretty rowdy!
Luckily, we were able to go back to sleep once we arrived at the hotel, and I felt pretty good when I woke up around 10 am. I grabbed a couple of dancers for breakfast and hit the hotel gym with Channing Cooke.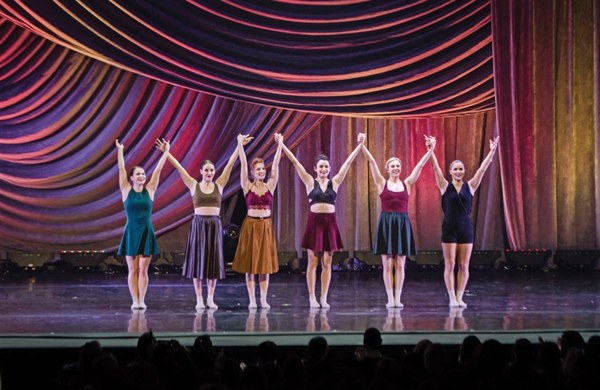 Harpootlian (third from left) during a Shaping Sound curtain call (photo courtesy Shaping Sound)
We had a 4:30 pm call time, but first we had to load all our stuff back on the bus since we'll be leaving right after the show. Three hours before every show (our call), the company meets for notes, info about our next tour stop and to get our lighting and spacing cues. An hour and 15 minutes before curtain, we take a company ballet class. Then I put my costume on, and five minutes before curtain, we regroup onstage for our company's pre-show ritual: After some words of encouragement, we take a few deep breaths. Our last exhale—a long "ahhh" sound—turns into a yell. Then we do a shake-off counting down from 8, and when we get to 1, someone shouts out "Shaping Sound" and we do a loud group clap. We like to think the better the clap is, the better the performance will be. It must have worked tonight!
February 1–2: Skokie, IL
After a four-show run in Kansas City, MO, and Minneapolis, MN, we finally have a couple days off. Some of the company stayed in Minneapolis, but the rest of us arrived to a full-on blizzard here in Skokie. It gave us a good reason to stay inside and rest.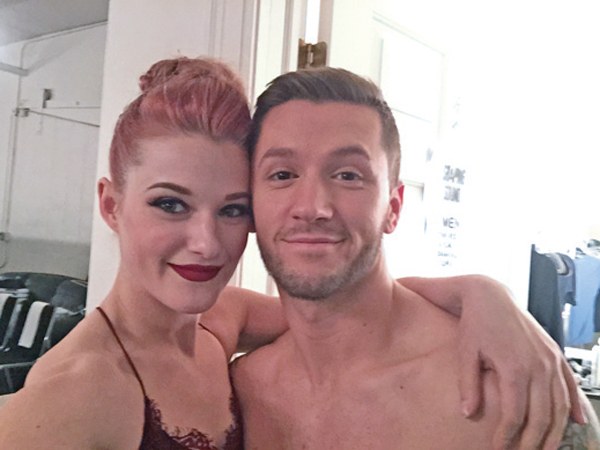 Harpootlian with Travis Wall (photo courtesy Harpootlian)
Monday in Skokie was bright and sunny, so I went into Chicago to take ballet class at the Lou Conte Dance Studio—home of Hubbard Street Dance Chicago. Then I headed to the hotel to take a quick rest before teaching a master class with Ben and Channing. I guess it wasn't much of a day off, but I love teaching. Plus, I got to reward myself afterwards by exploring Chicago one of my favorite ways—through my stomach! A lovely dinner with Travis and Nick was the perfect way to end this first week.
Shaping Sound's 2015–16 tour kicks off this month in Escondido, CA, and runs through February. Visit shapingsoundco.com/tour for details.
Nov. 22, 2016 08:03PM EST
Savannah in tech rehearsal on April 30 (courtesy Nancy Gaillard)
High school senior Savannah Gaillard has been attending the New York University Future Dancers and Dancemakers workshop at Tisch School of the Arts for the past three years.
The uber-focused and dedicated teen chronicled the final three weekends of the 2016 program: Every Saturday, from February through April, she and her mom, Nancy, took the train from their home in Haymarket, VA, to NYC so Savannah could experience life as a BFA dance major at Tisch.
Keep reading...
Show less
Sep. 15, 2016 08:38PM EST
Pint-size triple threat Evie Dolan has played bass-guitarist Katie in Andrew Lloyd Webber's School of Rock—The Musical since the show opened on the Great White Way this past December. The 11-year-old NYC native has studied everything from ballet to lyrical to jazz at the Joffrey Ballet School and, more recently, at Downtown Dance Factory. She's also a natural actress and plays piano, ukulele, guitar, mandolin and saxophone. Along with the other 13 kids in the School of Rock cast, Dolan performs all eight shows per week. She took Dance Spirit behind the curtain for a look at seven days in her Broadway life. —Courtney Bowers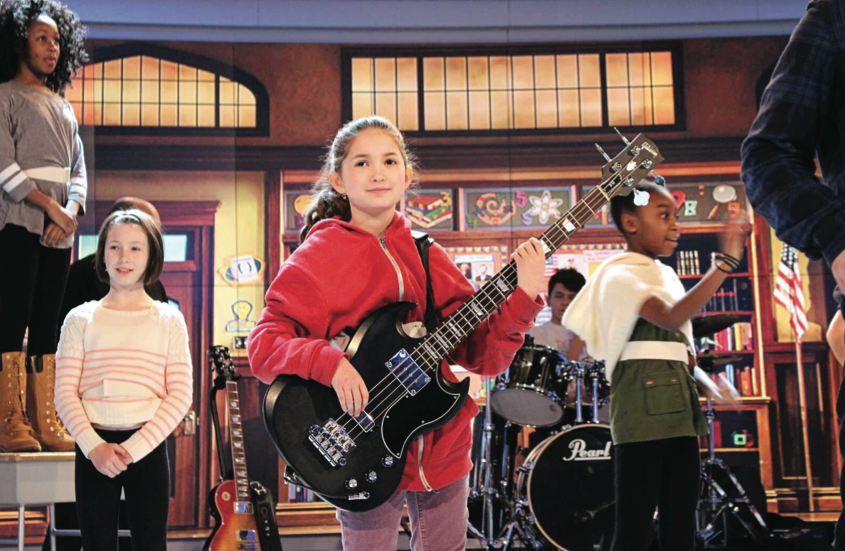 Rehearsing for "The View" (courtesy Dolan)
Friday, January 29
This week started off early with a performance on "The View." We arrived at the ABC Studios at 8 am, and rehearsed on the super-cool set they custom-made with a digital screen of our School of Rock classroom. I don't get nervous often, but I have to admit, going on live TV in front of a studio audience gave me the jitters. As soon as I started playing my bass guitar though, everything was fine. The co-hosts of the show were so nice and funny—we had a blast!
After our performance, I got to rest a bit, and then I went to the theater for our evening show. As usual, I arrived for our call time of half an hour before curtain, got into my costume, got my hair done and did my own makeup. Sometimes there are a few minutes left to do something special. For example, every Friday night, we have a ritual called "Dollar Friday." The whole cast and crew buy raffle tickets for a dollar each, and someone picks the winning ticket out of the container. These days, the pot can get up to around $200, so it's really exciting when someone wins. I'm always sure I'll win, but I lost this week—wah! I'd never heard of Dollar Friday before, but cast members who have been in previous Broadway shows knew all about it, and told me it's a Broadway tradition.
Saturday, January 30
On Saturdays we have two shows. It's tiring, but it's also a lot of fun. A great thing about Saturdays is that lots of friends who don't live in NYC come to visit and see the show. Today a big group of friends from Putney, VT, drove down and I got to have a nice dinner with them at Rockefeller Center between shows. Also, our former cast mate Aaron Fig, who played James during the show's Gramercy Theatre run, came to visit us. We were so happy to see him!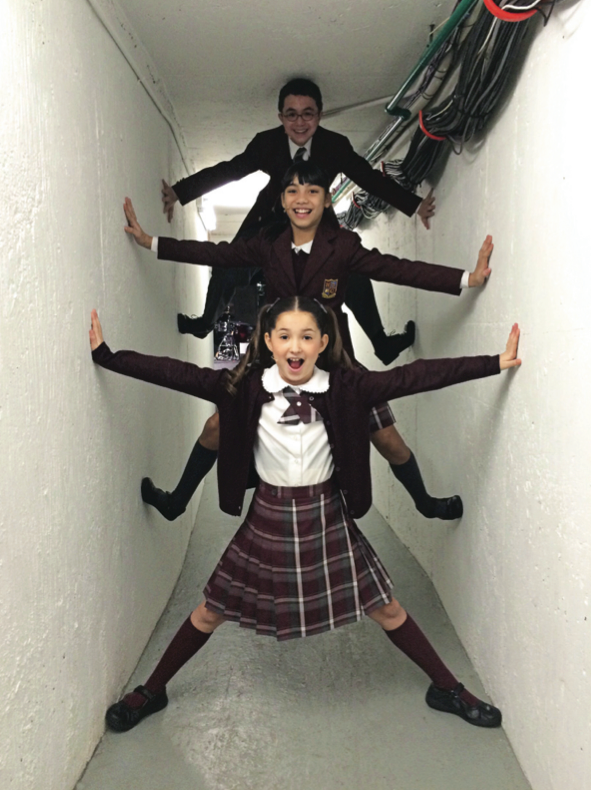 (from top) Jared Parker, Cori Wilson and Evie backstage (courtesy Dolan)
Sunday, January 31
Before the show we usually warm up with our dance captain Patrick O'Neill and assistant dance captain Lulu Lloyd, and today was no different. Our warm-ups are really fun; we play different songs each time based on our requests. Today was my turn, and I picked "Time Machine," by Ingrid Michaelson. Each show, Patrick and Lulu also teach a little dance combo they've created for us. We add a new 8-count to it every show, so after a few weeks we end up with a big dance number that we all know! The choreography helps keep us on our toes for future rehearsals or auditions.
The kids' cast is onstage for most of the show, but there are some scenes when we're just waiting backstage. We have to be quiet, but we come up with fun things to do to fill the time. I usually knit. My cast mate Shahadi Wright Joseph and I even started a little company called Backstage Knitters. We have custom labels, and other cast members order knit goods from us. This Sunday, I was knitting a headband for myself. I've been doing a lot of headbands lately because they're really quick and easy.
Monday, February 1
On Mondays, I usually rest and catch up on a lot of schoolwork, but sometimes I have other cool jobs. This Monday, I was hired by English Egg (a company that makes albums of nursery rhymes and songs to help children learn English) to record "London Bridge Is Falling Down," and a few other songs at Avatar Studios. I love Avatar Studios because that's where our School of Rock band recorded the original cast album back in October.
Tuesday, February 2
For the past few Tuesdays, I've been having a blast with my cast mates Cori Wilson and Jersey Sullivan rehearsing for an upcoming cabaret called Broadway Sessions. We're doing two songs, along with our cast mate Dante Melucci. We're mixing up the instruments we play in the show, so for the cabaret, I'll be playing electric guitar for one song and ukulele for another. This afternoon we rehearsed for an hour in the West Village with our bass and guitar teacher.
Wednesday, February 3
Wednesdays are also two-show days, and I usually make sure I have a physical therapy appointment. Right now, I'm going to PT a lot, and it's especially important for me to go on two-show days because my muscles get really sore and tight, not only from the heavy bass I play, but also from the dance numbers we do in the show—"Stick It to the Man" has a ton of jumping! PT keeps me flexible and warmed up.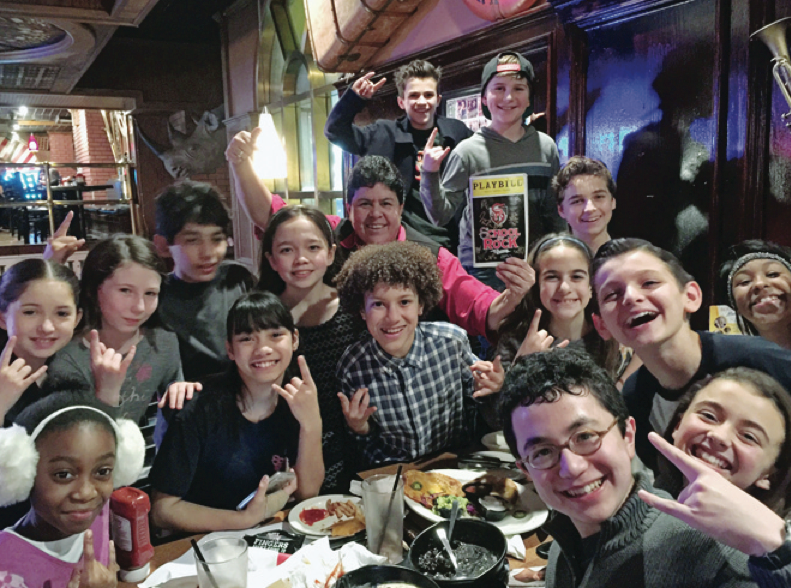 Celebrating at TGI Friday's after a show (courtesy Dolan)
Yesterday, we found out that Lin-Manuel Miranda, the creator and star of Hamilton, had arranged for our School of Rock band to play "Sweet Child O' Mine," by Guns N' Roses, during his digital #Ham4Ham performance on Saturday, February 6. The show would be part of the celebration of the 20th anniversary of Kids' Night on Broadway. I knew the song pretty well already, but I needed to nail down a few parts, so the show band's bass player helped me figure it all out in between performances today. Everyone in our show helps each other out whenever we need anything. We really are like a family. Plus, I got to visit our version of an orchestra pit, which is so cool. People think of orchestra pits as being at the front of the stage where the audience can see the tops of the musicians' heads, but our musicians play under the middle of the stage. They have monitors so they can watch what's happening onstage, and there are tons of instruments.
What are #Ham4Ham shows? They're the short performances Lin-Manuel Miranda gives for fans waiting in Hamilton's ticket lottery line on most Wednesdays and Saturdays. Some shows are given in person outside of the Richard Rodgers Theatre, but others, like School of Rock's, are shown digitally. Check out Hamilton's YouTube page to watch the kids' rockin' "Sweet Child O' Mine" performance.   
Thursday, February 4
Today we had band practice all afternoon at our rehearsal space. Then, at 4 pm, we started rehearsing "Sweet Child O' Mine." It came together really well, and we were ready to tape when Lin-Manuel and the Tony-winning actress and rock star Lena Hall got there at 4:30 pm. Lena Hall totally killed the song—she even did Axl Rose's snake dance!
Thursday night was also our cast mate Jared Parker's last night in the show—he originated the part of Lawrence and is the first of the original cast to "graduate" from Horace Green Prep. We all love him so much. We had a "Happy Trails" ceremony for him during the half-hour before the show, and Alex Brightman and Sierra Boggess gave beautiful speeches. Cori Wilson and I sang a good-bye song we wrote for him called "This Band Is Your Band," to the tune of "This Land Is Your Land."  After the show, everyone went across the street to TGI Friday's for a celebration. This show has brought all of us so close together. We know we'll be friends for life.
Apr. 14, 2016 04:20PM EST
Name the dance job, Taylor Gordon's probably had it: The 27-year-old's resumé includes performances with the Metropolitan Opera Ballet, the Radio City Christmas Spectacular, off-Broadway productions and stints with concert groups like Exit12 Dance Company. But only this year did the New Yorker fulfill her longtime dream of dancing abroad, earning a spot as a dancer with TUI Cruises. What's it like to travel the world on a giant ship? Gordon documented the first few months of her seafaring adventures for Dance Spirit.
—Margaret Fuhrer
August 10, 2015
I'm in Berlin! It's the first day of my six-month contract with TUI Cruises. I'll be performing aboard the new Mein Schiff 4 cruise ship as it tours around Europe and Africa. First, though, we have a nearly two-month rehearsal period here in Germany. It'll be intense, but on the weekends I'll have the opportunity to travel to European opera houses and villages.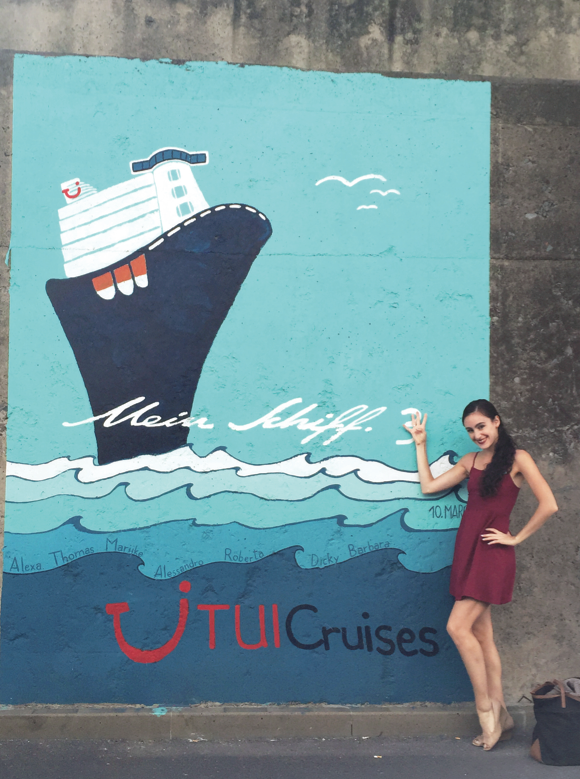 (Courtesy Taylor Gordon)
Today began with a meeting for the full cast: eight dancers, six singers, four acrobats and four actors. Only one other dancer is from the States. The rest of the cast is from all over, including Italy, Germany, Hungary, Austria and Ukraine. I'm excited to get to know such a diverse group. We have to learn 10 different hour-long shows (!), and we spent this afternoon working on "Beatles Forever," in which I have a featured role as the main character's daughter.
September 7, 2015
By this point, I have my Berlin morning routine down pat: I leave my Airbnb apartment at 8:15 am, grab a big coffee en route, rub on Voltaren for my back pain and go through my Pilates routine before 9:30 am class with the dancers from all the various Mein Schiff ships. Having daily technique class here is a luxury. When I'm freelancing in NYC, it can be tough to squeeze in training.
With 10 different shows, there's a lot of choreography to keep
organized in my brain, but that's a good thing—it means I'll never be bored on tour! Two of my favorites are "Musical Gala," which has fun musical theater repertoire, and "Varieté," which is based in ballet. There's lots of fast petit allégro.
The language barrier was challenging at first—most of our coaches are Italian. But Italians really do speak with their hands, and it's becoming easier for me to communicate through body language. I've learned the Italian words for arms, legs, fast, slow, jump and turn—all the dance essentials.
October 4, 2015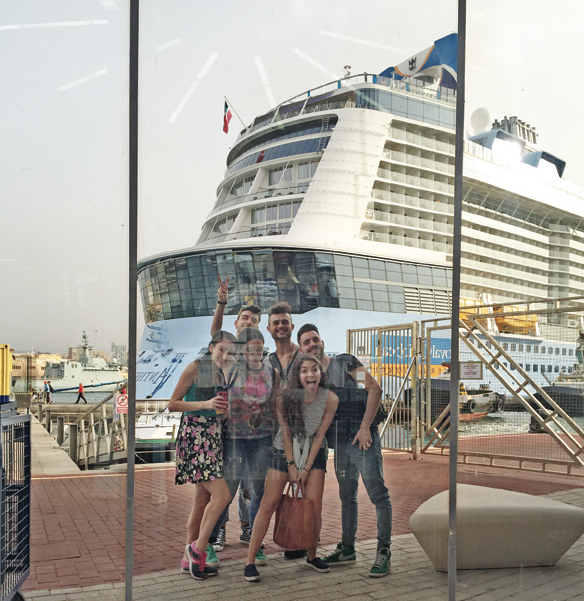 (Courtesy Taylor Gordon)
It's finally embarkation day! We boarded early this morning in Las Palmas de Gran Canaria, the Spanish port we'll be revisiting weekly. Our cabins are in the bow of the ship. My room is tiny—the bed folds down from the wall—but I've lived in closet-sized apartments in Manhattan, so it wasn't too much of a shock. And having a two-floor commute to work will be great.
After lunch in the crew mess hall, we had a meeting in the theater. It's a beautiful space with several stage elevators and almost 1,000 seats. Then we had the first of many safety training sessions, and fittings for the more than 35 different costumes we'll be wearing.
Thankfully I found Wi-Fi onboard, so I could Skype one of my best friends—she's getting married today. I'm sad that this job means I'll be missing important moments back home, but happy to be starting a new adventure.
October 12, 2015
Tonight's opening night! From 10 am to     1 pm, we had a run-through of "Beatles Forever" with costumes and corrections. I'm slowly learning to adjust to the wobbly movement of the ship as I dance. Our final dress rehearsal was at 2:30 pm, and then I went to the gym—which has an ocean view—before the performance at 9:30 pm.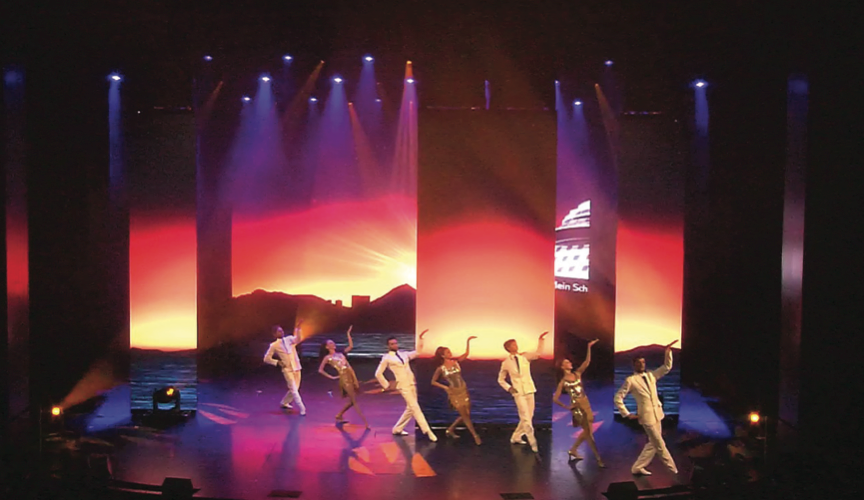 (Courtesy Taylor Gordon)
It was a great show. The energy the audience gives you makes all the time in the studio worth it. Afterward, we celebrated in the passenger area of the ship, where a lot of people recognized us from the performance. I finished the evening playing a German card game with some of the crew. Not a bad day!
November 3, 2015
Now that all the shows have premiered, we have a little more free time. The ship has traveled to Senegal, the Cape Verde islands off Africa and several small Spanish cities, but we haven't had more than an hour to disembark—until now. This morning we docked in Madeira, Portugal, and I walked through a beautiful garden before having lunch with the whole entertainment department at a restaurant called Kon Tiki. Its "beef on a stone" is one of the best things I've eaten on tour. So delicious!
My contract is half over, but the best part is just beginning. I'm excited to explore Morocco in a few days, and to spend the holidays in the Canary Islands. Performing and traveling for a living—what more can I ask for?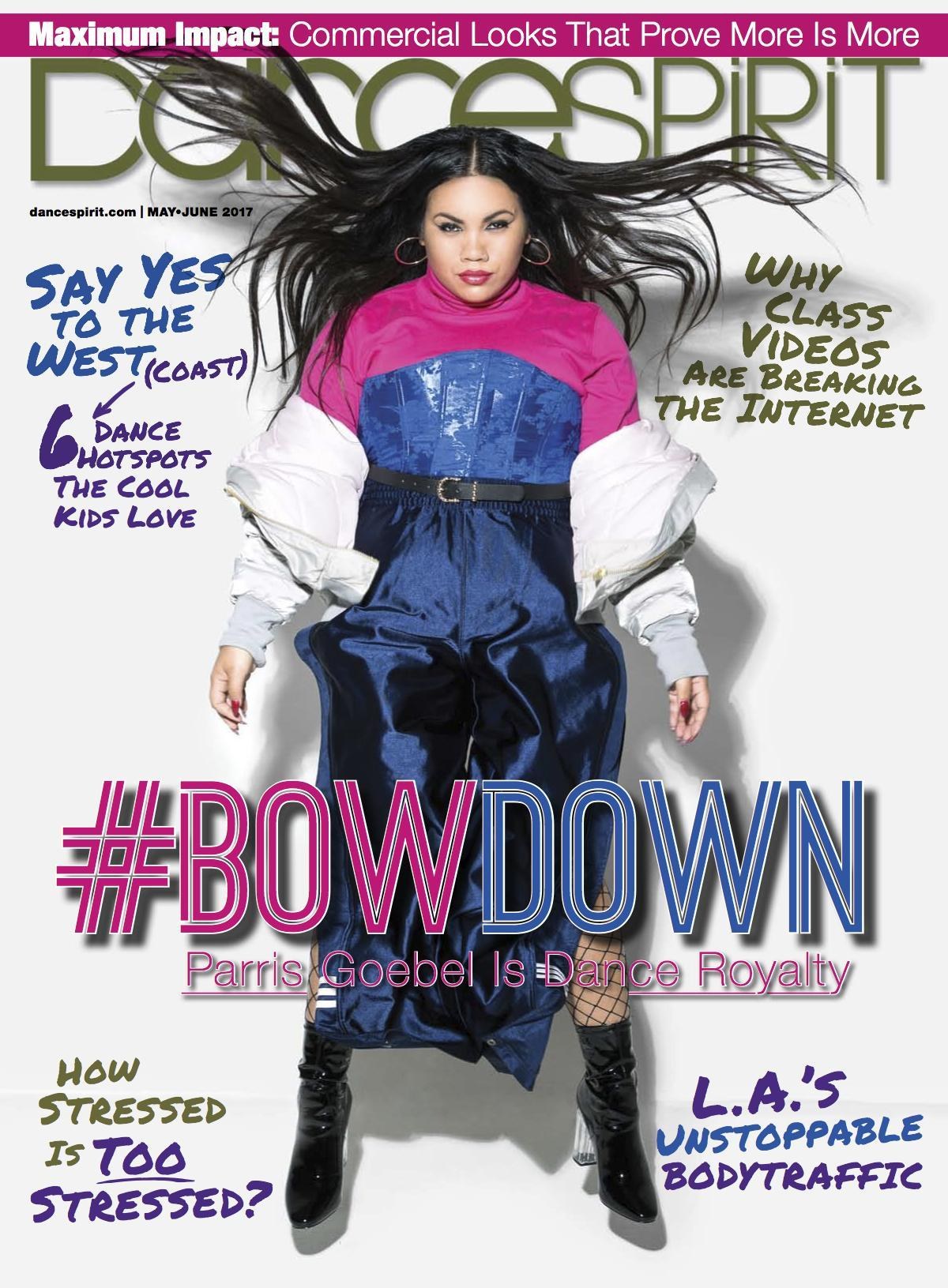 Get Dance Spirit in your inbox