Oct. 11, 2016 10:55AM EST
It was just announced that Disney is going to make live-action versions of both The Lion King and Aladdin, two animated movies that defined a big ol' chunk of our childhood. (Seriously: Soooo many long car trips were saved by listening to cassettes—cassettes!—of those soundtracks on repeat.) That's happy but not necessarily surprising news: Disney's already given us live-action takes on Cinderella and The Jungle Book; the real-people Beauty and the Beast is coming in just a few months; and a live-action Mulan is in the works, too.
But here's the thing about Aladdin and The Lion King: Fabulous musical versions of those stories are currently blowing up Broadway. And a HUGE part of their Great White Way success is due to the fantastic choreographic minds of Garth Fagan (Lion King) and Casey Nicholaw (Aladdin).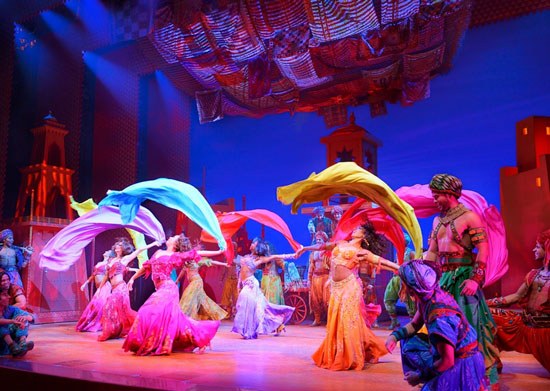 A scene from the musical version of Aladdin. How amazing would this choreo look on the big screen?? (Photo Deen van Meer/Disney)
Soooo, Disney: Can we get a little Broadway-Hollywood crossover action here, and bring Fagan and Nicholaw on board the film projects? That'd be a win-win scenario—the movies would benefit from the genius of these two world-class pros, who already have oodles of experience with these stories, and Fagan and Nicholaw's work would get large-scale exposure. Pretty please?
Mar. 07, 2016 10:31AM EST
There's about to be a new Nutcracker in town—and by "in town," I mean "in movie theaters."
This weekend, it came out that Disney is developing a big-screen version of the holiday classic. But if you're imagining animated mice and snowflakes and sugar plums—or an expanded version of the vaguely creepy Fantastia "Nutcracker" sequence, with its dancing mushrooms—think again. Instead, the new project, titled The Nutcracker and the Four Realms, will be a live-action film directed by Lasse Hallstrom.
Hallstrom is the guy behind films like What's Eating Gilbert Grape and The Cider House Rules, which aren't exactly light, kid-friendly fare. So this Nutcracker might be more shadowy than your average ballet company's production. (It sounds like the script will draw from E.T.A. Hoffman's original story, The Nutcracker and the Mouse King, more heavily than most ballets do—and good grief, that story is all kinds of intense.)
But...will there be any dancing involved? Will we hear bits and pieces of Tchaikovsky's score? Will this Nutcracker movie be as terribly terrible as The Nutcracker in 3D, which even Elle Fanning couldn't save? Will the film siphon audiences away from ballet productions, or will the whole thing be good for the ballet world? Will Macaulay Culkin make a cameo?? SO MANY QUESTIONS.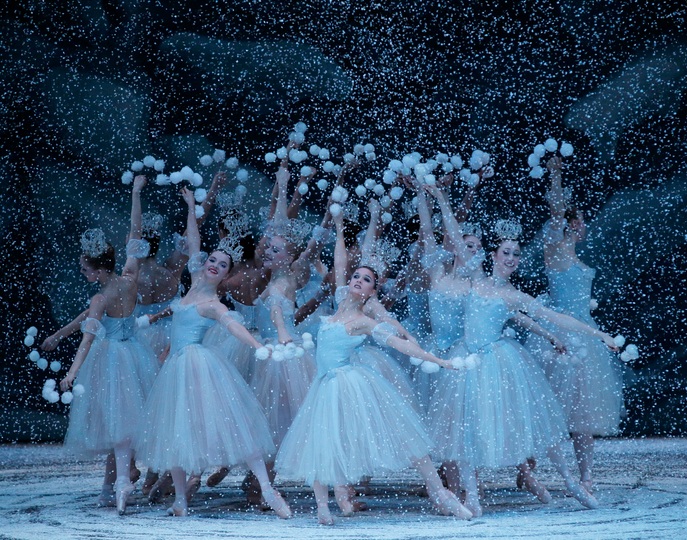 They can't get rid of the snow scene...can they? (New York City Ballet in George Balanchine's The Nutcracker. Photo by Paul Kolnik.)
No cast or release date info yet, but we'll keep you posted!
Feb. 24, 2016 10:41AM EST
It's easy to forget that Gabe De Guzman and Kaycee Rice are kids.
They're seasoned professionals with crazy-good resumés. They're the stars of pretty much every dance class they set foot in. They're some of the savviest self-marketers around, always finding new ways to grow their (already huge) fan base.
But yes: They're also just barely teenagers. So it's kind of fun that their latest video, "CLUBHOUSE," lets them get in touch with their silly-kid side.
Choreographed by Janelle Ginestra, the vid features Gabe and Kaycee doing their best Mickey and Minnie Mouse impressions to a medley of Disney and Disney-inspired ("Hey Mickey," anyone?) songs. Scooters, hot dogs and lots of special-effect sparkles are involved. And the dancing is, of course, everything we've come to expect from a De Guzman/Rice/Ginestra production.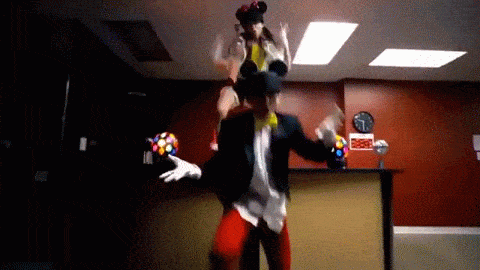 YUP.
Enjoy!
Jun. 24, 2015 04:05PM EST
It seems like only yesterday we were raving about the super-adorable Disney Channel original Teen Beach Movie. In reality, though, it's been close to two whole years since the made-for-TV musical had our hearts singing with its summery dance-filled numbers. Choreographed by Christopher Scott (of "So You Think You Can Dance" and "LXD" fame), it featured "SYT" alums Kent Boyd and Mollee Gray and our gorgeous L.A. tour guide, Jessica Lee Keller.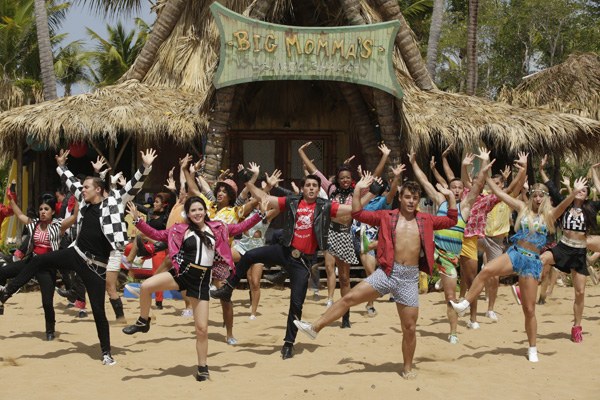 Teen Beach 2! (Disney Channel/Francisco Roman)
It's about time for another, right? Teen Beach 2 hits the small screen this Friday, and Scott is back at the dance-helm of this surf-inspired spectacular. Dance Spirit spoke with him about the sequel.
Dance Spirit: Do you have a favorite part of Teen Beach 2?
Christopher Scott: "Gotta Be Me." It's really a dancer's number. It takes place in a gymnasium, and I was able to showcase everyone's individual talents. I found out what everyone was capable of when making the first film, so this time around I was able to push the dancers to their ultimate limits.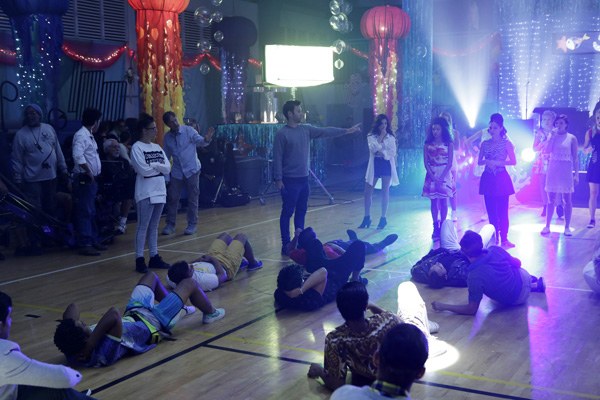 Christopher Scott (center, pointing) choreographing "Gotta Be Me" for Teen Beach 2 (Disney Channel/Francisco Roman)
DS: Creating musical numbers for Disney seems pretty different from your other projects, like "The LXD."
CS: It is, but the theater world is where I fell in love with dance. I'm actually a big musical theater nerd. Teen Beach has a lot of references to West Side Story, and that's the first musical I performed in.
DS: Is your process different when you're creating work for "SYT" compared to Teen Beach?
CS: No matter what I'm doing, there's a story involved and a reason for the dance. When I'm working with the dancers on "SYT," I don't really take into account of what the dancers are or aren't able to do—it's a contest and they have to live up to expectations. But when I'm choreographing for something like Teen Beach, I'll tailor the movement to the dancers I'm working with. There's more collaboration.
DS: Do you have any advice for Dance Spirit readers who are hoping to work in Hollywood?
CS: Take advantage of all the new technology and platforms available today. You can easily shoot a movie on your iPhone in your living room—just go out and start making work. There's no reason not to get started now.
Check out the trailer for Teen Beach 2 below, then set your DVRs for Friday, June 26 to catch the premiere!


Get Dance Spirit in your inbox