Mar. 23, 2017 05:11PM EST
American Ballet Theatre principal Misty Copeland is a trailblazer who is changing the game of classical ballet. And now the amazing 32-year-old is sharing her life story with the whole world in a new documentary, out this week: A Ballerina's Tale.

Directed by Nelson George, the film gives viewers an inside look at the ups and downs Copeland faced on the path to becoming ABT's first black female principal. Confronted with challenges ranging from body shaming to injury, Copeland fought her way to the top ranks of classical ballet by believing in herself and taking chances.
The documentary hits theaters this Wednesday, October 14. And Copeland and George will be hosting a series of Q&As starting on October 14 at the IFC Center and Lincoln Center in New York. To purchase tickets for the Q&As, click here; for a list of theaters playing the film, visit aballerinastale.com.
May. 13, 2016 02:45PM EST
There are few better ways to celebrate Friday than with a gorgeous, phenomenally talented ballet dude. Which is why the new trailer for Dancer—the upcoming documentary about Sergei Polunin, "the James Dean of the ballet world"—is just what you need today.
You know Sergei Polunin. He's the one who had an insanely rapid rise to fame at The Royal Ballet, where he was named the company's youngest-ever principal in 2010. He's the one who then quit the company at 21, in a fit of what seemed like self-destruction, becoming one of ballet's bad-boy rebels. He's the one who starred in that hauntingly beautiful Hozier video that exploded the internet last year. And he's the one who is now, tentatively, returning to ballet—with the support of his new girlfriend, ballerina extraordinaire Natalia Osipova.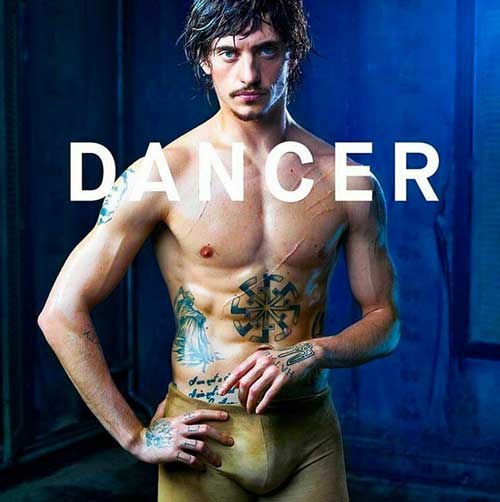 Did we mention that he's really pretty? (via @sergeipolunin_)
Polunin is a natural documentary subject; there's a already a heck of a lot of story in his life. That makes us especially eager to see Dancer, which is produced by West End Films and directed by Oscar-nominated Steven Cantor. The film is currently slated for release sometime this summer. In the meantime, please enjoy the trailer, which has sweet (and impressive) footage of Polunin as a very young dancer, as well as some fantastic footage of his more recent performances.
Happy Friday, friends:
Sep. 10, 2015 04:15PM EST
You probably know Sergei Polunin as the "bad boy of ballet," the guy who made the dance world raise its collective eyebrows when he peaced out of his cushy principal contract with The Royal Ballet. No? Well, you definitely know him as the gorgeous man from the Hozier video that broke the internet a few months ago.
Polunin is amazing—and fascinating. What motivates an artist who reached the highest level of the traditional ballet world, only to abandon it? Where does his restlessness come from? Where does he see himself going? He's mysterious, and that mystery captivated film producer Gabrielle Tana when she met Polunin back in 2012.
Tana, who knows a good story when she sees it (she got an Oscar nom for her work on Philomena), decided to produce a documentary about Polunin's extraordinary life. The result, Dancer, follows Polunin as he hopscotches across the U.S., Britain, Russia and his native Ukraine. And it includes clips by David LaChapelle, who also masterminded that Hozier video.
We dance fans owe this movie a lot: It was basically the defibrillator that restarted Polunin's dance career. Apparently, that Hozier video was to be his farewell to all things ballet. But "thanks to the influence of Gabby and David," he told Variety, "I realized that I loved dance. They are so cool and influential, and they love dance, so I was like: 'It might be something I should come back to.' " (The whole Variety story is definitely worth a read.)
Dancer is about to get shopped around at the Toronto Film Festival; hopefully somebody will pick it up for distribution. In the meantime, take a look at this clip, which shows Polunin flying onstage as Spartacus—and, later, sweaty and exhausted in his dressing room.
Jul. 03, 2015 05:00PM EST
There are countless dance documentaries out there, covering everything from Elizabeth Streb's daredevilry to Justin Peck's work as a ballet choreographer to the global hip-hop community. We're lucky that there are so many filmmakers who want to capture dance—and so many dancers who take up the camera themselves!
Now, we can add another amazing film to the list: Tap World. The documentary features interviews with tap masters like Chloe Arnold (who, along with her sister Maude, is the producer. #unstoppable) and Michelle Dorrance, but it also has a special twist. In preparation, the producers asked people all over the world to share why tap is important to them—and some of their personal stories were included in the film! What an amazing way to show how tap, which is an American dance form, has become a global phenomenon. And to remind us that all dancers are connected through rhythm and music.
The film will be released in NYC on July 10, and will be rolled out nation-wide after that. Click here for the deets and watch the trailer below!


Get Dance Spirit in your inbox