Tiler Peck on "The Ellen DeGeneres Show" (via YouTube)
There are certain people in the dance universe who can just do no wrong. One of them is Ellen DeGeneres, the ultimate dance fangirl, who regularly features our favorite dancers (including her bestie, tWitch) on her ever-fabulous TV show. Another is Tiler Peck, the insanely versatile New York City Ballet principal who we've never seen give a less-than-jaw-dropping performance, even when she's in tap shoes.
In a way, it was only a matter of time until Peck made her way to DeGeneres' much-danced-upon stage. But when the moment actually came—during last Friday's ep—it was even more epic than we anticipated.
Keep reading...
Show less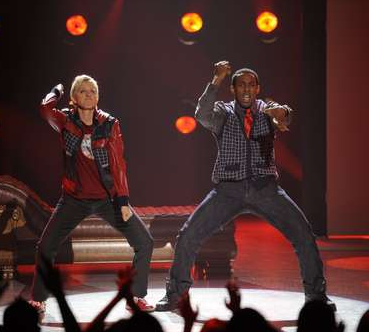 Let's face it: Ellen's got swag.
The friendship between tWitch and Ellen is kind of adorable. We've been in love with the pair ever since Ellen made her surprise "SYTYCD" appearance, filling in for the injured Alex Wong to perform that infamous Nappytabs routine.
They need a cute friend name like tWitchison. tWitchellen? Eh...we'll go with it.
On this season of "The Ellen DeGeneres Show," we've gotten to see lots of tWitchellen, because tWitch was a recurring guest DJ on the show. On Wednesday, Ellen took a moment to thank him for bringing joy and dance to the show week-after-week, and to tell him how much she loves him (awwww!!). And tWitch had a little thank you for Ellen, as well. Naturally, it came in the form of dance:
Recognize some of your favorite "SYT" alums? It was the perfect gift for Ellen, given her love for "So You Think You Can Dance." Plus, it came on the morning of the show's Season 11 premiere! Well timed, tWitch, well timed.
What do you do when you're 4-years-old and you already have a viral YouTube following, a fan club including the one and only Ellen DeGeneres and several TV appearances under your belt? It's probably time to expand your brand—and that's exactly what Heaven King has done.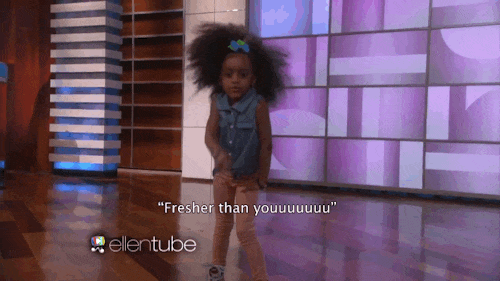 Yesterday, Heaven's mom Tianne released a video of the pint-sized diva dancing with her new crew. Five in total, the tiny dancers hit the streets of NYC with an unsurprisingly adorable performance to Silento's "Watch Me."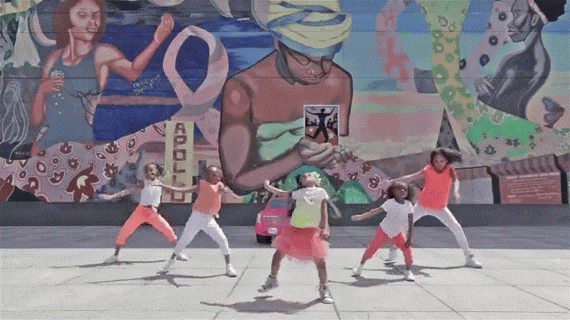 They hit the Nae Nae, the Whip, the Stanky Leg...yeah, this is some good stuff, guys. Check it out!
Btw, the pink Cadillac, complete with a "Heaven" license plate, was a gift from Ellen. #friendsinhighplaces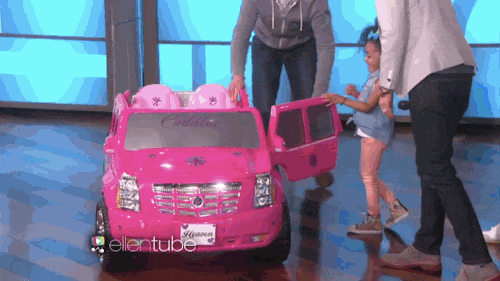 Here's a riddle for you: What happens when you bring together the First Lady of the United States, one of the funniest women on TV and some of the country's most celebrated commercial dancers?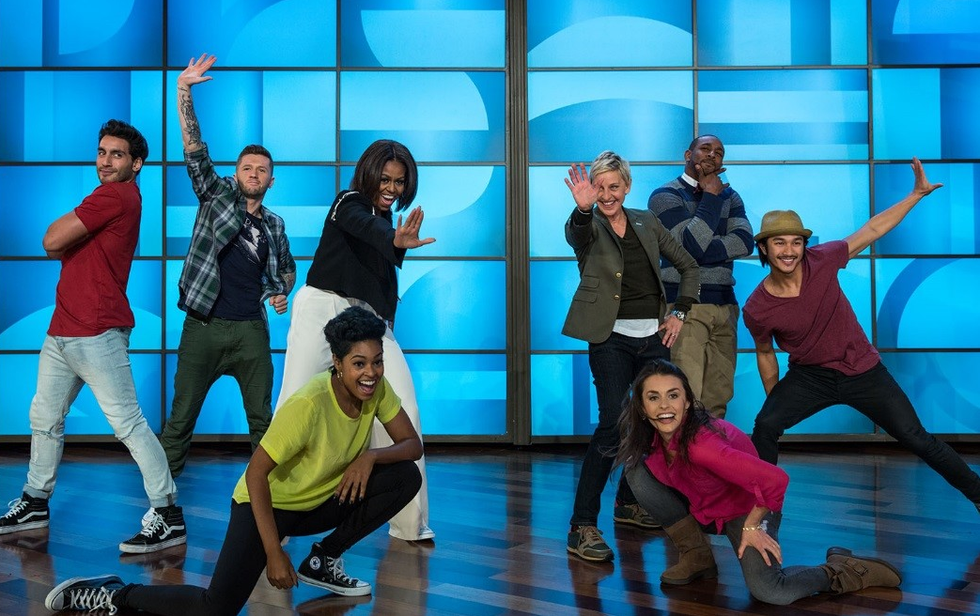 This. This is what happens.  (Photo by Amanda Lucidon, via the White House)
On Monday, First Lady Michelle Obama got together with fellow dance-lover Ellen DeGeneres to talk about her #GimmeFive challenge. In celebration of Let's Move's fifth anniversary, she's asking Americans everywhere to show off five ways they stay fit and healthy. Among those who've accepted the #GimmeFive challenge? Umm...Beyoncé:
NBD. But the First Lady had a different challenge in mind for Ellen: a dance-off of sorts. She challenged Ellen to learn the brand-new #GimmeFive Dance—and to perform it on the show. And, as you can see, they had some serious backup: "So You Think You Can Dance" All-Stars Travis Wall, tWitch Boss, Jasmine Harper, Robert Roldan, Kathryn McCormick and Marko Germar. Phew. No pressure, at all.
See how it all went down!
(Btw, we love Mrs. Obama's vocal support of dance as a central part of a healthy lifestyle.)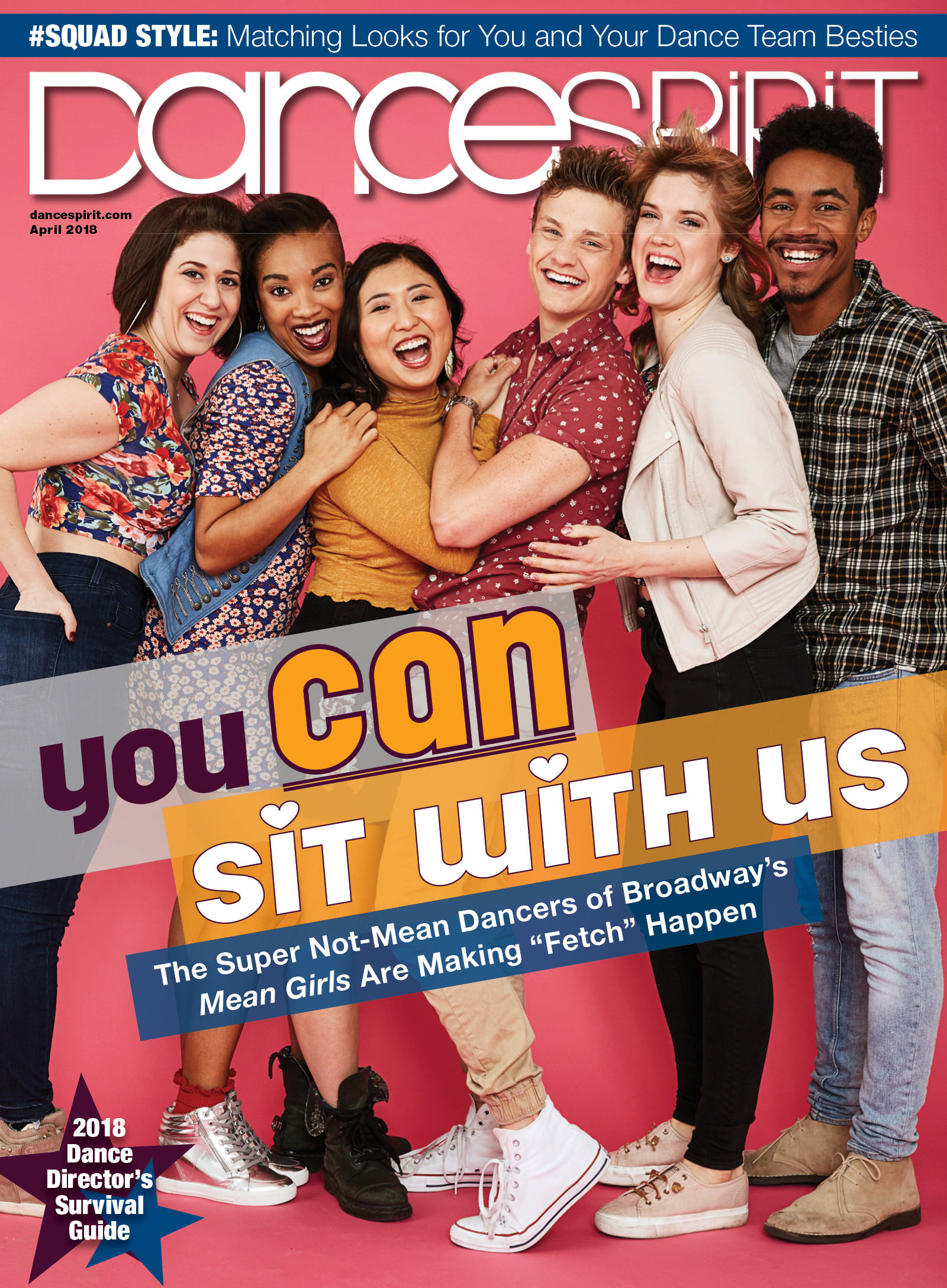 Get Dance Spirit in your inbox