Mar. 23, 2017 07:29PM EST
When we think of amazing up-and-coming choreographers here at DS, especially those with a style all their own, Emma Portner tops pretty much everyone's list. Her Instagram is a treasure in itself, with dozens upon dozens of clips featuring her impossibly unique moves, and her contribution to Justin Bieber's "Purpose: The Movement," "Life Is Worth Living," is easily my favorite dance-meets-music-video collaboration of recent memory. So, naturally, when she releases a new dance video, it's a big day. Portner's latest creation is called "33 GOD," set to a Bon Iver song of the same name. Her crazy-cool movement quality is apparent from the first step, and she and Brian Davis keep us transfixed until the very end. Check it out for yourselves:
Mar. 23, 2017 05:38PM EST
I say this publicly and without shame: I, Margaret Fuhrer, a fully-grown woman, spent much of my weekend watching Justin Bieber's "Purpose: The Movement" dance movie on repeat.
Look: I've had my ups and downs with Bieber over the years. We all have. He knows it. But you have to respect this insanely ambitious, insanely dance-y, insanely GOOD new project, which dropped Saturday. Leave it to Bieber to both over-promise and over-deliver on a premise that sounded iffy when it was first announced (dance videos for all 13 of the new album's tracks? Okaaaay) and now just seems brilliant (13 AMAZING DANCE VIDEOS AHHHHHH).
This isn't just a love letter to the Biebs, though. The person we should really be most in awe of right now is Parris Goebel, the genius 24-year-old choreographer who directed the whole thing. In addition to choreographing many of the tracks herself, Goebel pulled in an unbelievable number of dance stars to perform in and create for the various videos. There's a spirit of generosity to the project—she not only wants to show what she can do, but also what the people she admires can do.
Nobody disappoints. And much as we loved the cotton-candy happiness of "Sorry," "Purpose: The Movement" isn't all unicorns and rainbows. Several of the videos are genuinely dark—and genuinely moving.
November cover stars Keone and Mari Madrid create a gently heartbreaking portrait of one-sided love in "Love Yourself":
July/August cover guy Ian Eastwood performs an angsty dance serenade for his real-life gf, Megan Batoon, in "No Pressure":
Emma Portner, one of our choreographers to watch last year, gets powerful support from fellow dancer and choreographer Patrick Cook in "Life Is Worth Living":
A fantastic cast of dancers, including our friend Janelle Ginestra, depict a searingly tragic love triangle in "The Feeling":
An all-grown-up Simrin Player, who covered our November 2013 issue, tries to comfort a very sad Biebs in the title track:
And that's not even the half of it. ("Sorry" fans, for example, will be happy to know that the lovely ladies of ReQuest and The Royal Family make appearances in several videos.) Check out the full dance movie here.
Also, THANK YOU, Bieber and Goebel, for crediting every single one of the choreographers and dancers featured in the videos. Note to the music industry: Let's make that a habit.
Nov. 09, 2016 09:28PM EST
Oct. 12, 2016 08:09PM EST
Emma Portner is at a crossroads. At only 21 years old, she's already had the kind of opportunities most seasoned pros dream of: starring in a viral dance video, choreographing for Justin Bieber, working on a Broadway-bound musical, teaching internationally and performing at venues like New York City Center. Portner is playing by her own rules and embracing the challenges of being a choreographer, company director and dancer in nearly every style—and all at once. So where will she take her career next? Where will she focus her time?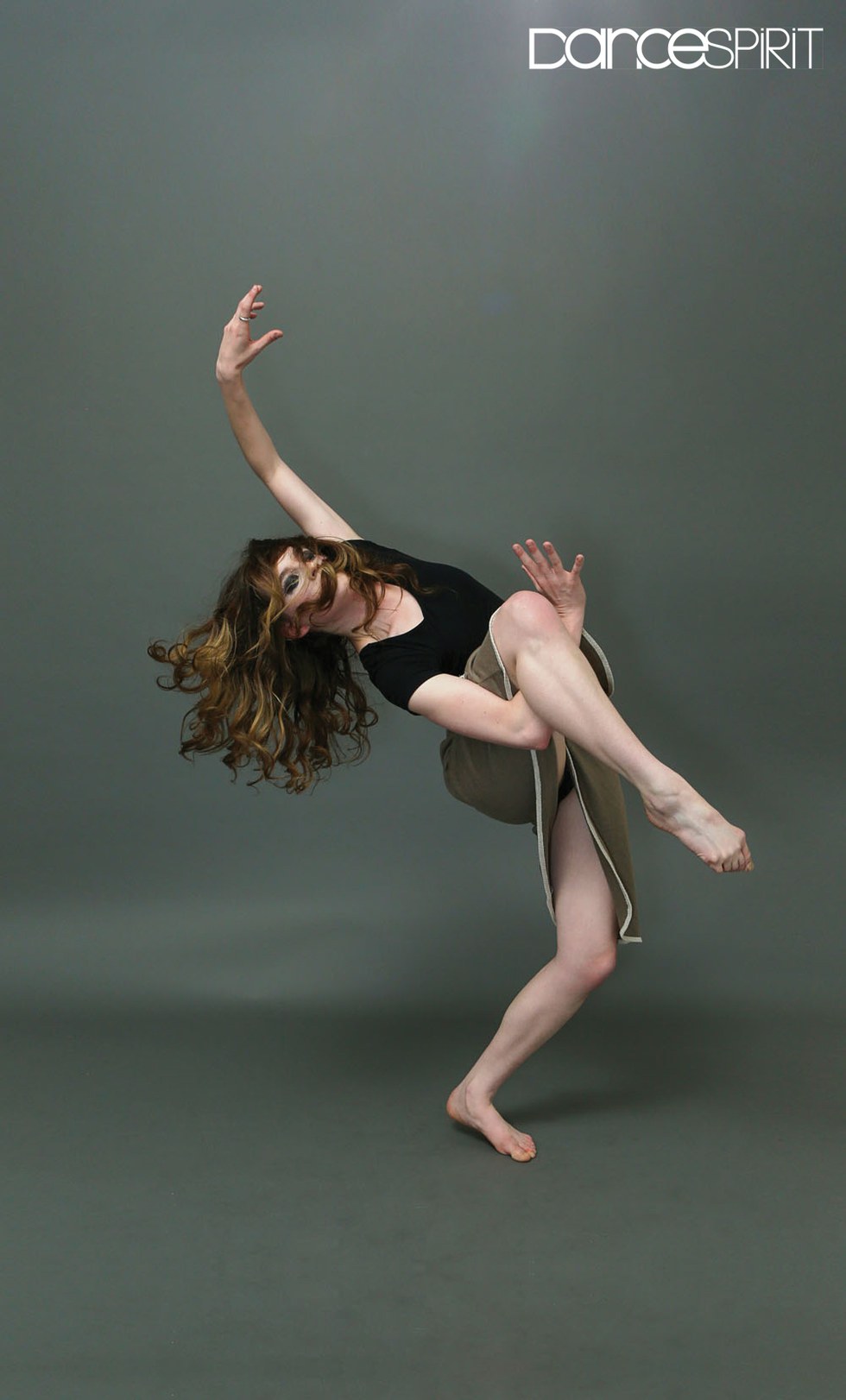 (photo by Jayme Thornton)
While a certain degree of success can be predicated on serendipity, it's much more accurate to credit Portner's intuition and tireless work ethic with getting her where she is today. She's an incredibly focused, multi-hyphenate artist whose dedication to her craft has caused people across the entire industry to sit up and take notice. Powerful yet seemingly boneless, hip-hop infused and classically technical, she's a melting pot of dance—instantly recognizable and almost impossible to imitate. The zillions of movement phrases she posts on Instagram prove you're more likely to catch her sweat-soaked and alone in the studio than anywhere else. There are no posed shots and definitely no filter. Portner is showing just how cool it can be to put the effort in. And the payoff? Gig after gig in the contemporary, tap, commercial and Broadway worlds, and an industry that's scrambling to catch up with her.
From Canada to NYC
Portner's self-direction started early while training at Leeming Danceworks in Ottawa, Ontario. "I've been filming myself in the studio since I was 12 years old as a way to remember patterns, or break them," she says. "I thought it was normal until I started telling people about it." She attended summer intensives, including at The National Ballet of Canada, and, at 16, she moved to NYC for The Ailey School's Certificate Program.
From Ailey, Portner diversified her training, spending a summer with RUBBERBANDance Group, the über-cool Montreal-based contemporary company directed by Victor Quijada, and two summers at Springboard Danse Montréal.
In a surprising move for most contemporary dancers, Portner has also trained in tap. She first took Michelle Dorrance's class at NYC's Broadway Dance Center in 2013, where she started, in Portner's words, "struggling in the back corner, working my butt off." She was a quick study: Portner went on to dance featured parts in the MacArthur fellow's choreography and continues to perform with Dorrance's company, Dorrance Dance.
Big Breaks
As a teen, Portner asked Leeming Danceworks' director to invite choreographer Matt Luck to the studio. "We had an instant connection," Portner recalls. Luck must have felt it too: He called Portner just a couple months later and asked her to collaborate on a dance video.
Portner fans will know that the result, "Dancing in the Dark," catapulted Portner (and Luck) to a new level of visibility. "I never expected the video to generate the reaction it did," Portner says. "Dancing in the Dark" went viral in 2012, and among its more than 640,000 viewers and fans was hip-hop choreographer Parris Goebel, who gave them a shout-out in the comments.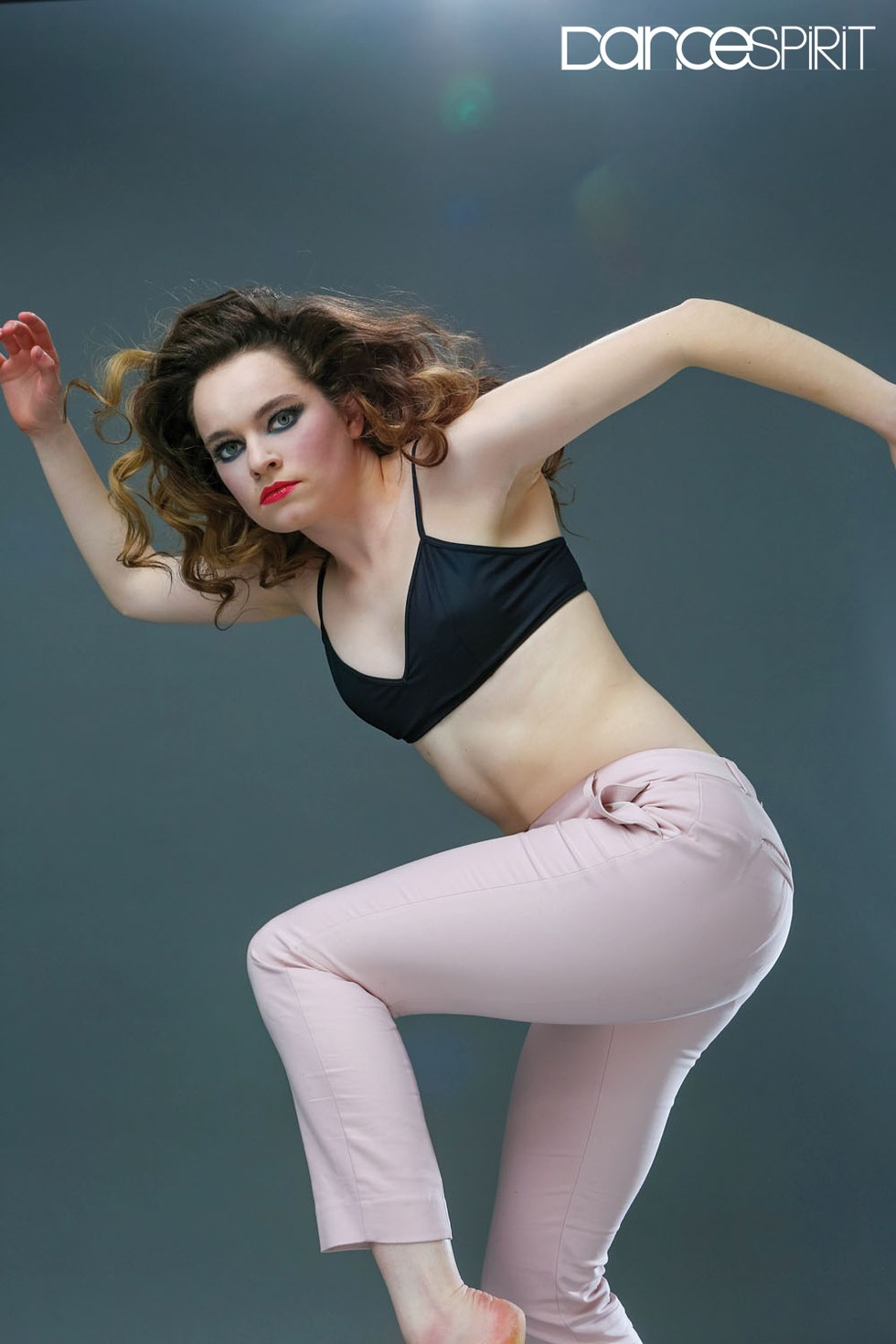 (photo by Jayme Thornton)
It wasn't long before Goebel reached out to Portner about a huge opportunity: the chance to collaborate on the music video for Justin Bieber's "Life Is Worth Living." "At first, I thought Parris was choreographing the video," Portner says, "and I was really nervous because I'm nothing like the dancers she normally works with." But Goebel wanted Portner to choreograph and had no doubts that she'd also be perfect in the video: "I wanted different styles for each song on the album, and I knew Emma would bring this one to life," she says.
Goebel gave Portner free range to create the duet with partner Patrick Cook. "We had six hours to make a dance," Portner says. "I did my best to make something that would be well received on a commercial platform, but still pushes the platform in a new direction." If its 33 million-plus views are any indication, she succeeded.
The "Life Is Worth Living" video opened yet another door. Nick DeMoura, the creative director of Bieber's Purpose World Tour, messaged Portner on Instagram and asked her to choreograph a piece of the tour. The catch? He wanted her to go to L.A. in January 2016, which Portner describes as the busiest month of her life. She'd just finished A Primitive Cinema—a major piece for her company (then named Flock'd Dance), supported by her second-runner-up win at the 2014 Capezio A.C.E. Awards— and was teaching at Intrigue Dance Intensive and performing with Dorrance Dance. Still, she couldn't turn it down.
Despite the added pressure of working for one of the world's biggest pop stars, Portner approached the experience with her usual blend of determination and research. "The tour was something so unlike me, but I'm really grateful for that opportunity. It opened me up to this elite world of artists that I never would have been exposed to," says Portner. "Now, I'm experiencing an influx of people contacting me to work on their videos and tours, and I'm able to be specific about what I choose to do."
Next Steps
Despite her newfound professional clout, Portner is still choosing to do everything. So far this year, she has revamped her company, renaming it Emma Portner and Artists; debuted and performed in a new work, Water that Came to My Waist; performed with Dorrance Dance in Dorrance's Myelination; choreographed a music video for indie artist Blood Orange; and is collaborating with Dee Caspary on a bicoastal show.
As if that weren't enough, she also went to London to start choreographing a new Broadway-bound musical, Bat Out of Hell, a contemporary take on rock singer Meat Loaf's 1977 collaboration with composer Jim Steinman. The show premieres in Manchester, England, in 2017 before hitting London, Canada and, eventually, Broadway. "All of my 12-year-old dreams are coming true," Portner says.
Even though her achievements are high-level, Portner's expectations for herself are even higher. "I'm not ready to commit totally to choreographing or directing," she says. "My body is at a point where I still have so much to discover. Right now, I'm interested in diving into contemporary ballet a little bit more."
She continues: "I feel like I'm trying to do 700 things, but that's what feeds my soul. I'm learning to play the piano and about neuroscience. I'm working to get nonprofit status for my company and a green card for myself. My attitude is always, 'Do it. Make it happen.' "
Emma's Choreography Workshop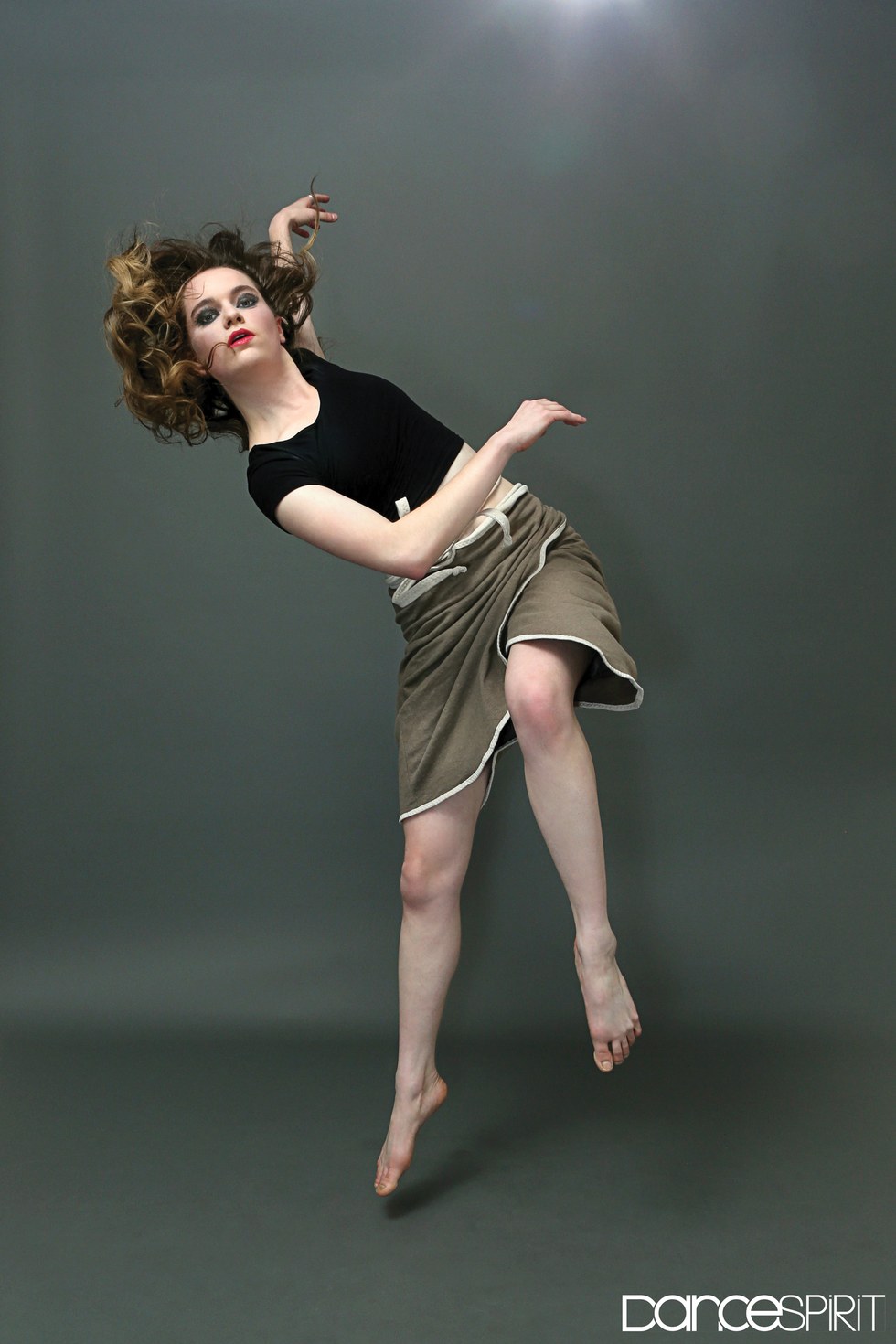 (photo by Jayme Thornton)
"I spend at least two hours a day exploring in the studio," Portner says. "I record everything and then watch the whole thing forward and in reverse. I give myself tasks to improve my dancing." Try some of Portner's prompts the next time you're in the studio. She often uses them to challenge herself as both a choreographer and mover:
Test your extremes. Redefine your understanding of slow and fast, in and out of control.

Only move with transition steps.

Channel a dancer you admire.

Partner the floor.

Film an improvisation, and then quickly learn it. ("This one is hilarious because I get

a glimpse into what it may be like to take my own class and pick up my own material. It's frustrating!")
Tapping Into Something Different
Sure, she's got a hip-hop groove and sick contemporary skills. But Portner is equally at home in tap shoes, something that hasn't gone unnoticed by tap icon Michelle Dorrance.
"I asked Emma to be part of my 2015 work, Myelination, because of her incredibly singular voice," says Dorrance. "But what struck me most when first working with her was that she sought experiences as an ensemble member more than she did as a soloist. Not many dancers who receive so much individual attention prefer to humble themselves in an ensemble." The respect is mutual: "Michelle constantly pushes me. She's the only person to have ever 'benched' me as a dancer, and I love that," says Portner—who, true to form, stuck with tap because of its difficulties. She also stresses the importance of learning tap dance history and culture, and how that knowledge benefits all dancers, not just tappers.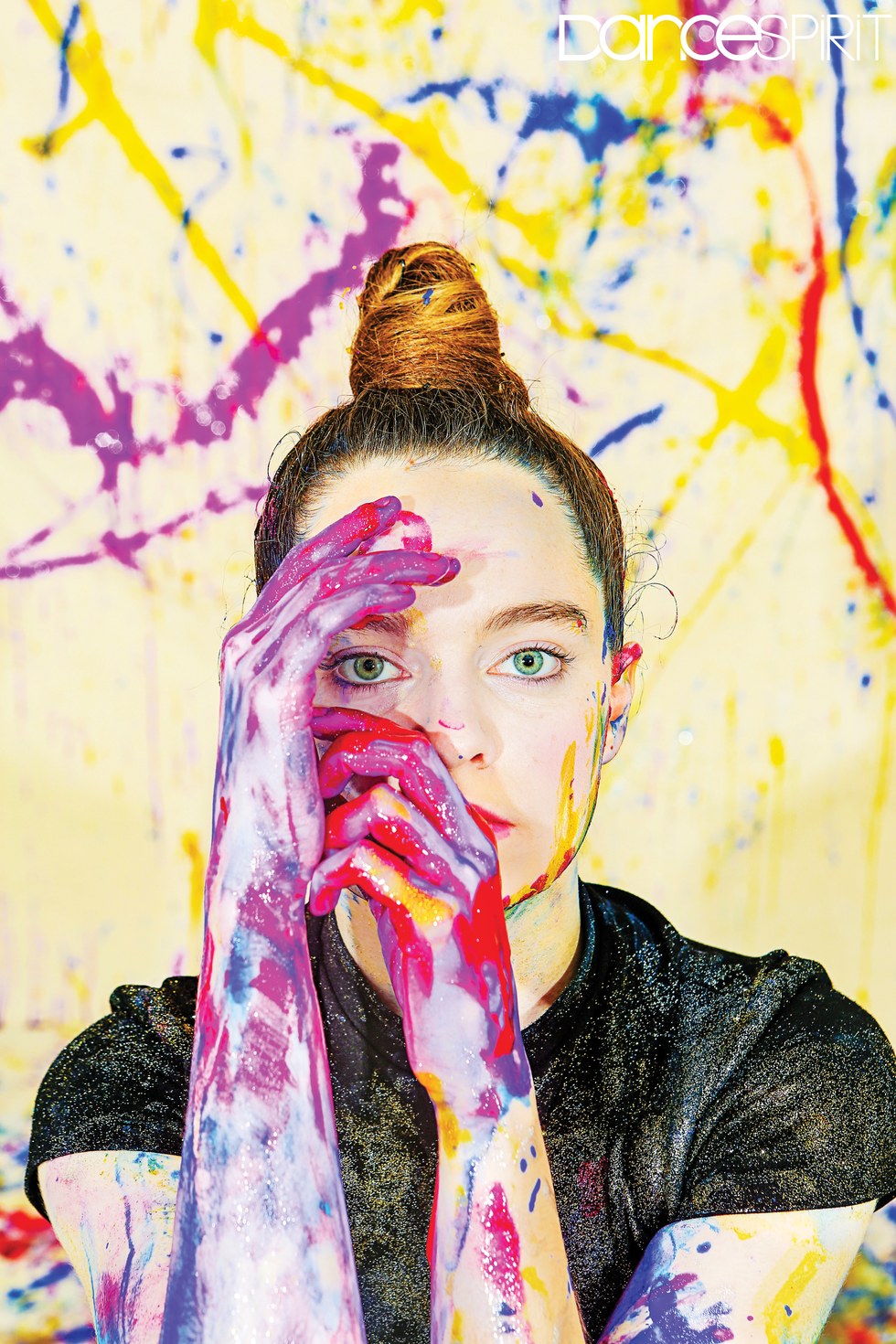 (photo by Jayme Thornton)
Nov. 02, 2014 03:16AM EST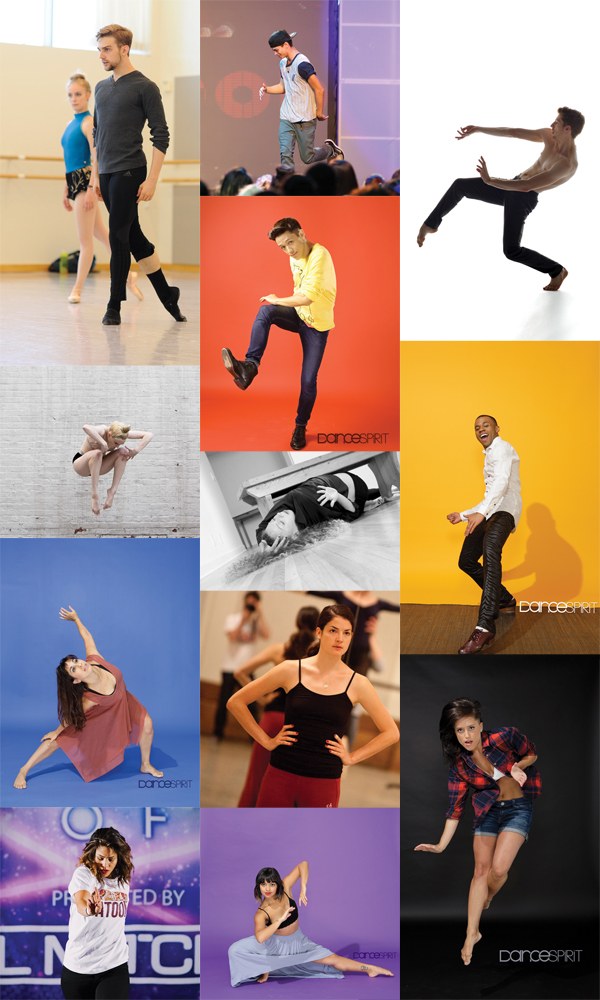 (From top: Erik Tomasson, courtesy San Francisco Ballet; Platoon, courtesy The Pulse; Michael Slobodian, courtesy Ballet BC; Jayme Thornton; David Kim, courtesy Emma Portner; Jayme Thornton; Travis Magee, courtesy Loni Landon; Jayme Thornton; Matthew Murphy, courtesy Emery LeCrone; Jayme Thornton; Courtesy Megan Batoon; Jayme Thornton)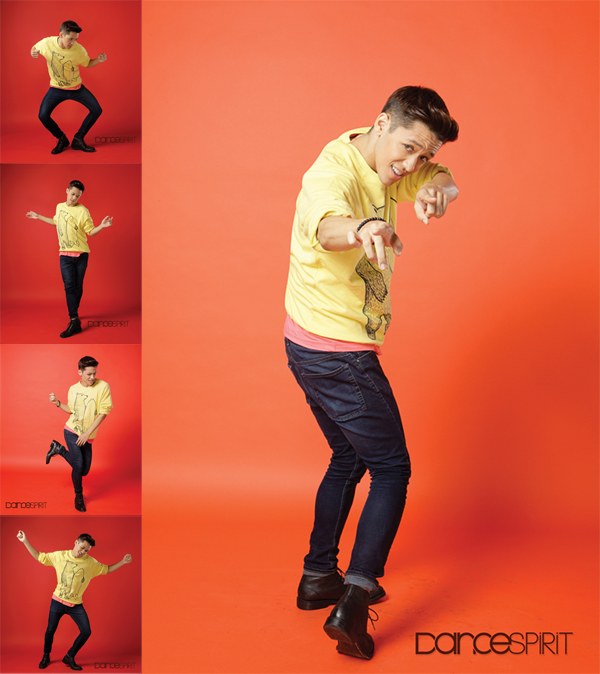 (Photos by Jayme Thornton)
Kyle Hanagami
"I feel like the one thing I was brought into this world to do is choreograph," Kyle Hanagami says. His millions of YouTube fans couldn't agree more. The 28-year-old phenom has crafted a style that ranges from hard hip hop to slow, sensual street jazz. He's got a flair for telling stories through movement on camera—whether it's a tale of lifelong friendship (his incredibly sweet video set to "Boom Clap") or heartbreak and forgiveness (his poignant take on "Say Something"). During the past year, Hanagami has also produced a new series, "Making Moves," for his YouTube channel, which gives viewers a peek at the choreographic process behind each of his videos and the lives of the dancers he's closest to. "These dancers are my best friends, and they prove that there's not one path to success—there's no 'right' way to be a dancer," he says. "It's about showing people role models they can relate to."
But Hanagami is more than an internet sensation. A popular teacher in L.A. and on the Velocity Dance Convention circuit, he also acted as supervising choreographer—alongside Tabitha and Napoleon D'umo—for Move Live on Tour, starring Derek and Julianne Hough. "Usually choreographers work with dancers who are there to back up non-dancer stars," Hanagami says. "But it was amazing to be involved in a project where dance was the main act." And he's not stopping there: His next step, he says, is choreographing for TV.  —Rachel Zar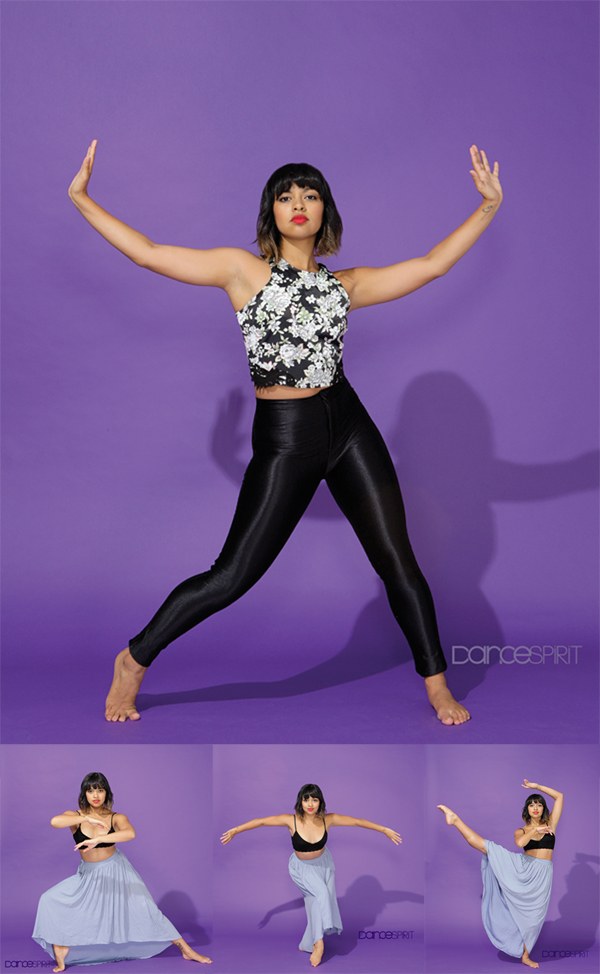 (Photos by Jayme Thornton)
Ellenore Scott
Before she started choreographing, Ellenore Scott had quite the performance resumé: A Top 4 dancer on "So You Think You Can Dance" Season 6, she'd also danced alongside Janet Jackson and on TV shows like "Dancing with the Stars" and "Smash." But she felt something was missing. "Choreographer Josh Bergasse asked me to help with pre-production for an episode of 'Smash,' " says Scott, now 24. "When I realized I was more excited about that process than being on TV, I knew it was time to shift my focus to choreography." In 2012, Scott started her own company, ELSCO Dance, which performed in L.A., NYC and at the Boston Contemporary Dance Festival this year. She's known for infusing hip-hop fundamentals into lyrical movement, creating work that's at once fluid and accented. For the past two years, Scott has also headed the Breaking Glass Project, a mentorship initiative for emerging choreographers that aims to promote leadership among women in dance. "There are so many female choreographers, but they don't always get the same exposure as men," she says. "I want to change the game for us."
—Jenny Dalzell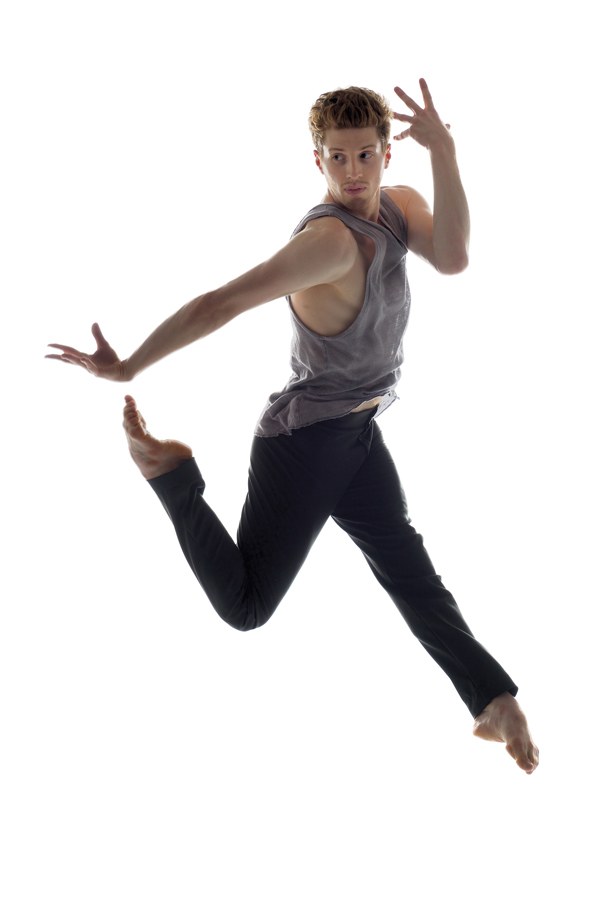 (Photo by Michael Slobodian, courtesy Ballet BC)
Andrew Bartee
Technically speaking, Andrew Bartee has been a choreographer since he was a little kid. "I've always been interested in making things—and I've always been really bossy," says the former Pacific Northwest Ballet corps member. "I used to create dances for my little brothers and force them to perform for my parents in the backyard." These days, Bartee's dances are a little more high-profile: He made arms that work for PNB in 2012, has choreographed several pieces for Seattle-based contemporary company Whim W'Him and has experimented with site-specific works, using beaches and mountaintops as his stages. The 24-year-old's choreography, like his dancing, is loose, liquid, gently witty. "I'm still figuring out what my style is, but what I'm really interested in is humanness—the ways we express who we are," he says. Bartee recently joined Vancouver's Ballet BC, and is currently participating in the company's choreographic lab.
—Margaret Fuhrer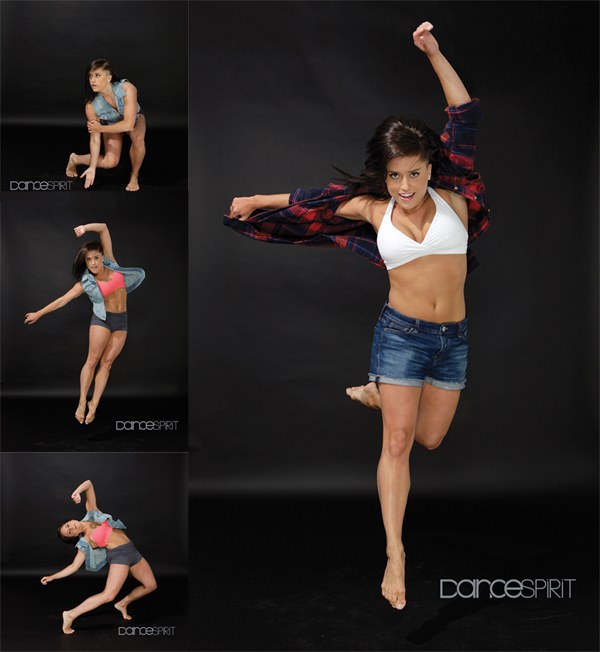 (Photos by Jayme Thornton)
Jaclyn Walsh
"I love seeing dancers as people, not as superhuman gods or goddesses," says 26-year-old Jaclyn Walsh. But her choreography—high-momentum, dizzying, technically virtuosic—can sometimes make her perfor-mers look like superheroes. In addition to presenting work at the Capezio A.C.E. (Award for Choreographic Excellence) Awards, the Boston Contemporary Dance Festival and NYC's Young Choreographer's Festival, Walsh is also a longtime dancer with NYC-based Keigwin + Company, where she's known for her larger-than-life onstage persona. Thanks to the influences of her own dance career, Walsh's choreography requires dancers to be as well-versed in postmodern floor work as they are in competition-style contortion. "It's a good challenge to bring your own voice to a dance role," she says. "And creating roles that cater to my dancers is the catalyst for my inspiration."  —Nicole Loeffler-Gladstone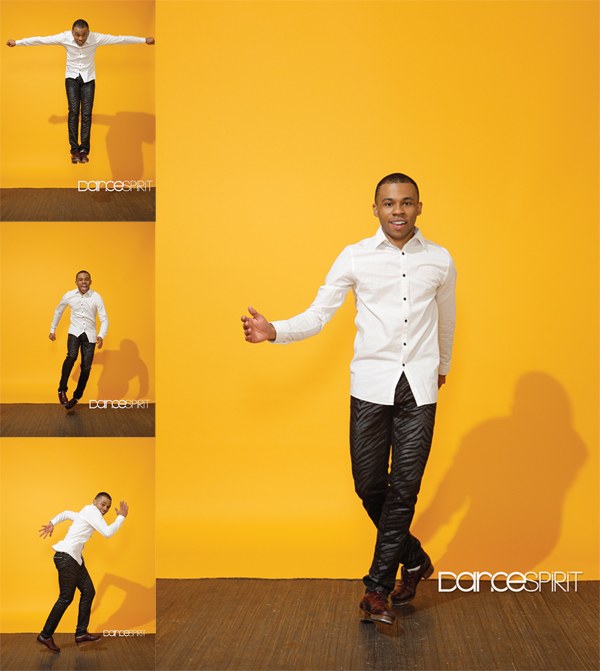 (Photos by Jayme Thornton)
Cartier Williams
Cartier Williams started out as a tap prodigy, performing in the touring cast of Bring in 'da Noise, Bring in 'da Funk and working with icons like Savion Glover, Gregory Hines and the Nicholas Brothers. But it wasn't until Williams, now 25, took a moment to step away from tap—when he attended the New York Film Academy in 2010—that he really caught the choreography bug. "After learning so much about directing and creating narratives," he says, "I realized I wanted to do that with tap." Williams debuted his first evening-length work, Rhythm Refix, at Joe's Pub in NYC in 2011, incorporating a DJ, a rap artist and his signature lightning-fast footwork. "My upbringing in tap focused on letting tap be the music," he says. "But too much of that can get boring. I want my work to be more dramatic." With that in mind, Williams will present his newest piece, a tap (and ballet, and hip-hop, and modern dance) version of Peter and the Wolf, this month at The Egg Center for Performing Arts in Albany, NY.  —JD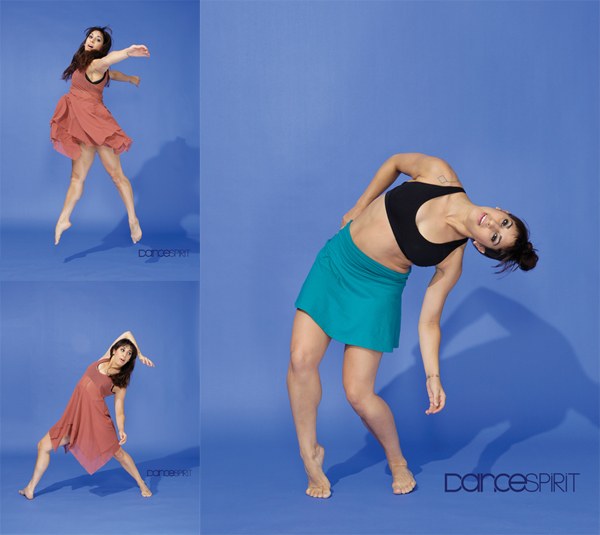 (Photos by Jayme Thornton)
Cat Cogliandro
Cat Cogliandro's best qualities as a dancer—her technical strength, attention to detail and love of risk-taking—have all influenced her work as a choreographer. The 27-year-old has assisted Sonya Tayeh on multiple projects, including Seasons 10 and 11 of "So You Think You Can Dance," and her choreography shares Tayeh's intense musicality: It's full of quirky gestures accentuating every lyric and strum of the guitar. "I love seeing music come to life and watching people's eyes get big," she says. "Whether it's a piece about a relationship or a dark comedy about kids at a birthday party, I want the audience to be entertained, and to leave saying 'Oh, I know exactly how that feels.' " Her company, catastrophe!, has performed in shows throughout NYC and L.A., including the Young Choreographer's Festival and The PULSE NYC Final Night Gala. You can find Cogliandro teaching at Broadway Dance Center in NYC and at EDGE Performing Arts Center and Movement Lifestyle in L.A.
—Sophie Moyer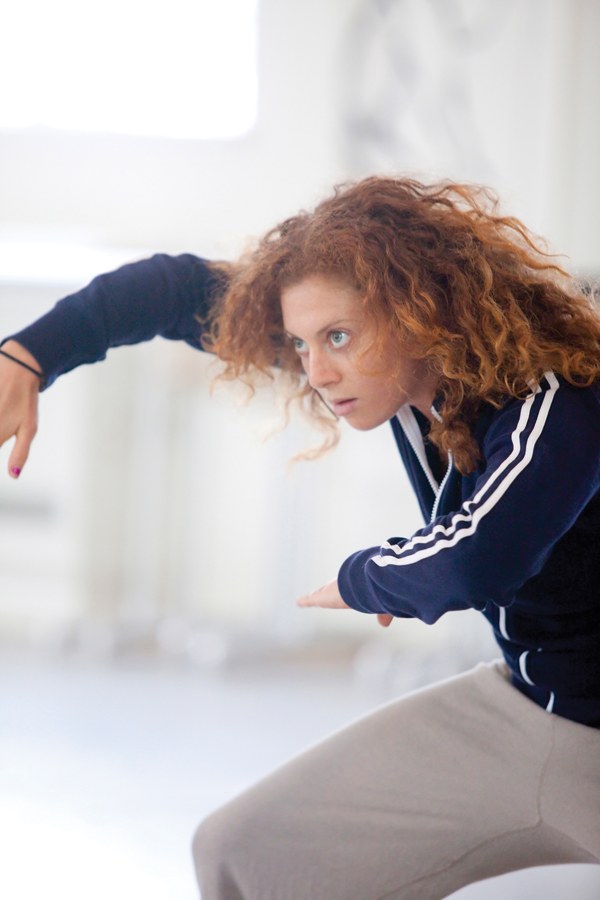 (Photo by Blaine Truitt, courtesy Northwest Dance Project)
Loni Landon
Loni Landon's choreography is all about building tension. She plays with the kind of opposites—grounded partnering and light, subtle weight shifts, supple spines and slicing limbs—that are only successful in the hands of a confident artist. "I'm interested in the emotion of everyday life," Landon says. "I take it and enhance it when I create." Winner of the Princess Grace Award for choreography in 2013, 30-year-old Landon has been steadily in demand during the past few years: Since 2010, she has created dances for Northwest Dance Project and BalletX, and her work has been performed at Jacob's Pillow. Landon is also co-founder of The Playground, a movement lab in NYC where dancers can learn from emerging and established choreographers. Having danced with Ballet Theater Munich and Tanz Theater Munich in Germany, Landon is currently performing with the Metropolitan Opera in NYC, and credits becoming a choreographer to her own increased fearlessness as a dancer. "I'm not as timid as I used to be," she says. "I want to work with people who aren't afraid to speak up."  —NLG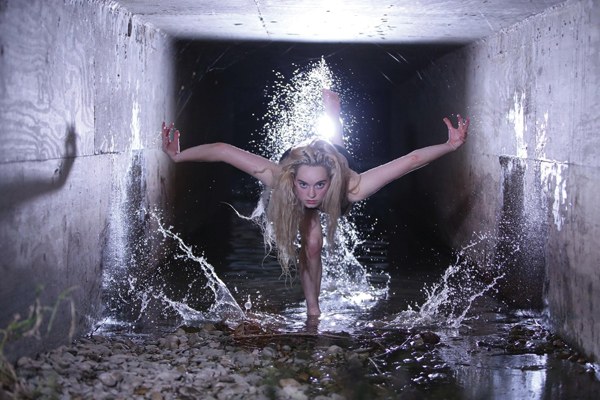 (Photo by Chris Reilly, courtesy Emma Portner)
Emma Portner
Watching Emma Portner's choreography almost requires a suspension of disbelief: Can it really be that precise? That quick? That powerful? Her intricate, gestural work requires the coiled energy of a large predator. Since moving to NYC in 2012, Portner, now 19, has had two big breaks. The first came when her video "Dancing in the Dark," choreographed with collaborator Matt Luck, went viral on YouTube in fall 2012. Specifically made for the camera, the dance is breathtakingly musical—Portner and Luck seem to be channeling sounds directly through their bodies. Her second major moment came in early August of this year, when she was named second runner-up at the 2014 Capezio A.C.E. Awards for her piece Let Go, Or Be Dragged. She'll use the $3,000 prize to produce a 2015 show for her company, Flock'dance.  —NLG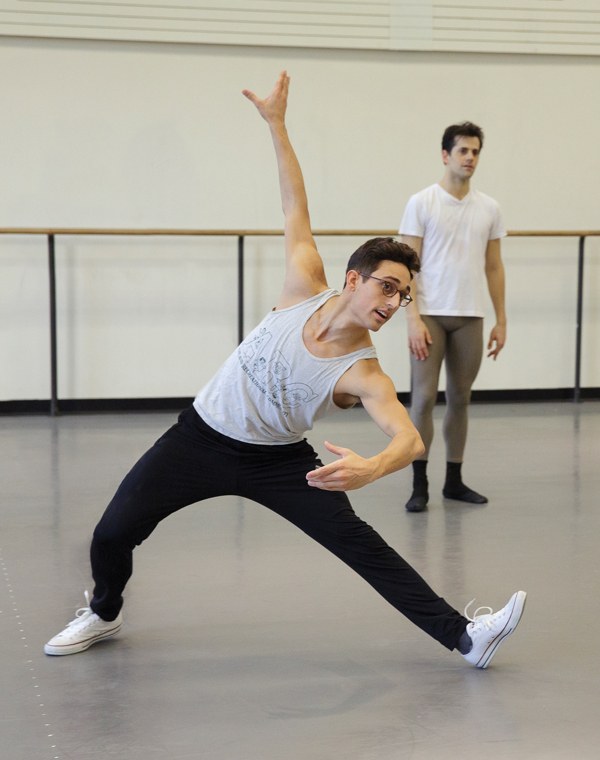 Justin Peck in rehearsal at New York City Ballet (photo by Paul Kolnik, courtesy NYCB)
Justin Peck
These days, it feels like every dance company in the world wants a piece of (or, more accurately, a piece by) Justin Peck. The 27-year-old New York City Ballet soloist has already made ballets for Miami City Ballet, Pacific Northwest Ballet and L.A. Dance Project—and that's in addition to the seven (!) pieces he's created for his home company. It's not hard to see why Peck is so popular: His brain seems to be constantly brimming with innovative twists on the classical vocabulary, phrases and images that make audiences literally gasp with surprise. He's especially good with large groups of dancers—Everywhere We Go, which premiered at NYCB last spring, featured a cast of 25—and with the works of indie singer-songwriter Sufjan Stevens, his musical partner in crime. Peck was recently named NYCB's resident choreographer, which means we'll be seeing a whole lot more of his ambitious work in the years to come.  —MF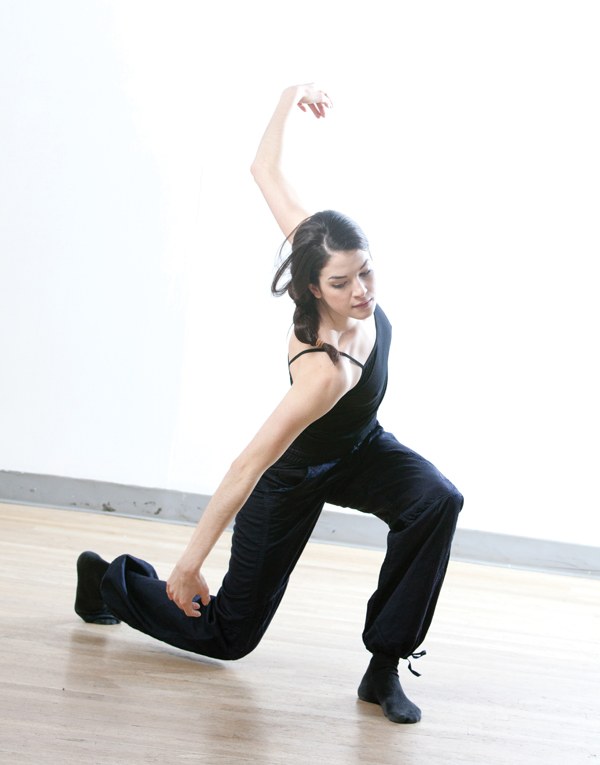 (Photo by Matthew Murphy, courtesy Emery LeCrone)
Emery LeCrone
She's just 28, but Emery LeCrone already choreographs with the polish and skill of a seasoned veteran—because she is one. A classically trained dancer currently performing with the Metropolitan Opera in NYC, LeCrone created her first ballet in 2006 and has since made more than 50 pieces for companies including Oregon Ballet Theatre, Colorado Ballet and Saint Louis Ballet. She's a sharp, cerebral choreographer; as you watch her dances, you can sense the inquisitive mind behind them. LeCrone has put that intelligence to work as an instructor at prestigious schools, including Columbia University, and in some fascinating brainteaser projects for the Guggenheim Museum's Works & Process program. (Earlier this year, for example, Works & Process tasked her with making two dances—one balletic, and one contemporary—to the same piece by Bach.) She'll premiere her latest creation for the Saint Louis Ballet this February.  —MF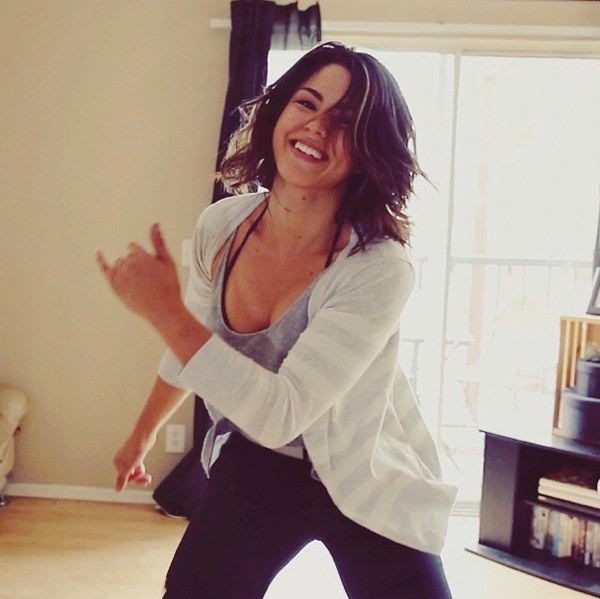 (Photo courtesy Megan Batoon)
Megan Batoon
Twenty-three-year-old hip-hop choreographer Megan Batoon is taking the internet by storm. Her YouTube channel boasts over 200,000 sub-scribers and 10.5 million views, thanks to the impeccable musicality and flair for humor that make her videos so addictive. The Florida native first started making waves in 2011, when her choreography for the former Collaboration Kids Dance crew took home first place at Prelude South Urban Dance Competition—sending the all-female crew to Hip Hop International in Las Vegas. In 2012, hip-hop company/competition World of Dance hired Batoon to host its online news show, #WODWeekly, and Batoon has since been featured as a guest performer and teacher on the WOD tour. What's next? "I want to find a way to bridge the gap between my passions for choreography and comedy—hopefully on TV," Batoon says. In the meantime, be on the lookout for her work in commercials for some major brands.
—Maggie McNamara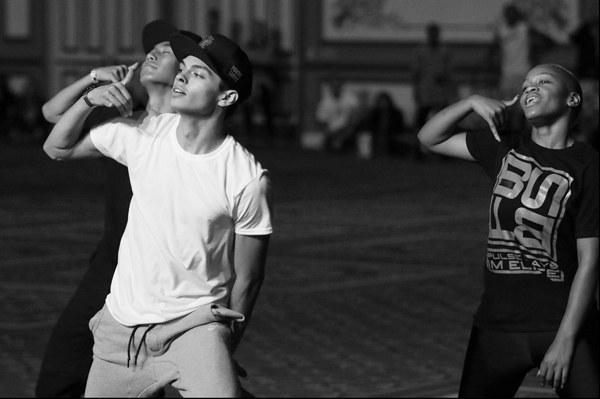 (Photo by Platoon, courtesy The Pulse)
Ian Eastwood
When Ian Eastwood posts a new video to YouTube, his female-dominated fan base—well over 300,000 subscribers—goes wild. That's no surprise: Eastwood's style is the definition of smooth, with his own penetrating performance quality amplifying his effective use of gesture and level changes. But the 21-year-old is gradually moving beyond YouTube: "I've gotten a lot of recognition in the past, but it was really just because I was this kid who posted a bunch of videos online," Eastwood says. Now, his resumé includes music videos for major pop stars, including Zendaya ("Replay"). Most recently, Eastwood was appointed supervising choreographer for the upcoming dance film Breaking Through, directed by John Swetnam (Step Up: All In) and produced by John Legend. Despite his packed schedule, he continues to teach—he's on faculty at The PULSE on Tour—and perform. Look out for his swagger in the upcoming dance film High Strung, set for release in 2015.  —MM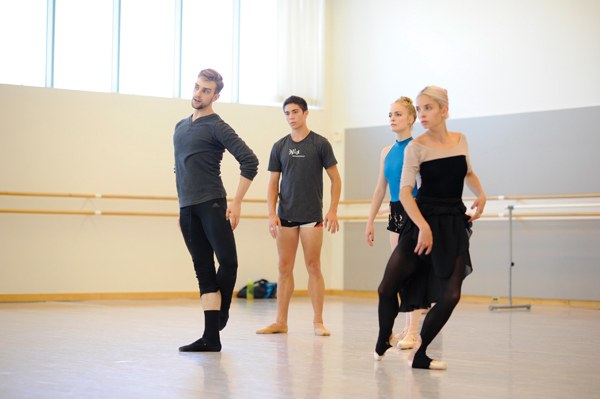 Myles Thatcher in rehearsal at San Francisco Ballet (photo by Erik Tomasson, courtesy SFB)
Myles Thatcher
At first, Myles Thatcher's ballets look like exercises in abstraction, full of distinctive movement motifs and kaleidoscopic patterns that seem to exist for themselves alone. Look closer, though, and you'll see the emotion pulsing just beneath the surface. "I'm always trying to explore facets of human relationships, even if they make it to the stage in a way that's not very literal," says the 24-year-old San Francisco Ballet corps member. "Frequently the dancers and I will create a storyline that the audience won't necessarily recognize, but they'll still feel its dynamics." One of the ballet world's greatest storytellers, Alexei Ratmansky, has already singled out Thatcher's choreographic work: He selected Thatcher as his 2014–15 Protégé through the Rolex Mentor and Protégé Arts Initiative. "Alexei cares deeply for the artform, and he's given me so much food for thought," Thatcher says. Thatcher's work has also caught the eye of SFB artistic director Helgi Tomasson, who's asked him to make his first ballet for the company, set to premiere in February.  —MF 
Aug. 04, 2014 05:00PM EST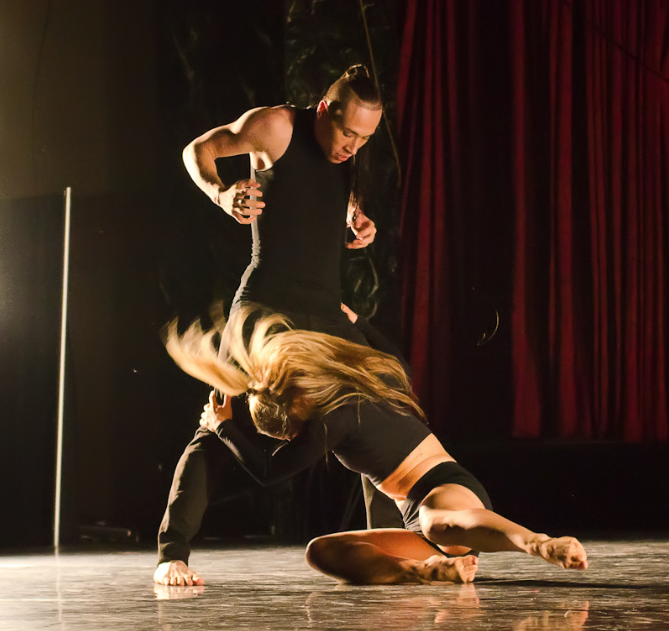 Chaz Buzan in Talia Favia's The Difference Between Action and Words (photo by Kyle Froman)

It felt pretty glamorous to be a DS editor this weekend. We all dressed to the nines for the 2014 Capezio A.C.E. (Award for Choreographic Excellence) Awards—one of the highlights of the Dance Teacher Summit, an impressive annual extravaganza presented by our friends over at Dance Teacher magazine. Fellow editor Nicole and I were both first-timers at the event, and we didn't know quite what to expect. Man, were we in for a treat.
The show featured the works of 19 budding choreographers, all finalists vying for this year's big prizes. The winner receives a $15,000 production budget for their very own, evening-length show in NYC, produced by Break the Floor, while first and second runners-up win $5,000 and $3,000 production budgets, respectively. So naturally, all of the choreographers brought their A-games.
Honestly, we haven't been able to stop talking about it since. Nicole and I sat down this morning to debrief.
Maggie: So let's talk Saturday night. How would you characterize the overall vibe of the evening?
Nicole: Super high energy. It was so cool to walk into a ballroom full of dance lovers and professionals, all on the edge of their seats waiting for the show to begin.
Maggie: I completely agree. It was awesome to see that high energy carry into the choreography—especially in the musical theater pieces. Derek Mitchell's We Both Reached for the Gun and Caleb Teicher's A Little Moonlight didn't skip a beat. So much fun.
Nicole: The contemporary pieces were also really strong. I especially enjoyed the complex partnering in Jessie Hartley Riley's No Need to Fear. Our 2014 CMS finalist Alyssa Allen ROCKED that piece.
Maggie: And what about Jake Tribus and fellow CMS finalist Sarah Pippin in Kristen Russell's The Cave? Talk about a feel-good piece. I loved the sweeping movement across the stage—it felt like they were frolicking in a field.
Nicole: Totally. But let's talk about the big winners of the night. Second runner-up Emma Portner's Let Go, Or Be Dragged—I really appreciated the way she incorporated elements of street dance in a contemporary piece. Plus, the super-solid ladies partnering was quite impressive.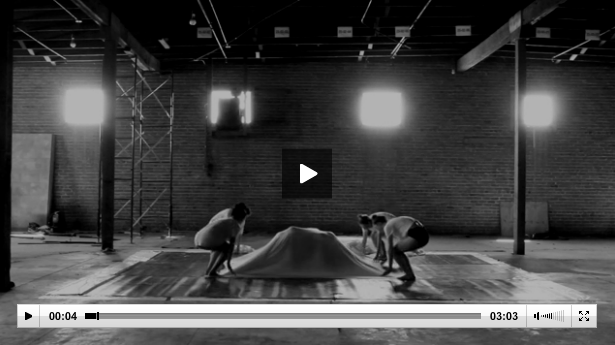 Portner entered the competition with another piece: Come Back, Let Me Under!
Maggie: I agree. I thought her movement quality was especially unique. I applaud her dancers for pulling off such complex, idiosyncratic movement with complete precision.
Nicole: First runner-up Cherrise Wakeham's She was completely different but equally impressive. It was romantic and gentle and lovely.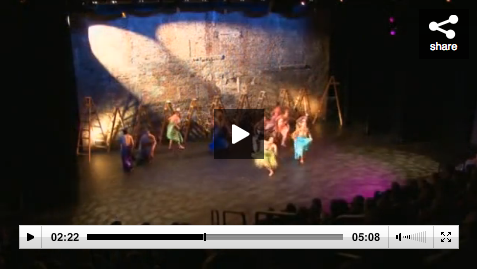 Maggie: And those skirts. Where can I get one? But the big winner of the night was Talia Favia. Her piece, The Difference Between Action and Words, was extremely powerful. The dancers used tape to convey the feeling of being silenced or controlled.
Nicole: The dancers just went for it. It was probably the most technically demanding choreography of the evening. Shout out to January 2012 cover guy Chaz Buzan, who was a real standout in the piece.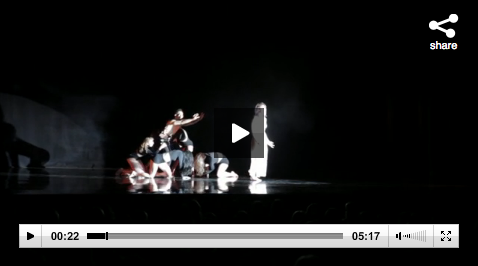 Favia entered the competition with another excerpt: The Difference Between Sinking and Drowning.
Maggie: Chills. Saturday night also featured excerpts from last year's runners-up: Lindsay Nelko, Jacob Jonas and Andre Kasten. We really saw how much development can happen in a year!
Nicole: Such a cool part of the evening. I'm really looking forward to seeing more of them during this week's Capezio A.C.E. Awards Winners Festival!


Get Dance Spirit in your inbox