Popular
Sep. 29, 2017 12:20PM EST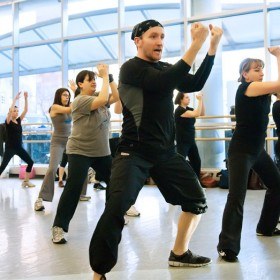 While I've trained in many dance styles (including ballet, jazz, modern, hip hop and Indian dance), my new love is Zumba! This Latin and international dance-inspired fitness program incorporates easy-to-follow choreography to get your heart rate up with intense exercises to keep your muscles working. This weekend I was licensed to teach Zumba, which will be a nice added activity to my awesome summer internship at Dance Spirit. Here are ten reasons that I'm obsessed—and why you should be too!
1. It feels like a party. After a long day of classes, work or my DS internship, the last thing I want to do is spend an hour on the treadmill. Zumba is all about "partying yourself into shape." Now, who doesn't like a good dance party?
2. It's the perfect class to take with friends. While I love group fitness classes like step aerobics, I'm often so focused on trying to avoid falling off the step that I don't pay attention to anyone around me. Zumba is another story. My friends and I claim our territory in the back of the classroom, salsa with each other and sing along to the music. Zumba is social (although my friends and I might go a little overboard).
3. It uses international music. Where else can you dance to salsa, merengue, reggaeton, cumbia, bollywood, bhangra, belly dancing, African and hip-hop music in one class? At my Zumba instructor training session, I learned that at least 70% of the music used in class should be international.
4. It's for everyone. There's no ideal body type for Zumba. You can be male or female, tall or short, young or old, a professional dancer or someone with two left feet. I've even seen a girl dance alongside her mother and grandmother in class, each of them kickin' it to the best of their ability.
5. It's my favorite form of cardio. No amount of Britney Spears (and I absolutely live for anything Britney) can seem to get me through an hour on the treadmill, elliptical or bike. But I actually look forward to getting my heart rate up for 60 minutes of Zumba class.
6. I don't even realize all the calories I'm burning. I don't think I've ever left a Zumba class where I haven't been dripping with sweat. And I love sweating! It shows that I've had a productive workout.
7. It works out my core. I get more than just a cardio workout—I'm strengthening my muscles as well!
8. My brain gets a workout too. I often find my mind wandering while running or bicycling, but in Zumba, I'm 100% focused on the choreography. While it's simple enough to follow along (even for absolute beginners), I still have to pay attention to timing, my form and my alignment, especially during the strengthening exercises. It's one of the only fitness classes where I can completely tune everything else out and focus on having fun.
9. It's perfect for dancers. While other exercise classes, like kickboxing or step aerobics, incorporate basic combinations and choreography, Zumba is one of the few classes that builds up to an entire routine. It's based on repetition, so it's easy to follow, but I still feel like I'm in a dance class as opposed to just a fitness class.
10. It makes me smile. Don't get me wrong, I love feeling like Superwoman in a good kickboxing class, but Zumba involves a more feel-good approach that I can definitely appreciate.
Erin Baiano
We all know that girl who basically lives in crop tops and sports bras to show off her insanely chiseled abs. But strong stomach muscles aren't just amazing fashion accessories—they're also the key to everything from powerful jumps to proper technique. Dance Spirit spoke with Jessica Sander, a personal trainer in NYC, about the most effective exercises to help you score your dream core.
Keep reading...
Show less
As dancers, we talk a lot about "finding our centers"—but what does that actually mean? It refers to the invisible pole of support in your core that makes you feel like you could
balance for days. Once you experience the freedom that sense of stability can provide, you'll want to find a way to access it every time you dance. Professional dancer and Figure 4 Barre instructor Lindsey L. Miller shares three stabilizing exercises to help you conquer even the toughest balance challenges.
The Toe-Heel Rock
Purpose: This exercise strengthens the muscles in your ankle to promote stability in relevé.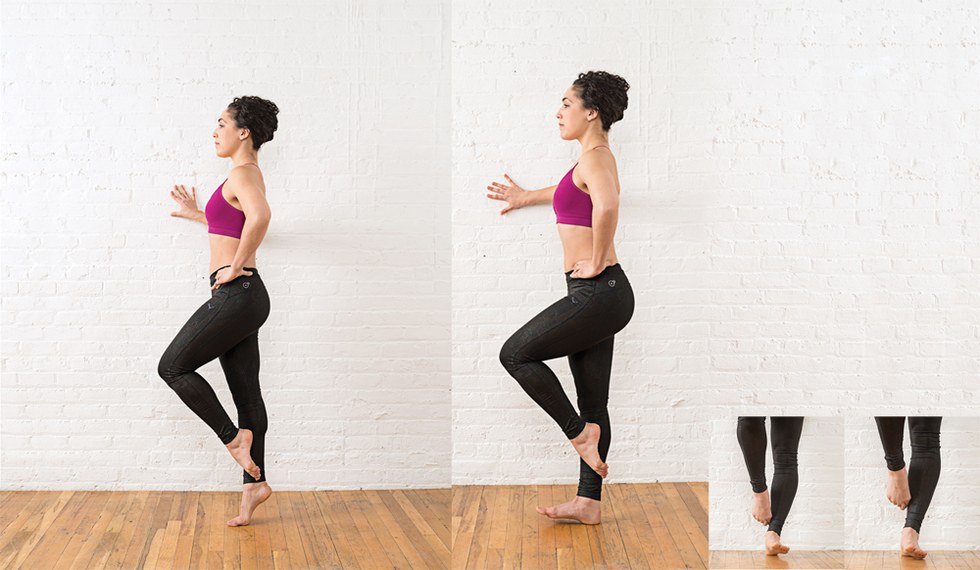 (Photos by Lucas Chilczuck)
Stand sideways about one foot away from a wall. Lightly touch the wall with your right hand and lift your left leg to a parallel coupé. Place your left hand on your left hip.
Rock forward onto the toes of your right foot, lifting your right heel as high as you can.
Miller Says: "When balancing on your heel, it's natural to want to stick out your butt. To keep your weight centered over your foot, think of almost tucking your pelvis."
Rock backward to the starting position, then lift the ball of your right foot off the floor as high as you can, keeping your body upright and your hips centered over your foot.
Repeat 10 times, then switch sides.
Incorrect
Because dancers' big toes tend to be stronger than their pinky toes, rocking back to the heel often looks like this, with the pinky-toe side of the foot tilted toward the floor.
Correct
Focus on lifting up the pinky-toe side so your metatarsal stays even.
The Roll-Down
Purpose: This exercise helps you access your deep transverse abdominal muscles, which are essential to balance.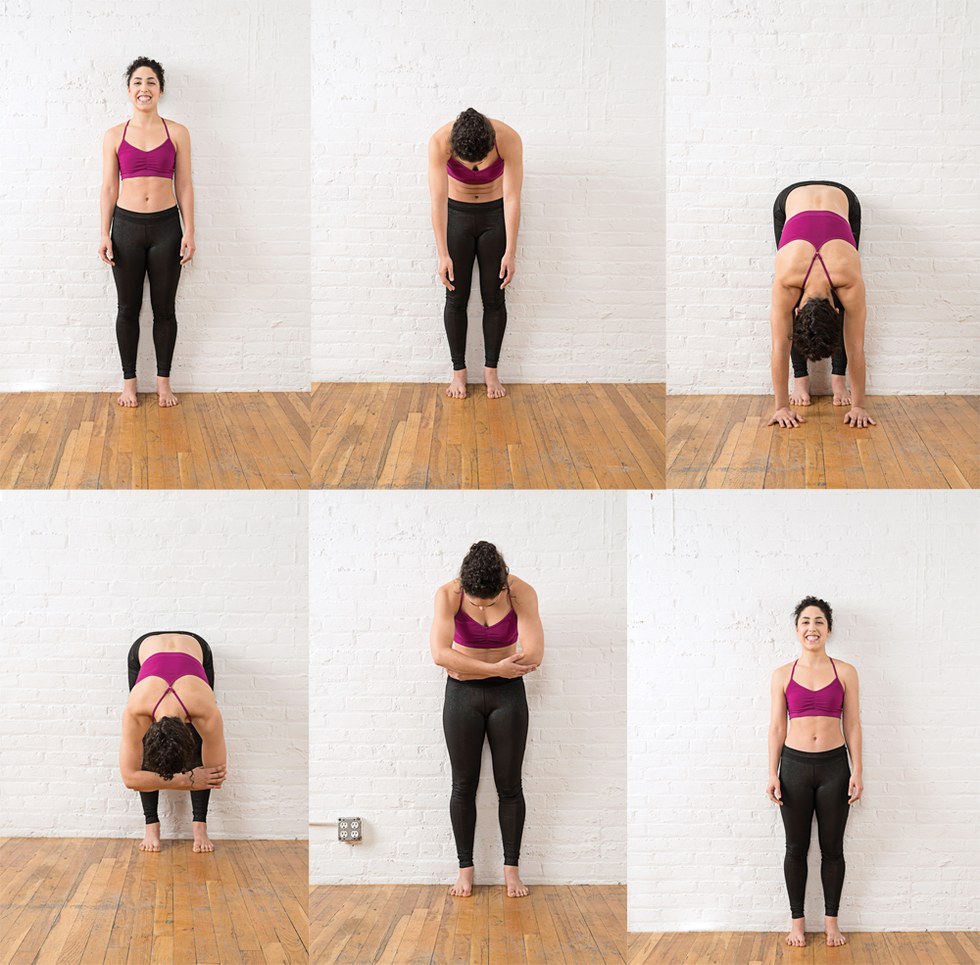 (Photos by Lucas Chilczuck)
Stand with your back against a wall, your feet parallel and hips-width apart and your arms by your sides.
Curve your head forward and begin to roll down through your spine. Keep your hips and heels connected to the wall.
Miller Says: "It's difficult not to fall forward during this exercise. To find your balance, focus on contracting your lower abs and pressing your hips and heels into the wall behind you."
Once you reach the bottom of the roll-down, grab on to opposite elbows to keep from relying on the floor for balance.
Beginning at the base of your spine, roll your body back up to the starting position.
Repeat two more times.
The Horizontal Tilt
Purpose: This exercise promotes balance in turnout by strengthening your oblique muscles and the external rotators in your hip.
Begin in a "T" position, standing on a straight, parallel right leg with your left leg reaching behind you (foot flexed and parallel). Tilt your torso forward, so your body—from the crown of your head to your heel—forms a straight line parallel to the floor. Reach your arms toward the floor with your palms facing each other.
Bend your right leg, making sure your knee tracks over the center of your right foot and your left leg stays in line with your torso. Hold the rest of your body still.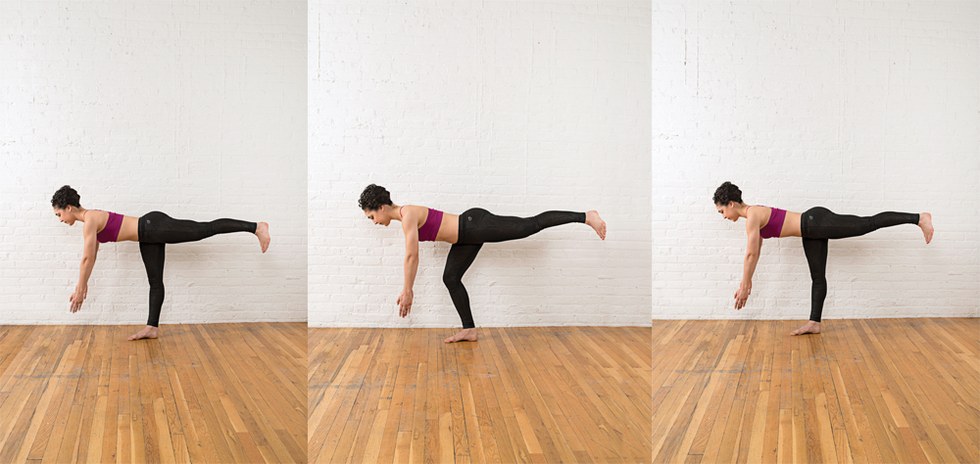 (Photos by Lucas Chilczuck)
Miller Says: "To give yourself an even greater balance challenge, try looking up at your top hand when you unfold into the turned-out position."
Stretch your right leg to return to the starting position.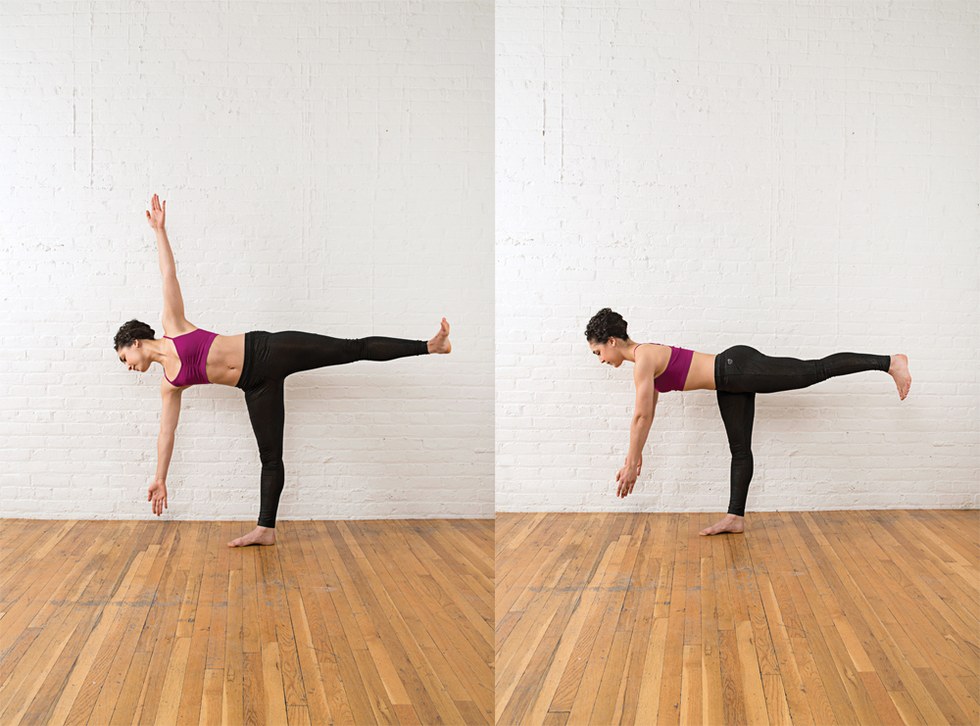 (Lucas Chilczuck)
Open and unfold your body by turning out your left leg and reaching your left arm to the ceiling, so your body faces out instead of down. Gaze down at your right arm as you continue to reach it toward the floor, and squeeze your abdominals. Hold for a count of three.
Return to the starting position.
Repeat five times, then switch legs.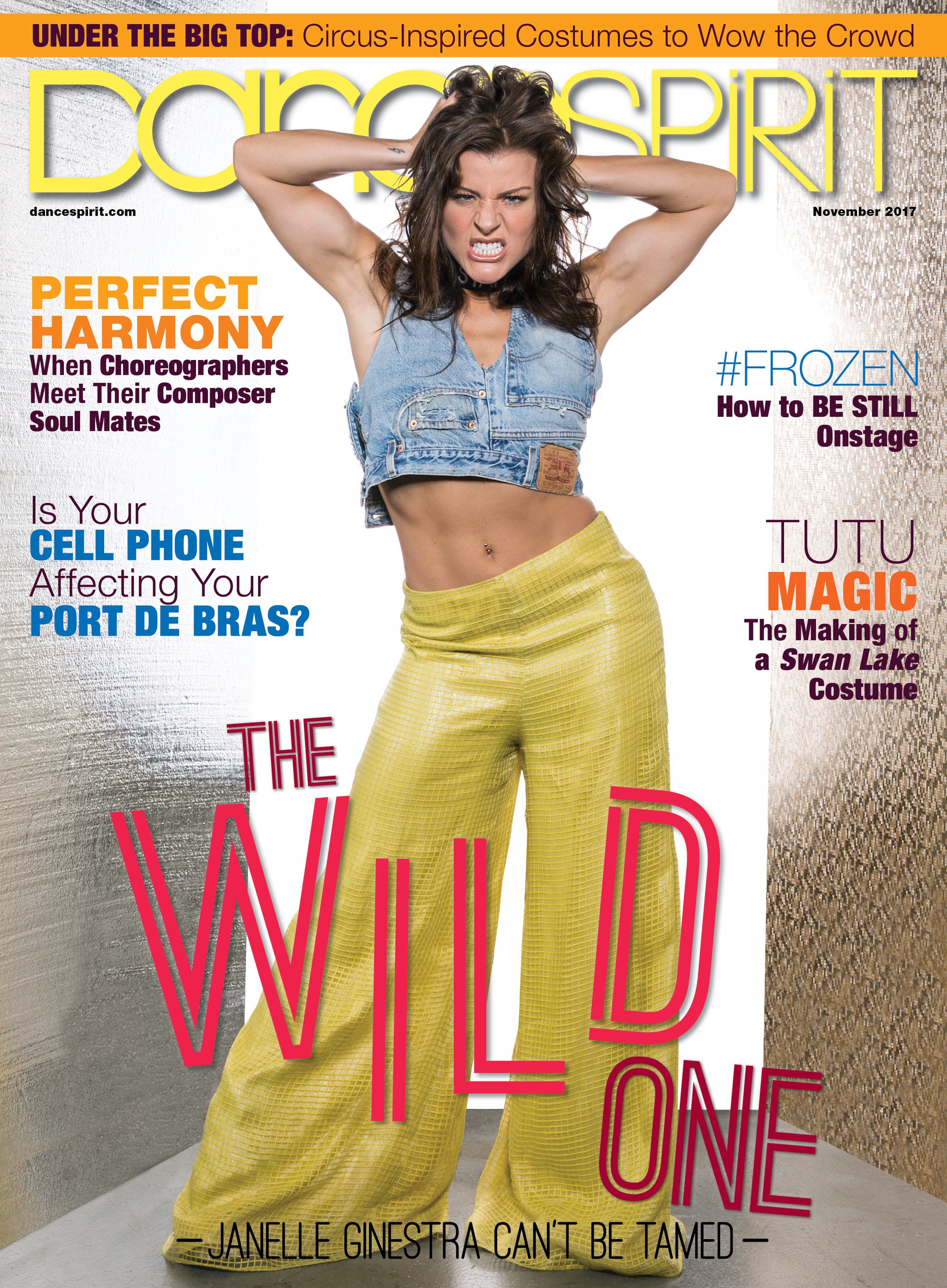 Get Dance Spirit in your inbox