Ricky Ubeda and Riot (via @rickyubeda11)
There's something extra heartwarming about the bond between dancers and their doggies. A companion who'll cuddle with you while you stretch, or sit patiently while you're warming up at the barre? I mean, that's pretty special. These four dog and dancer relationships prove dogs really are a dancer's best friend.

Keep reading...
Show less
Mar. 23, 2017 06:24AM EST
Congratulations to the gaggle of New York City Ballet dancers who were just promoted! No fewer than 11 of the company's finest are feeling pretty great today. Here's the rundown:
Adrian Danchig-Waring, Chase Finlay and Ask la Cour are now principals.
Lauren King, Ashley Laracey, Megan Lecrone, Lauren Lovette, Justin Peck, Brittany Pollack, Georgina Pazcoguin and Taylor Stanley are now soloists.
We're just about bursting with happiness for all of these lovelies—I mean, the list is basically a rundown of our NYCB faves. But we're especially glad for Miss Lauren Lovette and Mr. Taylor Stanley, our September 2010 cover stars, who we've been rooting for from the very beginning.
Just look how young and adorable they were at their cover shoot! And now they're all growed up. We feel like proud parents. *sniff*
(All photos by Erin Baiano)
[portfolio_slideshow nowrap=0 thumbs=true timeout=4000 showtitles=true showcaps=true showdesc=true]
Breaking news, Broadway babies! The Cats revival casting has finally been announced—and it's a fabulous who's who list of major dance celebs.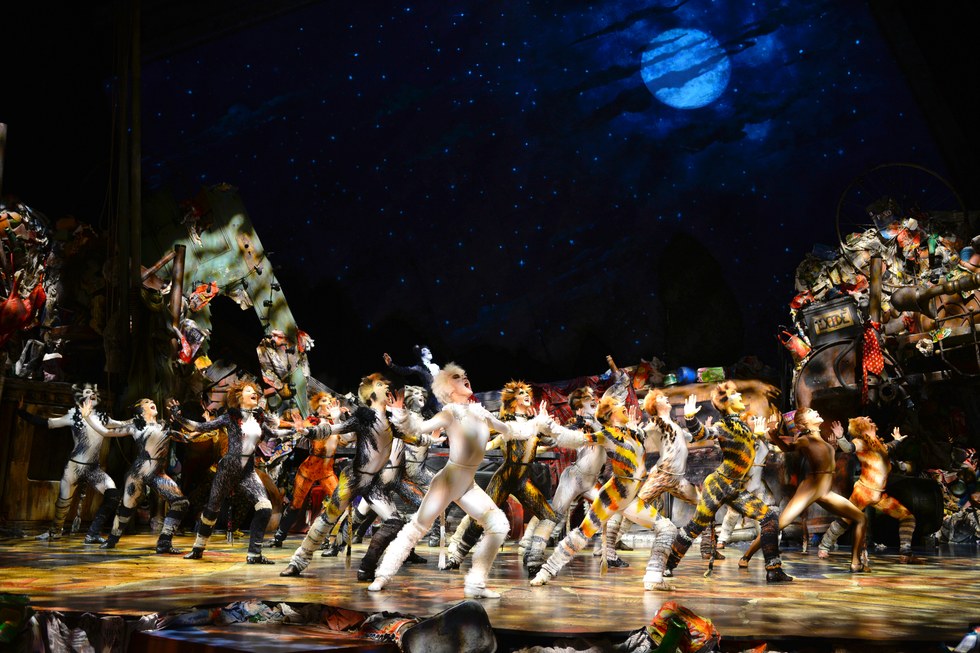 The London Cats revival (courtesy DKC/O&M)
Leading the way is the amazing Ricky Ubeda as Mr. Mistoffelees. The "So You Think You Can Dance" Season 11 winner is no Great White Way newbie: He made his official Broadway debut last year, when he joined the ensemble of On The Town. But it is his first time playing a major role—and showing off his singing chops solo!
The list also includes other On The Town alums: New York City Ballet soloist Georgina Pazcoguin as Victoria (aka the super graceful "white cat"), and Jess LeProtto (also of Newsies and "So You Think You Can Dance") as the mischievous Mungojerrie.
Other highlights? Shonica Gooden—fresh off her Hamilton run—will play Rumpleteazer; New York City Dance Alliance all-star Kolton Krouse will make his Broadway debut as Tumblebrutus; and fellow NYCDA kid Corey Snide, a Juilliard grad who was one of Billy Elliot's Billys, will play Coricopat.
One thing's for certain: This cast of A-list dancers + Andy Blankenbuehler's choreo is sure to = Broadway gold. The production officially opens July 31. Get your tickets now, and check out the full casting list here.
It seems like every time we blink, another one of our favorite ballerinas is joining the cast of On the Town. We couldn't be more excited to see New York City Ballet's Georgina Pazcoguin as Ivy, starting August 11th!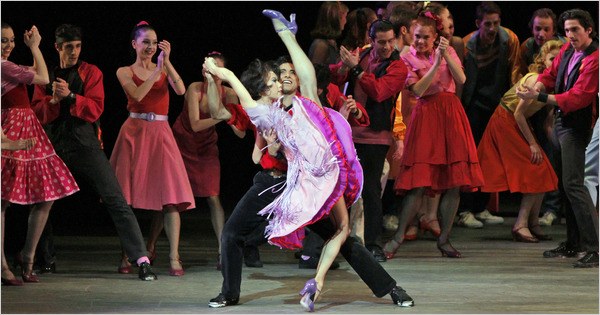 Pazcoguin shows us how it's done with Amar Ramasar in Jerome Robbins' West Side Story Suite. (Photo Paul Kolnik)
We can't wait to see how Pazcoguin will make the role her own. If her performance in the cast's ensemble, her dynamite performances in West Side Story Suite or the film adaptation of N.Y. Export: Opus Jazz are any indication, her time as Ivy is going to be high energy, to say the least. Fellow NYCB dancer Megan Fairchild has killed it in the role since the musical's opening, and American Ballet Theatre principal Misty Copeland will undoubtedly do the same when she takes over for Pazcoguin beginning August 25th.
Season 2 of "city.ballet."—the AOL On series that gives an insider's look at New York City Ballet—is live now! We're recapping one episode per week. Watch all 12 at dancemagazine.com.
Over the course of "city.ballet.," we've seen all the insanely hard work that goes into a professional ballet career. But in the final episode of the series' second season, we get a look at the end product: the performance. Those few minutes onstage, the New York City Ballet dancers make clear, more than justify the countless hours they spend in the studio. Here are five things we learned from the ep.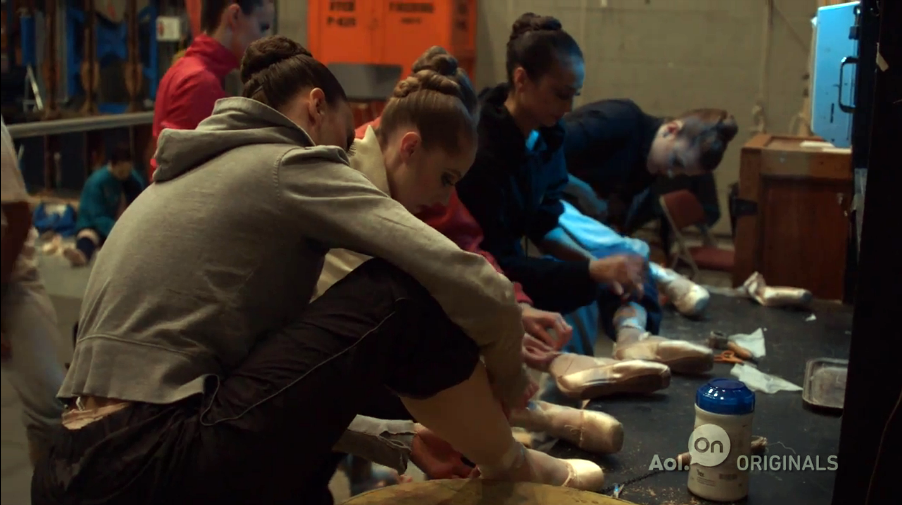 NYCB dancers backstage before a performance (still from "city.ballet.")
1. Choreographers have control over every aspect of their ballets—until they don't. The minute their work hits the stage, it's totally out of their hands (and feet), which is a disorienting feeling. "At this point, I'm still thinking, 'How can this piece be better?' " says choreographer and NYCB corps member Troy Schumacher just before the debut of his ballet Clearing Dawn. "But now I don't have any part in it. I have to just sit back and enjoy all that the dancers are giving to the piece."
2. In fact, once any ballet is onstage, the only thing to do is relax and be in the moment. "Sometimes you don't know what's going to happen out there," says principal Maria Kowroski—especially the first time you perform a ballet. "But that's the time to trust your partner, to just look at him and think, 'Oh, I'm so happy I'm dancing with you!' It's that freedom and abandonment that make it special."
3. Schumacher's playful choreography for Clearing Dawn is so winning. "Have a good day at dance school," he jokes to principal Andrew Veyette just before the curtain goes up, referring to the piece's school-uniform-esque costumes. And those costumes match the ballet's youthful spirit perfectly. "It feels like playing a game onstage—like a game of tag," says soloist Georgina Pazcoguin.
4. Before a show, some NYCBers lick for luck...? Yes, we all know about "merde," but apparently a few of the older company dancers have a tradition of touching each other with licked fingers before a performance. Uh, we need to hear the story behind that.
5. Performing is basically the best rush ever. Well, you probably already knew that, but still! The episode closes with the dancers' tributes to the joy of being onstage, and it's the perfect ending to the season—because that rush is the whole reason these artists do what they do. As Kowroski says: "When you're really in the moment onstage, when you feel all the blood rushing in your legs and your feet and your arms—it's something so pure and raw. You're just living."
Click the image below to watch the full episode!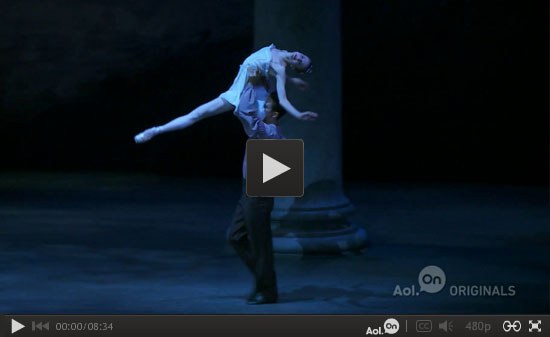 Season 2 of "city.ballet."—the AOL On series that gives an insider's look at New York City Ballet—is live now! We're recapping one episode per week. Watch all 12 at dancemagazine.com. 
It's pretty darn hard to make it as a choreographer. It's even harder to do so while you're dancing full-time. In the second episode of "city.ballet." Season 2, we meet Troy Schumacher, a member of New York City Ballet's corps, and follow him as he creates his first work for NYCB. Here are five things we learned from this particularly fascinating ep.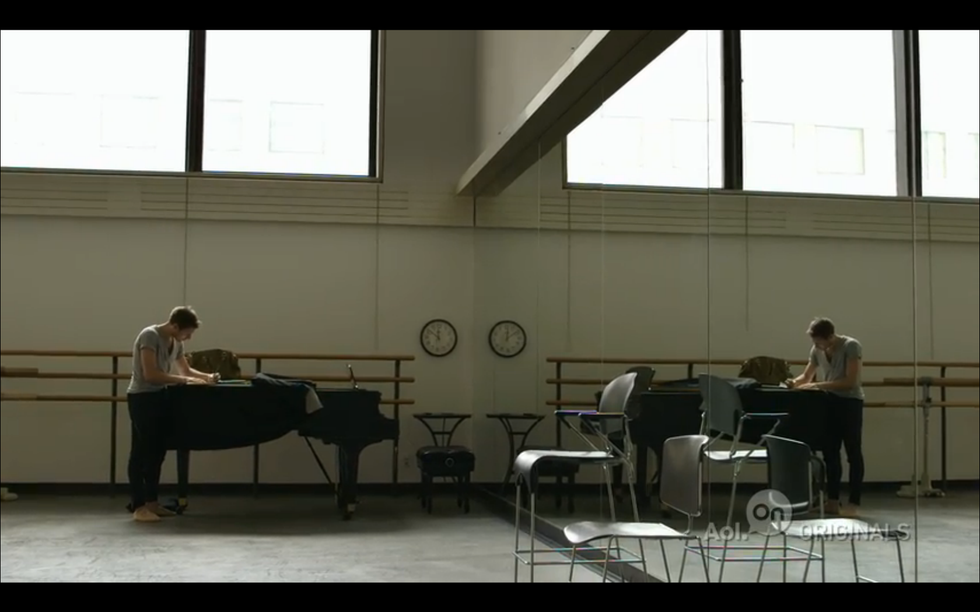 Schumacher at work in the studio ("city.ballet." still courtesy New York City Ballet)
1) If you want to choreograph a great dance, choose a piece of music you're obsessed with. Schumacher's ballet is set to "Clearing, Dawn, Dance," by Judd Greenstein—which he's been listening to for three years. And I thought I couldn't get "Shake It Off" out of my head.
2) Casting a ballet at NYCB is like being a kid in a candy store. Or, to use Schumacher's better food-related simile: "It's like going to a buffet when you're really hungry. Everyone is excellent!" And Schumacher knows all of these dancers super well—he's in the studio with them every day, after all—which makes the decision process even harder.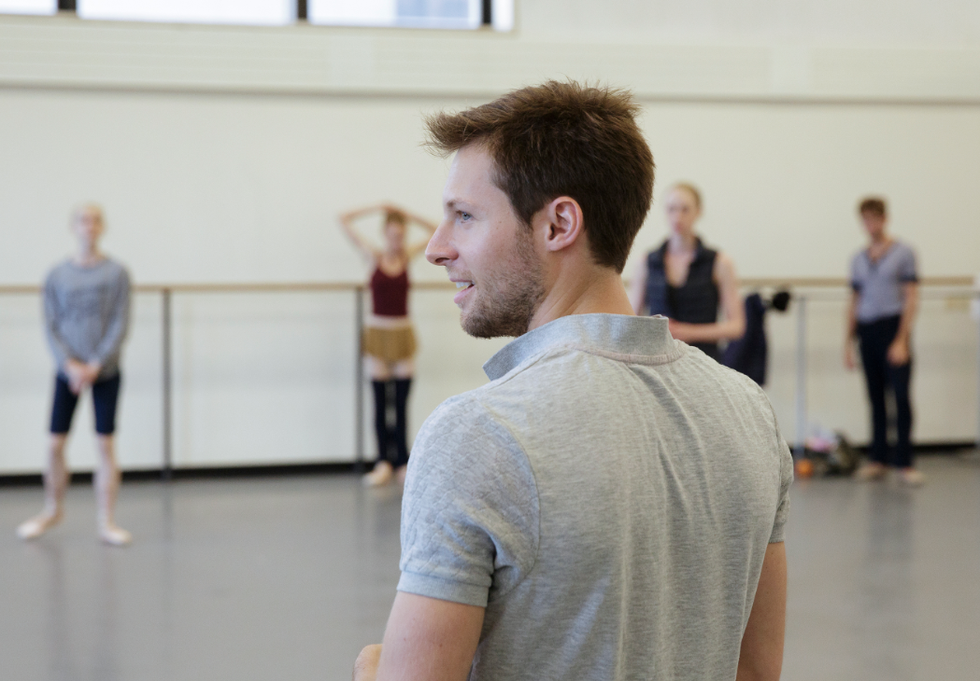 Schumacher rehearsing his chosen ones (Paul Kolnik, courtesy NYCB)
3) Ballet dancers call aerobically intense ballets "puffy." As in, you'll be huffing and puffing. Cute!
4) Choreographers' notes are so cool. We get a peek at Schumacher's notebook (5:17), and while I'm not exactly sure how his system works, his elaborate doodlings are a little language all their own.
5) Georgina Pazcoguin is hilarious. The costumes for Schumacher's ballet, dreamed up by designer Thom Browne, are basically school uniforms, complete with pleated miniskirts for the ladies. Soloist Pazcoguin's reaction? "Ooh, Sister Marie Clarence is giving detention for this!" Hee hee.
Click the image below to watch the full episode!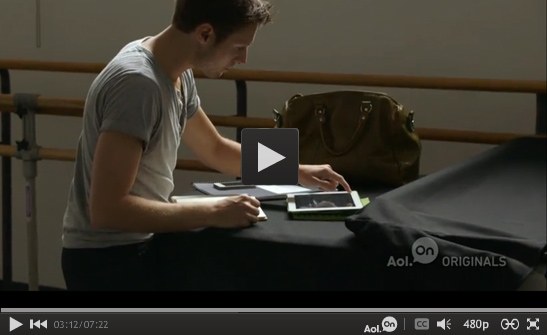 With four world premieres on the lineup, the 2011-2012 season at New York City Ballet is sure to be exciting. But the company's most anticipated new work, Ocean's Kingdom, comes from a trio of creative masters: It features choreography by NYCB ballet master in chief Peter Martins, a score by former Beatles front man Paul McCartney and red carpet–worthy costumes by fashion designer (and Sir Paul's daughter) Stella McCartney.
The piece tells a Little Mermaid-esque story, with NYCB principals Sara Mearns, Amar Ramasar and Robert Fairchild dancing the leads. Also debuting in Ocean's Kingdom is senior corps de ballet member Georgina Pazcoguin, who chatted with DS about her role as Scala in the groundbreaking premiere.
—Alison Feller
Dance Spirit: How did you find out you'd be dancing a lead role in Ocean's Kingdom?
Georgina Pazcoguin: Ballet mistress Rosemary Dunleavy pulled me aside one day. She said, "You're going to be one of the leads in the new Peter ballet." I was like, "Excuse me?" She said, "You're going to be Scala," and I said, "What is Scala?" My first rehearsal was the next day! As it turns out, Scala is the disillusioned leader of the ballet's handmaidens. She's a servant with a chip on her shoulder. It's a feisty, dramatic character!
DS: What do you think is most exciting about this piece?
GP: Knowing that Paul McCartney is composing a score for a ballet—specifically for us—is amazing. How could you not love Paul McCartney? And for Stella to be doing the costumes, making it a family affair, is wonderful. I've especially enjoyed working closely with Peter. It's been a great chance for me to show him what I can do.
DS: Are you nervous about your debut?
GP: I'm sure nerves will come up, especially pertaining to the costumes. There's talk of a big cape I'll be dancing with, and some wings. I'm also nervous about dancing next to Sara Mearns, who is one of the top NYCB dancers—that's a big pressure. But I'm up for the challenge and am enjoying defining my character. It will all come together by opening night.
DS: Why should people see Ocean's Kingdom?
GP: First and foremost, see it for the dancers. NYCB has a brand-new generation of dancers rising through the ranks. The company is transforming. Then come for Stella's amazing costumes. Her ideas are incredible, and she wants every look to be like a runway look. Peter's choreography is going to be great and the score is breathtaking. It's a dream team.


Get Dance Spirit in your inbox