Mar. 17, 2017 07:04PM EST
After completing the Ailey/Fordham BFA Program in NYC, Janelle Jones was working as a server and doing freelance gigs. When she got a job as a dancer in a new show at Busch Gardens theme park in Williamsburg, VA, she was initially hesitant. A Virginia native, she was worried that it might be a step backwards to take a job near home. She'd heard that some dancers looked down on these jobs and that the choreography might not make use of her high-level training. As it turns out, she couldn't have been more wrong.
Keep reading...
Show less
Jan. 30, 2017 06:15PM EST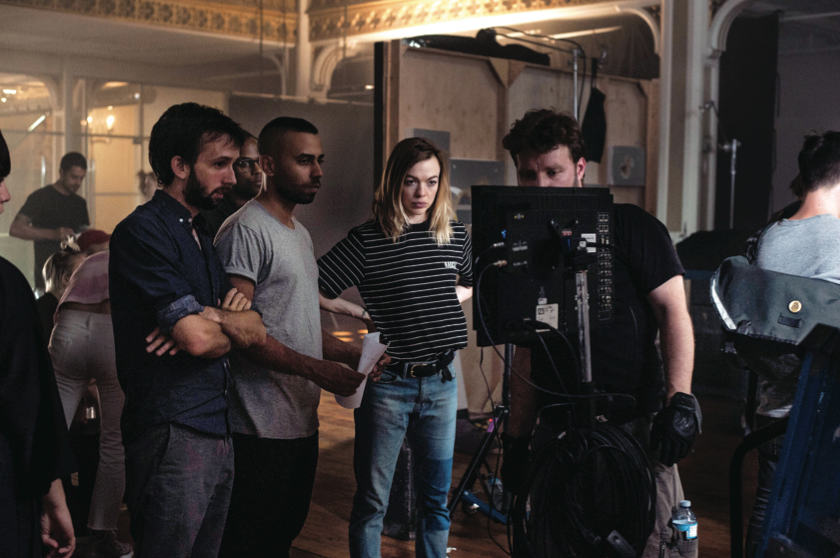 Choreographer Wynn Holmes (center) on set with Canadian band FOXTROTT, shooting the music video for "Shields" (photo by Gaelle Leroyer, courtesy Holmes)
Adagio. Marley. Rosin. Switch leap. You're more than familiar with a lot of theatrical-dance terminology. But do you know what an industrial is? A session fee? If you're looking to break into the world of commercial dance—think music videos, TV spots, promotional events—you'll need to learn, and fast. We asked some industry heavy-hitters to clue us in on what you'll need to know to book jobs and communicate like a pro on set.
Before the Job
You probably already know some of the terms you'll hear when trying to book a commercial job (auditions, callbacks and headshots, for example). But some types of commercial jobs, such as trade shows, might be new to you. Also, most commercial work is booked through an agent, which involves a language of its own. We had Lakey Wolff, a former agent with CESD Talent Agency in NYC, break it down.
Agent: Submits you for jobs and negotiates the terms and conditions of a booking in return for a percentage of your fee.
Book/release: "Booking" means you got the gig. If you've "been released," you didn't.
Breakdown: The description of what a project is looking for. Includes the specifications
(also called "specs") for things like age, gender, ethnicity, height and type of dancer needed.
Casting director: In charge of running casting sessions.
Industrial: Video for nonbroadcast use. Examples include corporate sales materials, instructional clips and product demonstrations.
Trade show: Corporate event where dancers are involved in presentations or demonstrations.
On Set
Being on set for the first time can be exciting, but it can also be overwhelming. Wynn Holmes, a choreographer and dancer whose choreography credits include MTV, Nike and "So You Think You Can Dance" (Canada), filled us in on a few key terms you might hear.
Blocking: Running through a scene before filming to decide where the dance will happen, who will enter when, and where lighting and cameras will be placed.
Pro tip!
Blocking on set takes a lot longer than blocking in rehearsal, Holmes warns, so be patient!
Call sheet: The list of who will be required on set for each shot, as well as when and where scenes are scheduled.
Pro tip!
Holmes suggests always checking out the whole call sheet (not just looking for your name) to get a good idea of how the day on set will run.
Camera left/right: Similar to stage left/right: If you're facing the camera, camera left is your right.
Cheat: To turn slightly toward the camera. Cheat-away means to turn slightly away from the camera.
Crew: The production staff on set behind the scenes, including the gaffer (in charge of lighting) and director of photography.
Frame: The area in the shot. If you're "in the frame," you're being seen on camera.
Pickup shots: Extra shots that happen after the main shoot is finished. These might include detail or cutaway shots (to get a different view or angle).
Striking: Removing an object or prop from the set.
Talent: Dancers, actors, models—anyone who is appearing on camera.
Time Sheet: Officially known as the Performer's Work Report, it lists the names of all of the talent who worked on set that day, and notes when they arrived, went to wardrobe/hair and makeup, started and ended their meal breaks, and wrapped their day. The sheet is used to calculate payments at the end of production.
After the Job
Contracts for commercial jobs can be complicated, but understanding them will ensure you're treated fairly. Wolff always encourages dancers to read everything and consult with their agent before they sign. "It's OK to ask questions!"
Conflict: Work for the same type of client. For example, if you shoot an ad for one department store, booking work with another department store would be a conflict. "Exclusivity" means the client won't book you with a conflict
in a certain category.
Holding fee: Compensation for not appearing in work for a competitive product. Once the company stops paying a holding fee, you're released from the conflict.
Release: A contract term which means you release your rights to the company hiring you. These can be specific to different "uses" (i.e., images, social media).
Pro tip!
Make sure to check what is included in the release and how long the company holds those rights.
Reshoot: An additional shoot (of an entire scene) after the original shoot wraps.
Residuals: What you're paid on top of the session fee if the show or commercial runs.
Session fee: What you're paid for the day of filming.
Stills: Photos taken during a shoot. These can be helpful in building your portfolio if you get permission from the producer to use them.
Dec. 21, 2016 06:53PM EST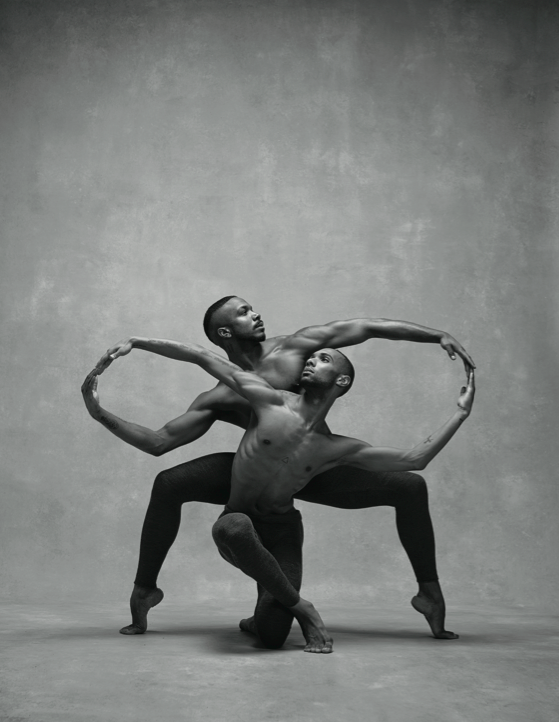 Alvin Ailey's Sean Aaron Carman and Michael Jackson Jr. "This 'infinity' photo has always been one of my favorites," Ory says. "It's hard to see where one body stops and the other begins." (courtesy NYC Dance Project)
Every NYC Dance Project image feels like a glimpse into something greater: a dance that's happening behind a curtain, in a private moment. Take, for example, one of Les Ballets Jazz de Montréal dancer Céline Cassone's photos, a commanding shot of her on pointe in passé, her fiery red hair flung upward over her face. Or, the image of Misty Copeland that perfectly portrays both her incredible strength and her ineffable grace. NYC Dance Project's photographers have taken powerful photos of dozens of famous subjects. But what inspires their iconic images? And how do you capture such stunning shots?
Former dancer Deborah Ory and her husband, Ken Browar, know the secret. The couple started NYC Dance Project with the goal of creating unique portraits of members of the dance community. Their photographic collaboration has since gone viral, first as a blog and Instagram account, and now as a new book, The Art of Movement, out last month. But it's Ory's dance experience that sets apart their dynamic, dreamy photographs; every dancer wishes to be seen through her favorable eye. The project has spanned more than three years and its impressive roster of subjects includes more than 100 professional dancers from American Ballet Theatre, New York City Ballet, Martha Graham Dance Company, Alvin Ailey American Dance Theater, Royal Danish Ballet, The Royal Ballet and many more.
Rooted in Modern
Ory first started taking ballet classes as a child in Ann Arbor, MI, but didn't intend to become a dancer—until she saw the Martha Graham Dance Company perform as a teenager. "Tears were streaming down my face," she says. "I thought it was the most moving and beautiful thing I'd ever seen." Former Martha Graham principal Peter Sparling was running the dance program at the University of Michigan at the time, and he allowed Ory to take classes with the dance majors while she was still in high school. She continued to study with him and eventually received her bachelor's degree in dance at University of Michigan. During college, she spent a year at the London Contemporary Dance School and attended summer intensives with Twyla Tharp and at the Limón Dance Company.
A New Passion Is Born
While studying with Sparling in college, Ory sustained an injury before the spring semester of her freshman year. A few days before classes started, she noticed a brand-new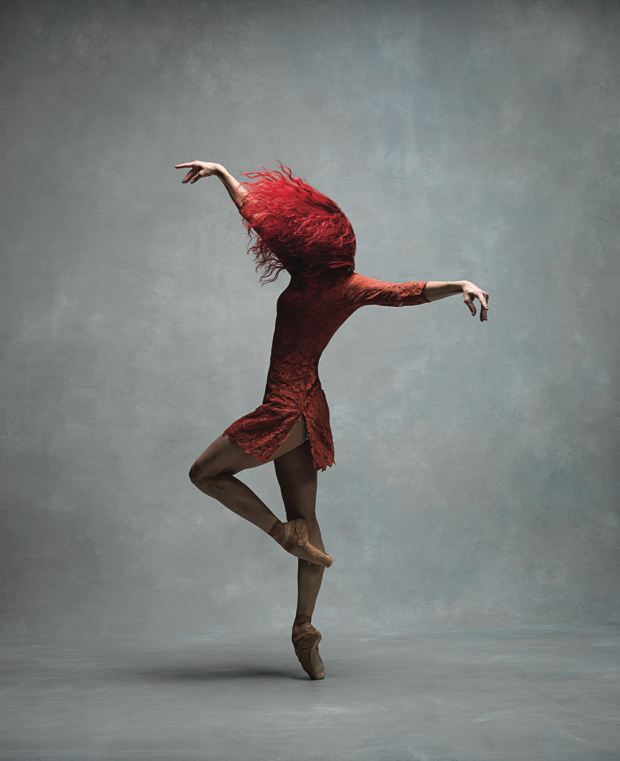 Les Ballets Jazz de Montréal dancer Céline Cassone (courtesy NYC Dance Project)
camera sitting on her parents' kitchen table. "I knew as soon as I saw it that I wanted to take photos," she says. "After enrolling in a photography class, I photographed all the rehearsals and performances that I was supposed to be in that semester while injured." Sparling was supportive of Ory's photography work, and was one of her very first subjects.
When the time came to audition for professional companies, Ory felt intimidated. "Friends would come back with stories of hundreds of dancers lined up for a few openings in a company," she says. She admits that being opinionated about exactly what type of company she wanted to dance with may have also gotten in her way. "I now regret not having given it a try," she says.
After college, Ory moved to NYC and took a one-year course at the International Center of Photography. "Learning photography is very different than dance—there's no 'correct' way of making a photo like there's 'correct' form in dance technique," she says. She still had a lot to learn, though. At the time photography wasn't digital, so she studied how to develop film and print photos, in addition to mastering  the art of lighting.
As with dance, there were obstacles. Most photographers hone their craft as photo assistants. "That was difficult for me, as a small woman," she says. "Assistants have to carry heavy lighting equipment, so most photographers prefer male assistants." She ended up working at magazines like House & Garden and Mirabella as a photo editor, where she was able to see photography from a different perspective. "I learned other aspects of the business. Styling clothing, producing photo shoots, finding locations, casting, doing budgets and much more—all of this has been invaluable for me now with NYC Dance Project."
A Business Blooms
Years after Ory and fashion photographer Browar got married, they decided they wanted to work on a photography project together. At the same time, their daughters had begun taking classes at the Jacqueline Kennedy Onassis School at American Ballet Theatre. "I would sit outside the classroom and hear the teachers giving the combinations and listen to the familiar music," Ory says. "My muscles were twitching, and I realized how much I missed dancing. I wanted some way to have it back in my life."
The critical moment came when Ory's daughter, Sarah, wanted her bedroom redecorated for her 12th birthday. "She asked for ballet photographs of her favorite dancers, the current stars of ABT," Ory remembers. But Ory was surprised that it was difficult to find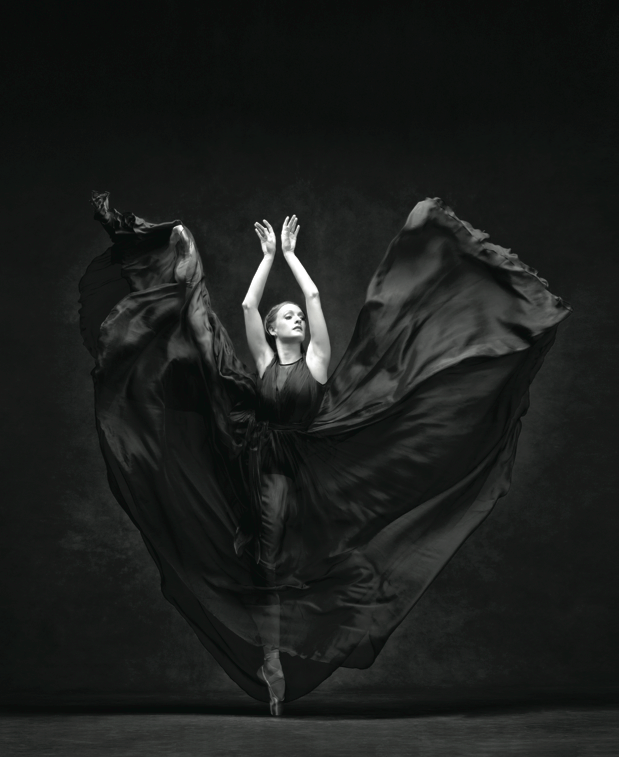 American Ballet Theatre's Gillian Murphy (courtesy NYC Dance Project)
many photos of these famous dancers. Her husband suggested that they simply try to shoot them themselves. The first dancer to agree was Daniil Simkin. He posted the images to his popular social media pages, and that led to work with other top dancers and choreographers in the industry.
Ory fully credits her dance background with making her a better dance photographer. "The sense of timing you have after having been a dancer is very helpful," she says. "When I work, I feel like a choreographer, trying not to just get an impressive pose, but also to create movement in a still image."
Ory's story has come full circle. The Martha Graham Dance Company brought her to tears with inspiration as a teenager, and now its dancers are some of her biggest supporters and most enthusiastic subjects. Recently, MGDC artistic director Janet Eilber pointed out to Ory how lucky she is to work with such incredible dancers from all over the world. "I agree with her," Ory says. "It's unlikely as a dancer that I would've had these experiences."
Oct. 20, 2016 04:38PM EST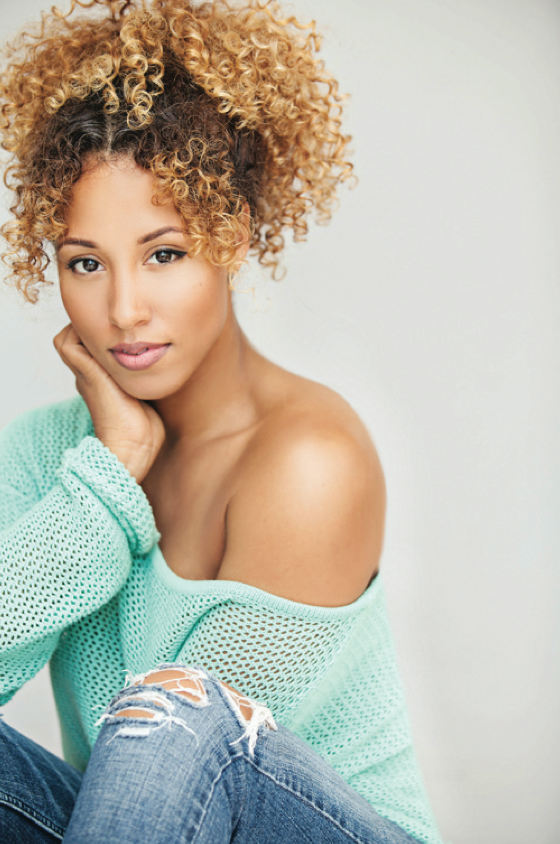 Melany Centeno's commercial shot (photo by Lindsay Rosenberg)
L.A.-based dancer McKenzie Anderson recently booked a major industrial for Reebok. When she saw the photos of the other dancers they hired, she noticed one thing they all had in common: "Everybody who booked the job had a fitness headshot. There were no commercial headshots."
"Open auditions barely happen anymore, so your headshot is often your first audition," says Jennie LaCovey, an agent at Bloc. "If you don't have a great picture with great hair and makeup, you're not going to get called in." So what can you do to make sure your headshot gets you in the door? Read on to find out.
What Makes a Great Picture?
When casting directors look at your headshot, they should be able to imagine you in a range of different roles. That means you need to avoid anything distracting and keep the focus on your face. In commercial headshots, LaCovey recommends skipping the jewelry, crazy poses and busy backgrounds. Carolyn McLeod, who cast the recent movie High Strung, says casting directors look for images that "convey personality and energy." Even if you're auditioning for a dance role, they won't just be looking at your lines. "Don't forget to engage the face and eyes," McLeod says.
While it may be tempting to wear lots of makeup or ask for heavy photo editing, remember that you still need to look like yourself. "There's nothing worse than someone coming in to a casting and looking nothing like their photograph," McLeod says.
How Many Different Looks Do I Need?
For dancers hoping to book a wide range of jobs—from tours to movies to commercials—having a range of headshots is crucial. In addition to her fitness shot, Anderson has an "edgy" dance shot she submitted for a music video with pop artist Sofia Carson, and a clean-cut shot that helped her land a commercial for Amazon.
At minimum, LaCovey advises dancers to have two looks: a commercial shot and an edgier body shot. Commercial shots are generic and clean-cut—think light makeup, no jewelry and a bright T-shirt. Full-body (non-dance) shots are used for auditions for tours and music videos. Wear formfitting clothing, but make sure you're comfortable (if you're not, it'll show in your pictures).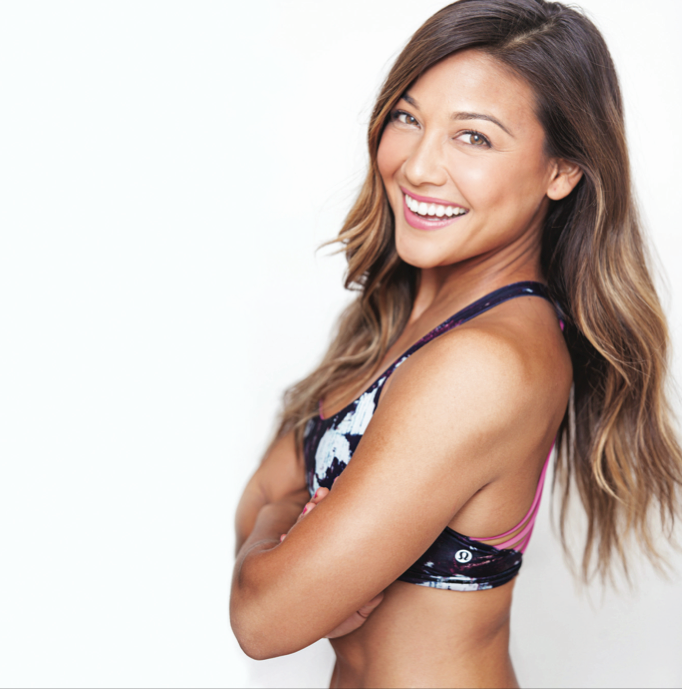 Nicole Niestemski's fitness shot (photo by Lindsay Rosenberg)
Most dancers opt to do one or two additional looks, depending on their budget and the types of auditions they're hoping to land. Dancers with a younger look often do a shot geared toward the kind of teen-focused roles you might see on the Disney or Nickelodeon channels. For these, you can take on more of a character—think layers or a mix of bright colors. A trendy or fashion-forward shot works well for dancers who often go on hip-hop auditions or to castings that ask you to "show your personal style." If you're interested in fitness modeling gigs, be sure to include a shot that shows your athleticism, highlighting muscle tone and flexibility.
What Should I Wear?
Picking your outfits can be the hardest part of the process. If you have an agency, make sure to run your outfits by them first. You don't want to spend money on photos only to find out afterward that your agency doesn't want to use them. "What looks good in person sometimes isn't what looks great on camera," Anderson says. Photographer Lindsay Rosenberg recommends steering clear of highly visible brand logos in your fitness shots. "Not wearing a huge logo is usually better so that you're not appealing to just one company."
How Should I Wear My Hair and Makeup?
While dancers spend a lot of time worrying about what to wear for headshots, hair and makeup are just as important. LaCovey says that one of the biggest problems she sees is when dancers don't vary their hairstyle or makeup between looks. "They don't change their commercial makeup into more intense makeup for an edgier shot, or they don't change their hairstyle, so when the pictures come back everything looks the same."
Consider enlisting professional help. While dancers are used to doing their makeup for the stage, professional makeup artists know what looks good on camera. They'll also have higher-quality makeup and be there to touch you up throughout the day. Check with your photographer for hair or makeup recommendations—most will have a list of people they work well with.
Be Confident
Rosenberg loves when dancers come in with a clear sense of what their goals are. "If you know yourself and you know what you want out of your dance career, it's a lot easier for us to work as a team to get you exactly the shots you need to get hired."
Don't be afraid to speak up on the day of the shoot. Your photographer and your hair and makeup artists will likely check in to see if you like how you look or how the shots are turning out. "If you're not happy about something, say it!" says Rosenberg. "Don't say yes to please anybody. This is your shoot, your day. Don't worry about offending us."
How to Find a Photographer
Get recommendations: If you have an agent, they'll have a list of recommended photographers. If you're unrepresented, talk to working dancers and see who they've had good experiences with.

Do your research: Look at the photographer's work online. Think about what your style is, and whether you fit in with the other dancers the photographer has shot. Anderson suggests looking at dancers who are booking the kind of jobs you want—who shot their photos?

Think about budget: Headshots can be a big investment. Consider which photographers fit into your price range. Prices vary depending on things like how many looks you do, so see what different packages they offer.

Talk to the photographers: Chat on the phone or in person to see if they're a good fit. If you're not comfortable, your pictures won't come out well.


Get Dance Spirit in your inbox