Mar. 23, 2017 01:14PM EST
Few people love dressing up as much as dancers. So it comes as no surprise that some
of our favorite performers routinely steal the spotlight on the craziest dress-up holiday of the year: Halloween. Dance Spirit gathered some favorite looks from dancey Halloweens past.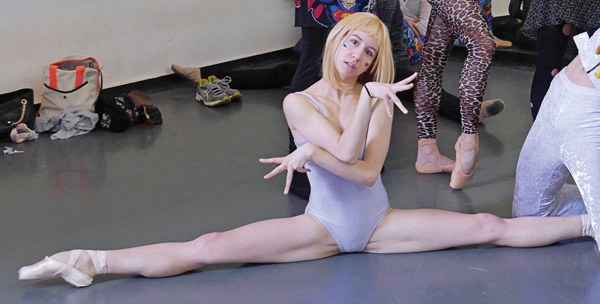 (Photo courtesy Gillian Murphy)
Isabella Boylston, American Ballet Theatre principal, as...Maddie Ziegler in Sia's "Chandelier" music video
"I didn't have time to buy a costume last Halloween, but someone brought an extra platinum-blond wig to the studios that day, which reminded me of the 'Chandelier' music video. I just threw on the wig with a leotard and went to class. It turned out to be pretty funny."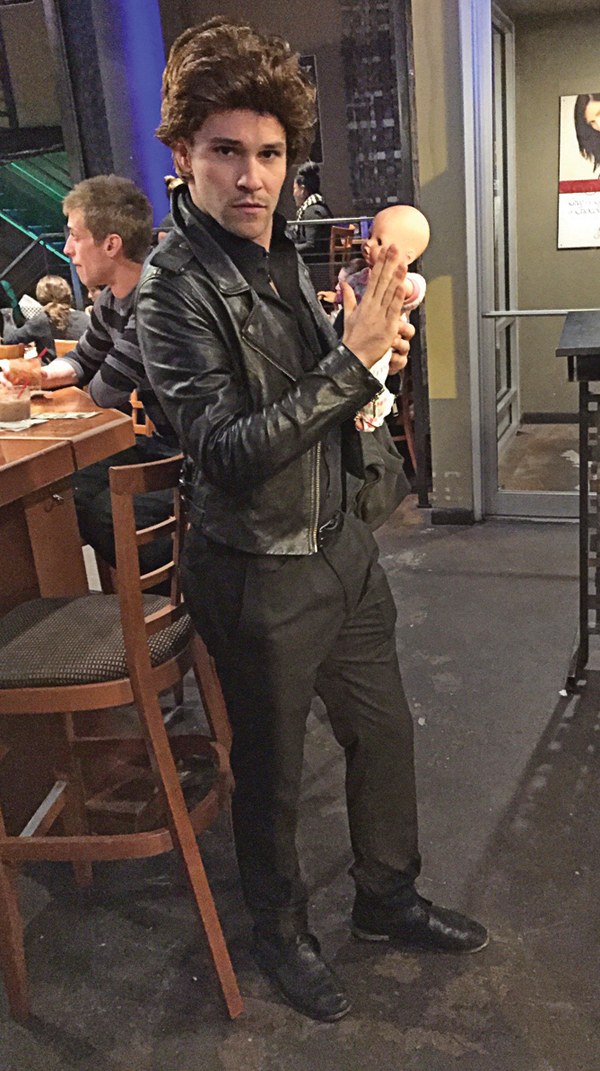 (Photo courtesy Nick Lazzarini)
Nick Lazzarini of Shaping Sound as…Patrick Swayze in Dirty Dancing
"Last Halloween, the members of Shaping Sound decided to dress as, um, dead celebrities. I wore this amazing wig that just shouted Patrick Swayze, a black leather jacket and jazz shoes. I also brought a baby doll that I kept throwing into corners. Why? Because 'Nobody puts Baby in a corner'! It was a big hit."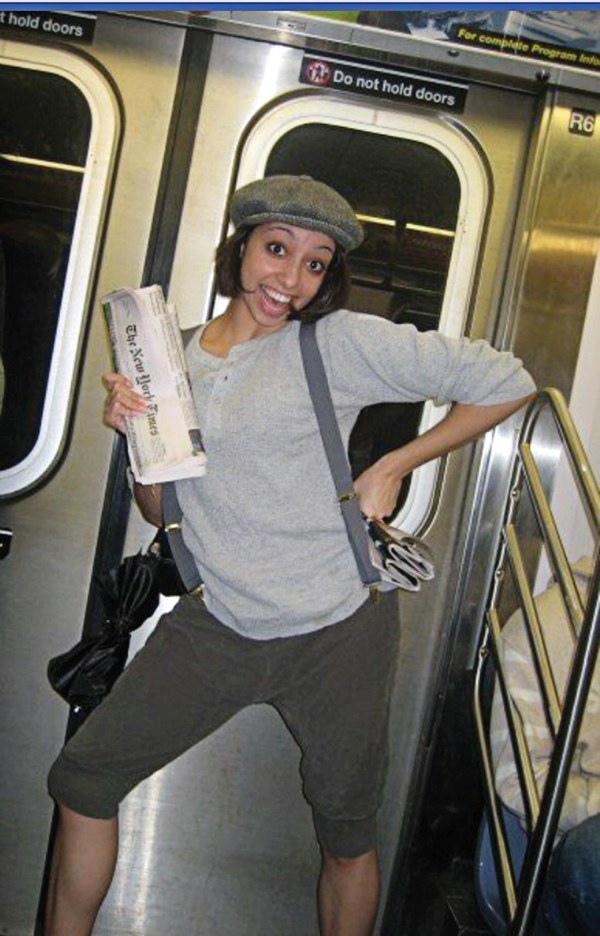 (Photo courtesy Sarah Daley)
Sarah Daley of Alvin Ailey American Dance Theater as…a Newsie
"I always wanted to dance through the streets of NYC like the Newsies boys, so I put together this costume during my sophomore year of college. My dad lent me the suspenders and newsboy hat, and I carried the New York Times as a finishing touch. As a bonus, the costume was warm enough for NYC in October and easy to move in—which is good, because I definitely acted out a few scenes from the movie!"
Dancers of Miami City Ballet as…Cruella de Vil and the dalmatians from 101 Dalmatians
"When I found this great Cruella wig, I knew I had to use it. Then a few of my fellow MCB dancers came up with the idea to be my dalmatian pups. We each put our costumes together separately, and surprised each other right before company class on Halloween. I loved that they even painted their pointe shoes with black spots!"—MCB corps dancer Samantha Galler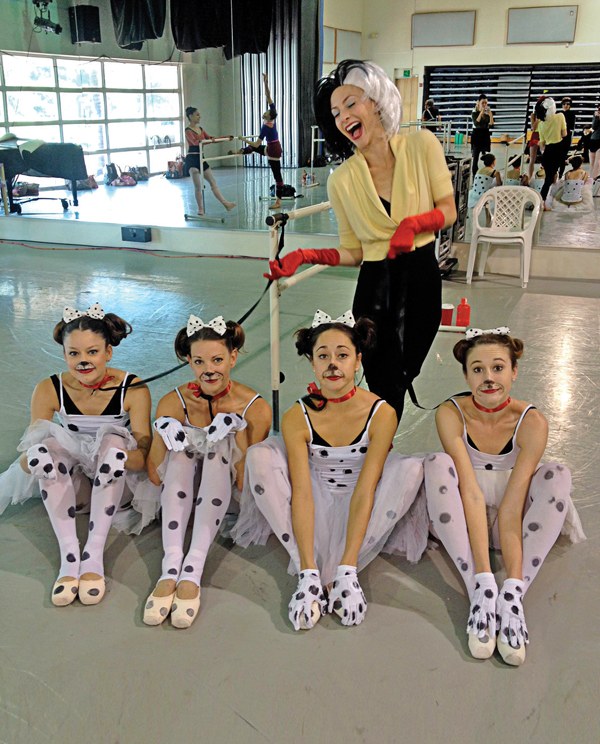 Samantha Galler as Crella de Vil with dalmatians (from left) Jennifer Lauren, Ashley Knox, Leigh-Ann Esty and Nicole Stalker (photo courtesy Leigh-Ann Esty)
Pacific Northwest Ballet Professional Division students as…the cast of Toy Story
"When my class decided to dress as the characters from
Toy Story, my red hair made me Jessie the cowgirl by default. All I needed was a hat and some duct-tape designs on my shirt. At PNB, we get awards for the best Halloween costumes in different categories. We won the prize for 'Best Group Costume'—and taking class all dressed up was so much fun!" —PNB Pro Division student Gabbi Nielsen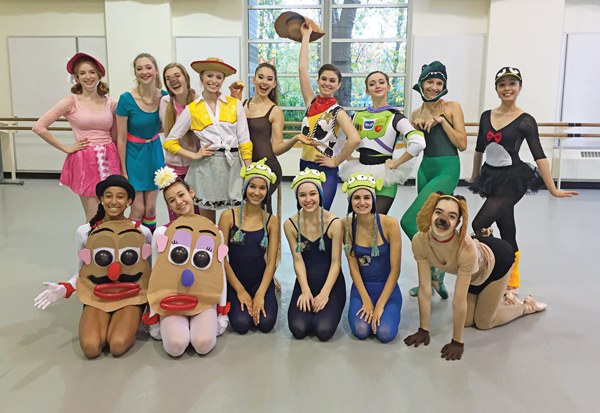 (Below) Gabbi Nielsen (back row, fourth from left) and PNB Pro Division first-year students (photo courtesy Gabbi Nielsen, Pacific Northwest Ballet School)
Dancers of Atlanta Ballet as…Olympic gymnasts
"This was right after the 2012 London Olympics, and we really wanted to re-create the 'McKayla Maroney is not impressed' meme that was going viral. I found these plain long-sleeved red leotards online, and we bedazzled them with gold rhinestones. Rachel Van Buskirk, who dressed as McKayla herself, has some gymnastics skills, but the rest of us thought it was safer to stick to ballet instead of flips." —AB dancer Jackie Nash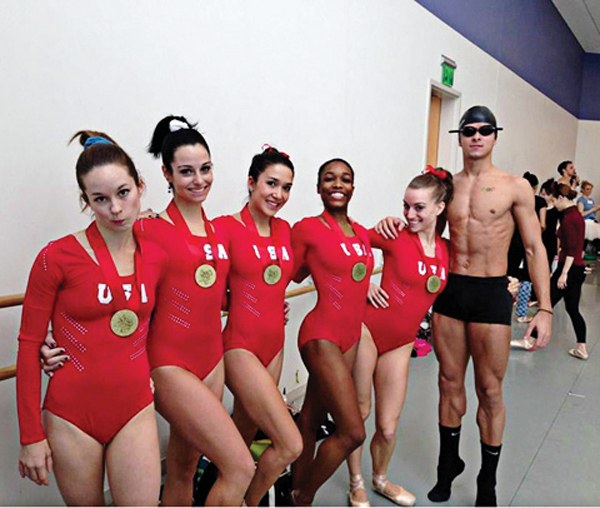 (From left) AB's Alessa Rogers, Lisa Barrieau, Rachel Van Buskirk, Kiara Felder, Jackie Nash and Alexandre Barros (photo courtesy Atlanta Ballet)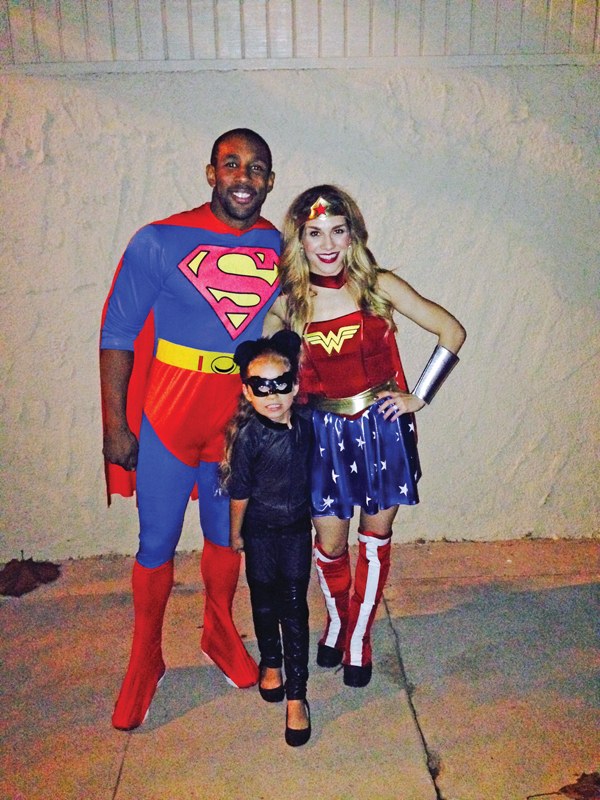 (Photo courtesy Allison Holker)
Commercial stars Stephen "tWitch" Boss and Allison Holker (and daughter Weslie) as…superheroes
"For Halloween, everyone in our family chooses their own costumes—and we all just happen to love superheroes. Last year, we each picked a power. Next step: Conquering
the world!" —Allison Holker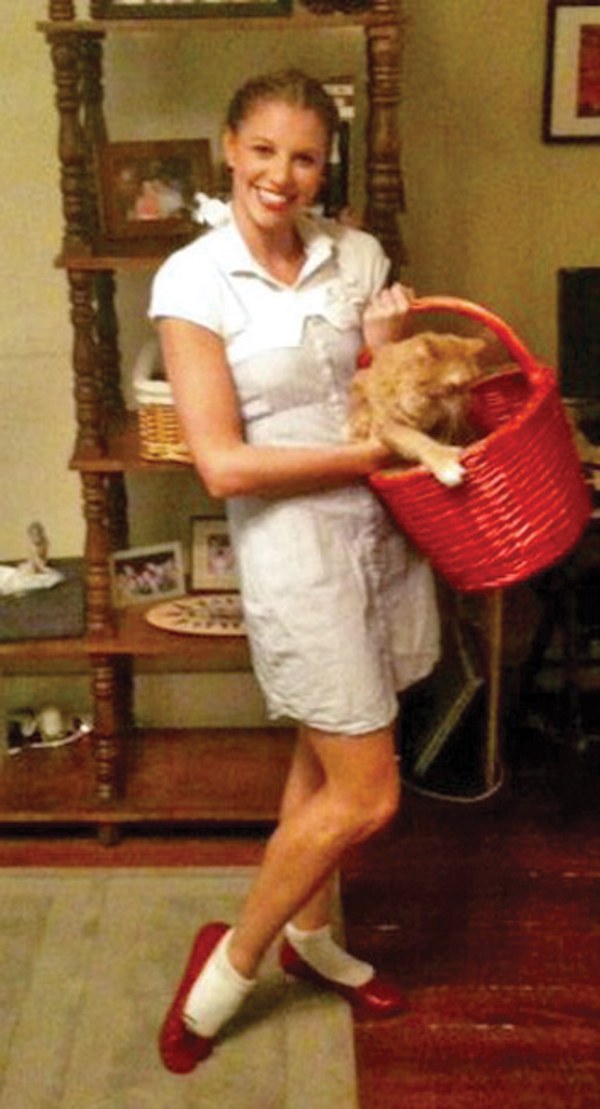 (Photo courtesy Lauren Fadeley)
Pennsylvania Ballet principals Lauren Fadeley and Francis Veyette (and their pets) as…the cast of The Wizard of Oz
"I was Dorothy for Halloween in kindergarten, and I never forgot how much fun it was to wear ruby slippers. I made it a family affair by incorporating my husband, Francis, as the scarecrow; my cat, Lily, as Toto; and our dog, Emmett—whom everyone always jokes is big as a lion—as the Cowardly Lion. Of course, Emmett stole the show with his yellow feather boa mane. He even acted pretty cowardly at our Halloween party, since people scare him." —Lauren Fadeley
Recovering from a major sugar hangover right now? Here, this'll make you feel better: Gaze in wonder at the Halloween costumes American Ballet Theatre's dancers pulled out yesterday, which are seriously, seriously on point(e).
Yes, we know—we already did our "best of" Halloween roundup. We already talked about the amazing Maddie thing that Heidi Klum did on "Ellen." But some late-arriving social media posts make a strong case for ABT as the official winner of Halloween 2016.
We'll start with the sweet: husband-and-wife team Stella Abrera and Sascha Radetsky as Yoko Ono and John Lennon. So many #relationshipgoals:
Let's progress to the (literally) cheeky, aka principal Jeffrey Cirio as Tom Cruise in Risky Business:
Most committed goes to Halloween queen James Whiteside in A+ drag as Natalia Makarova, complete with pointe shoes:
Soloist Cassandra Trenary's Ethan Stiefel/Cooper Nielson impression—including a Charlie cameo!—was truly inspired:
And the all-around winner? That'd be Erica Lall, who ABSOLUTELY NAILED Aunt Viv from "Fresh Prince," good lord:
Bonus: While we didn't get a peek at Misty Copeland's costume, she did repost this adorable little ballerina-in-the-making's Misty ensemble. D'awwwwww!
Hi there guys and ghouls! Are you super excited for Halloween, the (IMHO) most wonderful time of the year? What's that? You don't have a costume because you've been too busy rehearsing for Nutcracker/Regionals/studying for mid-terms? Don't worry, DS has your back. Here are five dancer-friendly costumes that you can probably throw together from stuff you already have!
Black cat: Dancers already have all-black everything, so this one shouldn't be too hard. Chances are, you already have a black beanie or headband with cat ears, too! Use pencil eyeliner to draw a nose and whiskers, and stuff a leg of an old pair of tights to make your tail. Meow!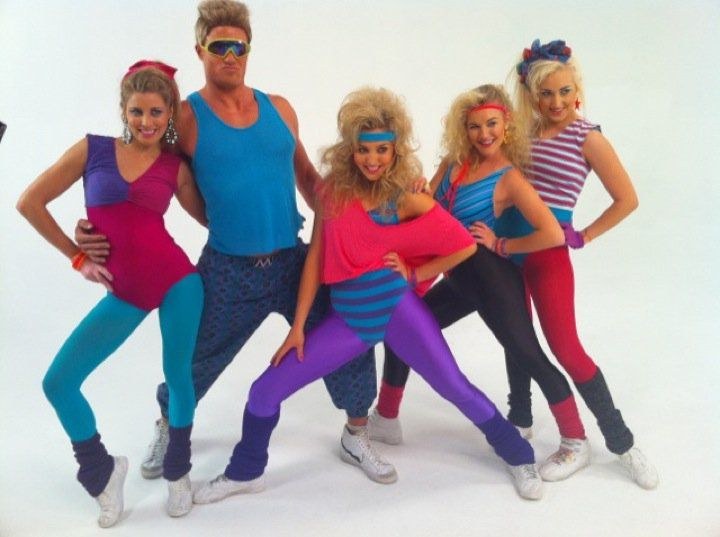 80s, baby! (via Pinterest)
Flower: Do you have any frilly, neon pink tutus left over from your ballet/tap combo days? Put one on your head, paint your face and voilà: You're a flower! (Bonus idea: If you have multiple tutus, wear them around your torso and be a loofah.)
Aerobics instructor: We're guessing you have plenty of neon spandex. Wear it with your best pair of legwarmers, toss on a headband and you're set. Extra credit if you have white sneakers and a lanyard.
#Throwback: We saw tons of #throwback trends at Nationals this year, including flapper fringe and 1950s-style saddle shoes. Recycle an old costume and go as your grandma or great-grandma when she was a teenager.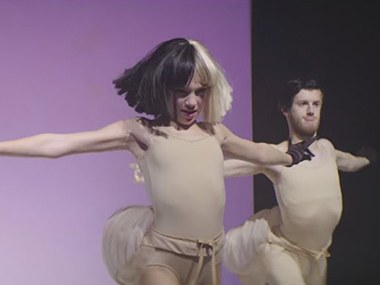 Maddie slaying in Sia's "Cheap Thrills" vid in the iconic look we've all come to love. (via YouTube)
Maddie Ziegler in Sia's videos: This is too easy. Everyone has a nude leo. Add a white wig and some freaky facials, and you're good to go. Besides, you already know the choreo, right?
Have a happy and safe Halloween!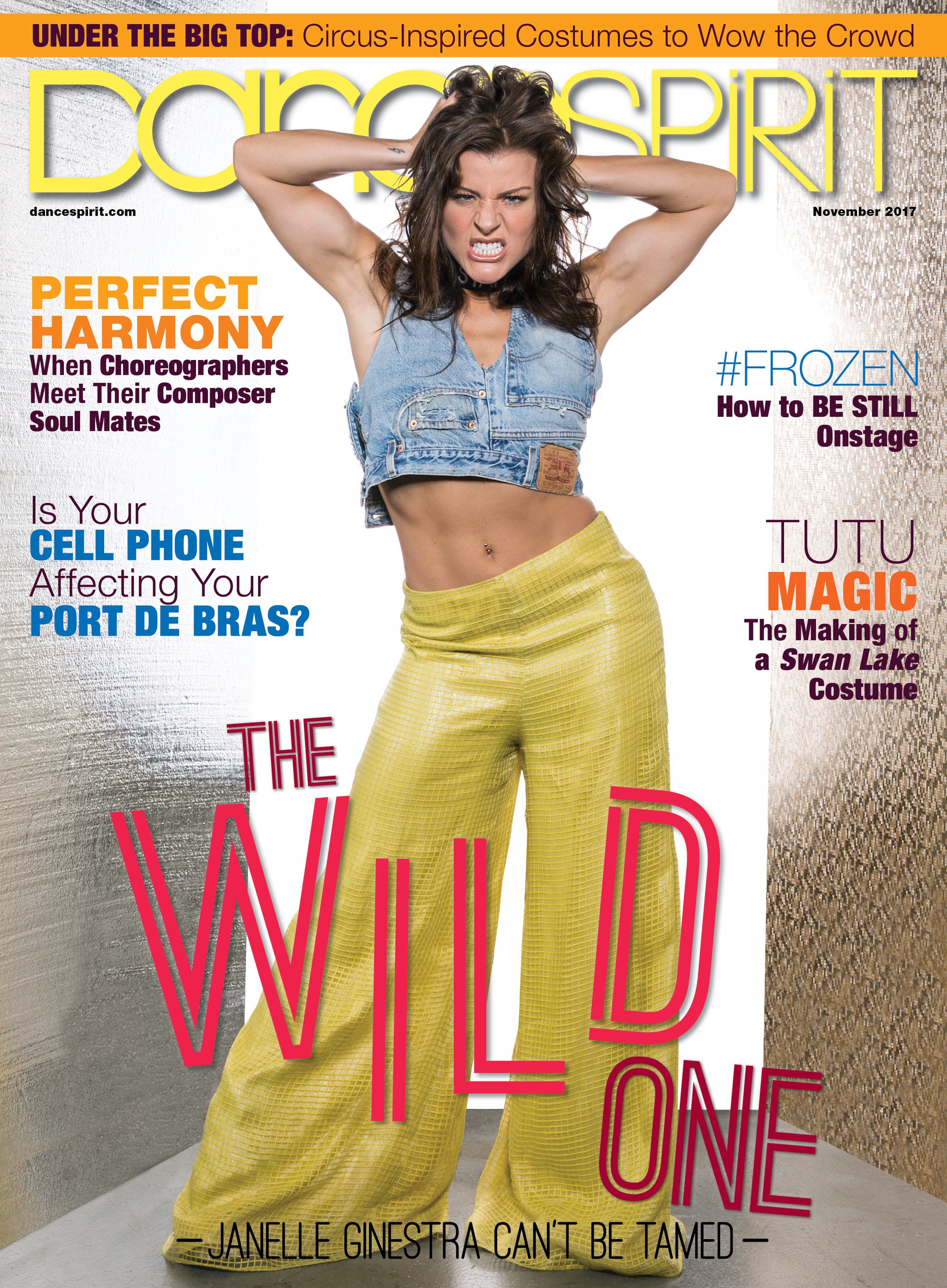 Get Dance Spirit in your inbox