Sep. 16, 2015 03:46PM EST
Karen Chuang was a freshman at University of California, Los Angeles, when she was
given the opportunity to dance in a K-pop music video being filmed in L.A. "I took all my books with me and studied during any downtime I could find," says Chuang. She went on to book jobs with Brian Friedman and "Glee," and to lead UCLA's hip-hop team, NSU Modern, before graduating summa cum laude with a degree in business economics.
The whole point of getting strong dance training is to work toward a dance career—but sometimes, jobs come along before you're done with college, or even high school. While balancing homework and dance commitments with an apprenticeship or auditions can be challenging, it's not impossible. "The lifestyle isn't for everyone," Chuang says. "But if you get an opportunity you can't pass up, take the leap." Here's how to make it work.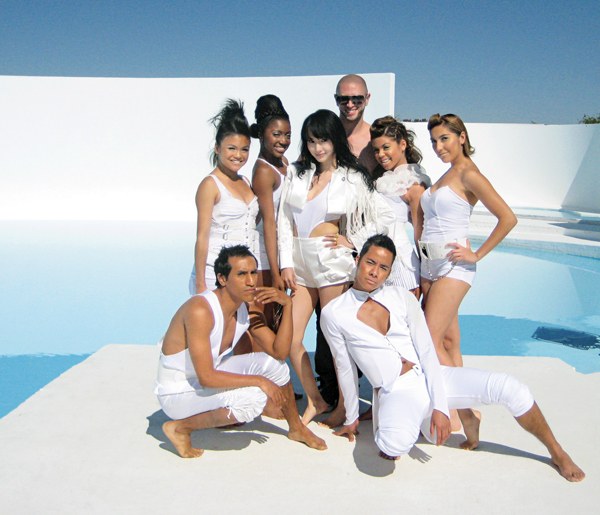 Karen Chuang (top, far left) on a music video set for K-pop star Ava in 2009 (photo courtesy Karen Chuang)
Communicate respectfully, early and often.
Since scheduling conflicts are inevitable, talk with your teachers and directors as soon as you're presented with an outside opportunity. "Be humble and as detailed as possible about upcoming conflicts with classes or rehearsals," says Joseph Giordano, who was offered a contract with Liz Gerring Dance Company during his final semester at New York University's Tisch School of the Arts.
Be sure to follow up with your teachers over the course of the job. "Professors will be so much more lenient if you keep them in the loop," Chuang says. And if you speak with them early enough, your outside work can be even more beneficial: Some directors, like Cathy Young at The Boston Conservatory, make it possible for dancers to receive credit for professional projects that take them away from school for a semester or more.
Make a schedule—and follow it.
"I map out my complete Monday-through-Friday schedule on Mac Pages and set it as the background image on my phone," Giordano says. Chuang had a similarly detailed plan. "My days were completely structured, with slots for commuting, exercising and homework," she says. But no matter how organized you are, Young adds, "someone completely overextended isn't valuable to a choreographer." Make sure you have the time before you commit to a gig.
Get your Z's.
With the strain of additional hours of dancing, part of your agenda should be devoted to rest, says Giordano. "I try to get at least six hours of sleep, stay hydrated and monitor aches and pains," he says. Irineo Cabreros, who apprenticed with Gallim Dance in NYC during his first semester in a PhD program at Princeton University, advises prioritizing sleep. "The few times I went into rehearsal dead tired, I realized I was getting the short end of both sticks—I wasn't performing well and I wasn't getting the most out of my education, either," he says.
Learn to say "no."
Doing it all comes with tough choices. "I often had to sacrifice my social life to
balance it all," Chuang says. Other times, you might have to pass up a job. Don't get discouraged, though: Sometimes opportunities will resurface at more convenient times. "Once, I couldn't audition for Lady Gaga because I had a final exam," Chuang remembers. "I was bummed, but the opportunity came around again."
You only have a few years to immerse yourself in your education, so if it comes down to missing too much school for a job, Young advises dancers to choose school. "Sometimes you have to jump when those opportunities come along, but the idea that your career clock is ticking is a dated one. The more info you get in school, the more likely you'll be working into your 60s."
Mar. 14, 2015 11:00AM EST
Right now, you're probably getting pretty pumped about one major high school milestone: Prom! Do you have your dress yet? Did you work up the courage to ask that special someone? Are you planning the best-ever post-prom party? We thought so.
Dancers do prom in the best way. I mean, getting dressed up and dancing the night away? That's kind of our M.O. To get in the spirit of all things prom, Dance Spirit asked a few of our favorite pros about their big nights—and what they had to say is just so cute!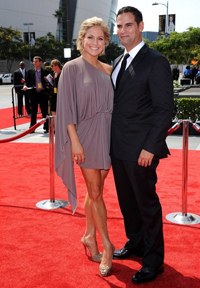 Tookey looking fab with husband Gene Gabriel at the 2011 Emmy Awards (via Zimbio.com)
Stacey Tookey
I wore a floor-length, velvet (yes, velvet!) wine-colored dress with a sweetheart neckline and a long slit up the side. I also wore long white gloves, like I was royalty or something. My mom did my hair—which, in that pre-blonde era, was brown—in an updo. (Actually, that hair is the only part of the outfit I'd reprise today. Go, mom!) It was 1994, and I thought my outfit was amazing.
At the reception, my date pulled out my chair for me, and like the dancer I am, I sat down in a wide, turned out second, and I ripped the slit of my dress all the way up to my waist! I was so embarrassed. But my very sweet date gave me his suit jacket, and I wore it all night.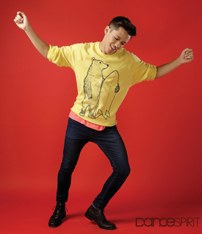 Kyle Hanagami can certainly bust a move now! (Jayme Thornton for DS)
Kyle Hanagami
I went to prom with a bunch of friends. I think I wore a suit... I don't really remember, but I'm sure it wasn't super cool. What I can remember is standing on the dance floor and being terrified to dance! I didn't start dancing until after I graduated high school, so I couldn't even two-step. How embarrassing!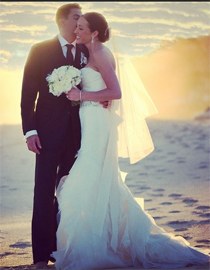 Dowling in her real wedding gown with husband Reza Fakrieh (via @joeydowling)
Joey Dowling
When I was a sophomore, I got to go to prom with a guy I thought was the hottest boy in school. He was a junior, and he was blonde, tan and buff—he looked like a surfer. I remember shopping for my dress with my mom, and thinking how absolutely perfect it had to be. I found it: A white halter dress with a low back and beading all the way up the front. I probably looked like I was about to walk down the aisle...but I thought it was gorgeous! I wore my hair in a high French twist with the ends hanging out and curled. (That was big back then.)
The prom was held in the Capitol building in my hometown. The whole night felt like a fairy tale. Date dances in high school were usually lame and awkward, but that night was one of the best of my life!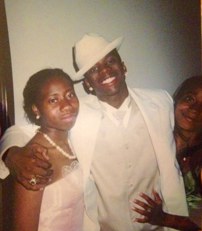 Prom! A young Torbert posing with friends from Fiorello H. LaGuardia High School of Music & Art and Performing Arts (Courtesy Torbert)
Ade Chike Torbert
I ended up asking my girlfriend at the time to prom. But because we didn't start dating until the end of the school year, we had both originally planned to go with close friends of ours—so it was a little tough breaking the news to them.
I wore an all-white suit with a white fedora and a champagne-colored vest. I was definitely the best-dressed! We all had such a great night. Our prom was held at this beautiful venue by the South Street Seaport in NYC, and there was a ton of food and great music. Then we boarded a yacht and continued to party until the wee hours of the morning.
Not going to prom this year? You're not alone. Many of the dancers we spoke with confessed they never made it, either—they were too wrapped up in their dance commitments. Take former New York City Ballet soloist (and current Dance Spirit columnist!) Kathryn Morgan, for example: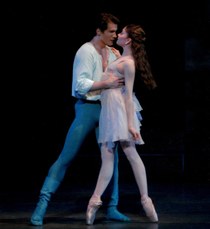 Morgan with Seth Orza in NYCB's Romeo and Juliet (Paul Kolnik/NYCB)
Kathryn Morgan
Unfortunately, I never got to go to a real prom. I was hired by New York City Ballet at the end of my junior year of high school and finished school online. I do, however, consider my debut as Juliet my "prom." I was 17, and it was a huge deal for me. There was a beautiful ballroom scene, and that was a pretty great prom substitute! I wore three dresses and had two hairstyles: up for the first half of the evening, and half-up/half-down for the second. My "date" was my Romeo, Seth Orza...though he was engaged to someone else! 
Feb. 01, 2015 04:55PM EST
You're devoted to your dance studio, but you've also dreamed of joining your high school's dance team for as long as you can remember. Worried you won't be able to balance your commitment to your studio with dance team responsibilities? Don't stress! Get advice from three dancers who made it work—and the dance team coaches and studio owners who helped them do it.
How do I tell my studio owner I've decided to join my high school team, too?
First and foremost, it's vital you let your studio owner and your dance team coach know you plan to continue dancing with both groups. "Tell your studio owner in person so she doesn't hear it from someone else and think you were trying to keep it a secret," says Highlands Ranch High School pom coach Amanda Humphrey. "Be honest—inform her of your future commitments, so she's aware of your schedule."
Sarah Gates, a freshman on HRHS pom team and a dancer at Starstruck Academy of Dance in Centennial, CO, says the best approach is to explain to your studio teacher why being involved with your high school team is important to you. "I love dance team because I get to be involved in school and dance with my classmates. It also gives me opportunities to perform more often—which helps boost my performance in studio competitions," Sarah says.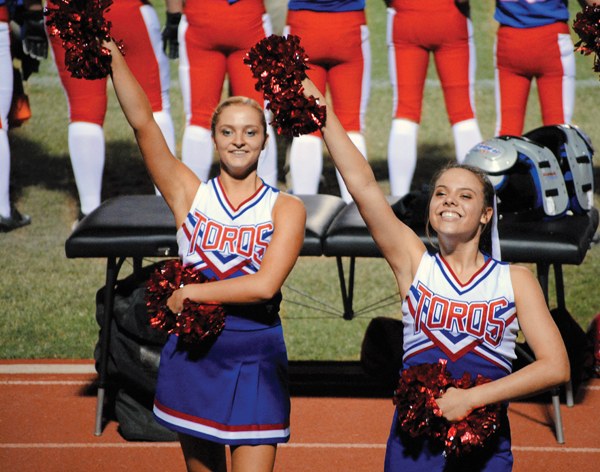 Chandler Wolfe (right) at USA Spirit Nationals (photo courtesy Chandler Wolfe)
I have a studio performance and a dance team competition scheduled for the same time. What should I do?
"Determine which commitment will be hurt the most by your absence, and try to attend that one," says Kasia Kerridge, a senior on HRHS pom team and a dancer at Starstruck Academy of Dance and Metropolitan Academy of Dance in Colorado. "And let your teacher or coach know as soon as you discover a conflict."
You also should realize that your absence could mean getting pulled from a piece. Melenie Reynolds, owner of Impact Dance in Mesa, AZ, currently teaches six dancers who are also involved with their high school pom teams. She says, "If there's a major conflict, we let the dancer make the choice. If she chooses to miss, it's her decision to be temporarily—or permanently—replaced in a piece."
There may be financial penalties to consider, as well. "Our policy is if someone fills in for you at competition, you pay their competition fees," Reynolds says.
My teammates are upset with me for missing a performance. Help!
"Explain to them why you were absent, and be sure to always give 110 percent when you're with the team," says Chandler Wolfe, a junior on Mountain View High School's Toro pom line and dancer at Impact Dance. Kasia agrees: "If you have to make up classes to prove to your team you can pull your own weight, do that."
Lisa Holtz Odell, owner of Starstruck Academy of Dance in Colorado, suggests going out of your way to show your commitment to both teams. "In addition to making up every class you miss, meet with another dancer after missing rehearsal to be sure you're completely caught up."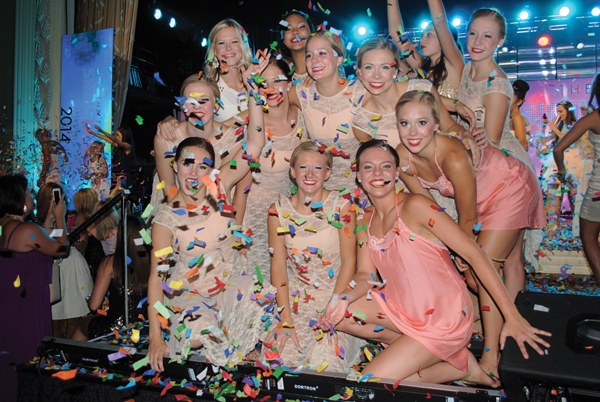 Wolfe (front right) competing with her studio, Impact Dance (photo courtesy Chandler Wolfe)
The two-team schedule is so intense. How do I find time for homework, family and friends?
Kasia writes down a plan for her day and checks things off as she goes. Similarly, Chandler uses the calendar on her phone and sets reminders throughout the day so she doesn't forget anything.
Sarah works on homework anytime she has a spare moment at the studio. "Starstruck has rooms where we can hang out and study between rehearsals," she says. "I find the busier I am, the more focused I become."
And your social life? Chandler says time can always be found, even if only a couple minutes. "The best way to make room for your social life is to never procrastinate on your school work," she says. And don't forget that your teammates will become some of your best friends—and a huge part of your social life.
Jan. 31, 2015 12:00PM EST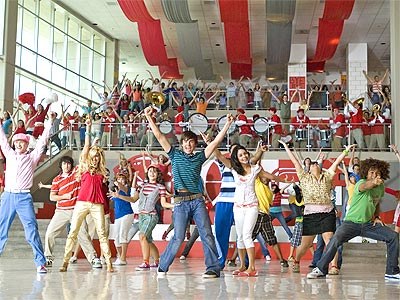 We're all in this together, amirite? (Photo by Fred Hayes/Disney Channel)
It's hard to believe it's been almost nine years (WUT) since Troy and Gabriella won our hearts in Disney Channel's High School Musical. #Throwback to the epic hallway flash mobs, the intense basketball choreo, the emotional romance...ahh, such memories. But these days, the hallways of East High are serving a slightly different purpose.
Here's the scoop: Dream team Scott Winn and Brenden Bytheway (aka Scott & Brendo, the guys who brought us the "Stormtrooper Twerk" and the "Harry Potter vs. Twilight Dance Battle") were searching for a place to shoot their latest project, "High School Dance Battle: Geeks vs. Cool Kids." HSM's old stomping grounds seemed a natural fit. But while this blast of nostalgia sure is lovely, it's not the main reason we're obsessed with this video. You guys, the dance is sooo good.
It should be no surprise: The man behind the moves is choreographer Jason Celaya, who collaborated with Scott & Brendo on "Stormtroopers" and "Harry Potter vs. Twilight." He's also responsible for "The World's Largest Treadmill Dance," so you know he does it big. To pump up the dance power even more, they've got Chachi Gonzales leading the cool kids and Jade Chynoweth repin' the geeks. So, yeah, you know you want to watch this.
Happy Saturday!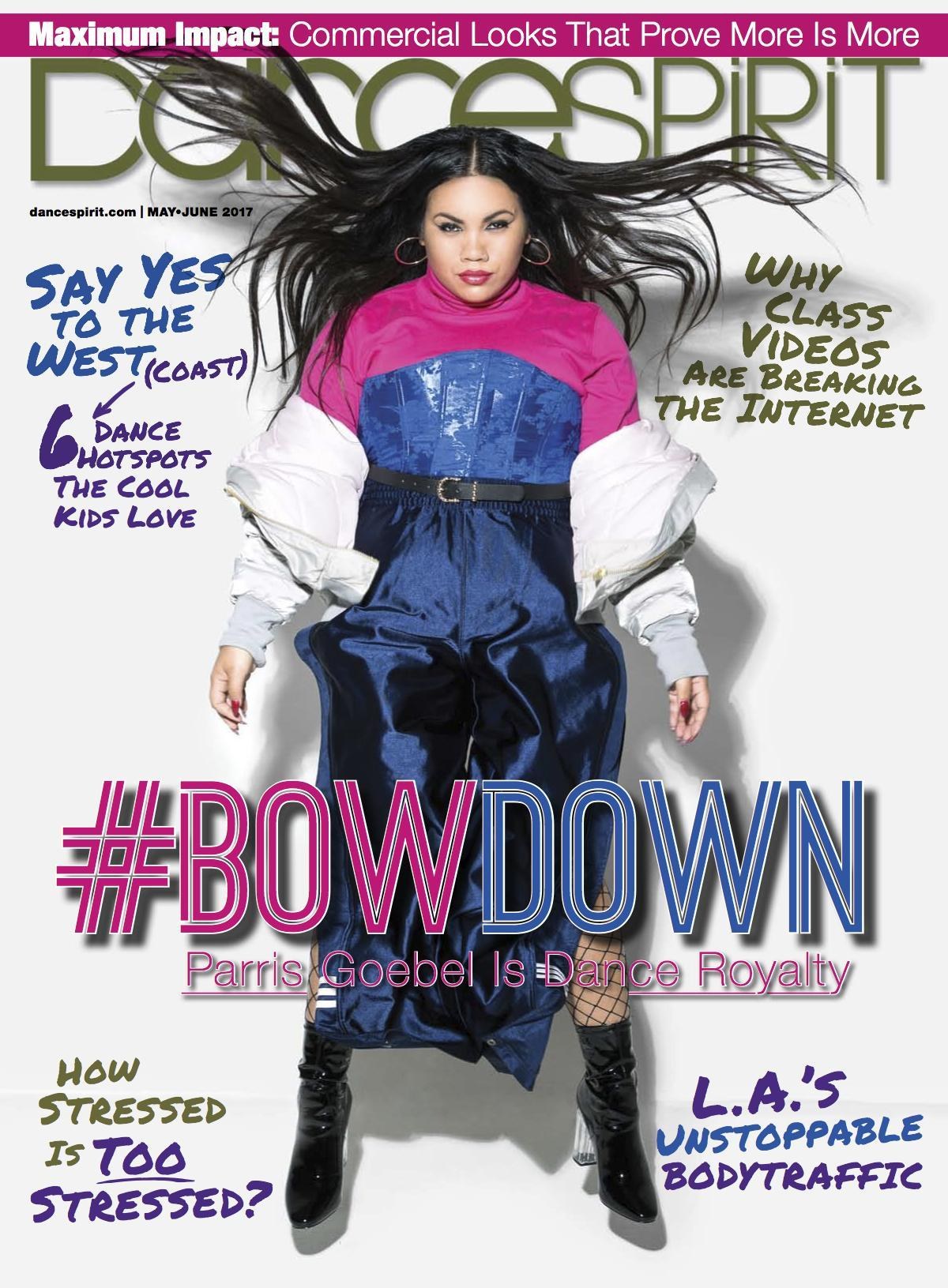 Get Dance Spirit in your inbox