Oct. 12, 2016 03:56PM EST
You already know that taking on a new role requires lots of homework, from perfecting the steps to figuring out spacing. But while it's easy to become wrapped up in technical demands, a little extra research can make all the difference in your performance—because each piece of choreography is inspired by something, whether it's a person, a time in history or simply an abstract harmony created by a composer.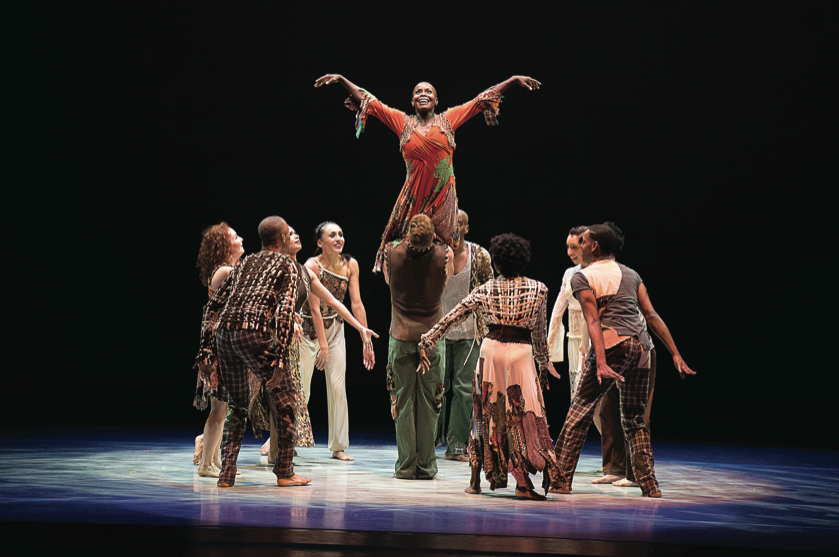 Hope Boykin (center) in Matthew Rushing's Odetta (photo by Christopher Duggan, courtesy AAADT)
"No matter how exquisite her facility may be, an uninformed dancer will never perform a more compelling Juliet than one who can use her knowledge, empathy and emotion to imbue the role with realism and create a deep connection with the audience," says Pittsburgh Ballet Theatre principal Julia Erickson. We all might replay a dancer's tricks over and over on YouTube, but the performances that leave us in tears contain so much more than technique. By researching your subject, watching the experts and honing your acting chops, you can transition from being a pretty dancer to a true artist.
Start with "Why"
When Ephraim Sykes landed a place in the ensemble for the Broadway hit Hamilton, he wanted to understand the context of the stories he'd portray. That meant trying to answer one question: Why? "There are moments in our lives that change our minds and hearts and make us live a certain way," he says. "For instance, there was a moment in my life when I decided to start dancing. Finding out the character's motives is the most critical thing in terms of exploring a role. All their actions will be justified, because you know the baseline of their lives."
San Francisco Ballet principal Vitor Luiz agrees. As he prepares to take on the iconic role of The Creature in Liam Scarlett's Frankenstein this upcoming February, Luiz aims to understand why The Creature behaves the way he does. "He just arrived in this world and his creator rejected him. He's bitter about it," Luiz says. "There's a sense that he wants to be loved above all, but he doesn't fit into this world. That's why he becomes angry. He had a pure soul."
Do Your Research
To understand his role in Frankenstein, Luiz began by  hitting the books. "There are a bunch of movie versions," he points out, "but studying Mary Shelley's classic novel helps me really know what my character is going through. If you see someone else playing a role, you only imagine the character that way." Once he's studied the book, Luiz will turn to the movies to add to his own conclusions.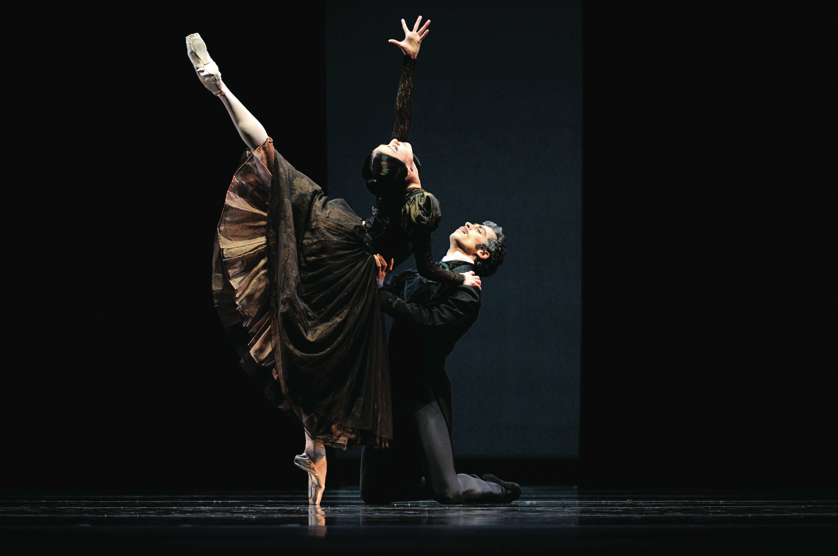 Yuan Yuan Tan and Vitor Luiz in John Cranko's Onegin (photo by Erik Tomasson, courtesy SFB)
While many of Hamilton's ensemble members read the biography on which the show was based, Sykes also loves the visual aspect of films and documentaries, because, he says, he can see more of the character's world and pick up on his movement and mannerisms. For both Hamilton and Sykes' recent role as Marvin on the HBO series "Vinyl," that meant seeking out political documentaries to create a broader understanding of what his characters lived through, which informed his movement quality.
Trips to museums can also be beneficial. In 2009, PBT performed Stephen Mills' abstract work Light/The Holocaust and Humanity Project, a piece that requires dancers to embody the emotional weight of the subject matter with every movement. "Stephen led us through a long educational process before we started rehearsing to help us become more informed, aware artists," Erickson recalls. The dancers spoke with Holocaust survivors and even took a trip to the United States Holocaust Memorial Museum in Washington, DC.
As the title character in Matthew Rushing's Odetta, Alvin Ailey American Dance Theater's Hope Boykin was tasked with representing singer Odetta Holmes, known as the voice of the Civil Rights movement. Though it wasn't required of her, she learned all Holmes' lyrics. "I wanted to make sure you could hear her voice through the movement and my understanding of each song—not just through the counts or the choreography," she says.
Learn From Other Dancers—but Leave Room for You
It's important to stay open to advice from your choreographer, director or teacher, and don't be afraid to seek out more experienced dancers who may also have information that will help you. If you're performing in a recently created ballet, you might have the opportunity to speak to those who were close with the choreographer, or to the role's originator. The first time Boykin was cast in Alvin Ailey's 1974 work Night Creature, she sought out former company member Sarita Allen to coach her. "She was known for doing the lead," Boykin says. "One day in rehearsal, she turned on the music and told me everything that Mr. Ailey had told her. She started doing the movement, and I had to chase her around the room—she was so full of information. As dancers, we often get caught up in our lines, but there's so much more to a work."
On the other hand, it's a good idea to avoid studying others in the same role until you have a strong handle on it yourself. SFB's Luiz explains: "You start to copy the dancer, and a copy is never as good as the original." That doesn't mean Luiz shuts out all other interpretations—watching other dancers, either in videos or in person, can offer new perspectives on a role he's performed many times.
Whether you hit the library, visit a museum or talk to experts, doing your research to fully create a character will be doubly worthwhile come performance time: Not only will you be able to be in the moment onstage, you'll also transport the audience emotionally. "Learn to be an artist first and a dancer second," Sykes says. "You'll go much farther in your career if you think deeper than aesthetics."
Nov. 14, 2012 09:50AM EST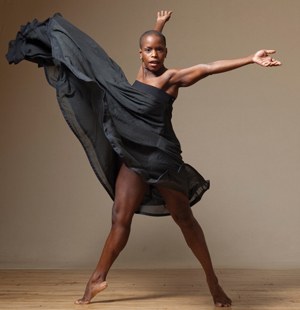 Hope Boykin. By Matthew Karas
If you've seen Alvin Ailey American Dance Theater perform in the last 12 years, odds are you've been mesmerized by Hope Boykin. The petite powerhouse knows how to command a stage, whether she's sassing her way through Ailey's Blues Suite or channeling her spiritual side in Ailey's iconic Revelations.
Boykin fell hard for dance as a youngster, after a gymnastics teacher mentioned it might be a good addition to her training. The Durham, NC, native spent multiple summers studying at the American Dance Festival before enrolling at Howard University in Washington, D.C., where she performed with Lloyd Whitmore's New World Dance Company. Boykin was one of the founding members of Complexions Contemporary Ballet and a dancer with Philadanco before she joined AAADT in 2000. Today she teaches and choreographs in addition to performing with the company. Catch her and the rest of the Ailey dancers at New York City Center this month. —Margaret Fuhrer
Hope,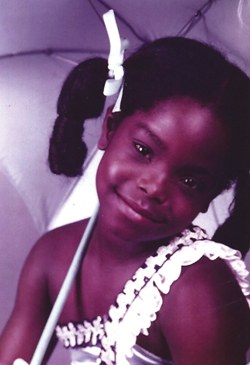 Boykin as a student
The career you've chosen is a tough one, and you can be easily distracted from your dreams, so please take this piece of advice: Focus on loving yourself.
Most days you will stand in front of a mirror, half dressed in a leotard and tights, comparing yourself to the dancer next to you, seemingly bombarded with corrections from your teachers. All of that could put your mind and spirit in an uncomfortable place. Unless you love and appreciate yourself, it will be easy to forget about your strengths as you are made aware of your weaknesses. 
Love what you have been given. Your body is a temple—not to be worshipped, but to be used to give thanks for its abilities. You will have many chances to share your talents. Somewhere, someone is using you as an example.
Lastly, loving yourself will teach you how important it is to take care of your body. You only have one! Strengthen it, and feed it wholesome foods that protect, nourish and give it energy. This will allow you to look as good as you feel.
Trust me: I learned these things late, but I thank the Lord everyday for all that I have been taught and have experienced. Always give thanks.
I love you.
Hope Boykin
Mar. 11, 2011 01:00PM EST
Imagine this: You're an understudy in a great new musical at a regional theater. It's just days after opening night—and the leading lady is suddenly sick. You're prepared to go on, of course, and you step in to rock the show. A few days later, the director calls and asks you to take over the role permanently.
Soon the show moves to Broadway, with you as its star. That year you win the Tony Award for Best Actress in a Musical and the Fred Astaire Award for Best Dancer on Broadway. Just like that, you've rocketed from relative unknown to Broadway superstar.
Sounds like a dream, right? Well, that's just what happened to Sutton Foster after she joined the cast of Thoroughly Modern Millie in 2000.
Some dancers may seem to gain stardom overnight. But in reality, persistence and determination led to a steady series of dance jobs before that big moment came. No matter the path, many dancers experience a breakthrough moment that paves the way for a successful career. Read on to hear from seven dancers about their big breaks.
Hope Boykin, Alvin Ailey American Dance Theater
After graduating from The Ailey School, I auditioned for the company four or five times before I was hired. I wouldn't say I was discouraged, but I did really want the job. I just wasn't as mentally and physically prepared as I should have been to go into the audition and say, "There's no one else, I'm the one you have to choose."
About a week after one of the auditions, Judith Jamison, AAADT's artistic director, called me and said, "Hope, I love you and love your dancing, but there are some things I would like you to work on. I wanted to let you know this personally before you were hired." My knees were shaking. She hired me, but she wanted me to focus on how I carried myself onstage.
Over the past 11 seasons with the company, Ms. Jamison has allowed me to grow within the organization. She chose me to choreograph for the company's 50th anniversary, and I went to Africa with her for a special project.
Maria Kochetkova, Principal, San Francisco Ballet
The first major turning point in my life was competing at the Prix de Lausanne when I was 18. I was in my last year at the Bolshoi Ballet Academy in Moscow, and they didn't allow dancers to go to competitions like they do now. I felt it was important for me to do something new, so I prepared secretly in the evenings. At the competition, I won an apprenticeship at the Royal Ballet in London—which meant leaving Moscow for the first time.
JaQuel Knight, Commercial Dance Choreographer
I got hired to choreograph the "Single Ladies (Put a Ring on It)" video for Beyoncé after Frank Gatson saw me freestyle at a Michelle Williams audition. I was only 19 at the time! A few months later, Frank called me and said, "Hey, I have this new Beyoncé song, and I think you would be great for it. Can you fly out tonight?" The "Single Ladies" video was my first choreography job in L.A. I had my own dance crew back home in Atlanta and I had danced for Janet Jackson and Gnarls Barkley, but I had never choreographed something like this.
I knew this was going to be a huge moment for me, but I didn't know how it would start my career as a choreographer. It's what I always wanted to do—I just didn't know it would come so soon.
Angie Schworer, Broadway Veteran
I was in the original cast of The Producers and was a second understudy for Ulla, the lead female role. One day Cady Huffman, who originated the part, got sick when the first cover was on vacation. It was a two-show day, and they told me at the end of the matinee that I was going on.
I remember my first entrance: I was so nervous, and I thought, "This is it, step it up." I popped through the door, and Matthew Broderick and Nathan Lane's faces were so smiley. I was shaking but somehow I just kind of relaxed. I did several shows as Ulla and then went back to the ensemble.
Later, Susan Stroman, director and choreographer of The Producers, invited me to a small rehearsal/audition and asked me to play Ulla on The Producers' first national tour. After the tour, I got to come back and play the role for four years on Broadway.
Janette Manrara, Burn the Floor
Before "So You Think You Can Dance" came along, I was going to school studying finance and working full time at a bank. Dancing was just a hobby of mine. Being on the show was definitely my big break. Because of my presence on TV, I was cast on "Glee" and got to dance at the Academy Awards, which "SYTYCD" judge Adam Shankman and former contestant Travis Wall were choreographing. Now I'm touring with the Broadway show Burn the Floor. None of that would have happened without "SYTYCD."
Jason Samuels Smith, Tap Dancer
The first significant point in my dancer career was dancing on "Sesame Street" with Savion Glover when I was just 8 years old. It gave me a taste of what I could expect from being a professional tap dancer in the entertainment industry. From there, I joined Bring in 'da Noise, Bring in 'da Funk on Broadway at 15, where I performed in front of Stevie Wonder and Michael Jackson.
Kimberly Fauré, In the Midst of Her Big Break!
After moving to NYC last year, one of the first auditions I went to was for Anything Goes on Broadway. After a month of callbacks, I got a call that I had gotten a part—I would be in the ensemble as one of the four angels. When I found out, I bawled my eyes out on the street.
From that audition, Kathleen Marshall invited me to an audition for her show Bells Are Ringing, which then led to a part in Aesop and Company. I basically got three jobs from that one first audition. It just snowballed. I was definitely in the right place at the right time.
Kim's not a new face to us! In 2008, DS profiled Kim as a dance student at Oklahoma City University.
Be Ready for Your Big Break
"Never give up. Never think it's too late or that it's not going to happen for you. I was told 'no' many times. If you're dedicated and passionate, it will happen." —Janette Manrara
"Know what you're good at and what makes you stand out from everyone else. Be comfortable being you and have fun. Never forget your personality." —JaQuel Knight
"We are our biggest critics, and we can discourage ourselves. Anything you want, you can have—set your own standards." —Hope Boykin
"The things you go through in getting a job and trying to find your place aren't easy, but they're worth it. All of the hard work in the studio is worth it when you get to perform." —Maria Kochetkova
"If musical theater is what you want to do, start singing and acting in addition to dancing. Remember, there are a lot of people out there who can do all three."  —Angie Schworer
"Listen more—talk less. Being a good student will get you far." —Jason Samuels Smith
"Be proficient in many areas. You could be an incredible ballet dancer, but if you can't sing you could get cut from that round of an audition." —Kimberly Fauré


Get Dance Spirit in your inbox