(From left) Houston Ballet's Hayden Stark, Derek Dunn, and Daniel Durrett
A lot of ballet men play around a little in pointe shoes—to get a feel for what their partners are experiencing, or just because they're curious.
But Houston Ballet's Hayden Stark, Derek Dunn, and Daniel Durrett aren't playing.
They're SLAYING. SO. HARD.
Keep reading...
Show less
Mishay Petronelli onstage in Janet Jackson's Unbreakable world tour (Solaiman Fazel, courtesy Petronelli)
In 2015, Mishay Petronelli was one of nine dancers to book a spot on Janet Jackson's Unbreakable world tour. After a grueling audition process, the group learned iconic choreography, traveled and performed with one of the greatest pop divas of all time.
"It was my dream job," says Petronelli. "Not only was it crazy to be onstage with Janet, but I also never expected our group to become such a unit, too. We called ourselves the 'J Tribe.' "
When you train so intensively to stand out in a crowd, getting cast as one in a large group can feel like a blow. But, as Petronelli, who's also performed in groups on "Lip Sync Battle" and "Saturday Night Live," will say, the payoffs can be pretty great, too. And while few ensemble gigs seem as glamorous as being a member of the prestigious J Tribe, they all come with a few similarities. For one, being in an ensemble isn't easy: It requires an extraordinary amount of precision, teamwork and stamina. Whether you're backing up Jackson's iconic "Black Cat," working it second from the right in a world-famous kick-line, or shielding Odette in a line of white swans, your presence onstage can mean just as much as the artist's in front. Read on to find out how and why dancing in an ensemble can be so rewarding.
Improve Your Technique
While being one of two dozen Wilis in Act II of Giselle may not seem too challenging, Houston Ballet's Natalie Varnum disagrees: "Don't let standing on the side fool you," she says. "It might look simple, but it requires extreme focus and precision." Corps members might not always get to perform the most virtuosic steps, but that meticulous attention to detail—an exact tilt of the head, or an arm placement on a specific count—can be a boon for a dancer's artistry. "Paying attention to these little things has really refined my dancing," says Varnum, who, as a seven-year corps member, regularly steps into soloist roles. "Having danced as a snowflake in our production of The Nutcracker for so long, I felt like I had an extra edge when I was given the opportunity to finally do Snow Queen," she continues. "The sets, lighting and formations were all familiar, so I was able to focus on performing my new role and getting into character."
Make Connections
Being part of a group can also improve your ability to connect with others onstage. While most roles often require dancers to rely on their peripheral vision to ensure they're in the right spot at the right time, sometimes, says Paul Taylor Dance Company's Sean Mahoney, "it's OK to really look at each other. When we're all dancing together, there's a sense of community onstage—unity. It's less about showmanship and more about what we're doing as a group." This kind of work doesn't go unnoticed: Audiences often recognize and appreciate a group of dancers who can move as one and look like they enjoy doing it. And for a dancer, the opportunity to make those connections can improve partnering and storytelling—all traits that will help in a future soloist role, too.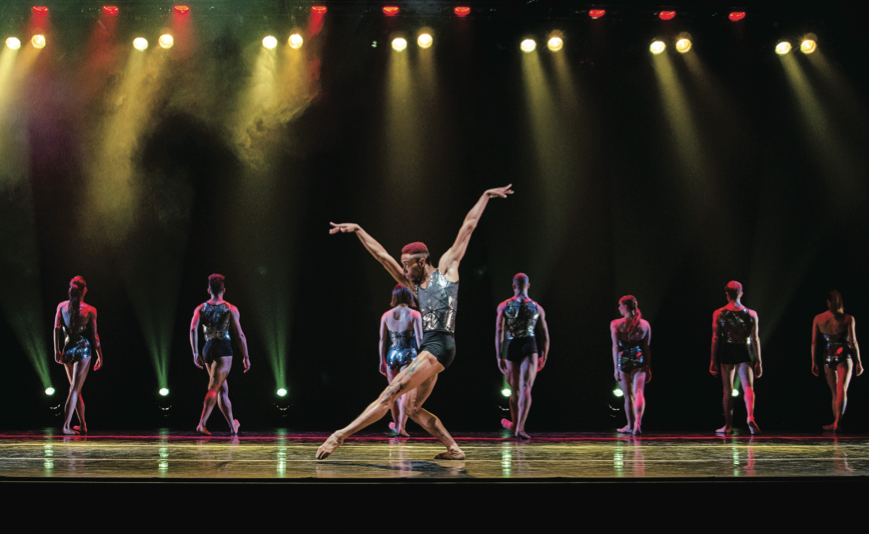 Addison Ector takes center stage in Dwight Rhoden's Strum with Complexions Contemporary Ballet (courtesy Complexions Contemporary Ballet)
Stand Out While Blending In
Dancing in an ensemble doesn't always mean you have to relinquish your artistic individuality. Complexions Contemporary Ballet's Addison Ector loves how the troupe's 15 members have varied dance backgrounds and how that can shine through the choreography. "Sometimes, we have the freedom onstage to smile and let our personalities out, even though we're all doing the same thing," he says.
Petronelli loves the opportunity to learn from her colleagues in an ensemble. Jackson's tour group, for example, was all female, but the dancers shared little else in common. "We were such individuals, and were all able to give something unique," Petronelli says, noting that performing with the crew was a constant source of inspiration. "It made me want to push myself further as an artist."
Build Relationships
Emma Love Suddarth, who joined Pacific Northwest Ballet's corps de ballet in 2009, loves the atmosphere in her theater dressing room. "There's no place like it," she says. "The laughs, the tears. We're all in the same boat and support each other through everything." If a PNB program doesn't require much corps work, the dancers actually miss it, says Suddarth. "It's about the dynamic, that dependability. We spend 90 percent of our time together, and there's comfort in that." Even if you're ultimately setting your sights on star status, don't diminish the value of a group experience. "Dancing in an ensemble is about learning to function well with other people," says Suddarth. "Embrace it, because you won't get that experience elsewhere."
Style Lab
Apr. 13, 2016 05:32PM EST
Six ballerinas discuss why they love their pointe shoes.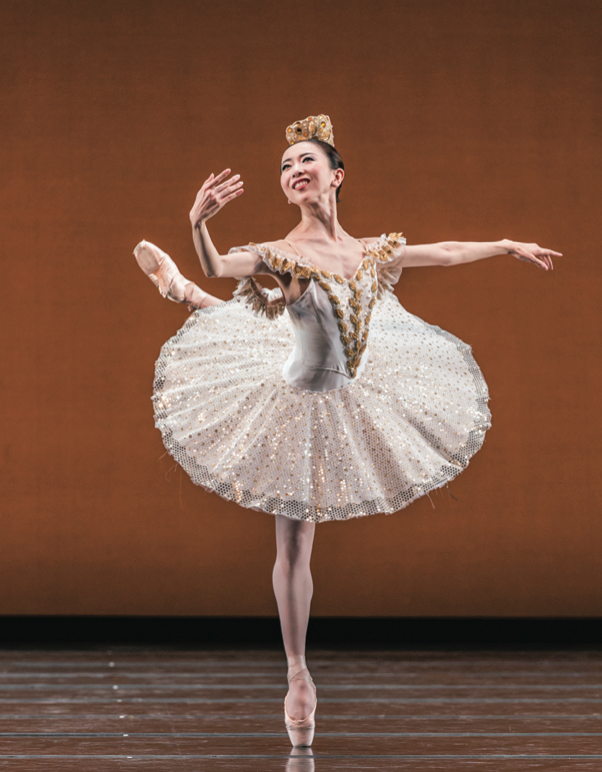 Kajiya in Ben Stevenson's The Nutcracker (Photo by Amitava Sarkar, courtesy Houston Ballet)
Yuriko Kajiya, Principal, Houston Ballet
Foot type: Wide and flat, with long toes
Shoe: Capezio Tiffany
Customizations: "I like my heels and sides to be lower than those of the stock shoes. One of the biggest things Capezio does for me is cut down my shank to almost nothing. I really like how light the shoes feel on my feet."
Kajiya's advice to dancers: "Pointe shoes are like Cinderella slippers—you're always trying to find the style that'll help you dance your best. I'd advise younger dancers not to go with shoes that are too hard in the beginning. They can cause damage to your Achilles tendons if you aren't strong enough."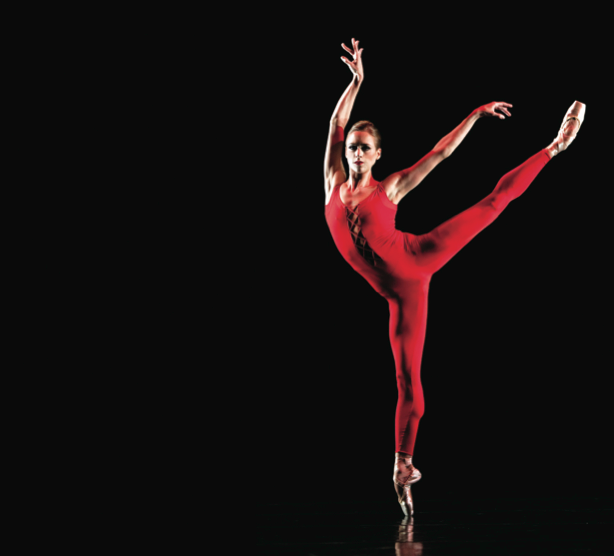 Rausch in Ulysses Dove's Red Angels (Photo by Angela Sterling, courtesy Pacific Northwest Ballet)
Lesley Rausch, Principal, Pacific Northwest Ballet
Foot type: Long and narrow, with very high arches
Shoe: Freed of London "V" maker
Customizations: "I wear wing-blocked shoes and ask them to bang out the bottom
and platform so they're really flat. Freed also three-quarters the shank and makes the vamp and sides to my specifications. A lot of shoes try to make you go over your pointe more, and that just doesn't
work for my ankles."
Rausch's advice to dancers: "Talk to someone who has a foot shape similar to yours, especially if you like the way her shoes look. Find out what she wears and what her tricks are. It's really a matter of trial and error."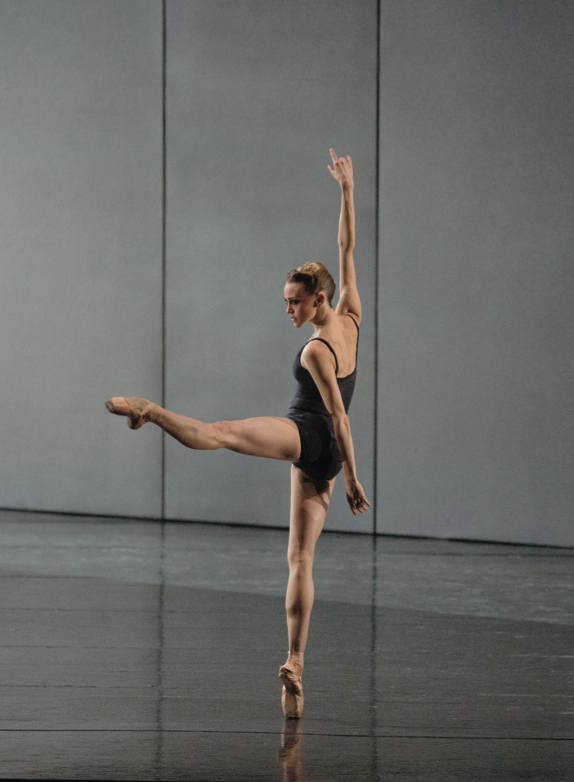 Button in Jose Martinez's Resonance (Photo by Rosalie O'Connor, courtesy Boston Ballet)
Dusty Button, Principal, Boston Ballet
Foot type: Wide at the ball, narrow at the heel
Shoe: Bloch Inc. Jetstream
Customizations: "To accommodate my foot shape, Bloch makes the heel of my shoe much narrower than the base. Because my arch is closer to my heel than the middle of my foot, they remove one of the nails from the bottom so it breaks right where my arch is."
Button's advice to dancers: "Don't just follow what's trendy. I think it's silly when people tell you not to wear a certain brand or type of shoe. Find what actually works for your foot, regardless of anyone else's thoughts or what your favorite dancer wears."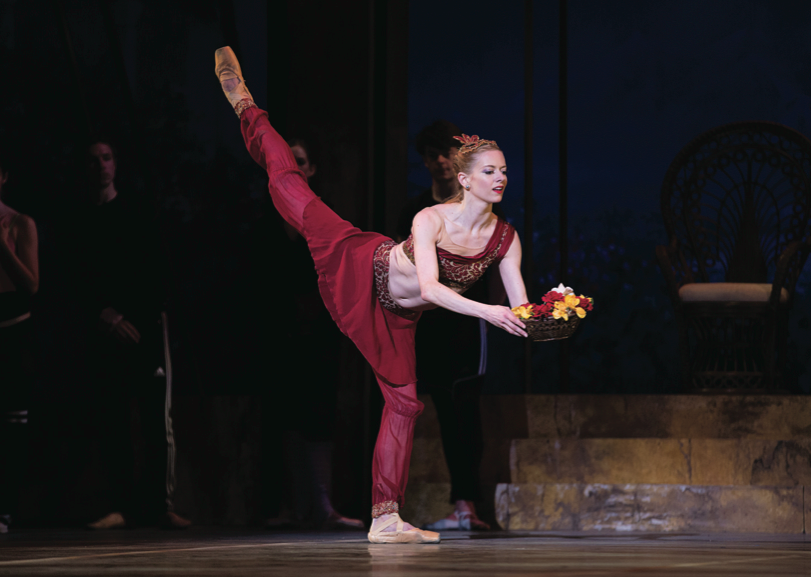 Erickson in La Bayadere (Photo by Rosalie O'Connor, courtesy Pittsburgh Ballet Theatre)
Julia Erickson, Principal, Pittsburgh Ballet Theatre
Foot type: Wide and square, with bunions
Shoe: Gaynor Minden #4 box
Customizations: "I have some of the material cut down on the sides, and the back half of the upper is made with Gaynor Minden's Luxe fabric lining, which prevents the wrinkling that can happen when you point your foot in your shoe. I also have a box liner because I'm kind of in between sizes. I wear both the hard shank and the ExtraFlex shank, depending on the role I'm dancing. These shoes are great, because they really let my metatarsals spread and alleviate the pressure on my bunions."
Erickson's advice to dancers: "Be patient. It takes time to find the shoe that feels like an extension of your body. Wear what makes you feel free to dance the way you want to dance."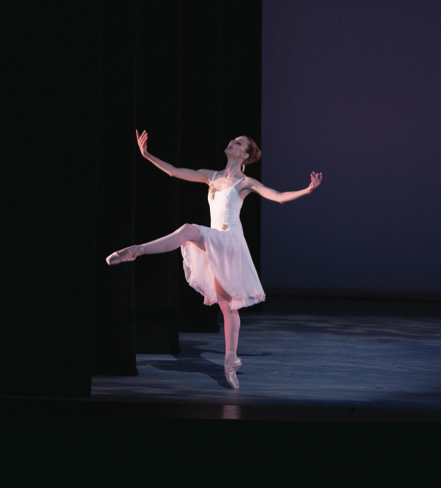 Angelova in Balanchine's Walpurgisnacht Ballet (Photo by Rosalie O'Connor, courtesy The Suzanne Farrell Ballet)
Violeta Angelova, The Suzanne Farrell Ballet
Foot type: Under-pronated with a recovering injury on the fifth metatarsal
Shoe: Sansha Etudes
Customizations: "I don't have a special order on this particular shoe. I actually wear a few different brands of pointe shoes depending on the role that I'm dancing. These shoes are very quiet, so when I recently danced Giselle, which has so many jumps, they worked well. I do have to make sure my shoes are softened properly to avoid aggravating my fifth metatarsal."
Angelova's advice to dancers: "Try as many different shoes as possible. If you can, have a fitting with a shoe company and see if they can make a trial shoe especially for you."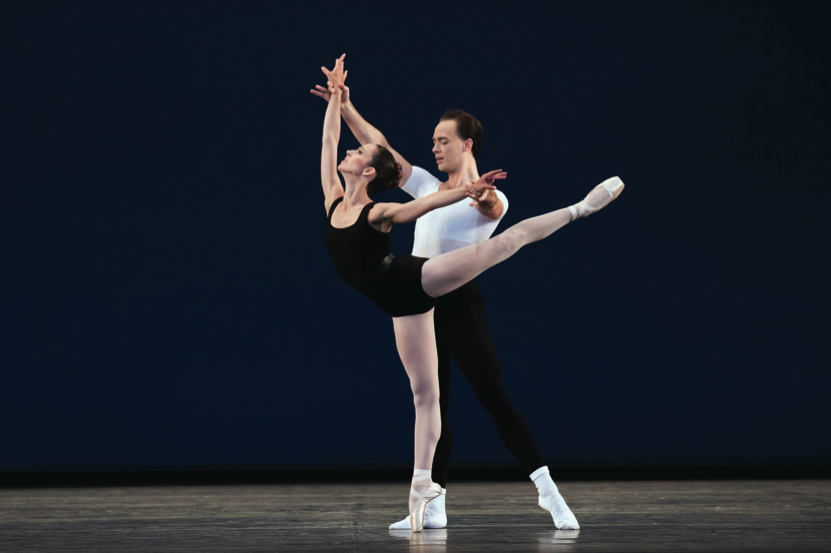 Scheller with Tyler Angle in Balanchine's The Four Temperaments (Photo by Paul Kolnik, courtesy NYCB)
Ana Sophia Scheller, Principal, New York City Ballet
Foot type: Wide
Shoe: Grishko Nova
Customizations: "My vamp and sides are slightly shorter than those of the stock shoe, and my shank is measured to break with my arch, with additional flexibility through demi-pointe. I like that these shoes last a lot longer than any others I've worn."
Scheller's advice to dancers: "You always want a pretty shoe, but make sure it's also comfortable so it doesn't cause injuries."
Karina Gonzalez and artists of Houston Ballet rehearsing Garret Smith's Reveal (Amitava Sarkar, courtesy Houston Ballet)
Boston Ballet's Lauren Herfindahl is a dance-world rarity: an artist who actually likes understudying, a task most dancers see as a chore. That's a good thing, since it's an important part of her job as a corps member. "I choose to focus on the fact that every time I get to explore a role, even if I'm not first or second cast, it's an opportunity to learn," Herfindahl says. "The more parts, the better!"
Keep reading...
Show less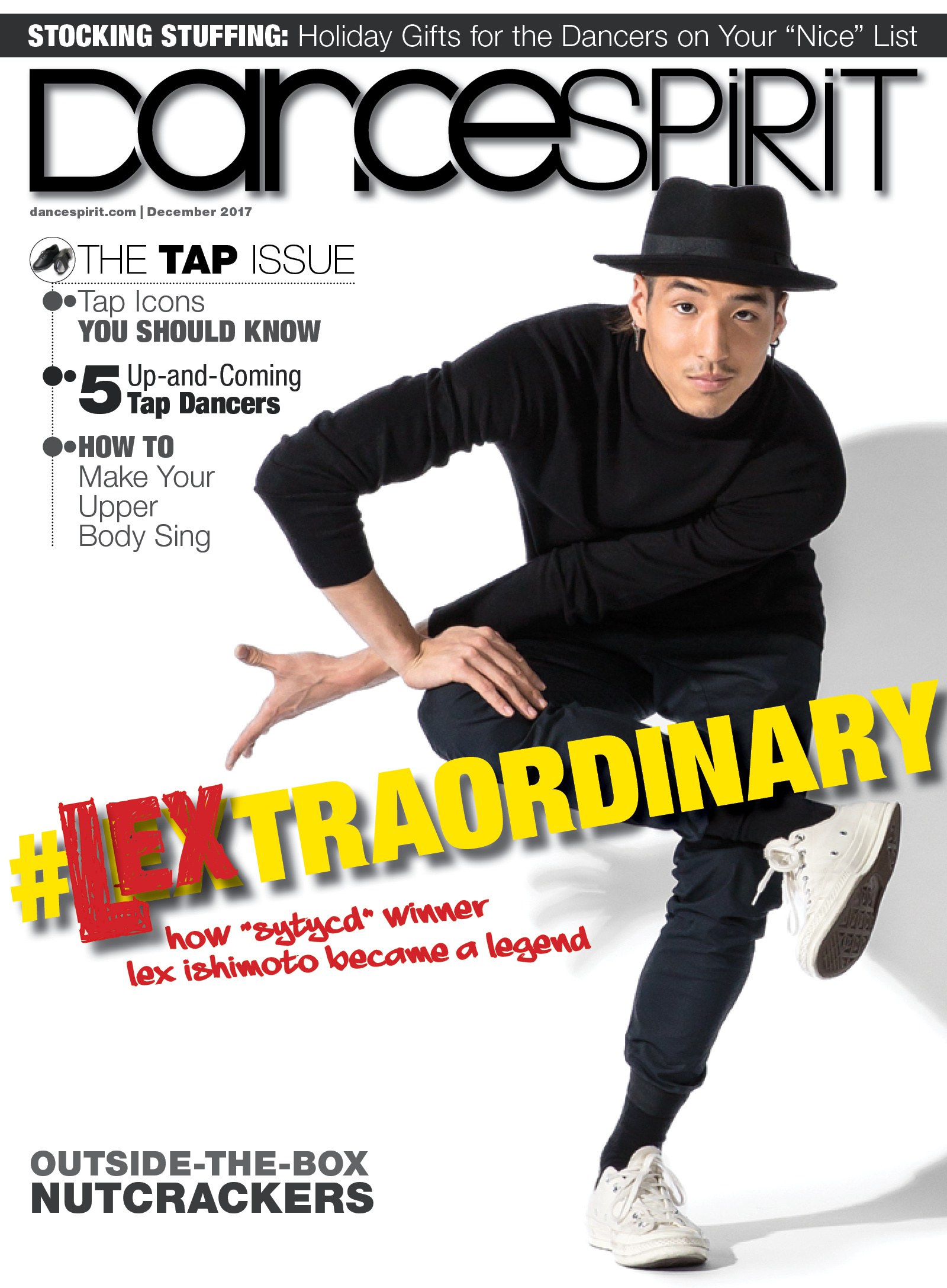 Get Dance Spirit in your inbox