May. 28, 2017 11:00AM EST
Feb. 15, 2017 03:26PM EST
It's no secret that we at Dance Spirit love us some Jason Samuels Smith. Exhibit A? His holy-throwback May/June 2004 cover: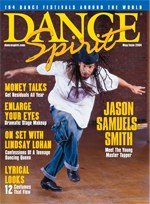 While DS's look—and Samuels Smith's hairstyle!—have transformed over the years, the hoofer's killer improv has always been all kinds of #goals. To get tap-happy this hump day, check out the vid he recently filmed for Houston Public Media. Four words: Jaw-dropping improv solo. Need we say more?
Apr. 14, 2015 09:11PM EST
In a mirror-less dance studio, your teacher asks you to move as if you're in the shower and the hot water has suddenly disappeared. What do you do? You twitch, you vibrate. You can almost feel that freezing-cold water pelting your shoulders. As you shiver, you imagine how that movement affects each molecule in your body. Without mirrors, you're able to let go and dance with abandon. You're in a Gaga class.
Choreography by Gaga's creator, Ohad Naharin, is popping up in the repertoire of top companies around the world. These days, dancers in Hubbard Street Dance Chicago, Cedar Lake Contemporary Ballet, Alvin Ailey American Dance Theater and Les Grands Ballets Canadiens de Montréal all speak Gaga. And that means it's becoming a must-have tool for aspiring professional dancers.
A Brief History of Gaga
Naharin took the helm of the Batsheva Dance Company—located in Tel Aviv, Israel—in 1990. He began experimenting with a different kind of warm-up—a movement language he had developed to work through his own injuries. He named it Gaga, and it soon became the basis for training in the company, in lieu of ballet.
Gaga classes are now offered regularly across the U.S., particularly in major cities like NYC, Chicago and San Francisco, and  in university settings like The Juilliard School, Stanford University and The Ohio State University. Classes are taught by Batsheva company members (current and former), as well as certified teachers.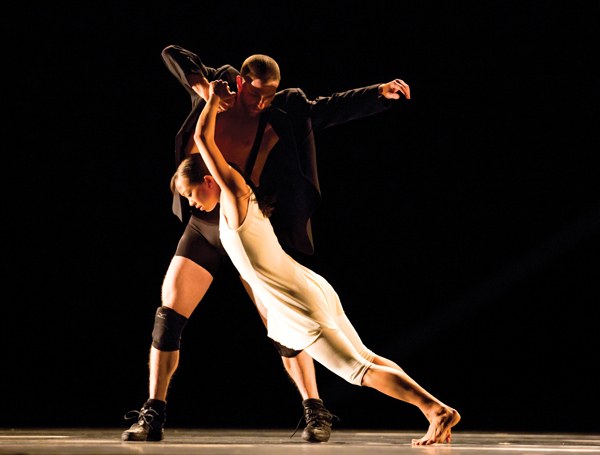 Hubbard Street Dance Chicago dancers Jessica Tong and Jesse Bechard in Ohad Naharin's Passomezzo (photo by Todd Rosenberg, courtesy HSDC)
Why You Need It
"Gaga isn't a technique. It's a movement language," says Bobbi Smith, a former member of the Batsheva Dance Company who currently teaches Gaga at the San Francisco Conservatory of Dance and at Stanford. "You can use what you find through Gaga in ballet, Cunningham or Graham classes. Or out on the dance floor at a club, or when you run a mile. It gives you the keys to make your engine stronger."
Other styles focus on perfecting form, but Gaga is different. "Ballet has a known aesthetic that you try to emulate. With Gaga, there is no sense of perfection, there is no absolute," says Glenn Edgerton, artistic director of Hubbard Street. Gaga "is about electrifying the body as opposed to looking at your lines," says Hubbard Street's Jessica Tong, who has performed a number of Naharin's works.
What to Expect
"Connect your effort to your pleasure."
"Listen to how your skin touches the air around you."
"Connect to your floating spine."
"Be delicate with the availability to snap."
"Connect to your groove."
These are all phrases you may hear from your teacher in a Gaga class.
Teachers use detailed imagery to help dancers awaken specific body parts. "You bring focus to your legs, thighs and shoulders, but that moves into your fingertips, your palms, the back of your hands, the joints of your feet, your cheeks, your earlobes," Tong says. "You get a tingly feeling when you're that awake."
Don't expect any two Gaga classes to be the same, though. "Each class changes depending on the mood and energy within the room, from dancer to dancer," Edgerton says.
Make It Work for You
"Dancers who are new to Gaga might feel self-conscious—you're bouncing and shaking around a lot," Tong says. But remember, finding freedom in the form is the whole point—and you'll get out what you put in, just like any other dance class.
"As a teacher, I'm giving specific instructions, but it's really up to you to explore and determine what the volume of your effort is going to be," says Cedar Lake Contemporary Ballet dancer Navarra Novy-Williams, who teaches Gaga regularly in NYC at the Gibney Dance Center and Mark Morris Dance Center.
If you're a dancer who is always in performance mode, even in the studio, Tong suggests sticking with Gaga and moving through the uncomfortable moments. "It can be so liberating to break the rules."
Jan. 07, 2015 04:03PM EST
The first week back after a long holiday break can be pretty stressful. In need of a good mellowing out? Picture this: A music studio set up to look like a cozy living room, complete with a few pianos, string insturments, a drumset, microphone stands—oh, and Ben Harper, the folksy, bluesy singer-songwriter who's famous for laid-back tunes such as "Steal My Kisses" and "She's Only Happy in the Sun." You're already feeling more relaxed, right? Well, the scene is about to get even sweeter.
Enter 13-year-old Lucy Vallely, a competition dancer from Long Beach, CA, who got the rare opportunity to accompany the Grammy-winner during this soulful jam session. (The video explains that Lucy's dad and Harper are longtime friends.) She improvises to one of Harper's greatest hits, "Diamonds on the Inside," and the mix of his soft vocals with Lucy's crisp technique is both soothing and charming. Check it out:
Jan. 10, 2013 05:50PM EST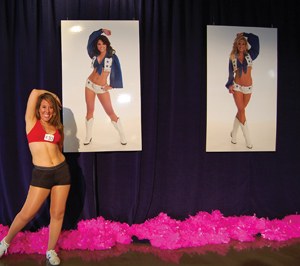 Author Jen Jones Donatelli at the Dallas Cowboys Cheerleaders tryouts (courtesy Jen Jones Donatelli)
It was the audition of a lifetime. I'd always dreamed of being a Dallas Cowboys Cheerleader. Though I knew the odds were probably against me—I'm a little older and curvier than the average NFL cheerleader—this year I decided to go for it. With more than a decade of dance experience under my belt, I figured I could survive the audition. Plus, the first-round format seemed simple enough: We'd freestyle for about two minutes in groups of five, and those who caught the judges' attention would progress to the next round. Piece of cake, right?
Not so much. Once I found myself under the bright lights of Cowboys Stadium, reality set in. As "Call Me Maybe" blasted over the speakers, I completely froze. I started doing the same four eight-counts over and over—along with an unflattering squat move that came out of nowhere. It was humbling, to say the least.
Whether you're a dance teamer or a ballerina, freestyling can be intimidating. "Suddenly you have all this freedom, and you don't know what to do with it," says Caroline Rocher, a dancer with Alonzo King LINES Ballet. But if you want to dance professionally—or audition for a college dance program—improvisation is a must-have skill. Directors in all styles and environments "want to see your personality and how you move," says Rocher, whose audition for LINES required dancers to improvise after learning a series of combinations. "You need to be prepared." DS talked to the experts about how to master freestyling.
Feel the beat. 
Shaping Sound co-founder Teddy Forance recommends listening to music as much as possible to get into the freestyle groove. "Being able to dance to any music is huge," says Forance, "because odds are every audition will play something wildly different." Take time to play around on Pandora, familiarizing yourself with different styles of music.
In her Beginning Improvisation for Dance Majors class at The University of Arizona, instructor Ariella Brown plays everything from jazz to lyrical to get dancers flexing their freestyle muscles. "I constantly switch up the music and ask them to adapt to and embody it," Brown says. While dancers tend to match their movement to the music's tempo and vibe, Brown also challenges them to push against it: "If it's an upbeat piece, I ask them to dance slow and liquid-y. It's about being unpredictable."
Pull out your bag of tricks.
Though freestyling shouldn't mean doing one trick after another—particularly those old standbys, fouettés—Forance says showing off can work at certain auditions. "If it's a commercial audition and they need one or two seconds of a dancer doing something really striking, that's when you throw in your power moves," he advises. He adds that music video auditions are another place for trick-oriented freestyling, as video directors often want "a half-second clip of dancers doing spectacular things."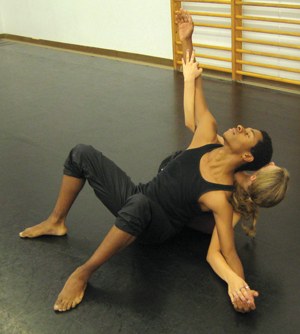 Ashley Hammond and Kevyn Butler go with the flow in Ariella Brown's Beginning Improvisation for Dance Majors class at the University of Arizona (Ariella Brown)
Make up a story. 
Coming up with a theme for your freestyle can help guide your movement and add a new dimension to it. "When I improvise, I try to work with ideas and images, not just technical steps," Rocher says. "I try to tell a story through my movement rather than just making something up."
This technique is also popular at The University of Arizona. Brown remembers a professor handing out lists of phrases such as "I'm sorry" or "I can't breathe," which dancers had to use as inspirations for their improv. Says Brown, "The people who took it to interesting artistic places were the ones who stood out."
Make sure technique comes first.
In an audition setting, some dancers default to super-sexy moves in an effort to stand out while freestyling. But most directors aren't interested in watching you bump and grind. They want to see that you have the solid technique necessary to pull off their choreography. Beautiful lines and clean pirouettes are more likely to get their attention than those moves you learned from The Pussycat Dolls' videos.
Try something new.
Yes, you want directors to get a sense of your signature dance style. But successful improvisation also means pushing past your limits. "Going into your comfort zone and only doing what you know can be dangerous," Rocher says. That type of movement quickly looks stale, and you're more likely to repeat yourself. Instead, think of "exploring and challenging your body," Rocher says. Or try channeling another dancer you admire—one whose style is totally unlike yours.
Get out of your head and into the groove.
Brown says many dancers overthink freestyling. Improv inspiration comes more easily when you stop spinning your mental wheels and relax into the music. If you have a hard time getting out of your head, practice freestyling in a low-pressure setting—on your own in the studio or with a few of your dance friends. The more experience you have, the easier it will be to let loose in the audition setting. "Practicing will get rid of the fear; otherwise, you'll feel uncomfortable, and that will read to the person auditioning you," Brown says.
Show your style from beginning to end.
Once you're comfortable freestyling, you don't always have to confine your improv to the "official" improv section of the audition, especially in commercial settings. "Don't just stand there when you walk onto the floor," Forance says—that's the perfect time to bust out a few off-the-cuff moves before beginning the given combination. "People who kill it own the stage from the second they walk on to the second they walk off."
Dec. 19, 2012 04:56PM EST
You've been oohing and ahhing over Mia Michaels' choreography for years, but I'll bet you've never seen America's Favorite Choreographer really dance… until now. At our January cover shoot, Mama Mia worked some improv magic for photographer Joe Toreno, and we caught it all on film. But that's not all; this exclusive video also captures the give-and-take relationship and special bond between Mia and her go-to assistants Ryan Ramirez and Chaz Buzan:
Are you blown away? I thought so. And there's more behind-the-scenes fun where that came from. Click here to see breathtaking outtakes from our January 2013 cover shoot.
Sep. 10, 2012 06:00PM EST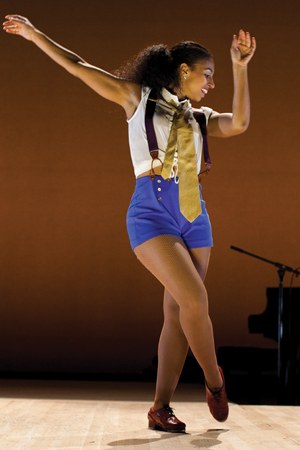 Chloé Arnold (by Matthew Murphy)
You walk onstage for your tap routine—click, click, click—and take your opening position for a performance a capella (without music). You begin to dance, each tap breaking the silence in the theater all over again. Clickety-clack, ka-lack click, a-kik-kik-kik-kik clap…
Tapping a capella can be exhilarating, but with no beats to back you up, it can also be nerve-racking. It's up to you to keep a steady pace—and the audience's attention. Master teacher Gregg Russell of Tap Sounds Underground says your first a capella tap performance can be like a first bicycle ride without training wheels. "You're not just dancing without a song," he says. "You're creating a song from scratch. With the true a capella masters, you feel their music. You can almost hum along with them."
Keep It Interesting
There'll be nothing to hum along to unless you inspire the audience with a broad range of textures, dynamics and changes in volume. Both Russell and Chloé Arnold, a dancer-choreographer who leads the all-female tap group Syncopated Ladies, recommend giving the steps you already know a good workout. Challenge yourself to choreograph a full minute of material using only heel drops, for example, and you'll quickly find that you need to get creative. It might be useful to give your different types of heel drops nicknames and write them down in a notebook. Repeat the exercise with another step, such as paradiddles, and before you know it you'll have page after page of secret weapons. The same applies to time signatures. (They're the basic groove you're working with, like a waltz, for example, or a classic 4/4.) Try to exhaust the possibilities in one before switching to another.
A capella tap is about knowing how to make each step come to life, Arnold says. "There are infinite variations on any theme. For a cramp roll, you can make the sound even, like a drum roll, or you can give two beats, hold back for the third, and hit the fourth a little later. You've got the steps; how do you take them and create musical patterns? That's what's going to be interesting."
Go with the Flow
You'll also have to make your own structure for each piece. Compose unique sections with smooth transitions, or bridges, between them. Pro tapper Anthony Morigerato thinks of a tune he likes—Duke Ellington's "Caravan" is a favorite—and plays it in his head. "That gives it form, some rhyme and reason, rather than just a bunch of steps thrown together," he says. Take mental notes when you hear a song that has a compelling beginning, middle or end. Ask yourself why it works and think of ways to create the same effect with your shoes.
"You'll start to understand flow," Arnold says. "You'll realize how many different paths you can take to get from one place to another."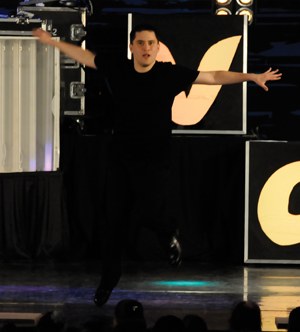 Anthony Morigerato (by Laura Haley)
Step in Time
Just don't take your eyes off of the "road": your tempo. A capella tappers tend to accelerate, especially in front of an audience. That might make the most complicated part of your routine impossible to pull off once you get to it. Relaxing your upper body and remembering to breathe can act as cruise control.
Steady pacing becomes even more crucial if you're sharing a stage a capella with other dancers. Ensemble choreography without accompaniment offers rich possibilities, like rhythmic counterpoint (different grooves layered on top of each other) and canon (the ripple effect sometimes called a "round"). Drift out of synch with your teammates, however, and that all falls apart.
Cartier Williams confirms that "the audience knows right away when you fall off time. It doesn't sound right." From age 4 to 10, the 23-year-old did almost all of his practicing without music. "I was just improvising, putting steps together on my own and figuring it out."
He says two and a half or three minutes is perfect for a solo. "Get them excited, keep it short and sweet, and then get out of there."
Whether an a capella number goes well or not, don't let it show on your face, and know how to bring it home, Morigerato advises. Try putting your own spin on a classic ending, like giving the crowd three repeats of a short combination, followed by a fourth with a twist. (That's called "three and a break.") "Repetition is something an audience can really dig," Arnold says. Another option is a fade-out or decrescendo. "Quiet doesn't mean 'without energy,' " she says. Keep your focus going until the very last moment.
If you're serious about tap, being comfortable performing a capella is a must. Williams tries to tell a story; Arnold imagines being a DJ; Morigerato sings a song with his feet; Russell thinks of ways to echo certain rhythms with movements. But everyone agrees that the best thing about a capella tap is the ability to bring along an audience.
"Captivate them and take them with you," Arnold says. "Make them sit up in their chairs."


Get Dance Spirit in your inbox