Mar. 23, 2017 04:43PM EST
With only two weeks left in The Ailey School's Summer Intensive Program, Gabriel Hyman collided with his partner during a rehearsal for the final performance and suffered a calf-muscle tear. "I was told that recovery would take at least two weeks," says Hyman, who's currently an Ailey II apprentice and a junior in the Ailey/Fordham University BFA program. "I'd been cast in two pieces and I could hardly go on relevé—it was so disappointing." With the help of a physical therapist, he figured out how to make it through some of his choreography and modify his movement in class. "But sometimes I could only observe."
Getting injured during your summer intensive probably seems like the worst-case scenario. You worked hard to get accepted, and you want to milk as much as you can from the experience—not sit on the sidelines. But your summer doesn't have to end just because you got hurt. In fact, learning how to seek help for an injury, monitor your own recovery and grow from the experience can be just as beneficial to your career as dancing full-out from June through August. Here's your guide to dealing with your injury, so you can still have an amazing summer of dance.
The Shock
These programs are called intensives for a reason: You may be transitioning from four hours of dancing each day during the school year to 10 hours of classes, workshops and rehearsals daily during the summer. You won't be the only one who's sore, tired or suddenly aware of areas that need strengthening. "Even before placement classes at Boston Ballet's summer intensive, I talk to the dancers about symptoms of strain and inflammation and teach them how to treat routine soreness," says Susan Kinney, who has been head of the school's physical therapy clinic for the past seven years.
It can be tempting to power through minor injuries at a summer intensive. But if you're experiencing pain that restricts your movement, it's time to speak up. "Discomfort and pain have a purpose—they tell you what you're doing wrong or what you're overworking," Kinney says. If you ignore significant pain, you might end up with an injury that will last well beyond the summer.
The Talk
If you do get injured, it's important to arrive at the studio 15 or 20 minutes early to discuss the problem with your teacher. "During or after class is the wrong time to talk about an injury," says Brooke Lipton, who teaches contemporary dance for The PULSE on Tour. "If I see you modifying movement before you tell me you're hurt, the explanation could end up sounding like an excuse." During your preclass discussion, keep things short and sweet.
"Kids tend to be scared to tell the teacher or feel like they need to have a big, long explanation, but just be honest and concise," Lipton says. "Say something like, 'I pulled my inner thigh, and I'm going to do my best to work around it in class today.' "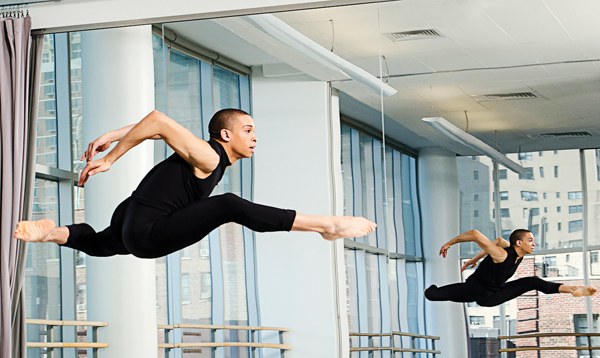 Gabriel Hyman had to cope with an injury during The Ailey School's Summer Intensive Program. (Photo by Kyle Froman, courtesy The Ailey School)
The Alternatives
How can you determine what movements are safe to do while injured? Your recovery should be a collaboration with your teachers and parents, says Jonathan Sharp, who's on faculty at Joffrey West's summer intensive in L.A. and oversees the summer dance program at Idyllwild Arts. "If you describe the pain and ask what you should do, your teachers will watch you in class and do their best to help," Sharp says. If your
program has physical therapists on staff, take advantage of their expertise, too—they likely treat professional dancers year-round and will know how to advise you. For something like shin splints, says Shaw Bronner, director of physical therapy at The Ailey School, the solution might be as simple as avoiding jumps. Or, if a student has anterior hip pain, Bronner would have her keep leg lifts below 45 degrees.
If, after working with your teacher and physical therapist, it seems like the best thing for you to do is to observe class, you may still be able to learn a great deal, thanks to the difference in perspective. "Observing class was a great opportunity for me to see the lines I'd been trying to achieve," Hyman says. "It helped me realize exactly how I should be positioning my body." Challenge yourself to be an active watcher, and develop your own "eye of the teacher," Sharp says. "Identify what the teacher is talking about in a correction. Can you see it?" Lipton urges students to train their choreographic memories by learning combinations without moving their bodies. "Your eyes are just as beneficial as your arms and legs," she says.
The Bottom Line
An injury that keeps you out of the studio for a substantial length of time, like a fracture or torn ligament, might mean it's time to go home. "Everyone hurts for a student who has to leave early," Kinney says. "But if an injury is severe enough that you can't modify movement at all, it really is best for you to go home and take care of it." She adds that, in her experience, the majority of injuries that send students home develop from a pre-existing condition. "It's just one more reason to be honest and up front with your teachers and PT at the beginning of the intensive."
Don't despair, though: Summer-ending injuries are relatively rare. Bronner has even seen seriously injured Ailey School students who were still able to work with intensive choreographers. "Many times we find some way for them to be a part of the final performance," she says. "Everyone wants the dancers to come away with a positive experience."
Prevent Injuries with Proper Prep
Gearing up for a summer program? Here are steps you can take to make injuries less likely.
Keep Moving
Don't take time away from the studio between your June recital and your August intensive. Boston Ballet School physical therapist Susan Kinney recommends maintaining your normal class routine—even adding up to two classes a week. Take advantage of the downtime you have now that school's out and start cross-training. "Do cardio—whether that's swimming or using the elliptical or stationary bike—as well as yoga, Pilates, or Gyrotonics," she says. "It only takes four to six weeks to really improve your stamina, strength and flexibility."
Pack Smart
Jonathan Sharp, who teaches at Joffrey West's summer intensive in L.A. and runs the Idyllwild Arts summer program, says not to underestimate the power of a good night's sleep. "Pack your pillow and comforter from home, so your bedtime routine is familiar," he says. "And bring a good water bottle—you should drink close to an entire bottle after every class. You're working your muscles to the extreme, and without hydration they'll cramp." Other must-haves: an ice pack, a microwavable heat pack, kinesio tape and a strap for stretching, Kinney says.
Ease In
Once you arrive at your summer intensive, take things slow. "Don't kill yourself during placement class," Kinney stresses. "It's natural to want to place at a top level, but you can work hard without blowing it out on Day One. That's when a lot of young dancers start brewing an injury that affects them later in the summer." —K.B.
Mar. 23, 2017 03:53PM EST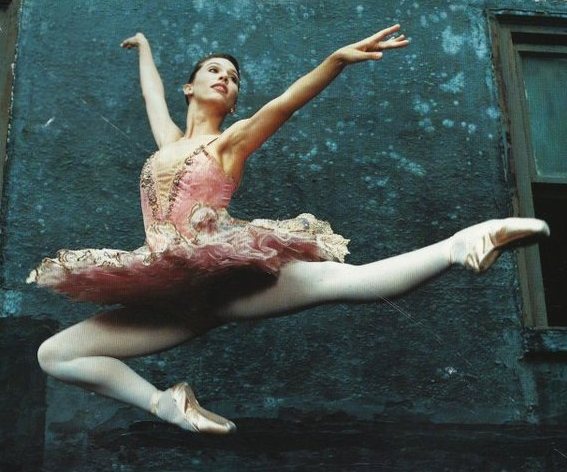 Former ABT principal and Tony nominee Ashley Tuttle—pictured here as the Sugar Plum Fairy for Evansville Ballet Theatre's 2012 production of "The Nutcracker"—urges dancers to know their bodies, and do let them do their job. (Photo via Evansville Courier & Press)
Getting injured can seem like the end of the world. As dancers, we're hesitant to take even a week off. Tell us we need to take several months off, and we launch into full-blown panic mode.
Last night, The School at Steps in NYC hosted its annual "Injury Prevention Workshop" as a part of their Complete Dancer Series. This year's panel of experts included registered dietitian Rachel Fine, Emily Sandow of the Harkness Center for Dancer Injuries, Orthopedic Surgeon Dr. Andrew Price, Pilates instructor Robin Powell and former American Ballet Theatre principal/Tony nominee Ashley Tuttle. The panel also included one of Steps' pre-professional students, Lucy Panush, who shared her story of injury recovery.
As a sponsor of the event, Dance Spirit was lucky enough to get a front row seat, where we soaked in all the info the pros had to offer. Without further a do, here are seven somewhat surprising things we learned at this year's workshop:
1. You can (and should!) get a free injury prevention screening. Basically, a physical trainer will evaluate your whole body, looking for things like muscular imbalances or skeletal irregularities. Using this info, they can help you predict and prevent future injuries. If you're in NYC, you can get your free screening at Harkness Center for Dance Injuries. If not, chances are, you can find a clinic near you that offers similar services.
2. Dancers are poorly conditioned. WHAT?! That's right—according to Dr. Price, most dancers lack endurance for aerobic exercise (exercises that require oxygen, aka "cardio"). Think about the last time you did a crazy petit allegro, or a super-fast tap combo. Did you find yourself huffing and puffing at the end? Your body probably wasn't getting enough oxygen. Without it, your body turns to the sugars in your muscles for energy—which isn't so good for your muscles. "In the ideal world, I'd have every dancer on the stationary bike for 30 minutes, three times a week to build up their endurance," Dr. Price says.
3. Healthy fats (think: nuts, olive oil or fatty fish) are necessary for muscle recovery. They're packed with antioxidants, which help repair your cells after a workout.
4. When your teachers correct your technique, it's not just about the way it looks. "Proper technique isn't just an aesthetic," Dr. Price says. "It prevents injury by making sure the body works correctly."
5. Step away from the dead pointe shoes! They may feel sooo much comfier than the brand-spankin' new pair in your dance bag, but they won't give your feet the support they need. The same goes for old tap shoes, character shoes, jazz shoes...all of the shoes.
6. There's never an excuse not to do Pilates. "It's non-weight bearing, and very straight-forward to modify," says Powell. "Even injured dancers can participate." Pilates also teaches dancers how to adjust their movement both on and off the mat—and it helps even out muscular imbalances that could lead to injury down the road.
7. Getting injured could be a blessing in disguise. "Being forced to take a break from dance gives you time to enhance yourself as an artist," Tuttle says. She recommends dancers spend their time off learning about other forms of art. "It will make you a more well-rounded artist, while helping you maintain a healthy spirit of optimism," she says. "There is a light at the end of the tunnel."
Mar. 23, 2017 02:04PM EST
For dancers, the decision to undergo surgery can be frightening. The time spent in recovery seems like an eternity when it keeps you from pursuing your passion. But as 14-year-old Maya Wheeler learned, dancing with injuries isn't worth the pain—or the damage it can cause. A student at Philadelphia's The Rock School for Dance Education, Wheeler has undergone two surgeries to remove extra bones behind both of her ankles. Here, she shares her journey in and out of the operating room, as told to Kat Richter.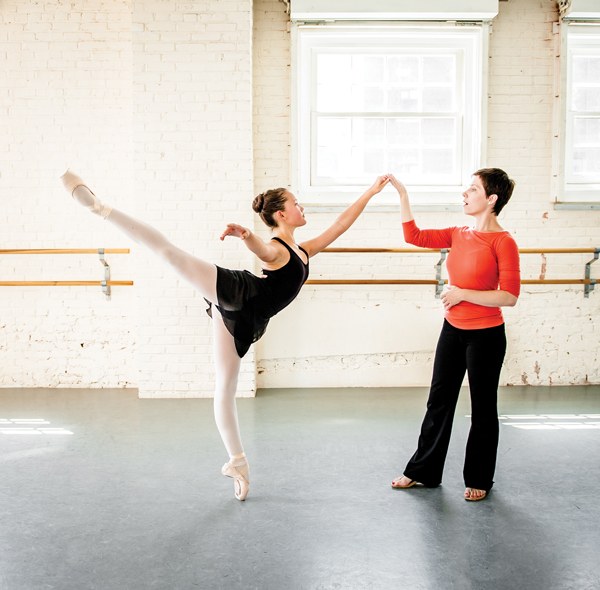 Working with coach Sarah Cooper in 2012 (photo by Vikki Sloviter)
I was 8 when it all started. My left ankle was hurting in ballet class, so I began asking my teachers if I could sit out during jumps. At first, they didn't believe me—they just thought I wanted to get out of certain exercises. But the pain wasn't letting up. Finally, one of my teachers suggested I see a physical therapist. "It could be tendonitis," the therapist said, showing me a few calf and ankle stretches. But then her voice lowered to a whisper: "Or it could be an os trigonum."
I had no idea what she was talking about, but I could tell from her tone that it was something scary. Since I'd started dancing at age 6, I'd never had an injury. My training at The Rock School was intense, and I didn't know how to cut back. I told myself it was just tendonitis and kept stretching.
Soon, my ankle hurt any time I pointed my foot,  jumped or did just about anything strenuous. When I couldn't take the pain any longer, I went to a doctor. After an X ray, the doctor confirmed my worst fear: My symptoms indicated os trigonum. An extra piece of cartilage between my Achilles tendon and my heel had hardened into bone. The doctor explained that this syndrome was common for dancers. I knew he was trying to be reassuring, but I was still nervous about what this meant for me—and the career I hoped to have one day. He was up front about my options: I needed surgery to take it out.
By this time—about a year after my symptoms had worsened—it was performance season, and Nutcracker rehearsals were heating up. On top of all that, I had started preparing for my first time competing at the Youth America Grand Prix finals in NYC. I didn't want to stop training—but I could feel my extra bone crunching with every move.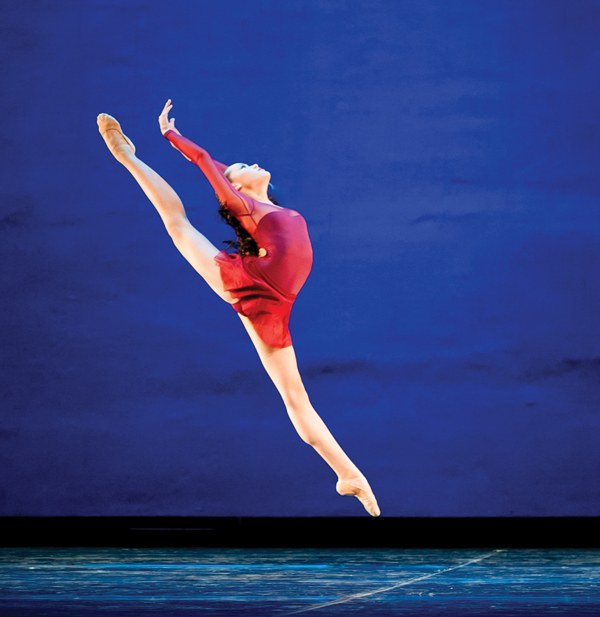 Maya at the 2014 Youth America Grand Prix (photo by Vikki Sloviter)
I was 10 when I had my first surgery at the Children's Hospital of Philadelphia. Two hours and four incisions later, the extra bone was gone. It turned out that the bone had fractured in the time I continued dancing, which had caused even more irritation and swelling.
Before the surgery, I was told that because I was young, the recovery process would be relatively quick. I stayed home from school for a couple of days, and I could walk without crutches (though wearing a boot) after two weeks. I worked with a physical therapist for three months, who taught me lots of Thera-Band exercises and other ways to rebuild my foot muscles, like picking up marbles with my toes. I had to sit out of ballet classes completely for four weeks, but I gradually worked my way up to pointe, and I was back to performing within a few months.
A year and a half later, however, the pain was back—this time in my right ankle. I didn't know what to do. I was scheduled to compete at the YAGP finals in NYC that April. I had also been accepted to Boston Ballet School's summer intensive. I tried to weigh my options: If I skipped YAGP to have surgery again, I'd miss out on that performance experience in NYC. But if I waited until after YAGP, I wouldn't be strong enough for Boston. And I definitely didn't want to miss that opportunity. Ultimately, I chose not to compete, and I was back in the operating room on Valentine's Day.
During the recovery from my second surgery, most of my classmates moved up into the next level. Surprisingly, the worst part for me wasn't not being able to dance—it was having to sit and watch my peers excel without me. My teachers would say, "Just take notes," but I didn't want to watch anymore. I wanted to scream back, "Why can't I just do it? I can do it in my boot!"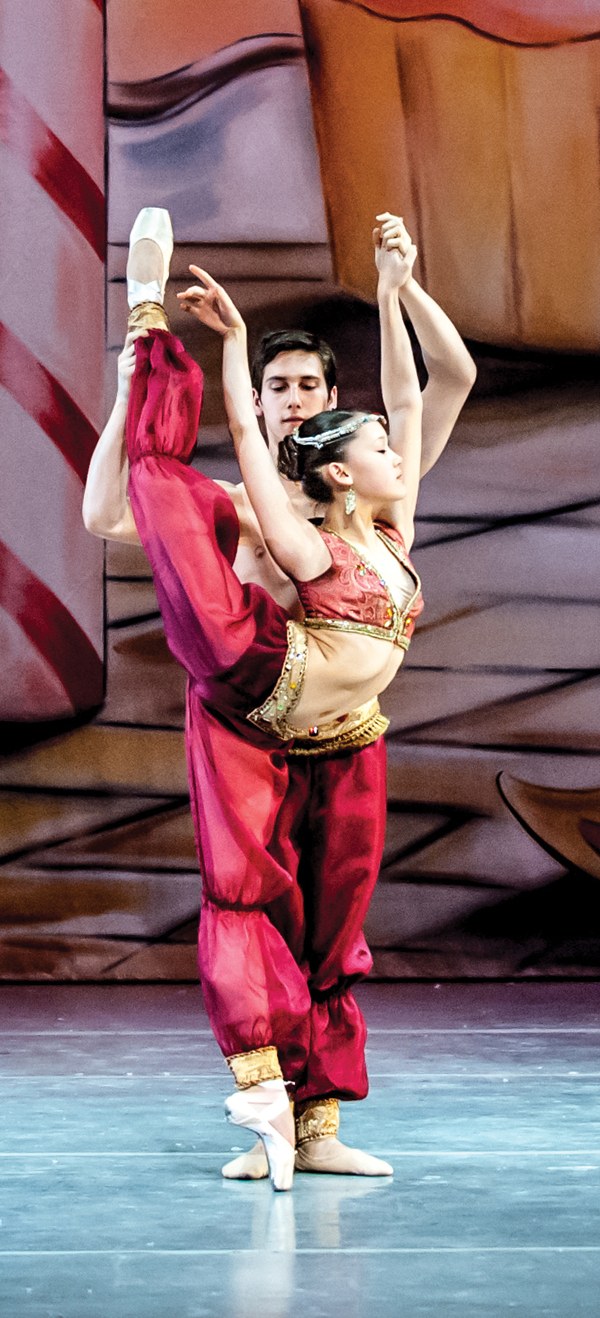 In The Nutcracker with Anthony Cannarella-Anderson in 2012 (photo by Vikki Sloviter)
I felt left behind, but I'm glad I waited and made a full recovery. With a little extra work and lots of determination, I've caught up to my friends, and I even finished in the top 20 at the YAGP finals this year. I've learned that hurdles like os trigonum syndrome don't have to hold you back. And now that I'm dancing pain-free, I don't even think about it anymore. Instead, I'm on to my next challenge: one day landing a spot in my dream company, Pacific Northwest Ballet.
Os Trigonum Syndrome 101
The os trigonum is a bone growth behind the talus bone (ankle) that may be present at birth. "Os trigonum syndrome" refers to the deep, aching pain and swelling that develops due to repetitive stress on that area. Because os trigonum syndrome can mimic Achilles' tendonitis, X rays are helpful to differentiate between the two.
If you notice these symptoms, it's best to talk to a doctor or physical therapist, especially if the pain persists. Surgery isn't always necessary; other treatments include rest or anti-inflammatory medications to reduce swelling and pain. Above all, make sure your doctor or therapist knows the complexities of your dance training so he or she can work out a treatment plan tailored to you.
Sep. 17, 2015 02:26PM EST
The worst has happened: You landed a jump and felt an oh-so-terrifying pop in your ankle. As your friend rushes over with an ice pack, your entire dance career flashes before your eyes. All you really want to know is how bad it is—and how long you'll have to stay off your toes.
Dancers endure a lot of physical stress on a daily basis, making injuries like sprains, strains, fractures and stress fractures fairly common throughout the body. Here, Dance Spirit breaks down the differences between the four diagnoses—so you'll know what to expect when your doctor gives you the news.
The diagnosis: a strain
Strains usually build up gradually over time but can also happen suddenly. They occur when muscles or tendons (tissues that connect muscle to bone)—frequently in the lower back or hamstrings—are stressed by prolonged repetitive motion. Strains often come with pain, swelling, limited mobility or muscle spasms. "I usually see strains in dancers who are trying to get a muscle to stretch or contract more than their body can tolerate," says Katie Lemmon, an athletic trainer with Athletico Physical Therapy in Chicago, IL.
Treatment strategy for strains depends on their severity. You may make significant recovery with a few days off, but you may also need up to six weeks working with a physical therapist, or even surgery. Lemmon recommends turning to a dance-friendly physical therapist as soon as possible, since they can often help correct anything in your technique that might increase your risk for re-injury. "It could be an imbalance in your muscles," she says. "For example, if the pulling feeling is in your hamstring, you might need to stretch out the front of your thigh. We always recommend a technique assessment to look at how all the parts of your body are working together."
The diagnosis: a sprain
A sprain is usually accompanied by pain, swelling, bruising and limited mobility. It indicates a stretching or tearing of ligaments, the bands of tissue in your joints that connect two bones. In addition to the classic sprained ankle, you can also sprain ligaments in your knee with an unexpected twist, or in your wrist during acro or partnering. Sprains usually happen suddenly, and they're more likely if you're tired or haven't warmed up properly.
While a mild strain may only require a few days of rest, ice and wrapping, most ankle sprains will require some time in a brace or a boot. Podiatrist Ronald Werter, who works with professional dancers in NYC, says moderate sprains may only require two weeks in a boot followed by two weeks in an ankle brace. The more intense the tear, the longer you'll have to stay off the foot. If the ligament is completely severed, it could take six months or more to heal. In that scenario, many dancers opt for surgery to repair the ligament, since it typically won't reconnect on its own.
It's important not to return to dancing too soon after a sprain. "If the ligament is still overstretched, you may be at risk of making the injury worse or tearing it completely," Lemmon says. "Even when your doctor says you can go back to dancing, start gradually with movements that don't require twisting, turning or jumping." Working with a physical therapist can help you regain balance, strength and range of motion. And your doctor may recommend taping the affected area to add support when you first return to the studio.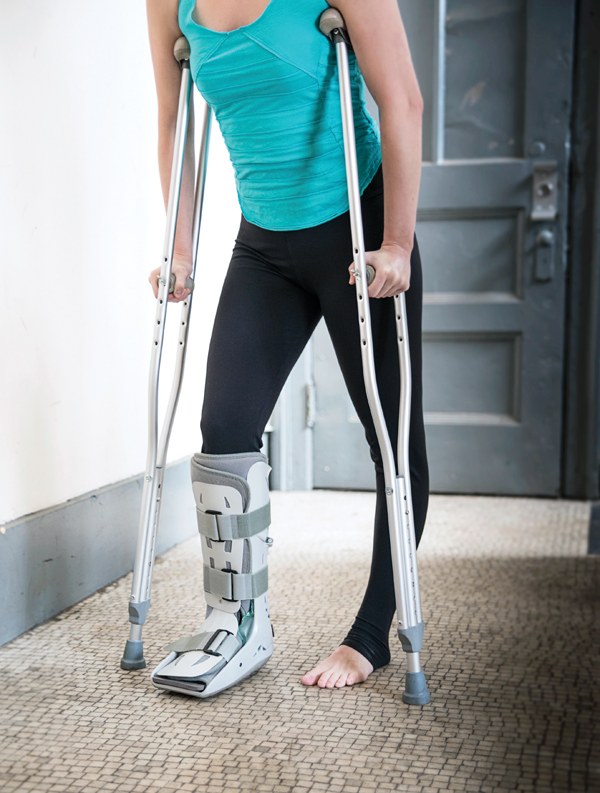 (Photo by Lucas Chilczuk)
The diagnosis: a fracture
A fracture, or broken bone, happens suddenly, usually from landing a jump wrong, falling or being dropped while partnering. You'll often feel and hear a snap, followed by throbbing pain, swelling, bruising and sometimes noticeable deformity. Werter says he commonly sees broken toes in dancers, which, at best, heal with taping and a couple days of rest.
However, a broken metatarsal may require surgery to insert a pin or screw in the bone. "After surgery and six weeks in a boot, it should be stable enough to dance on carefully, but you'll likely need about another three months to be completely healed," Werter says.
To avoid fractures, Lemmon suggests checking in with a nutritionist to be sure you're eating a bone-healthy diet. Often, dancers with poor nutrition or amenorrhea (lack of periods) will have weaker bones, which can make them more susceptible to fractures. The good news is that once your bone completely heals, the chance of breaking it again doesn't increase in healthy dancers. In fact, Lemmon says, the bone may actually heal stronger.
The diagnosis: a stress fracture
A stress fracture happens when a bone begins to develop thin cracks due to prolonged stress. Dancers usually get them in the bones of the foot (metatarsals or sesamoids) or in the bones of the lower leg (tibia and fibula), and they may not be easily spotted with an X-ray. They're usually caused by overuse or repetitive pressure on the bone—jumping repeatedly on a hard floor, for example, or even wearing pointe shoes that don't fit correctly.
"For foot fractures, I start by immobilizing it in a walking boot for just a week," Werter says. "After a week, if there's no pain, I'll wrap it and ask the dancer to take it easy. If treated properly, a stress fracture should be OK to dance on after about three to six weeks."
Lemmon adds that being diagnosed with a stress fracture, much like being diagnosed with a strain, is a sign that you may be fatigued or need to reevaluate your technique. "A stress fracture in the foot, for example, could actually be caused by an imbalance in your hips or core," she says. "Taking time off to heal is an opportunity to figure out what caused the injury in the first place."


Get Dance Spirit in your inbox