Apr. 20, 2016 07:46PM EST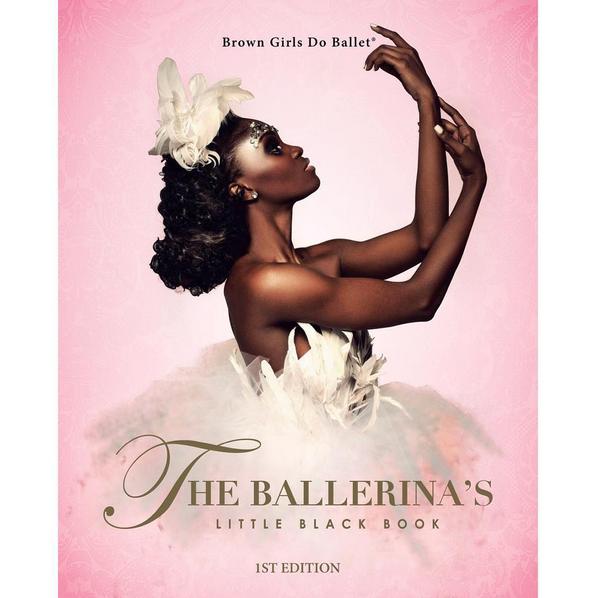 We all need a little #inspo now and then. And these days, when you can follow your favorite dancer's Instagram account and re-watch videos on YouTube until you have them memorized, there's something special about an actual, physical book full of stunning photos and uplifting quotations.
That's where the The Ballerina's Little Black Book comes in. It's a compilation of images and quotes from famous black ballerinas, all talking about what it takes to make it in the dance world. It's aimed at aspiring dancers of color, who have probably noticed there aren't many primas who look like them.
Find out more about the book here, and it's supporting organization Brown Girls Do Ballet, here.
And if you can't wait another second, here's a roundup of some of our favorite black ballerinas from around the world. These ladies haven't had the same media impact as Misty Copeland, but they're breaking barriers nonetheless.
[SlideDeck2 id=39253 iframe=1]
Jan. 02, 2015 03:54AM EST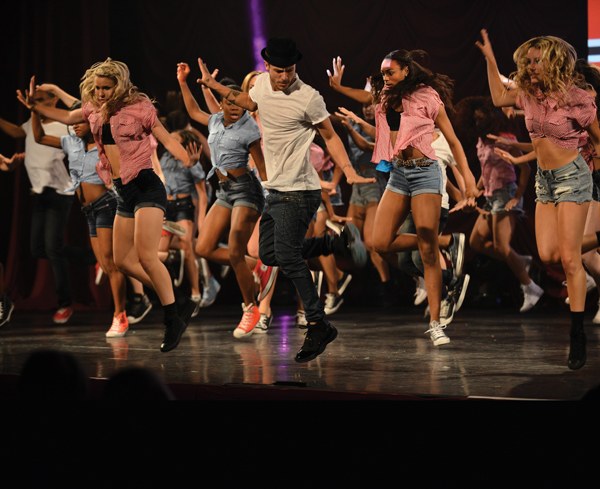 Misha Gabriel (photo courtesy Break the Floor Productions)
This year, make your dance resolutions last by sticking to a set calendar. We asked four pros to submit important dance goals, and assigned one goal to each month of 2015. With our experts' help, you'll be able to carry that beginning-of-year boost straight through to December.
The pros:
Andy Blankenbuehler, Broadway choreographer
Lia Cirio, Boston Ballet principal
Misha Gabriel, commercial dancer, actor and choreographer
Janette Manrara, ballroom dancer and "Strictly Come Dancing" professional
January: Work on your "bad" side.
"It's important to work both sides equally, even if one feels better than the other.
If your right leg is stronger, pretend you're a lefty—give that side the attention it deserves." —Andy Blankenbuehler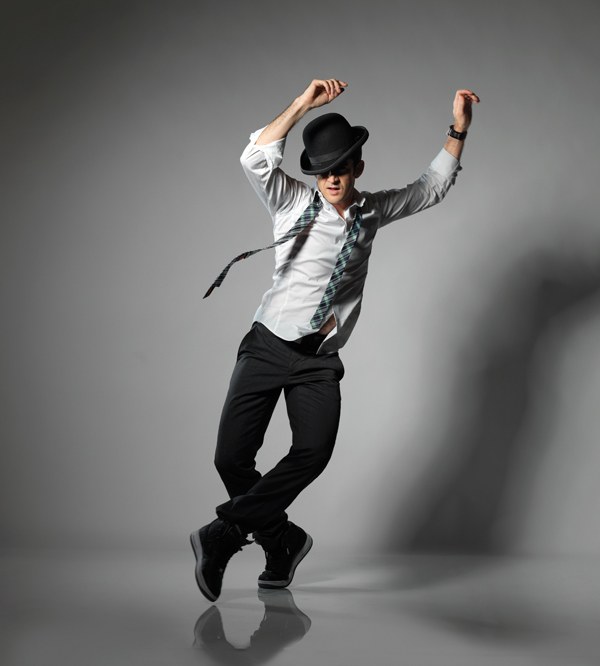 Andy Blankenbuehler (photo by Matthew Karas)
February: Re-focus your competitive energy.
"My mom always said, 'Don't look to the left or right—it's not worth worrying about the dancers around you.' Unless, of course, they're receiving corrections. Then listen." —Lia Cirio
 March: Take an acting class.
"Acting can seem scary at first, but believe me—it's a life changer. Even if you're not planning to enter the acting world, it'll make your dance performances stronger." —Misha Gabriel
April: Do one more pirouette.
"Don't be satisfied with two! Push yourself. You'll feel great when you get that third or fourth rotation." —LC
May: Be better about cross-training.
"When you're performing the same routines over and over again, you need to push your body in other ways, whether that's through Pilates or yoga or swimming. We need to stay well-rounded to make sure we don't break our bodies." —AB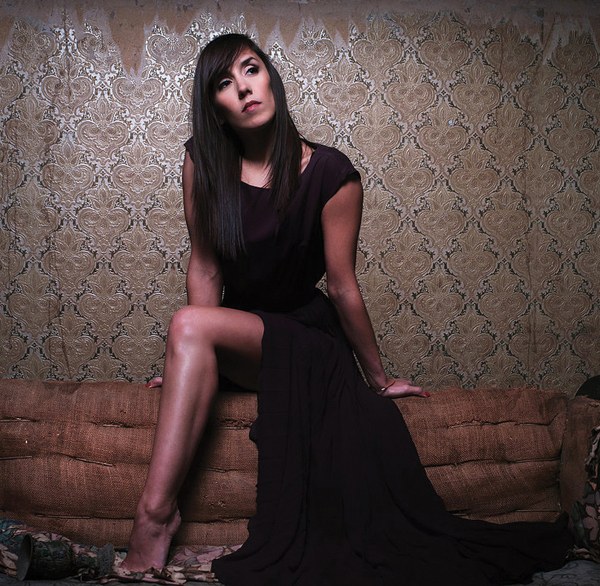 Janette Manrara (photo by Chris Mann, courtesy Janette Manrara)
June: Commit to the cooldown.
"Setting aside time to cool down after every performance will help you avoid sore, achy muscles, not to mention injuries. Yes, you're tired, but it only takes five minutes. A few quick stretches and breathing exercises can make a huge difference in how you feel the next day." —Janette Manrara
August: Take time to recharge, mentally and physically.
"Remind yourself to be a 'colorful' person. Really live your life outside of dance—enjoy going out to eat and spending time with your friends and the people you love. All those experiences will make your dancing so much richer." —AB
September: Expand your emotional range.
"A lot of dancers focus on the dark side of contemporary dance these days, and I feel like there's a range of emotions being neglected. Expressing joy, inspiration and hope—those are skills that have to be developed, too." —AB
October: Embrace ballet.
"Every dancer needs ballet, even if her specialty is salsa! The ballet vocabulary is the ABCs of dance. It makes you hyper-aware of all your muscles, so you feel every inch of your body
working." —JM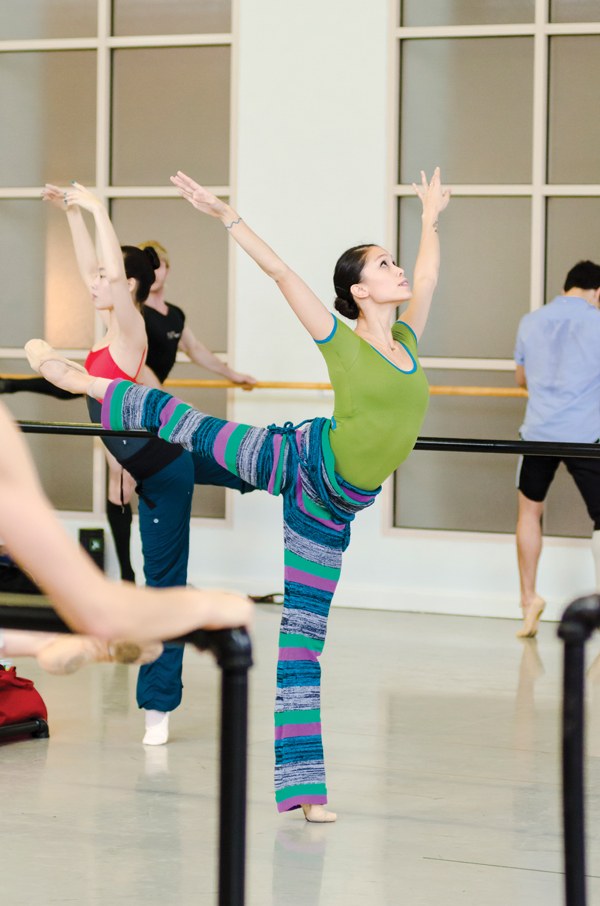 Lia Cirio (photo by Liza Voll)
November: Stick to a sleep schedule.
"If you're not sleeping enough, your whole body suffers. Getting on a good schedule is key, especially during long Nutcracker runs." —LC
December: Remind yourself why you dance.
"Dancers are so passionate about what they do that frequently they're overly self-critical. Have faith in your abilities. Remember that you're in this because you love it, and don't let the stresses of the art form paralyze you." —AB
Dec. 11, 2012 05:21PM EST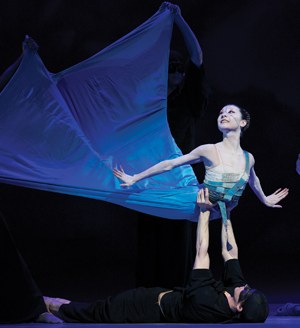 Yuan Yuan Tan in Neumeier's The Little Mermaid (ErikTomasson)
11 pros on what first inspired them to dance:
Yuan Yuan Tan
Principal at San Francisco Ballet
"My inspiration is Natalia Makarova. I used to watch tapes of her performing over and over and marvel at her port de bras."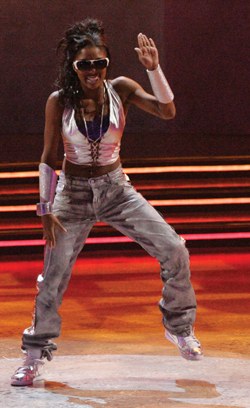 Comfort Fedoke (Kelsey McNeal/FOX)
Comfort Fedoke
Hip-hop dancer
"From the time Janet Jackson's 'Pleasure Principle' music video came out, I was all about Janet.Then I saw *NSYNC in concert and got super hyped. At my first talent show in seventh grade, I performed to *NSYNC's 'It's Gonna Be Me.' I did all of the members' parts—and wore the diamond-studded bandana, the blue jersey and the baggy pants. I was a one-woman show."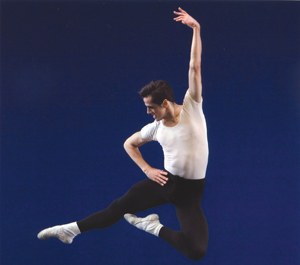 Robert Fairchild (Paul Kolnik)
Robert Fairchild
Principal at New York City Ballet
"The first time I saw a video of Gene Kelly dancing, I had a revelation. From then on, I knew performing was what I had to do."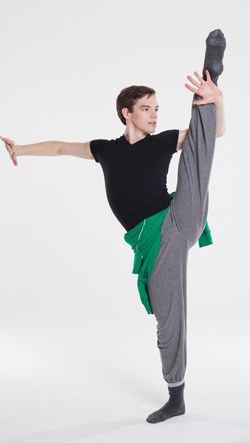 Billy Bell (Erin Baiano)
Billy Bell
Founder of Lunge Dance Collective and dancer with Cedar Lake Contemporary Ballet
"I've always been driven by challenges. If people tell me I can't do something, I'll try my hardest to prove them wrong. At age 10, I watched a breakdancing show and instantly knew that was my next challenge. At 11, I enrolled in a boys-only hip-hop class. My dance instructors convinced me my hip hop would be better if I took jazz too. Then they said my rhythm would improve if I took tap, and then that ballet would help my coordination. By the time I was 12 I was doing West African and Latin dance—anything and everything I could get my hands on."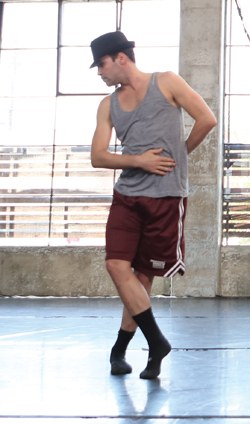 Nick Lazzarini (Tyler Golden/Oxygen Media)
Nick Lazzarini
Co-founder of Shaping Sound
"My mom put me into a recreation center dance program when I was 4. I ended up loving it. After I'd done a couple weeks of the rec center program, my kindergarten teacher asked if anybody could dance in our Christmas show. I put my hand up, like, 'Oh yeah, I'm a dancer.' I told my mom when I got home from school, and she panicked and was like, 'What are you talking about?' I said, 'Mom, I got this.' In the show, I was a giant dancing robot, and my mom says I actually pulled it off really well."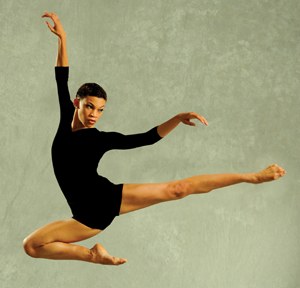 Ghrai DeVore (Eduardo Patino)
Ghrai DeVore
Member of Alvin Ailey American Dance Theater
"Dance has always been a part of my life because of my mother, who was a member of Deeply Rooted Dance Theater in Chicago. I was inspired by the lights and the fame, but also by the integrity and honor of the dancer's life. The ability to move someone from the stage—even if it's just one person—is why I do what I do."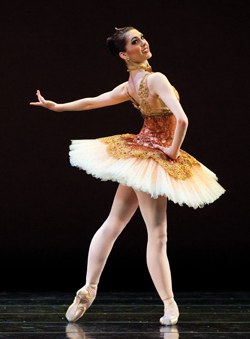 Beckanne Sisk (Luke Isley)
Beckanne Sisk
Demi-soloist at Ballet West
"My older sister got me into ballet. I would go to the studio to watch her. I remember she had a starring role in a ballet to the music from Legends of the Fall, and I wanted to be just like her. My mom finally took me in to audition when I was 4, but I couldn't reach the barre. I was devastated. By the next year, though, I was tall enough!"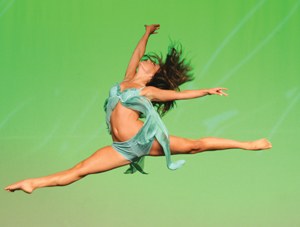 Missy Morelli
Missy Morelli
Commercial dancer and "So You Think You Can Dance" alum
"I saw classical ballet on TV when I was 1 1/2, and I was immediately hooked. None of the dance studios in my area had classes for children younger than 3, so I just watched ballet on TV whenever I could. When I finally turned 3, my mom bribed me. She said if I 'went potty' in the toilet I could start dancing. It must have worked, because I've been dancing ever since. Thank goodness for classical ballet and toilets, I guess!"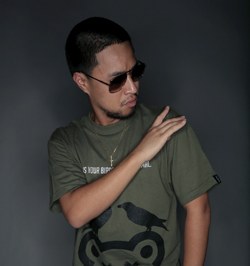 Phil Tayag (Josh Jose)
Phil Tayag
Member of The Jabbawockeez
"I've always been fascinated by dance. My parents are Filipino, and our culture is all about the arts. When I was 4 or 5, my mom got a kick out of my Michael Jackson impersonation—any time we had a family gathering she would make me dance. Later I watched my older cousins breakdance. When I was 9, I got into my first b-boy crew. Ever since then, I've been in crews, battling and performing."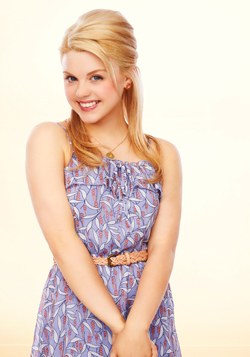 Bailey Buntain (ABC FAMILY/ANDREW ECCLES)
Bailey Buntain
Dancer/actress on "Bunheads"
"My mom signed me up for dance classes because I was shy as a child. She thought dance would bring me out of my shell. Little did she know it would turn into a complete obsession!
For me, the initial draw was that it was a new way of expressing myself. Later I was inspired by classic movies with Cyd Charisse, Gene Kelly, Fred Astaire, Ginger Rogers—and my all-time favorite, Vera-Ellen. She is a goddess!"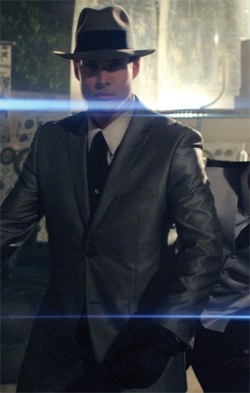 Madd Chadd (Courtesy LXD Ventures)
Chadd "Madd Chadd" Smith
Hip-hop dancer
"Growing up, I didn't dance at all. I wouldn't even go to school dances because I was uncomfortable. Then, my senior year of high school, I saw one of my neighbors doing windmills and was like, 'Whoa—I want to learn how to do that!' But b-boying and popping were just hobbies until I saw Boppin Andre dance at a party in college and everything changed. He had me questioning whether what I was seeing was real. From that point on, I practiced robotic popping 24/7."
We asked DS's Facebook fans what inspired them to start dancing. Here are some of our favorite responses!
"I was waiting for my brother to finish a soccer practice at the rec centre when I was 1 1/2, and I ended up wandering over to the dance studio. I watched the class going on, amazed. When my mom found me, I told her, 'I wanna do that!' "
—Paige Vassos
"My mom. It was her life, and now it's mine."
—Fazleen Dean
"When I was little, I used to dance on the hearth and pretend it was my stage. It's just always been in me."
—Cara Nicole Murray
"I was really into the 'Baby-Sitters Club' books when I was younger, and one of the characters, Jessi, did ballet. That got me interested in dance."
—RL Stephens
"Watching Gene Kelly in his movies. I wanted his power to make people smile!"
—Simon Harrison
Jun. 18, 2012 06:17PM EST
This year's documentary on Youth America Grand Prix, First Position, has been hogging all the limelight lately (understandably—it's awesome! Read our take here.) But if you loved it as much as we did, you're in luck because, over the last couple years, some equally captivating dance documentaries have been released. Here are two of my favorites:
Dancing Across Borders is a film about the development of a Cambodian boy named Sokvannara (Sy) Sar into a strong and powerful ballet dancer. And I mean powerful. You should see his tour en l'airs! In January 2000, Sy was performing a traditional Cambodian dance in his native country when American dance patron Anne Bass spotted him. She was captivated by his performance and asked Sy to audition for the School of American Ballet. After many conversations and lots of decision-making, 16-year-old Sy finds himself under the instruction of Olga Kostritzky (the embodiment of tough love).
As you watch him leave behind everything (including parents who don't fully understand why he's going) to dance in a foreign country, despite the fact that he has little knowledge of English and had never even seen ballet before, you can't help but be truly inspired by his drive and work ethic. Check out the trailer here:
Only When I Dance is another one of my favorite inspirational international dance documentaries. It follows the lives of two aspiring teenage ballet dancers. Sound familiar? The major difference between this film and First Position is that the dancers in Only When I Dance are both living in poverty in the Favelas, or the slums, of Brazil. Despite prejudice, financial difficulty and doubt, these two are determined to beat the odds and dance in international ballet companies.
It won't take more than a few seconds for you to fall in love with Irlan, a breathtaking dancer with so much heart and a smile that'll make you melt. Although you'll be rooting for him the moment he appears on the screen, his father is initially skeptical. Ballet is still seen by many in Brazil as an art form exclusive to wealthy, white elite, and is certainly not seen as a suitable career for boys. I felt like a proud parent as I watched him progress enough to attend the Prix de Lausanne in Switzerland, and couldn't help but giggle at his excitement at seeing snowflakes for the first time.
Isabella is a beautiful, black ballerina with incredible passion and a twinkle in her eye. Unfortunately, the color of her skin and her weight (by professional ballet standards) work against her. Plus, her father works two jobs to barely make ends meet. She's taken under the wings of former ballerina Mariza Estrella, founder of the Centro de Dança, who is determined to help her succeed. (She's fierce!) Watch the trailer here:
I promise you won't be disappointed. Sy, Irlan and Isabella certainly know how to inspire.
Jun. 15, 2012 02:34PM EST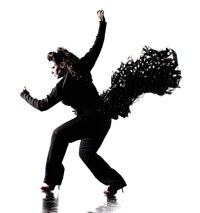 Liz Imperio. by Ed Flores Photography
Liz Imperio's choreography is electric. True to her Latin dance roots, her work exudes smooth sensuality and rhythmic vitality.
The first in her Cuban family to be born in America, Imperio started out as a ballet dancer before falling in love with flamenco. At 15, she began assisting choreographer and director Kenny Ortega, who introduced her to the world of commercial dance. Today, Imperio choreographs commercials, award shows and concert tours for the likes of Madonna and Jennifer Lopez, and recently started working on Lopez's new Latin music and dance show on FOX, "¡Q'Viva! The Chosen."
What inspires Imperio? Read on to find out!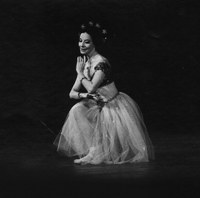 Alicia Alonso in La Péri. by Luis Cateñada, courtesy Dance Magazine Archive
"When I was 9, my mom took me to see the Ballet Nacional de Cuba in L.A. We saw all four performances, and on the night of the third, we went backstage to meet Alicia Alonso. She had just performed Carmen and was still in her red outfit. She reached out to touch my hand, and that's when I noticed she was blind. In that moment I realized there is nothing in this world that can stop you from becoming what you want to be—except you."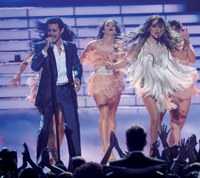 by Michael Becker/FOX
"I like to take what's been done in the past and ask: How can I reinvent it? For the 'American Idol' Season 10 finale with Jennifer Lopez and Marc Anthony, we took the 1950s Tropicana nightclub in Cuba and threw it into the modern age."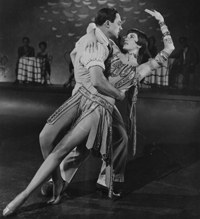 courtesy Dance Magazine Archive
"The first musical I ever saw was Singin' in the Rain. Cyd Charisse taught me sophistication. Her movement, her approach to her character and the way she interacted with Gene Kelly was spectacular—she was so sexy and mature."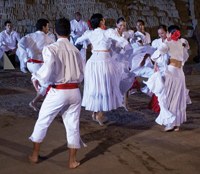 Performers from Lima, Peru, on "Q'Viva! The Chosen." by Robert Sebree/FOX
"Not long ago, Jamie King brought me into '¡Q'Viva!,' and it felt like everything I've ever learned collided into one project—from Mexican folklorico to flamenco to the mambo to tango to salsa partnering. I feel proud to represent my heritage and the artforms that have transformed my life."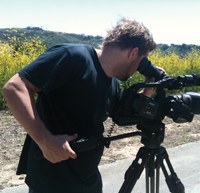 courtesy Liz Imperio
"My business partner Chad Carlberg opened my eyes to a whole new way of looking at life that helps me feel awake and present. He got me into listening to Tony Robbins and meditating and basically coached me to become a better mentor."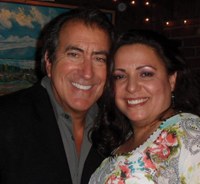 courtesy Liz Imperio
"My own mentor is Kenny Ortega. He is a walking visionary who pushes the limits. He transformed me."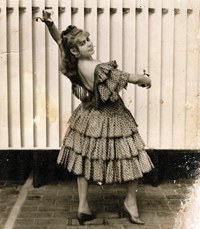 Imperio's mother, Daisy, in Havana, Cuba. courtesy Liz Imperio
"My mom is the backbone of my life. When my family came to America, she was adamant that I have options. When we're together, there's always a big dance party. Even my 94-year-old grandmother still shakes it up."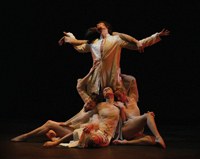 courtesy Liz Imperio
"When I had my own company, I based a piece called Mercy on a page from my journal. At the time, there was so much going wrong in my life. Mercy helped me understand that choreography is not just pretty pictures. We're storytellers."
Mar. 02, 2012 06:04PM EST
Dance Spirit receives tons of letters from readers, and we love it! You tell us about your struggles with and accomplishments in dance and about the dancers on our magazine's pages who inspire you. And often, those letters inspire us. Recently, we got an email from 14-year-old Kayla, whose story of her battle with a devastating knee condition was so heartfelt and brave. I've posted it here, so we can all learn something from her strength.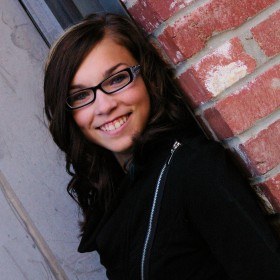 Dear DS,
Dance is my life. I've danced since the age of 3, but this year I lost it.
Since grade five I've suffered from knee pain. At first, doctors said I had too much cartilage, so I had to do a lot of physical activity to wear it down. But they were wrong, and that actually made it worse. That didn't stop me, and I continued to dance.
In early October 2011 I saw a new doctor who diagnosed me with osteochondritis of the knee. This means my cartilage was cracked, and fluid was pushing my bone out from behind my knee. Basically, my bone was about to break off. The disease has four stages (four being the worst), and I was at stage three. I was rushed into surgery on November 22 and had three screws put in my knee to push the fluid out. I was on crutches for 11 weeks, and I was told that I couldn't dance for an entire year. I go into surgery again on March 22 to take out the screws. That's when I will find out if my knee is healed and if I will be able to dance again.
For Christmas I got a subscription to Dance Spirit, and it's how I keep up with dance. I love receiving a new magazine every month, and I spend as long as possible reading it because it's the closest I can get to dancing.
One day soon, I hope to attend dance camps and conventions and improve my dancing enough to try out for "So You Think You Can Dance." I'm excited to see what my future brings!
Sincerely,
Kayla G, 14, Saskatoon, Saskatchewan, Canada
Thanks for sharing, Kayla! Your positive attitude and genuine love for dancing is contagious. DS wishes you all the best for a full recovery and a future filled with dance.
Want to get in touch with DS? Click here to send us an email.


Get Dance Spirit in your inbox