Mar. 23, 2017 02:46PM EST
You guys know how obsessed I am with Insta meetups. These genius events unite passionate photographers with compelling subject matter, and then leverage the power of social media technology to give people multiple perspectives on the same idea, object or place.
May I then call your attention to The Royal Opera House's #balletbeauty meetup? Home of The Royal Ballet, ROH organized the event as a way to invite top London 'grammers to take a peek inside the dressing rooms of the company dancers. And while #balletbeauty pretty much spells out the theme of the images, there's a whole lot more performance face mirror selfies. Take a look:
Click here to see all the images!
Mar. 23, 2017 12:16PM EST
OK you guys, I'm officially obsessed. This #empty trend on Instagram is absolutely captivating and when top 'grammers turn their lenses toward the world's most beautiful buildings—well, I die.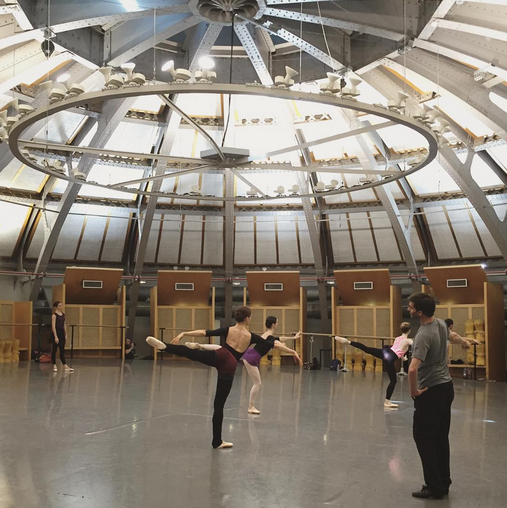 POB dancers in rehearsal (photo by @hannahrw)
It feels like it was just yesterday that I was freaking out over #emptyROH. Now, thank the interwebz for #emptygarnier. That's right, the most magical ballet palace on the planet opened its doors to a lucky group of 'grammers whose unique snaps and captures really show the different ways you can look at a place. Thanks also to the Paris Opéra Ballet's Insta-savvy new artistic director, Benjamin Millepied. He's going full-speed ahead when it comes to shaking things up at the POB—he's confidently mixing the old with the new. Civilian smart-phone artists to document an institution steeped in tradition and prestige? Why the heck not?!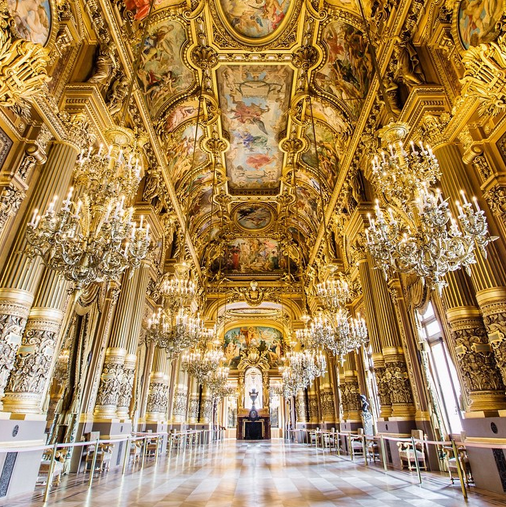 IS THIS A REAL PLACE?! (Photo by @wonguy974)
And whether they're tricky perspective shots, soaring views from the roof or intimate close-ups of tiny Palais Garnier details, each photo is a testament to the beauty of sharing our art with others, whether it's dance, photography or something else entirely.
Mar. 23, 2017 07:55AM EST
This Thanksgiving, two celebrity families served up a LOT more than turkey and mashed potatoes. Former "Dancing with the Stars" partners Derek Hough and Maria Menounos ("Extra") battled it out over Instagram in a Thanksgiving dance war. And in the spirit of the holiday, their families got involved too.
It was a bold move for the Menounos family to challenge the Houghs to a dance-off, considering they've got two not-so-secret weapons: Derek and Julianne. But they brought their A-game with some Flo Rida, T-pain and shades:
In a surprise comeback, the Houghs relied on their family charm, rather than a flashy display of their professional skills:
Who do you think won the #Thanksgivingdancewars?
Oct. 26, 2016 10:17AM EST
Nobody knows what we want from Instagram better than Boston Ballet principal, comp-world superstar and all-around #queen Dusty Button. Yes, she gives us lots of beautiful still photos showing off her flawless technique and crazy banana feet; we get peeks at her world travels with her husband; there are photos of her dance bag contents, and some puppy pics, and the occasional food shot.
But where Button really excels is in the video arena. Oh my LORD, friends: have you been watching these vids?? Most are just Button playing around in an empty studio—but her definition of "playing around" is, um, a little different than most peoples'. The clips showcase the kind of pure, unadulterated virtuosity that, for most of us, is the stuff of dreams. Button is LIVING those dreams.
Do you want pirouettes? Yeah, she can do that for you. How about 10, for starters—set to Drake for good measure?
Perhaps a little sampler including a (literally) 10-second balance? Yup, no problem:
Some beautifully controlled center work? Sure:
Last—but CERTAINLY not least—how about a bunch of drool-worthy foot close-ups? Oh yeah definitely:
And that's just the tip of the iceberg. So, yes; go follow this woman now. And for an even closer look at Button's multifaceted life, check out "In Her Shoes," our photo essay documenting her work in both the ballet and the competition worlds.


Get Dance Spirit in your inbox