Debbie Blunden-Diggs (far right) prepping for dancer interviews after an audition (photo by Audrey Ingram, courtesy Dayton Contemporary Dance Company)
Picture this: You've made it to the final round of an audition. All your hard work has paid off, and you're feeling good. Then the artistic director stands up and asks you to join her in another room for a one-on-one interview. Wait, what?
Many dance companies include interviews as part of their audition process. "I need to know more about people than what I see on the floor," says Debbie Blunden-Diggs, the artistic director of Dayton Contemporary Dance Company. It's normal to be nervous when you're faced with an interview—especially when you're used to letting your dancing do the talking. To help you prepare, Dance Spirit asked Blunden-Diggs and two other artistic directors for their tips to help you put your best (interview) foot forward.
Keep reading...
Show less
All of 18-year-old Kaylin Maggard's dreams—from scoring the title of National Senior Outstanding Dancer at New York City Dance Alliance Nationals to winning the 2017 Dance Spirit Cover Model Search—are coming true. And to anyone who knows the gorgeous contemporary dancer, that's no surprise.
From the moment the Dance Spirit staff met Kaylin, it was obvious her humility and talent would take her far. Not only did she go full-out during the photo shoot and class at Broadway Dance Center, but she was always cheering on, laughing with, and supporting her fellow CMS contestants Haley Hartsfield and Michelle Quiner. During the voting period, the social media world was abuzz with praise for her work ethic, positive attitude, and generosity.
Since her CMS trip to NYC, Kaylin's moved from her hometown of Columbia, MO, to the Big Apple for her freshman year at Juilliard, and is busy getting acquainted with the city. As for the future? She's taking it one opportunity at a time, but something tells us we'll be seeing this contemporary queen reach new heights every year.
Keep reading...
Show less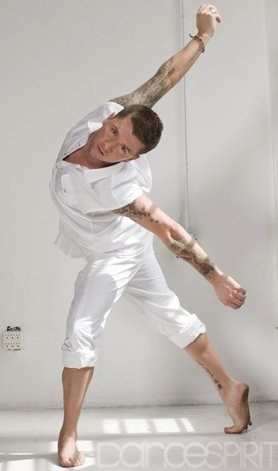 Travis Wall
(photo by Joe Toreno for Dance Spirit)
It seems like Travis Wall can do no wrong. From absolutely killing it on "So You Think You Can Dance" almost every single week to getting nominated for an(other) Emmy Award for Outstanding Choreography—his fourth—Wall is having one heck of a year. There's only one downside: The Emmy Award presentation for choreographers won't be broadcast live on TV à la last year. Instead, they'll be presented at the Creative Arts Emmy Awards this weekend—not on TV, not in the limelight.
I believe I speak for us all when I address the Emmy producers: BOOOOO.
But Wall is taking it all in stride, continuing to wow us on "So You Think" and gearing up for a second national tour with Shaping Sound. We talked with Wall before the Creative Arts Emmy Awards.
Are you pleased with the pieces that make up your Emmy nomination this year ("Hanging by a Thread," "Wicked Game" and "Medicine")?
I am! The "SYTYCD" producers submit choreographers for nomination, but they give us the chance to weigh in on the pieces they select to represent our body of work. So if I win, I win for all three routines. My favorite is definitely Wicked Games, which I choreographed for Amy Yakima. But I'm just so honored to be nominated again. I try not to think about it too much—it's so crazy.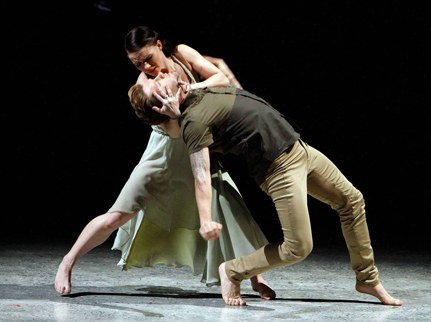 Amy Yakima and Travis Wall in Wall's Wicked Games
(photo Adam Rose/FOX)
What's next for you?
Right after "SYTYCD" finishes, Shaping Sound starts rehearsals for its next tour, which starts in October. We'll be stopping in more than 20 cities. I'm really excited for Shaping Sound to hit my hometown in Virginia so my family and everyone at my dance studio can see what I've created.
Is it a new show? 
It has the same outline as our first production, but it will be an overall cleaner and better show. There are two new numbers, and lots of things throughout have evolved. We definitely want to keep it fresh. The cast is also changing—we held an audition earlier this week to fill a couple of male parts.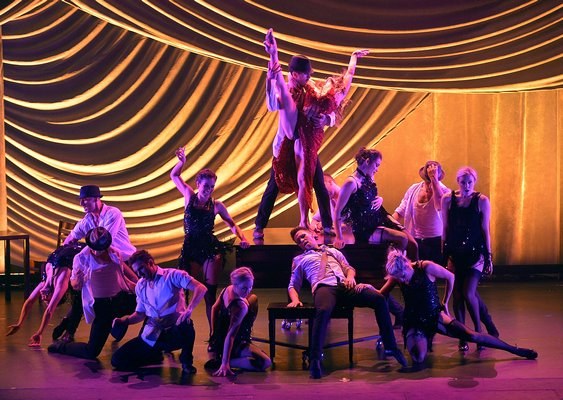 Shaping Sound Dance Company in That's Where I'll Be Waiting
(photo by Charley Gallay, courtesy Shaping Sound)
What qualities do you look for in a dancer?
I love dancers who are unique. I look for someone who I believe can stand onstage alone and hold an audience's attention. I also like hiring people we already know. When we're on tour, we live, eat and breathe with one another. So we have to be able to get along. And of course, I'm always excited to see amazing technique and focus.
What are your goals beyond the tour?
I just always want to stay passionate about what I do. I work hard and put so much of myself into my work, so I hope to continue doing that. I have to stay focused. And I know that if I continue pushing myself, and stay on the same path, I'll achieve my biggest dreams ever.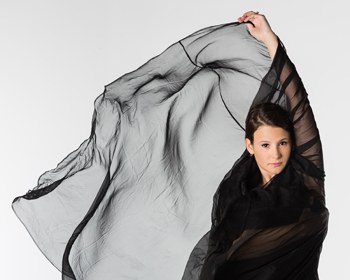 Lindsay Nelko
(photo by Kristen Sawatzky)
At last year's Capezio A.C.E. (Award for Choreographic Excellence) Awards in NYC, Lindsay Nelko tied for third place, winning $3,000 to produce her own show in conjunction with Capezio and Break the Floor Productions. Next week, we'll see the fruits of that partnership: Nelko will present the world premiere of her evening-length work, Awakening, at Ailey's Citigroup Theater on August 6 and 7.
Nelko, who has choreographed for "The X Factor" and "So You Think You Can Dance," has made some top-notch connections over the course of her career, so it's unsurprising that the cast of Awakening is pretty spectacular. Of the 24 dancers, eight are appearing courtesy of Complexions Contemporary Ballet, four are current or former members of Cedar Lake Contemporary Ballet, and others have performed with San Francisco Ballet, Miami City Ballet and the Bad Boys of Dance. It's a seriously out-of-this-world roster.
Dance Spirit caught up with Nelko to learn more about Awakening.
How would you describe the show?
Awakening is loosely based on my life, and on the moments of realization—or awakening—in certain feelings or events. There are 18 small narratives woven together that depict those feelings, including sadness, anxiety, joy, friendship and young love. There's also the theme of awakening in terms of sleep. The show moves between reality, the dream state and hypnagogia, which is the state between wakefulness and sleep.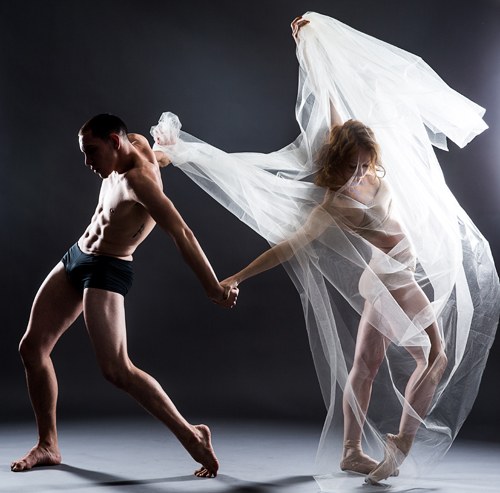 (L to R) Mark Caserta and Casey McIntyre appearing courtesy of Complexions Contemporary Ballet in Lindsay Nelko's Awakening
(photo by Matthew Murphy)
That seems pretty deep.
It is! I've been inspired by my life's journey. I feel like artistic work frequently stems from our selves. It's been like therapy to have my own show. I've been able to dive deeper, bring those experiences to life through incredible dancers and share it all with a wider audience.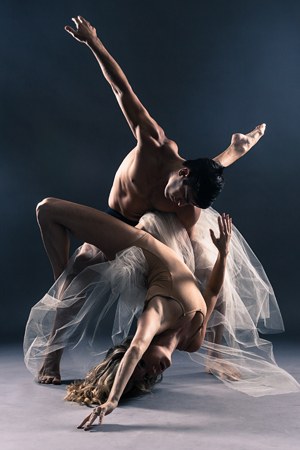 Um, wow.
Jeffrey Sousa and Ashley Fitzgerald in Awakening
(photo by Matthew Murphy)
How has Awakening evolved over time?
Well, the process really started in May 2013, when I created and workshopped Awakening for the Royal Winnipeg Ballet. (Then I presented an excerpt at the A.C.E. Awards.) At that time, however, not all of the pieces were finalized, and I've since added a few more to the work. And while my first cast was amazing, I've been blessed to have an incredibly diverse cast this time around. There will be 18 classical and contemporary ballet dancers, in addition to modern, jazz and musical theater dancers. It's going to be an interesting mix, but also a truer representation of my work.
Can't wait for August 6? Watch a clip of Awakening from last year's ACE Awards below, and click here for more information.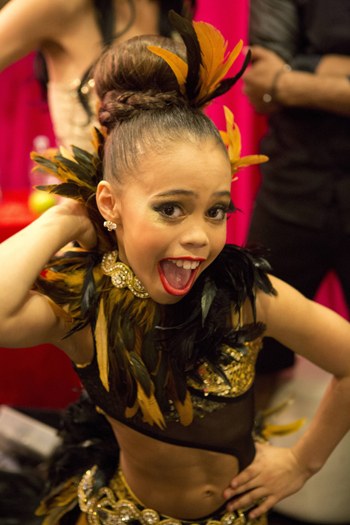 Before a performance at the Reality Wanted Awards, which we'll see on "Raising Asia"
(photo by Adam Taylor)
Watch out, Beyoncé. There's an 8-year-old (soon to be 9!) triple threat blazing trails in the entertainment industry, and nothing can stop her.
You may remember Asia Monet Ray as a member of the Abby Lee Dance Company on "Dance Moms," or from her butt-kicking appearance on "Abby's Ultimate Dance Competition." But starting this week, she's being reintroduced on Lifetime without the wrath of Abby and those Pittsburgh mommies. Asia's new show, "Raising Asia," premieres Tuesday at 10 pm EST, and if the trailer (see below) is any indication, we have 14 episodes—in seven weeks—of amazingness coming our way. Not only is she the cutest ever, but Asia's also got the wit, sass and determination it takes to be a superstar. I caught up with this pint-sized pirouetter to get the scoop on her new show.
What do you love most about "Raising Asia"?
It's awesome because I get to be with my family. I think it's the most time I've spent at my house in years! Everyone will see the work that goes into being a dancer, a singer and an actress—a triple threat, a mega star, a pop star! I'm really excited to see myself on TV again, even though we'll have to TiVo it, because the show's on past my bedtime. And everyone is going to love my little sister. She's really funny.
What was the craziest thing that happened on camera?
My dad and I were hanging out at a place that had mini golf and a go-kart raceway. We were racing, and I told him I was going to beat him. He ended up winning, but when the attendants yelled "Stop!" I accidentally pressed both the brakes and the go pedals, and I bumped right into a parked car. I was OK—I had my seat belt on. But I'm glad no one was in the parked car! That would have been bad, because I think I broke it.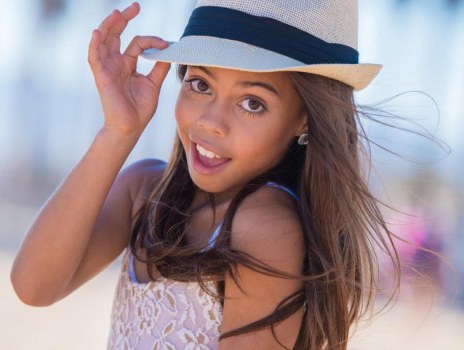 Asia being Asia!
(photo via iamasiamonet.com)
Do you train at a studio?
My schedule is so hectic that I need to study privately. And I'm not competing. I work with choreographers who travel with me and can get me into a studio if we need it.
What's your favorite dance style?
Jazz and hip hop—I was born to be sassy and I can express myself in those styles. But I'm getting a little more used to lyrical.
What's your favorite food?
I love hamburger patties. I also love chicken, brown rice, edamame, miso soup and shaved ice from Icy-licious.
What's one accessory you can't live without?
Lip gloss—and a mirror.
Cats or Dogs?
Dogs, dogs, dogs! My mom will not let me have a dog, even though I've been asking for one basically since I was born. She says it will be too much work; we're already boarding a bird and a fish every time we travel, and we'd have to board the dog, too. I don't think a dog would want to watch me dance and sing all day—she'd want me to play with her, and she'd probably feel really left out and sad when I couldn't. If I ever get one, though, I'd like a teacup Morkie. And she'd have to be a girl dog, because I get too angry with boys—they make messes. I can dress up a girl dog and put nail polish on her little claws. I also like pugs and miniature bull dogs. I love their little front teeth that make them look so angry—but they're so cute!
Want more? Visit her new website iamasiamonet.com to see photos, read Asia's blog, purchase her upcoming debut album and find out where she'll be next.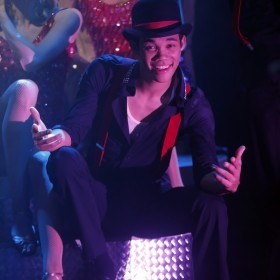 Roshon Fegan on the final episode of "Shake It Up," "Remember Me" (by Kelsey McNeal/Disney Channel)
At Dance Spirit, we say there's no such thing as too many dance-y TV shows! But sadly, we'll have to say goodbye to one of them with the series finale of Disney's "Shake It Up" this Sunday. To commemorate the end of this fun-filled show, DS chatted with "Shake It Up" star Roshon Fegan about his time on the show and what he's up to next.
Dance Spirit: Do you have a favorite episode of "Shake It Up"?
Roshon Fegan: Yes, my favorite episode is "Future It Up." In the episode I had a chance to play the old and "fluffy" version of my character, Ty. It was very funny.
DS: Is your personality similar to Ty's?
RF: We're very similar. We both dance, crack jokes and stay fly for the ladies.
DS: How would you describe your dance style?
RF: My dance style is from the soul, freestyle and emotion heavy. I just dance what I feel.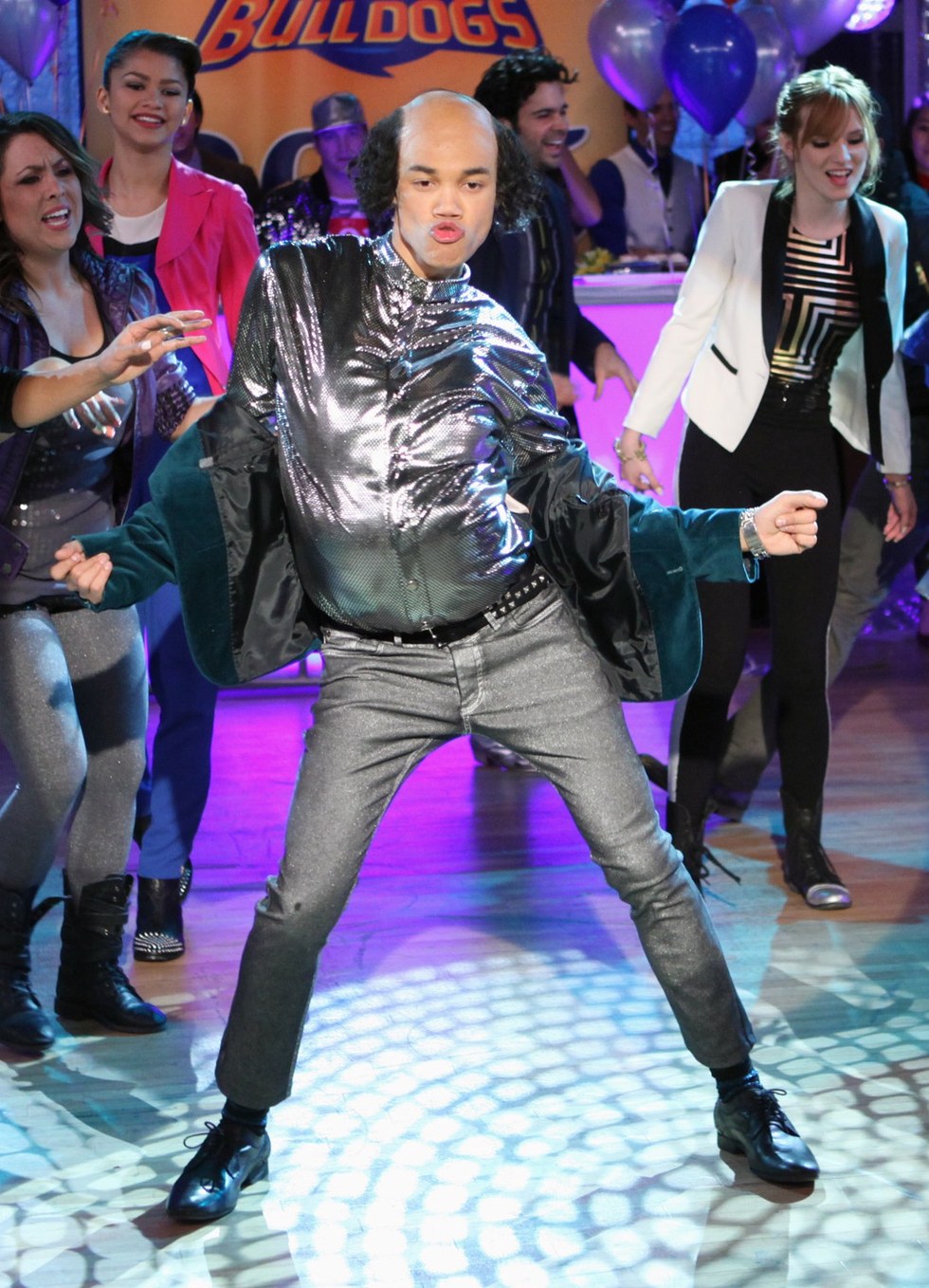 Roshon plays his character, Ty, 22 years in the future on his favorite episode, "Future It Up" (by Adam Larkey/Disney Channel)
DS: What was the biggest lesson you learned while on the show?
RF: I've learned that being on a TV show is a collaborative effort and everyone has to do their absolute best in order for the show to be its greatest. The thing I'll miss most is my "Shake It Up" family. We've had great fun together.
DS: What's next for you?
RF: I'm working hard on my music career. Since I've been on "Shake It Up," I've been writing my own music and getting it ready to release to the world. It's a new chapter in my career, and I can't wait for everyone to hear what I've been working on. I produce all my own music at Grand Vault Studios in L.A., which I opened to create a place for me and others like me—dancers, singers, musicians—to work, create and rehearse their craft.
DS: What advice would you give to future triple threats who'd like to follow in your footsteps?
RF: Always remember that there's no wrong or right way to become successful. You just have to believe in yourself,  work as hard as you can and love what you do. If you love what you do and you never let anything stop or change you, then everything else will fall into place on its own. Be yourself and believe you're great.
Catch the "Shake It Up" series finale, "Remember Me," this Sunday, November 10 at 9 pm ET/PT on Disney Channel.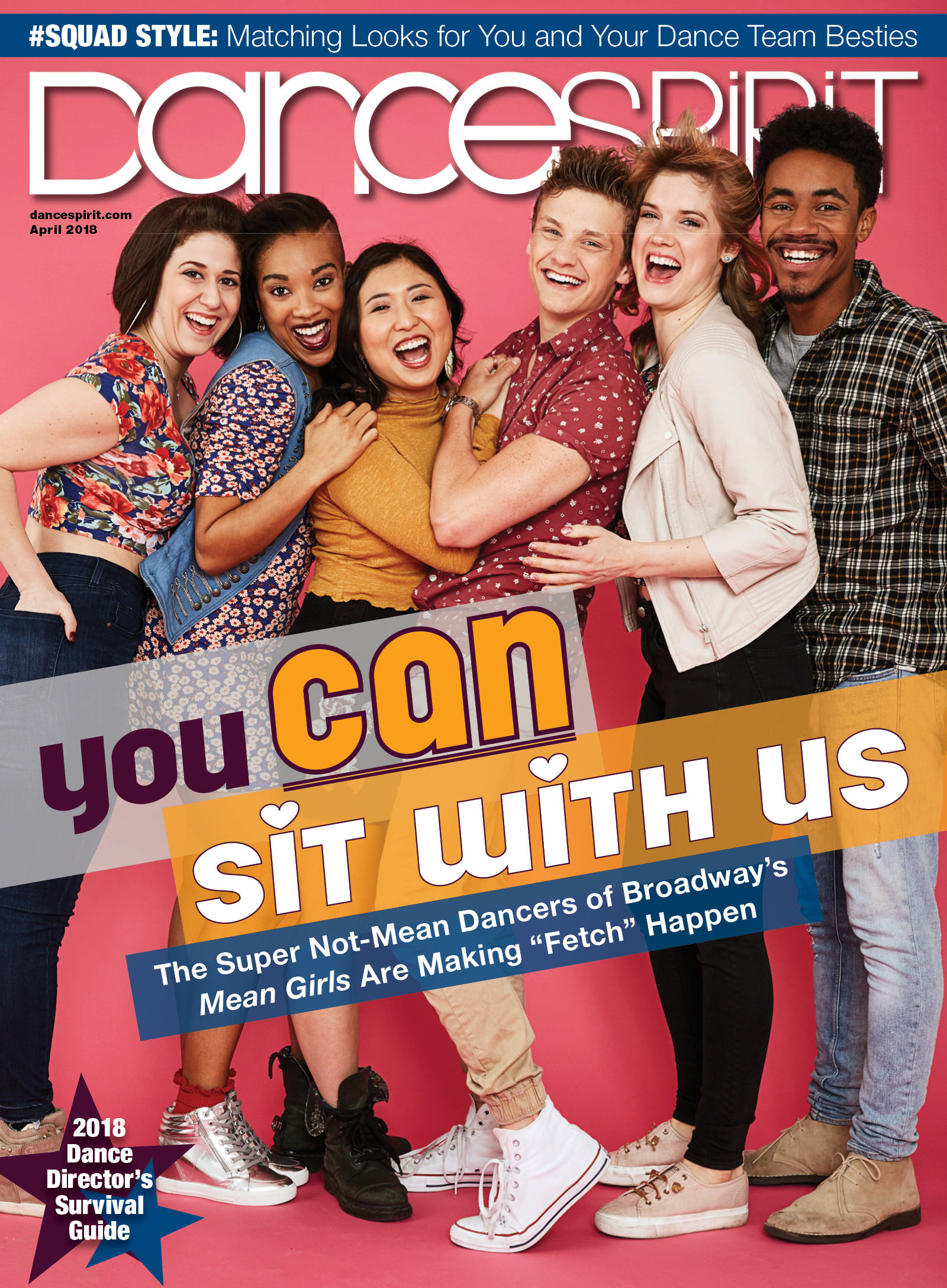 Get Dance Spirit in your inbox